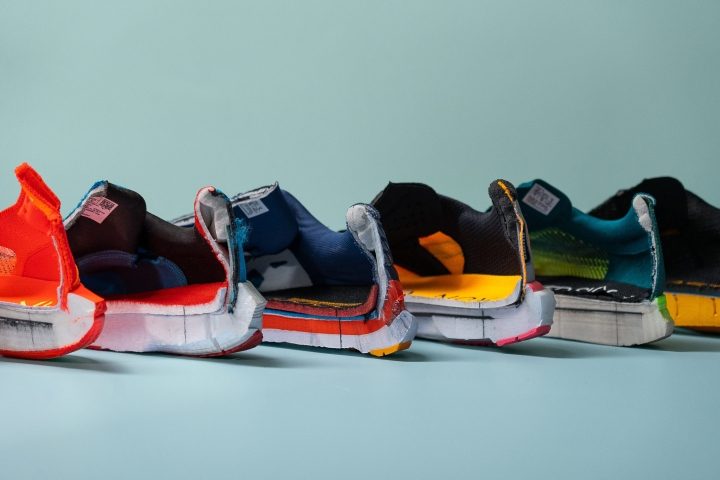 Disclaimer: Due to the vast variety of running shoe foams currently available, some may be excluded (Chinese brands, entry-level or old EVA foams, etc). Please note that some foams may be released after the publication of this guide and may not be included. Additionally, we will exclude non-foam cushioning systems, such as Air from Nike or GEL from ASICS.
Running shoe companies aren't as transparent as we'd love, making it difficult for both casual and advanced runners to gather detailed information about specific running shoe foams.
Recognizing this challenge, we've done an extensive guide for you, presenting our findings and knowledge about running shoe midsoles in a clear and comprehensive manner.
What makes foam so important for running shoes?
The midsole in a running shoe is undeniably the most crucial component, as it enables every runner to cover greater distances and achieve faster speeds while minimizing the risk of injury.
Running shoe foam works as a shock absorber, cushioning the impact on your feet with each stride. This reduces stress and potential damage to joints and muscles, allowing for increased comfort and decreased fatigue. In other words, we can sustain a faster pace, run longer distances and recover faster.
Choosing the perfect foam for your running shoes is essential, as it can significantly influence your performance and recovery. Whether you're striving to demolish your PB in a short race or seeking enhanced injury prevention and reduced fatigue through increased impact protection, the right foam and stack height can make a world of difference.
Running shoe foams
Due to the many running shoe companies out there, it would take forever to go over every type of foam used in shoes. This is especially true if we consider all the discontinued or basic foams, which make up 99% of the market and are just plain EVAs.
However, we still made a big effort to cover with detail as many foams as we could. We've dedicated entire sections to most of them, but we'll also just mention a few below.
Premium foams overview
| | | | |
| --- | --- | --- | --- |
| Brand | Foam | Top feature | Major drawback |
| Nike | ZoomX (Pebax) | Energy return | Durability |
| ASICS | FlyteFoam Blast Turbo (PEBA) | Bounce | Maybe too firm for some |
| Adidas | Lightstrike Pro (TPEE) | Super-durable all-rounder | Break-in needed |
| Saucony | PWRRUN PB (Pebax) | Comfort | Energy return |
| Saucony | PWRRUN HG (Pebax) | Performance | Maybe too firm for some |
| Puma | Nitro Elite (PEBA + EVA) | Durability | Energy return |
| Hoka | Unnamed (PEBA) | Responsive | Impact protection |
| Decathlon | VFOAM (Pebax) | Affordable | Performance |
| Mizuno | Enerzy Lite+ (PEBA) | Bounce | Stability |
| Reebok | Floatride (Pebax) | Low price | Energy return |
| Li-Ning | BOOM (Pebax) | Bounce | Hard to find |
Standard foams overview
| | | | |
| --- | --- | --- | --- |
| Brand | Foam | Top Feature | Major drawback |
| New Balance | FuelCell (TPU + EVA) | Cloud-like feel | Stability |
| Skechers | HyperBurst (EVA) | Lightweight | Energy return |
| Skechers | HyperBurst Pro (TPU) | Responsive | Heavy |
| Nike | React (TPE + EVA) | Versatile | Dull |
| Adidas | Boost (TPU) | Comfortable | Heavy |
| Adidas | Lightstrike (EVA / TPU) | Stable | Too firm |
| ASICS | FF Blast / FF Blast+ (EVA + OBC) | Bounce | Durability |
| ASICS | FlyteFoam (EVA) | Lightweight | Energy return |
| New Balance | Fresh Foam / Fresh Foam X (EVA) | Softness | Mushy |
| Saucony | PWRRUN (EVA + TPU) | Versatile | Boring |
| Saucony | PWRRUN+ (TPU) | Energy return | Durability |
| Hoka | ProFly (EVA) | Comfortable | Energy return |
| Hoka | ProFly+ (EVA) | Responsive | Durability |
| On | Helion (EVA + OBC) | Unique | Firm |
| Altra | Ego (EVA) | Fun | Energy return |
| Altra | Ego Pro (TPE) | Bouncy | Cushion |
| Puma | Nitro (TPE) | Responsive | Durability |
| Under Armour | HOVR (EVA + OBC) | Stability | Firm |
| Mizuno | Enerzy (TPE) | All-rounder | Bounce |
| Mizuno | Enerzy Core (TPE) | Softness | Durability |
| Mizuno | Enerzy Lite (TPE) | Lightweight | Cushion |
| Salomon | EnergyFoam (EVA + OBC) | Stability | Boring |
| Salomon | EnergyCell / EnergyCell+ (EVA) | Durability | Firm |
| Reebok | FloatRide Energy (TPU) | Price | Heavy |
| TOPO | Zip Foam (EVA + TPU) | Energy Return | Heavy |
Premium foams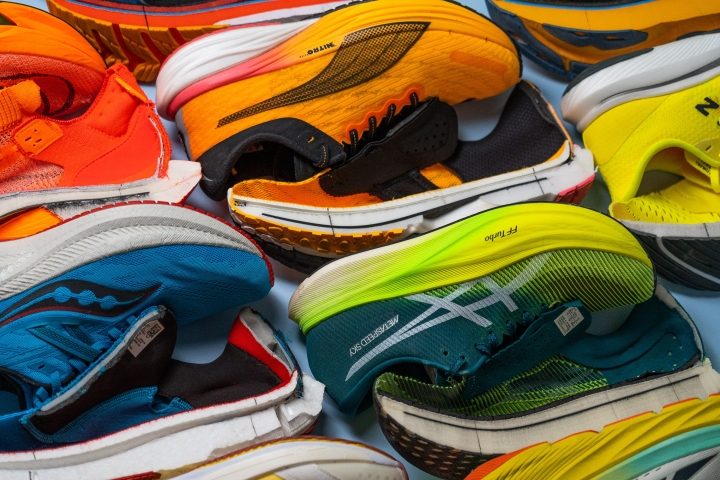 The world of running shoes was transformed with the introduction of Nike's ZoomX foam in 2017, even though it had already been worn by some pro athletes—Kipchoge, Rupp, Lilesa— throughout 2016. It was the first true super foam, boasting an energy return that exceeded 90% in nearly every test, and Nike backed it with much-needed scientific evidence.
The latest high-performance running shoe foams have a unique chemical structure, consisting of numerous hydrogen bonds between the polymer strands. This special structure enhances energy return and bounce, as shown in this 2018 study. The findings revealed that Boost foam delivered a 75.9% energy return, while the ZoomX-equipped Vaporfly prototype—named Vaporfly 3% in that moment—provided a massive 87.0% return.
So, what sets a premium foam apart from the crowd? Superior midsoles with this foam have 3 clear advantages. They...
offer an impressive energy return into the 80-95% ballpark;
possess fantastic leg-saving features. Put simply: logging a 20-miler in one of these shoes feels more like a 10 or 15-miler in your reasonably-good daily trainer;
are super fun to ride!
However, there are a couple of drawbacks to consider:
Durability may take a hit—these premium foams tend not to last as long as their standard counterparts.
Purchasing a pair of shoes with premium foam will come with a premium price tag. Most of these shoes, even with discounts, often hover well above the $100 mark, sometimes soaring as high as $200, $250, or even $300.
But let's get back to it. As we mentioned before, the ZoomX foam in the almost-magical Vaporfly 4% changed everything. This innovation gave Nike a two-year advantage over its competitors—a groundbreaking edge in the intensely competitive world of running shoes. Finally, though, many brands caught up with the Oregon-based company, resulting in a wide range of premium foams available for you.
Interestingly, while carbon-fiber plates are often hailed as the ultimate performance-enhancing feature, most of the improvement actually comes from the foam. This is supported by various scientific publications, such as those from 2019 and 2021, where the only shoes that matched the Vaporfly's performance had what we consider "premium foams." In contrast, others like the RC Elite v2 (FuelCell) and Brooks Hyperion Elite 2 (DNA Flash) lagged significantly behind the best.
Now, let's talk about 'em, beginning with the one that started it all.
Nike ZoomX (Pebax)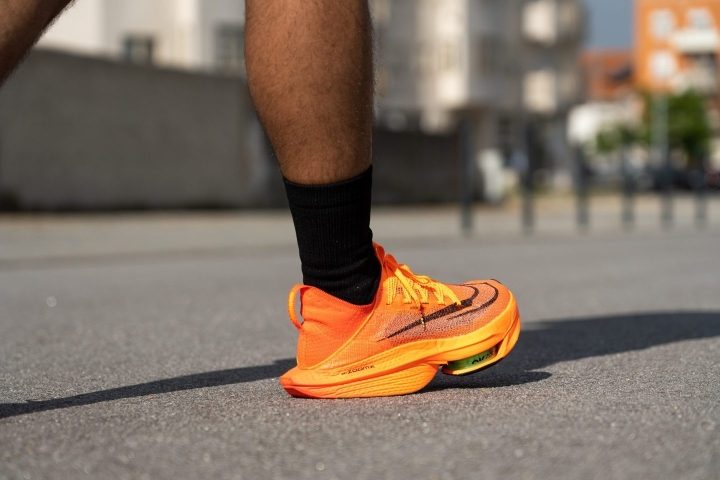 We have to credit Nike and say that they made the original super foam. Period. And ZoomX is still arguably the best in terms of energy return.
Before ZoomX, the best-performing foam in the world was Adidas' Boost, which launched in 2013 and revolutionized long-distance running. It achieved several WRs and was arguably the first foam ever to surpass 75% in energy return. Now, it's almost outdated.
ZoomX it's a foam made from Pebax. And as you are going to read this word a lot, let's clarify this once and for all—Pebax is a trademarked and patented variation of PEBA (Polyether Block Amide) invented by Arkema, an industry-leading French company. It's a class of thermoplastic elastomers characterized by their alternating hard and soft segments, which give them a unique combination of flexibility, resilience, and mechanical strength. In other words: it's bouncy, soft and light!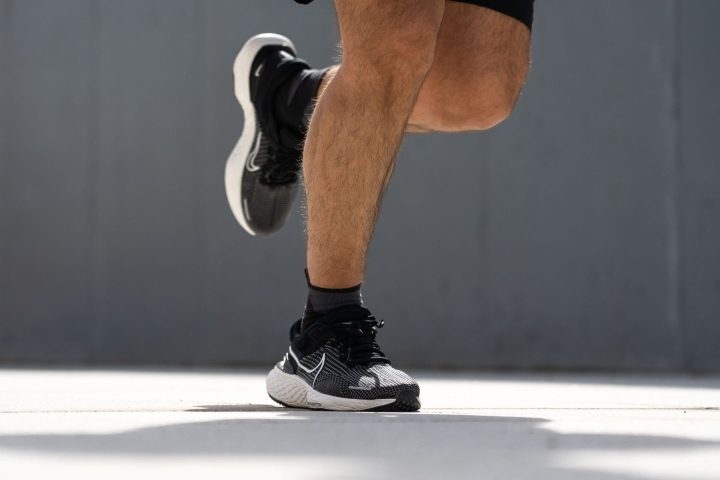 Over the years, users and experts have noted that ZoomX has undergone significant changes. While we might not cover every detail, we can distinguish between various ZoomX blends:
From 2017 to 2021, ZoomX was incredibly soft in the first Vaporflys, giving an almost magical feel, but it suffered from low durability—which was a constant complaint from users given the cost of these shoes. The foam developed creases quickly, and after about 200 or 300 km, it suddenly felt "dead." Other running shoes featuring this 1.0 version of ZoomX included the Nike Air Zoom Alphafly Next%, Nike ZoomX Invincible Run, and Nike Pegasus Turbo 2.
In 2021, Nike launched the Vaporfly Next% 2, and everyone almost immediately reported that it felt firmer than the original, despite supposedly being the same midsole. A similar situation occurred with the Nike ZoomX Invincible Run 2 and Alphafly Next% 2, launched in 2022. These shoes featured a firmer yet more durable ZoomX, allowing runners to get more mileage for their money. The exception to the rule in 2022 is the Streakfly, which is really soft despite being launched in the same year.
In early 2023, Nike released the highly anticipated Vaporfly 3 and ZoomX Invincible 3. While some reports suggested a softer feel, our lab measured the ZoomX in the Invincible v3 to be 16% firmer than the one in the previous version.
Nike also features eco-friendly recycled ZoomX in its Next Nature lineup, such as the latest Pegasus Turbo. Unfortunately, the recycled ZoomX is heavier, firmer, and provides less energy return, so we don't classify it as a premium foam. However, it does outperform React and, of course, any standard EVA (ethylene-vinyl acetate) in the market.
In summary, if you're seeking record-breaking energy return plus a springy ride without needing a break-in period, ZoomX is a reliable choice. Just keep in mind that it may not be the most long-lasting midsole out there and MSRP of ZoomX-equipped shoes tends to be on the expensive side.
ASICS FlyteFoam Blast Turbo (PEBA)
Commonly known as FF Turbo, this innovative foam was one of the first to truly level the playing field against Nike's ZoomX.
Unfortunately, ASICS hasn't disclosed the materials used to create FF Turbo, but we do know that it's a nylon-based or PEBA midsole—think of it as the store brand for Pebax—which is quite similar to Pebax in terms of energy return and bounciness. However, it's noticeably firmer and more stable, so keep that in mind if you're considering this alternative.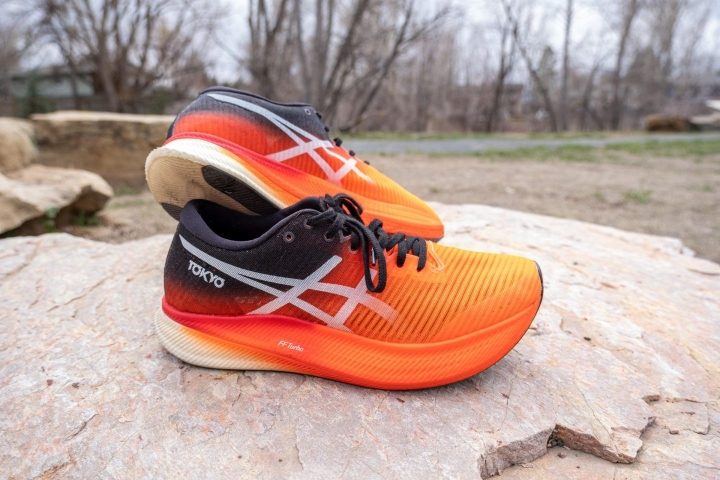 We have analyzed in our lab many FF Turbo shoes, and we can confirm that this foam is firmer than ZoomX. For instance, the ASICS Metaspeed Sky+ was measured at 28.8 HA in our durometer, which is 34% firmer than the Nike Vaporfly Next% 2.
Interestingly, this foam emits a strong glue-like scent, particularly when fresh out of the box—this is completely normal and there's no cause for concern. Additionally, Asics boasts that FlyteFoam Blast Turbo is an impressive 45% lighter and 36% bouncier than your average EVA midsole. Wow!
Adidas Lightstrike Pro (TPEE)
Due to its large size and extensive elite roster, Adidas had a rough time from 2017 to 2020. Initially, they rushed and tried with the Adizero Pro, a carbon-plated shoe featuring a mix of Boost and Lightstrike, two standard foams. However, it quickly became clear that it was no match for the Vaporfly.
Eventually, they launched the original Adizero Adios Pro, internally referred to as Majambo, which featured their new top-tier foam called Lightstrike Pro. And boy did they deliver.
Unlike most premium foams made of PEBA, Lightstrike Pro is built from TPEE (Thermoplastic Polyester Elastomer), which offers some unique properties:
Amazing durability: While many premium foams wear out relatively quickly, Lightstrike Pro performs at its best even after 200 or 300 kilometers. We've received reports of some shoes being used for intervals or long runs with more than 1,000 km.
Lightstrike Pro exhibits a unique behavior compared to other premium foams. It requires a short break-in period of at least 2-3 runs, and the shoe will be at its best between 50 km and 250 km in terms of energy return. Log your miles first!
The ride is on the firmer side compared to many other super foams, but it becomes considerably softer in summer.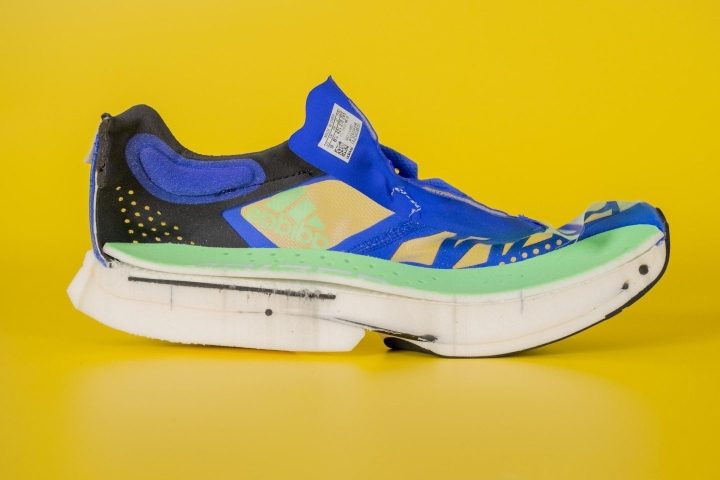 Although not yet scientifically proven, it is believed that Lightstrike Pro has a slightly lower energy return compared to ZoomX. While this may be true, the numerous records and World Marathon Majors wins achieved by this foam—like the podium sweep in Boston 2023—suggest that any difference is minimal. Our own testing supports this conclusion.
Saucony PWRRUN PB (Pebax)
The American brand also has an agreement with Arkema to use Pebax, but it employs a different formulation and format compared to ZoomX. PWRRUN PB is composed of tiny pellets—similar to Boost—rather than a single block.
Boasting a distinctive soft yet responsive feel, impressive durability, and great energy return, PWRRUN PB is considered a fantastic all-rounder but it's slightly behind the top performers. Nevertheless, it ranks among the best foams, and Saucony has achieved remarkable success incorporating it into the Endorphin series.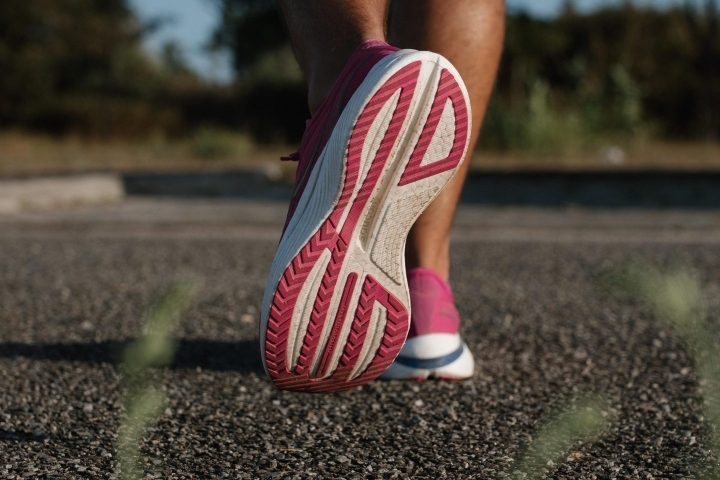 This pellet-based design features a network of grooves and flex points that enable the foam to adapt to the foot's movements, delivering a customized fit and enhanced comfort.
Interestingly, PWRRUN stands for "Performance Welded, Responsive, Resilient, UNderfoot foam," and PB is derived from Pebax.
Saucony PWRRUN HG (Pebax)
This is the latest premier foam from Saucony, and one of the most responsive out there. At the moment, it is only featured in the Saucony Endorphin Elite and the Terminal VT track spike.
The HG variant of PWRRUN is clearly firmer and more stable. Let's say that it's more Lightstrike Pro than ZoomX.
Although Saucony hasn't disclosed publicly how PWRRUN HG is made, we assessed that this foam is a supercritical inflated Pebax built like ZoomX, so expect a similar behaviour.
Puma Nitro Elite (PEBA + EVA)
Puma's premier racing foam is a rarity. Although the German company hasn't disclosed the formulation publicly, we do know that it's a blend of PEBA and EVA infused with nitrogen.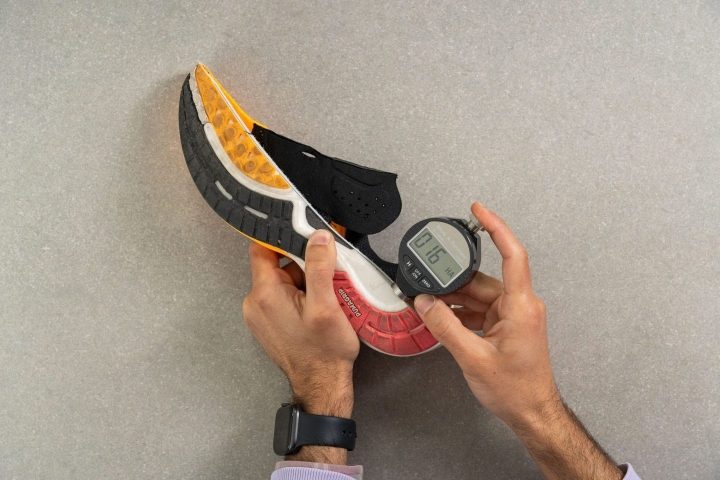 The approach that Puma followed by mixing PEBA and EVA is to get a mix of performance, durability and lower cost of fabrication. That puts the foam one step behind the top in terms of energy return, but the increase in durability is well received by some runners, especially those who want this shoe for training purposes.
That, combined with the renowned resilience of the PumaGrip outsole compound, makes Puma shoes a fantastic option for training, but not the best for racing, and that's also why you won't see many Puma super shoes in long distance races.
Hoka Unnamed (PEBA)
After over three years of anticipation, Hoka finally unveiled its first genuine supershoe in 2023: the Hoka Rocket X 2, featuring a PEBA-based foam.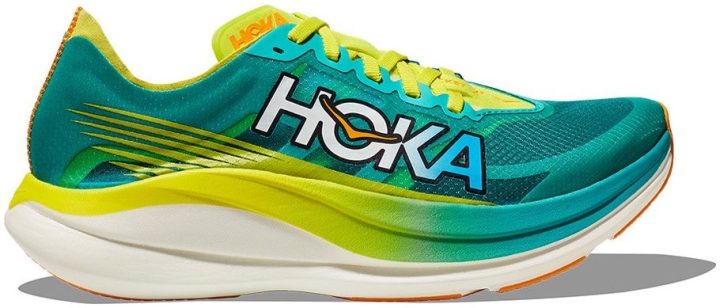 Hoka has been rather tight-lipped about this innovative foam, which, to this day, remains unnamed. Despite reaching out to them, we have yet to receive any information. However, we do know that it's a dual-density PEBA foam, boasting exceptional bounciness that falls somewhere between ZoomX and FF Turbo in terms of feel—neither too soft nor too firm.
We anticipate Hoka will reveal more details about this groundbreaking midsole in the near future—name it, please—and introduce additional racing and, hopefully, training models that feature this new midsole.
Decathlon VFOAM (Pebax)
As two French big companies, it made perfect sense for Decathlon and Arkema to partner up when the popular retailer decided to create their very first supershoe, the Kiprun KD900X, which was launched in 2022 and features VFOAM technology.
VFOAM is a Pebax-based midsole formed by pellets—in the style of Saucony's PWRRUN PB. It's bouncy and light, but the energy return is slightly below the best premium foams.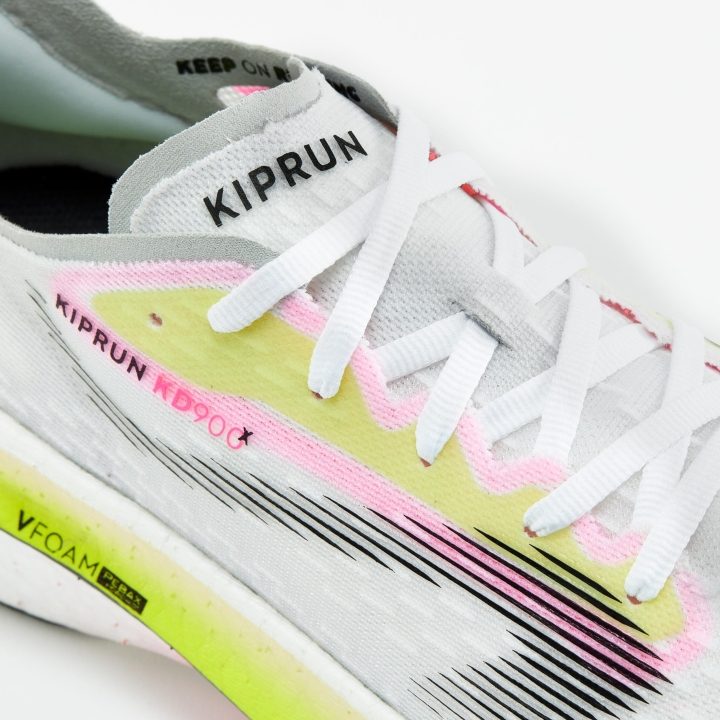 Image: Decathlon
That's why, at the moment of this writing, Decathlon is developing an updated version called KD900X LD—for Long Distance—that sports a new ZoomX-style Pebax foam, ditching the pellets form factor to get more energy return and be on par with the best in the world.
Decathlon offers probably the cheapest way to enter the world of premium foams, at least if we take into account MSRP and we forget about the usual discounts in some major brands.
Mizuno Enerzy Lite+ (PEBA)
The Japanese brand has recently entered the supershoe market, and one of the reasons they were not competitive in this space earlier was because they lacked a truly high-performance foam. However, now they have Enerzy Lite+.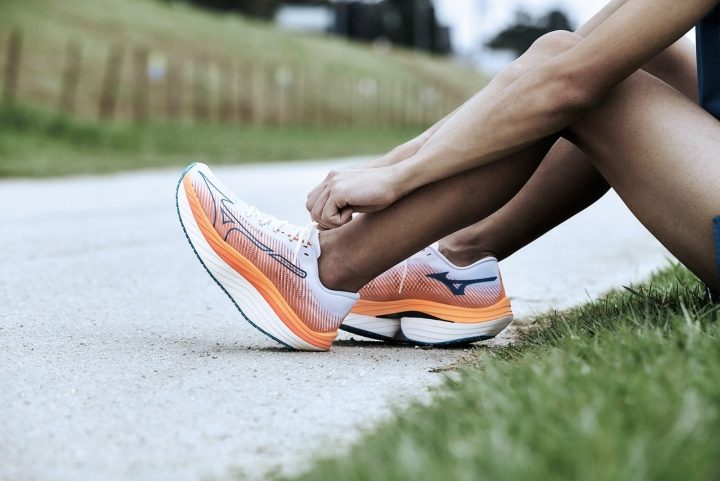 Image: Mizuno
Enerzy Lite+ is a type of PEBA foam that has a soft, cloud-like feel similar to the first versions of Nike's ZoomX. However, Enerzy Lite+ is really unstable, which has probably prevented Mizuno from using it in a full-length midsole. Instead, they combine it with a more stable section of non-premium Enerzy Lite foam in their jaw-droppingly-impressive Wave Rebellion Pro and Wave Rebellion Flash.
Reebok Floatride (Pebax)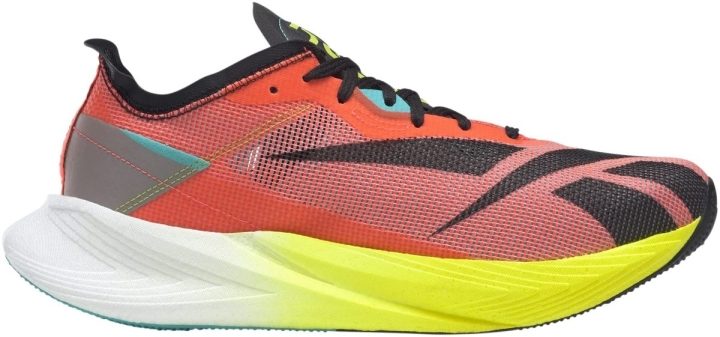 It's not often that you see many Reebok running shoes out there in the roads, right? Honestly, I can hardly recall the last time I encountered someone wearing them while running, and I always take notice of people's footwear.
Despite its rarity, Reebok offers one of the more affordable ways to experience a Pebax-based midsole. However, there's a catch: Reebok uses the name "Floatride" for two distinct midsole types and it can be easily confused:
Floatride: A Pebax midsole featured in premium models like the Energy X.
Floatride Energy: A more budget-friendly non-premium, TPU-based midsole—similar to Boost—found in models such as the Energy 5.
By the way, Pebax's impressive performance is evident when Reebok claims that it's up to 50% lighter than their previous EVA foam, all while delivering significantly more energy return.
Li-Ning BOOM (Pebax)
With some Chinese brands making appearances and endorsing some elite athletes in recent times, it's probably Li-Ning the one that has the best premium foam in their high-performance shoes.
In some funny Chinese-style, the name of the midsole is BOOM. It's a Pebax-based supercritical foam, and we've even seen some elite runners enjoying this ZoomX-esque midsole in the Feidian series; for instance, in 2023 Seville Marathon, the winner—with a respectable 2:04:59—and the third place were in Li-Ning shoes.
With that said, good luck buying those in the USA or Europe. They're mostly restricted to the Chinese market, and while you can get your hands in those importing them, it's probably not worth the price after customs taxes with so many alternatives that you can buy in five minutes from your home.
Which premium foam should you choose?
While you might already guess the ideal foam for your running style or preferred distance, let's simplify things even more by selecting some foams and models based on your specific needs.
Standard foams
A standard foam, as per our definition, is any modern foam that delivers lower energy return when compared to premium foams. Despite their limitations, standard foams hold some advantages over premium foams:
They are significantly more affordable to manufacture, enabling brands to offer these shoes at substantially lower prices, even below $100 in some cases.
Durability is a key strength, with many shoes crafted from standard foams easily surpassing the 1000 km mark.
These foams often provide enhanced stability, making them ideal for runners seeking extra support.
However, there are also some clear disadvantages:
Energy return is in the 60-80% ballpark, nowhere as close as that of premium foams (+85%).
Most standard midsoles are bricks in winter. For example, a Nike ZoomX Invincible Run 3 becomes 10.3% firmer after 20 minutes in our freezer, while its standard-foamed counterpart, Nike React Infinity Run 3, stiffens by a whopping 62.5%. You can learn more about flexible vs. stiff shoes in our in-depth guide.
High-mileage runners may find that these foams lack the leg-saving features often needed during high-mileage training blocks.
Skechers HyperBurst (EVA) / HyperBurst Pro (TPU)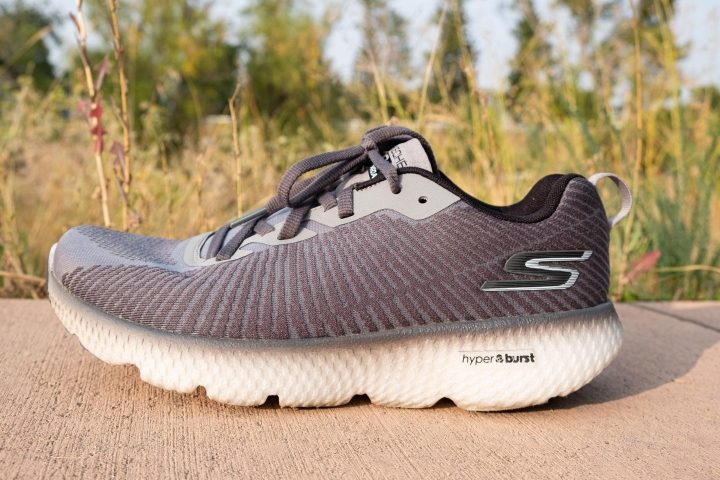 Skechers has made significant advancements in the field of midsole technology with their innovative HyperBurst and HyperBurst Pro foams. By incorporating supercritical CO2 into the manufacturing process, they were able to create a lighter and more responsive EVA foam, which they dubbed HyperBurst.
In fact, this method has influenced the running shoe industry, with many brands like New Balance or Brooks opting for nitrogen-infused foams to avoid licensing fees associated with Skechers' patented CO2 method, but using the same principles.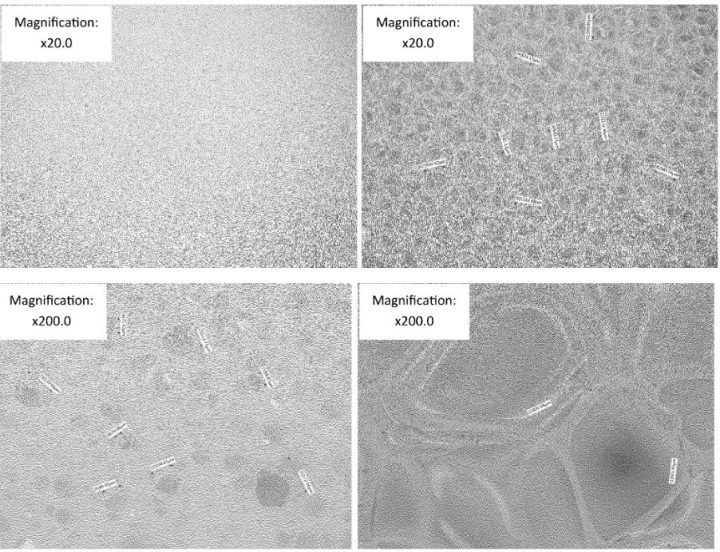 Left: A regular EVA midsole under the microscope, no bubbles.
Right: HyperBurst CO2-infused foam, with its characteristic bubbles that allow the EVA to be lighter and bouncier.
Source: Skechers patent
However, recognizing the obvious limitations of EVA-based foams, Skechers continued its pursuit of a better midsole by introducing HyperBurst Pro, which replaced EVA with TPU, further enhancing the foam's energy return, like Adidas did with Boost back in the day. While this new iteration is a step up from the original HyperBurst—hence the Pro name—it still doesn't quite measure up to be admitted into the premium foams club. Next time, fellas!
HyperBurst: Supercritical (CO2) EVA: Soft, lightweight and durable.
HyperBurst Pro: Supercritical (CO2) TPU: Firmer, responsive and heavier.
In summary, Skechers' HyperBurst and HyperBurst Pro midsoles are magnificent options for your daily runs, offering lightweight comfort and a fun ride. However, they may not be the ideal choice for those seeking their next PBs.
Despite their progress in foam technology, Skechers still has room for improvement if they aim to compete with any of the premium foams out there, and we wouldn't be surprised if they launch a PEBA-based HyperBurst foam in the next few years. In fact, we really look forward to it!
New Balance FuelCell (TPU + EVA)
The Boston-based company, New Balance, introduced FuelCell in 2019. This nitrogen-infused blend of EVA and TPU foam is similar to Skechers' HyperBurst Pro.
As previously mentioned, most brands avoid using CO2 to prevent paying licensing fees to Skechers. FuelCell offers approximately 80% energy return, which is slightly behind the top-tier foams.
New Balance tends to alter the FuelCell formulation from model to model, resulting in a notably different ride between two FuelCell-equipped shoes. For instance, in our lab, we confirmed that the Rebel v3 is 31.6% softer than its predecessor, the Rebel v2. New Balance representatives also confirmed to us that they make big adjustments in FuelCell between models.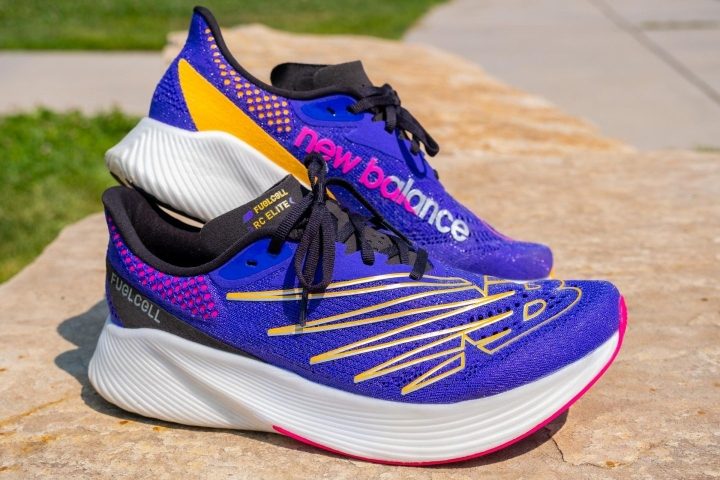 One significant drawback of FuelCell is that it becomes considerably firmer in cold temperatures. For example, the SuperComp Trainer becomes 57.4% firmer in cold conditions, while the Rebel v2 experiences a teeth-grinding 115.4% increase in firmness.
As one of the major brands in the running industry, New Balance needs a new PEBA or TPEE super foam that can compete with the leading brands in terms of performance. While FuelCell is great and enjoyable for training purposes, it lacks the desired energy return.
Nike React (TPE + EVA)
In 2017, around the same time as ZoomX's release, Nike surprised everyone by introducing React. Initially, React was only available in basketball shoes, but a few months later, they launched the well-received Nike Epic React Flyknit. Now, it's everywhere.
React is a combination of Thermoplastic Elastomer (TPE) and EVA. The result is a foam that is resilient, soft, cheap to produce—Nike loves this for sure—and well-suited for training purposes, although it lacks the responsiveness and energy return needed for racing. That's why Nike uses it for trail running shoes like the Pegasus Trail 4 or in daily trainers like the Pegasus 40.
But, what was the motivation behind React? Well, Nike had been using Lunarlon, a blend of EVA and NBR (Nitrile Rubber) foam, which significantly lagged behind Adidas' Boost technology. While ZoomX was already in production by 2016, its manufacturing costs were extremely high, and it was available only in limited quantities.
So, although React wasn't a groundbreaking revolution, it was a clear step forward for Nike. And we can confirm that React is a great all-rounder!
Adidas Boost (TPU)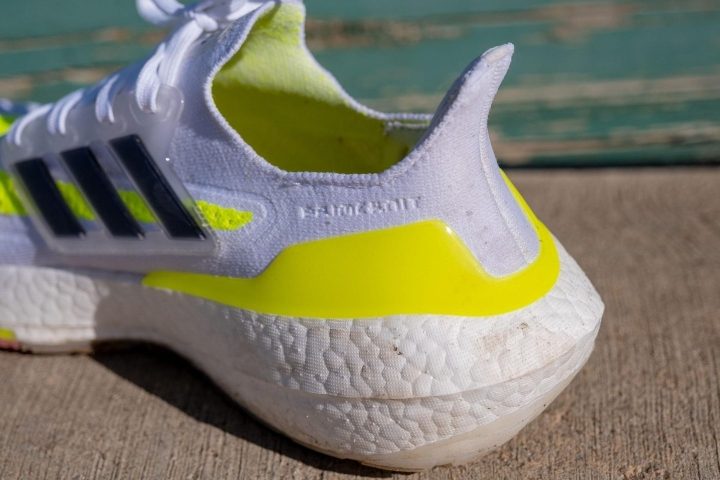 Though it might not seem significant today, the Boost revolution was a game-changer in its time. It clearly outperformed all EVA-based foams and led to numerous long-distance records, such as Dennis Kimetto's out-of-this-world and perhaps underrated 2:02:57 marathon time in Berlin 2014 while wearing the Adizero Adios Boost 2, or Joyciline Jepkosgei's 1:04:51 at the Valencia Half Marathon in 2017 with the Adizero Adios Boost 3. Now, let's talk about Boost!
Boost is not an Adidas invention, but rather one created by BASF (Badische Anilin und Sodafabrik), the world's largest chemical company. They were experimenting with an innovative technology called Infinergy, based on TPU (thermoplastic polyurethane), which delivered promising results. Adidas recognized the potential of this cutting-edge pellet-based method for creating a midsole when BASF presented it to them, and they just embraced the technology.
By today's standards, Boost is a comfortable-but-heavy midsole. However, back in 2013, it was a complete revolution, comparable to how we viewed ZoomX in 2017—it simply had no rivals. It was bouncy, soft and durable.
Although Adidas still utilizes Boost in some running shoes and in their sneakers and casual kicks, it is now considered somewhat obsolete for running, particularly due to its weight. That's why Adidas recently introduced the new, lighter, and less dense Boost Light evolution in the Ultraboost Light, and we can expect to see this foam in more models in the coming years.
Adidas Lightstrike (TPU) / Lightstrike EVA (EVA) / Lightstrike 2.0 (EVA)
When Adidas introduced Lightstrike to the world, they launched and marketed it as a TPU foam. Then, suddenly, they switched their minds and declared that Lightstrike was actually EVA:
TPU: In the official press release for the Adizero Pro—which was a total flop—, the brand stated, "Lightstrike combines energy return and stability into one of the lightest TPU foams on the market."
EVA: While promoting the brand new Adizero SL in another official press release, they said, "The lightweight Lightstrike EVA midsole frame provides maximum cushion and protection to the midsole construction."
EVA: In 2023, Adidas launched Lightstrike 2.0, a new softer compound that will be featured in shoes like Adios 8 or Boston 12.
Some people believe that it's all the same EVA-based compound, but initially, it was mixed with some TPU, and now it's only EVA. While that's possible, we're inclined to think that the Germans simply changed their minds and switched from full-TPU to full-EVA, and that's why they're currently calling it Lightstrike EVA.
Unfortunately, all versions of Lightstrike are rather firm and dull, lacking bounciness and will only please those looking for a super-stable old-school ride.
ASICS FlyteFoam Blast / FlyteFoam Blast+ (EVA + OBC)
Years before Nike disrupted the running shoe market, ASICS was a strong competitor to Adidas' Boost technology, back in 2014. The Kobe-based brand ingeniously improved EVA properties to a level that we're sure that, in a blind test, most runners would not recognize as EVA foam. Instead, they achieved this by blending EVA with OBC. But what the hell is OBC?
OBC, or Olefin Block Copolymers, is a thermoplastic elastomer known for its elasticity and toughness. ASICS mixes EVA with OBC to increase the elasticity of their FlyteFoam Blast foam, which in turn provides a more responsive and springy feel while running.
ASICS obtained the rights from Michigan-based company Dow to combine EVA and OBC technology, a patented method developed by Dow to enhance running shoe foams. To further improve resilience, the Kobe-based engineers cleverly incorporated Kevlar—a synthetic fiber used in bulletproof vests, which is renowned for its strength and durability—into the midsole. The result is a lightweight, bouncy, and fun foam that weighs up to 55% less than a standard EVA midsole. That's how ASICS managed to deliver light-but-tall shoes like the Novablast 3.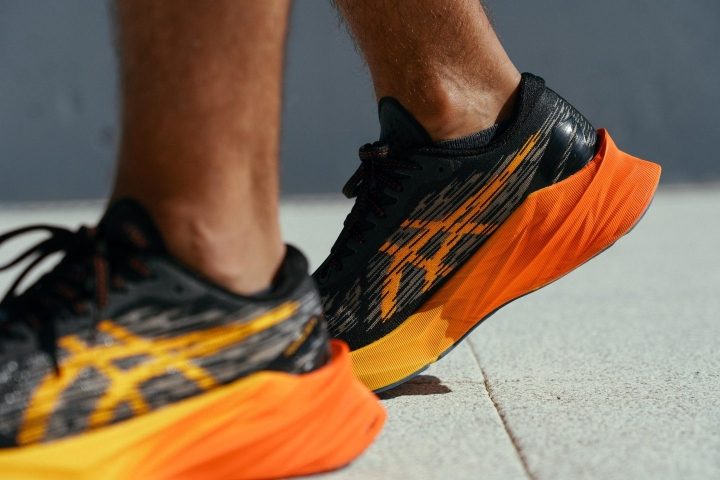 These days, there are only a few non-premium midsoles that outperform FlyteFoam Blast+, the latest iteration of FFBlast. Both expert and user reviews are overwhelmingly positive for shoes like the Nimbus 25 and Novablast 3, although durability may be a weak point.
There's also a lesser-known but really crucial feature: FlyteFoam Blast+ is one of the fastest-recovering foams after a run. Yes, you read that right, but if you're not sure what this means or why a running shoe foam needs to rest, don't worry—we'll cover that in full detail later in this same guide.
ASICS FlyteFoam (EVA)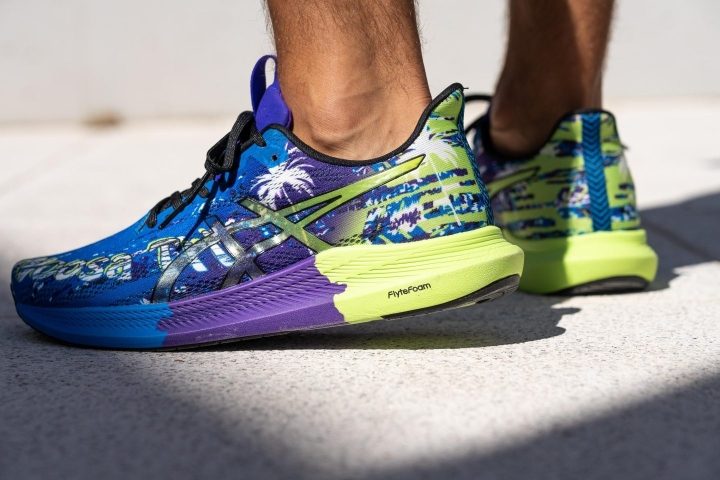 FlyteFoam, along with its Lyte and Propel variations, are EVA-based foams combined with ecological polyethylene to create an ultra-lightweight yet durable foam. In other words—a better EVA. This midsole boasts an incredibly low density, making it lighter than FF Blast and FF Turbo, but with a trade-off of reduced bounce and energy return. As a result, it's ideal for entry-level shoes and ultra-lightweight models like the jaw-dropping Asics Noosa Tri 14.
Various ASICS running shoes feature FlyteFoam, and the Japanese company modifies the formula for each model, adjusting the softness or firmness to suit the shoe's purpose, whether it's for long-distance runs, stability, or triathlon.
Brooks DNA Loft (EVA) / DNA Flash (EVA) / DNA Amp (TPU)
Brooks, a classic American brand, has yet to develop a premium foam or create an authentic racing shoe, placing it in a situation quite similar to Skechers. With that said, their lineup of standard foams is great, featuring three options that we've ranked from least to most bouncy:
DNA Loft: This EVA-based midsole is a staple in Brooks' offerings. By blending EVA with rubber, they've managed to enhance durability and stability, making it a solid choice for everyday runs when you don't require excessive cushioning. This is why you'll find DNA Loft in widely popular shoes like the Ghost 14 and Glycerin 20.
DNA Flash: Following Skechers' lead, Brooks opted to upgrade the midsole by infusing it with nitrogen gas—avoiding CO2 to dodge licensing fees payable to Skechers. This infusion results in a lighter, more responsive, and snappier version of DNA Loft. As a speedier foam, you'll find it in faster shoes like the Hyperion Tempo.
DNA Amp: Introduced in 2018, this third DNA variation is not an EVA foam but a TPU foam, similar to Adidas' Boost or Saucony PWRRUN. When compared to DNA Flash, it provides greater energy return but comes in a slightly heavier package, making it unsuitable for racing shoes but perfect for training models like the Levitate 6.
As we mentioned previously in relation to Skechers, we firmly believe that Brooks will introduce a high-performance foam in the coming years. They need one; with a respectable roster of US-based elite athletes, it's unfortunate that they're currently competing at a technological disadvantage.
New Balance Fresh Foam (EVA)
New Balance Fresh Foam is an advanced, single-piece EVA-based midsole material designed for enhanced cushioning, and it was the Bostonians answer to Boost back in 2013. It was built using a data-driven, computer-aided design process to optimize the foam's geometric shapes, strategically distributing cushioning and support for a comfortable, smooth ride.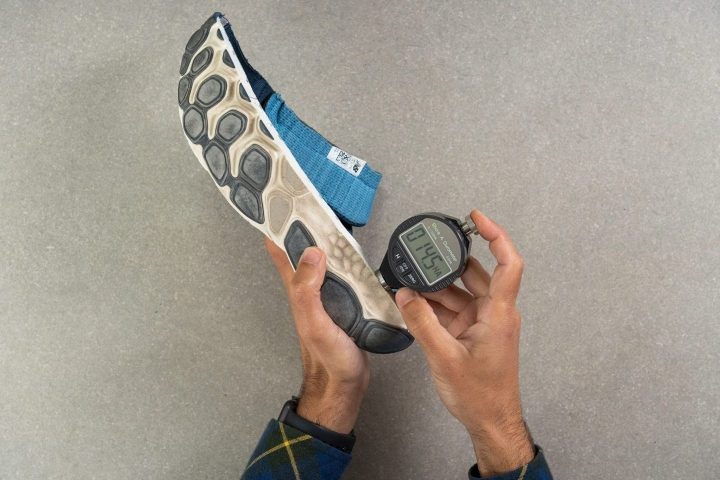 The Fresh Foam X More v4 is among the 15% softest shoes we've ever tested in our lab.
New Balance uses a computer-controlled process called "3D Printing" to create molds for Fresh Foam midsoles. This allows the midsole to bend in specific ways.
Saucony PWRRUN (EVA + TPU) / PWRRUN+ (TPU)
Back in 2015, Saucony introduced EVERUN, a durable foam that had some notable strengths but fell short in energy return and lightness. Consequently, four years later, they elevated their offerings by launching two distinct options:
PWRRUN (EVA + TPU): This is one of the softest EVA-based foams we've ever measured in our lab. For example, our durometer registered 20.0 HA of hardness in the Guide 16, making it 20% softer than the average shoe.
PWRRUN+ (TPU): Recognizing the limitations of EVA technology, the California-based brand opted for expanded TPU as their next step in training foams. As we've previously discussed, TPU is heavier, so they reserve this option for shoes where weight isn't a critical factor, like the Triumph 20. This foam is noticeably more springy and comfortable underfoot than its EVA counterpart and handles cold temperatures far better than EVA. For instance, the TPU-based Triumph 19 becomes 3.6% firmer after spending 20 minutes in our freezer, while the EVA-based Kinvara 13 experiences a 27.9% increase in firmness.
Saucony is one of the brands most dedicated to creating lightweight midsoles, pushing the boundaries with both their EVA and TPU options. As a result, PWRRUN+, for example, is significantly lighter than Boost—although this comes at the expense of reduced durability.
Hoka ProFly / ProFly+ (EVA)
As a clear innovator in the industry since its early days with the introduction of the now-common maximalist shoes more than a decade ago, Hoka found itself in a peculiar position in recent years.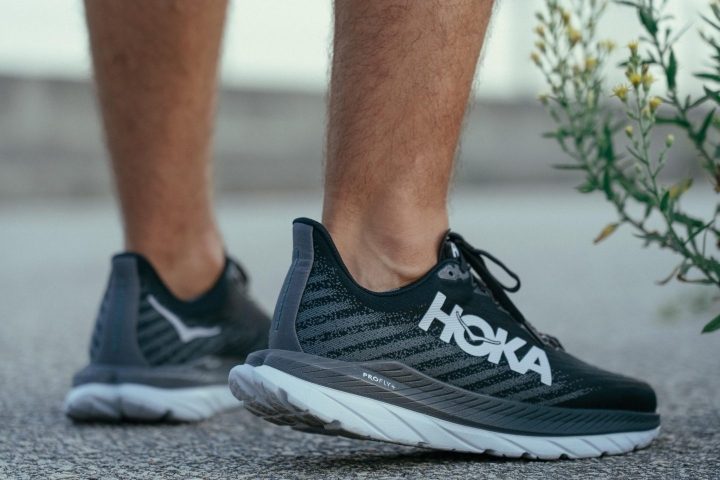 While they offered great shoes featuring some of the best standard foams on the market and a clever dual-density approach, it wasn't enough for racing purposes. Their Carbon X 3 lagged behind shoes with premium foams, and their athletes—like Scott Fauble—were leaving the brand. However, this issue was addressed with the introduction of the new PEBA-based alternative, as we discussed earlier.
So, what does Hoka have to offer in terms of standard foams for training purposes?
Hoka ProFly (EVA): A durable and bouncy EVA foam that Hoka has fine-tuned to achieve the perfect balance of softness in the heel and forefoot, delivering a comfortable yet snappy running experience. Unfortunately, energy return is disappointing.
Hoka ProFly+ (EVA): The next evolution in the ProFly series, featured in recent models like the Mach 5. It's noticeably more bouncy and enjoyable to ride than the regular ProFly. Although Hoka has not provided any official details on this foam, we know that it's a supercritical EVA. Moreover, it's also softer than its predecessor, with our lab measurements showing the ProFly-based Mach 4 being 28.5% firmer than the Mach 5.
On Helion (EVA + OBC)
Following the route of the ASICS' FlyteFoam Blast series, On decided to mix the EVA with OBC to obtain a better compound that delivers more bounce than a plain EVA, with the added benefit of a premium behavior under cold temperatures.
Of course, what makes On unique is their jaw-dropping foam design. The CloudTec system—which is patented by the Swiss brand—uses a series of pods that compress upon impact, providing cushioning and shock absorption. They also lock and provide a solid platform, giving runners a responsive, propulsive feel. And they just look different from everything else.
A frequent concern among runners was that Helion foam tended to feel somewhat firmer than desired, a notion we confirmed when both the Cloudmonster (25.8) and Cloudnova (29.0) exceeded the average shoe's firmness (25.0) in our durometer test. Thankfully, it appears that On has been refining their CloudTec technology in recent models, such as the Cloudsurfer, to deliver a more cushioned and comfortable ride.
Altra Ego (EVA) / Ego Pro (TPE) / Ego Max (EVA + TPU)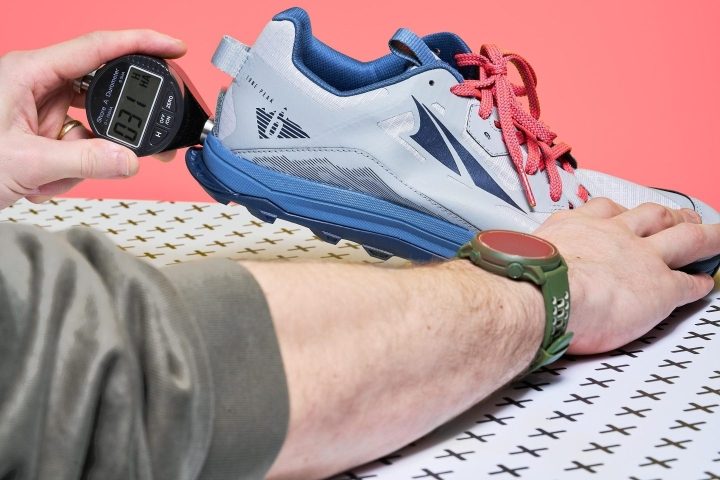 Altra, a brand known for its commitment to a 0-mm heel-to-toe drop and natural-shaped toe boxes, offers more versatility when it comes to midsoles. Runners can choose from 3 distinct options:
Altra Ego (EVA): While this is their most affordable and entry-level midsole, it's not a bad foam by any means. In fact, the Altra Ego provides one of the most enjoyable rides you'll experience with an EVA foam, as it's both soft and highly responsive. Our lab-testing of the Rivera 2 revealed that it was 40% softer than the average shoe!
Altra Ego Pro (TPE): As the fastest of the three options and designed for racing shoes like the Vanish Carbon, Altra couldn't settle for a basic TPE foam. Instead, they infused it with a supercritical gas à la FuelCell to make it lighter and bouncier. Despite these enhancements, it still falls short of joining the ranks of premium foams.
Altra Ego Max (EVA + TPU): The third foam was created to bridge the gap between the less energetic Ego and the faster Ego Pro. Ego Max combines EVA and TPU to improve durability and energy return, though it does add some weight to the shoe and it's on the firmer side. That's why they use it in the super-high-stack VIA Olympus.
Puma Nitro (TPE)
While supercritical TPE foams aren't very common in the running shoe industry, it's interesting to note that we'll be discussing two of them back-to-back, as Puma's Nitro foam shares a similar composition with Altra's Ego Pro!
As you might guess from its name, Nitro refers to nitrogen, the gas Puma uses to infuse the TPE, resulting in a foam that's softer and bouncier compared to a standard TPE blend. By the way, Nitro was believed to be EVA-based, but it's not the case.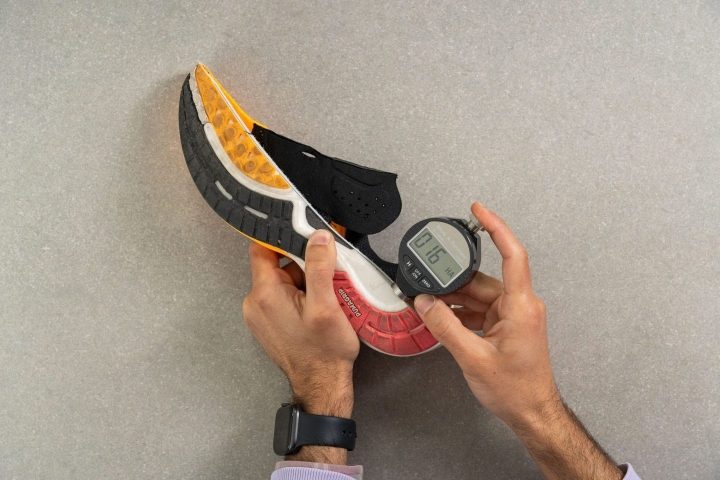 Nitro delivers an enjoyable running experience for those seeking a relatively affordable, bouncy, and entertaining ride, like in the Liberate Nitro. While durability might not be best-in-class, Puma positions their shoes more toward the performance spectrum rather than going all-out in durability, making Nitro an interesting choice for some, especially when mixed with their premium Nitro Elite foam, as you can get in the Deviate Nitro 2.
Other foams
Just as we did in the Premium Foams section, we're going to identify some common scenarios and share our top picks for each situation.
Vintage foams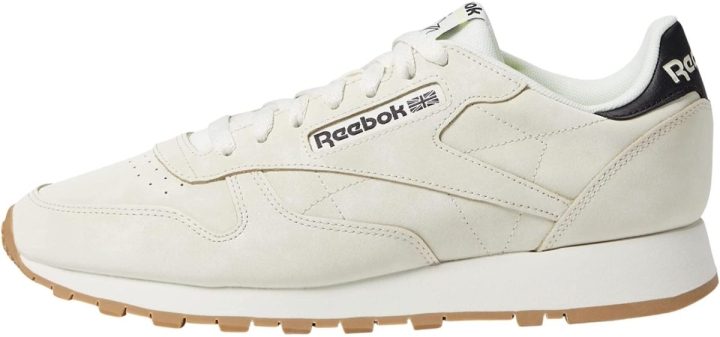 Some decades ago, the landscape of running shoe foams was 100% different from what it is today. The materials used were predominantly based on EVA foams. EVA had been the standard choice for midsole material since its introduction in the 1970s, offering a balance of cushioning, durability, and lightweight properties. Prior to EVA, midsoles were often made from polyurethane, which was heavier and less responsive.
As the running shoe industry evolved, brands tried to improve the performance of their footwear, but evolution was barely none. They experimented with various blends and compositions of EVA to fine-tune the cushioning and durability of their shoes. Some companies also incorporated gel (ASICS) or air (Nike) cushioning systems into their midsoles to try to enhance shock absorption and energy return.
Despite these innovations, the pre-2010 era of running shoe technology was characterized by incremental improvements rather than groundbreaking advancements, and nothing quite similar to Boost or ZoomX happened.
Winter running: How it affects your midsoles
One of the best—and underrated—advantages of most premium foams when compared to standard foams is the performance under cold temperatures.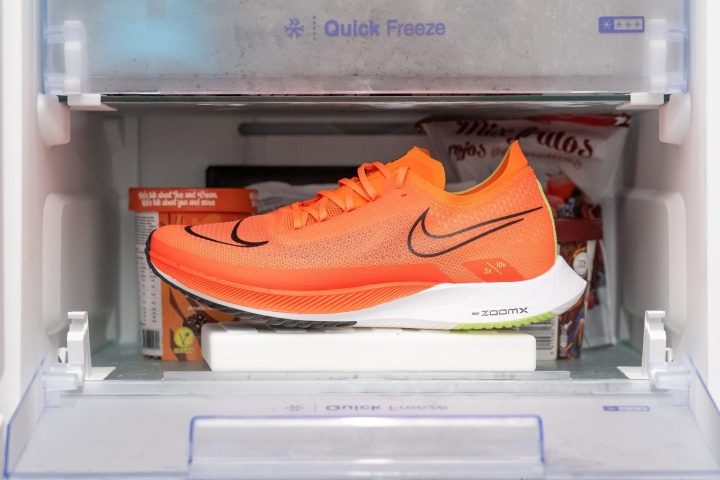 Let's go deeper in this regard with 4 examples of premium foams from our lab tests:
As you can observe, the so-called premium foams maintain their consistency even in freezing temperatures. Now let's look into 4 foams from standard midsoles:
Unfortunately, standard foams often become excessively rigid and firm, losing the comfortable feel of the original shoe you purchased in the store.
If you want to delve deeper into this relationship, check our in-depth guide about running shoes and temperatures.
Don't be fooled by softness
Some runners mistakenly believe that the softer the shoe, the greater the energy return. It's easy to see why this misconception arose, as when Nike's ZoomX was introduced in 2017, it was noticeably softer and bouncier compared to other foams available at the time. It felt nothing-short-of-miraculous.
This idea stuck in many people's minds, and now we often hear complaints about a shoe not returning as much energy as another simply because it's firmer. However, that's not how it works.
In reality, while a softer midsole may offer enhanced cushioning and comfort during a run, it could also result in increased energy loss if it doesn't rebound quickly enough or compresses too much under pressure—a.k.a. it "bottoms out". It's very common in mushy midsoles like New Balance's FuelCell.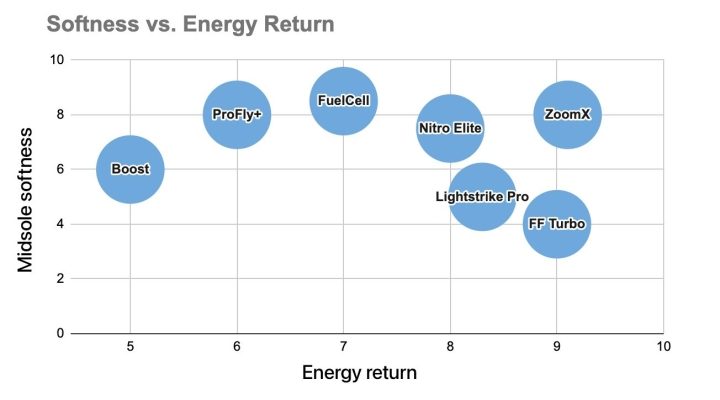 We included in this chart some of the most popular running shoe foams on the market to disclose how softness doesn't correlate with energy return. Please note that softness was measured by us in the lab, while energy return is a manually assessed value.
Finally, it's important to note that energy return is just one aspect of a shoe's performance. For example, if you are an overpronator and run in a very soft midsole, regardless of the shoe's energy return, it may guide you to worse performances in every distance.
Let your shoes rest and recover!
You may have heard from a friend that it's essential to let your shoes recover. Well, it's just like that.
In this chart created by the American-based company Dow to showcase the advantages of its EVA + OBC compound, various foams undergo static compression at room temperature for 22 hours. Afterward, they're set for recovery during 24 hours. If a foam manages to return to its original shape entirely, it will have a compression set of 0%—which doesn't happen at all.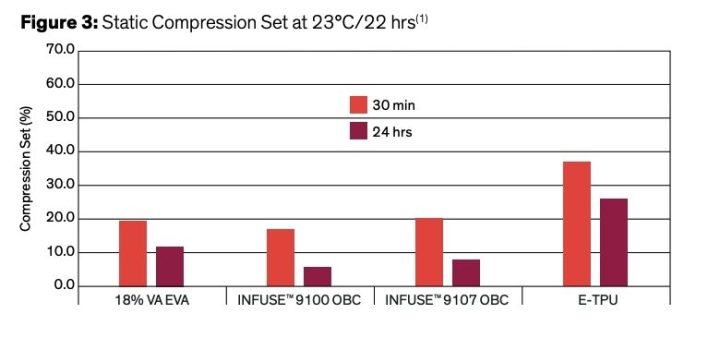 *INFUSE™ foams are EVA+OBC midsoles like ASICS FlyteFoam Blast+ or On Helion.
The results are truly astounding. Surprisingly, regular EVA foam outperforms EVA + OBC in the 30-minute test, although it falls short in both variants over 24 hours. However, when compared to a TPU foam—like Boost or PWRRUN—the difference is absolutely astonishing.
To err on the side of caution, establish a rotation of 2 or 3 pairs of shoes and wait at least 48 hours before using the same model again. And as happens with you, the longer and faster you run, the more rest your shoes will need to recover. By doing so, you'll not only enjoy better leg protection and bounciness, but you'll also extend the lifespan of the shoe by allowing it to fully recover between workouts.
Stack height: higher is better?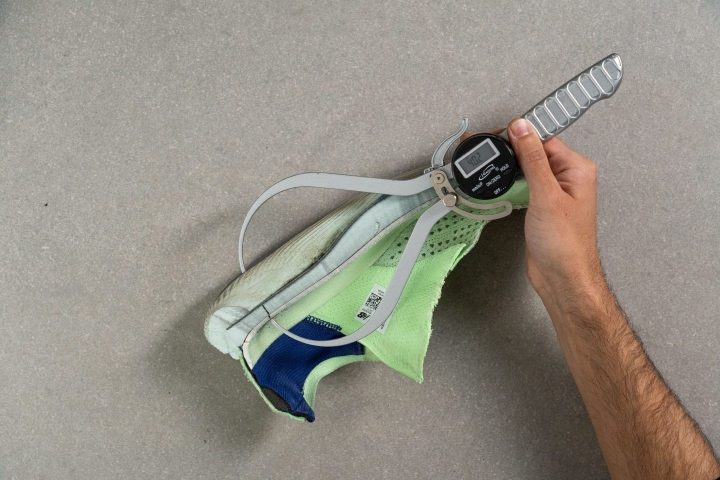 No, higher is just higher—though it could be better when considering energy return alone.
In recent years, the popularity of ultra-high running shoes has soared. The epitome of this trend was the Adidas Adizero Prime X with its 50-mm heel stack height. To be fair, Eliud Kipchoge's original, unreleased Alphafly worn in the INEOS 1:59 event in 2019 also had a 50-mm stack—and 3 carbon-fiber plates—but it was finally reduced by Nike to 40 mm due to World Athletics regulations for road running shoes. Regardless, even a 5-cm shoe has become normalized, though it was unheard of just a few years ago.
Since the introduction of the OG Vaporfly and the realization that a high stack of premium foam combined with a carbon plate was a winning formula, brands have been making their shoes taller, affecting not just racing shoes but all kinds.
However, the final answer depends on the individual:
For neutral long-distance runners with good form, a tall shoe (>30 mm) can work wonders even for training purposes, such as the ASICS Nimbus 25.
Pronators or overpronators should think twice before investing in a skyscraper-high, soft shoe. They'll gain energy return but may experience instability issues and lose energy laterally. A firmer shoe like the Hoka Gaviota 4 could be a better option.
Mile/5K/10K runners may benefit more from a lower stack shoe that's not much beyond 30 mm since higher stacks are not ideal for fast-paced races with sharp turns. The Adidas Adizero Takumi Sen 8 is a good example.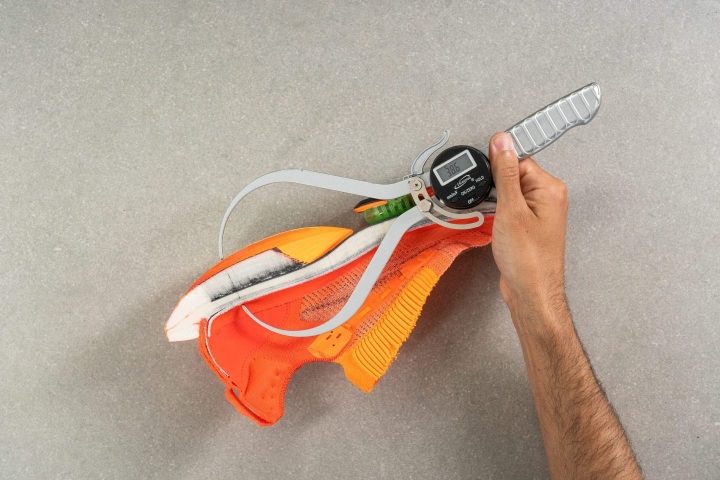 It's worth noting that the market is demanding taller shoes because most runners want impact protection and do not prioritize ground feel or a more natural ride. As a result, brands are delivering taller shoes to meet these demands.
Why investing in premium foams can be worthwhile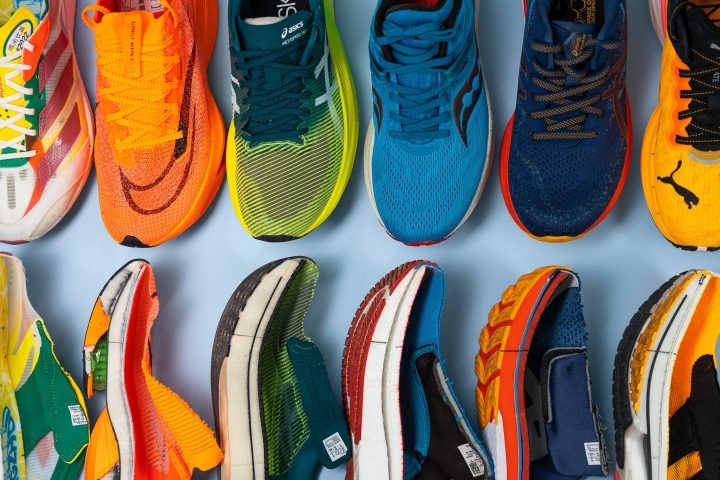 While you may think that it's all about energy return and faster paces, it isn't. Many elite athletes have praised the so-called superfoams for its ability to avoid DOMS and muscular fatigue the days after a big workout or race. And for how they allow every runner to increase mileage, lowering joint pain and injury risk.
So if you run a moderate amount of kilometers, like 40 or 50 a week, you won't notice a big difference between ZoomX or React, for example. But if you are into high mileage—which is almost a lifestyle—and you run more than 100 kilometers a week, is a blessing.
So think of it this way. If a session on your PT costs you between $50 and $150, only a single session makes up the difference between a Nike React Infinity Run and a Nike ZoomX Invincible, which on top of being a total leg-saver, is also way faster and has more energy return. However, these shoes should not be seen as a substitute for PT sessions by any means!
The science behind supercritical foams
It's likely that you've heard, not only in this guide, but also in many other running-related websites, about supercritical foams, or just the "supercritical" word. And undoubtedly, the word sounds really fancy and high-tech, so it's no wonder why brands love to say it when their foams have this technology. Let's explain the thing with an EVA example:
A supercritical EVA is just a plain-and-regular EVA foam that was pumped with a supercritical agent—usually nitrogen or CO2—in order to improve two main characteristics: weight and energy return.
This process involves injecting the gas—in supercritical liquid state—when the foam is forming in the mold. The result is a foam that provides a more comfortable and efficient ride, as it offers better cushioning and energy return compared to regular foams, plus the added benefit of reduced weight, as there is less EVA—or other material—and more gas.
Of course, we can't wrap up here without providing a clear explanation of what a supercritical gas is, right? Well, it is a substance in a state where it's neither a liquid nor a gas. It may sound weird, but it's real. This is because the nitrogen or CO2 in a supercritical state has the properties of a gas, but the density of a liquid, allowing it to be pumped into the mold along with the foam.
By the way, this unique state occurs when a gas is subjected to extremely high pressure and temperature conditions, causing its properties to change. And if you're curious to see what it looks like, check out this video of CO2, the gas used by Skechers to improve their midsoles.
Why premium midsoles are worth it for all runners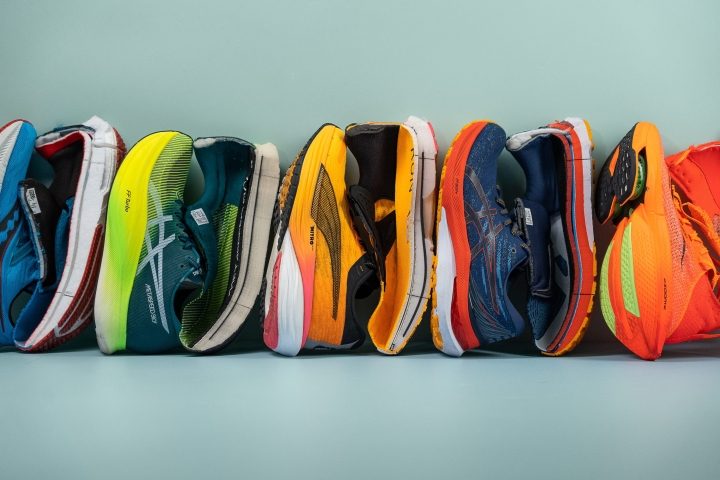 "Why do you run in Vaporflys if you're slow?" I can't count how many times I've come across this situation with friends and colleagues. And it's truly frustrating because virtually everyone can enjoy the advantages of a high-performance shoe in various ways.
While it might not be as crucial for a sub-5-hour marathoner to shave a few minutes off their PB compared to a sub-3-hour runner, the primary benefits of advanced running shoes can be appreciated by all: your pace will likely improve, and you'll definitely recover faster after a race.
I say "likely" because not everyone experiences a faster pace with high-performance shoes. In fact, some slower runners may find their performance worsened by these shoes. A recent study focused on slower speeds revealed that a small fraction of participants (5 out of 16) actually ran slower in supershoes. However, even in those cases, the benefits of faster recovery after a race outweigh the minimal decline in performance. Who wants to go down the stairs backward the day after the marathon?
How long do running shoe foams last?
The longevity of running shoe foams depends on several factors:
The foam itself: As a general rule, more energy return or more bounciness usually means less durability, but there are exceptions like Lightstrike Pro.
Runner's weight: Heavier individuals place greater demands on the foam, causing it to wear out faster-than-expected.
Pace: Similar to weight, a faster pace requires more work from the foam, whether due to increased cadence or stride length… or both.
Temperature: Mild temperatures are ideal for foams to prevent excessive wear. Running in extreme cold or heat can cause the foam to wear out sooner.
Runner's preference: Some may consider a foam "dead" once it no longer delivers peak performance, while others may not notice a difference and continue to use the shoe beyond 1000 km without issues.
In general, premium foams tend to maintain their quality between 500 and 800 km, although YMMV depending on weight, pace, and surface. Most of these foams lose their "magic" within 150-250 km and then perform at a satisfactory level for training purposes. It's best to avoid racing in premium foams with over 200 km of usage, as the risk may not be worth it, though it can still be done.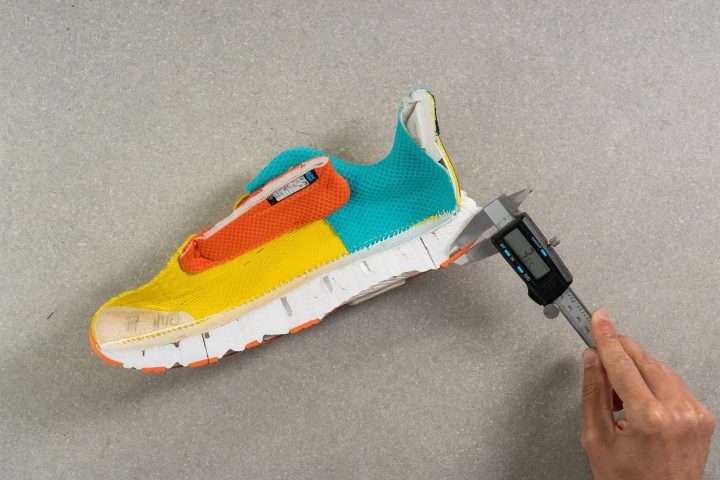 To enhance durability for both standard and premium foams, choose shoes with thicker rubber and less exposed midsoles—at the expense of weight. Additionally, you can consult our comprehensive lab tests, which detail the thickness and hardness of the outsole's rubber.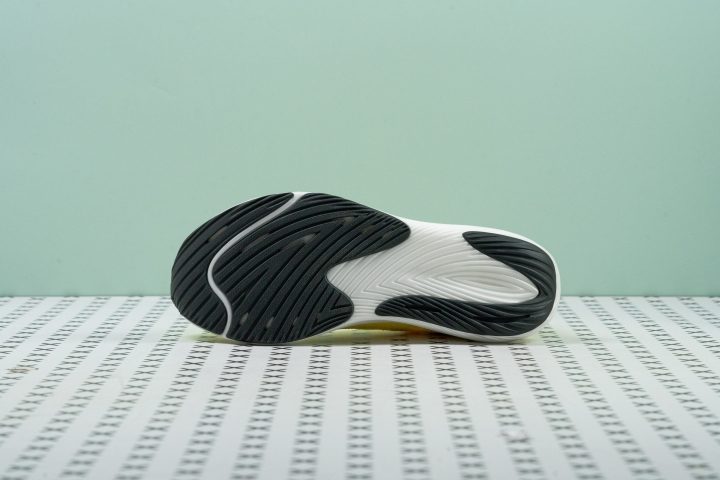 Exposed midsole in the New Balance Rebel v3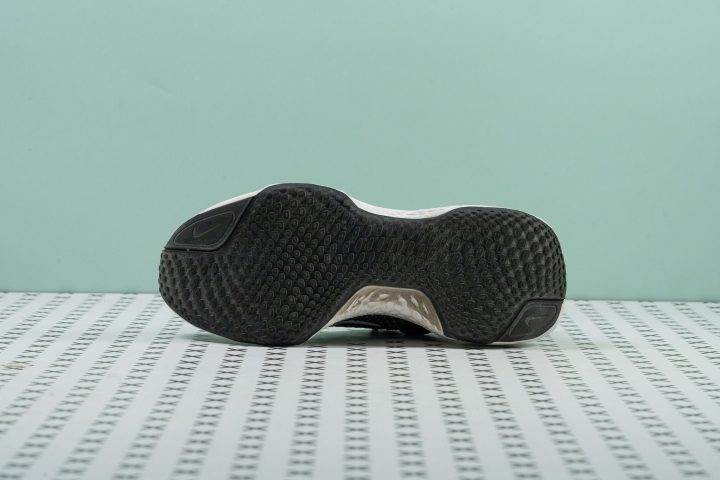 Thick-and-durable rubber in the Nike Invincible Run 2
When a premium midsole isn't really premium: Encapsulated foams
Brands adore—and primarily focus on—selling shoes, plain and simple. High-end foams like ZoomX or Lightstrike Pro serve as fantastic marketing tools, drawing in buyers. However, these premium foams are costly to produce, making it challenging to incorporate them into more affordable shoes. This is where encapsulated premium foams come into play.
A running shoe featuring encapsulated premium foam does contain that top-tier material, but it's encased within a less expensive and typically firmer EVA foam. Notable examples include the Zoom Fly 5 (Recycled ZoomX + SR-02) and the Adizero SL (Lightstrike Pro + Lightstrike). In both cases, the so-called "carrier foam" adds durability, but the overall ride falls short compared to a genuine premium foam shoe.
The issue arises when, as with the Zoom Fly 5, brands prominently display the premium foam logo, creating the illusion that the entire shoe is made from that material. Mmm… nope!
What you see: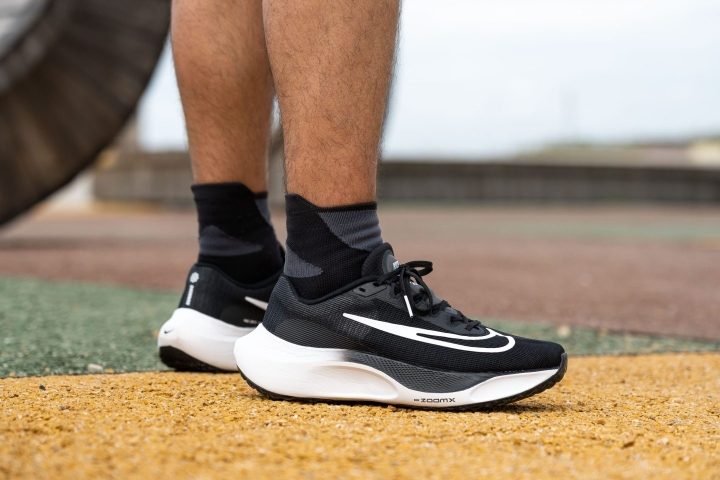 Yeah, that ZoomX logo...
What you get: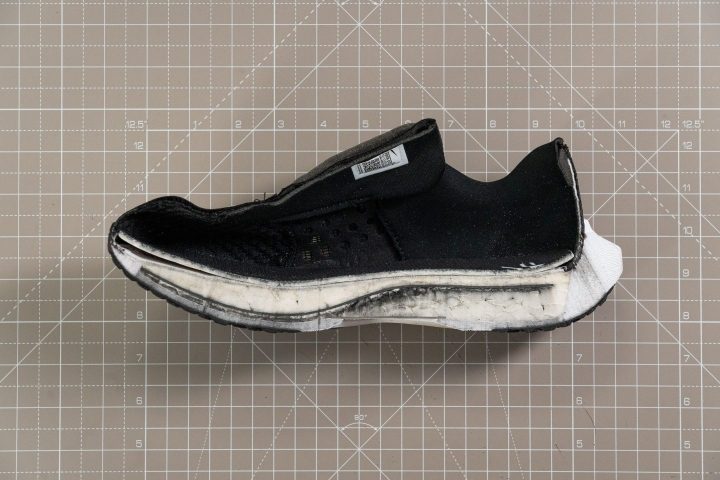 As you can see, there are two types of foams in the ZF5. The white one that goes below the carbon-fiber plate and fills all the heel is SR-02 (EVA), a denser and firmer non-premium foam.
Other brands, like Topo, choose to disclose the whole truth even in their official product page, which we truly appreciate. The Topo Specter is another example of encapsulated foams, where Topo places the yellow, pellet-based Pebax-powered foam—similar to PWRRUN PB—inside an EVA frame to protect it and reduce manufacturing costs.
Image: Topo
The future of midsoles
As with any disruption, people are now wondering when the next big leap will occur. However, it doesn't seem like it will happen anytime soon.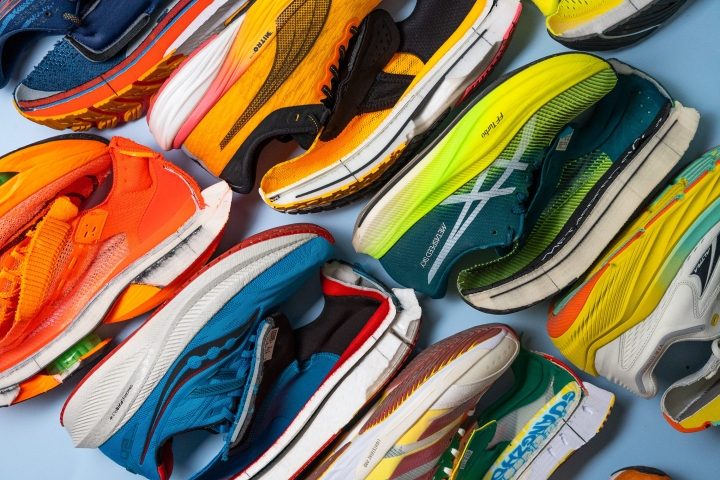 In the modern running world, after the introduction of EVA midsoles, we witnessed two significant advancements: Boost (TPU) in 2013 and ZoomX (Pebax) in 2017. Now in 2023, Boost keeps selling shoes at a decent pace even in a "Light" version, while ZoomX has mostly stayed the same, with no other foam surpassing it in the past six years. Naturally, many are anticipating the arrival of the next superfoam.
Predicting groundbreaking innovation in the shoe industry is almost impossible, as companies keep such advancements confidential to maintain competitiveness. And it doesn't appear that we'll see a revolution in the next 1-2 years.
At present, the maximum energy return hovers around 90% for best-in-class midsoles. Coupled with the 40mm stack height limit and the restriction to a single carbon-fiber plate, a significant revolution under the World Athletics guidelines seems unlikely. However, brands like Adidas may start pushing boundaries outside of the regulations—like Adidas with the Prime X—leading to unexpected surprises. But, it's probably not a good idea to bet all your money on this.