The Adizero Adios 7 from Adidas "continues to be that simple, traditional racing flat," remarks one expert. It provides a low-stack firm ride, taking you back to the good old days before the dominance of supershoes, but with the addition of modern-day technology, such as a chunk of ultra-reactive Lightstrike Pro located in the forefoot.
Pros
Snappy ride
Great for fast track workouts
Well ventilated
Amazing ground feel
Lighter than ever
The outsole lasts forever
Grippy Continental rubber
Modestly priced
Cons
Not for cold weather
Heel slippage
Needs more Lightstrike Pro
Ride is too firm
Who should buy the Adizero Adios 7
The Adidas Adizero Adios 7 is a solid choice for:
Anyone that needs a not-so-expensive but fast shoe.
Fans of old-school racing flats.
5K/10K aficionados that want to do shorter-than-mile repeats on the track.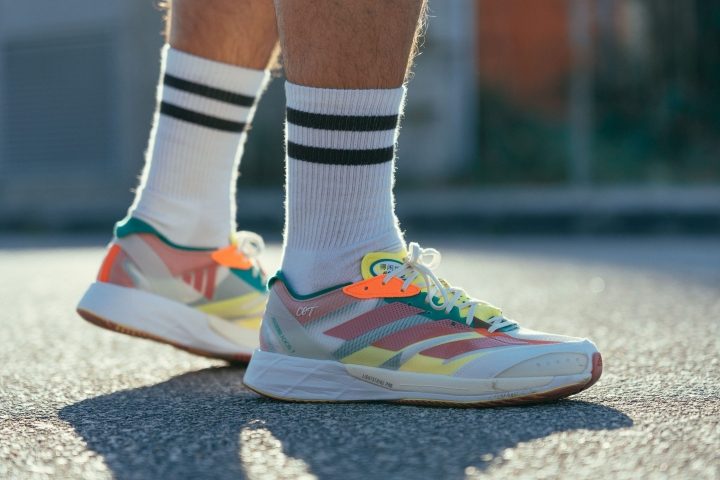 Who should NOT buy it
The Adizero Adios 7 from Adidas offers an energetic and potentially enjoyable ride, but it can also be physically demanding on the muscles.
If you typically train in shoes with modern, cushioned foams, this racing flat may not be the ideal choice for fast workouts or races, especially given the availability of the highly acclaimed and Lightstrike-Pro based Adidas Adizero Takumi Sen 8.
A solid training partner
The Adizero Adios line is dedicated to high-performance running. With the introduction of the Adizero Adios Pro series, Adidas has repositioned the non-Pro Adios as a reliable training partner for some—but not all—workouts.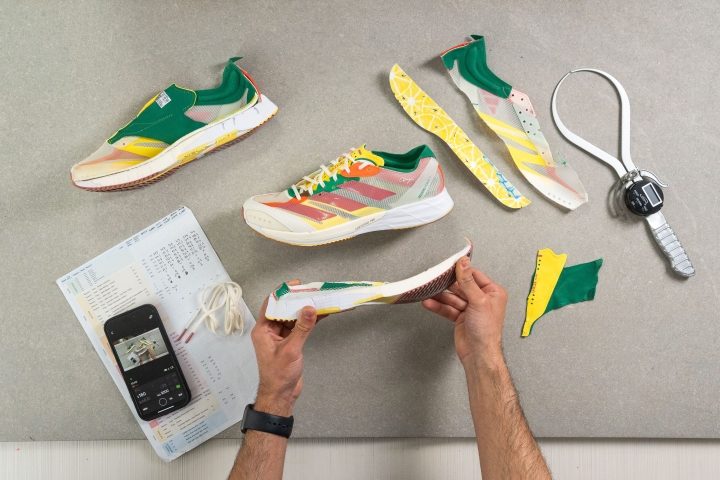 Hyper-breathable and light mesh upper
Adidas Adizero Adios 7 (left) vs. Adidas Runfalcon (right)
Adidas decided to move away from the Adizero Adios 6 and borrowed many features from the plasticky upper of the Adizero Adios Pro 3. It seems that most reviewers loved the change:
"breathable paper-thin upper"
"the upper is thin, breathable, and lightweight"
Fact check
The reviewers were right. With this upper, there were no other possible results in our breathability test than the maximum score: 5 out of 5!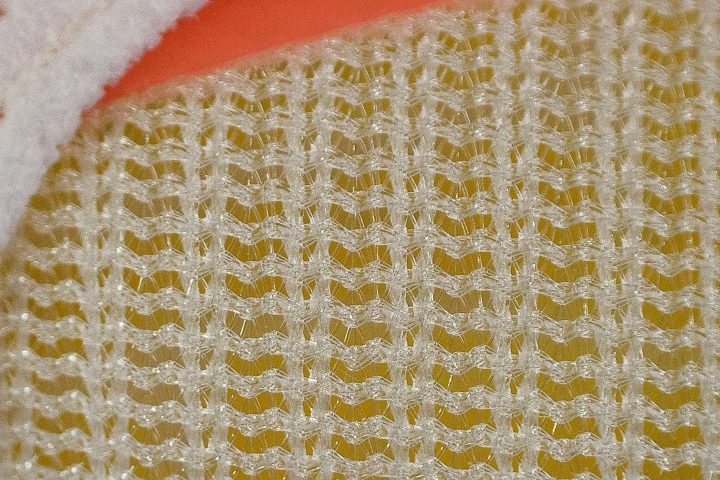 Blister alert!
Although the upper is transpirable and great, there is one potential caveat to be aware of. Unlike the monomesh upper featured in Adidas' high-end shoes, this one includes some sturdy lateral and medial forefoot overlays. While this is a plus in terms of durability, it may not be ideal for your big toe and, especially, your pinky toe.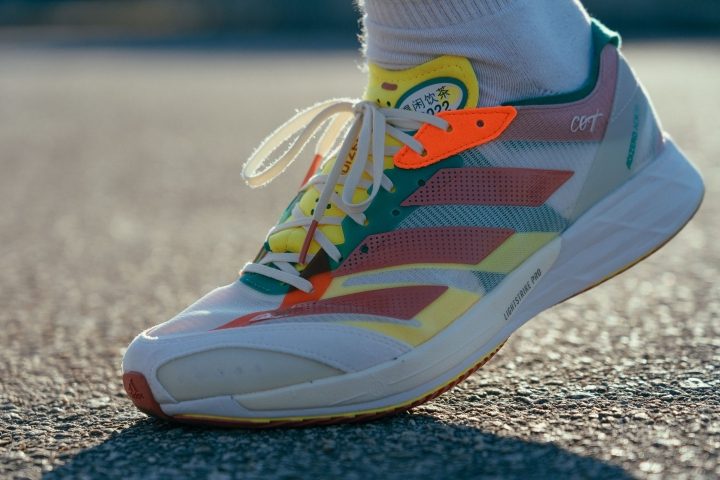 One running expert stated: "Creasing from the forefoot overlays causes huge blisters and skin peeling."
Do you really need EnergyRods in this one?
Contrary to what you'll find in the newest Takumi Sen, the Adios 7 does not have EnergyRods, the famous Adidas version of a carbon-fiber plate.
Not that they need it, as per this running critic: "This is not a "plated shoe", but this plastic piece gives a nice snappy toe off."
Fact check
This shoe scored a 4 in our torsional flexibility test due to its semi-rigid plastic shank, which is consistent with the experience of every reviewer.
The dual midsole needs some break-in, but it's really stable
To enhance durability and maintain affordability, Adidas utilized a dual-foam design in the Adios 7:
Lightstrike: This EVA-based foam is used in the majority of the midsole. While it is inexpensive and long-lasting, it may not offer the same level of bounce and cushioning as other foams.
Lightstrike Pro: Known as a "superfoam", this TPEE-based material is renowned for its energy return and bounce, and that's why Adidas included all of it in the midfoot and forefoot. Although it may not be as durable as regular Lightstrike, it is still considered one of the most long-lasting premium foams in the market.
Both foams need a break-in period of at least 3 or 4 runs to start feeling really great. What is obvious is that the Adidas Adizero Adios 7 it's not a plush shoe by any means. This makes its ride very responsive and fast, which has been a favorite among some reviewers. Very much so that they gave the shoe these comments:
"Good training flats for tempos and track work"
"Just a joy to run in!"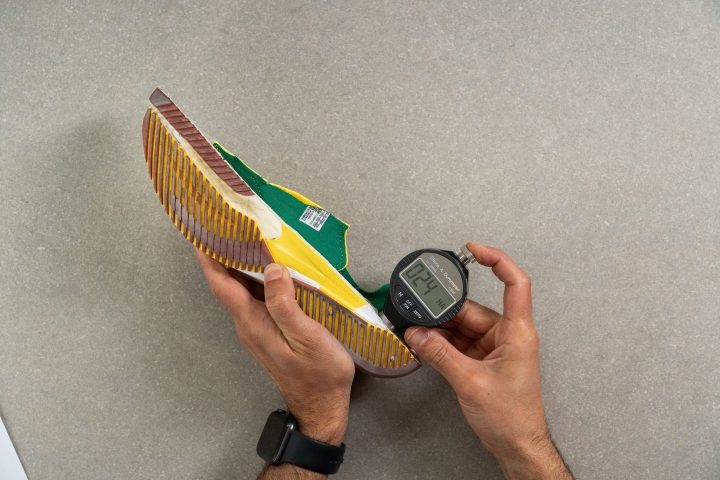 Disclaimer: We calculate the average of four durometer measurements, disregarding any outliers. The photo above shows one of the takes.
Fact check
Regarding softness, our durometer measurements put the Adios 7 in the middle of the pack: 24.0 HA. That's only 5.4% less than the average shoe, which is consistent with most user reviews that describe it as not particularly soft but not super firm either.
Drop and stack height: more of those old school vibes...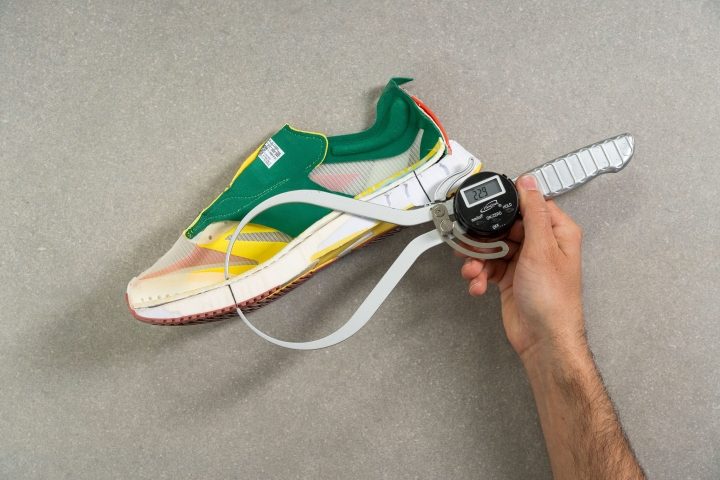 Disclaimer: We always measure stack with the insole included.
The current trend in the shoe industry is to increase the stack height, but the Adios 7 by Adidas goes against the grain. Its heel height measures 31.6 mm while the forefoot height is 22.9 mm, which is lower than the average stack height of road running shoes: 33.2 mm in the heel and 22.9 mm in the forefoot.
Furthermore, Adidas boasts that the Adizero Adios 7 has a drop of 8 mm.
Fact check
There are no significant differences between what the brand says (8 mm) and our lab-measurements (8.7 mm). Great!
Unconventional extra eyelets
Unlike most running shoes that offer just one extra eyelet at each side, the Adizero Adios 7 comes with 6 more, 3 on each side, giving you the flexibility to adjust the fit for a perfect, snug fit.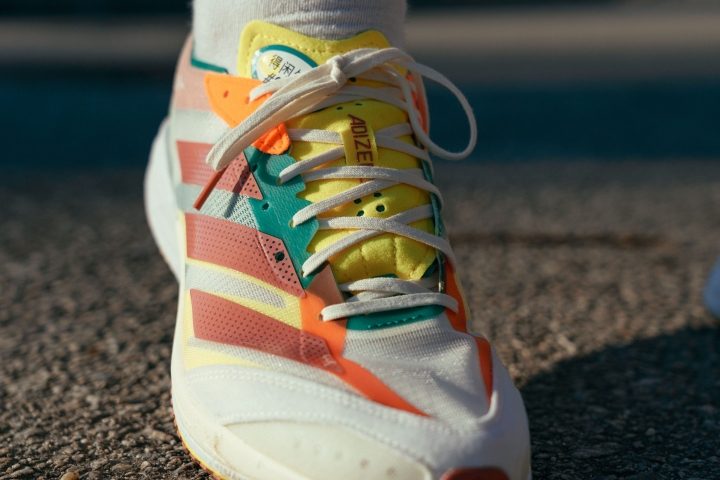 Why is it so frustrating that most brands refuse to drill a few extra—even weight-saving—holes in their shoes? It seems like such a simple design choice that could make a significant difference to get the perfect fit.
Stable platform that works wonders for heel strikers
Every Adizero shoe—because of its racing orientation—has been designed with a preferred midfoot-to-forefoot strike pattern since its very first model. This design choice explains why the Lightstrike Pro foam is only located in the forefoot in the Adios 7.
With that being said, heel strikers can still benefit from the firmer Lightstrike foam as it adds stability to the ride.
We're not the only ones who think so; one critic stated that "The Adidas Adizero Adios 7 is a pretty stable shoe for the category" while another said: "Nice controlled rebound from the Lightstrike Pro forefoot with a stable Lightstrike heel."
Possible heel slippage
A user expressed frustration with a particular issue: "the only way to reduce heel slippage is to strangle my ankles with the dental floss-thin laces."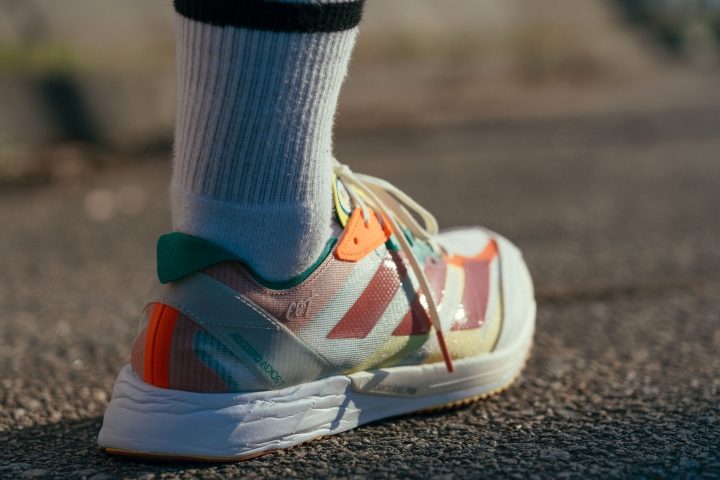 The issue, as this user pointed out, is that in typical Adidas style, the laces are extremely thin, and the tongue doesn't offer any protection from lace bite if you use an alternative lacing technique.
Fact check
That's consistent with our findings, as the shoe only scores 1 out of 5 in our heel counter stiffness test. Similarly, when we looked inside the shoe, we discovered that there isn't much padding in the heel area to lock the feet.
Grippy Continental outsole
The outsole has both good news and bad news. As always, let's start with the good news. It's grippy and it lasts long. Even after 500 km worth of wear tests, it still has little to no traces of wear and tear.
The Adizero Adios 7 excelled with its outsole for every tester:
"Still best in class Continental outsole traction."
"As expected, the Continental rubber in the outsole never fails."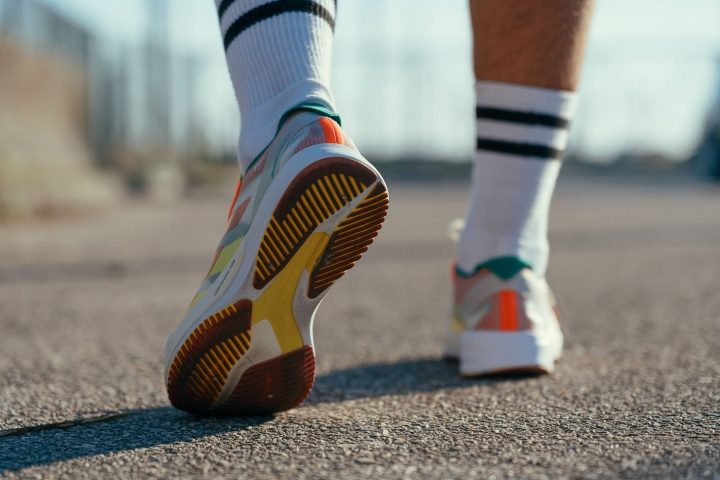 Now to the bad news. It's a hard compound, which is also the reason why it's hard to scratch. So much so "you can even hear it from the sound", reports one racer. For context, the sound it makes is an annoyingly slappy sound.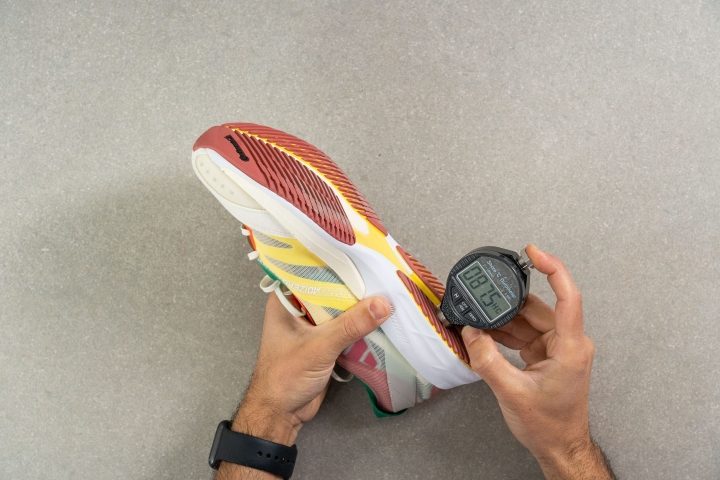 Fact check
There is 3.4 mm of Continental rubber. Although this may appear modest, it's equivalent to the average shoe we examined in our lab. It's worth noting that this shoe was crafted with a focus on minimizing weight. On the other hand, the rubber is 9% harder than the median measurement.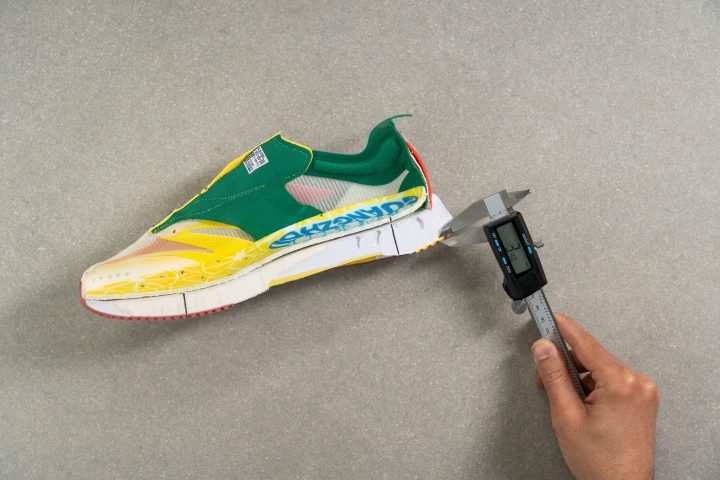 Not a good choice for slow long runs
A running expert explained that he did a few easy runs on the shoe, and the feeling wasn't great at all. The problem was the pace, though. In contrast, after he took the shoes again for a fartlek run, the sum of the forefoot-placed Lightstrike Pro and the plastic shank "resulted in the pop that I was looking for."
This shoe is not the versatile kind—you shouldn't expect that at this point anyway—that can deliver greatness at any pace.
It's too firm for easy paces and too low-stacked to provide adequate cushioning for long runs. However, if you're seeking a shoe for short, fast bursts, you'll discover its wonderful sweet spot.
Racing flat vibes
The Adizero Adios 7 is just the opposite of any modern-day rockered shoe like the New Balance SuperComp Trainer or the On Cloudmonster. But that's not a bad thing at all. A low-stack shoe without a rocker design is ideal for:
High-intensity workouts where minimal ground contact time is desirable.
Runners with great technique and a strong big toe.
Anyone with stability problems or that just prefers a shoe with more ground feel.
The Adizero Adios 7 takes it easy on the weighing scale
Adidas fans have shown their admiration for this update, as it is significantly lighter than its predecessor. One enthusiast even expressed being a "big fan" of the new version due to its lightness.
Fact check
The shoe weighs 212 grams in men's US 9. That means 32 grams less than the Adizero Adios 6 (244g). What a successful diet!
Thin tongue creates lace bite risk
The tongue of this shoe is remarkably thin, measuring only 1.8 mm, and lacks any padding. This increases the risk of experiencing lace bite if the super-flat laces are tightened too much, which is often necessary during fast-paced runs.
While it's understandable for an "Adios" shoe to have a thin tongue that shaves some weight, other features like the thick Continental rubber outsole make us think that the Bavarians think of this one as a training companion.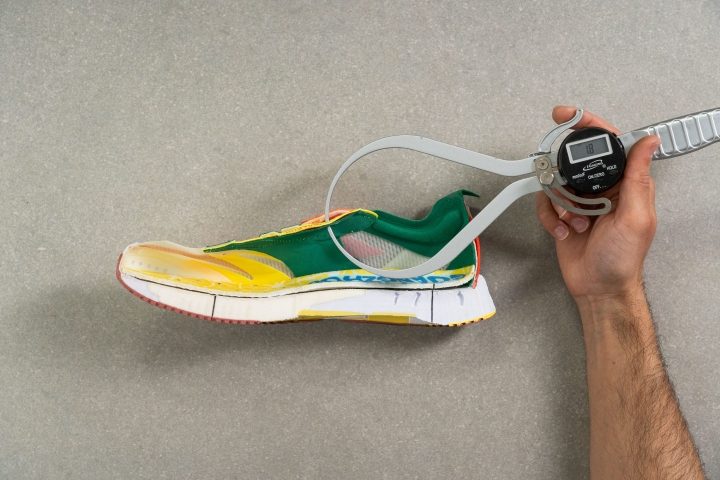 Therefore, adding some padding to the tongue would have been a great idea and we expect to see that in its next update.
Fortunately, there's some good news. A critic mentions that "the slightly stretchy semi-gusseted tongue stays in place" which is consistent with our experience.
It runs remarkably narrow on the heel…
"Lockdown doesn't convince me" are words from a running athlete who finds the heel area too narrow and not sufficiently structured.
Another reviewer just confirms what it's the norm in any Adios-line shoe: "The last of the shoe is relatively narrow from the rearfoot through the midfoot."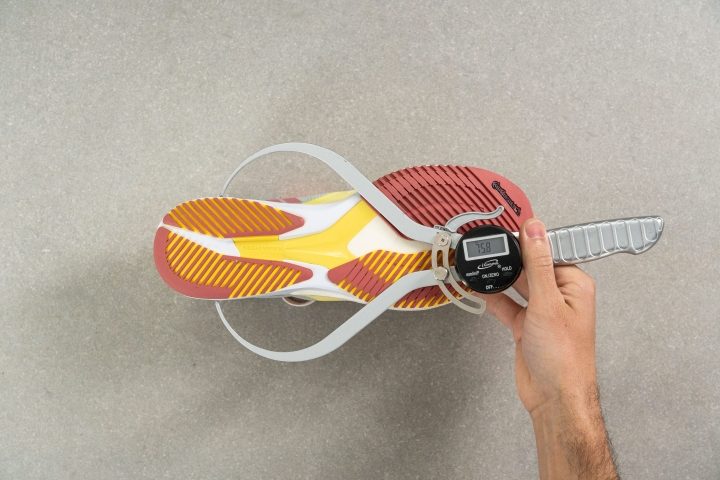 One more said: "This is best for those with narrow feet", so it seems clear to us that Adizero shoes tend to be narrower than usual on the heel.
Fact check
We confirmed everyone's feelings with a strikingly low measurement of 75.8 mm in the heel. That's 17.9% less than the average of 100+ shoes measured in our lab, and also narrower than a
Metaspeed Sky
(79.8 mm), an
Adizero Adios Pro 2.0
(77.0 mm) and a
Saucony Endorphin Pro 3
(86.0 mm).
If you have narrow feet, the Adizero Adios 7 can be a smart choice but beware that the shoe runs a tad long as per most reviewers. However, if you have wide or even normal feet and have had discomfort with narrow shoes in the past, this more traditional racing flat may not provide a comfortable experience.
…And gets impossibly narrow around the toes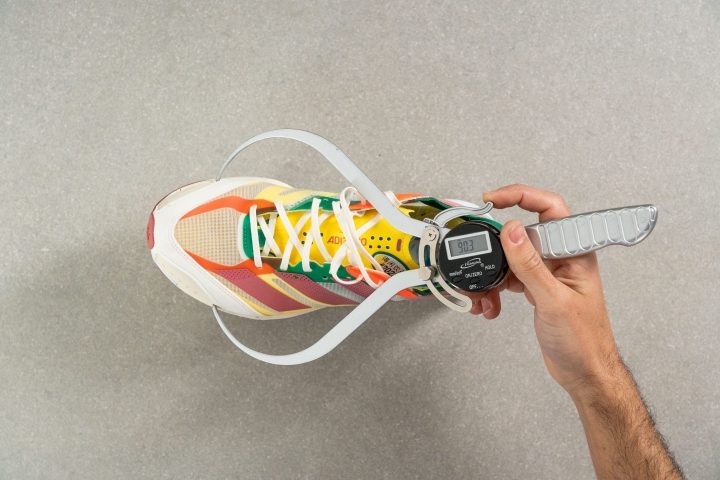 Instead of measuring just one area in the toe box, we prefer to take two measurements: one at the widest point and the other at the point where the big toe lands.
This approach is a more reliable approach to understsand how the shoe conforms to the shape of the foot in the toe box region.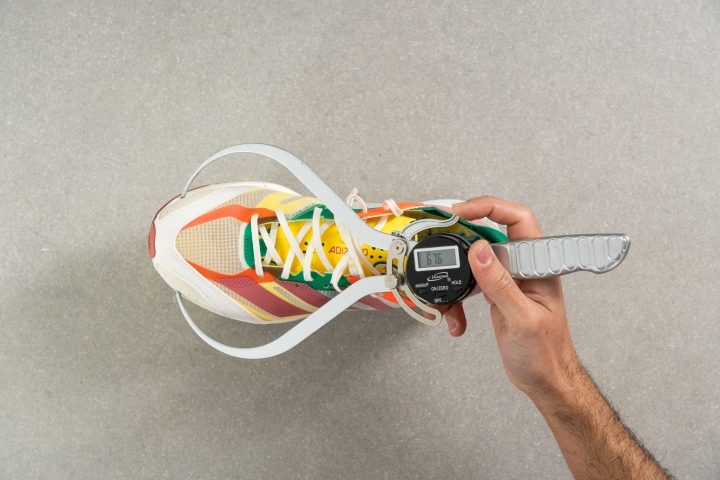 The Adizero Adios 7 features a remarkably aggressive shape, with a narrow toe box at its tip.
Our measurements show a 46.6% decrease between the two points we measured: 99.1 mm at the widest point and 67.6 mm where the big toe lands. In comparison, a similar shoe like the Nike ZoomX Streakfly has a 27.4% decrease with measurements of 95.4 mm and 74.9 mm, respectively.
If you are prone to having issues with your big toe or pinky toe, maybe the Adios 7 is not the best choice for your feet.
Hardens up in winter
Some running shoes can harden up a lot under cold temperatures. Unfortunately, the Adizero Adios 7 with its big chunk of Lightstrike EVA-based foam falls into that category, which is especially concerning for a shoe that is already considered firm.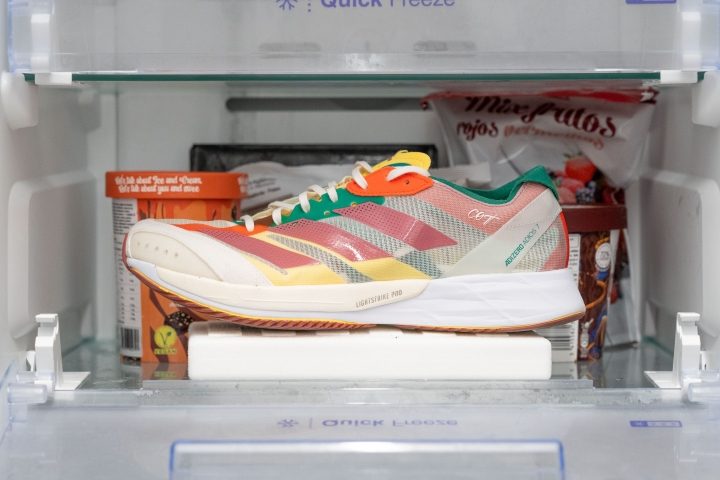 Fact check
On average, shoes become 26.9% harder after being exposed to freezing temperatures for 20 minutes in our lab. The Adizero Adios 7 is slightly above that threshold, with a score of 27.5%. For reference, the
Adizero Adios Pro 2.0
, which features full-length Lightstrike Pro foam, only hardens by 4.4%.
Good looks are appreciated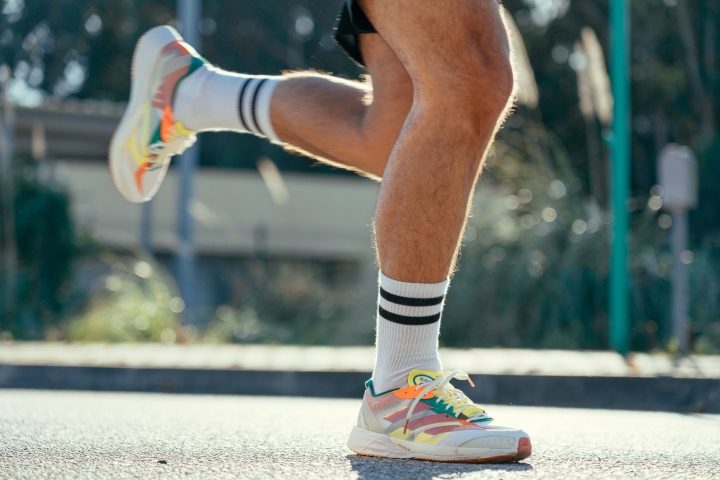 It's not unknown that Adidas running shoes are killing it in the style department, and the Adios 7 is no exception. Attesting to this, a runner leaves this short yet very telling comment, "niceeeee" when he talked about the shoe's design. Another joins in saying that they love the pair so much; they bought it in a different color.
A durable worthwhile investment
On average, racing flats cost $146 a pair. But at $130, the majority, if not all, find the Adidas Adizero Adios 7's price tag very reasonable. But even at full price, this shoe is a worthwhile investment, capable of devouring hundreds of workouts…unless you're a super-high-mileage runner!