Top-tier race shoe from Adidas gets an update. In 2020 V1 won a ton of praise and world records with its carbon rod (and plate) design and Lightstrike Pro midsole. The super shoe category was once owned but just one brand but in 2021 there's some serious contenders for best in show.
Pros
Breathable
Responsive
Carbon rods
Soft midsole
Laces stay tight
Price
Cons
Runs narrow
Unstable at slow speeds
Adidas Adizero Adios Pro 2 review and lab test
Race day watch out!
Adidas entered the super shoe race in 2020 with V1 of this shoe and it was a Nike killer in many eyes. V2 refines that shoe a bit.
This is a comfortable race shoe (yes those two words don't normally go together) but Adidas found a way.
Unfortunately, it has a slight stability issue for heel strikers or slower speeds, and the pop is not as great as other fully-plated carbon race shoes.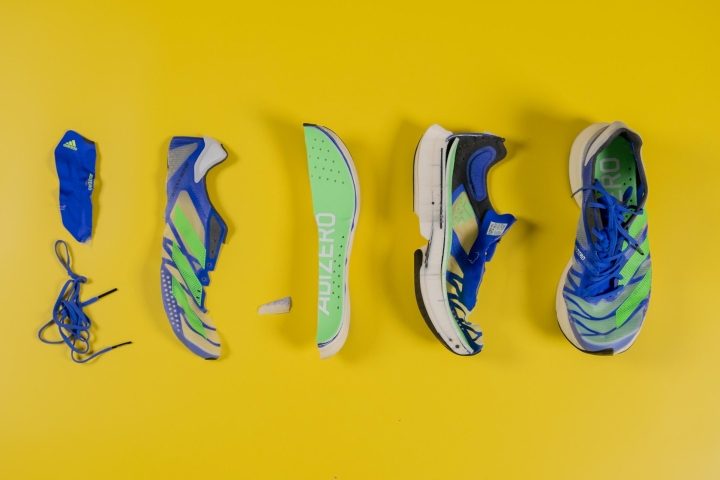 But, at $220, there's value in the Adios Pro 2 being one of the cheaper super shoes on the market.
Why did the 2021 Boston Marathon winners wear V1 this fall though???
Who should buy the Adidas Adizero Adios Pro 2
Buy this shoe if you want a top-end race day shoe to squeeze your best effort out of. It's fast, fairly comfortable, decently priced, and proven to win world records.
If you are a three-stripe fan, and a shoosh hater, here's the shoe to kill the king of super shoes!
Who should not buy it
Don't buy this shoe if:
Adidas Adizero Adios Pro 2 runs a bit narrow
The Adios Pro 2 does run a touch narrow, as most races shoes do at 93.2mm in the forefoot and 67.2 in the heel (average running shoe uppers measure 98.4mm and 75.4mm).
But honestly, for a race shoe, it does fit, and I have wide feet. There's just enough stretch in the upper to allow a bit of movement for my feet. The toe box did have enough room upfront as well.
I think I'd size down half a size though as it feels a touch long, especially if I had a normal to narrow width foot.
Racing usually doesn't mean comfort
For a race shoe, the Pro 2 is surprisingly comfortable. This mainly comes from the soft midsole underfoot, but the upper has a bit more give than other races shoes and doesn't feel as constricting.
Also, there's a touch of padding in the ankle collar and heel which is actually a great feature as it's a bit plusher (think plush in an austere way) than most race shoes. The heel counter is super flexible, scoring the lowest, just a 1 on our 1-5 heel stiffness scale, and the rest of the upper is a thin, translucent mesh (Adidas calls it Celermesh) that offers great lockdown and super breathability but that's about it.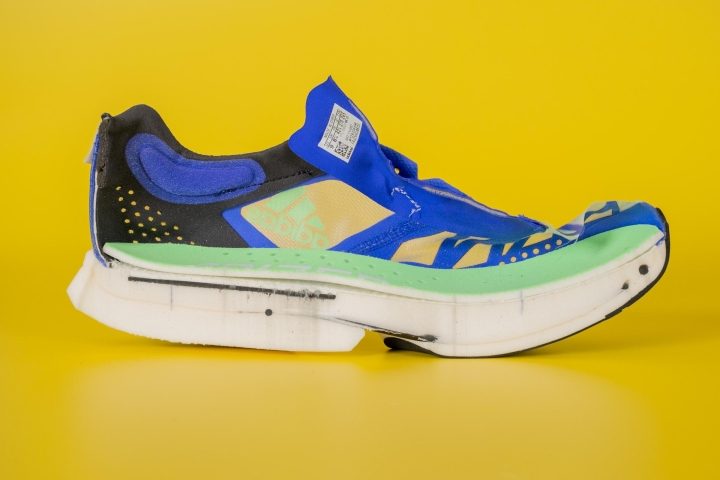 As for the tongue, it's paper thin at just 1mm, again this is a race shoe (average tongues on running shoes are 5.5mm thick).
But the tongue is made from a dense fabric that's a bit stretchy and neoprene-like with a few thin strips of foam sewn in, so although it's minimal it does offer the needed protection over the top of your foot from lace bite and cinching.
The tongue is not really gusseted but halfway down it's sewn into the upper with a few stitches so it doesn't move around, and honestly, this is a great compromise, it works well and I like it better than most races shoes that have no support or attachments on the tongue.
Adidas Adizero Adios Pro 2 has a unique ride
Adidas takes a different path in the "super-shoe" world with carbon fiber rods underfoot rather than a full carbon plate. The idea here is that the rods mimic your foot's bones and flex independently of one another, but it creates the same stiff feel as other carbon shoes.
Right off the bat, I'd say it's not as energy responsive as a fully-plated shoe but it does work, and with a plate in the heel, the shoe retains some needed stability.
It's got tons of sweet foam underfoot too. At 40mm heel stack (which is right at the World Athletic guidelines for max allowance) and 29.7mm in the forefoot the shoe has 10.3mm of drop.
The midsole is awesome, feels a lot like the ASICS Metaspeed series, it's peppy and responsive, yet soft and comfortable to run in without being too overly soft or unstable like some of the Nike ZoomX products. Adidas matched the soft 22.5HA foam well with their carbon system ensuring the shoe a very stiff flex measurement at 78.1N.
It performs well at cold temps too, only stiffening up 11.4% (87.0N) when frozen, compared to average running shoes getting 35.3% harder.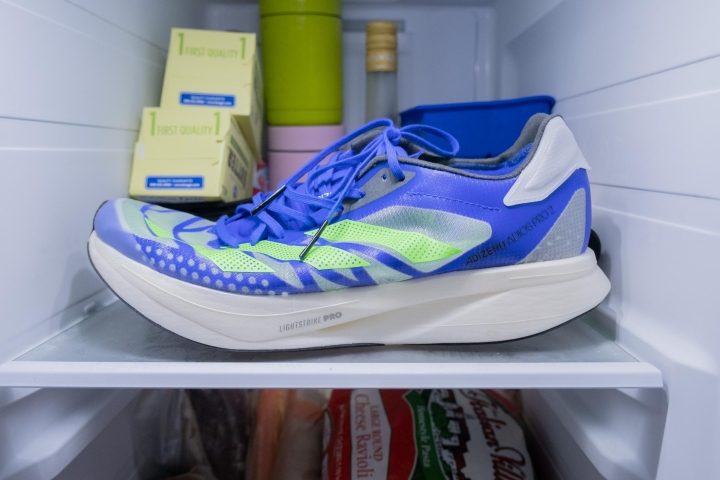 The shoe is designed a narrow platform, just 106.1mm in the forefoot and 77.0mm in the heel (average running shoes are 112.2mm and 89.2mm).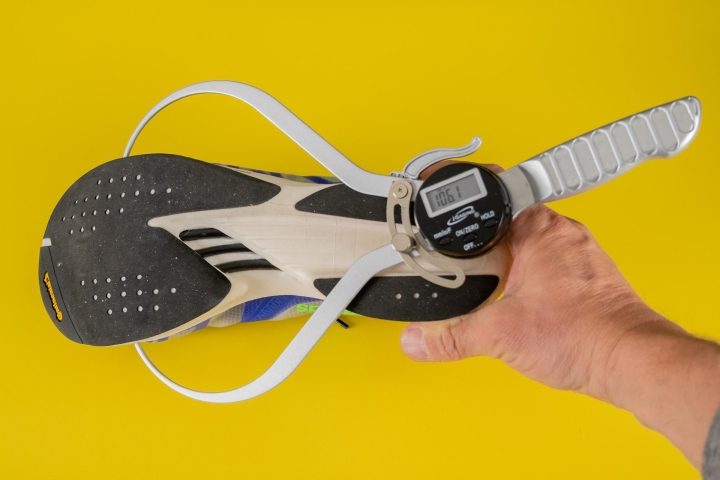 I assumed this was going to be a super unstable shoe, like a lot of tall, soft, narrow races shoes, and it is if you are going slow or on your heels at all, but at faster paces and once on your toes the shoe opens up and shines and the stability issues melt away.
Of course, I ran mostly straight and on consistent, flat surfaces, but that's how I'd expect things to be on race day as well.
The only odd thing that I noticed was the shoe felt a bit disjointed. The segmented sole feels like the front wants to do something slightly different than the heel. I know that Adidas added this little cut-out in the midsole to cut weight and expose the carbon rods, but it would have been a bit better to just imagine the rods and keep the midsole in one, more complete piece I think.
Requires an adaptation period
If you are not used to carbon plated shoes, or race shoes in super bouncy midsoles this shoe will take some time to get used to. It's unstable for heel strikers and slower runners and feels a bit wonky with its dissected midsole as I mentioned above. Also with 10mm of drop, it's a steep shoe as well.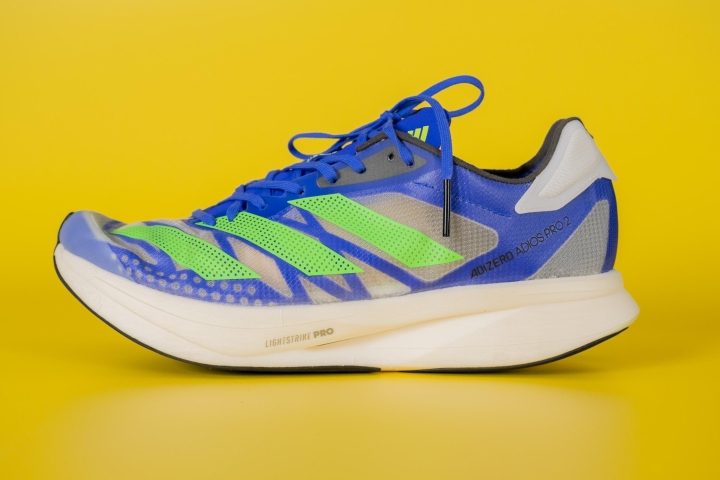 Be sure to practice before you race in this shoe.
Weight Adidas Adizero Adios Pro 2
At 7.9 ounces (223g) it's a light shoe, no doubt. But in the world of super shoes, it needs to be lighter. Compared to the other super shoes we've tested recently, it's actually tipping the scales as the heaviest on the list. I'd like to see Adidas get this under 7 ounces for V3.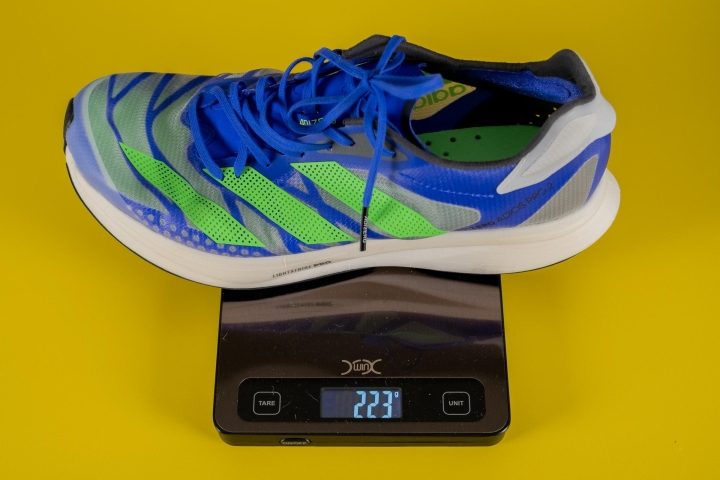 Durability and grip
The outsole is just as paper-thin as the tongue, also measuring just 1mm.
It's made from amazing, super softy, and grippy Continental rubber. At 67HC (average outsole rubber is 80.5HC) it will wear down very quickly. But Adidas had to go this soft since there is zero texture on the outsole of this shoe, making it as light and streamlined as possible for maximum efficiency and speed.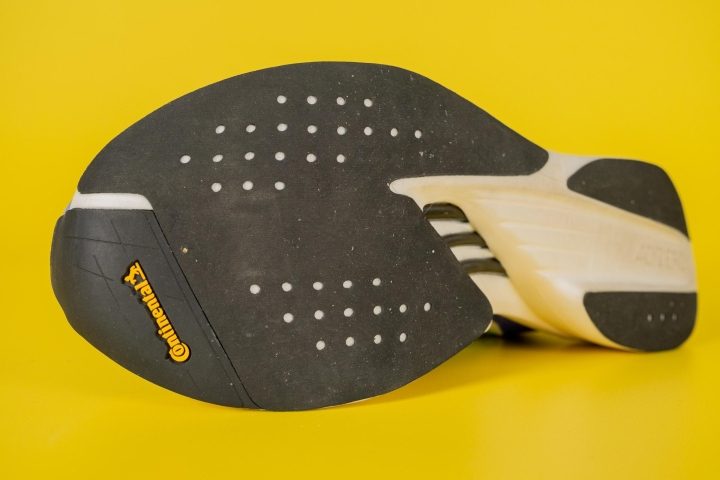 Honestly, the outsole design works, they bite into the tarmac nicely as you push hard through your stride, just beware in wet weather I don't know how the smooth surface will react.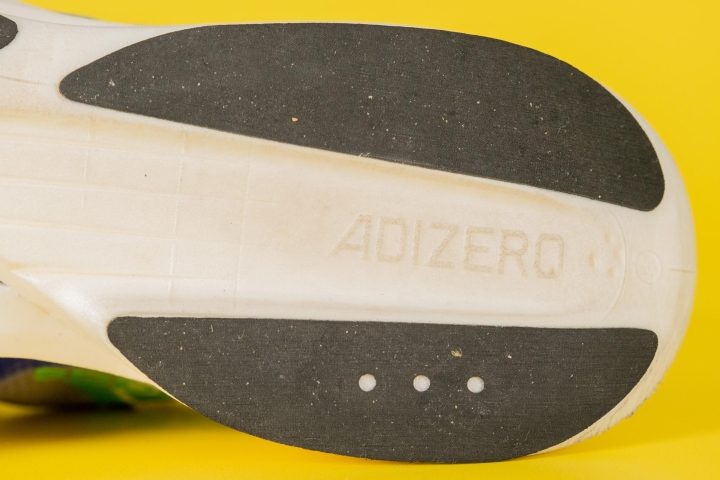 Extreme breathability on the Adidas Adizero Adios Pro 2
The Clearmesh upper is insanely breathable. It's almost non-existent. I love this design, and you can even wear cool socks and see them through the upper for a bit of added flair if you're into that kind of thing.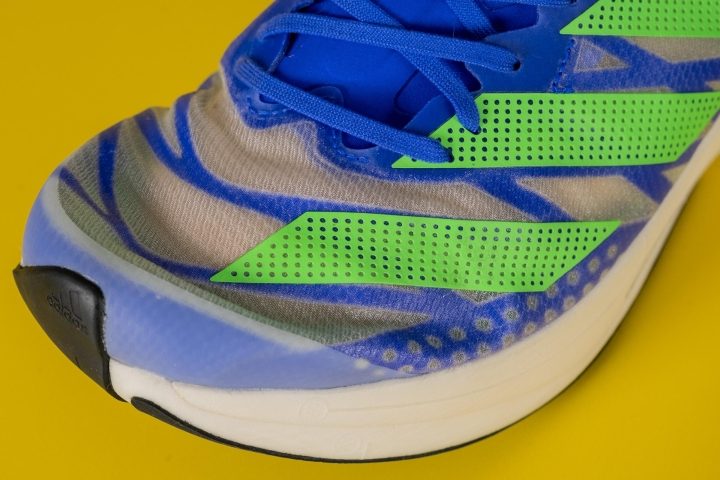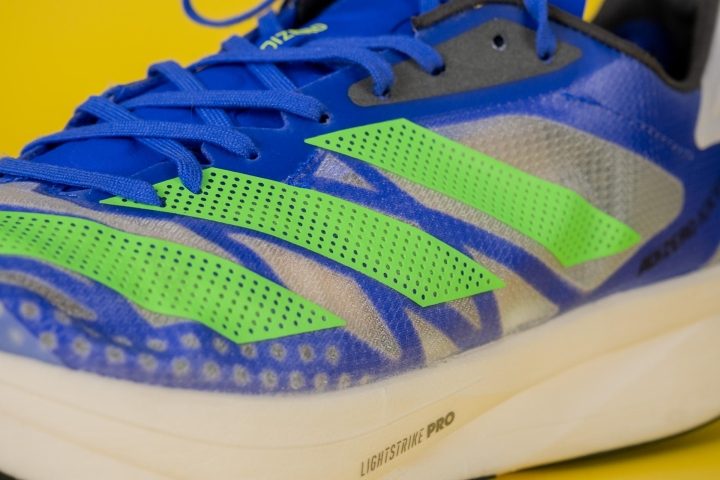 Laces stay tight, tight, tight
One thing to note, the laces are thin and lightweight, and they passed our lace slip test with flying colors. These took 44.3N on average to untie, where the average lace unties at just 24.6N, meaning these should stay nice and tight throughout your race, a crucial detail I am glad Adidas paid attention to.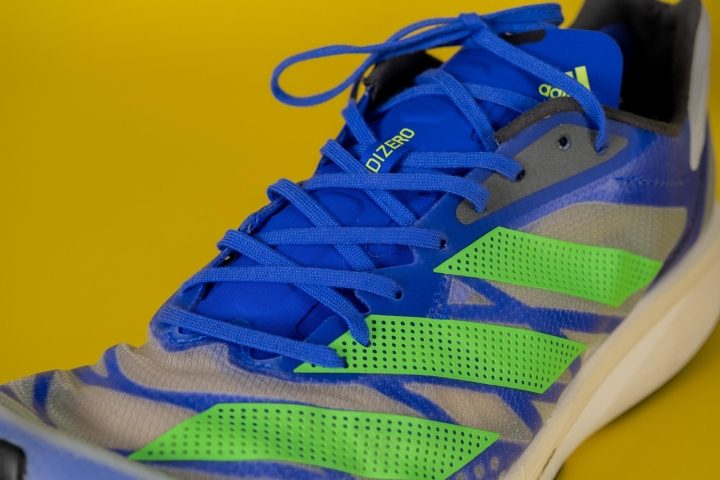 I did have some struggles finding the sweet spot on the lacing tightness though. You have to really open these shoes up to get them on, which means starting from scratch every time you don the Adios Pro 2, and it's just a bit of a struggle to get that "same-as-last-time" fit that I was looking for.
Reflective elements
There's a tiny bit of reflective material up at the top of the lacing pattern. It's hard to see, but it's there. I'd still recommend racing in the day in these shoes if possible.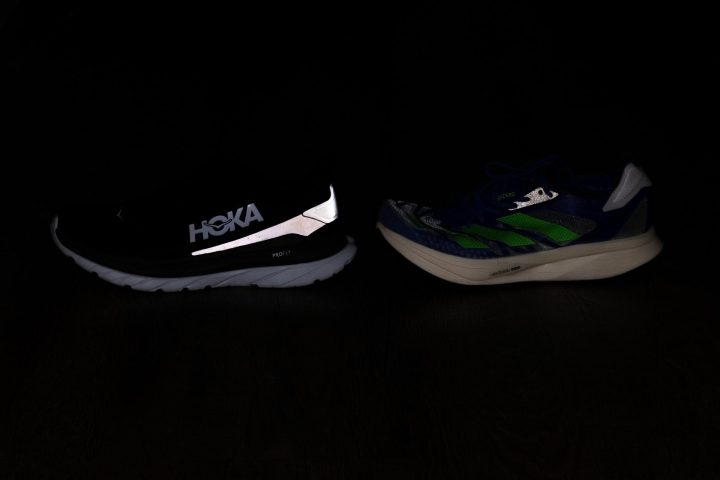 Price and value
At $220 these are expensive shoes. But they are cheaper than almost every other super shoe on the market today, so there is value here for those looking in this category.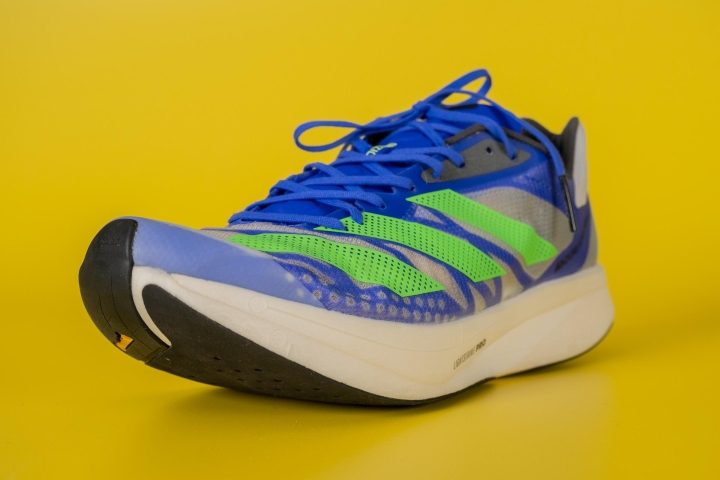 I liked this shoe overall and would race in it, I don't think it's the top shoe in the category, the Metaspeed Sky beats the Adios Pro 2 in stability, weight, and its carbon plate provides a touch more propulsion, but this is a pretty amazing pair of kicks, that I'd lace up personally before the Vaporfly which is what everyone is ultimately measuring this against.