The Nike ZoomX Vaporfly NEXT% 2 is probably one of the fastest shoes on the market, but it has some problems: It's unstable, a bit too narrow still, looks ridiculous, and hits the pocketbook hard. If your job is to run fast, or you're a sponsored athlete I think these shoes may be the tool to help you win, but for the average joe who wants to drop two minutes off their 5K time, it may be too much tech in a shoe that's a better fit for the 1% club.
Pros
Insanely lightweight
Very breathable
Bouncy
Responsive
FAST
No break-in period needed
Good grip on dry surfaces
Cons
Not ideal for wide feet
Unstable
Forefoot strikers only
Nike ZoomX Vaporfly NEXT% 2 review and lab test
Hands down, this is a speed shoe. Nothing else matters but PRs and fast splits. Get on your toes and go straight and fast. For anything else, pick a different shoe.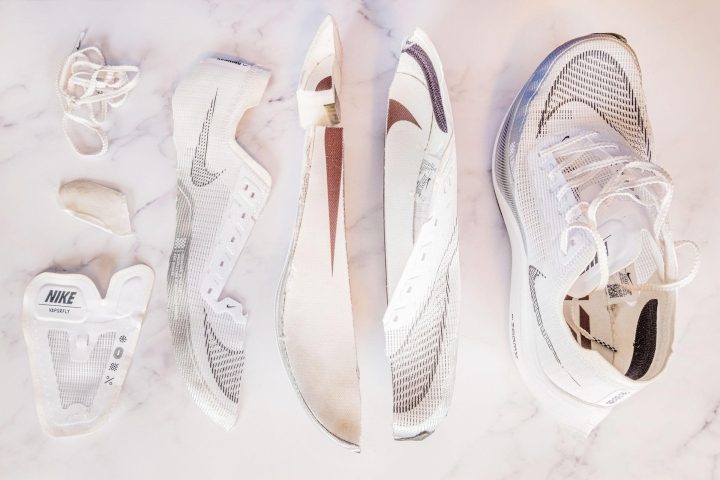 Who the shoe is (not) for
Nike lovers and speed-demanding racers will rejoice. The Nike ZoomX Vaporfly NEXT% 2 is fast, light, airy, and runs a touch wider than V1, giving more runners the opportunity to see what all the fuss is about. Buy this shoe if you're a forefoot striker in need of a race-day shoe that's quick, nimble, responsive, and flashy.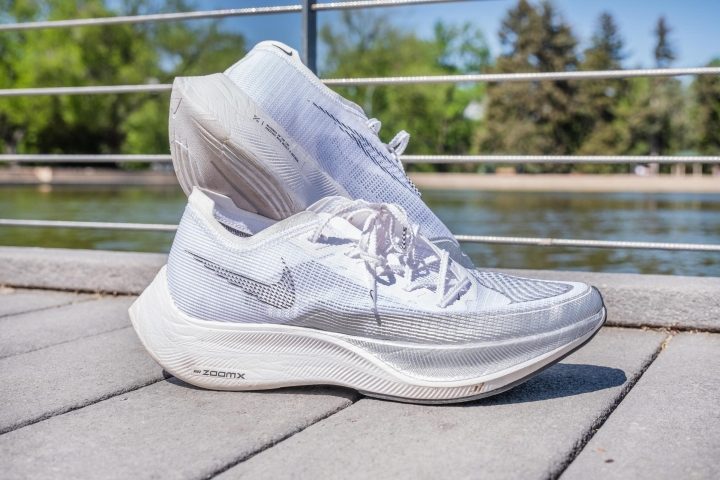 Don't buy this shoe if you:
Are a heel striker, the platform and heel are extremely narrow making it unstable, check out the Pegasus Turbo 2
Have wider feet
Hate heel slip, this shoe is still plagued with poor ankle/heel design
Check out the ASICS Metaspeed Sky or the Hoka Rocket X for wider fitting, more stable carbon-plated shoes.
Vaporfly NEXT% hasn't nailed the fit yet
My biggest complaint about the Vaporfly NEXT% 2 is the fit. Nike has always been a bit too narrow for my Eastern European feet, but I was enthusiastic about V2 as it gained a bit of width in the update. It's better, but for those with wider feet, it's still a bit narrow.
The ankle collar is still an issue. You really have to crank down the laces to stop your heel from moving around.
Nike knows this, they added some light padding to the shoe's tongue to help with this issue of lace cinch, but why not just solve the ankle collar issue instead? The laces are not long enough to do a heel cinch lacing pattern either.
Vaporfly NEXT% 2 is like a trampoline
Other than feeling a bit narrow, the shoe is actually pretty dang comfortable.
The updated upper is nice and flexible and hugs your foot well.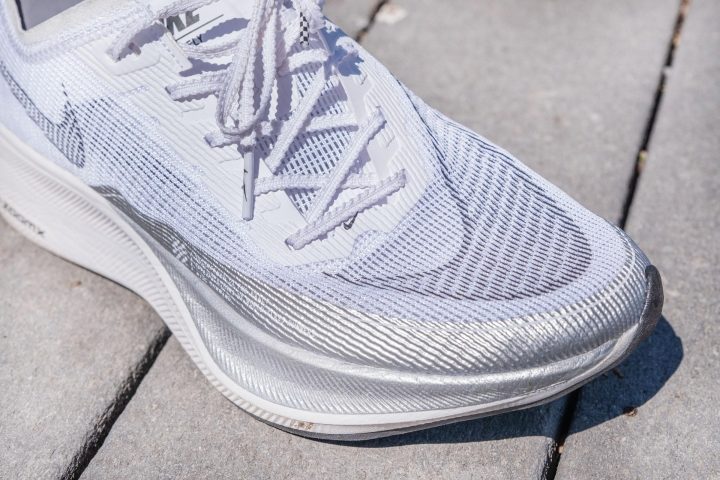 The ZoomX feels like pillows under your feet making every stride like your walking across a trampoline.
Tongue keeps moving around
One thing I wish Nike would update in V3 is the tongue.
First, I wish it was gusseted, but second, the swallowtail design was uncomfortable. The tongue wanted to move around on me, and it was hard to place where I wanted it.
Bouncy ride: THE reason to buy NEXT% 2
Nike nailed it with ZoomX. It's fun to run in, bouncy, cushioned, responsive, and overall the best part of this shoe in my opinion. But it does require a full carbon plate to stiffen the midsole material up to really make it usable.
Without the plate, ZoomX is just too unstable. Check out our review of the Nike ZoomX Invincible Run, where my main complaint was the shoe was just all over the place.
The shoe really caters to forefoot runners. There's a steep rockered curve under the front part of the shoe that forces you onto your toes the second you roll past your midfoot.
It takes a little practice to get used to this design.
For fast forefoot strikers only
One complaint I do have with the Vaporfly 2 is the platform is still too narrow underfoot, and it's still unstable at anything below race pace.
This is not a shoe you can jog in or walk around in. It demands you be on your toes and moving fast.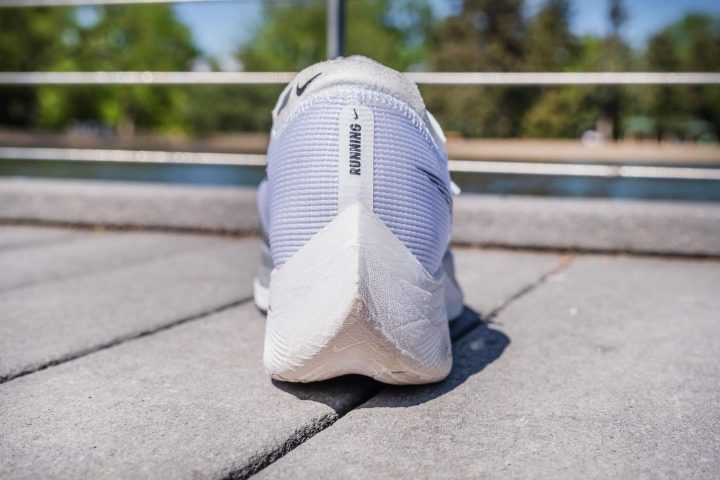 At 74.9mm wide in the heel, it's the narrowest shoe we've tested and 16.7% narrower than the average heel midsole width (89.9mm)
Vaporfly NEXT%2 is good right out of the box
The shoe really doesn't need much break-in time, but if you have wider feet, you will feel the squeeze on your midfoot and pinky toe, so wear these a few times before race day.
Incredibly lightweight
For a shoe with a 38.6mm stack in the heel and an extremely long overall length thanks to its pointy rear end, it's incredibly lightweight. At 196g, in men's US 9, it's second only to the Metaspeed Sky so far in our ongoing lab tests.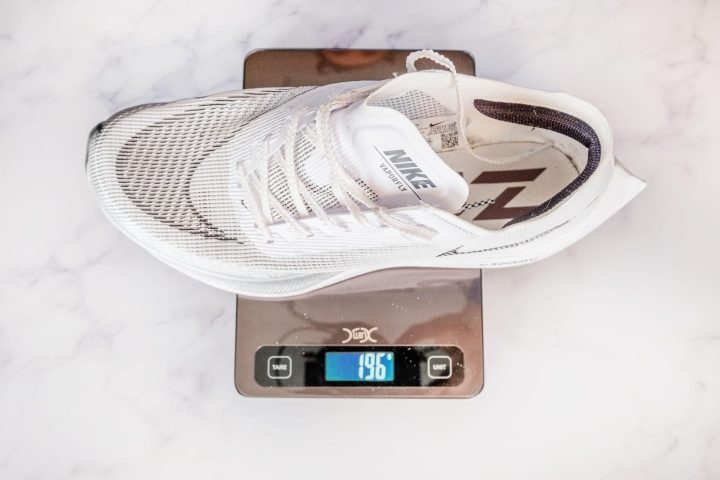 Race shoes need to be lightweight, but this feels like your feet are surrounded by nothing but air!
Vaporfly NEXT% 2 is not durable
Race shoes usually don't have great longevity, and the Vaporfly NEXT% 2 is no exception. The ZoomX is so soft it will pack out quickly in my opinion, and the upper is extremely thin.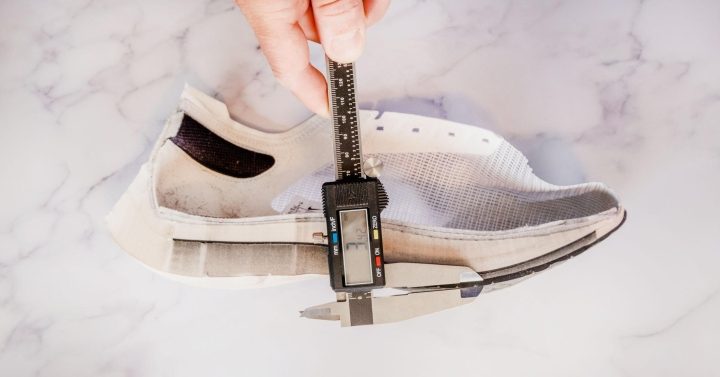 Nike has added a few welded overlays to high wear areas in V2, but it's still bound to deteriorate quickly.
This is not a shoe you train in. Save it for race day.
Good grip for dry surfaces
The grip on these shoes was adequate for their intended purpose, race day on dry cement.
I'd warn that there's not a lot of grippy rubber on the heels though, so if you are a heel striker, you should buy a different shoe anyway, but beware on wet days or slick surfaces.
Insanely breathable
The updated upper is even more breathable than V1, with mesh so wide your socks may push through the open areas.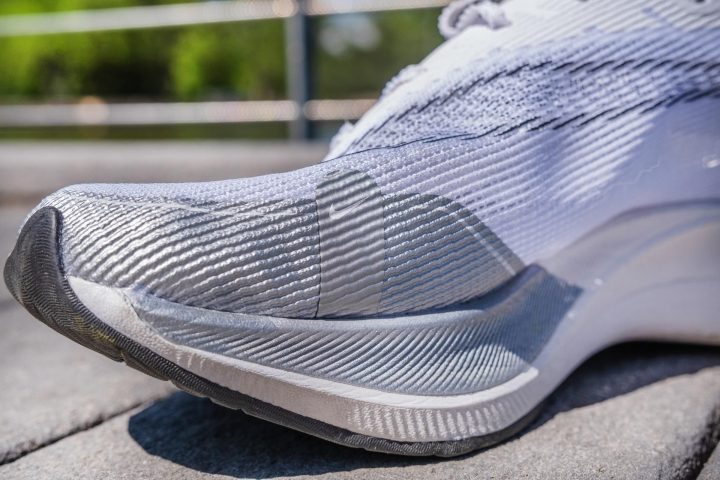 I'm actually impressed with how taut this upper is based on its design. I assumed at first glance it would be much more stretchy and flexible.
Lockdown gone wrong
Lockdown was a con for me in the new Vaporfly. First off, I just don't like side lacing patterns, I don't really understand the point.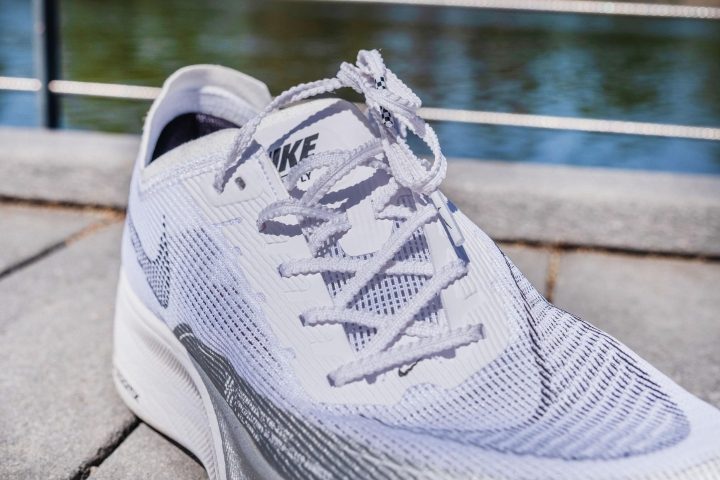 Both aesthetically and functionally I just don't get it.
That aside though the shoe has some issues.
First, the heel collar is a bit loose around your ankle. It feels sloppy and leads to a lot of heel slip in my experience.
The midfoot locks down well, but you do have to lace it tightly.
The laces are stiff and feel abrasive to the touch, which I didn't love. They stay tight though, which is the point in their design, but I just didn't like the experience with them.
Lastly, to get the shoe real tight is a bit of a bear. It's not fun on your fingers, and there's a lot of pressure over the top of your foot.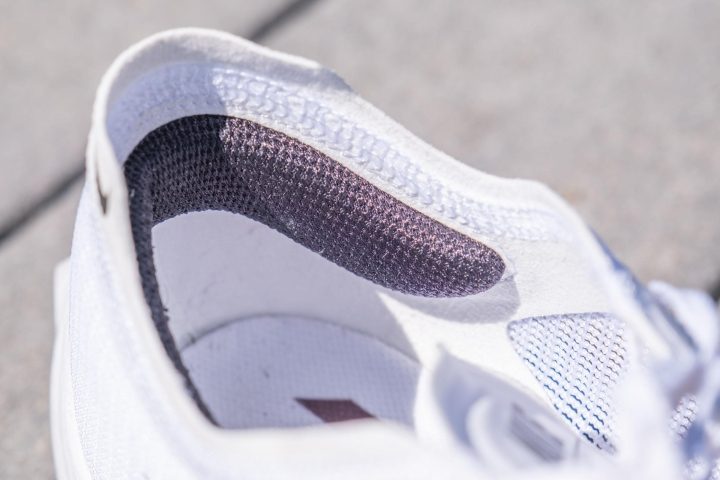 The lightly padded tongue helps compared to V1, but at .9mm, the padding only goes so far before you're still annoyed by the lace pressure required to negate any movement inside the shoe.
Horrible looks and color choices
My last criticism is I just don't like how they look. They are too flashy, and this is coming from a guy who loves neon shoes and bright colors. I just hate the pointy heel and the metallic colors.
I feel pretentious in these shoes, like I am wearing some high-fashion footwear for the runaway or red carpet.
Vaporfly NEXT%2 is expensive
I also don't love the price tag. At $250, these are expensive shoes.