Now, this is what we call FUN! The Nike ZoomX Invincible Run literally made us feel like each step was made of springs. It's NOT going to pace you, but it will make your runs lively and effortless! If you want a premium daily trainer that's going to work best on long, easy days on the road, we tell you, this is THE best of its kind.
Pros
Super-cushioned
Insanely fun and bouncy ride
Great grip
Impressive foot lockdown
Stretchy toebox
Good for wider feet
Not weighing you down
Really breathable
Cons
Unstable on uneven terrain
Really tall
Break-in period needed
Nike Invincible Run review and lab test
Have you ever wanted to run across a ground made of trampolines?
The new Nike ZoomX Invincible run is an everyday trainer built out of the DNA of Nike's headline-crushing Next%. They took the fanfare product of the ZoomX midsole, removed the carbon plate, and built something interesting.
They inspire you to bounce through mile after mile, and although they are not overly light on paper, they feel wispy on your feet. If you want to have fun running again, or are interested in dabbling in long-distance runs for the first time, give them a shot.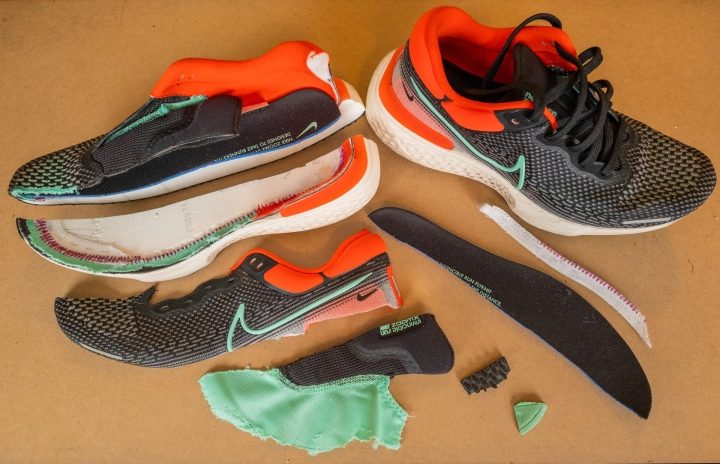 Who the shoe is (not) for
These are perfect for someone that wants a super-cushioned daily trainer for long runs, slower-paced efforts, or a treat for their legs and soul.
Don't buy this shoe if:
You are expecting a fast-paced race shoe just without a carbon plate. If your goal was to buy the Next% but avoid the carbon price tag, this is not that shoe.
You expect these to be stable or quick. The fun, bouncy midsole makes this shoe incredibly unstable, and it really performs best at mild speeds. The Infinity Run Flyknit 2 may be a better option if you want something a bit more stable.
Invincible Run offers an insanely fun and bouncy ride
I don't usually use the word fun when describing running shoes, let's be honest, running is hard, and lots of times it's not that fun. But damn, these shoes made me laugh out loud as I ran in them.
I don't really know what to compare them to. They are insanely bouncy, and I don't just mean responsive (another word that gets thrown around a lot in shoe reviews), I mean actually bouncy, like a pogo stick, trampoline, diving board bouncy!
They made adding miles to my runs an easy decision, and honestly, I already wish I hadn't cut them in half.
Really unstable
One negative is the stability, the heel feels like it's rounded.
I had this same sensation on the Saucony Endorphin Speed, but that midsole was much firmer so it was not as pronounced as this shoe.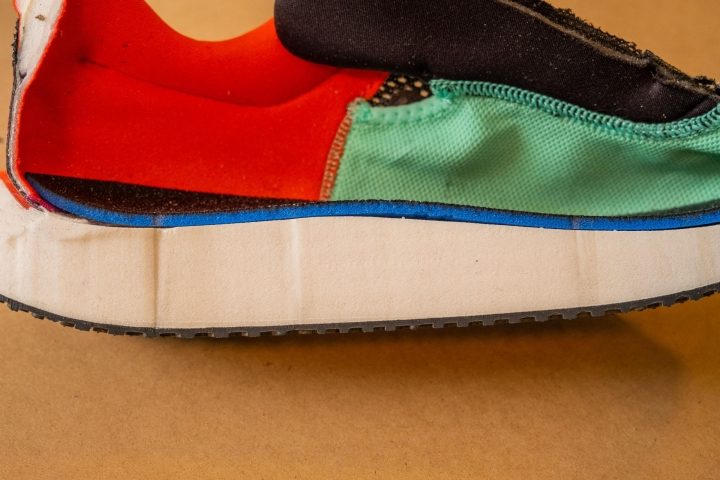 With the softness of the ZoomX material underfoot, I warn you to ease into them and be careful to not roll an ankle. Invincible Run is very narrow under your midfoot and there's a bit of a tendency for these shoes to roll inward as you run.
Break-in is a must
It's not all sunshine though, it took a bit to get to this stage of glee. I had to break them in a bit and the outside edges of my feet were tired (mostly from them feeling unstable), but after that initial learning curve and stretching of the upper, they came to life for me.
Great grip in Nike Zoom X Invincible Run
The full-rubber studded outsole provided a great grip. I personally like to run on the flat, breeze paths or on the smooth, dirt shoulders next to the road when I am road running, and I appreciated the added grip for a road trainer.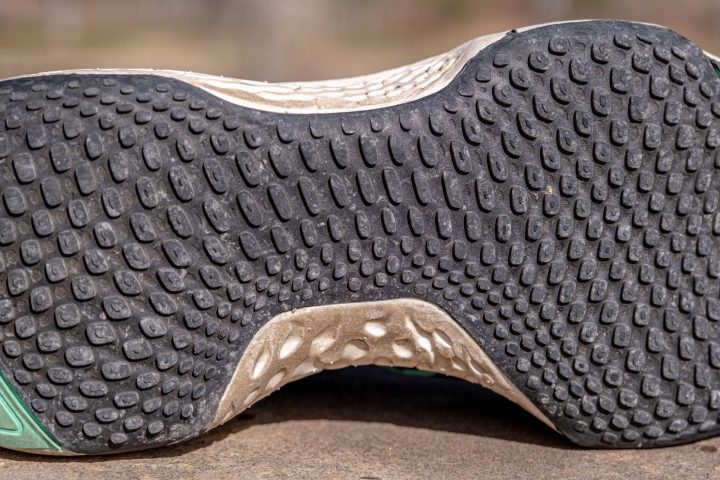 Really impressed with the outsole, well the part of it that has grip anyway.
It's a full rubber outsole with micro-studs across the whole shoe (mostly). I'm really not sure of the intended purpose of these small studs on the bottom, it seems like overkill for a road shoe, but I personally love it since I like to run on the dirt next to the road since concrete and asphalt are so abusive to my knees.
Bouncy, bouncy, bouncy
Ok, ride, as I've said, they are bouncy. I will say it again and again so if you buy these you are not surprised. They are not like running on clouds (like the Hoka Clifton 7) or responsive (like the Hoka Carbon X), they are totally different. Just BOUNCY!
Their rockered design helps them roll effortlessly through your strides.
Perfect for slower and longer runs
They are not fast. I expected these to be more race-oriented, but they are truly a daily trainer, meant for slower, longer runs, maybe recovery day. They can go fast, any shoe can be pushed, but they like to bound from one step to the next.
Surprisingly good fit
I'll say it, I have historically not liked Nike shoes… There I said it! But I have to say, these do not fit like Nikes. They are not narrow and constricting. They fit, and I have a wider foot.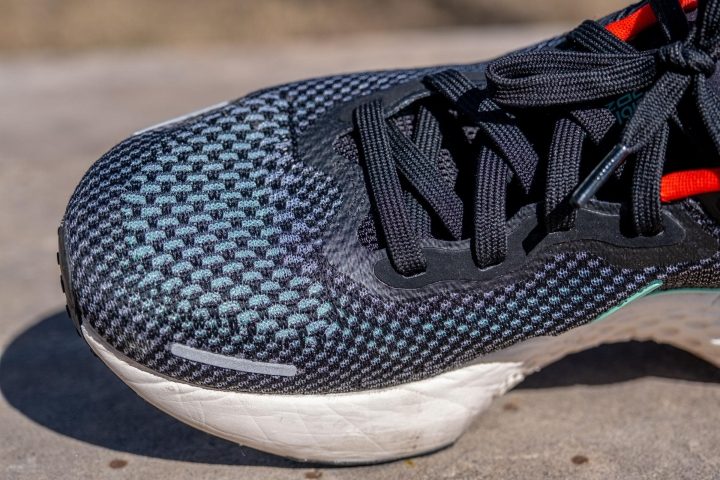 There's a bit of stretch in the toe box too which allowed my toes plenty of movement.
Now, I did have to break them in, but that happened quickly, and afterward, I really started to enjoy the features Nike put into the fitting of this shoe. The toe box is surprisingly wide and accommodating for my neanderthal toes and the heel cup had plenty of padding, adding to a very secure lockdown.
I did still think the midfoot was a bit snug, but where other Nikes would have just been returned, these were workable for me.
Good even for wider feet
In the comfort department, Nike created something here that I actually like. Again another surprise to me. Sure I wish the midfoot was a bit wider, given my wider feet, but at least I didn't have to splay open the lacing structure so far that my socks were popping out (like I had to on the Brooks Hyperion Elite 2).
Daily trainers that don't like sharp turns
I've mentioned it above, but these are best as slow, daily trainers. They don't go fast well, and they are unstable so I'd warn against uneven terrain or lots of sharp turns.
But if you are going long, straight, and slow, on hard, flat surfaces, you should enjoy the ride!
Weird smooth rubber patches
One feature of the outsole that I don't get is the two patches of smooth rubber at the toe and heel on alternating sides.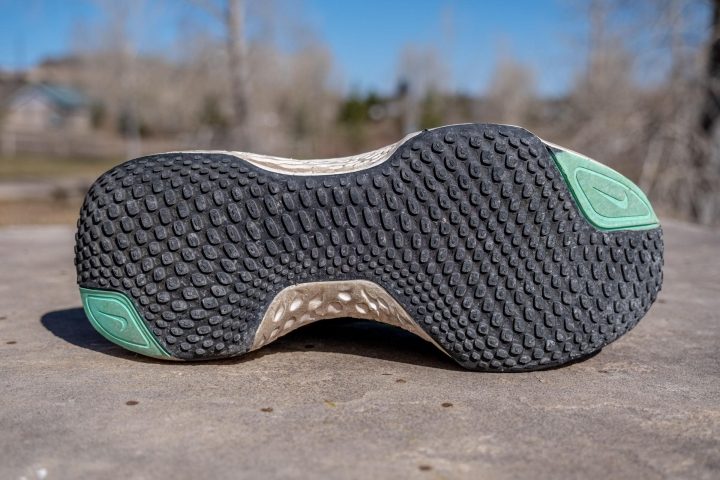 Not sure why Nike designed the shoe like this, other than for some flare, but I worry those two spots will wear down quickly for runners that strike at those locations, exposing the midsole sooner, and possibly leading to slippery situations.
Invincible Run doesn't weigh you down
The Invincible Run is not technically a super lightweight shoe. At 9.65 ounces (278g) they are only slightly under the average weight of 9.8 ounces, but they feel airy on your feet. The bouncy midsole helps them feel like they are somewhat weightless.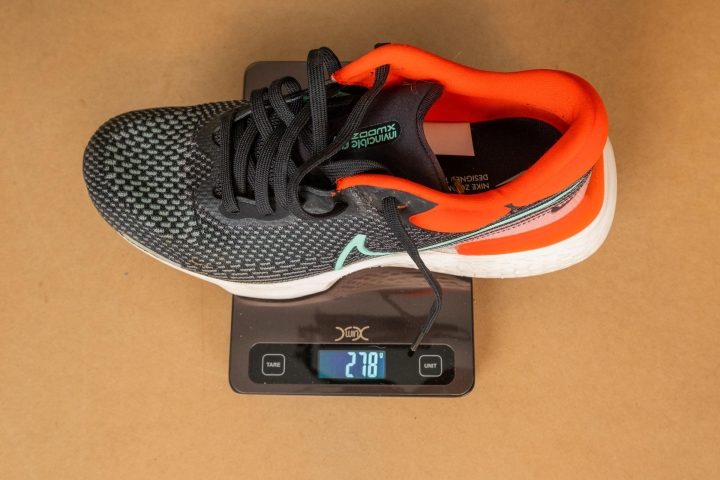 Don't take my words the wrong way by thinking these are nimble, fast, light-feeling runners, they are not. But they don't weigh you down.
Won't make it up to 300 miles
I have concerns in terms of durability. First, I don't think Nikes are well built from personal experience, this one does seem better though in that regard, so I don't think they will fall apart.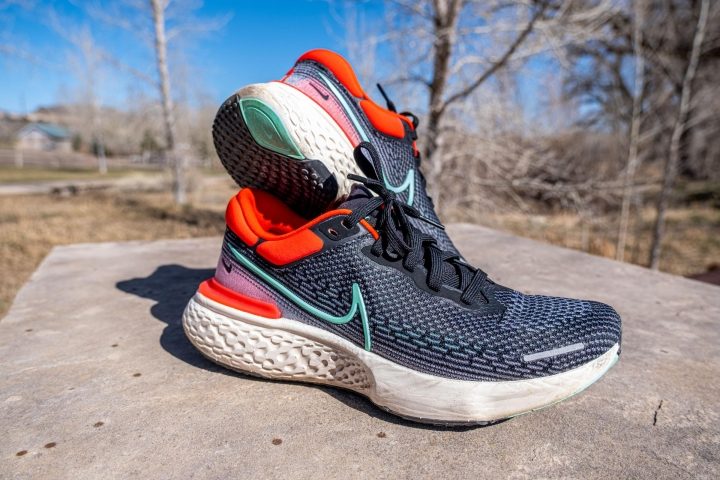 I do think that the ZoomX midsole is too soft for these to go the distance though. At 14.2HC on the durometer, this midsole is the softest product we've tested and 47% softer than the average midsole.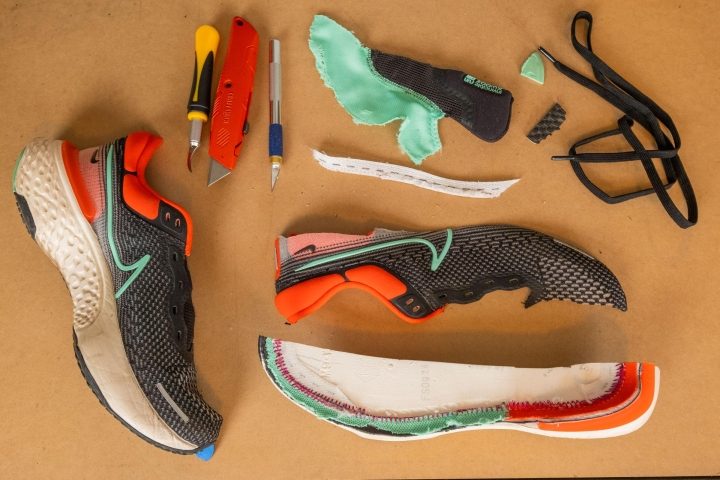 This makes the shoe bouncy, but I think it will pack out quickly. This material works well in the Next% race shoe because you don't wear those shoes daily. I think 300 miles will be a stretch for these shoes, especially if you are like me, at 180lbs I fear I will pack them out before I even break them in.
One other thing I felt was worth mentioning, these shoes have an odd shape to the outsole: it's very narrow under your midfoot and they roll your feet inward a bit as you run. This is leaving a lot of marking on the midsole in the arch. I fear this part of the shoe will degrade quickly, possibly making them even more unstable down the road.
Really breathable!
I was impressed with the Flyknit upper. It's plenty breathable!
Impressive lockdown
I'm very impressed with the lockdown of this shoe. Here's the breakdown of lockdown elements:
Supportive overlays in the midfoot.
Firmer upper material (not too stretchy like Adidas Ultraboost 21).
A fully gusseted tongue.
Wide laces.
Heavily padded ankle collar.
The Invincible Run has a fully-gusseted tongue that's tight over the top of your foot.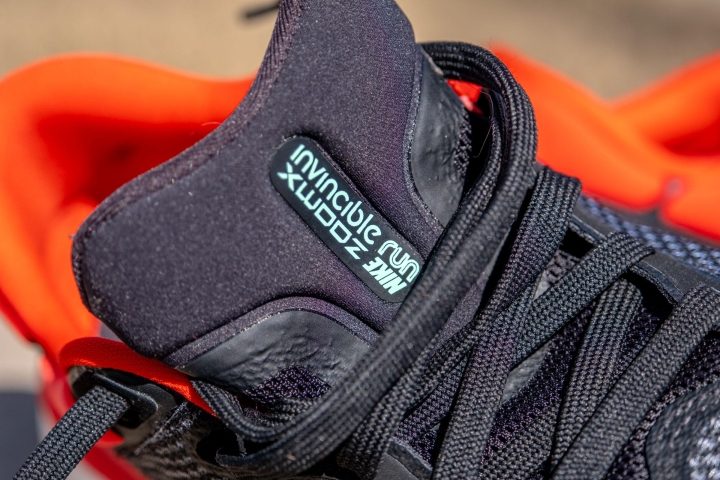 I actually like to be able to move the tongue a bit when lacing a shoe up, and I was a bit frustrated that this tongue was locked down so well, but in the end, I appreciated it while I was on the move that it stayed put.
This is complemented by the heavy-duty laces. These are super wide at 8.2mm (they are the widest of any shoe we tested).
I know, I've said a lot already but because of all this, the midfoot lockdown was fantastic.
As for the heel, I expected this shoe to have some heel slip issues due to the stiff heel counter, but the heavily padded ankle collar (16.6mm in the back, this is the thickest we've tested so far) locked my heel in nicely and no fancy lacing technique was needed (which is a good thing since the laces would have been too short anyway).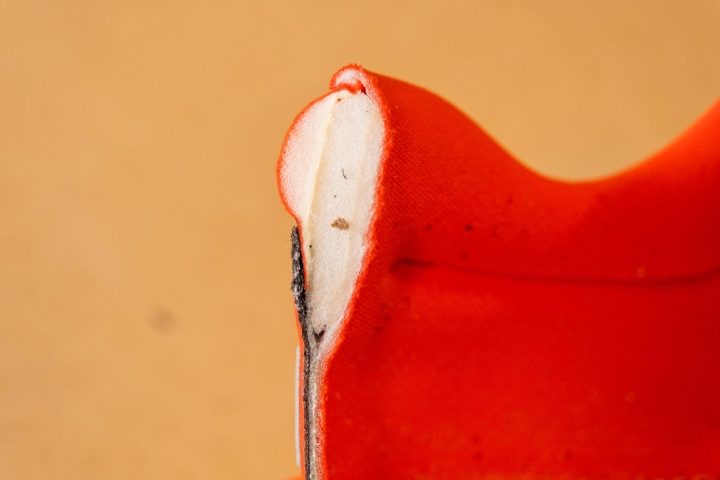 Extremely padded tongue
One gripe I had about the shoe is the tongue. It's really thick, and dense, bordering on a neoprene-like feel.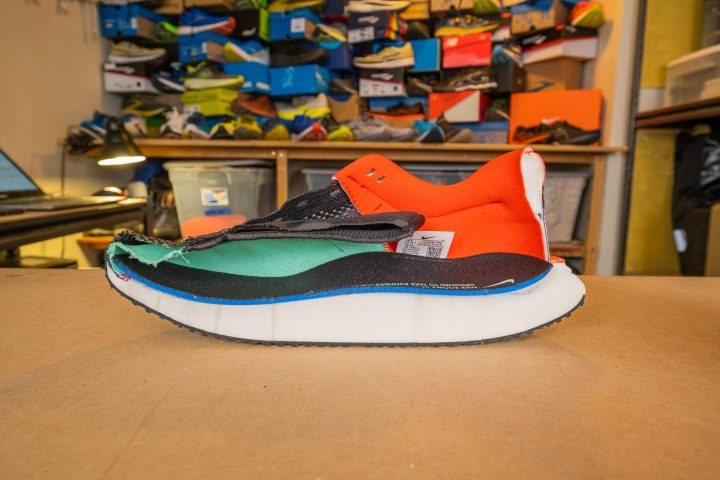 I think they could have reduced the amount of padding here, and cut a few grams on the overall weight. At 8.5mm it's 46% thicker than average.
Laces passed the slip test with flying colors
The laces seemed a bit short though, and combined with the overall length and width, they were difficult to double knot for me.
I tested the lace slip though and the wider laces which I assumed needed a double knot actually fared well and came in above average for staying tight at 34.2N compared to the average lace coming untied at just 31N.
Nike Invincible Run is too wide & too tall
I dig how this shoe looks, but dang did they have to put a lot of foam under the foot and in the heel to stabilize this shoe. At 118.4mm wide on the forefoot and 101.5mm wide in the heel, this is the widest platform we've tested to date. This is a large part of the weight of the shoe, but it's needed. Without this extra-wide base, these shoes would be unusable, as they are still insanely unstable.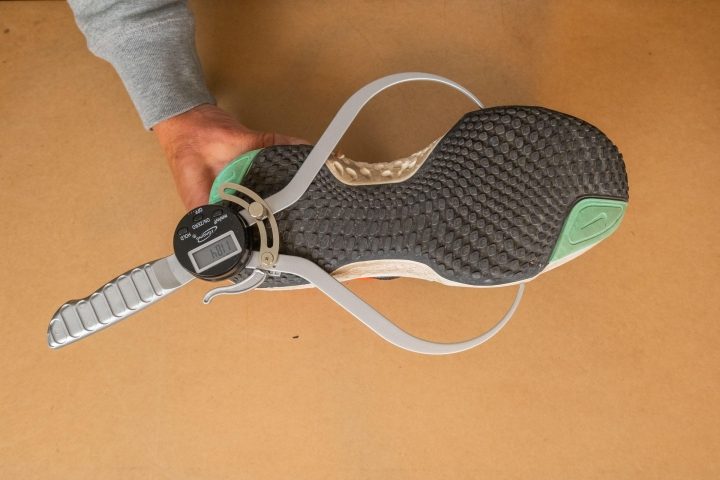 They are tall too, at 38mm stack in the heel, it's also the tallest shoe I've tested in a long time, and I don't love the 11mm drop, it feels really steep underfoot.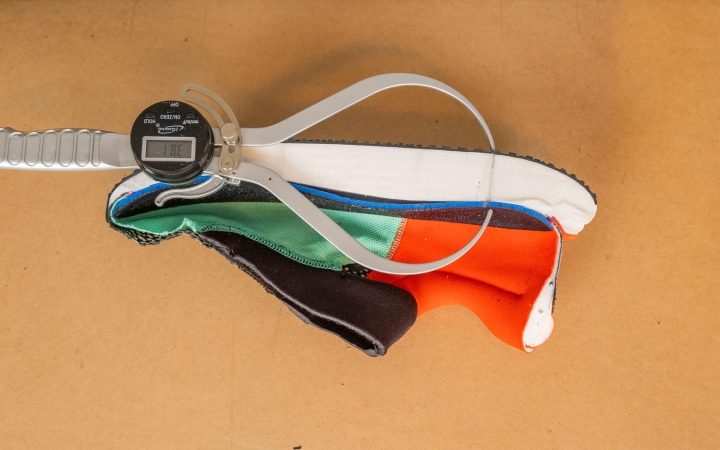 Conclusion
Bummer I had to cut them in half… That says a lot. I really enjoyed running in these after some break-in time.
I'd be worried about the longevity of the Nike ZoomX Invincible Run, but honestly, they are so fun who cares. I'm not sure I always want to bounce down the road, but on days that I do, these sure are a blast.