While you'd be forgiven to think that Clifton's popularity is just the result of TikTok hype, Hoka-nnoisseurs would argue that there's a deep-rooted heritage behind this reliable daily workhorse. This updated ninth edition is a masterclass in how not to mess with success. It's now snappy, better-fitting, and more fun—it's just a better shoe overall. Underneath, however, is still that unmistakably Clifton feel fans know and love.
Pros
Thicker and more energetic midsole cushioning
Lighter than the v8
Easy on the knees
Durable upper
Available in wide
Good traction on roads and mild trails
Mild, unobtrusive stability elements
Can handle faster paces better than previous editions
Best for easy days and long runs
Cons
Narrow fit
Upper needs some time to break in
Average breathability
Who should buy the Clifton 9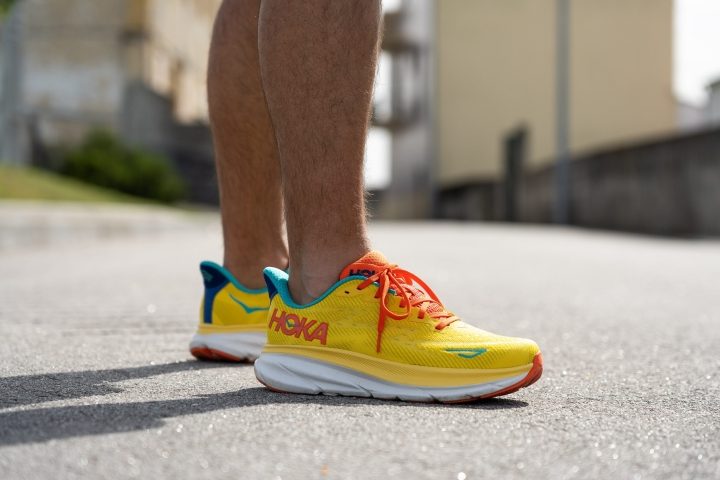 Get this all-around Hoka workhorse if you:
Are looking for a cushioned road runner that can comfortably gobble miles.
Want a Clifton that can easily handle easy days, recovery runs, and some speedwork.
Need a good training complement for your race-ready Rocket X2 or Speedgoat 5.
Who should not buy it
While the Clifton 9 comes up wider than any of its predecessors, reviewers say it still has that narrow-leaning Hoka fit. If you have wide feet and are worried even the wide sizes aren't enough, check out the Nike ZoomX Invincible Run 3.
For another daily trainer that's comfy, cushy, and good to go from day one, look at the Saucony Triumph 20.
Same, but different!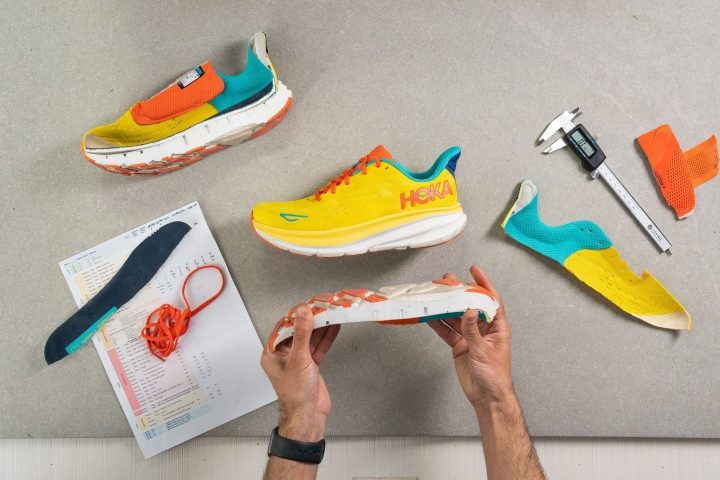 The biggest headline in the Clifton 9 is its "new" ProFly+ midsole foam—it's a similar foam from the Clifton 8, but with a slightly different formulation.
Everyone who tried the Hoka Clifton 9 experienced its remarkable softness. A reviewer said that the cushioning is now "snappier and more responsive underfoot," with one expert even "double-checking and triple-checking that yes, this shoe has a compression-molded EVA foam."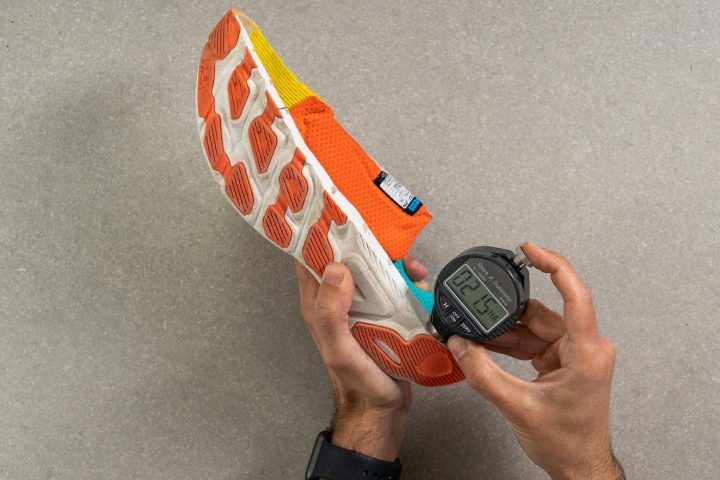 Disclaimer: We determine the average using 4 measurements and excluding any outliers. The photo above displays just one of the readings.
Fact check
After our lab measurements, the data corroborated everyone's feelings: this shoe is 24% softer than the average.
Lighter than v8
Despite having a thicker stack than the v8, it still comes in at a lighter weight overall. An expert found that the Clifton 9 has the "perfect balance of soft and light, for the ultimate smooth ride" and most users found the shoe surprisingly light.
Fact check
At just 249g, the Clifton 9 weighs 7 grams less than the previous version, and even surpasses the
Saucony Ride 15
—one of its lightest rivals—by 4 grams!.
Average-at-best breathability
Most experts found the upper well suited for summer training:
"The mesh wraps each foot in breathable comfort, allowing air to fully permeate the entire upper."
"It is very soft to touch and breathes well."
"[The engineered mesh] offers a great fit and lots of breathability."
Fact check
Sadly, we found that breathability was not that good. We gave the shoe a 3 out of 5 in our breathability test, which is below the average. This score aligns with our microscopic examination, where we observed a dense mesh layer combined with small openings and thinner sections to promote airflow.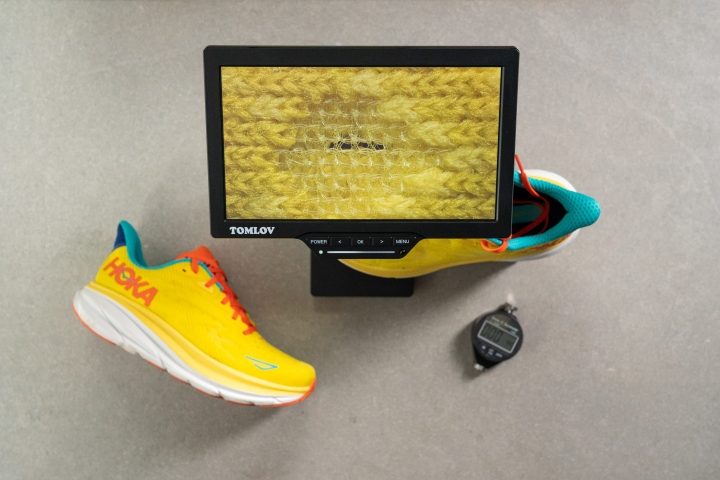 Sporting moderate breathability, it might not be the top choice for sweltering summer long runs. However, these little holes ensure sufficient airflow for nearly every day of the year.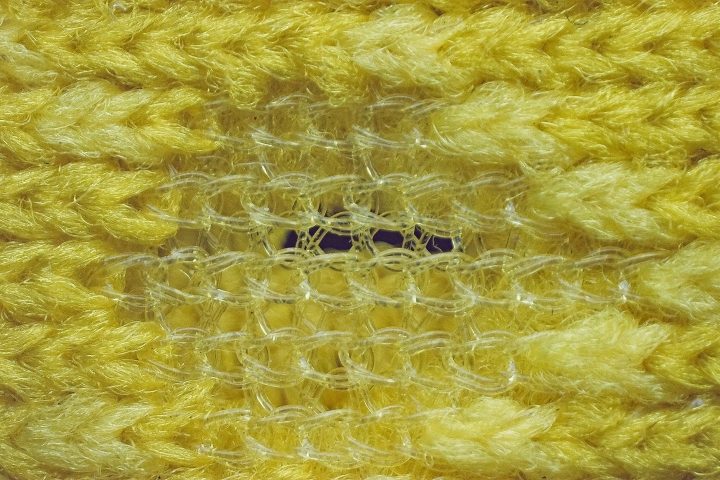 As per almost every running expert, this shoe is great for those with stability problems because of its stiffness and platform, despite lacking motion control or rigid elements in the upper.
One said that "it's firm enough to provide a stable platform to push off from" while other noted that "the Clifton 9 remains a fan-favorite neutral stability shoe best suited for easy runs".
Fact check
During our hands-on evaluation, we rated the shoe on a 1-5 stiffness scale, with 5 being the stiffest. It scored a 3 out of 5 for longitudinal flexibility and a 4 out of 5 in the torsional test.
The flexibility of this Hoka is 26% below the average shoe, but if we exclude carbon-plated shoes, it seems clear that it's on par with most of the relatively-high-stack daily trainers out there.
Disclaimer: We calculate the average using 4 measurements and exclude any outliers. This video represents one of our readings.
The ninth-edition of the popular Clifton is:
Stiffens up a lot under cold temperatures… but remains surprisingly soft!
We understand that many of you also train during harsh winters and are curious about the effects of cold in running shoes. Let's see what happens!
Fact check
The Hoka Clifton 9 becomes a disappointing 81.8% stiffer after exposure to freezing temperatures, compared to the average shoe stiffening by 43.6%. That's too much!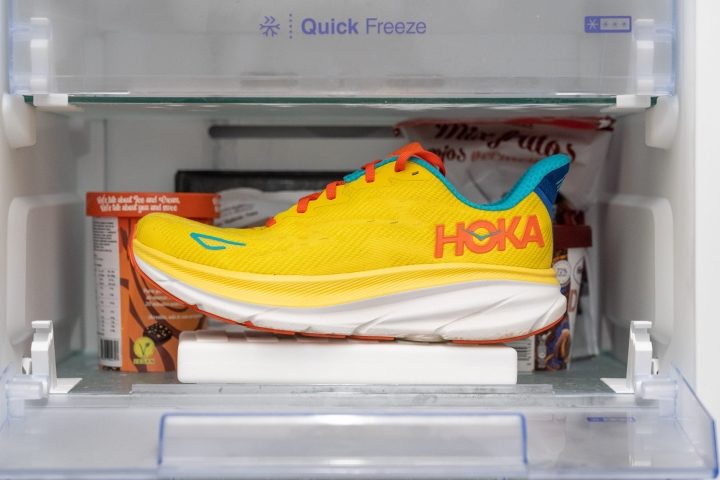 But our primary concern was the foam. As an EVA-based material, it tends to harden significantly in winter. However, it appears that the new ProFly+ performs really well at maintaining its bounce in cold temperatures.
Fact check
The midsole only stiffens by 17.6% in cold conditions, which is far better than other Hoka shoes like the Mach 5 (60%) or the Bondi 8 (49.3%).
If you're eager to learn more about stiffness and softness in running shoes, these two comprehensive guides have you fully covered.
A more premium-feeling upper
From afar, this upper looks quite similar to the 8. But upon closer inspection, reviewers found the new knitted, textured upper to be more airy, durable, and "accommodating for different foot types."
This thicker material also provided a secure lockdown that felt especially good when turning, said one runner.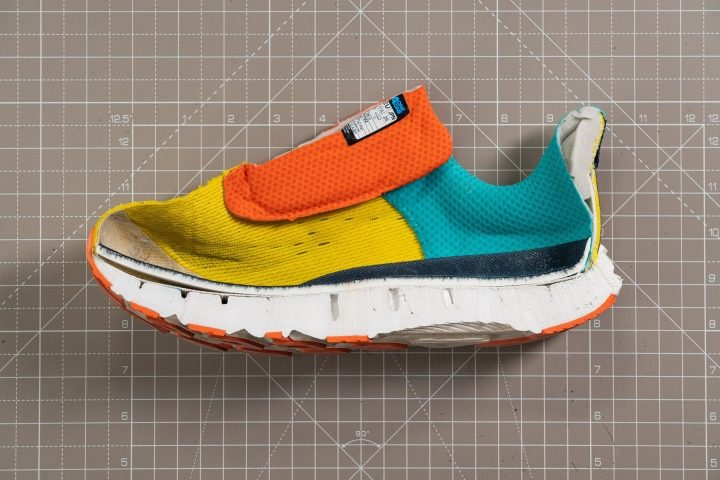 Back to the Clifton 7 stack height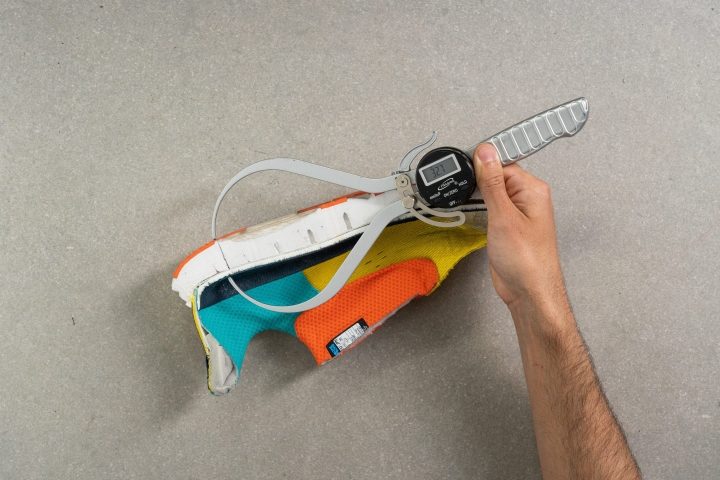 Disclaimer: We always measure the stack height with the insole.
Running experts are really happy about Hoka's choice to add an extra 3 millimeters to the stack height. Those same 3 mm were there in the Clifton 7 but disappeared in the Clifton 8.
Here's what some running experts have shared about this enhancement:
"The new CMEVA foam feels resilient underfoot and unlikely to bottom out."
"Even with such a high stack height, my feet feel immersed in the cushioning."
"When you pick them up they almost float away from you!"
Fact check
The company states that the shoe's stack height is 32/27 mm, featuring a 5 mm heel-to-toe drop. Our measurements came in at 32.7 mm and 26.6 mm that results in a 6.1 mm drop, which is fairly close to their claim. Bravo!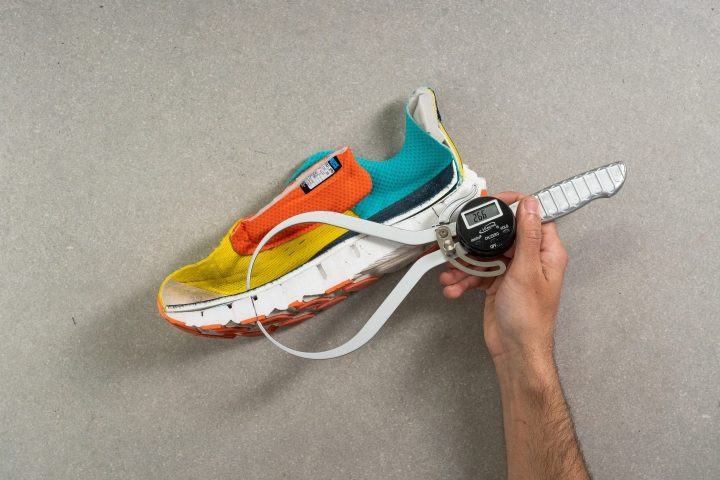 Stiff but Achilles-friendly heel collar
Hoka is famously recognized for its robust and rigid heel counters, and this shoe is just another example.
Fact check
The Clifton 9 is among the firmest shoes we've ever rated, and as expected, we awarded it the highest score—just like its predecessor—on our soft-to-hard scale: the expected 5 out of 5!
But where this shoe truly excels is in providing support for the Achilles region. If you're prone to tendinopathies or have a sensitive Achilles area, the curved heel cup design is perfect for you.
Unlike many other shoes that press against your tendon, this one moves away from it, avoiding any unnecessary tension. This could be a game-changer for many runners.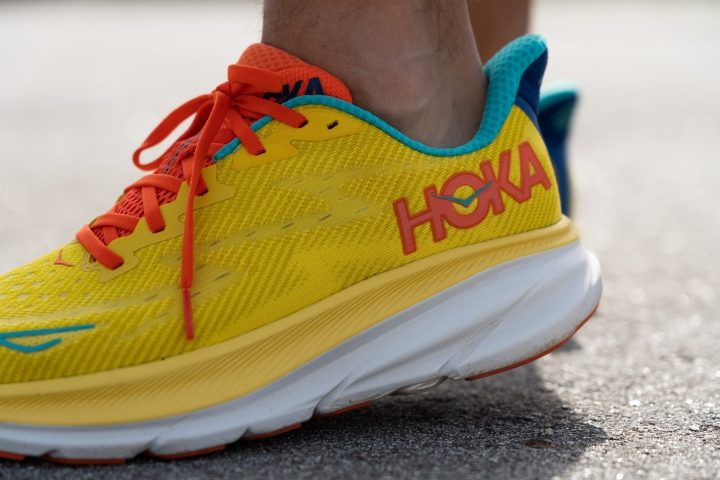 Falls under the stable-neutral category
The Clifton 9 is very much a neutral shoe, but testers thought that it does a good job keeping runners centered and stable throughout their gait cycle.
Though it doesn't make use of any formal guidance elements, its wide platform, solid upper lockdown, extended sidewalls, and good rubber coverage contribute to the shoe's stability. A critic agreed: "Your foot sits inside the midsole of the shoe like the bucket seat of a racing car."
Slightly rockered... and faster than v8
While the Hoka shoe isn't as heavily rockered as the New Balance SC Trainer featured in the video above, its curved design will aid you in every heel-to-toe transition. This is particularly noteworthy for heel strikers, considering the relatively-low drop.
Compared to version 8, this ninth edition "actually felt like it had some life to it," according to one critic. The new midsole gave the shoe a more energetic ride, and the meta-rocker was balanced and easy to get in sync with.
Experts were impressed by these slight yet noticeable improvements, stating that it feels like a more versatile and speed-ready version of last year's model.
Opt for wide size if you need a roomy fit
According to testers, the Clifton 9s generally have "a bit more volume throughout" compared to the Mach 5 and Clifton 8. They were particularly content with the roomy toe box, but clarified that the shoes still have that "consistent Hoka fit"—which means they still come up generally narrow vs. other brands. It also provides plenty of room for your toes, as the shape of the toe box is not aggressive at all.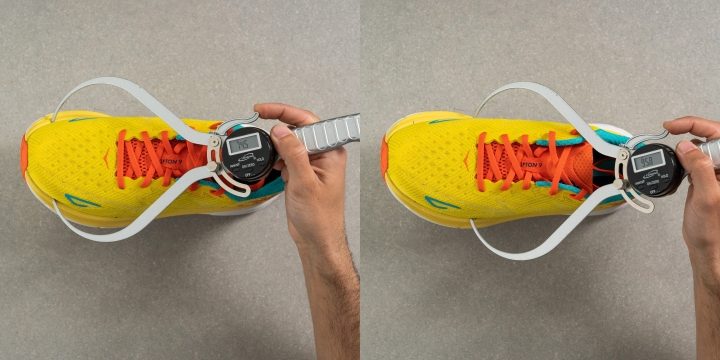 Fact check
Following our measurements, we were surprised to discover that the Clifton 9 upper is a mere 1 mm wider than the v8. Additionally, it's nearly identical in width to the Mach 5, with only a 0.4 mm difference.
But compared to all of our lab-tested shoes, the toebox fit of the Clifton 9 can be categorized as a solid medium.
Hoka offers wide sizing options, and those ones are ideal, "especially if you're planning on wearing these for longer distances," advised one expert.
Narrow upper... but wide platform!
Hoka shoes are usually incorporated with broad platforms which enhance stability, and the Clifton 9 certainly follows suit.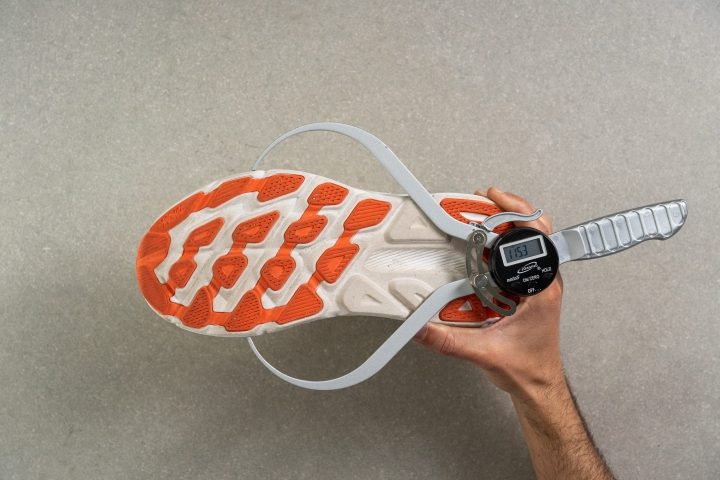 We found an impressive 115.3 mm platform in the forefoot and a striking 96.0 mm in the heel. In comparison, a Nike Pegasus 39 is 5% narrower in the forefoot and 13% narrower in the heel. That's huge.
The Clifton 9 can handle almost any surface
The thicker-than-usual Durabrasion rubber outsole seems to be really durable. Traction underfoot is also pretty good for a road shoe, and has no problems on light trails, as well as grass.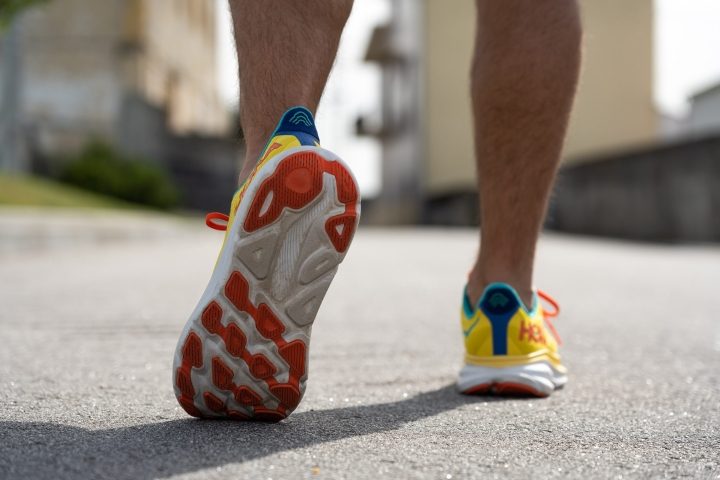 One expert said that "the shoe feels nice and soft", while another noted this: "The new rubber pattern on the outsole achieves better bite than the previous configuration."
Fact check
The rubber on this shoe is 8.8% thicker than average, yet 4.7% softer. This aligns with the general consensus that the shoe provides a soft yet durable ride.
This approach is great, as it would have been easier to use less, harder rubber, saving weight while maintaining durability.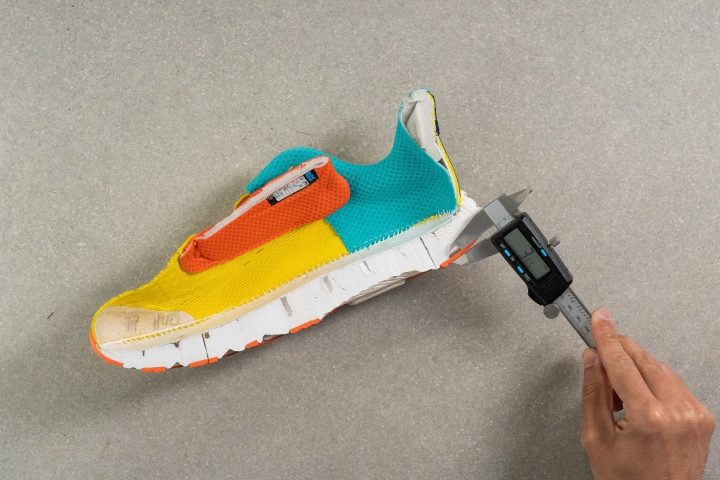 More Local Legend, less Segment Leader
While its updates allowed the shoe to "get up to some of those workout paces a lot easier"—with some even likening it to the versatile ASICS Novablast 3—most reviewers agree that it simply doesn't have enough bounce to sustain fast paces efficiently.
The Clifton 9 is "for forgetting pace and rolling with the miles", really well-suited for easy runs or moderate aerobic workouts, but it might not be the best choice for faster tempo runs and more intense activities.
Sockless ready but too-long laces
Hoka, a highly-regarded brand in the world of triathlon, is determined to maintain its reputation. With the Clifton 9, they've crafted an incredibly soft, buttery upper that allows for comfortable sockless running during your daily runs. Just remember to limit those ones to under an hour to avoid any blisters or hotspots.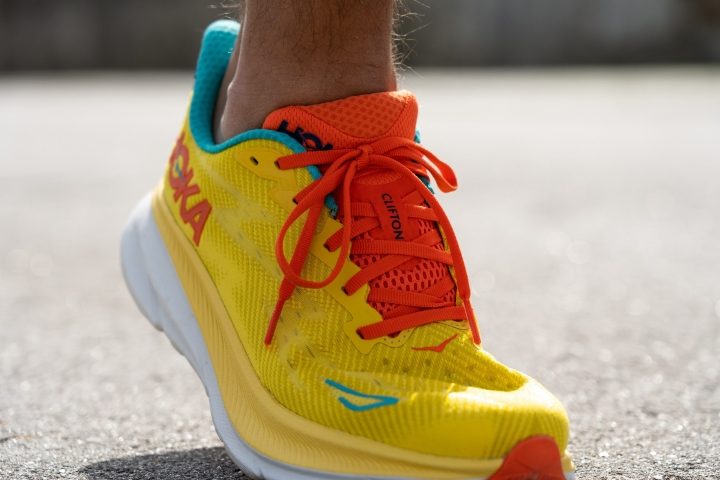 The flat laces might be a bit long for some runners, but this extra length is actually beneficial if you plan on using a runner's knot.
Solid lockdown and relatively-padded tongue
Many reviewers have applauded the shoe's impressive lockdown.
"The upper is built for comfort with a well-padded tongue."
"The partially gusseted tongue adds to the foot-hugging feel, which I enjoy."
"Extra padding in the tongue and the heel collar create a snug, dreamy fit."
In essence, the tongue is semi-gusseted, meaning it is partially connected to both sides. This design reduces weight while still providing a snug fit.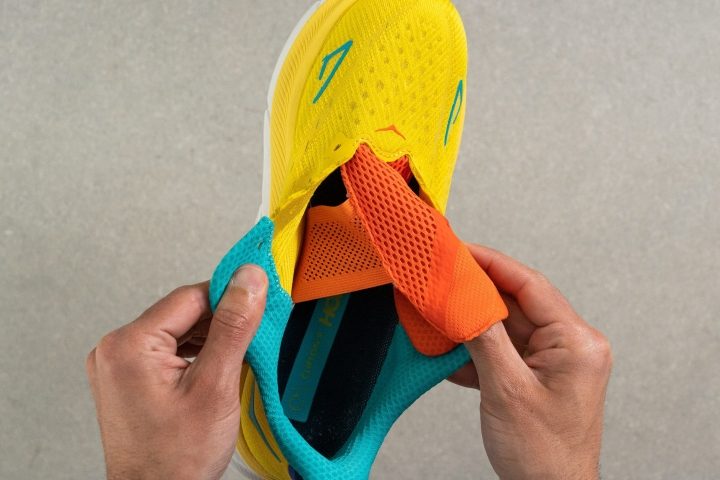 Fact check
We found the tongue to be 6.6 mm thick, which is 38% less padding compared to the previous model, yet 17% more than the average running shoe.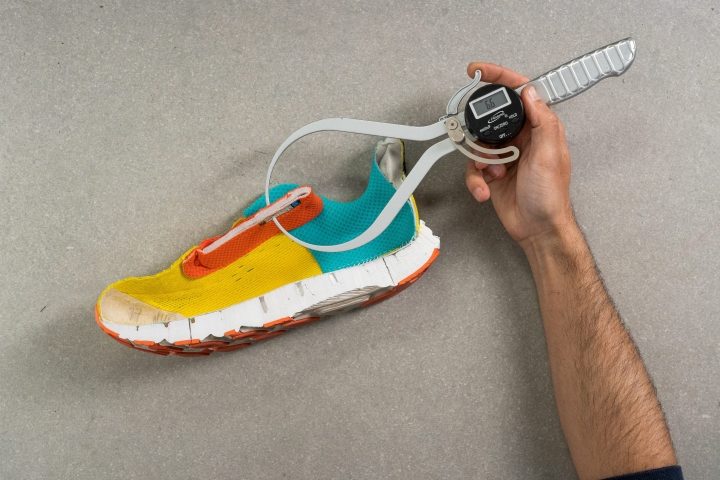 Where'd those numbers go?
Another interesting tidbit about the 9th-generation Clifton: the midsole no longer has its 'specs' printed on the side; no need to ask Reddit for help in deciphering what they mean.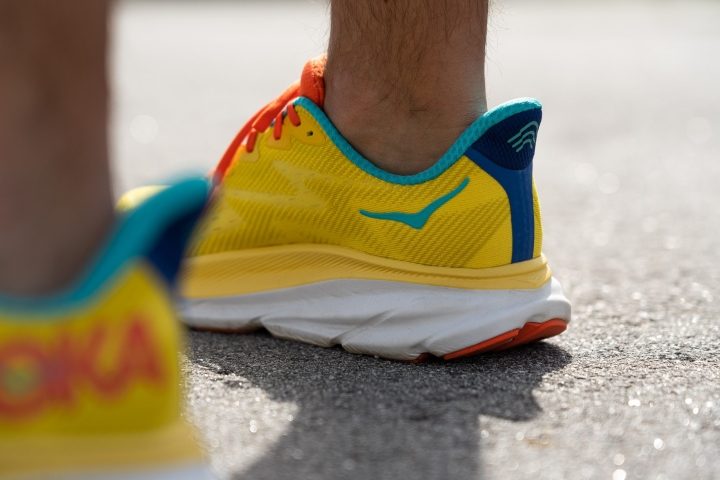 A fairly-priced solid upgrade for almost everybody
This shoe is clearly a premium daily trainer and offers great value at just $145. In comparison, competitors like the Saucony Triumph 20 ($160) and the Nike Pegasus Turbo Next Nature ($150) provide similar stack heights and a cushioned, durable ride. Arguably, this shoe may even be a better choice and an absolute no-brainer for Hoka fans.