Who should buy the ZoomX Invincible Run FK 3
Stop fretting and grab a pair of the Nike Invincible Run 3 if you:
Have always wanted to try the Invincible but were overwhelmed by its wild ride.
Loved running in your Invincible 2s but felt it could use a bit more finesse.
Want a protective max-cushioned road shoe for your LSD runs.
Who should not buy it
If you're the type to push through long runs rain or shine, you need a shoe that won't slip on puddly pavements—a good option would be the Brooks Glycerin 20.
And for an equally massive trainer that won't have you worrying about heel slips, check out the Saucony Endorphin Shift 3.
V3 vs V2
While the transition from version 1 to 2 consisted mostly of just an upper update, the move to the FK3 entailed a drastic overhaul. It's "quite a different shoe in purpose and in feel," said one expert, and here's why:
A more generous helping of Nike ZoomX foam in the midsole.
New strobel lining underneath the insole.
Smaller heel clip that's reminiscent of the Infinity Run 3.
Much thicker rubber outsole coverage.
Redesigned geometry with a wider, more stable base.
Less padding around the heel collar.
Thinner (albeit denser) Flyknit upper material
Pretty fly for a Flyknit
This v3's revamped Flyknit material provided a bit more structure, support, and ventilation compared to its predecessor, testers stated. And although some padding has been trimmed from around its collar, it remains quite plush and comfortable on foot.
Fact check
The shoe's got plenty of padding in the tongue. We measured it to be 7.4 mm thick, while the average is 5.8 mm.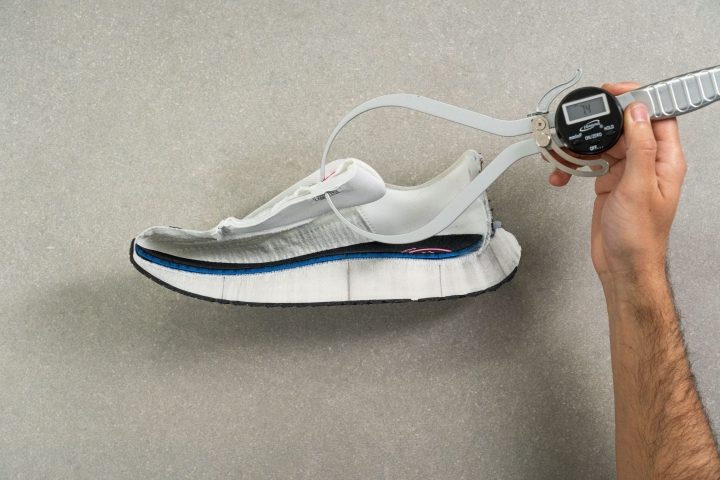 Fact check
There is no detracting from breathability though! With the amount of smoke easily passing through the upper fabric, we rated the shoe's breathability as 4 out of 5.
Nike ZoomX Invincible Run Flyknit 3 (left), Adidas Runfalcon (right)
Fact check
You can also see how the light shines straight through the knit fabric.
Fast foam for a slow shoe
With plenty of that Nike super foam in its midsole, reviewers found the Invincible Run 3 to be incredibly protective and amply responsive.
It's able to "pick up the pace for portions of a run," said one runner, though it's "certainly more of an impact absorber than an energy returner," clarified another.
Fact check
According to Nike, the stack height in the Invincible 3 is 40mm in the heel and 31mm in the forefoot. However, based on our caliper measurements, the heel shows to be 35.2 mm, while the forefoot is 25.6 mm. Significantly thinner than stated.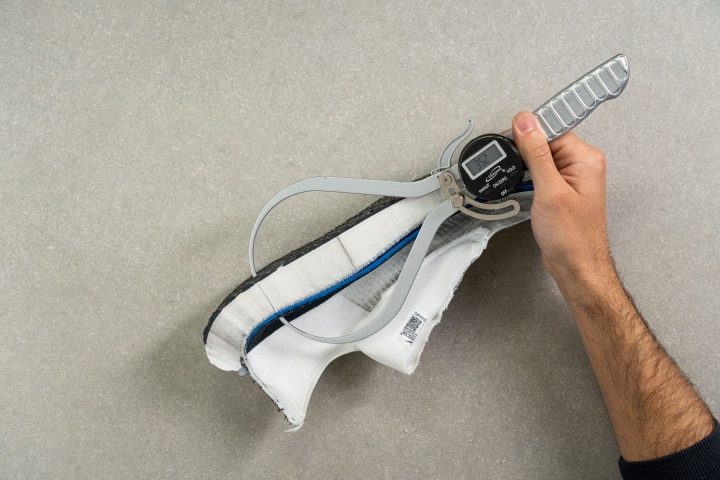 Fact check
But the drop appears to be close to the claimed 9 mm. It is 9.6 mm based on our stack measurements.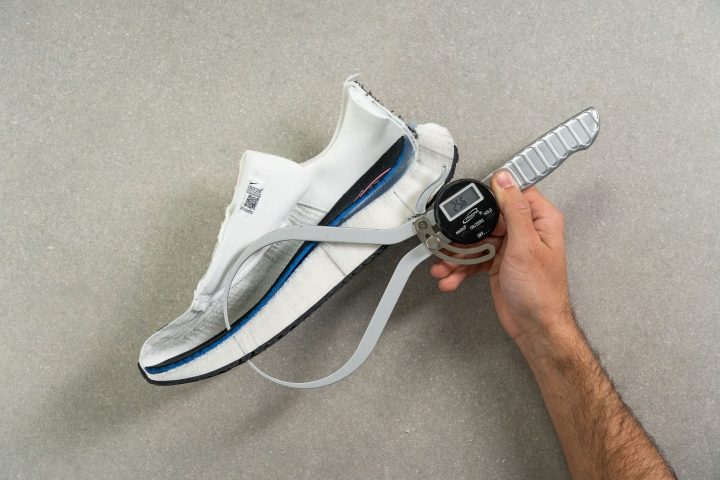 Disclaimer: We measure stack height with the insole included.
Fact check
The insole is not so heavily cushioned on the FK 3. At 2.9 m in the heel, it is thinner than the average 4.6 mm.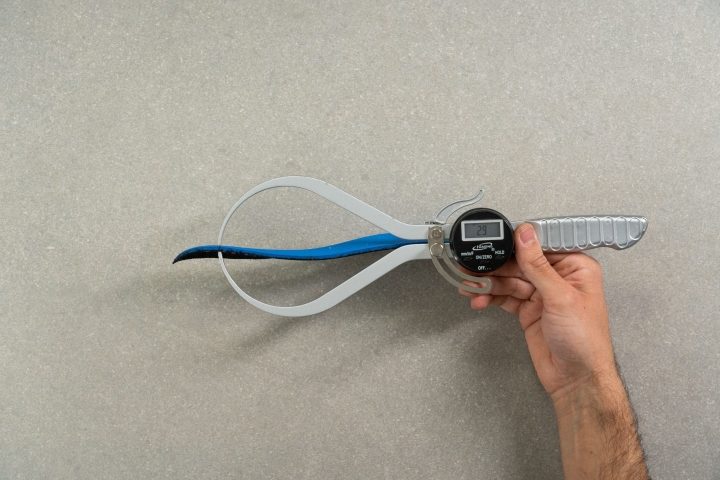 Still got the squish
Now back to runners. Even with the extra cushioning, they felt that the FK 3 still doesn't come close to the squishy softness of the v2—all because of the updates atop and below its midsole.
Fact check
We wouldn't be so discouraged though. Using a durometer to measure the foam softness, we found it to be 46% softer than average! The shoe also made it to the top 10% of the plushest shoes on our list.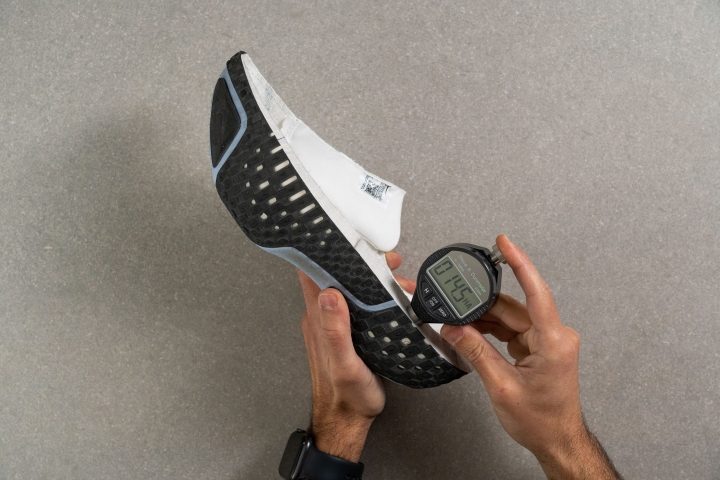 Disclaimer: We take measurements five times prior to noting down the result. The photo shows the final measurement.
Fact check
Even after sitting in the freezer for 20 minutes, the Invincible only got 10% firmer! This is really impressive given that on average shoes become 25% stiffer.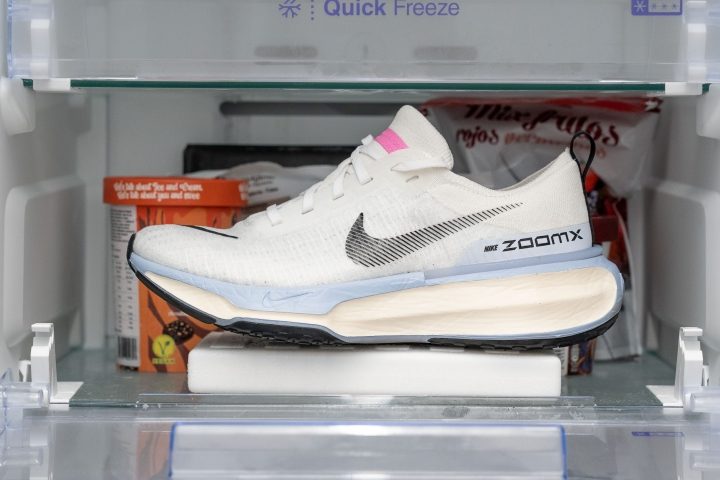 The Invincible Run is not too crazy this time
Nestled between the insole and midsole is a new layer that's garnered mixed reception from Invincible 3 testers.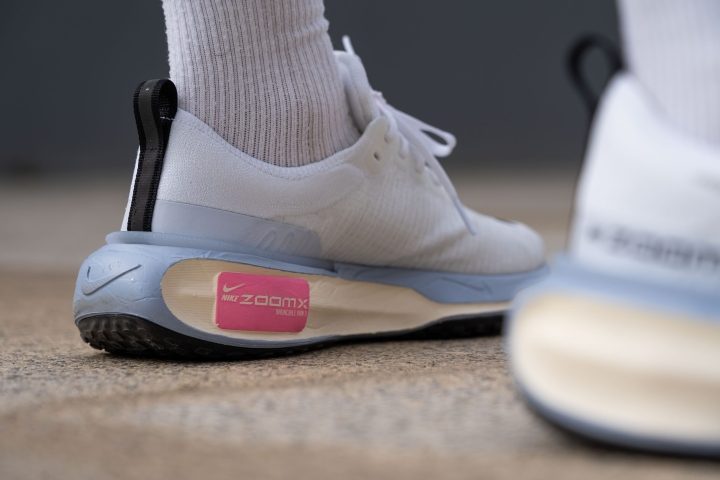 Runners who loved the sinking feeling they got in previous Invincibles didn't like how this new strobel lining dulled the energy return and prevented their feet "from sinking down into the soft ZoomX goodness."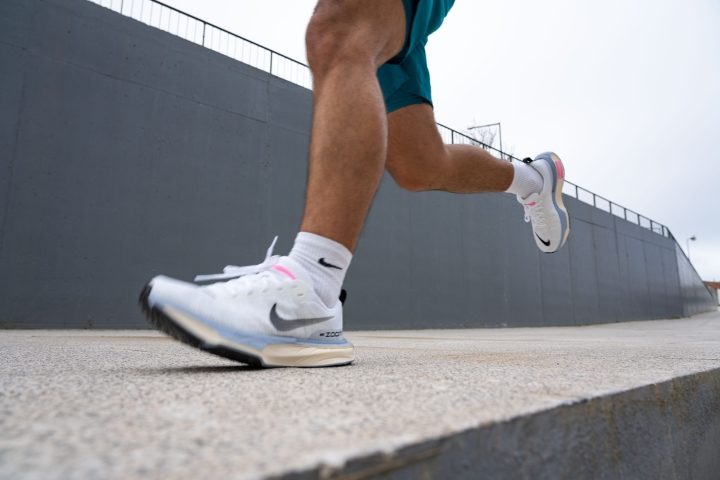 Meanwhile, those who thought that the last-gens were a wild, wobbly mess appreciated the stabilizing effect it had on the v3's ride.
Invincibility for everyone?
In case it hasn't been obvious, extra stability was a key element in the Invincible 3's redesign. The strobel lining, stiffer heel clip, thicker outsole, and wider base were made as such to address the v2's main point of criticism.
As a result, the bouncy, squishy, uniquely Invincible ride has been somewhat muffled. In its place is a more controlled, snappier, "less crazy" ride that some runners felt was a bit too similar to the React-based Infinity Run 3 and Pegasus 39.
According to experts, it's "certainly a ride that will work for more people," and it might be enough to make the shoe "more approachable" for people who find the previous editions a bit too much.
Fact check
We can confirm the shoe's increased sole width (even though just looking at the bottom of the shoe makes it obvious). In its widest part of the forefoot, the shoe measured at 121.8 mm (9.7 mm wider than average) and 102.1 mm in the heel (13(!) mm wider).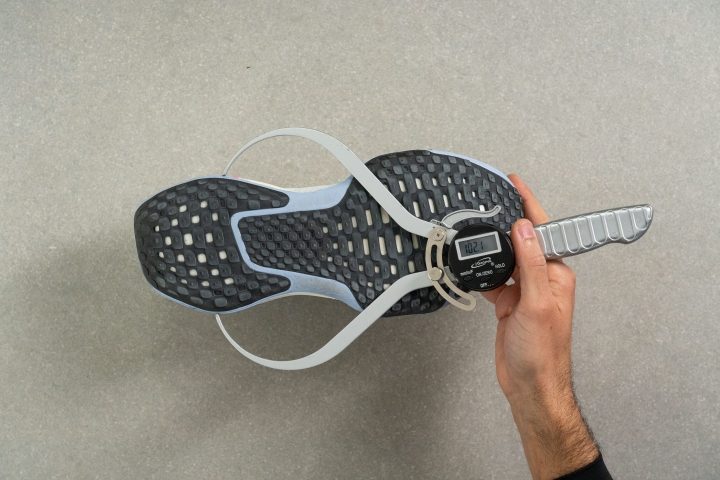 Fact check
The only shoe on our roster that could compete in width with the Nike Invincible 3 is the Hoka Bondi 8 (126.5 mm and 100.9 mm, respectively).
More integrity in the ride
The shoe also gained a little firmness in the flexibility department, offering a more consistent ride.
Fact check
Based on our resistance test, the Invincible FK 3 is only 6% more pliable than the average and belongs to the moderately flexible category of running shoes.
Fact check
Twisting and bending the shoe in our manual assessment, we ranked its longitudinal flexibility as 3 out of 5, where 5 is the stiffest. Meanwhile, torsional flex received 4 out of 5.
Cruising speeds only
Experts and casual runners agree that the ZoomX Invincible Run 3 is a shoe best "for doing a lot of easy miles in big comfort," i.e. those long, slow, recovery-type days.
And though it can be coerced to provide shorter bursts of speed, it's far too heavy and bulky for sustained fast efforts.
Fact check
Tipping the scales at 10.9 oz (310 g), the Invincible 3 is a bulker. For reference, the average weight of daily road runners with a heel height of 35 mm and above is 10.1 oz (286 g).
A little too much syrup on this waffle
Version 3's thick waffle-type outsole is dependable—but only in terms of longevity. Users were not too happy with the grip offered by the shoe. They said that the small nubs are "very soft and don't grip wet surfaces very well," leading to one running-shoe expert slipping and falling while navigating a small slope.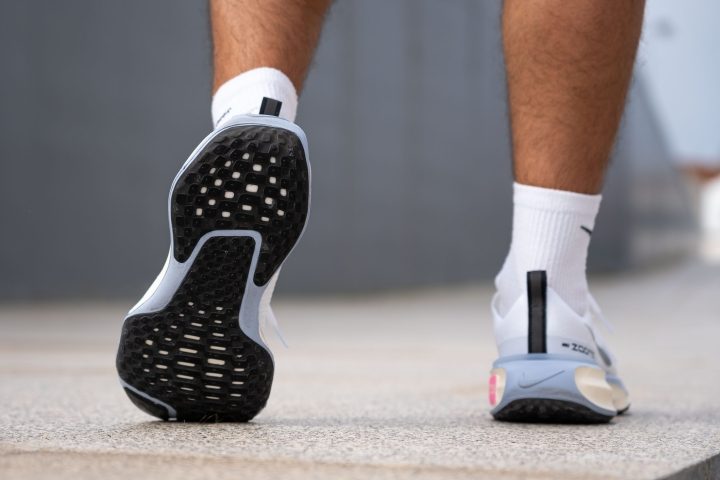 The much thicker outsole rubber also contributes to the shoe's firmer but steadier ride.
Fact check
Measuring the shoe's rubber outsole, we were amazed by its thickness - 4 mm. This is even thicker than on many trail shoes.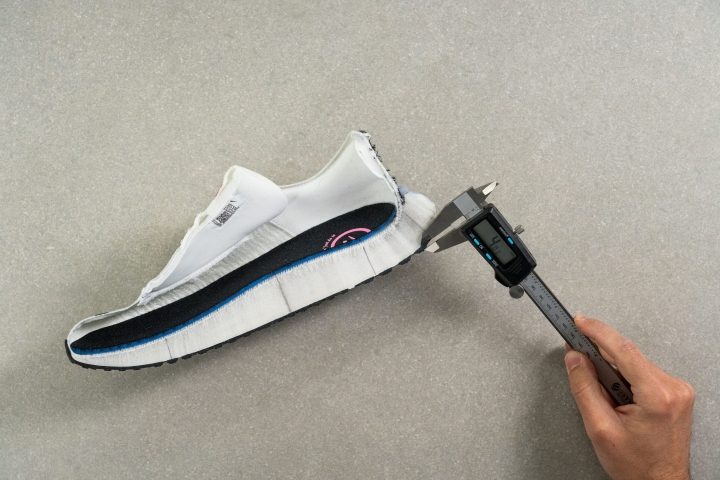 A heel clip that actually clips heels (in a bad way)
Another big change in the Invincible FK3 is the redesigned heel clip, which is now thinner and extends further into the midsole. This made the back of the shoe more rigid and structured, thus providing "way more stability in the heel," noted reviewers.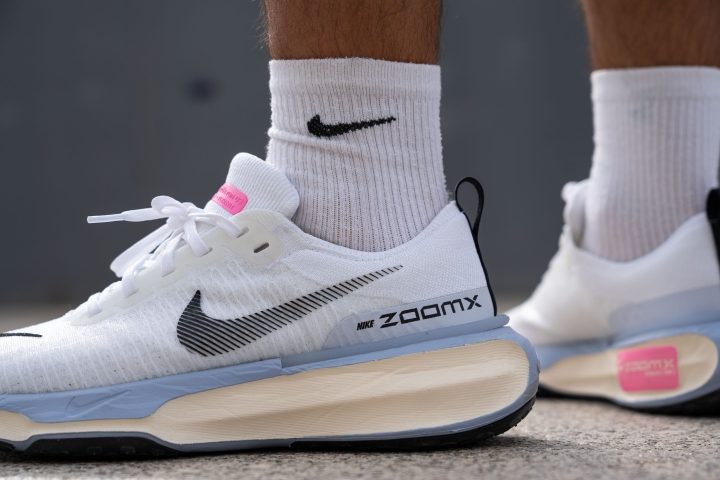 Though this aided in preventing unnecessary side-to-sides, some runners felt the clips poking into the sides of their feet, especially on sharp turns.
Fact check
We assessed the heel counter's stiffness as 3 out of 5, where 5 is the stiffest.
A vulnerable lockdown in the Invincible 3
Users report that the amount of room in the midfoot and forefoot has noticeably been dialed down, leading to a snug fit that's no longer as accommodating for wide feet as earlier models.
This performance-oriented fit, however, was sorely missed at the back as plenty of runners reported experiencing a subpar heel lockdown. For some, cinching down on the laces alleviated this problem; for others, tightening further made its already-narrow midfoot more uncomfortable.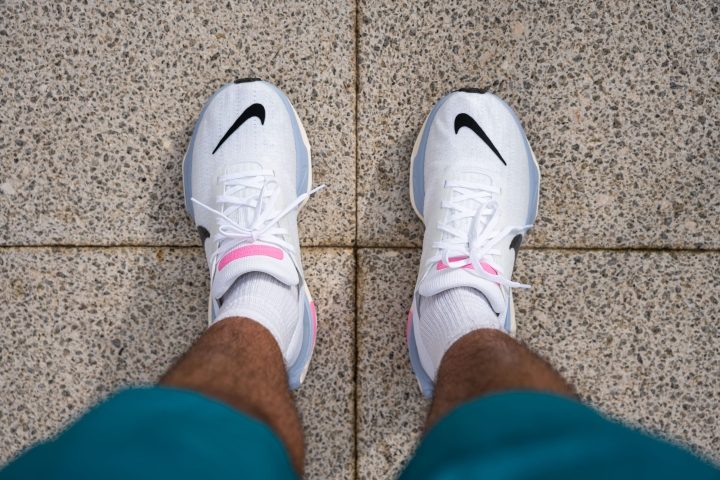 Fact check
We measured the widest area of the toebox at 97.7 mm. This is narrower than the average 98.1 mm but still within the medium range of toeboxes. Yet, it is likely to be not wide enough for wide footers.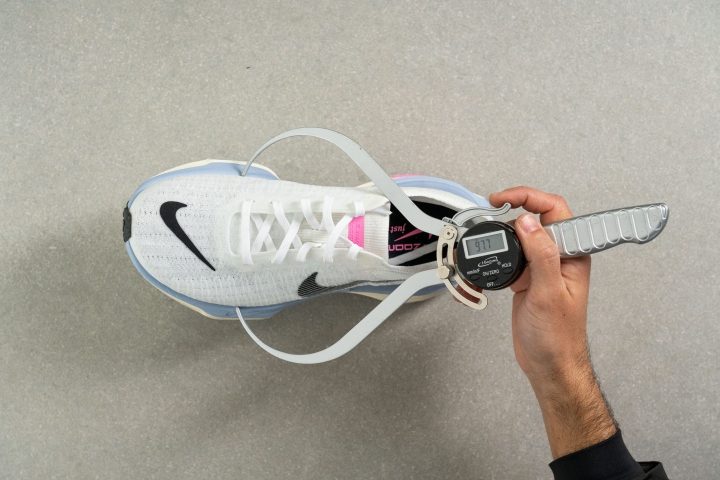 Should be safe going true to size
None of the reviewers expressed concerns about the shoe's sizing.
Fact check
We measured the internal length of the shoe at 259.2 mm in a men's US size 8. Based on Nike's shoe size chart, this corresponds to the US 8 (260 - 264 mm)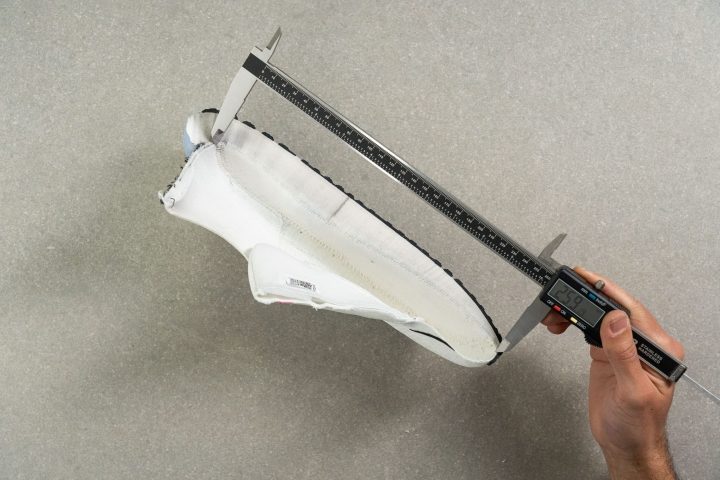 Reflective stripes at the back
A very welcome touch for those running in low-light conditions.
Complete lab-specs overview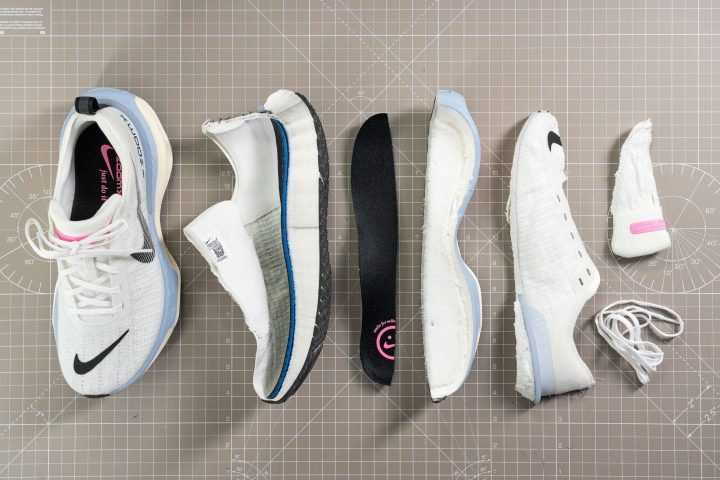 Nike ZoomX Invincible Run Flyknit 3
Average
Whole shoe

Weight (g)
267*
271
Drop (mm)
9.6
8.5
Overall Internal Length (mm)
259.2
-
Flexibility of the shoe (N)
32.0
34.2
Flexibility of the shoe (Freezer 20 min) (N)
45.2
47.8

Flexibility of the shoe (% of change)

41.5
44.8
Longitudinal flexibility (1-5 scale, 5 being the stiffest)
3
3.1
Torsional flexibility (1-5 scale, 5 being the stiffest)
4
3.2
Upper

Breathability - smoke test (1-5 scale, 5 being the most breathable)
4
3.6
Thickness - Tongue (mm)
7.4
5.8
Width Upper - Forefoot (mm)
97.7
98.1
Width Upper - Heel (mm)
71.7
75.1
Heel counter stiffness (1-5 scale, 5 being the stiffest)
3
2.8
Tongue: gusset type
none
-
Heel: pull tab
finger loop
-
Midsole

Width Midsole - Forefoot (mm)
121.8
112.1
Width Midsole - Heel (mm)
102.1
89.1
Stack - Forefoot with insole (mm)
25.6
24.4
Stack - Heel with insole (mm)
35.2
32.9
Durometer Midsole Heel (Room temperature) (HA)
14.5
27.0
Durometer Midsole - Heel (Freezer 20 minutes)
16.0
34.3
Durometer Midsole - Heel (% of change) (TEST)
10.3
26.6
Outsole

Outsole thickness (Heel) (mm)
4.0
3.4
Durometer Outsole Heel (Room temperature) (HC)
74.4
81.0
Insole
Insole Heel Thickness (mm)
2.9
4.6
Insole: removable
yes
-
*Disclaimer: The weight of the Nike ZoomX Invincible Run Flyknit 3 was measured in a men's US 8. In a US size 9, this corresponds to 10 oz (284g) per shoe, based on the weight measurements of over 40 shoe sizes.
Compare popularity
Interactive
Compare the popularity of another shoe to Nike ZoomX Invincible Run Flyknit 3: