The Fresh Foam X More v4 from
New Balance
is a maxed-out
daily trainer
that's best suited for recovery days and anything easy. Whether it's a short walk or a long-distance run, this mammoth of a shoe has kept our feet comfy and well-protected at all times. And what's more
awesome
is it costs less than its precursor!
Pros
An armor from fatigue
REALLY cushy for long days
Puts life in your run
A stable ride
True to size
Superb heel clutch
Markdown price
Long-lasting
Reflective
Cons
Easily feels hot
Chunky and clunky
Low energy return
Who should buy the New Balance Fresh Foam X More v4
If you're wondering where the Fresh Foam X More v4 is better suited, we believe that it shines on easy or long runs where the pace isn't as important. If plush is what you value the most, this NB shoe is very much worth checking out.
Expect the mellowest ride from the More v4!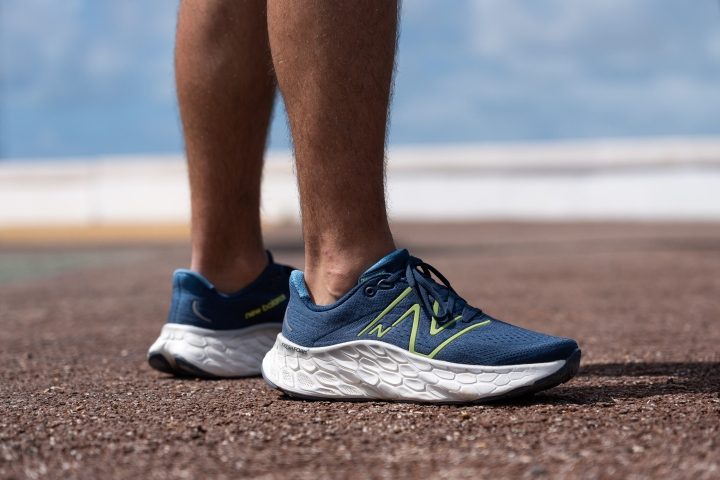 Who should NOT buy it
With its 360-degree plushness, there's no denying that the Fresh Foam X More v4 can feel like a heating pad. If you don't want to end up with sweaty (and potentially smelly) feet, grab the Hoka Bondi 8 instead.
Just by looking at the NB More v4, saying that it lives up to its name doesn't do it justice. Because it's a literal whale on the scale! And if you don't want anything weighing you down, the NB Fresh Foam 880 v10 won't do you a disservice.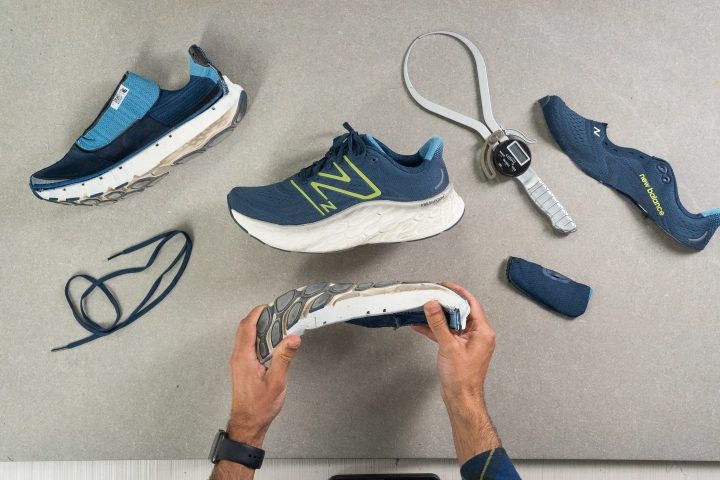 Too hot for dog days
We had no choice but to rate this shoe at 2/5, where 5 represents the most breathable score.
Although the video might seem to indicate better breathability in the Adidas, that's not the case.
The Runfalcon scores a 3/5 because it effectively dissipates heat through the tongue, acting like a chimney. While this method may not be the best for achieving optimal breathability, it's more effective than the upper of the More v4, which struggles to liberate even the smallest amount of heat.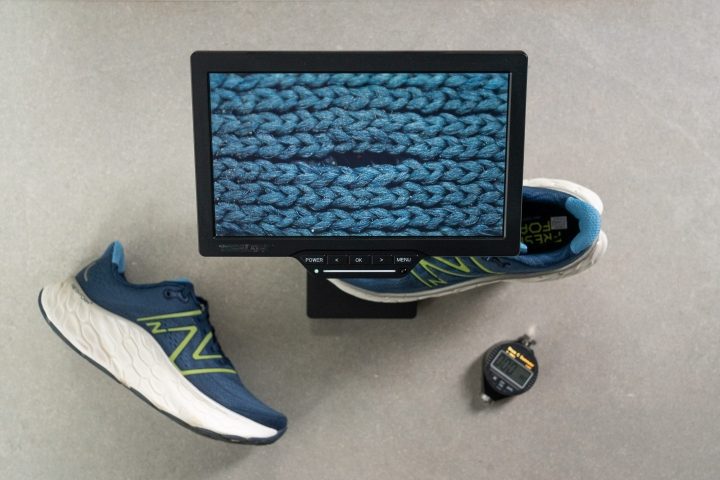 The More v4's upper is one of the densest and least transpirable that we've ever seen under our microscope. If you do train in warm weather, you may want to reconsider purchasing this shoe.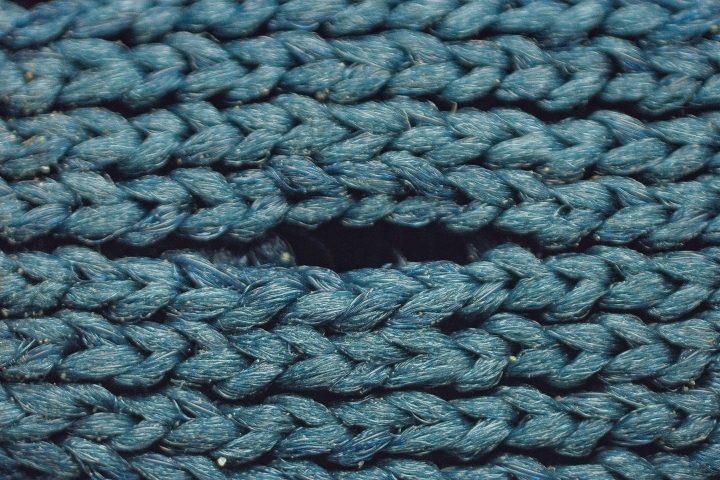 Those little ventilation holes are simply not enough.
As you can observe, very little light passes through the upper, further confirming that the breathability is indeed quite poor.
But, unlike v3, now it's a marvelous choice for winter
One positive aspect of a shoe that runs incredibly warm is that it can be beneficial during colder months. Not only will this shoe keep your feet cozy when the temperature drops, but it also offers two additional advantages:
The Fresh Foam X foam performs better in chilly conditions compared to its predecessor. In our freezer test, it hardened by just 18.6% after 20 minutes, while the v3's Fresh Foam registered a 34.4% increase in hardness. That's nearly twice the improvement!
Flexibility has significantly improved in cold weather. The v3 became a staggering 67.2% stiffer, while the v4 stiffened by only 23.2%! This is a phenomenal enhancement and a remarkable result for a EVA-based foam.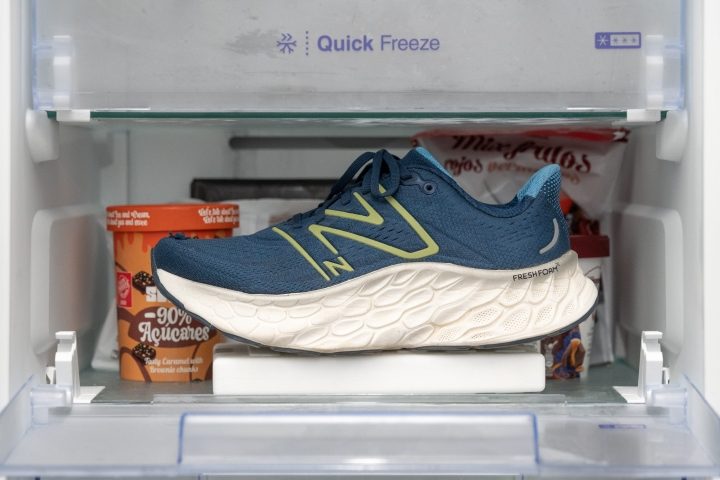 Soft, comfortable, and stretchy upper
The entire upper is constructed from engineered mesh, which is soft enough to allow for sockless wear if desired. This is a fantastic feature for a daily trainer!
However, the softness comes at a cost: reduced durability. Our Dremel test, which applies consistent force to each shoe for four seconds, confirmed our concerns. The test resulted in one of the largest holes we've ever seen in this type of evaluation.
In the comparison below, you can see that the Hoka Transport held up quite well against abrasion, while the New Balance performed quite the opposite.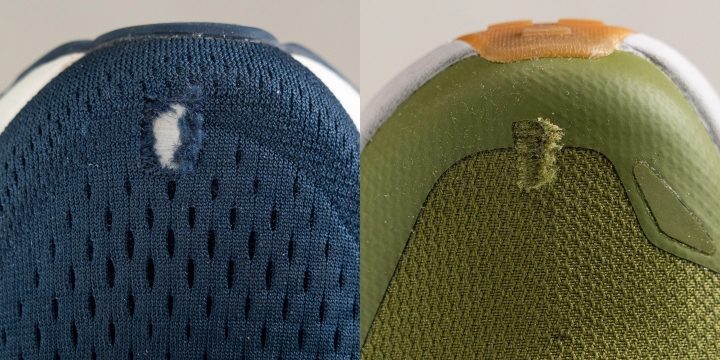 New Balance FF X More v4 vs. Hoka Transport
More foam in the More v4?
This shoe, with its added foam, has rightfully earned the King of Cushioning title. But more importantly, how does this translate on the run?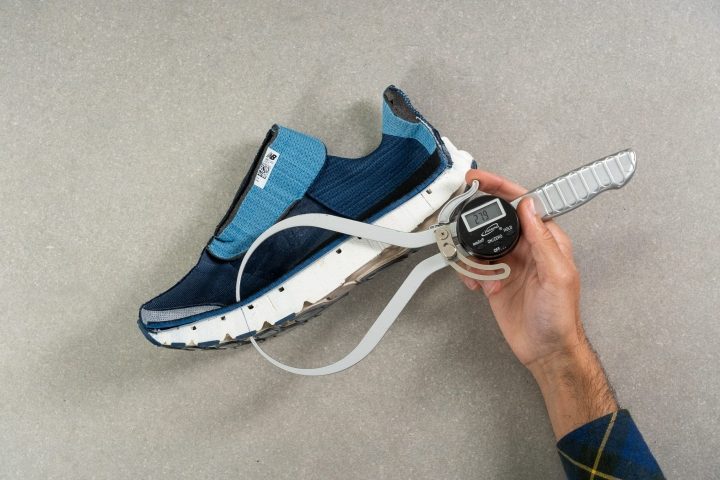 But how much foam is there exactly? NB claims that this shoe has a 33/29 mm stack, for a 4 mm heel-to-toe drop.
Following our measurements, we can confirm that New Balance's claims are mostly accurate. We measured a 32.5 mm heel height and a 27.9 mm forefoot height, resulting in a 4.6 mm drop. That's close enough!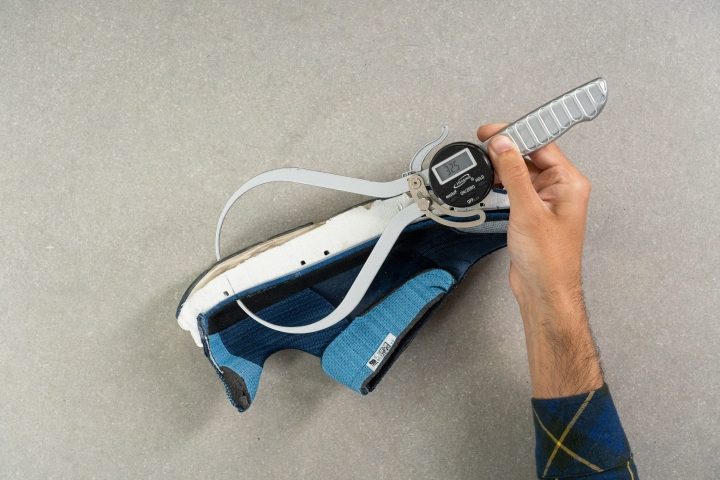 One thing you may have already noticed is that this shoe appears to be quite tall. While it's certainly not a thin shoe, it isn't as tall as it seems, giving the impression of a higher stack height than it actually has. This illusion occurs due to two factors: the pronounced sidewalls to improve stability and the low heel collar, which create the impression of an extremely high stack. But let's provide some context:
In fact, after 200+ shoes analyzed in our lab, the More v4 is even a millimeter lower than average!
An impact-absorbing shield
With all of its muscles, ground feel is virtually non-existent in the New Balance FF More v4. You don't have to worry about strain and fatigue at all!
The shoe's underfoot sensation is 101% plush! We felt as though this NB shoe shames the plush Hoka Bondi, making it pale in comparison.
And our lab tests have confirmed it. The durometer shows 15.5 HA, making it one of the softest EVA-based foams we've ever encountered. For reference, that's 55% softer than road running shoes on average and 16% softer than the Hoka Bondi 8.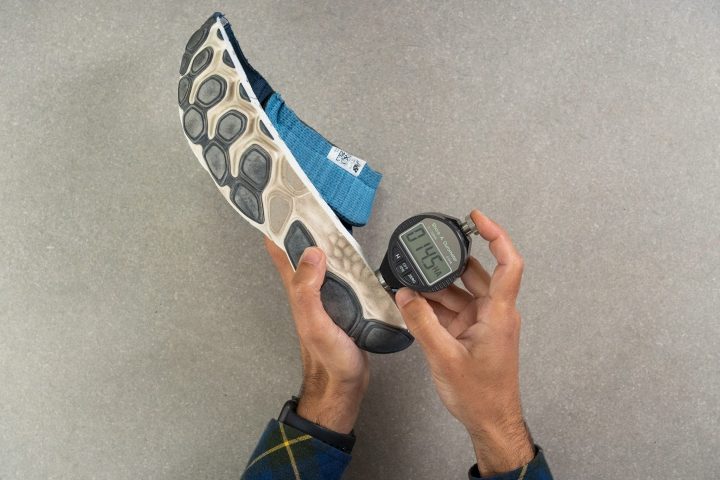 Disclaimer: We take the measurement five times to ensure accuracy. The photo above shows one of those results.
A fun run!
The best part is that the plushness of this New Balance shoe doesn't hold it back from coming to life on the road. A nice touch of bounce is present here as well!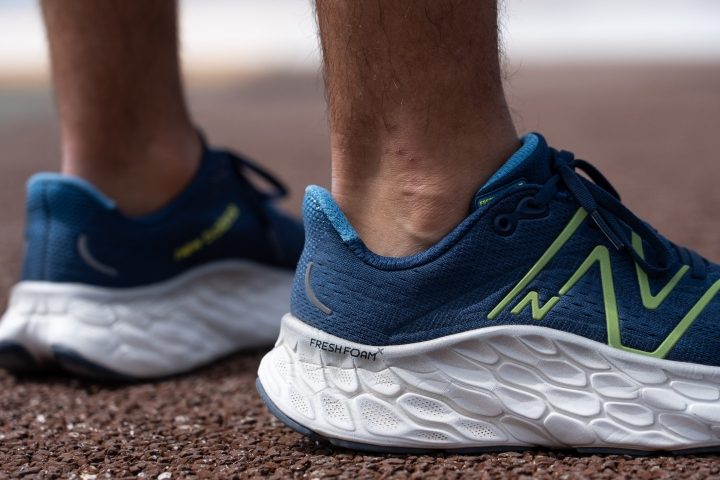 Just be aware that a soft feel doesn't necessarily mean greater energy return and that this shoe can feel a little bit spongey. The Fresh Foam X material is comfortable and pleasant, but it's still a standard EVA foam. This means that it's more than enough for easy and moderate runs, but may not offer the desired responsiveness for high-speed workouts.
Flexibility plays a huge role in making your run enjoyable and effortless. In our assessment, the More v4 shoe scored 2 out of 5 for torsional and longitudinal flexibility, with 5 being the stiffest. While it's not as flexible as the Kinvara 14—which is a hyper-flexible shoe and scored 1/5 in both tests—the More v4 is still one of the most flexible shoes we've ever tested.
Disclaimer: We take an average of 4 measurements and exclude any outliers. This video shows just one measurement.
The same is true in our bending test. We only needed 17.7N of force to bend the shoe to 90º, compared to the average of 33.2 N.
Of course, this shoe features modern New Balance DNA—with a prominently curved rocker that is nearly on par with its racing counterpart, the New Balance FuelCell Supercomp Trainer.
Missteps? Who dat?
As mentioned, version 4 of the NB Fresh Foam More has a really wide base. So despite it being tall and all, it still delivers a very stable ride. No wobbles here!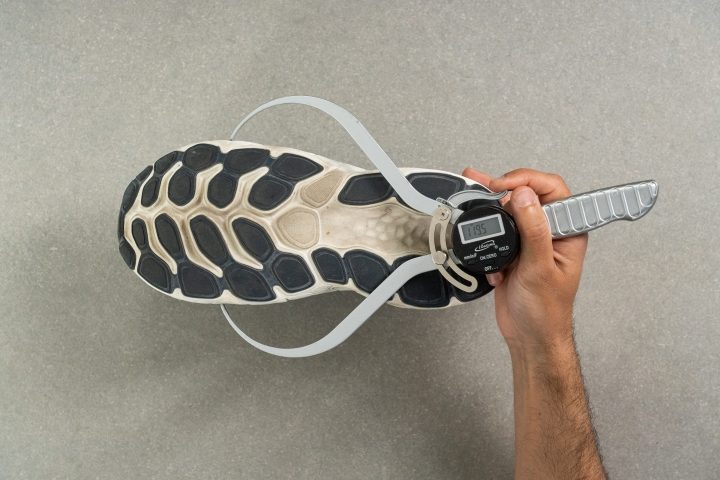 On top of this, the foot sits deep in between the sidewalls, which makes the ride all the more stable.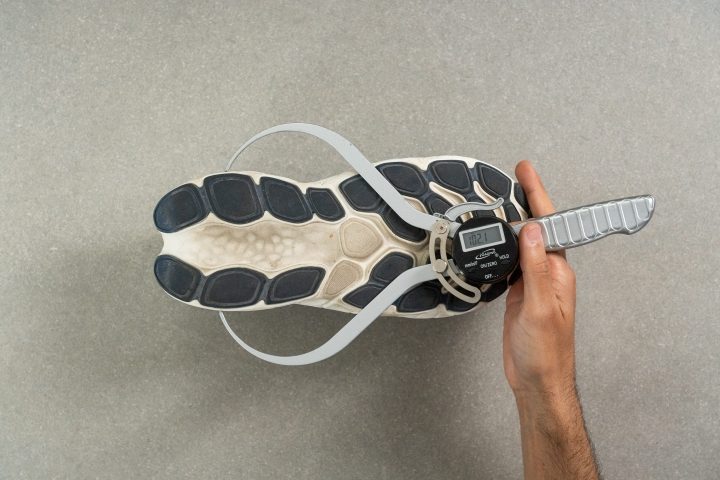 After taking precise measurements, we can confirm that this shoe is mind-blowingly wide, especially in the heel (102.1 mm)! That's a good 12 mm wider than the average! Few other shoes are wider than this, and most of them are stability-oriented, such as the Hoka Gaviota 4 or the Hoka Bondi 8.
NB More v4 fits as expected
We believe that runners with average and maybe slightly wide feet are going to find ample space for their toes in this New Balance shoe. Plus, this model is also available in wide and extra-wide options.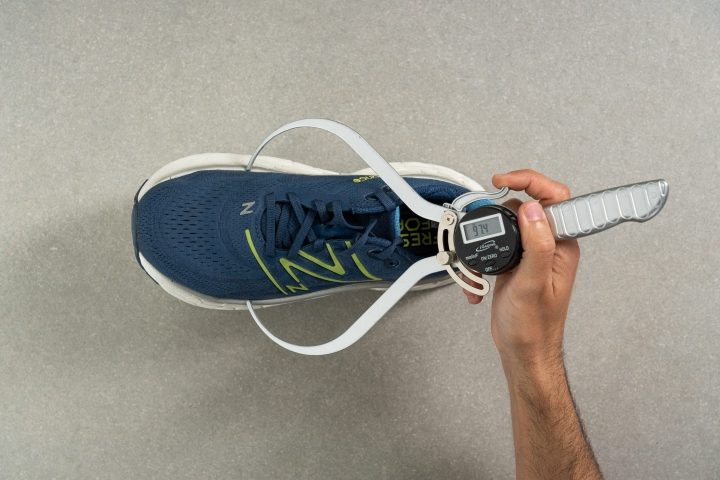 Having taken measurements in our lab, we can confirm that the NB Fresh Foam X More v4 upper should accommodate most runners comfortably, although it's not a super wide shoe. With a maximum width of 97.4 mm at the broadest point and 74.4 mm in the big toe area, it is only 0.2% narrower than the average shoe at its widest point, and 1.7% wider in the big toe region. Pretty average.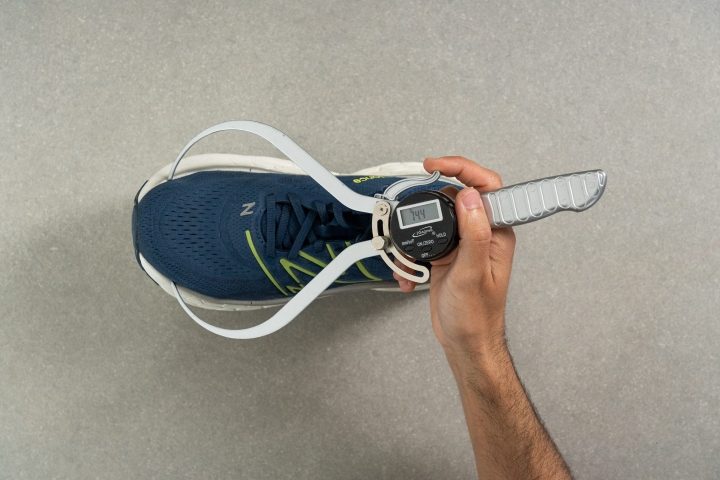 For those with narrow feet, all you need to do is find your way with the laces and the tongue. Once done, nailing the fit will be easy.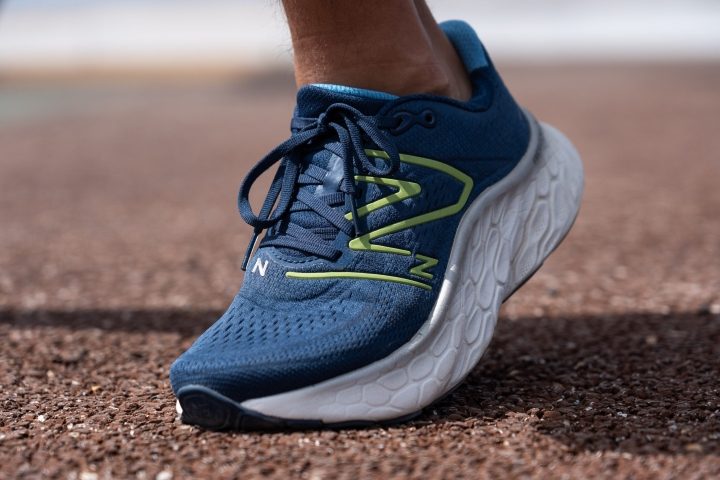 Pulling the laces tight enough can do the trick—although it may take a couple of tries, especially because the tongue is non-gusseted—not fixed to the sides—so it moves freely.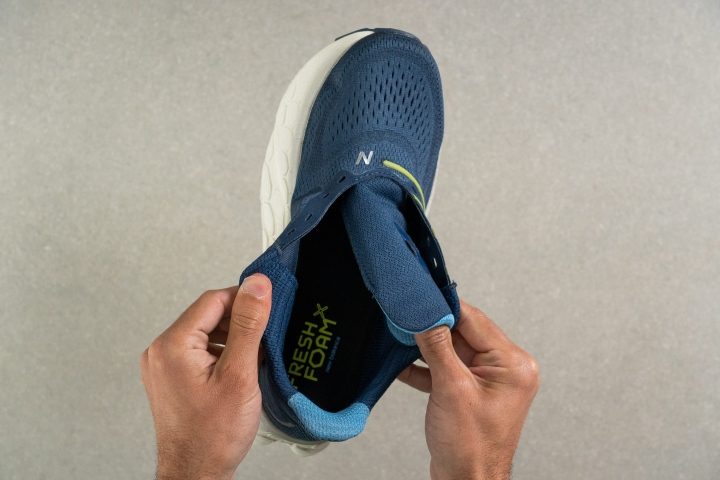 Fortunately, there is no lace bite in here, as the 5.5 mm-thick tongue prevents it from happening and adds comfort.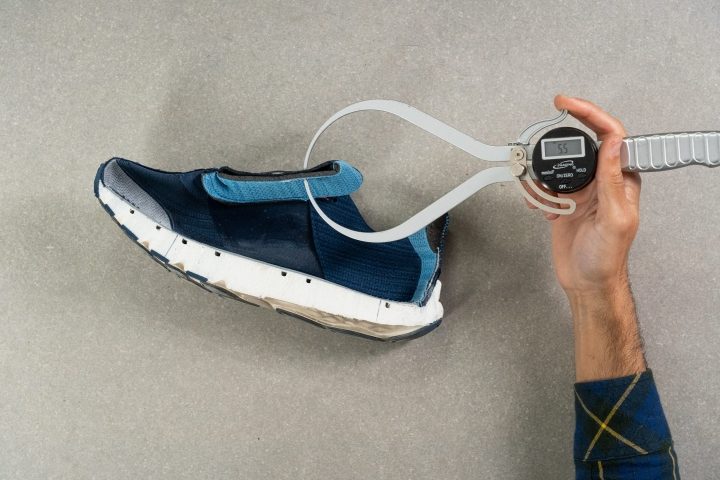 Heel hold couldn't be better
The shoe's heel counter held our ankles securely and comfortably. It has a very well-padded design and contributes to the shoe's awesome lockdown.
We can confidently assert that New Balance excelled in designing the heel counter. With a flexibility rating of 2/5 (where 5 represents the stiffest), it effectively prevents heel slippage, especially when combined with the plush, cushioned padding inside.
Looks clunky, is clunky
On average, daily trainers weigh 9.7 oz (274g) in US men's 9. This makes the New Balance X More v4 nearly an ounce heavier than the average with its 10.6 oz (301 g) in US size 9.
While the weight kinda disappears on the run, it's still hefty compared to other daily trainers t these days.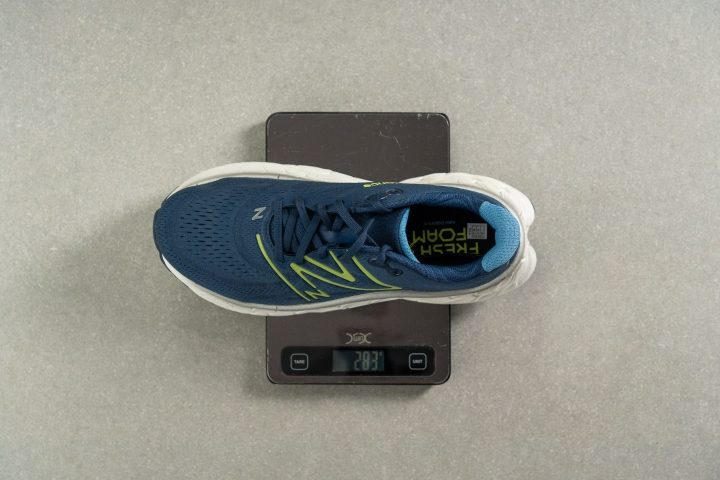 Sticky and sturdy
That's how the shoe's outsole is best described. After 30+ miles of wear testing, we barely see any wear on the rubber!
While it's not a full-length outsole, there is some good rubber coverage in key impact areas. We also found that these rubber pods gripped well on wet and slightly slippery pavements.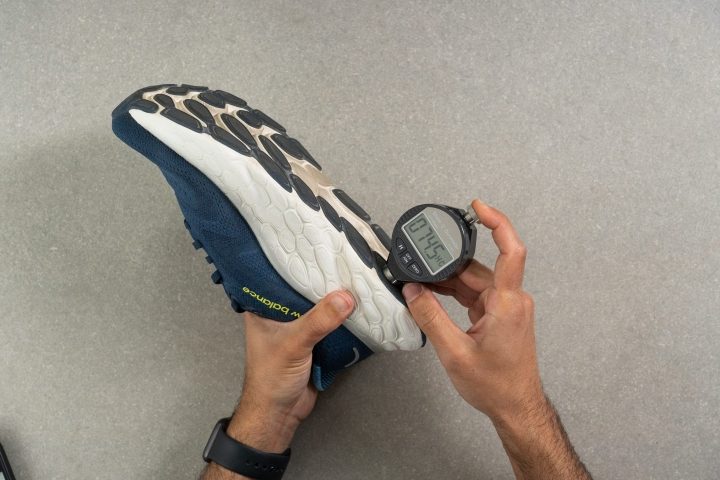 Disclaimer: this measurement is one of four durometer readings taken to get the average. Any outliers have been excluded from this calculation.
The positive impressions of the grip were validated when we assessed the outsole's hardness at a mere 75.1 HC, which is lower than average. This results in enhanced traction, though it does come at the expense of durability. Unfortunately, you can't have it both ways!
A solid choice for night runs
It's not easy to find running shoes with enough reflective elements to be considered a safe option for night runs. Luckily, these NB have some large lateral reflective elements, so anyone driving by will know you're rocking the Boston brand.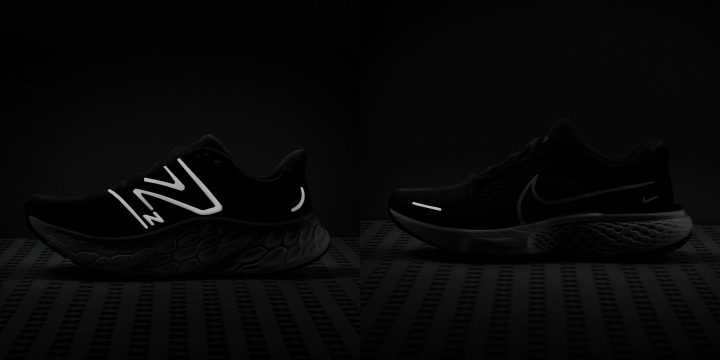 NB Fresh Foam X More v4 vs Nike ZoomX Invincible Run 2
It's cheaper!
Somehow New Balance didn't go with the trend of skyrocketing running shoe prices. In fact, they made this version much more affordable by $15 (going from $165 to $150 a pair).