The thirty-ninth version of the Nike Air Zoom Pegasus is a certified workhorse that's perfect for slow, long, and faster efforts. Not only this, but it's also a great choice for newbies who are aiming to hit their first 5K or a marathon. And for long-time runners, it's a trusty pick if you want a good ol' fashion ride that will keep you stable.
Pros
Lighter than the Peg 38
More responsive
Stable when cornering
Snug and comfy fit
Doesn't cause lace bites
For easy & faster days
Grippy on wet concrete and light trails
Tank-like build
Perfect for beginners
Cons
Narrow toe box for wide feet
Warm upper
Not for recovery days
Who should buy the Nike Air Zoom Pegasus 39
Grab a pair of Nike Pegasus 39 if you're looking for a:
reliable all-rounder that's durable and stable
Nike Pegasus that brings back the feel of the well-loved Nike Peg 36 and is a lighter version of the Pegasus 38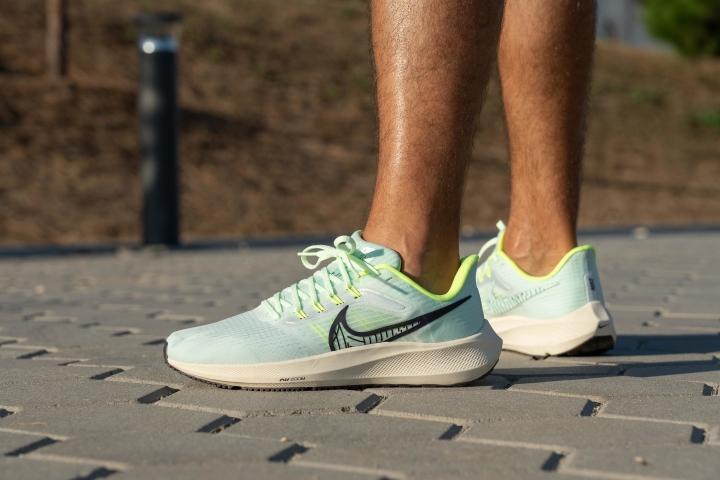 Who should NOT buy it
If you want a highly breathable shoe that's ready to beat the heat and is comfy for recovery efforts, the Nike React Infinity Run Flyknit 2 is anything but a disappointment.
And if it's a spacious toe room you're after, the Nike Vomero 16 will serve you better.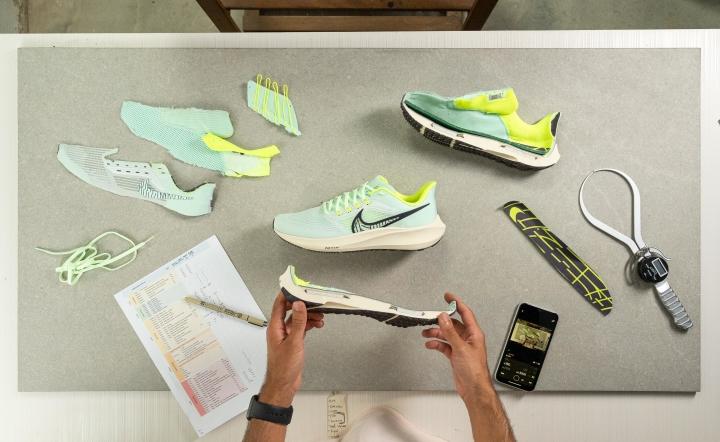 Nike Pegasus 39 vs. 38
The Peg 38 and 39 may not be "massively different" as one expert described them, but the subtle changes in this version reunite Pegasus fans everywhere, thanks to its:
lighter weight, dropping it down to 261 grams/9.2 ounces in men's US 9 from 281 grams/9.9 ounces
more locked-in fit
better responsiveness owed to the added Zoom Air units in the heel and forefoot
stickier grip from the redesigned outsole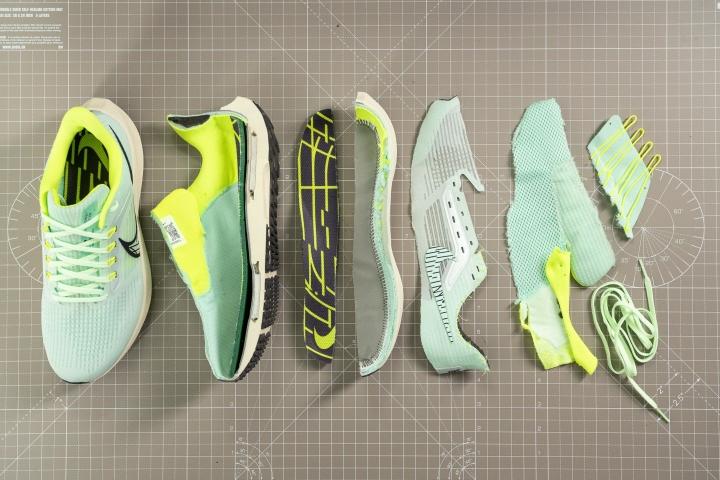 Soft even when it's cold outside
Running shoes get firmer when it's cold outside which is why it's best to store them at room temperature.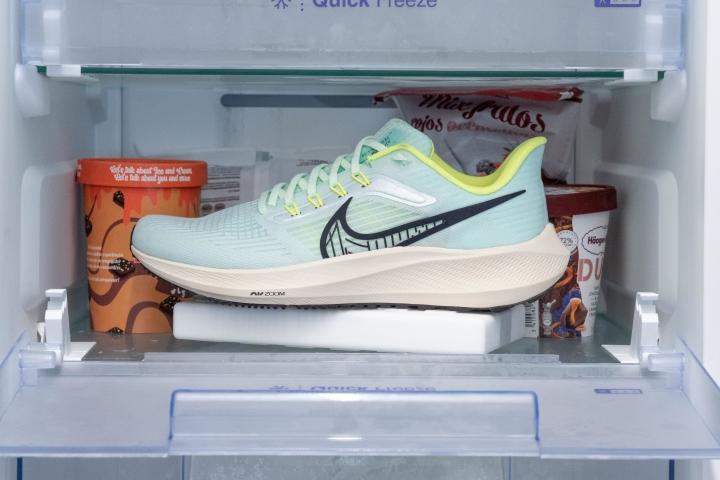 However, Nike Pegasus 39 goes from 15.5 to 23.25 when measuring softness at room temps and after 20mins in the freezer. While this is a big change (50% and the average is 23%), its firmest measurement (23.25) is still softer than the average of all shoes at room temperature (28.6).
Uh-oh, it's can't take the heat
The upper is very padded; it's comfortable straight out of the box.
Fact check
Very true! Tongue is 10.0mm thick which is 4.1mm thicker than the average.
Because of this, road runners claim that they haven't had any hot spots or blisters. So much so that they find it a "homey match" for all-day, casual wear.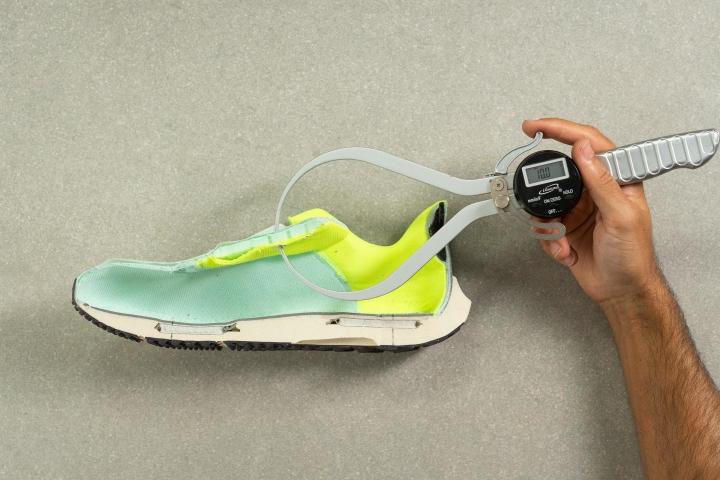 But of course, this comes with a price. And that's breathability (or the lack thereof). One runner claims that even when running between 6 to 8 AM in Malaysia where the sun is not scorching hot yet, his feet begged for the shoe to be taken off.
As durable as a Pegasus
can

be

It's "built like a tank." This summarizes the majority's take on the shoe's durability. It can withstand hundreds of kilometers; its strength is "first-class."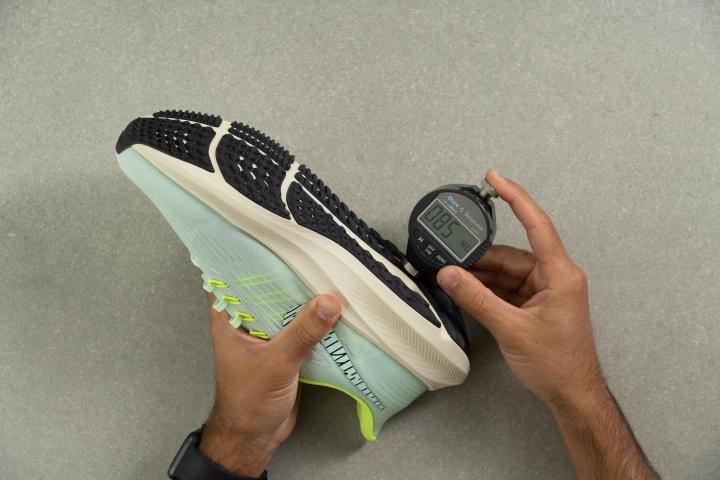 After a series of wear testing, the outsole barely shows any sign of wear.
Fact check
The durometer showed 85.0 when pressed against the outsole. The average we've measured so far in the lab is 80.5. This goes on to confirm that the outsole on Pegasus 39 is firmer than the average.
As per experts, it can outlast the rest of the shoe's components. And if it's not clear enough, it's safe to say that the Pegasus 39's agenda is all about durability>fun.
Heel drop is off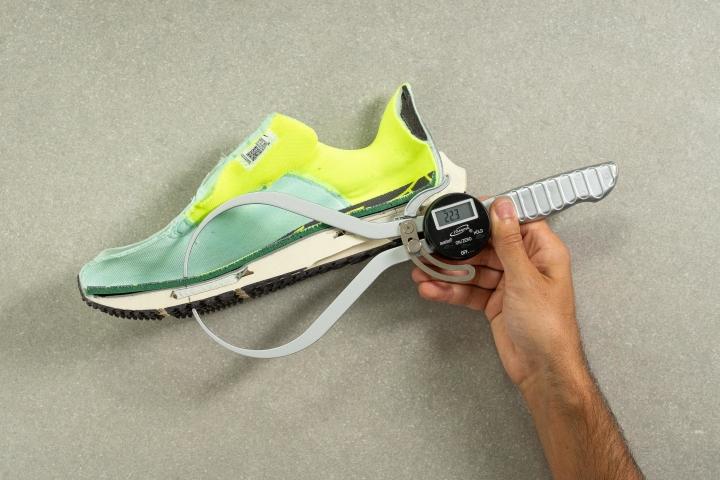 Fact check
Brand says 10mm, we measured 8mm. Going from 30.3mm at the heel to 22.3mm of stack height at the forefoot.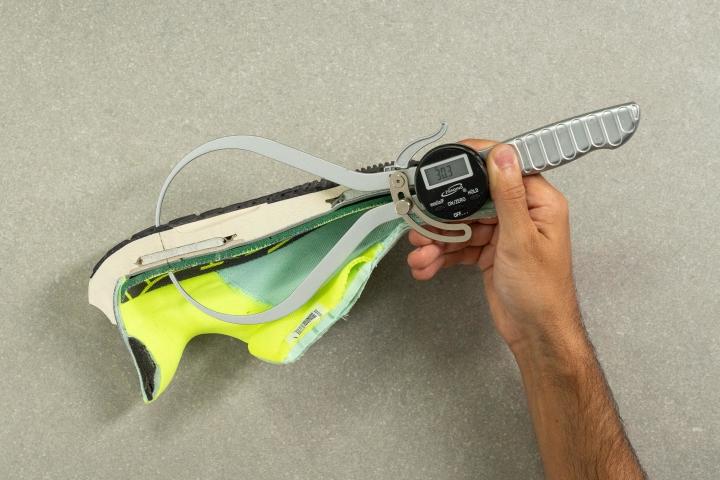 Nails it in the fit
department
It addresses some of the issues runners had with the 37 and 38. With its revamped upper, the Nike Pegasus Air Zoom 39 has earned these remarks from verified buyers:
it "prevents heel slip"
"toe box feels roomier"
However, if you're a wide-footed runner, we're sorry to report that this shoe is still not roomy enough for an accommodating fit.
Fact check
To be fair, Pegasus 39 sits very close to the average when it comes to the toebox with: 98.0 mm and the average is 98.5 mm. Its upper material might not have enough give though for the wide footers.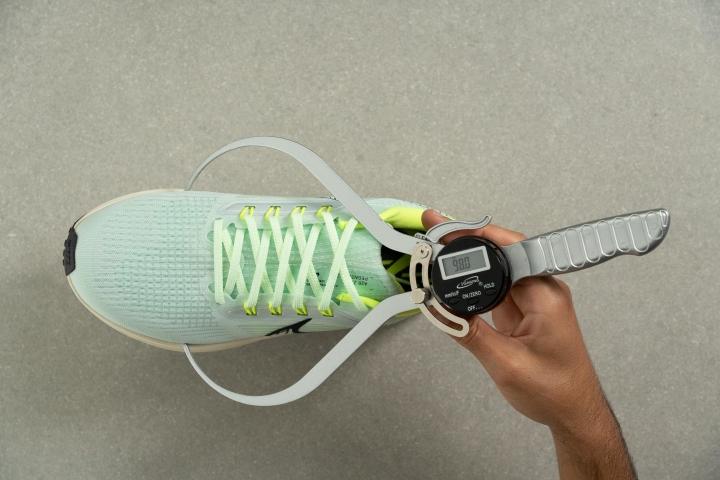 Everything you expect from a Pegasus
Judging from the reviews it has garnered, it's clear that the Nike Pegasus 39 is a "fantastic all-rounder." It's reactive when picking up the pace, departing from its (as runners have called it) "sluggish" precursors like the Nike Peg 37 and 38.
And for long runs, it feels squishier; thus, cushier. Even better, it "hits the sweet spot" in slow, mid-distance runs.
Fact check
Lab confirms it is a very soft shoe. The durometer showed 15.5 when measuring the softness of the midsole which is 60% softer than the average (28.6).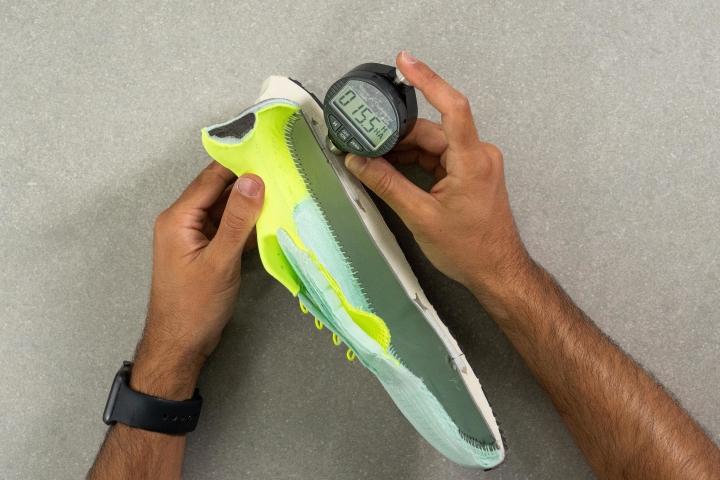 An anchor to your feet
Not exactly weight-wise, but stability-wise. Out of all the runners who mentioned stability, more than half of them agree that it "feels planted" when cornering. This is thanks to the shoe's relatively firm midsole and tacky grip.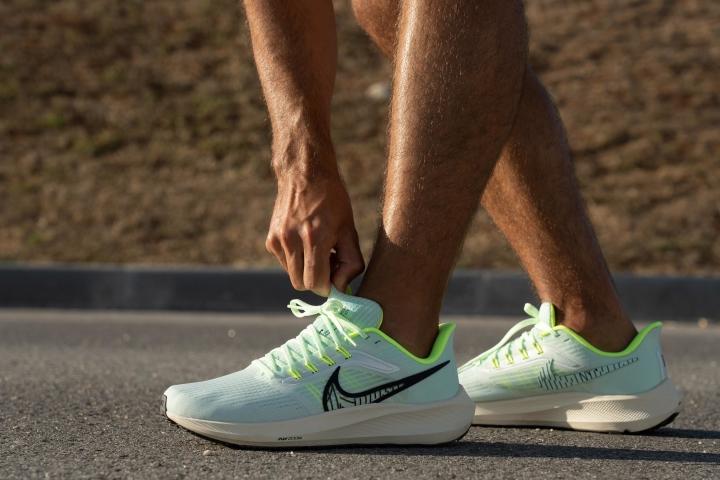 In the lab, not much goes on to confirm why this shoe feels especially stable. Definitely, there's a less-than-average amount of cushioning. At the heel, we've measured 30.3mm (the average is 32.7) and at the forefoot, we've measured 22.3 (vs 24.1mm that's the average). So it's a slightly lower-to-the-ground shoe.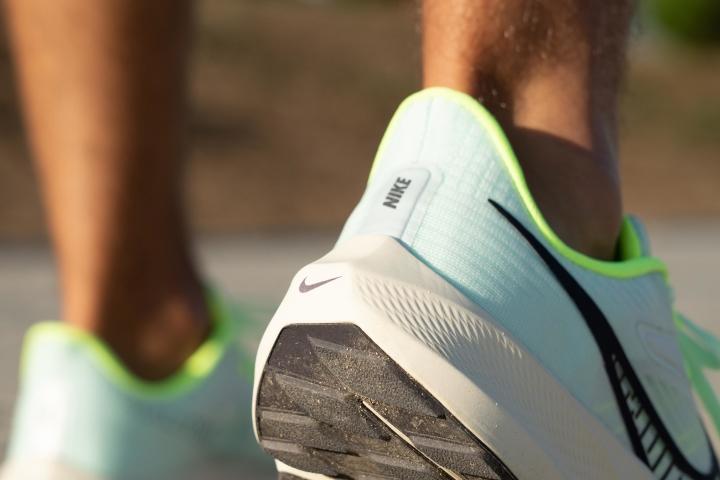 However, looking at the difference between the width of the midsole and the upper, we get these numbers:
At the heel, the upper is 9.9mm narrower than the midsole. On average, we see a difference of 12.9mm here.
At the forefoot, the upper is 11.2mm narrower than the midsole. The average difference between these 2 widths is 13.3mm.
At the heel, the difference is very noticeable with the midsole being 83.2mm wide and the average is 88.7mm.
Take something else for recovery days
The new Zoom Air pod in the forefoot creates a "disjointed feel" that makes the heel-to-toe transitions suffer. What's worse is the airbag feels intrusive; the "lumpy sensation" gets in the way when really slowing it down.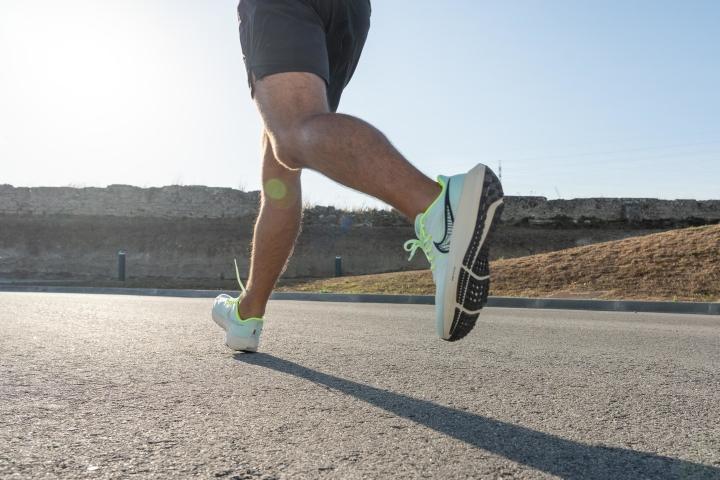 The Pegasus 39 goes on a
diet
It weighs 8.8oz or 249g. The average for all shoes that went through our lab is 9.6 oz or 272g.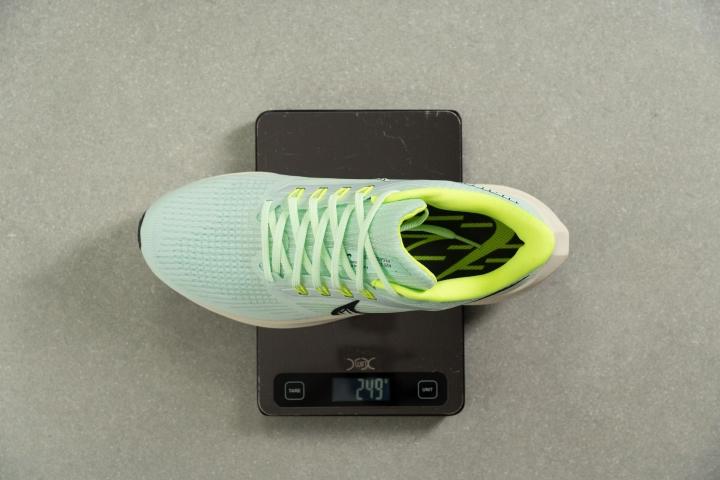 It's not only lighter than its predecessor; it's also lighter than its peers like the Brooks Ghost 14 (280 grams/9.9 ounces) and the NB 880 v11 (275 grams/9.7 ounces). Despite it being considered by some as "bottom-heavy" because of the copious amount of rubber it has, the general consensus about the Peg's "big weight loss" has been positive.
Lockdown has never been this good
Especially for a Nike Pegasus. In this iteration, the Nike Flywire makes a "triumphant return," providing a snug midfoot lockdown. What's more is it doesn't cut into your feet.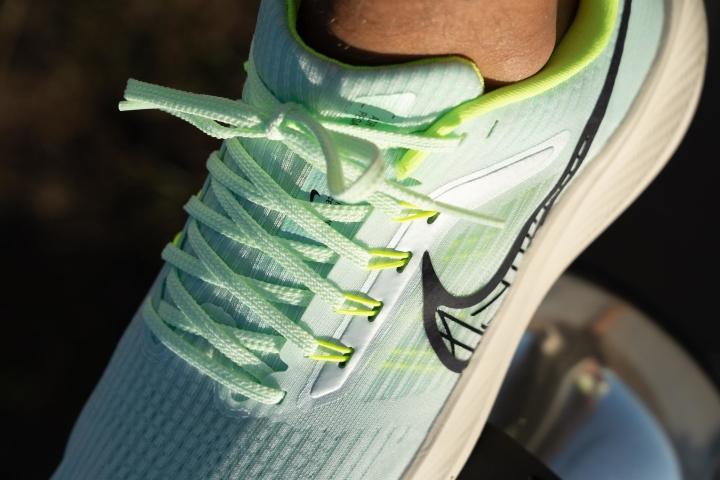 Complementing it is the shoe's tongue that's attached to the inner sleeve. It not only locks the foot in; it also prevents tongue slide.
The Nike Pegasus Air Zoom 39 wraps so securely; "excellent" has been the most frequent word used to describe its foothold.
Sticks better than your regular daily trainers
This is especially true on wet concrete, light trails, and grassy terrain. 83% of the critics find it "one of the most aggressive outsole setups" they've ever encountered in a daily running shoe. They even claim that it has an "octopus-sucker-like" grip!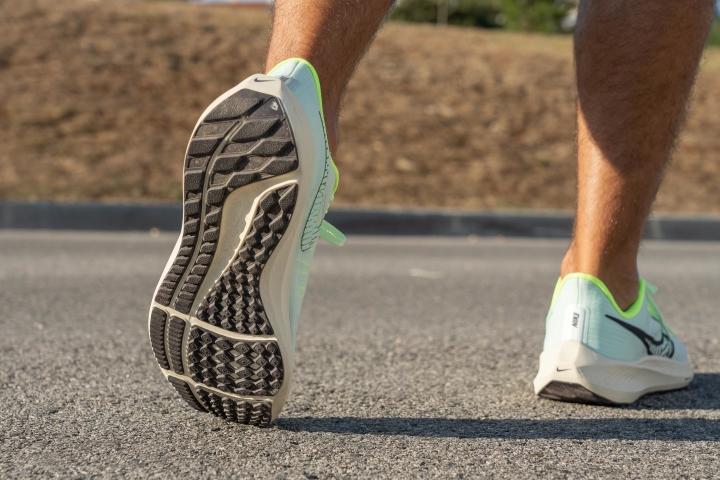 Pegasus 39 is very flexible
Doing flexibility tests also confirmed that Peg 39 is great for running at cold temperatures. It's a very flexible shoe, it took us only 20.1N to bend it at room temperature, and 31.4N after chilling with ice cream and petit gateau.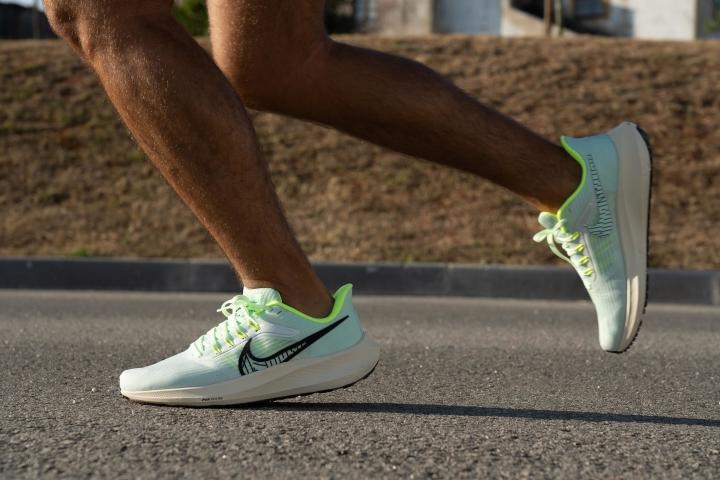 To put this into context, that same force (31N) is needed to flex shoes at room temperature, not freezing temps, on average.
Even on our manual tests, the Pegasus 39 scored 2/5 both for longitudinal and torsional flexibility which makes it a very flexible shoe (5/5 is the stiffest and the average in our lab is 3.3 and 3.4 respectively).