10 Best Nike Running Shoes (Buyer's Guide)
Nike offers a wide selection of road and trail running shoes for beginners and seasoned runners. If you are unsure which one is best for you, this article will help you narrow down your choices.
How we review Nike running shoes
At RunRepeat, we provide up-to-date recommendations for Nike running shoes by taking into account the latest reviews and shoe releases.
We spend 7 hours per shoe doing research and reading reviews around the internet
More than 1,000 expert reviews and 200,000 user reviews were analyzed to list the pros and cons of each shoe
We have done more than 200 in-depth reviews for Nike running shoes
We provide a CoreScore to each Nike model based on the user and expert reviews. The score is from 0 to 100, which indicates how liked the shoe is.
Ranking of the 10 best Nike running shoes
Based on 761,763 user ratings 1,525 expert reviews
Here is a list of all 227 Nike running shoes, where you can sort by "best rated" and apply filters.
Popular running shoes aren't the better rated ones
4 things to consider for choosing the best Nike running shoes
To choose a perfect Nike runner for you, consider the following factors: terrain, running goals, and shoe feel preferences.
1. Terrain: Road or Trail
Nike road shoes

Nike trail shoes

Best for: pavement and surfaces with minor irregularities
Best for: light and rugged trail

lighter
more flexible
generally responsive

more durable
aggressive sole
enhanced foot protection
usually have a stiffer midsole

Good to know: It's fine to wear your trail shoes on the roads, but only at a minimum distance to avoid knee or foot pain.
2. Your goal: Daily run or Competition
Nike offers running shoes for competition and everyday runs. To help you get the right pair, here's the quick comparison between the two: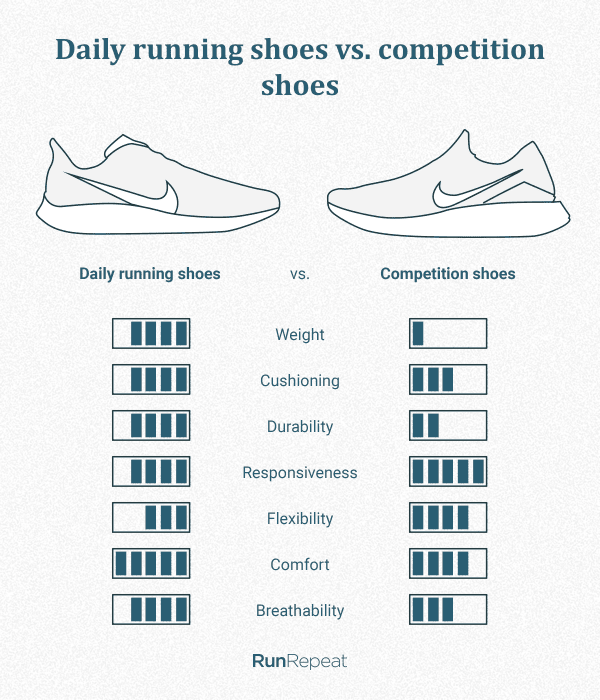 Disclaimer: These are based on how each type of shoe performs in general. This does not apply to a specific model that exists.
Nike shoes for competition (racing flats)
3. Shoe Feel
Nike offers a classification of their running shoes based on shoe feel - barefoot, neutral, and stability.
Shoe feel
Barefoot
Neutral
Stability

made from low-density midsole foam
lighter design
minimal foot support

enough cushioning for shock absorption and more comfortable experience
typically flexible and responsive
durable enough for everyday run

most Nike stability shoes are equipped with Dynamic Support technology
softer foam is added on the lateral side for cushioning
firmer foam on the medial side for support

See Nike Free and Nike Flex collections
See neutral Nike running shoes
See stability Nike running shoes (good for flat feet and overpronation)
4. Benefits
Nike also groups their shoes based on the benefits they offered.
Additional features of Nike running shoes
Another factor to consider in choosing the best Nike running shoes is the extra features the shoe offers.
Water-repellent/Waterproof - Some Nike running shoes are equipped with Nike Shield technology, which offers protection from moist and cold weather without compromising breathability. They also have a few shoes equipped with a GTX membrane that gives the feet waterproof protection. See: Nike water-repellent running shoes
Reflective - Some Nike running shoes also use Nike's reflective element to give additional visibility on low-light running conditions.
Slip-on - Without the fuss of laces, slip-on running shoes allow you to simply slide your foot in and out of the shoe in an instant. Some of these models employ Nike's proprietary FlyEase design.
Nike Vaporfly Models: Marathon Dominance and Controversy
Nike competition shoes, particularly the Vaporfly models, have shown dominance in major marathons including New York City Marathon, Chicago Marathon, London Marathon, Berlin Marathon, Tokyo Marathon, and Boston Marathon.
In 2018, out of the 12 winners (both men and women categories), 7 were wearing Nike Vaporfly shoes and 10 in 2019.

The Controversy
A study conducted in 2019 found that the new Nike Vaporfly shoes improved an athlete's running economy by 4.2%. This sparked disputes as researchers and runners think that it confers an unfair advantage.
The overall design of the shoe (a combination of the foam layer and carbon-fiber plate) that helps runners run faster ignited a discussion on whether it should be banned or not in competition. But after the World Athletics reviewed all the guidelines, the controversial Nike shoe was given a go for the Tokyo Olympics.
The best Nike running shoes in every category
Other buying guides
Now, are you ready to buy nike running shoes?