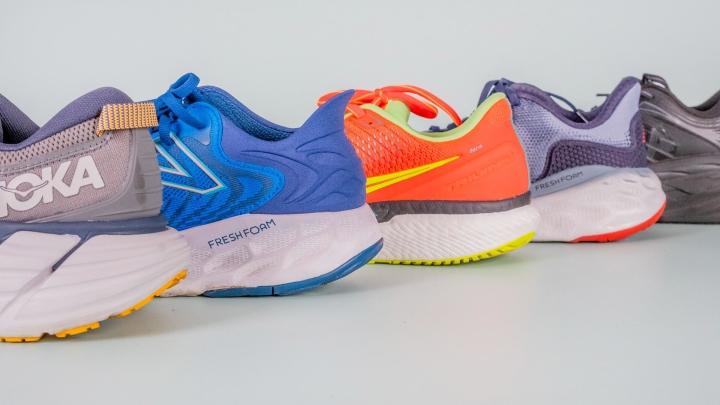 Why softer isn't always better? Which shoes become firm in cold weather? Which midsole hardness can help reduce running injury risk?
We've summarized 20+ hours of research, database analysis and scientific articles into this guide to offer a comprehensive insight into the importance of midsole hardness in running shoes.
The forces on your body will be different if you jump on a mattress compared to jumping on concrete. The deformation of the surface determines the force of the impact. This is why softer shoes reduce the load on the body while running. But, they also make legs use more muscle energy to create propulsion. There are 2 ways to avoid this:
Don't go too soft
Find softer shoes that are responsive.
Soft vs. cushioned vs. padded
When talking about soft (plush) shoes, it's important to know they can but don't have to be cushioned or padded.
It's important to differentiate these terms:
Padded: shoes have noticeable padding placed usually on the tongue, heel collar, overall upper.

Cushioned: it means that it's high-stacked, there's a lot of midsole and the shoe is usually high off the ground. These shoes usually are soft but also have a high stack height.

However, just because shoes are high-stacked doesn't mean they have to be soft as we can see in this chart plotted based on our lab results: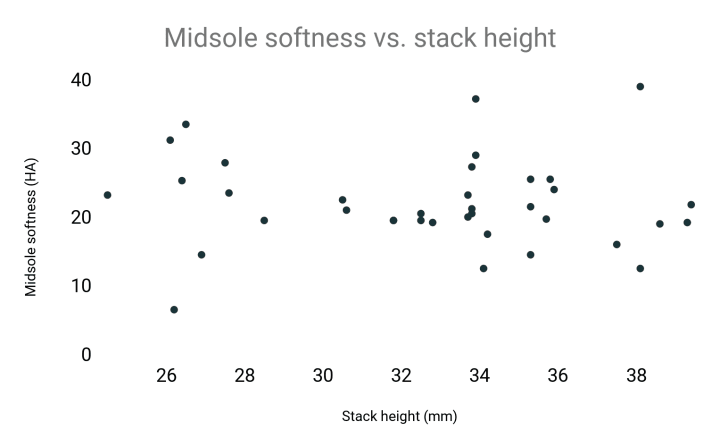 Soft: it means your feet can sink into the shoe, the midsole compresses when pressure is applied. Here's a comparison in landing: almost no midsole compressing in a firm running shoe (left), while the soft one (right) compresses a lot, especially at the forefoot, where our tester is landing.

Your browser does not support the video tag.
4 tips for buying soft running shoes
When shoes are soft you usually have the "ahhh" moment when you put them on for the first time. This is why softness is highly related to the perceived comfort.
However, if shoes were only soft, they would feel squishy and they would tire your leg muscles when running. This is when the spring or "pop" enters the scene: brands make the foams not only soft but also resilient. Seems that finding a soft midsole that's responsive is a jackpot in the world of running shoes.
When buying soft running shoes, pay attention to:
The ride. It should be responsive and not dull. Otherwise, your legs will get tired sooner. The responsive ride can be accomplished using a) responsive foams or b) carbon or nylon plates that are inserted into the midsoles.
Stability. Some soft shoes tend to work well only when running straight and completely fail at sharp turns or on uneven terrain.
The weight. Softer running shoes tend to weigh more so make sure they don't weigh you down. Heavier shoes will slow you down as we've shown in our guide on shoe weight.

Support. 90% of plush shoes are neutral as per our database. They are not a good choice for runners with moderate or severe overpronation. Make sure you get the support you need (it can be in the form of dual-density midsoles, stiff heel counter, reinforced midfoot area, guide rails, rollbar, medial post, etc.).
Below we can see just how unstable the Vaporfly Next% 2 is and why it's used for road running only:
Here, we can see absolutely no stability features in the New Balance RC Elite v2 and, with the heel too soft, it's just not a good choice for overpronators:
Carbon-plated shoes: soft, yet stiff
Resilient foam that returns the energy invested to squish it and that's stiffened up with carbon-fiber plates is what makes these shoes so special. That's why they offer a soft and springy underfoot experience.
If you like soft shoes and want to give another PB a try, carbon-plated shoes might be an option. They also might not work for you, which is something we covered in great detail in our guide on carbon-plated shoes.
Stiff yet soft carbon-plated PUMA Deviate Nitro:
How soft should you go?
It's important to find the optimal midsole softness: too soft and it might go from attenuating impact forces at heel contact to muscle fatigue which could decelerate the body (as explained here). If your legs start aching sooner than in your previous shoe pair, or you can't maintain the familiar pace, you might have gone too far.
Injury risk in soft running shoes
Midsole hardness doesn't influence running-related injury risk, as it was shown in a study that followed 247 runners for 5 months in hard (114 runners) and soft (134 runners) running shoes.
Another study involved 848 recreational runners and gave each participant a soft or a hard running shoe. They found that the injury risk was higher when running in hard running shoes, but it was noticed only in lighter runners.
Caution when buying maximalist running shoes
Runners looking for that super soft feel tend to choose maximalist running shoes. While they usually deliver the softness, they also come with a few things worth paying attention to:
High off the ground in ASICS Novablast 2:
3 softness levels of running shoes
Based on how soft the shoes feel, we categorize them into these 3 categories:
Given that softness of the shoe is directly related to perceived comfort, it makes sense that the majority of shoes are described as plush. This is based on the biggest running shoe database (2,000+ shoes):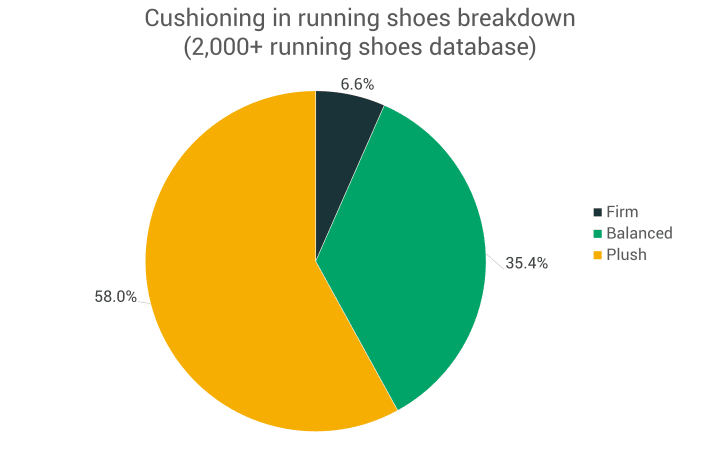 The difference between firm, balanced and plush running shoes
Cushioning

Features and purpose

Firm (hard)

Often lower-stacked and aggressive looking, used for quick transitions. Greater midsole hardness results in shorter contact time (source). Much less shock absorption than in soft shoes.
Average stack height: 26.4mm (6.5-35mm range).

Balanced

Perfect balance between comfort and performance. Usually used in workhorse shoes (used for daily running, tempo runs and racing).
Average stack height: 25.7mm (6-40mm range).

Plush (soft)

Plush shoes offer maximal impact protection and are usually high-stacked.
Best for long runs, recovery runs, marathons, ultras.
Also great for beginners.
Average stack height: 26.9mm (7-50mm range).
Examples of firm (On Cloudswift), balanced (ASICS Gel Kayano 28) and plush (Nike ZoomX Invincible Run) shoes:

Runners prefer soft running shoes
These shoes have a soft or plush underfoot experience. That experience can be felt at the forefoot (under the toes), under the heel, or both. Given that 94% of runners are heel strikers, most shoes are focused on offering soft experience in the heel area or throughout the whole midsole.
Self-perception of the forefoot and rearfoot cushioning (examined in this study on heel-striking runners):
Runners prefer softer shoes.
Cushioning under the heel mattered more in the perception of overall cushioning: soft-heel/hard-forefoot shoes were perceived similar to soft shoes, while hard-heel/soft-forefoot shoes were perceived as medium shoes.
Softness test in our lab
Next to field-testing where we actually run in the shoes and describe how they feel, we also use a durometer to measure the softness of every midsole.
Using a durometer to measure midsole hardness in the lab: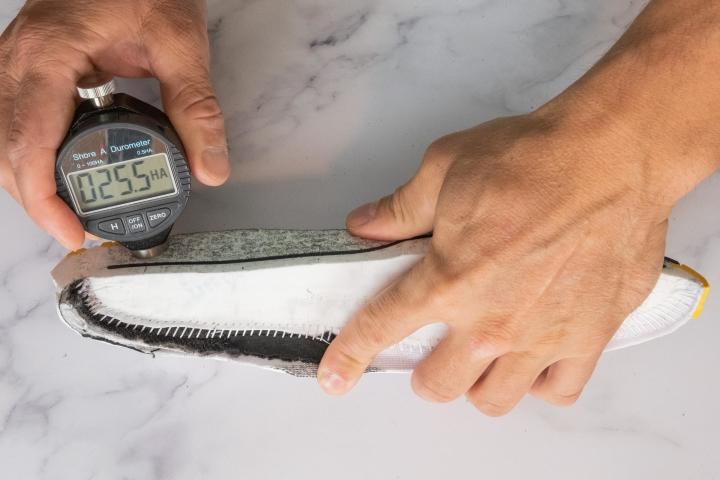 A part of the field testing of New Balance FuelCell Rebel V2 (really soft, measured 6.5 on the durometer) vs. Brooks Ghost 14 (balanced, measured 20.5 on the durometer):
This means that at the bottom of every lab test you can find the midsole softness of the shoe in question next to the average softness (both in the complete specs overview section). We do this test at room temperature.
Softness changes with cold temperatures
In our guide on stiff and flexible running shoes we showed how dependent flexibility is on the temperature. That's why we also repeat the durometer test after the shoe has spent 20 minutes in the freezer.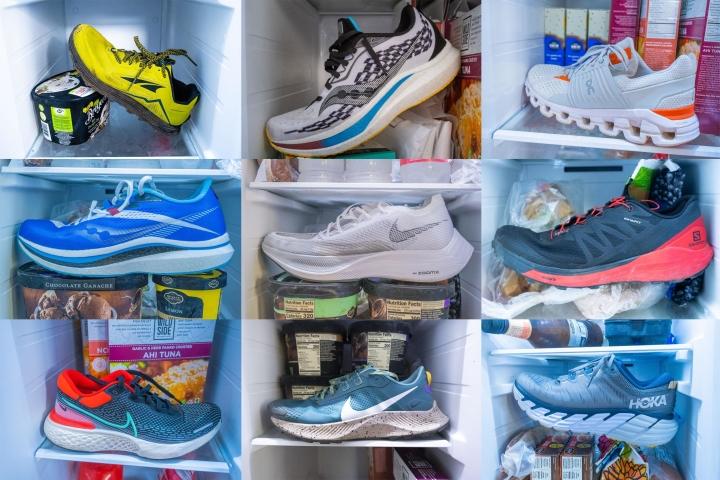 So far, our average room-vs-freezer change in durometer measurements has been 37.7%. The measurements range from 6.5 to 39. Higher numbers mean the shoe is harder, while the lower numbers suggest the shoe is softer. This means that you should expect to lose at least some of the midsole softness when running on really cold days.
3 shoes that harden up the most in cold temperatures
These 3 models showed a significant softness loss after spending 20 minutes in the freezer:
New Balance FuelCell Rebel v2 (115.40% harder post-freezer),
New Balance Fresh Foam Hierro v6 (72.40% harder post-freezer),
Brooks Revel 5 (48.70% harder post-freezer).
3 shoes that harden up the least in cold temperatures
These shoes won't harden up a lot on cold days. They had the smallest difference in midsole hardness when we compared them at room temperatures and after spending 20 minutes in the freezer:
Saucony Endorphin Pro 2 (13.70% harder post-freezer)
Saucony Endorphin Speed 2 (15.70% harder post-freezer)
Saucony Ride 14 (20.70% harder post-freezer).

Keep in mind that the average change in midsole hardness for all the shoes we've tested so far is 37.7%.
Cushioning deterioration
Cushioning deteriorates with age: after 480km, a 16% to 33% reduction in the amount of cushioning was found in the heel region of the midsole (and heel-striking runners). However, runners weren't able to perceive these changes even after 640km.
This tells us only that it deteriorates but not what happens with midsole softness levels. We've seen numerous reports of midsoles getting firmer with the mileage. Further tests are needed to determine that.
Midsole hardness does not really define shoe purpose
We've listed the 5 softest and hardest midsoles. The smaller the number, the softer the midsole (and higher numbers indicate that midsoles are firmer). It is evident that there's no strict correlation between midsole hardness and shoe purpose (daily running, tempo runs, races). However, a much clearer correlation exists between midsole stiffness and shoe purpose as we've shown in our in-depth guide on shoe flexibility.
Shoe model

Hardness

Carbon-fiber plate

Purpose

Top 5 softest midsoles




New Balance FuelCell Rebel v2

6.5

no

Speed training

NB FuelCell RC Elite

12.5

yes

Competition, speed training

Nike ZoomX Invincible Run

12.5

no

Daily running

New Balance Fresh Foam More v3

16.0

no

Daily running

New Balance 1080v11

17.5

no

Daily running

Top 5 firmest midsoles




Saucony Guide 14

27.3

no

Daily running

Saucony Ride 14

29.0

no

Daily running

Saucony Kinvara 12

31.2

no

Speed training

Skechers Go Run Razor Excess


35.0

no

Daily running, Speed training

On Cloudswift 2.0

37.2

no

Daily running
Insoles help with shock absorption
Insoles aren't there for the sake of.. Being there.
They play an important role in shock absorption (as shown in this study): they can absorb up to 32% of impact energy under low impact energy conditions (walking and running). In our lab, we always note whether the insole is removable or not and how thick it is.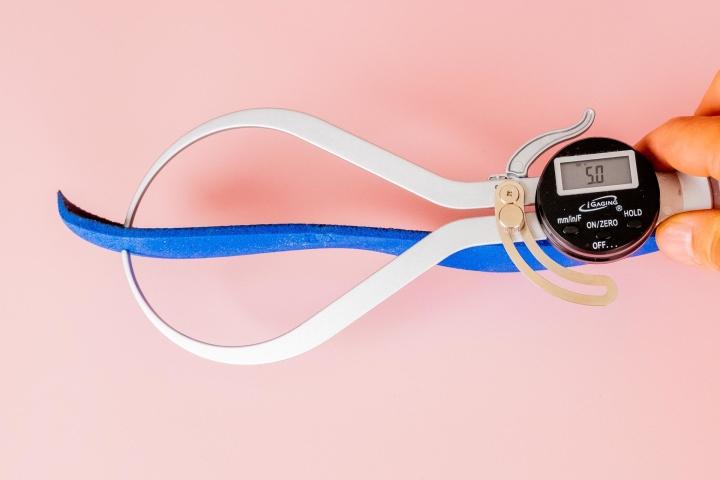 Signature foams ranked: softest to hardest
Shoe companies usually have their own signature foams. In terms of hardness, here's how they ranked in our lab, going from the softest to the hardest. We can see that New Balance excels at softer midsoles and Saucony at firmer ones.
Softest to hardest: signature foams ranked in the lab

Foam

Midsole hardness (HA)

New Balance FuelCell

6.5

Nike ZoomX

12.5

New Balance FuelCell

12.5

Nike React

14.5

New Balance Fresh Foam

14.5

New Balance Fresh Foam

16.0

New Balance Fresh Foam

17.5

Nike ZoomX

19.0

Adidas Boost foam

19.2

ASICS FlyteFoam Blast

19.2

ASICS FlyteFoam Blast

19.5

Nike Air Zoom

19.5

Brooks BioMoGo DNA

19.5

Brooks BioMoGo DNA

19.5

PUMA Nitro Foam

19.7

Hoka EVA foam

20.0

ASICS FlyteFoam Blast

20.5

Brooks DNA Loft foam

20.5

Hoka Profly

21.0

Hoka EVA

21.2

Saucony PWRRUN

21.5

Hoka foam

21.8

Brooks EVA

22.5

Altra AltraEGO

23.2

ASICS Flytefoam Turbo

23.2

Brooks DNA Amp

23.5

ASICS FlyteFoam

24.0

Saucony PWRRUN PB

25.3

Saucony PWRRUN PB

25.5

Saucony PWRRUN PB

25.5

Saucony PWRRUN

27.3

Saucony PWRRUN

27.9

Saucony PWRRUN

29.0

Saucony EVA foam

31.2

Salomon Optivibe

33.5

On Helion foam

37.2

Brooks DNA Loft

39.0

Average softness:

22.0
However, these should be taken with a grain of salt. Our tests have also shown that one type of foam doesn't always score the same on our durometer tests. You can see this in the table as well, with many midsoles (DNA Loft, ZoomX or Fresh Foam) ranking differently on the softness scale.
Below: using a durometer to measure the midsole softness in New Balance FuelCell Rebel v2: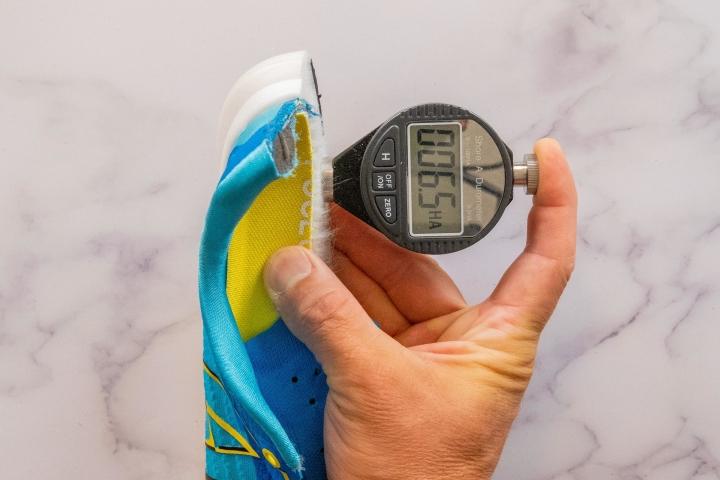 As we've shown in the New Balance FuelCell Rebel v2 lab review, the same FuelCell foam scored:
Foam looks similar in these shoes, the only known difference is Elite v2 (on the right) having a full-length carbon plate inserted into the midsole:

Conclusion
It's clear that softer shoes are better and more comfortable. However, remember not to overdo it: pay attention to how resilient the foam in your running shoes is, so you don't just sink in, but keep running in the shoes that are propelling you forward.
While not intuitive, it seems that the best combination is soft + stiff. To make sure you know the difference, read our in-depth guide on stiff running shoes.