7 Best Trail Running Shoes in 2023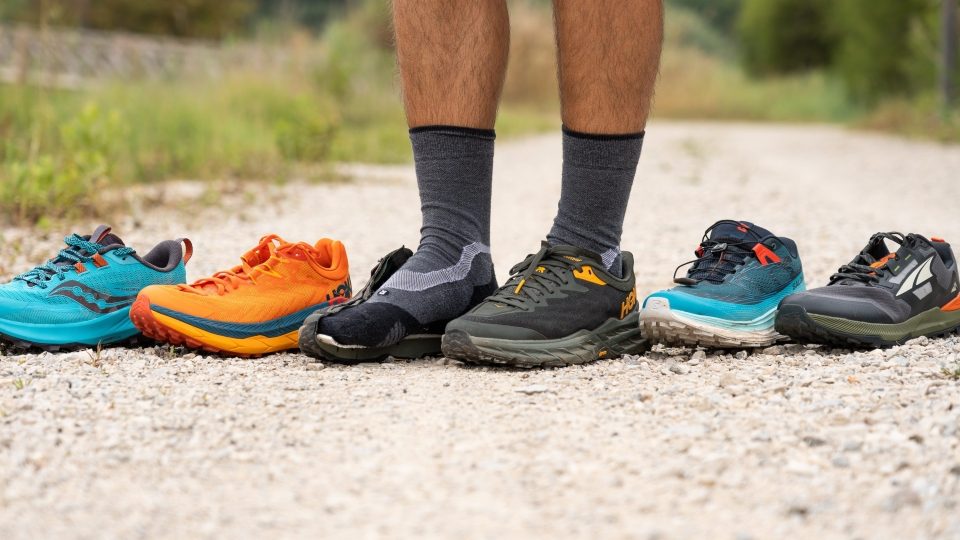 We earn affiliate commissions at no extra cost to you when you buy through us. Why trust us
We've tested more than 100 pairs of trail running shoes to help you find the best of the best.
Some trail shoes are created for the harshest off-road challenges like rocks, mud, snow, and branches. They keep you protected and surefooted. Others are made for the more urban-ready conditions and are comfortable enough to switch from roads to trails.
Whichever your purpose is, we have listed our top recommendations in several categories.
And if you want to dive into the nitty-gritty of selecting the best pair for your needs, skip right to our guide on trail shoes.
Comparison of the 7 best trail running shoes
| | | | | | | | | |
| --- | --- | --- | --- | --- | --- | --- | --- | --- |
| Best | | | | | | | | |
| CoreScore | | | | | | | | |
| Users rating | | | | | | | | |
| Experts | | | | | | | | |
| Best price | | | | | | | | |
| Ranking | | | | | | | | |
| Popularity | | | | | | | | |
| # of colorways | | | | | | | | |
Consider terrain: light trail vs. rugged trail
Depending on the type of terrain they are intended for, trail running shoes are roughly divided into two categories: light and rugged trail.
Light trail: hard-packed, maintained surfaces
Rugged trail: uneven terrain with rocks, roots, debris, and other obstacles
Given the kind of challenges you may or may not face on these surfaces, trail running shoes offer different levels of protection, cushioning, and traction.
Trail shoe design: basic or sturdy?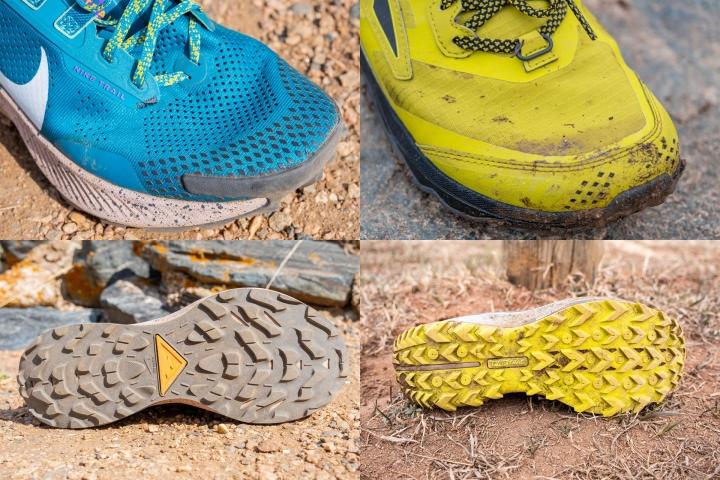 Light trail shoe (left) vs. rugged trail shoe (right)
Light trail shoes

Rugged trail shoes

Shoes for light trails are more similar to road running shoes. They are lighter, more streamlined, and are less reinforced. Some of them can even transition from road to trail and are called hybrid.

Rugged trail shoed feature a sturdier design and materials, added overlays on the upper, and more hard-wearing sole components.

The most robust ones make it to a separate off-trail category.
Level of cushioning in trail shoes
Pick the right trail shoe by determining the amount of cushioning you need. Trail shoes with less cushioning are lighter and offer better ground contact while more cushioning means lesser impact and more comfortable running.
Barefoot-like shoes
Lightweight
With 3 to 4mm thin layer padding between the foot and the ground
Enhanced feel for the trail
Less pressure on hips
No arch support or stability features
See barefoot running shoes for trails
Minimal cushioning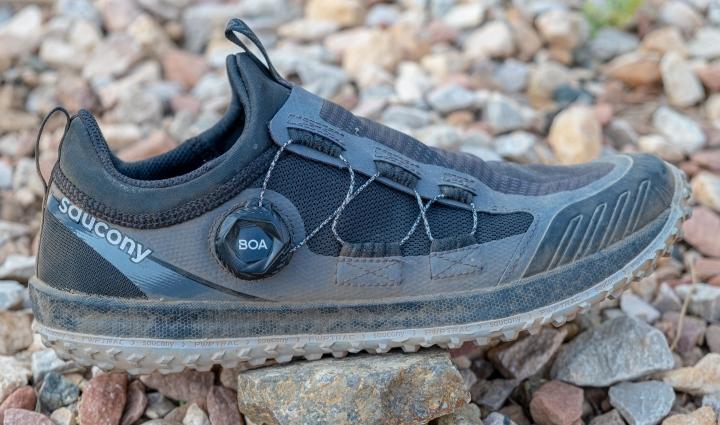 Lightweight and flexible
Minimal cushioning for comfort without sacrificing ground contact
Little to no arch support
Typically with 0 to 4mm heel drop
See all minimalist trail shoes
Moderate cushioning
Characterized as traditional trail shoes
Enough cushioning for comfort
Most often features an 8-12mm drop
See our full list of cushioned trail shoes
Maximum cushioning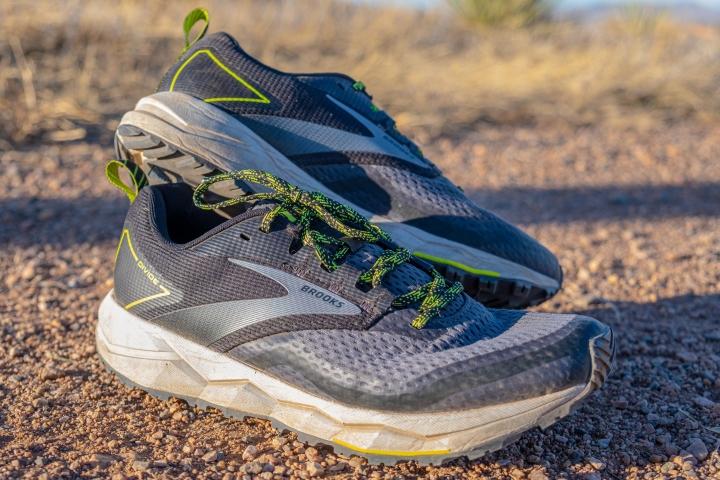 Thickly cushioned for maximum comfort and plush feel
Helpful in reducing fatigue on high-mile runs
Heel height above 30mm; forefoot height above 25mm
Drop vary from 0mm to 12mm
Disclaimer: Stack heights and heel-to-toe drop are generally following each other, but there are plenty of shoes with high stack heights and a lot of cushioning that maintains a low drop. The guidelines above are general.
Outsole rubber and lugs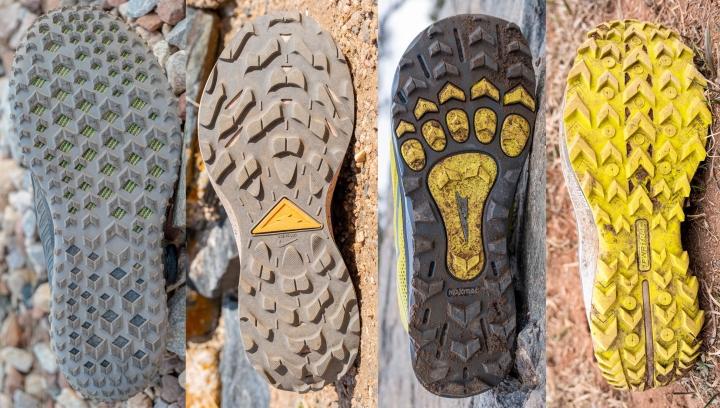 Variations of trail shoe lugs from the lightest to the grippiest
Light trail shoes
Rugged trail shoes

Light trail shoes have a moderate level of outsole traction and durability.

The lugs are shallower.

Rugged trail shoes feature aggressive, durable outsoles with deep, multi-directional lugs.

Trail shoes for mud and snow tend to have the deepest lugs to keep you surefooted on soft terrain.
Protective elements in trail shoes
Most trail running shoes have external and internal features to protect the feet from rocks and sharp elements. Protective elements are important but they have their own advantages and disadvantages.
Pros

Cons

Suited for technical terrains

Protects feet from sharp rocks and stone bruises

Adds weight

See trail shoes with a rock plate

Ideal for technical, rocky surfaces

Protects the toes from rocks and trail debris

Adds durability to the upper of the shoe

Depending on the materials used, the toe bumper may not be as protective as expected

All trail running shoes come with a toe cap but have varying degrees of protection

Keeps feet dry in wet running conditions

Keeps feet warm in cold weather

More durable than non-waterproof shoes

Not as breathable as non-waterproof running shoes

Once water gets in the shoe, it's not getting out

Heavier than non-waterproof trail shoes

Cost $15-$20 more than non-waterproof trail shoes

See waterproof trail shoes

Effective against light drizzle or dampness

More breathable than waterproof trail shoes

Offers less water protection than waterproof shoes

See water-repellent trail shoes
4. Size and fit
Shoes with a poor fit can be painful and cause foot conditions like bunions, calluses, and more. A few things to remember when it comes to shoe fit in trail running shoes:
A wide toe-box can help with bunion pain but it is not for everyone.
For competition, a snug fit is better; for everyday training, a more natural fit is preferred.
An extra-wide fit will cause slipping if you're running on mountain hills but many prefer the wide toe box as it's more comfortable.
Different lacing techniques can also improve the overall fit.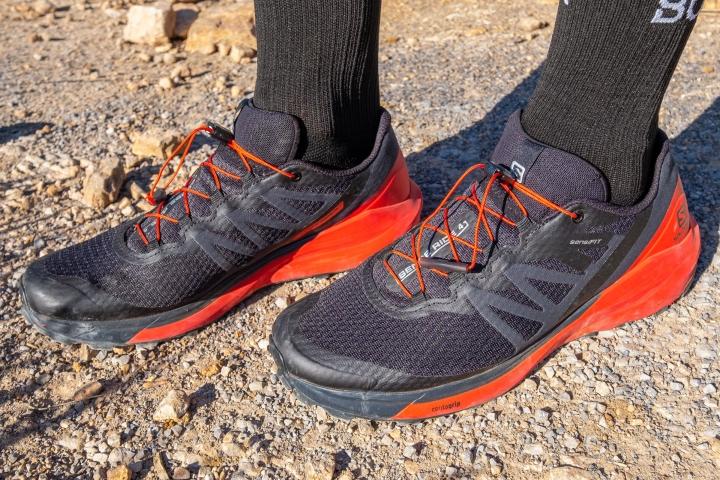 Buying tips
Make sure your toes are not cramped. Your feet swell as you run, make sure to have enough space to prevent blisters or black toenails.
Sock thickness can affect shoe fit; try the trail shoes with the socks you plan to wear.
Shoe size changes over time, it is recommended to measure your feet when you buy new shoes.
See our guide on shoe sizing to learn more and find out the right size for you.
How we test trail running shoes
To save you time, we spend hours scrutinizing every single shoe release. As an independent shoe testing lab, we purchase all trail shoes with our own money to stay unbiased.
We cut shoes into pieces so we can observe and test the shoes and their components in a more in-depth manner
We take these shoes on trails and gravel roads and we overcome uphills and obstacles while using them
We measure over 30 different parameters far beyond weight and stack
Instead of "durable" or "comfortable," we give you concrete data that puts each trail shoe up against hundreds of others. The best trail shoes make it here.