7 Best Winter Running Shoes in 2023
We earn affiliate commissions at no extra cost to you when you buy through us. Why trust us
As opposed to regular running shoes, running shoes for winter is more protective and warm. And to combat slick surfaces, they are also much grippier.
It's not easy to filter out the best of the best among winter shoes, which is where we come in. We tested various running shoes for the cold, snowy, and icy seasons. What we did was use them for a long period of time, long enough to gauge their comfort, grip, and support, among other characteristics. We also inspected their properties more in the lab. Finally, we selected the most suitable pairs from different categories for you to easily pick what resonates to your needs the most.
Comparison of the 7 best winter running shoes
| | | | | | | | | |
| --- | --- | --- | --- | --- | --- | --- | --- | --- |
| Best | | | | | | | | |
| CoreScore | | | | | | | | |
| Users rating | | | | | | | | |
| Experts | | | | | | | | |
| Best price | | | | | | | | |
| Ranking | | | | | | | | |
| Popularity | | | | | | | | |
| # of colorways | | | | | | | | |
Choosing the best winter running shoes
A good pair of winter running shoes will help you keep logging miles when training-friendly weather ends every fall. When snow, ice, and cold arrive, many road running shoes are simply not up to the task of keeping you warm and safe.
What to look for in winter running shoes
Slick surfaces and extreme temperatures make falls and injuries far more likely in the winter. To account for the demanding change in conditions, the best winter running shoes share a few key characteristics.
Traction
Fresh snow and sheets of ice can turn a casual road run on flat pavement into a death-defying outing. The smooth, efficient outsoles of most road running shoes are rendered useless and will make epic wipeouts far too likely.
Trail running shoes are a better option for running on snow and ice, even if you run exclusively on roads. They feature deep lugs and grippy rubber compound outsoles to give the necessary stability for winter conditions.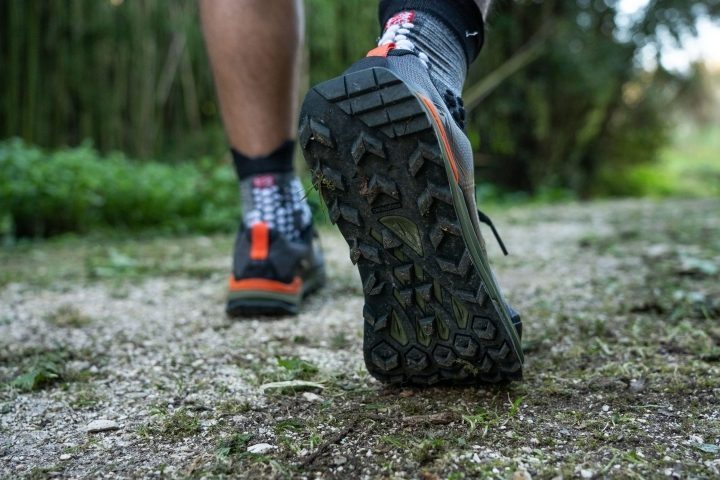 But even lugs won't do much on sheer ice, which can be common in climates with regular freeze-thaw cycles. For iced-over roads and steep trails, a shoe with a spiked outsole is needed to provide the bite you need to stay on your feet.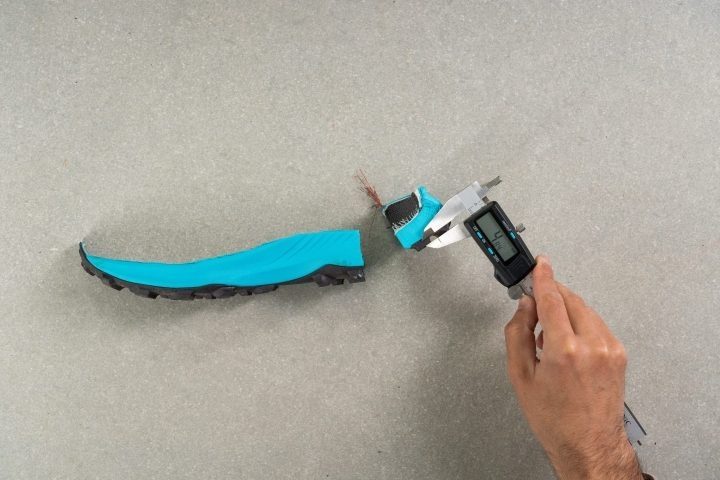 Based on our lab measurements, the average lug depth in trail running shoes is 3.5 mm, ranging from 2 to 5 mm.
Insulation
Super light designs and breathable mesh uppers are usually touted as selling points of running shoes, but during winter, the opposite can hold true. In below-freezing temperatures, it is better to have a shoe that retains heat. Winter running shoes may be the only time to look for heavier, less breathable upper designs.
Breathability comparison: GORE-TEX shoe vs. regular mesh-upper shoe
Waterproofing
Running through snow drifts or melting slush puts greater demands on the water-resisting capability of your footwear. The best winter running shoes feature waterproof designs and use fabric like GORE-TEX to keep snow, mud, and slush out of your shoes. GORE-TEX shoes also tend to be more insulating, thus warmer in cold weather.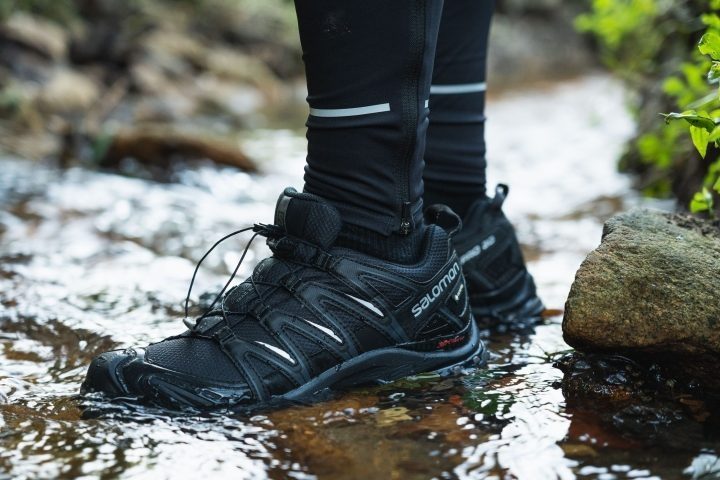 Coverage
Consider shoes with a higher ankle/heel collar for winter running. The extra ankle coverage will help keep snow out of your shoes and can add stability on slick surfaces.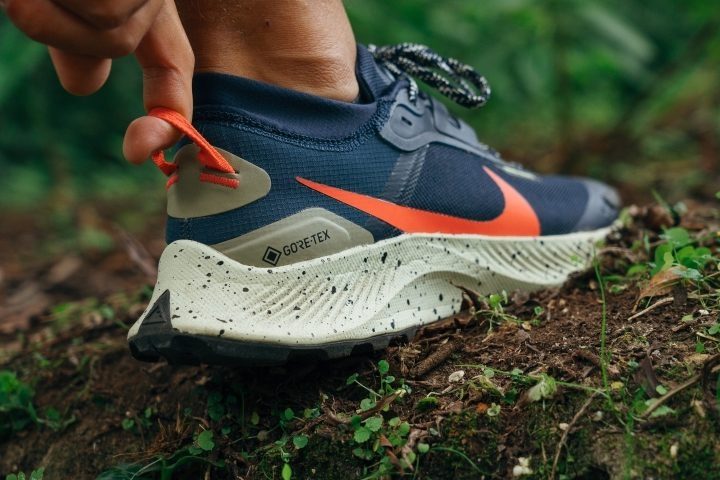 Choosing running shoes for any winter conditions
"Winter running" will mean very different things to a trail runner in snowy Montana and a road runner in rainy Oregon. Most people will benefit from a winter running shoe, but local winter conditions and terrain will dictate the best option for you.
| | |
| --- | --- |
| Winter Running Conditions | Winter Running Shoe Characteristics |
| Cold and Wet: Mild climates with little to no snow or below-freezing temperatures, but lots of rain and mud. | GORE-TEX uppers, and sturdy lugs for muddy trails. The Oregon-born Nike Pegasus Trail 3 GTX, for example, was made for rain, cold, and mud. |
| Heavy Snow and Deep Cold: High altitude or high latitude regions, where winter is long and fierce. | Insulated GORE-TEX uppers, higher ankle/heel coverage, lugs, and sticky outsoles. The Salomon XA Pro 3D GTX is a good choice for these conditions |
| Icy Roads and Trails: Snowy regions with above-freezing daytime temps but below-freezing nights. | Trail running shoes with deep lugs and ice-friendly rubber outsoles, like the Saucony Peregrine Ice+. Shoes with metal spikes, or running with microspikes, are needed for steep terrain. Anything else is a death wish. |
| Brisk but Dry: Climates with mild winters, where temperatures drop but snow and freezing rain are rare. | Runners in chilly, but dry climates can get away with road running shoes throughout the winter. Shoes that run warm, like the New Balance Fresh Foam X More, add a touch of insulation without unnecessary winter features. |
Fitting winter running shoes
When choosing shoes for winter running, most of the same fit and size guidelines apply. Optimize comfort, pick a shoe that fits your stride, and have enough room throughout the midfoot and toe box while getting solid lockdown at the heel.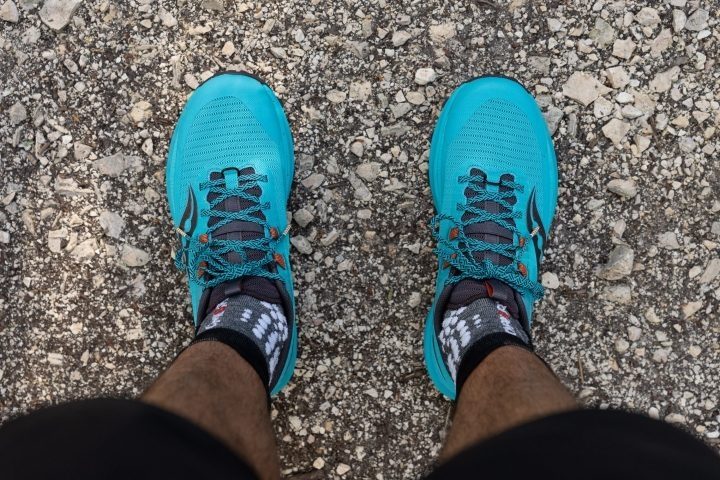 Regular fit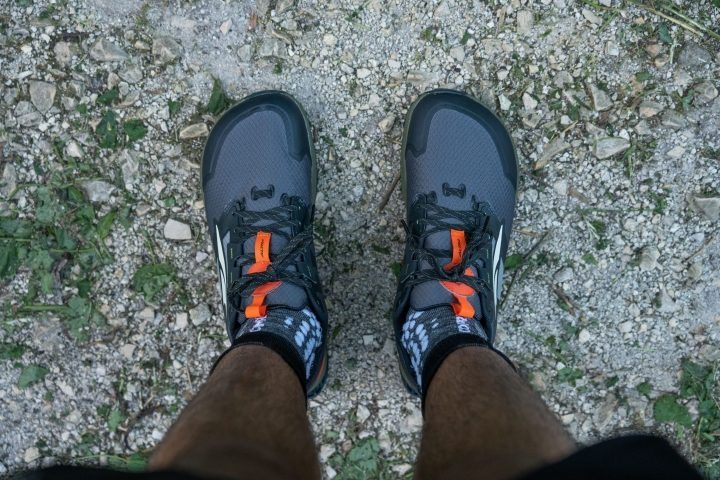 Wide fit
The biggest difference to note is what kind of socks you will likely be wearing in your winter running shoes. If your winters are of the brutally cold variety, you probably will be wearing thicker socks while running, and you may need larger shoes as a result.
It is also worth considering that very cold temperatures can affect the fit and feel of your running shoes. Most running shoes have an EVA foam midsole, which gets stiffer in cold temperatures. You may want to get a bouncier shoe than usual to compensate for the difference, especially if your winter running means braving frigid temperatures for months on end.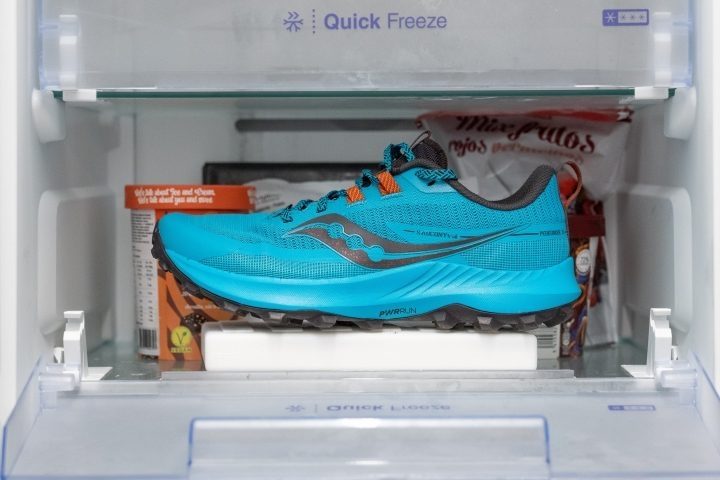 We put every shoe through a "freezer test" to measure the difference in softness and flexibility.
On average, running shoes get 35% firmer and 45% stiffer after 20 minutes in low temperatures. But some shoes are affected more than others. We provided detailed information on how each shoe behaves in cold conditions in our in-depth lab reviews.
How we test running shoes
We do not just cherry-pick the shoes we choose to put on this list. Each model goes through a myriad of tests in our own shoe testing lab to determine their quality as winter running shoes.
To examine every model, we carefully go through these:
We shop for all the shoes we test and we pay for them using our own money. We abide by this rule to keep ourselves from being grateful, and consequently, biased to any brand.
We log a minimum of 30-50 miles before giving our feedback. We jot down all the observations and experiences we encounter with each shoe, from comfort and durability to convenience and practicality.
We cut open each shoe to examine its parts. We also measure every part in various parameters like ventilation, lightness, stiffness, etc.