On Cloud Waterproof review
88
The Corescore is a score from 0-100 that summarizes opinions from users and experts. Below shows the distribution of scores for all running shoes.
Verdict
The On Cloud Waterproof has lived up to its name partially. It is waterproof but does not feel like a cloud at all. When it comes down to the use of this shoe. I would much rather throw them on with some jeans then lace them up for a nice road run.
Pros
Waterproof
High-quality materials
Soft in-shoe feel
No heel slip
Lightweight
Cons
Break-in needed
Not breathable
Firm ride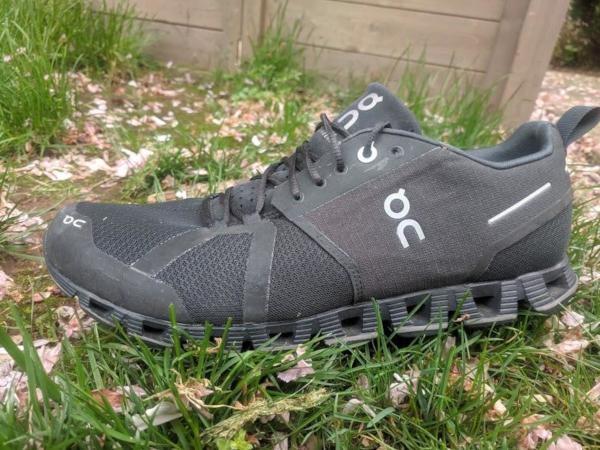 73% say it's true to size.
We earn affiliate commissions at no extra cost to you when you buy through us.
Comparison to similar running shoes
| | | | | | | | |
| --- | --- | --- | --- | --- | --- | --- | --- |
| CoreScore | | | | | | | |
| Users rating | | | | | | | |
| Experts | | | | | | | |
| Best price | | | | | | | |
| Ranking | | | | | | | |
| Popularity | | | | | | | |
| # of colorways | | | | | | | |
On Cloud Waterproof review
So I did it. I finally pulled out my wallet and bought a pair of the "Swiss Engineered" On running shoes.
The brand has been picking up popularity but like many others, I have just been deterred by the high price tag, the odd design, and the philosophy behind their products.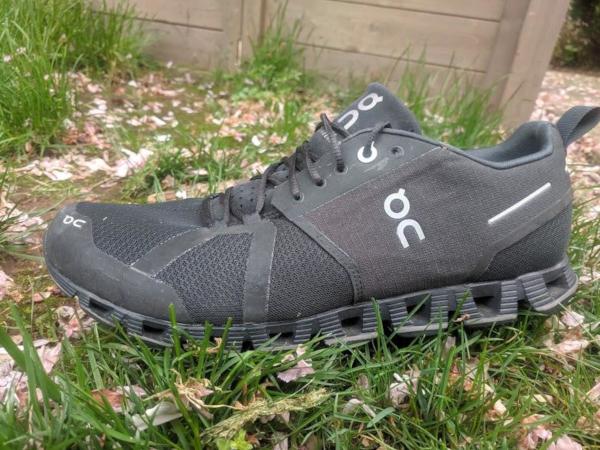 I mean I love to try new things but when that new thing is about double the price of what I usually spend for a shoe, I get a bit leery. Good thing for a friend of mine though.
He has been wearing On for about 2 months to work and always talked about how much he loved them. I finally asked to borrow the shoes for a run one night and I was sold.
On Cloud Waterproof initial impression
The most noticeable thing about Ons are the pods that make up the midsole. The 16 pods in the model bring both cushioning as well as stability. The philosophy of On is that the pods will not only provide "cloud" cushioning but will give your feet feedback on contact.
The feature will allow you to naturally adjust mechanics for a more neutral gait pattern for those of us who overpronate. Cool right? Love the idea. I am all about natural support.
And after my wet winter in these On Cloud Waterproof shoes, I am a fan of the company. Follow me and let's break down this shoe.
It is waterproof
This shoe is waterproof. There, I got it out of the way. Most likely, that is the main reason you will buy this shoe and the end opinion will land on whether or not it is indeed waterproof.
But to give you more detail of what that means, here you go: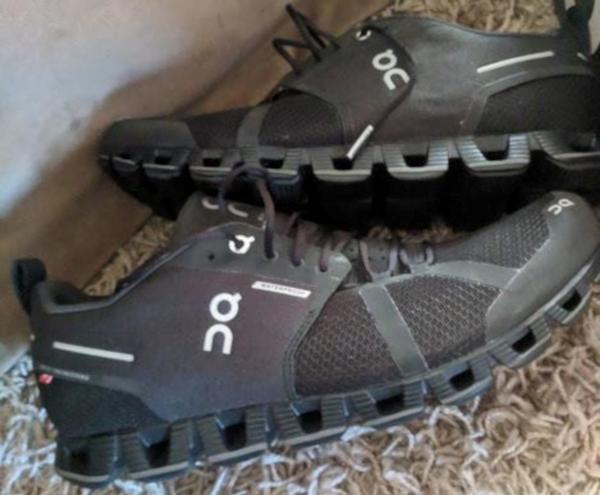 It is waterproof in snow. I ran many times in the snow and was all good.
It is waterproof in a sleet mix with ice.
It is waterproof in light-moderate rain.
It is waterproof on wet roads.
It is not waterproof in downpours and huge puddles.
These are not rain boots. So if you try to go in a torrential downpour and expect to trek through puddles, then you will be disappointed. (I did it and feet were soaked)
On quality materials
As you can see the shoe is made up of a multi-layered waterproof mesh. There is no weird spray, rubbering or heavy layering. It's just a lightweight mesh!
What I have discovered with On is quality. The detail of this shoe and the time spent on the product are seen throughout and especially in the upper material. The fact that they can keep a lightweight shoe like this waterproof just amazes me. Great job!
The upper material transitions from the mesh and into a heavier fabric around the midfoot. I'm guessing they have this here to provide further support and even more waterproofing capability.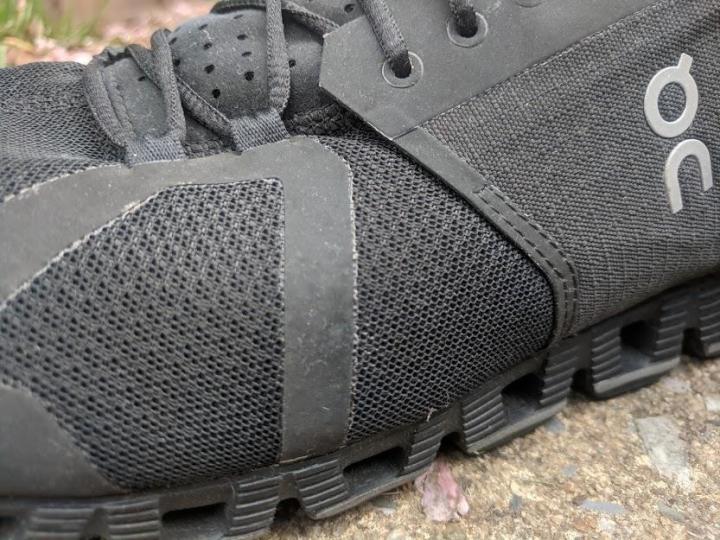 The overall upper material is solid but, it is not super soft and is pretty rigid at first. It took me about 1 month of wearing these until they felt broken in. Also, they are very snug. When buying these go half size up. They also recommend this on the On website.
Even though it is mesh, it is not very breathable. They will keep your feet warm, which is good for a cold day but I would never want to wear them in hot weather.
I have also discovered when they do get wet inside (from trying to trek in puddles) they drain very poorly. Again made to not let water in so they will not let it out.
Reflective tech
Oh yeah! Awesome! They did one hell of a job with getting this built-in. It is totally unexpected.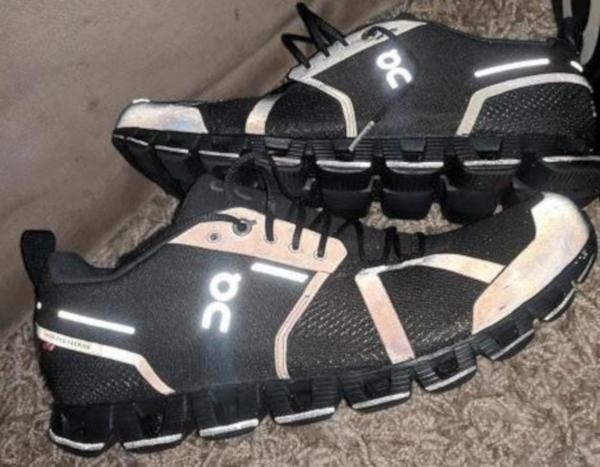 When you see the shoe it just looks black and you don't even notice the reflective tech built-in, but it is all over this shoe. All the way down to the outsole even.
This makes it a perfect shoe for those dreary rainy days and even night runs. Will keep you dry and let folks know you are there.
Lightly padded collar
Nothing extraordinary here. Just some light padding. Definitely not made to be a plush shoe. Just enough to maintain comfort.
Great insole
Good quality is seen here as with everything else. The insole is very minimal but does provide a mix of foam and fabric.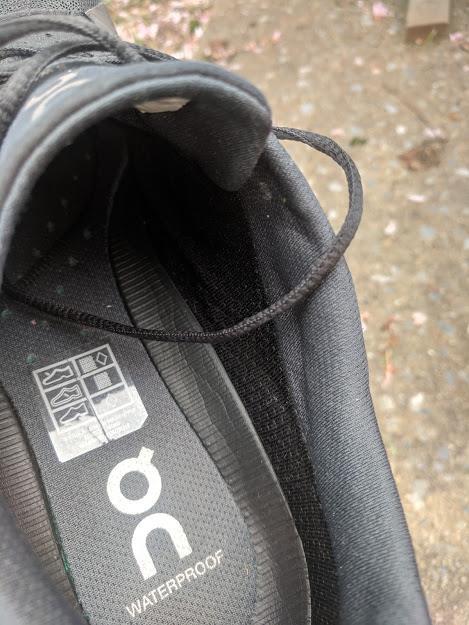 I was pretty surprised by these and feel like they do bring some extra needed padding.
The inside of the shoe is made up of a very soft mesh material as well. Feels good on the feet and can even slide these on without any socks.
Heel of the On Cloud Waterproof
What a great design here. I absolutely love the little details with the On logo and how they make only one shoe to say "Swiss Engineering" with the Swedish flag.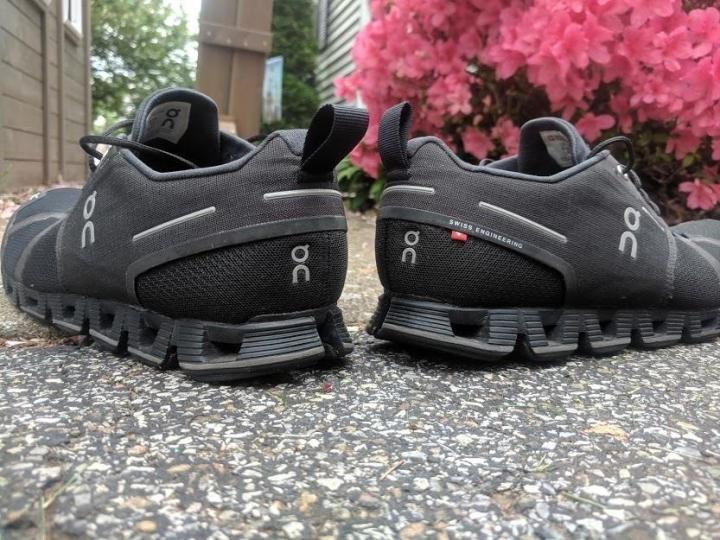 The details are also catchy and stylish. It's not just the looks here though. The heel is very structured and firm in these shoes.
The zero heel slippage is noted and very secure. To finish things off they have a big heel tag to make putting on these shoes a breeze.
Toebox is not for wide feet
This could go either way for you guys. I have narrow feet and am primarily running in Nike, so I am used to and prefer to have a narrow toe box, but I know many do not.
The fact is, it is better to have a nice big toe box to allow for proper toe splay and use.
Many companies are starting to go in that direction as well. It was a surprise to me when I put these on and noticed how narrow they were.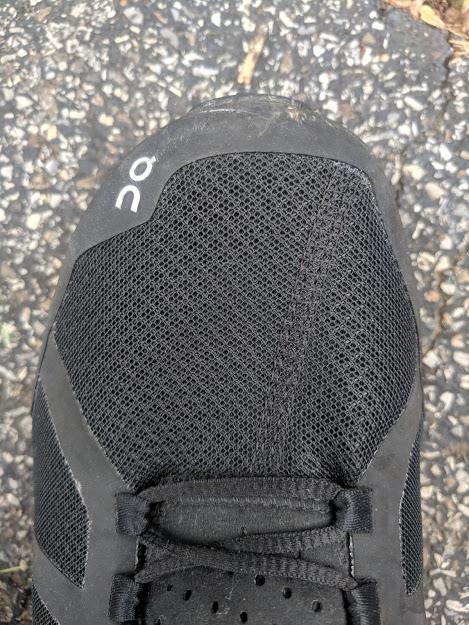 On top of them fitting snug(due to waterproof) I thought it was almost too narrow but after a month use they loosened up enough for me to feel comfortable in them.
So, yes they are narrow and yes go up a ½ size to allow for more space.
Tongue and lacing system
The tongue is very flimsy and thin albeit, it is solid in quality like everything else. I understand that they are trying to keep this shoe minimal but I would have appreciated a little extra padding here.
The laces are bad. I've read many reviews that talk about how bad On's laces have been. These are no different.
The same story as the tongue is seen here. Flimsy.
The lacing system, in general, does allow for good lock-down which is the biggest deal but you will need to double knot the shoes to ensure lasting security here.
The midsole? Not a ton of give!
The midsole is the crown for The On running shoe lineup. It is probably the one thing that brings On to stand out amongst the many "normal" looking running shoes on the market. It definitely is unique and with it, brings a lot of curiosity.
I know the look is what drove my initial interest. It makes you ask the question "I wonder what they feel like to run in?".
On's answer to that question is...Hmmm...a cloud, hence the name. The idea here is the 16 pods will use air to bring about a natural feel.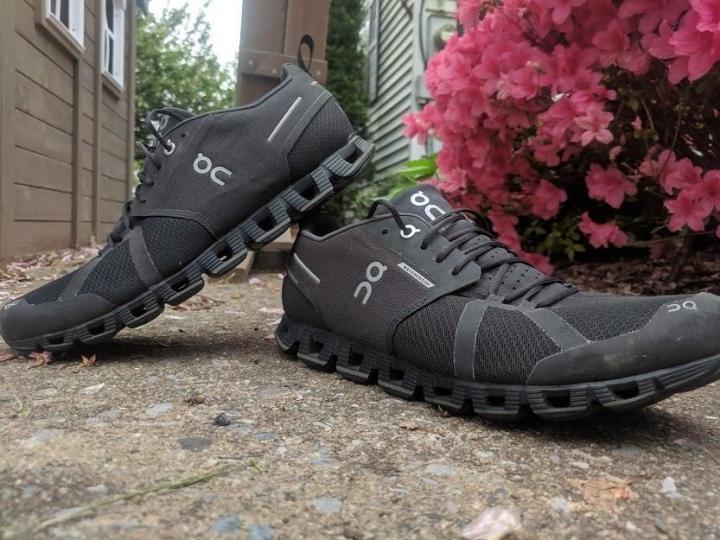 The pods will then independently, naturally redirect your foot to support a better gait pattern and provide excellent cushioning while maintaining a lightweight structure. So you can have the best of both worlds. A very lightweight and highly cushioned shoe.
As you can see and read from above they are very lightweight. The midsole is deceiving, however. I honestly thought they would have a flexible sole but in fact, it is quite rigid.
It does look like a Nike Free type flexibility from the pictures but looking at it below. Not a ton of give!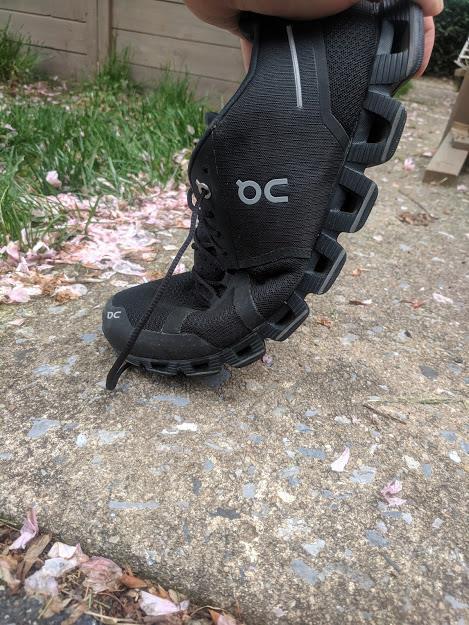 With the lack of flexibility comes a little discomfort for me with running. It just felt too "hard" at times which took some of the comforts away for me.
The general cushion is fair overall. I know it is a lightweight shoe but from the name of "Cloud", I would have expected more "softness". If anything it was the opposite for me. They just feel hard.
Now, they are pretty responsive which is good so it's not like the sole is crap but, if your claim is that the shoe will feel like a cloud it better be a lot softer. It's not soft.
The outsole is very durable
It's all high-quality rubber that seems like will last a long time. The tread, however, is bad. I slipped numerous times and had to be very careful when running on snowy streets.
As you can see from the picture, there is no lateral traction here. It is all for straight. So, be cautious on turns or cutting movements during wet days, they won't give you the grip you need.
Other than that not much to say here. I mean it looks cool but I rather have better traction. Besides, who is looking at the bottom of my shoes anyway?
Performance and use of On Cloud Waterproof
Hindsight is 20/20 right?! I know now after researching this shoe more for my review that this is On's casual wear shoe.
Not to say you can't wear for running but I think On designed this for the person wanting to feel comfort and quality while just walking around and maybe doing a quick run every now and then.
So with that in mind here you go. The quality is excellent overall and I can't knock it in any way. This brand is expensive but once you buy them you can tell they are worth it.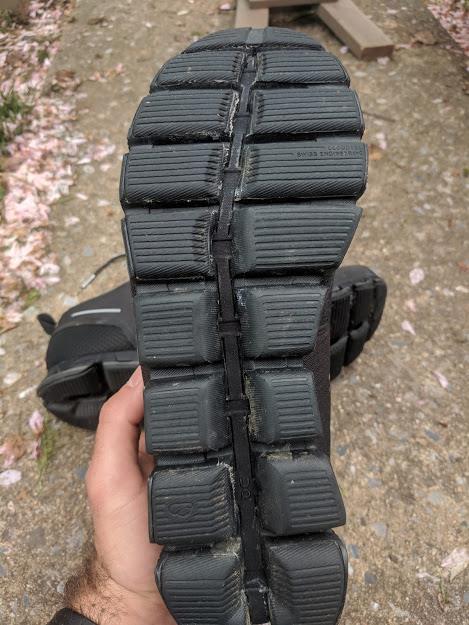 The overall running experience in this shoe has been fair. I am not in love at all with them, when it comes to that. As I said above, they are not made for running all the time and it shows.
They are just very rigid and not enough support and comfort associated with this shoe to make them a rotation running shoe for me. I honestly feel like they hold me back some when running in them. They just feel sloppy.
Hard to explain but it made me happy when I found out that they are a casual shoe by design. After I read that it all made sense to me!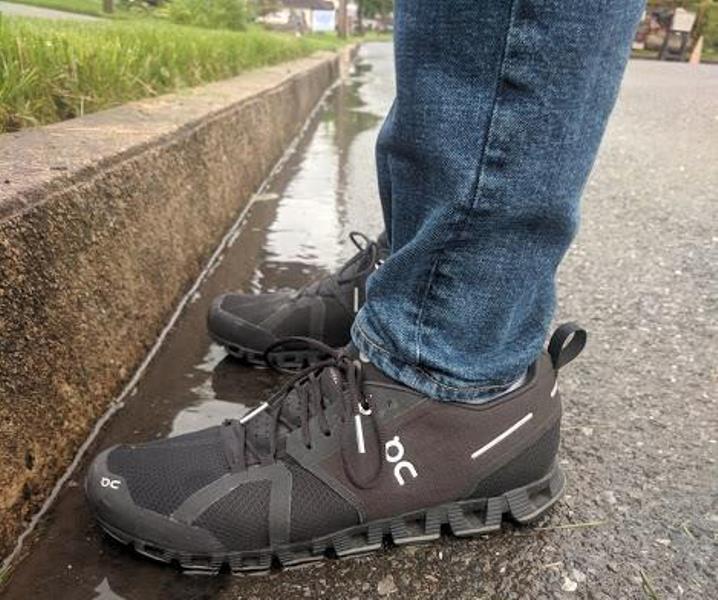 Back to running though. It seemed to me that these shoes are mostly suited for miles of 5 or less. In fact, I ran about 8 miles 3 different times in these and each time I had calf issues.
They do bring forth solid responsiveness with the run and from mile 2 - 8 I noticed the pods helping me feel the road and giving great feedback. Almost felt like they felt better the longer I ran but once I hit 8 the pain begins. Probably just me. Who knows.
They are a low drop shoe with minimal support so they may take some gradual adjusting to those not used to that low of a heel-toe drop.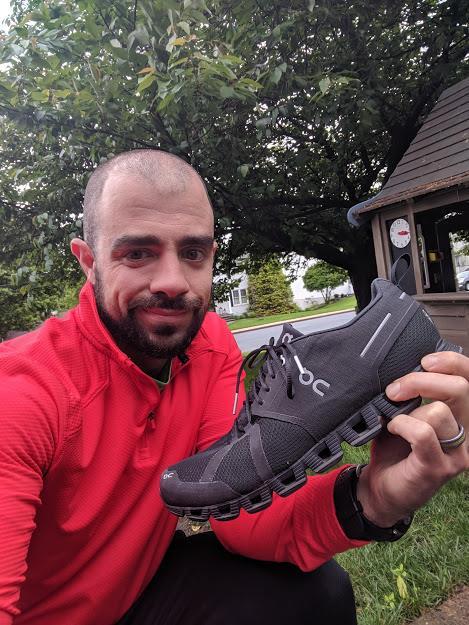 They are not suitable for any length competition or as a daily trainer. I think the perfect use of these shoes is to use them for walking around and on occasion when it is wet out and you want to keep your feet dry, use them for a run up to 5 miles. That's it. No daily trainer here.
Compare popularity
Interactive
Compare the popularity of another shoe to On Cloud Waterproof:
On Cloud Waterproof video reviews