10 Best Running Shoes (Buyer's Guide)
If you're a beginner, we recommend that you scroll down to the 6-step guide on picking the right running shoes before buying.
How we test and review running shoes
We believe editors disguised as "experts" cherry-pick popular shoes to earn more.
Here's proof that across internet "experts" the top 1% most popular shoes are 245 times more likely to be picked in top-10 lists, and WHY expert reviews are biased towards popular models that are not always the best shoes.
Unlike most top-10 lists, we list the best running shoes, NOT the most popular ones.
Here is how we're different:
We have done more th

a

n +1200

in-depth

reviews with +100 miles usage before review.
Our scores include aggregated ratings from +2 million runners and 10,700 experts.
We consider all ~2000 running shoes on the market, not just the 25 popular ones.
Based on this, each shoe is given a CoreScore from 0-100. Because of this, our list is different from other top-10 lists you might be browsing.
Ranking of the 10 best running shoes
Based on 4,218,326 user ratings 8,568 expert reviews
Here is a list of all 2093 running shoes, where you can sort by "best rated" and apply filters.
Popular running shoes aren't the better rated ones
A 7-step guide to buying running shoes
1. There is no ONE best running shoe
Feet are unique and even some of the best-rated running shoes might not work for you specifically.
While many would pick the number one best rated running shoe as it must be thee best, note how little difference there is in the overall scores. Our general advice is that as long as you pick running shoes with a CoreScore above 80, you'll get a shoe that is good for most people, given that it's picked for its intended use.
2. Comfort above anything else
In a study that analyzed 40 years of running injuries, researchers found that comfort plays a significant factor in reducing injuries.
Comfort is made of:
Perfect size. If you're not sure which size you need, check our ultimate size guide.
Perfect fit. This means your shoe isn't too tight nor it feels too loose around your heel or forefoot. Additionally, no part of the shoe should give you discomfort - there should be no pinching nor uncomfortably tight areas.
Cushioning. It's that soft (midsole) foamy layer that makes your feet experience "walking on clouds" feeling.
Research has shown that comfort might go as far as improving the running economy (source) and decreasing injury risk (study). Runners usually report more comfort with more cushioning.
Typically, lightweight running shoes offer less cushioning, and we therefore generally don't recommend beginners to pick running shoes that weigh less than 250 grams. This way, you'll leave aside two extremes: racing flats and extremely bulky running shoes. More experienced runners can find joy in having a pair of lightweight running shoes for their speed runs.
3. Does arch support matter?
We have done a meta-analysis of more than 150 studies about arch support, where we interview doctors of physical therapy, podiatric surgeons, coaches, and podiatrists.
The conclusion is that arch support cannot make a huge difference to injury risk or the performance for runners unless you have a special foot condition, in which case you should seek a specialist. A few rough guidelines:
To determine pronation, look at your used footwear - do you wear them evenly? If they've been worn more on the outer sides, you're underpronating. If they've been worn more on the inner sides, you're overpronating. Even wear means neutral pronation.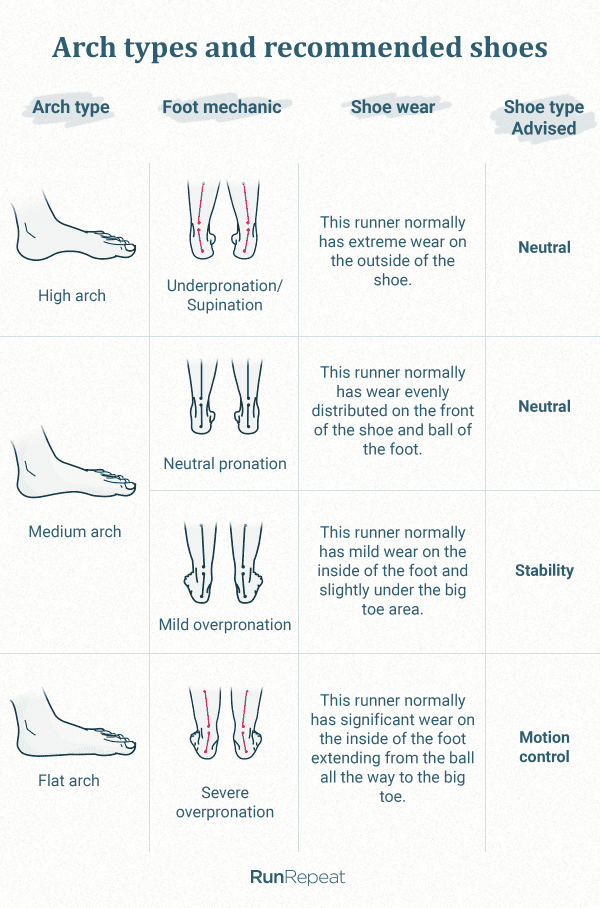 4.
Road or trail?
This one is simple: If you mostly run on road, tarmac, treadmill, 4x4 road or even major forest trails or the likes, then buy road running shoes.
Only buy trail running shoes if you have runs that are on single-trails or off trails. Otherwise, you don't need them.
You should not be afraid to run on roads with your trail running shoes once in a while. However, we recommend that you keep it at a minimum as feet and knees can start to hurt. The bigger the lugs, the sooner your feet will start hurting. Quite often, you'd need to run half a mile to your nearest trails, and that is not a problem.
5. Heel to toe drop
If you're new, or if you run less than 10 miles per week, there's no need to know about heel to toe drop as long as you buy shoes with at least 6mm drop (preferably 8-12mm).
The only exception is if you have a record or severe ankle, knee, hip, ITB, Achilles, or plantar fasciitis injuries. In such cases, seek out a specialist before buying running shoes.
More experienced runners tend to show interest in the heel to toe drop. There are a lot of opinions on the subject. If you want to learn more, check our in-depth scientific guide to heel to toe drop.
Heel drop effects

Low

High

The lower the drop, the greater the potential to improve cadence.
Foot switch is slower in higher drop shoes.
Lower and zero drop shoes promote midfoot and forefoot strike.
A higher drop allows for rearfoot strike because the elevated heel helps with high impacts when the heel hits the ground.
Lower heel drop might help with ITB, (anterior) knee pain, gluteal overuse syndrome.
Higher heel drop might help with plantar fasciitis, Achilles tendinopathy (stiff Achilles), calf injuries.
Low drop shoes allow for more ankle flexion during landing. The ankle absorbs the impact and works as a spring. These shoes can place greater stress on the foot, ankle, lower leg.
High drop has a higher knee flexion moment. This means it has the potential to load hips and knees more, similar to heel strike.
Overstriding rearfoot strike might be prevented with a lower drop.
Overstriding forefoot strike might be prevented with a higher drop.
6. Minimalist, maximalist, strike pattern, technology, waterproofing, etc.
As a beginner, don't get confused by these terms. Ignore them.
7. Trust your feet, not "experts" and top-10 lists
The best thing to do if you're buying your first pair of running shoes is to go to the running-specialized store. First and foremost: you'll try them on and see if they are a good fit for your feet. Then, you might even get good advice from a store employee. Heck, they might even scan your feet and let you know precisely what features they have regarding pronation, arch height, etc.
If you decide to do your research online first, we've written a whole chapter on what to pay attention to! It's not a good idea to trust "experts" and top-10 lists.
The best running shoes in every category
Which running shoes brand has better reviews?
Other buying guides
Now, are you ready to buy running shoes?