A running shoe upper is the part of the shoe that covers your foot and it's sewed or glued to the midsole. It typically includes materials like knit, mesh, fabrics or plastic, and also has features like laces, straps or protective elements. In this guide you will discover how to choose the perfect upper for your feet.
The main problem here is that everyone's feet are really different, yours too! Additionally, there are some external factors that need to be considered before buying any running shoe:
Weather and temperature where you live;
What surface are you going to run on;
Size and shape of your feet;
Purpose: training, racing… or both?
Comfortable upper is a MUST for daily runs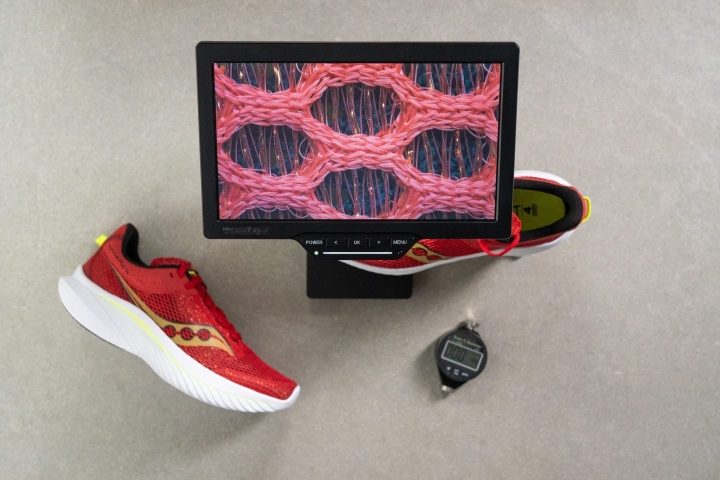 You probably already know that when it comes to improving your running abilities, consistency is the key. And there is no way you can run almost everyday if the upper of your shoes is a troublemaker. A hot-spot or blister can interrupt your training, and, as this recent study proved, your finish times will suffer the consequences if you have to stop even for a short period of time.
But, wait a second. What is a comfortable upper? As you may guess, it is the one that you barely feel on your feet when you run.
2 key characteristics shared by any comfortable upper:
Breathability needs to be great, especially in hot temperatures or super humid weather.
It must be soft and gentle with your feet, so that blisters and hot-spots are avoided even in the longest runs.
Why is it important to use a lightweight upper in your races?
Because you will race FASTER.
The so-called super shoes era that started in 2017 with the Vaporfly 4% changing racing forever. Nowadays, all major brands have a presence in this niche and follow the same blueprint: they mix a very light upper, a carbon plate and their premium super-foam (yes, you still have to move your legs and apply force to the ground, though).
What is the best upper material for running shoes?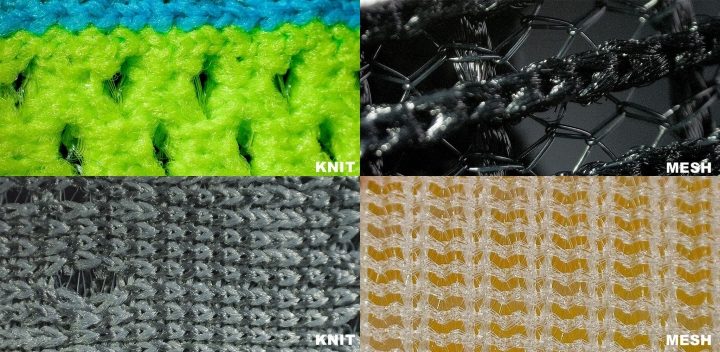 There's not only one best material for a running shoe, but… two! Both knit and engineered mesh are great choices. If you want to prioritize comfort, choose knit; if breathability and lightness are essential to you, then mesh would be the safest bet. As you can see in the image above, under the microscope of our lab, the differences are striking.
Mesh
Engineered mesh is the most popular upper because it's cheap and durable. In addition, every running brand is trying to save weight on the upper, and engineered mesh is the way to go, as it is lighter than knit.
You should be aware that engineered mesh is a very common term and that there are huge differences between brands and models. Most companies build the mesh using nylon (ASICS, Saucony…), while few others prefer polyester yarn (like the plasticky Celermesh from Adidas). Of course, there are some notorious exceptions, like Nike's VaporWeave; its dual layer TPU and TPE upper was hyper light and impermeable, but also super-snug and not breathable at all.
| | |
| --- | --- |
| Pros | Cons |
| Superb durability | Break-in needed in some cases |
| Breathable and summer-ready | Limited flexibility |
| Super light | Prone to rips and tears under pressure |
| Fantastic water resistance | Snug fit in some brands |
Taking all of these factors into consideration, we have determined that engineered mesh is an excellent option for both training and racing. But, hold on, there's even more! You can find two different constructions for mesh uppers: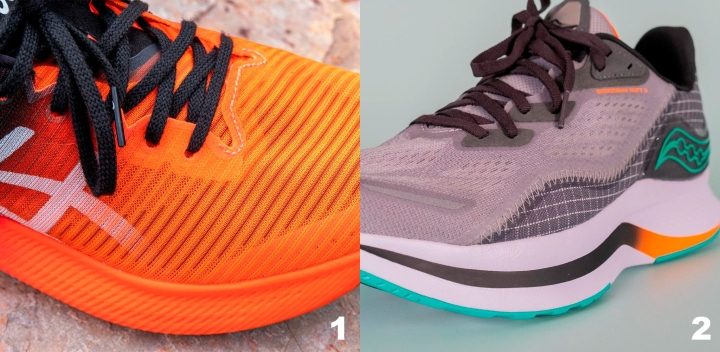 Monomesh: Single layer of engineered mesh with no stitching or sewing parts. Best choice for racing and fantastic for training, but they are on the pricier side.
Regular mesh: Made of multiple layers of mesh, sewed or glued. It's cheaper to manufacture and, because of that, more common in daily trainers. The price to pay is that foot issues like blisters or hot-spots are more usual than in monomesh uppers because of friction.
Knit
Knit uppers are the best choice for wide feet. They are super comfortable, and hold your feet with a characteristic "sock-like" feel that is unmatched by any other type. Also, most of these uppers don't need a break-in period, which is a plus.
| | |
| --- | --- |
| Pros | Cons |
| Comfortable and flexible | Holds more water and sweat |
| Hugs your feet without pressure | Some knit uppers are too heavy |
| Great for short easy or recovery runs | Not the best choice for racing or trail running |
| Less prone to blisters and hot-spots | Poor breathability in most cases |
| Stretchy and nice for wide feet! | Possible holes made by pinky/big toe |
Most knit uppers include plastic elements (TPU, TPE…) to give some structure and stability control to the shoe, or maybe just to handle the laces. That's not a bad thing at all, but it can increase the weight of the shoe, so you'll find it mostly on daily trainers.
Most brands have their own proprietary manufacturing process for knit uppers; and some, like Nike, have patented it. That led to a court drama between Adidas (Primeknit) and Nike (Flyknit) that was settled in 2022. Other examples –still not sued by Nike!– are:
Saucony ISOKNIT
Altra Static Engineered Knit
Mizuno Waveknit
Brooks Flat Knit
Puma SAFETY KNIT
Allbirds Eucalyptus Tree Fiber Knit
Tip: if you prefer a loose fit, go half-size up for most knit uppers.
And speaking of the devil: how many grams does a knit upper increase over his mesh counterpart? Good question. Well, Adidas made a mesh version of his popular Ultraboost that weighed the same as the base knit model… but with 20% more foam! And Boost is not a light foam by any means. Of course, there is no golden number, but the price to pay for using knit over mesh is usually around 20-40 grams per shoe, depending on the brand, size, and other factors.
Gore-Tex and other membranes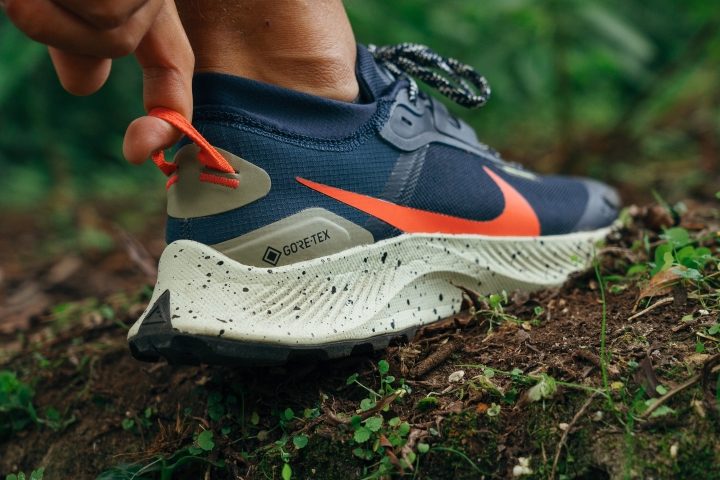 Gore-Tex it's a waterproof and breathable membrane invented in 1969 that does what was unthinkable until its creation: it repels liquid and, at the same time, allows water steam to escape. It's the perfect combo to keep your feet dry while running in wet conditions.
Tip: Gore-Tex only makes sense if there's some water around. If you don't run on wet trails or rarely go out for a run if it's raining, then don't buy a Gore-Tex trail shoe. And if you run in extremely wet conditions, a waterproof shoe can also be a bad idea, because it will drain water slower than a non-GTX shoe. In fact, based on our experiences with Gore-Tex shoes over dozens of different pairs, if water slides down your leg and gets inside, it will be almost impossible to drain it out of the shoe during your run.
Because of its properties, Gore-Tex is mostly used on trail running shoes.
| | |
| --- | --- |
| Pros | Cons |
| Feet stay dry | Too hot in summer/hot weather |
| Extra protection from cold or frostbite | Flexibility of the shoe is compromised |
| Amazing durability | Price is usually higher |
| Windproof | Difficult to clean and maintain |
| Low weight | Drainage issues |
Gore-Tex is a patented invention and has a clear lead in the market over every other waterproofing membrane. Nonetheless, there are some alternatives: SympaTex, FUTURELIGHT by The North Face, Pertex Shield, eVert, etc.
Outdated upper materials
Nowadays, more than 99% of running shoes are made with either engineered mesh or knit. However, a few decades ago, the fabrics used in running shoes were totally different:
Leather,
Nonwoven,
Fabric,
TPU Laminate,
Suede,
Canvas,
Nylon,
Polyurethane Laminate,
PVC Laminate.
These materials were usually combined to create an upper, but they weren't used to build the whole piece as we can see today. Leather was the most popular one, and it's still being used by brands like Puma (Super Levitate), Hoka (Clifton L) and Adidas (UltraBoost Leather), as well as many other brands for walking shoes.
Of course, the absence of mesh or knit had some negative consequences: more weight, less breathability and poor comfort, particularly in long runs.
Anatomy of a running shoe upper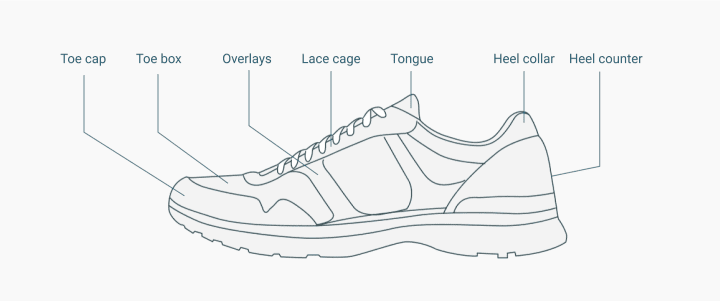 Let's take a look at the different parts that make up the upper of a running shoe.
Toe Box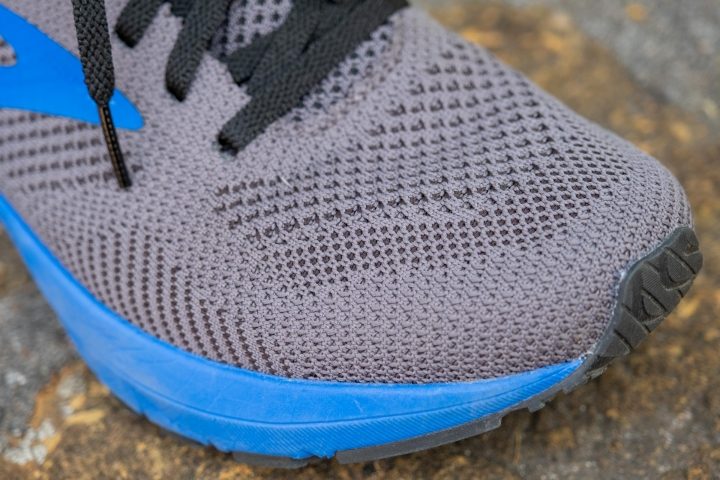 The toe box is the area that embraces the toes all the way from the ball of the foot. In order to get a perfect fit into any toe box, you should follow 3 basic rules:
Length-wise, you should have at least a thumbnail's width gap from your longest toe to the edge of the shoe (usually your big toe or second toe), and we recommend even a little bit more if you are running marathons or ultras, because of foot swelling. Another test you could try is to push your feet to the toe cap and then insert a finger behind your heel to assess the available space.
The width of the toe box should be enough to accommodate your feet with no pressure at all (except for track spikes or short races).
Also, height matters! If the toe box is not tall enough, the pressure will create discomfort and eventually black toenails.
Sometimes, the shape of your foot may not fit perfectly with the toe box of a shoe. Unfortunately, the only way to be certain if a shoe fits well is to try it on, but you can make a reasonable guess by considering the toe box shape and your foot type.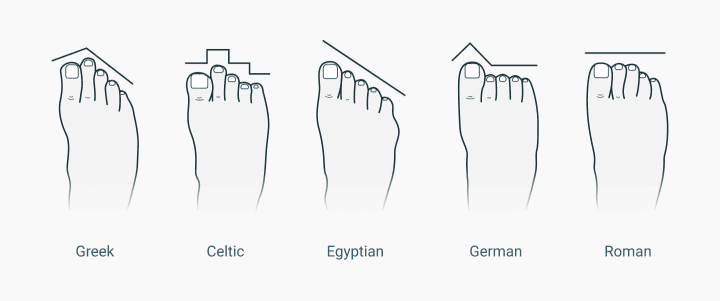 As you may already know, some brands have a reputation for being on the roomy side, and others just the opposite. For example, Altra, Saucony, New Balance and Topo tend to offer wider toe boxes in most of their models. On the contrary, brands like Nike, Salomon and ASICS usually design snug shoes that are more suited for medium-to-narrow feet.
Running in shoes that have a narrow, short or low toe box can have disastrous consequences like:
Ingrown toenails,
Blisters,
Black toenails (especially in trail running),
Bunions,
Claw toes and hammertoes.
Tongue
After decades of R&D, brands still struggle to deliver a great tongue. In fact, we don't get more than 3 or 4 models a year sporting an A+ tongue.
A good tongue:
It's comfortable for your feet;
Doesn't add too much weight to the shoe;
Stays in its place until the last stride.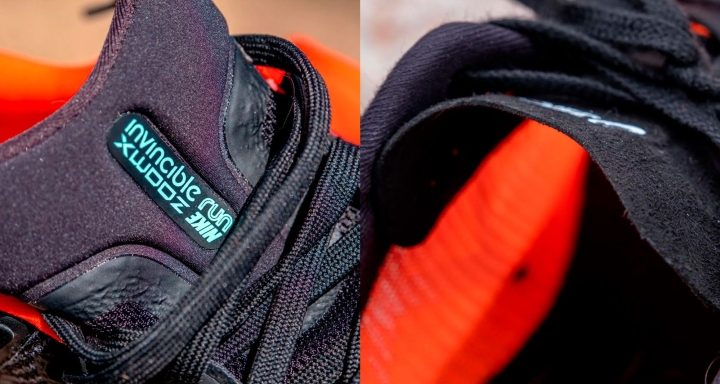 Padded tongues have a lot of cushion to deliver great comfort and protect your instep from the pressure of lacing. However, that comes at the cost of added weight. Because of that, you'll usually get thick tongues on daily trainers and paper-thin tongues on racing shoes.
Differences in tongue thickness between daily trainers and racing shoes:
Thin tongues, like the ones in racing shoes, can create a lot of pain in your feet if you tie the laces too tight, which is a common mistake in races. If in doubt, it's always better to be a little bit loose (although not too much to prevent a bad lockdown), especially for the marathon and beyond and/or in hot weather.
In addition, all tongues are sewed or glued to the upper in the instep zone, but not all tongues are fixed on the sides. There are 4 options: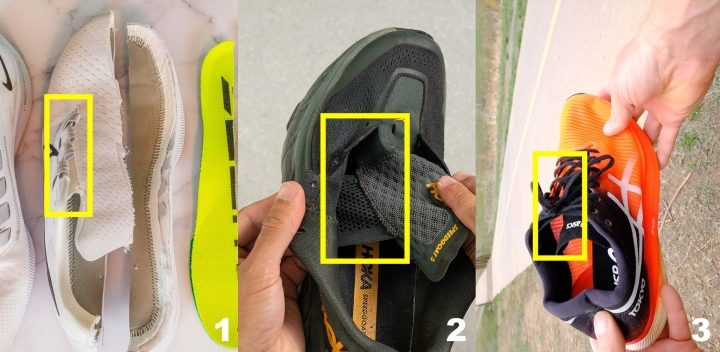 Gusseted: the tongue is stitched to both sides of the shoe (or has a piece between upper and tongue). It's perfect for trail running because it helps to keep out of the shoe small rocks and debris while you run in the mountains, and also for a daily trainer because it helps with comfort. In addition, most triathlon aficionados love gusseted tongues, as they make it easier to slip the shoe on and off.
Semi-gusseted: this type of tongue is partially connected to the upper, so it has some degree of the benefits of a gusseted tongue (comfort, protection) but you'll only pay part of the price in terms of weight. Good for all-around shoes!
Non-gusseted: most brands love this one for racing shoes, and the reason is really powerful: huge weight savings. Of course, you'll lose both side connections to the upper, which can lead to some tongue movement during your runs.
One side (full or semi-gusseted): fixed to the right or left side of the shoes.
Heel counter
The heel counter is a rigid or semi-rigid supportive piece that goes usually inside of the upper, and works by locking your heel and providing stability in the rearfoot area.
It's a good idea to have a stiff heel counter if you are a heel striker, because you need more stability in that area in order to avoid some severe pronation or underpronation. In contrast, most midfoot and forefoot strikers with a neutral gait type can use softer heel counters.
Moreover, the heel counter is a high wear area for many runners, because the feet can slide a little bit while running and thus create holes on the inner side of the heel of the shoe. If you are prone to this problem, there is not much you can do besides getting a more resistant material (look for one with reinforcements) and trying to lock your heel to the shoe with a runner's knot to prevent heel slippage.
As this study showed, the heel counter can prevent your rearfoot from collapsing laterally, thus helping to prevent injuries like plantar fasciitis, tibialis tendinitis or patellofemoral dysfunction, among others.
Pull tabs
Pull tabs are here to help you, runner. Basically, they make it easier to get your feet inside some shoes, and for a few models like the Nike Alphafly, they're just essential.
At the present time, pull tabs are being used as a resource by almost every shoe manufacturer. However, because of their nature, they are more common on knitted uppers.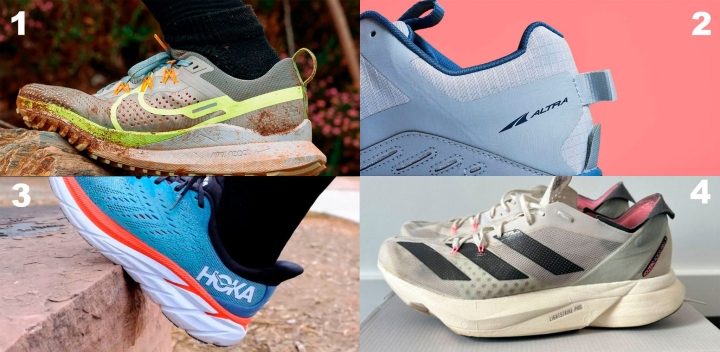 Categories of pull tabs:
Heel collar
Moving to the heel collar now. As you may guess by its name, it's the part of the upper that surrounds the heel. You'll find that daily trainers are usually very padded in that area to favor comfort (like the Hoka on the right), while racing shoes tend to have a very minimal approach, maybe just offering just a little stripe of foam inside, à la Vaporfly on the left.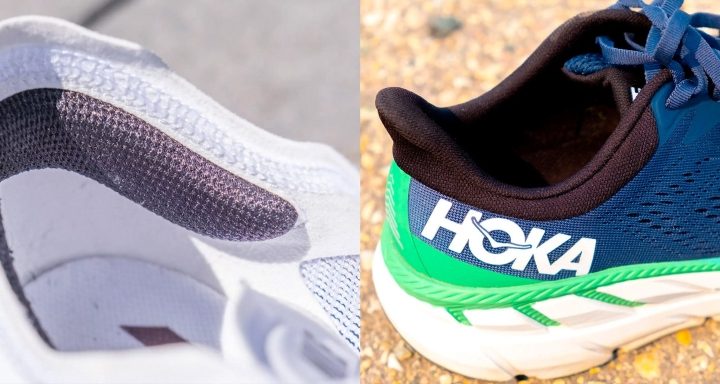 But don't get fooled by too much padding on the outside of the upper, because it will mostly add weight and risk of rubbing your other leg. Where you need it is mostly inside the shoe, to lock your heel and provide comfort.
To summarize, a good heel collar should:
Provide a secure fit preventing heel slippage;
Offer a good comfort/weight ratio;
ASICS nailed the heel collar on the Metaspeed Sky+ despite being a extremely light racing shoe. It has the right amount of padding, provides great stability and there is absolutely no heel slippage.
Overlays and support elements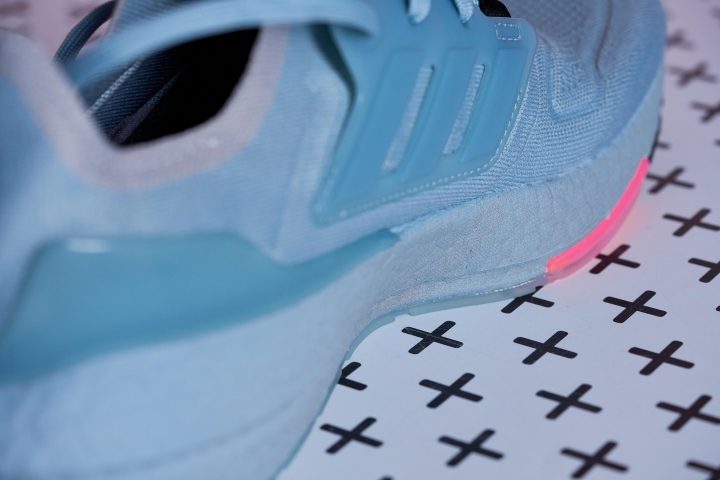 Most manufacturers usually add TPU (or similar plastic derivatives) overlays to their shoes in order to enhance durability, give structure to the lace cage, add protection especially in trail shoes or just provide lateral/medial support to the feet. That comes with two main tradeoffs:
Weight gain,
New friction points.
You can find these plastic pieces mostly on daily trainers, while they aren't common at all on racing shoes.
Tip: If you care about weight, or if you have problems with hot-spots in the medial part of your feet, get a shoe built with a seamless monomesh upper.
Lace cage (and laces)
Lacing is fundamental, and often underestimated. You can have a perfect shoe, and ruin it with poor lacing. Or a shoe with a heel slipping, and fix the issue with an alternative knot. By the way, you have all you need to know about the best lacing techniques in this guide.
Nowadays, almost every shoe comes with one of these 3 lace types: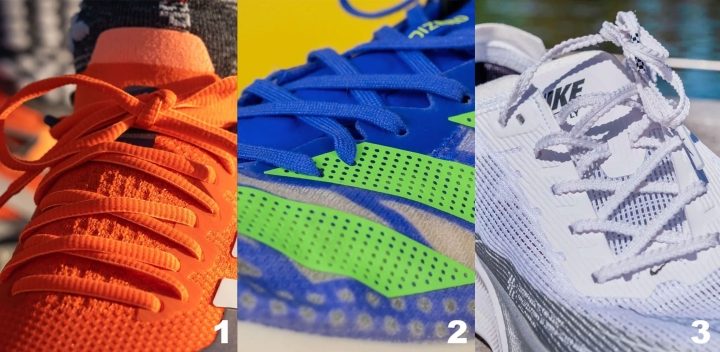 Round: more durable than flat laces, but it will cost you some extra grams and they are prone to untie on their own.
Flat: secure fit, low weight, and easy to tie.
Notched: eye-catching shoe laces that deliver a super secure fit. Only in a few models from Nike (Dragonfly, Superfly Elite, Vaporfly Next% 2…) and ASICS (Metaspeed Sky+ and Edge+).
But there is even more. Here you have 3 alternatives: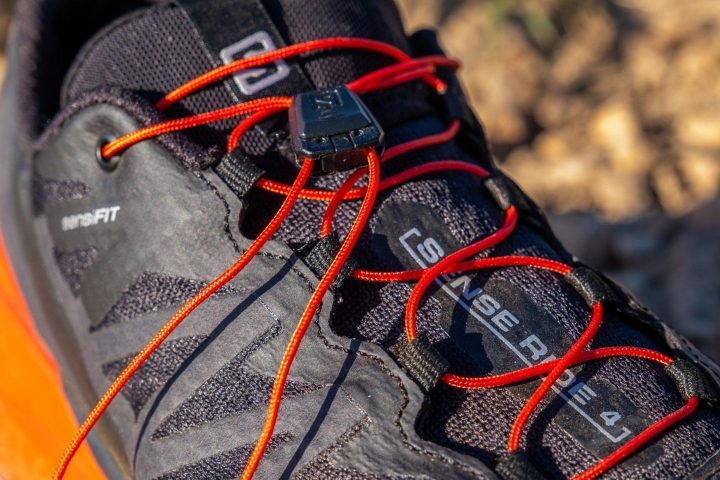 BOA: a patented lacing system almost universally used in cycling, but you can also enjoy the famous BOA fit system in some running shoes if you really love that hug feeling. There is even a study about the benefits of the BOA fit system but you should take it with a grain of salt, as it's made by BOA employees and funded by BOA.
Elastic: the best way to lace your shoes in record time, so it's not a surprise that they are very popular in duathlon and triathlon.
Quicklace: a proprietary and trademarked elastic lacing solution created by Salomon. You can find them in some shoes like the Sense Ride 4. Really convenient and fast to create a secure lockdown.
Remember that you can replace the laces of any running shoe. That's great, because some shoes (even the expensive ones) sometimes come with short or bad quality laces.
Tip: if you use a shoe with a thin tongue, it's very important to tie your shoes relatively loose to avoid pain in your instep while or after running. If you use a padded tongue, then you can put more pressure on the laces.
Lasting
Shoe lasting is the process that defines the final shape of the upper. There are two main types of lasting in running shoes:
Strobel: the upper is sewn to the sides of the shoe.
Race (or slip): the upper is sewn to the middle of the shoe.
Are you curious about your own shoes? Just remove the insole and take a look inside. Chances are really high that you'll see Strobel lasting down there, as race lasting is almost forgotten by all brands.
Best breathable uppers: analysis
The best upper for summer training is the one that keeps your feet cool even in the hottest weather conditions. For starters, here you have 3 simple rules in order to find the best upper for running in those dog days:
Breathability: this is the most important factor by any means. When heat is trapped inside your shoes, the temperature can increase rapidly and your feet may become uncomfortable. You can tell if your shoes have a non-breathable upper by checking if light passes through it and feeling if it's too thick.
Color: clear colorways like white and gray are your best choice. Avoid dark uppers because they are an oven under the sun.
Material: mesh is usually more breathable than knit, although there are some exceptions and you should check it on a per-model basis. Avoid Gore-Tex if possible.
Then, some data from our lab. We tested breathability in +50 shoes and found some interesting insights:
The average breathability is 3.7 (on a 1-5 scale, with 5 being the most breathable).
Unsurprisingly, heavier shoes tend to be less breathable. For example, ASICS Metaspeed Sky scores a 5 with 193g; while New Balance Fresh Foam More v3, with 306g of weight, has the lowest score.
Here are the breathability scores for 10 popular shoes that we tested in our lab:
Similar to how you may switch between shoes for different types of training sessions (such as speed work or recovery runs), you can also choose your shoes based on the weather conditions. Use the darker and thicker uppers in winter, and save the light and breathable ones for the summertime.
Problems and injuries caused by running shoe uppers (and how to avoid them)
As runners, injuries are our worst nightmare. And the upper is an underrated factor in this equation.
In a study, it was found that a shoe with a reinforced upper (compared to a minimalist one) reduced ankle work during running. So, if you tend to have stability issues like pronation or overpronation, it might be a good idea to avoid shoes with very soft uppers to lower your risk of injury. Similarly, this systematic review found that shoes with structured uppers can reduce the amount of pressure on the bottom of your foot, which lowers your risk of getting plantar fasciitis, although it's clear that we need many more studies to have a better view of the influence of running shoe uppers.
Hotspots, chafing and blistering: How can you prevent them all?
Put your hand inside the shoe and examine everything inside the upper. Is there any part that feels too rough? If it's in a friction-prone zone (arch, toes, heel, etc.), then there is a good chance that you'll end up with a hot-spot or blister in your next run.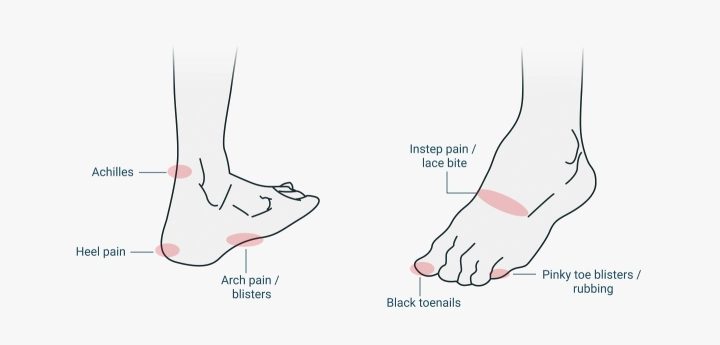 The truth is that a bad upper can cause blisters, followed by bleeding, on almost every part of the foot. The more common ones are these:
| | |
| --- | --- |
| Problem | Proposed solution |
| Blisters on one or both arches | Go for low arch shoes like ASICS, avoid Nikes and especially competition ones (Alphafly and Vaporfly). Wear thicker socks, even go for the double-sock in winter training if needed. |
| Achilles rubbing | Try to wear thicker socks or put some tape (Kinesiotape works really well) in that area. |
| Chafing in the pinky toe | You can try to go half size up. Not working? Then try a knitted upper that's on the loose side. |
| Heel pain | Check how flexible the heel counter is. Maybe it's on the stiffer side and you need a softer one. |
| Instep sharp pain | Usually it happens because you tied the laces too tight, although, in some shoes like Adidas Prime X, lace bite is almost unavoidable unless you skip some holes. |
| Black toenails | Going half-size up usually solves this. If it's not the case, try uppers made with a single layer of soft mesh/knit and no hard reinforcements in the toe box. |
| Blisters between toes | Injinji toe socks are the easy way here. Also, you can try to go half-size up, because sometimes this problem is caused by a narrow upper squeezing your toes. |
| Rubbing in the ankle | Pretty common in racing shoes, where brands like to shave weight everywhere, so they don't add any protection to the heel collar. Mid or high-cut thick shocks can solve this issue almost every time. If not, you can try to tape that area for your next race (if you really want to use that shoe). |
As has been noted in the table above, socks play a huge role here. A good pair of socks can prevent lots of trouble and will contribute to a more pleasant ride. Toe socks are also a fantastic choice especially if you have problems in the interior part of your toes. And the ones with reinforcements in the Achilles tendon (like many X-Socks models) can solve rubbing in that area. Compression socks can also help if you're prone to blisters but extra caution is advised when using them on longer distances, especially ultras. Sometimes, other parts of your legs (calves, thighs, glutes) need compression as well to make the best out of that approach.
Tip: if you usually have problems on your feet, this book is a bible. But before you tape everywhere down there, try to find a nice and soft running shoe upper and combine it with breathable but thick socks, because that can solve all your problems.
Make your upper last longer
After hundreds of shoes tested in our lab, we have found that there are 3 types of running shoe uppers. The ones that…
Last forever and are unbreakable, and you just love them;
Die when you just expect them to do so, so it's a fair deal;
Break apart after just a few runs, which is a bummer.
Durability is influenced by multiple factors. Sometimes it is because of the shoe, sometimes because of the runner, sometimes because of both. And there are many external elements that play its role: weather, terrain, socks, weight, etc.
| | | |
| --- | --- | --- |
| Where does it break? | Cause | Fix / Prevention |
| Holes in the toe box | Common problem for many runners, especially if you tend to lift your big toe or pinky toe in your runs. | You can try a patch, the ones used for fixing the tyres of road bikes. It can also be used to prevent the hole, but it will make the upper a little bit rougher. Also, move away from knitted uppers and go for a hard mesh one. |
| Upper separating from midsole | Poorly glued or sewed uppers can separate after some runs. | Instant glue (cyanoacrylate) works well most times, but remember to clean everything first. Another option is to return the shoe (if you are in that window) or take it to the nearest cobbler. |
| Heel counter tears | Abrasive socks or the friction with your heel when taking off the shoe | Softer or less abrasive socks and doing the heel slipping lacing technique are both good choices to solve this problem. Using a shoe horn and unlacing it completely before taking the shoe off also helps to prevent this issue. |
If you care a lot about durability, then go for a road/trail hybrid shoe
When it comes to running shoes, everyone's priority is different. If you care a lot about durability, and love to use your shoes not only for months but for years, then you should check road/trail hybrid shoes.
Hybrid shoes:
Are based usually on road daily trainers;
Have a lot of protective elements and a big chunk of rubber in the outsole;
Can handle both road and trail workouts or races.
Of course, you can't expect the shoe to excel in both terrains. But they will do a remarkable job everywhere you take them and their durability will blow your mind.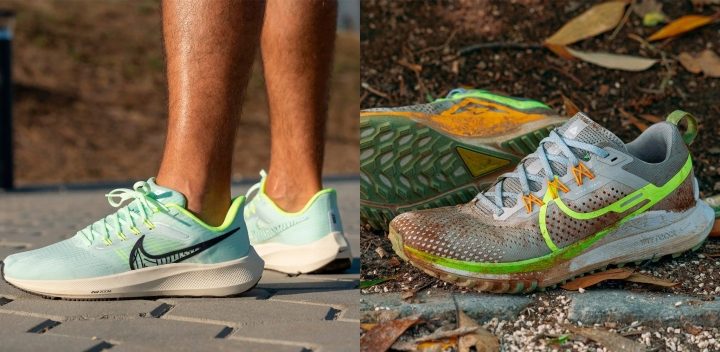 Undoubtedly, the most popular hybrid shoe is the Nike Pegasus Trail saga. As you can see in the left and right images, it's a regular Pegasus with some protective elements, a reinforced mesh upper and rugged outsole. Same foam, same geometry, same drop, and the price to pay in terms of weight is only 34 more grams.
Width and sizing explained: huge differences between brands!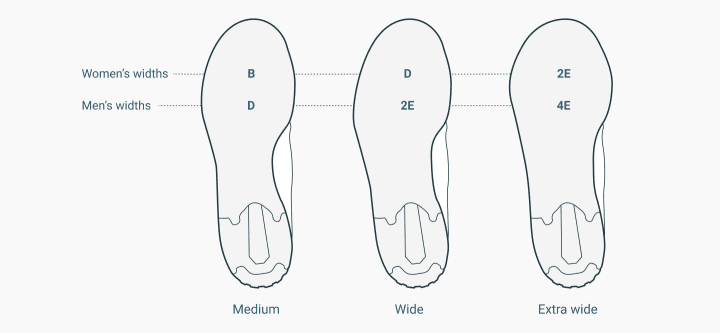 Your feet are truly unique and way different from everyone else. Even between both of them there can be enormous variations, so it's not easy to accommodate every foot with ease. Brands do their best, but obviously, some models will work better than others for you.
Tip: Sometimes going half-size up can add enough room in the toe box of a standard width shoe. This way, you may be able to find the color you want at a better price. Wide-width shoes usually come in fewer colors, and they tend to be less discounted than regular-width shoes.
Likewise, sizing is not a joke. As you probably know, different models in the same brand can vary in length. And brands aren't consistent between each other; some like ASICS go usually longer, while others like Nike maybe force you to size up.
Shoes are getting narrower (with some exceptions)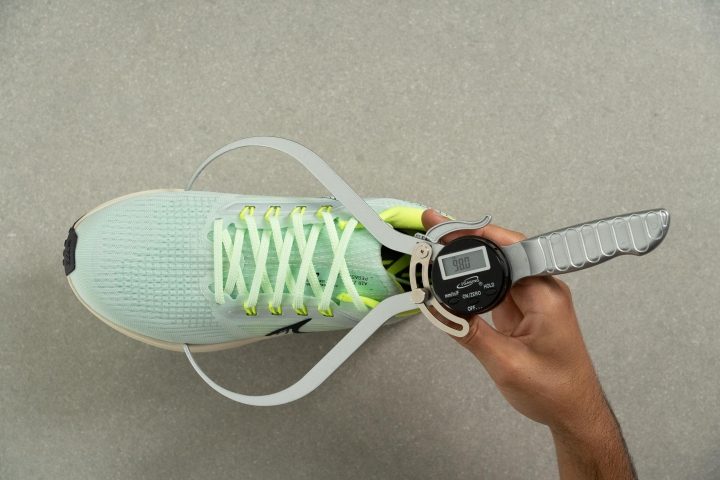 We picked 7 popular models from different brands and checked the measurements between two of the latest generations. The results speak for themselves.
When we focus on racing shoes, it's apparent that they often feature a narrower design to promote a snug and secure fit. As a result, individuals with wider feet may struggle to find a comfortable fit in some models.
New Balance loves to design roomy heels and they showed it one more time with the RC Elite v2. The same applies to Saucony and the forefoot. Sadly, that makes the shoes heavier, and when it comes to running as fast as possible, maybe you want to sacrifice some real estate inside the shoe, right?
How can I know if I have wide or narrow feet?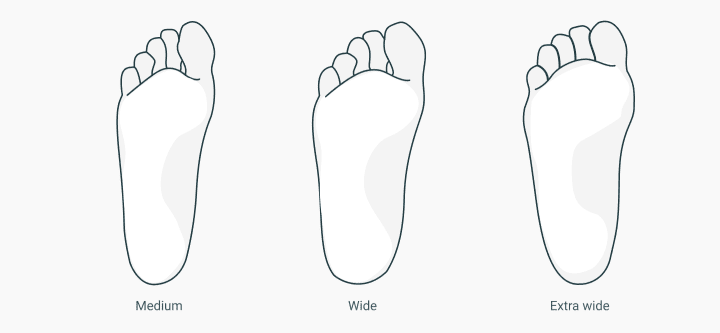 There is no "official" measurement or scientific way. But based on your experience trying different shoes, you should be able to determine if your feet are narrow, normal or wide. It's all about genetics!
Here are some examples:
If your Nike Vaporfly Next% feels true to size to you and fits comfy, clearly you have narrow feet, as Nike racing shoes always have a super snug fit.
On the contrary, if an Altra model (even in D width) feels comfortable, then your feet are probably wider than the average, because Altra is the wider brand in the industry.
And if you seem to be okay with most models, you must have an average width.
Men v. Women: Can you buy the other gender shoe?
Yes, you can buy women's shoes being a man, and vice versa. We agree that some gender-exclusive colorways are really tempting (yes, pink looks awesome!), but we don't recommend doing that if you aren't…
A woman with wide feet. In this case, you'll benefit from the extra width in men's running shoes.
A man with narrow feet, especially in the midfoot and forefoot.
Men and unisex shoes have D width, while women's default width is B. Both sizes correspond to medium width in each gender. And remember that you should check our per-brand gender size chart, because not every brand converts the same way between genders. Then, you also need to know if the shoe is unisex or not:
Gender-specific shoe: men width is D, women width is B. There can be other elements that change in the shoe, like the heel-to-toe drop or cushioning (like the air chambers' pressure in some Nike Pegasus models, which have 20 PSI for men and 15 PSI for women).
Unisex shoe: both women/men width is D, there are no differences at all.
To identify any unisex running shoe at home or in a brick-and-mortar store, the easiest way to do it is by just looking at the box. Please note that some retailers add both sizes (like M7/W8.5) at once.
Here, you can see 3 unisex examples (Nike Invincible 3, Adidas Prime X Strung and ASICS Superblast).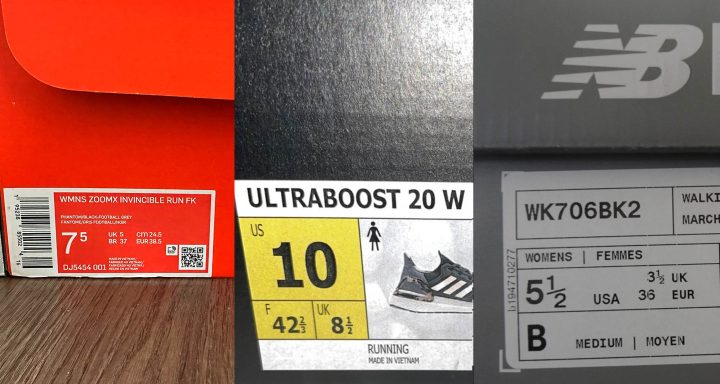 As you can spot, some unisex shoes display the sizing of both genders. That doesn't happen in men's or women's shoes. In contrast, Adidas doesn't depict dual sizing, but makes it clear by including a unisex symbol in the upper left corner of the tag. Remember that the unisex standard width is always D.
With gender-specific shoes, it is easier to identify them. You can filter by ''women'' while searching online, or just take a look at the model tag in the box:
W or WMNS before or after model name
Woman symbol
"Woman" tag below model name
As you may already know, we have fully measured 100+ shoes in our lab. Here's some interesting data on the toe box width from 6 major brands:
Trail running uppers: What to look for
Trail running uppers have protective elements and layers in high wear areas. Because of that, durability improves drastically over the road counterparts, but at the cost of some extra weight.
| | | |
| --- | --- | --- |
| What to look for | Why | Best for |
| Foot protection (reinforced toe cap, stronger sewing, etc) | Rocks, branches, mud, etc. can hurt your feet or break an upper in record time, and also cause injuries or wounds in your feet. | Intermediate and difficult trails or technical terrain with plenty of abrasive stuff on your way. |
| Sturdy and force-resistant upper | Your stride and angle of footstrike will change a lot during every run, putting the upper under pressure every time you run, walk or climb. Also, you want to protect the upper and feet from any damage. If you want max protection, shoes with Dyneema, Kevlar, Cordura or even Gore-Tex can deliver big improvements here. | High humidity conditions and difficult trails. |
| Breathability | Morning dew or humidity conditions are usually experienced at higher elevations in the mountains or near to rivers. Preventing swollen feet is crucial. | Long trail running routes, summer runs and/or ultras. |
| Full gusseted tongue | You'll prevent small debris and rocks from getting inside the shoe. And also you'll get a super-nice secure fit as a bonus. | Light and fast trail routes with small stones, rocks, dust, debris. |
| Integrated ankle gaiter | Prevents almost anything from entering the shoe through the ankle collar. | Light and fast trail routes with small stones, rocks, etc. |
| Roomy toe box | Running trails, you'll need more room than usual for your feet. Get the wide size if available; or just go half-size up in your preferred model. | Wide feet, long runs, summer training and racing. |
Race faster by using a lighter upper
Of course, science's been here. This meta-analysis showed a clear correlation between shoe weight and times: after more than 1000 records were retrieved, it was shown that there is no harm in your times if each shoe weighs up to 220g. In fact, we already talked in another guide about how you can boost your finish times using carbon-plated shoes, and there is a lot of research done around these improvements:
Running in the dark? Get a shoe with reflective parts!
Not every shoe has reflective stuff. At the end of the day, it means more weight to the shoe, and all brands are going nuts about that. But if you run in the dark, and particularly if you do it on roads with traffic, it's extremely recommended to buy shoes with reflective parts.
Tip: to improve your safety, in addition to reflective parts, it's a great idea to buy shoes with clear or bright colorways and avoid the darker ones.
Present and future of running shoe uppers: sustainability and innovation
Most brands are doing really big efforts in R&D to innovate and be more sustainable. Of course, this is influenced by consumers, because we are every day getting more concerned about our Planet A.
Nike Flyknit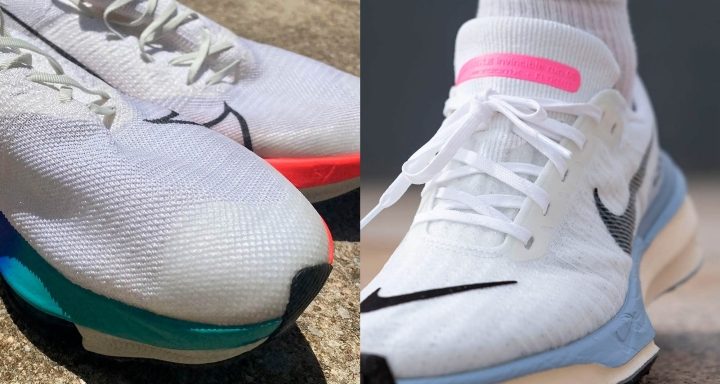 Flyknit was revolutionary because it was the first one-piece upper ever made. This invention by Nike debuted in 2012 with the aim of improving everything about an upper: weight, comfortability and sustainability. And runners around the world just confirmed the hype.
But not all Flyknit uppers (or FK, as you can see on Nike's boxes) are the same. Flyknit just refers to the technology behind the construction, but the details might change. For example, the Flyknit used in a Nike Tempo Next% is very different from the one used to build a Nike Invincible 3, as you can see in the image above.
Strung, the latest Adidas innovation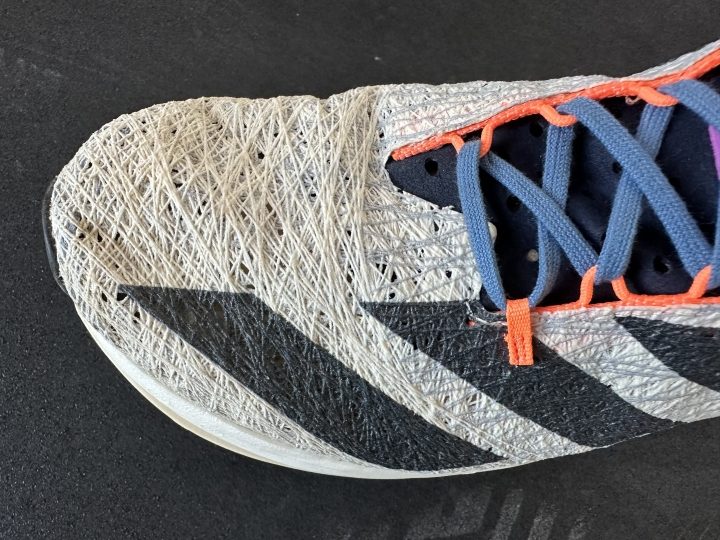 Almost ten years after Flyknit, another big shoe company amazed everyone with its new invention: Strung. A truly revolutionary system that can build a running shoe upper from scratch, just moving threads at warp speed, in any direction. It's just like magic, but it's real.
And what's even better: it's really good for running! Strung is light, breathable, comfortable and runners are loving it in the Adizero Prime X Strung. This new upper even improves the stability and undoubtedly we will see it in many other Adidas premium models in the foreseeable future.
Brands are catching up on sustainability… with a caveat
Nowadays most brands offer mesh or knit uppers made fully or partly from recycled polyester/nylon and organic cotton, which is obviously a plus for many people. And the same can be said about vegan uppers.
As we said before, brands are finally catching up and we should celebrate it:
Adidas: the German brand is one of the leaders when it comes to the use of recycled materials. The Parley initiative (since 2015) is the perfect example, with over 10 million shoes made of recycled ocean plastic every year. And the goal of the Bavarians is to use only recycled materials by 2024, which sounds promising… and a little bit unrealistic, to be honest.
ASICS: the Japanese company wants to use recycled materials instead of polyester by 2030. And as of today, they're already working on its Ocean Waste Project and joined Pioneer Members of Worn Again technologies.
Hoka: the brand states that 98.13% of its paper packaging it's recycled, saving over 800,000 trees since 2016. In addition, they are members of the United Nations Global Compact, the world's biggest sustainability initiative.
New Balance: their commitment is to be fully powered by renewable electricity by 2025, while their polyester usage should be at least 50% recycled. Also, they want to reduce CO2 emissions by 30% or more by 2030. We will be watching!
Nike: Move to Zero, Nike Forward (75% less CO2) and Next Nature are big moves from the Oregonians towards sustainability and we really like their efforts. Likewise, the brand ditched the double-box combo for most online sales, so it's very possible that in your next order, you'll only get one recycled box instead of two.
Saucony: Recently joined the Sustainable Apparel Coalition to improve all around sustainability and also joined Responsible Packaging Movement (prAna).
Others like Brooks, Under Armour or Altra are also working on that area.
Despite growing awareness of the environmental impact of the running shoe industry, most brands still fall short when it comes to sustainability. As listed above, some companies have taken positive steps.
However, more needs to be done to address the industry's massive carbon footprint, excessive water usage, and exploitation of labor in poor countries. Finally, if you are all-in into sustainability, smaller companies like Allbirds or Icebug are the real trailblazers in this area.