If we can pick a shoe that screams fast, the Endorphin Pro 2 is THE shoe! Made for race day, you can't go wrong with the Endorphin - it's carbon-plated, snappy, rebounding, light, and just everything speed-oriented. It will bolt you forward in your competition, so prepare to take off at lightning speed! If you want to beat or set new PRs, this is the shoe.
Pros
Roomy fit
Lightweight
True to size
Insanely breathable
Fast & efficient
Responsive
Durable for a race shoe
Most comfortable race shoe
Price ($200)
Cons
Unstable heel
Poor midfoot lockdown
Learning curve
Saucony Endorphin Pro 2 review and lab test
FAST! FAST! FAST!
Hands down, the Saucony Endorphin Pro 2 is built for speed. Not much has changed from the debut of this shoe in 2020 except the colorways, but that's a good thing since V1 was also pretty awesome.
This shoe is comfortable, snappy and springy underfoot, lightweight, breathable, and of course, carbon plated!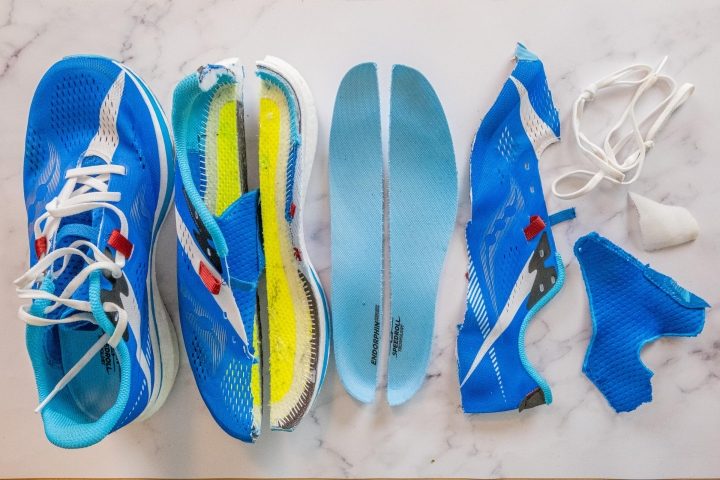 Who should buy the Endorphine Pro 2
The Saucony Endorphin Pro 2 is for the racer out there looking for PRs.
This shoe is built for speed and rounds out a shoe lineup well as the shoe reserved for race day. In my opinion, it's in the same class with the Nike Vaporfly Next%2 and the ASICS MetaSpeed Sky as a top-tier, plated race shoe.
Also, this shoe fits wider feet well, it's much higher volume, so if you're wide footed and need a race shoe, this is one to check out!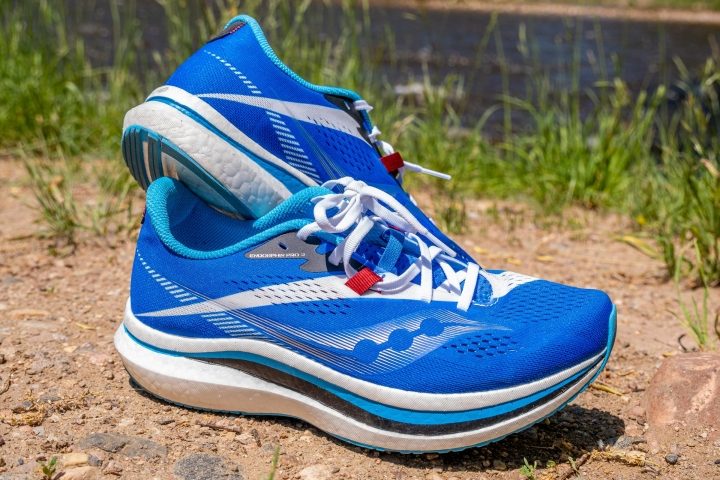 Who should not buy it
Those that don't need a dedicated race shoe.
If you don't run sub 6-7 minute miles, it's unstable at slower speeds
Anyone looking for a long-lasting daily trainer. Durability will disappoint you if you expect it to last on the daily grind. Check out the Saucony Endorphin Shift if you need a daily trainer.
If you want something plush, this shoe is just too stiff for anyone that's not specifically in need of a carbon-plated shoe.
You're a narrow-footed runner. Check out the Nike Vaporfly Next%2 or the Brooks Hyperion Elite 2 instead.
Endorphin Pro 2 - Rare race shoe with a wider fit
Race shoes that fit wide feet seem to be rare, but the Endorphin Pro 2 has a ton of room through the midfoot and toe box for those with wider feet.
At 97.8mm wide in the forefoot, it's nearly as wide as average training shoes (98.7) and considerably wider than the Vaporfly (93.8mm) for comparison. Most race shoes are narrow and snug, so this was a pleasant surprise.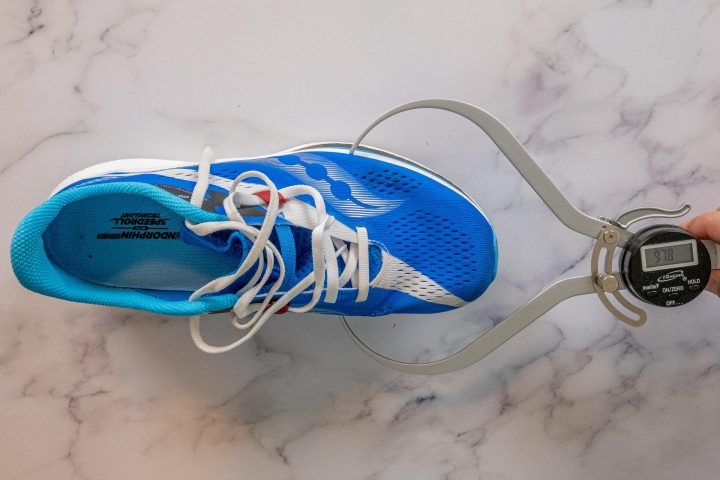 I would warn though, the narrow-footed runner may think this shoe feels sloppy. I even had issues getting the lockdown right thanks to its stretchy lace (stretchy for a race shoe anyway) and the extra room in the midfoot.
Endorphin Pro 2 - Most comfortable race shoe
Comfort is amazing in the Endorphin Pro 2. The shoe welcomes your foot with arms wide open.
I'll give it the superlative of the most comfortable race shoe on the market, it's just really enjoyable to have on your feet as you push your speeds to new levels.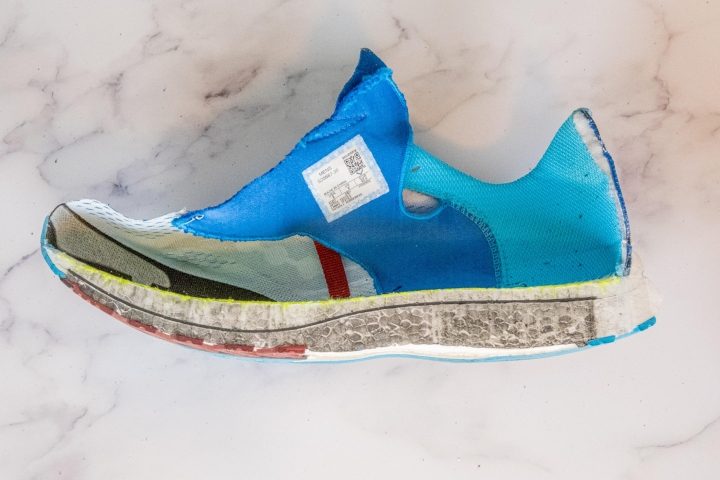 The super-thin .7mm stretchy mesh tongue is connected to the base of the shoe with two thin semi-gussets that hold the shoe in place.
Most race shoes ditch the gusseted tongue, but I am glad Saucony kept this amenity because I strongly believe that every shoe should have gussets.
The midsole is super stiff thanks to the scoop-shaped carbon plate, but the bouncy PWRRUN PB foam keeps the shoe feeling soft underfoot like it has ample padding.
Insanely efficient rockered design on the Endorphin Pro
Well, the ride is hands down awesome. The SpeedRoll rockered design really makes your stride feel like you are easily rolling along even when your pace is on fire.
It's just amazing how effortless this shoe makes your gait feel.
The midsole is energetic, it's got tons of responsiveness and is peppy off the toe, but it doesn't feel overly bouncy because again the rocker really dampens any unwanted spring and instead makes your gait feel more fluid than sprung.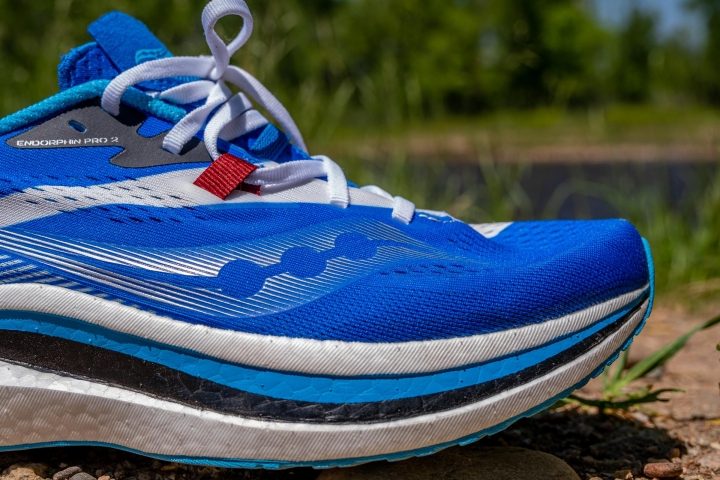 One caveat, it's extremely stiff, at 94.3N in our flex test it's considerably more rigid than the Vaporfly (83.7N) and the MetaSpeed (62.9N). Compare that to the average shoe at 36.8N and you get the point that these are not meant for just jogging or walking around town.
Saucony proves to have a bit of a learning curve
There's a bit of a learning curve with the Endorphin Pro 2. You don't really need to break this shoe in, but it's wobbly unless you're at speed.
The stability issues are not as extreme as they are in the Vaporfly, but they are present. This is not really a shoe to walk around in or take to the gym. Run, PR, then find your slides.
I actually had this same feeling in last year's test of the Endorphin Speed, the heel just feels a touch rounded off so it's wobbly at slower speeds when you may be more prone to be on your heel.
Lightweight, but there are lighter competitors
It's lightweight, but it could be lighter. I can't believe I am even complaining about a 7.6 ounce (215g) shoe, but: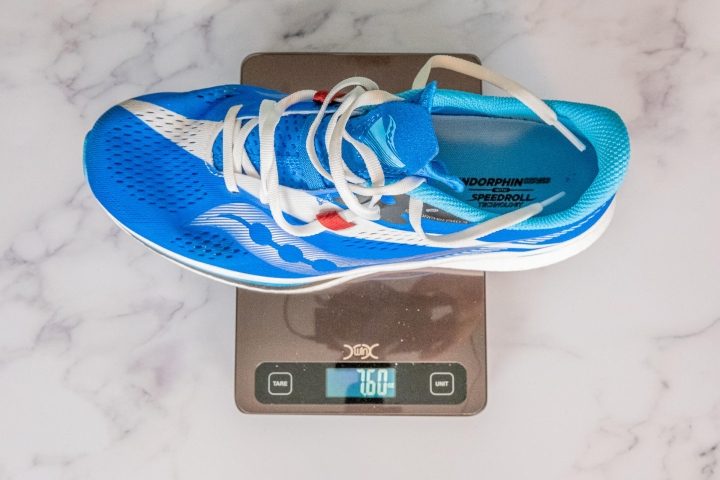 However there's more outsole on the Endorphin Pro, and it has a gusseted tongue and a bit more padding in the ankle collar, so there are tradeoffs. This is a bit more comfortable than the competition but it took a little weight penalty for it.
Durable, for a race shoe
Like any race shoe, durability is not the focus. The Endorphin Pro 2 does have a pretty robust 2.85mm rubber outsole front and rear which is also not overly soft at 71HC (the average is 78.5HC), but I'm just not sold on the durability of the PB midsole yet.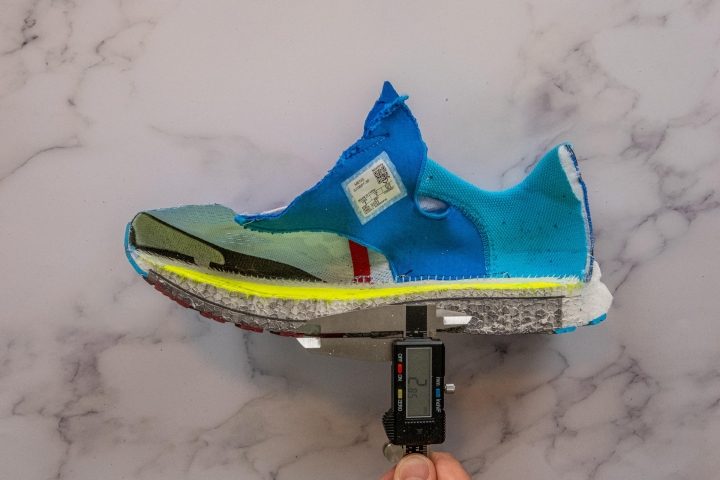 There's a lot exposed underfoot, and it seems too much like styrofoam to me and I just think it's going to pack out quickly, fall apart, or vanish into thin air.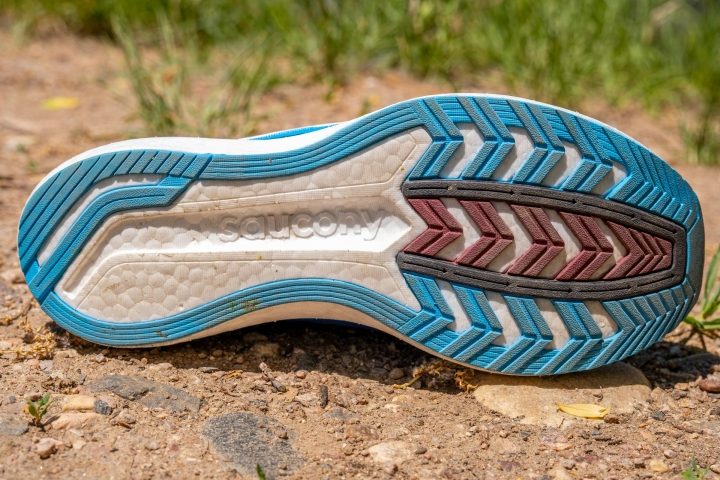 I'm pigeon-toed, and I rub my shoes from time to time, and in my test, I easily cut one shoe's midsole with the other shoe pretty deeply. My advice, keep this in the closet until race day.
No off-roading in the Endorphin Pro 2
The grip on this shoe is fine, again it's a race shoe so no off-roading in this baby, but for going straight and fast it's sufficient.
Outstanding breathability
The upper is super thin and breathable with plenty of perforations and venting. There's also no glued in foam sock liner under the insole like most shoes.
Instead, Saucony just has a mesh fabric glued to the midsole which should let heat dissipate easily through the bottom of your feet.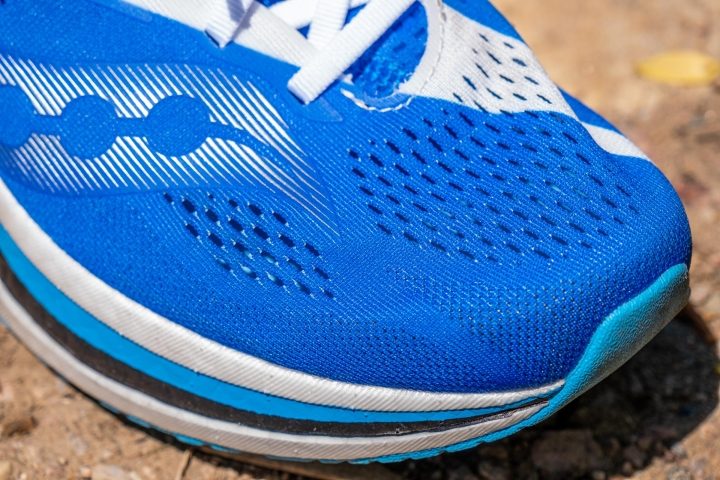 Endorphin Pro 2 has a slightly sloppy feel
Ok, the major con for me was the lockdown. I just couldn't get this shoe to not feel sloppy.
It sucks to finally have a high-performance race shoe that is wide and accommodating, and then struggle with lockdown. But, it's an issue in my opinion.
My heel didn't slide around, which is where I normally have issues. On this shoe, the problem was more in my midfoot and forefoot where I couldn't get the shoe tight enough without lace bite causing discomfort.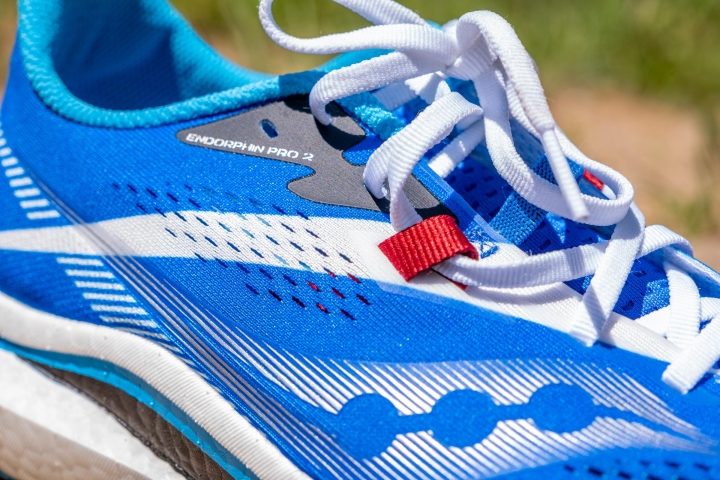 Saucony even added some webbing strips into the lacing pattern on V2 to help with this, but it's just not enough. I want to blame most of it on a simple fix, better laces that have zero stretch, but it may be more than that.
Heel lock was fine though. Although the shoe felt sloppy at times, it was mostly in the forefoot. The soft, flexible heel locked down fine for me.
In the end, the shoe just has a lot of volume and a touch of flex in the upper which adds to the appealing comfort of the shoe, but it annoyed me that while I was hitting a 5 minute pace I was paying attention to how the shoe fit rather than my run.
Don't race at night
One thing to note, there are not really any reflective elements on the Endorphin Pro 2. It is a race shoe, and there are not a ton of night races out on the open roads, but if you plan to train during off-hours beware.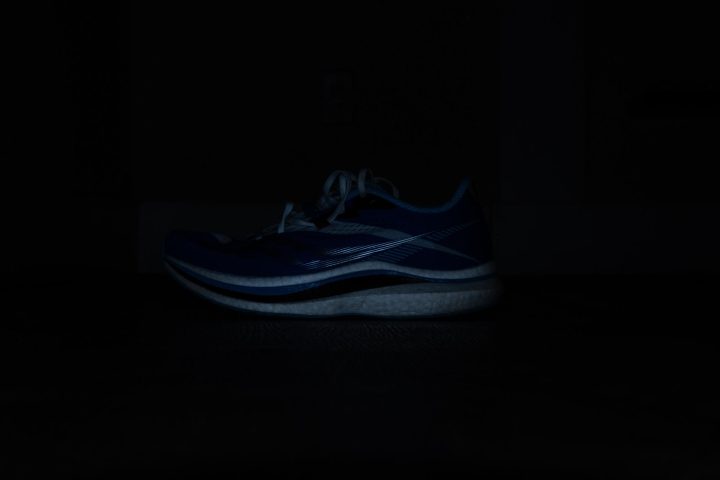 Conclusion
I really want to love this shoe and give it the top spot in my race lineup, I tend to really enjoy Saucony shoes, but the fit issues and slight instability keep it from overtaking the MetaSpeed.
These two shoes (the Endorphin Pro 2 and the MetaSpeed Sky) feel surprisingly very similar in their performance and gait though, but my choice still goes to the ASICS overall.
One vote I will give the Saucony over its direct competitors is at $200 it's quite a bit less than other high-end, carbon-plated race shoes.
In the end, I think it will just come down to fit. I think picking either of these two models gets you one of the best shoes on the market in this category.
Complete lab-specs overview
Saucony Endorphin Pro 2
Average
Whole shoe

Weight (g)

215

269.2

Drop (mm)
10

7.9

Flexibility of the shoe (N)

94.3

36.8

Flexibility of the shoe (Freezer 20 min) (N)

103.4

53.6

Flexibility of the shoe (% of change)

9.65%

54.57%

Lace slip test with the knot (N)

21.2

25.2

Longitudinal flexibility (1-5 scale, 5 being the stiffest)

5

2.9

Torsional flexibility (1-5 scale, 5 being the stiffest)

5

3.0

Upper

Thickness - Tongue (mm)

0.7

5.4

Width Upper - Forefoot (mm)

97.8

98.7

Width Upper - Heel (mm)

66.1

76.0

Lace Stretch (1-5 scale, 5 being the most stretchy)

3

2.2
Flexibility of the heel counter (1-5 scale, 5 being the stiffest)
1
2.2
Tongue: gusset type

both sides (semi)

-

Heel: pull tab

none

-

Midsole

Width Midsole - Forefoot (mm)

107.7

112.7

Width Midsole - Heel (mm)

84.2

89.1

Stack - Forefoot with insole (mm)

25.8

24.9

Stack - Heel with insole (mm)

35.8

32.8

Durometer Midsole Heel (Room temperature) (HA)

25.5

24.0

Outsole

Outsole thickness (Heel) (mm)

2.8

3.8

Lugs Depth (mm)

N/A

3.1

Durometer Outsole Heel (Room temperature) (HC)

71.0

78.5

Insole
Insole Heel Thickness (mm)

4.1

4.5

Insole: removable

yes