In this version number 3, the Saucony Endorphin Shift loses a bit of speed but gains much more in comfort and protection. It's a great daily performance trainer that's able to shine on both easy days and when you need to push harder. Sure, it's massive, but also surprisingly light on foot, stable, and versatile. And as a testament to its quality, runners who tried it struggled to find something that needs to be changed.
Pros
Light for a maximal shoe
Comfy and secure upper
Softer than before
Surprisingly stable
Very versatile
Protective underfoot
Above average durability
Doubles as a sneaker
Cons
Very big
Not for wide feet
Who should buy Saucony Endorphin Shift 3
Whether you are an entry-level or an advanced runner, you can really enjoy this neutral daily trainer, provided that you have normal or narrow feet and like maximal cushioning and big shoes. Its versatility makes it the only shoe you might need if most of your running is spent between easy and tempo runs.
Who should not buy it
Don't get it if you love more ground feel and less cumbersome shoes, try the Saucony Kinvara 13 instead. If you have wide feet, check out the Saucony Ride 14, it's a better choice in that case.
Saucony Endorphin Shift 3 vs. Shift 2
According to those who tested it, there have been some significant updates from the previous version. The Endorphin Shift 3 is 0.9oz (26g) lighter, softer underfoot, slightly more flexible, has 2mm more cushioning, and as a runner said, " it just feels so much better."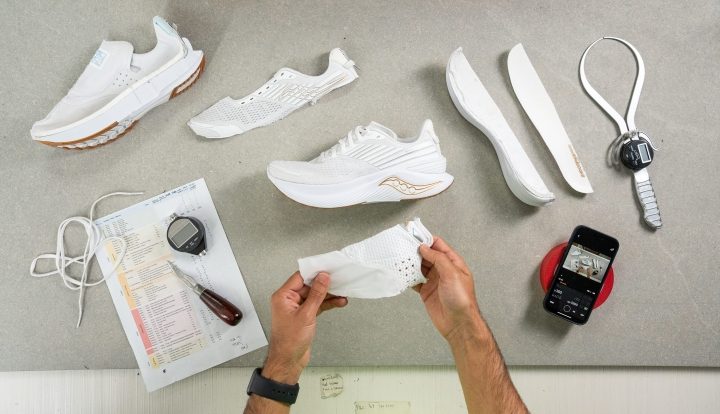 Airy, thin upper
This part is described by reviewers as being quite unstructured, very breathable, and comfortable. A tester said it's "a very well-done upper" that "kept things cool and comfortable through the forefoot."
See how easily the light passes through the shoe's toebox. It appears as if the mesh is 100% transparent.
This Saucony shoe hugs your feet
As a tester put it, this shoe "fits really well," while another runner added that "the fit is top-notch."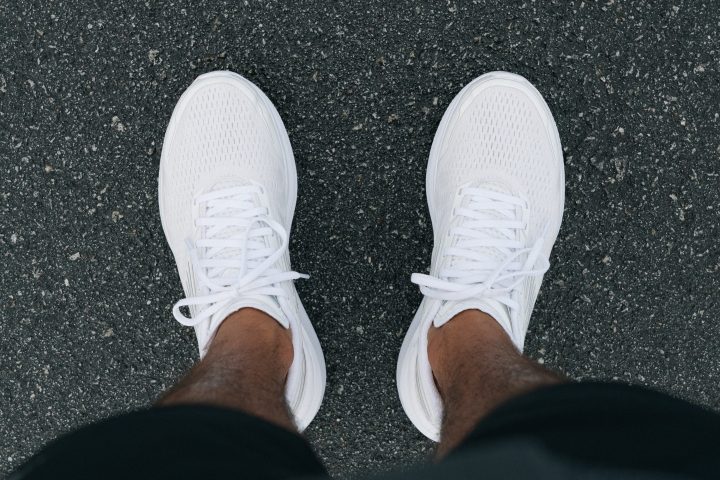 It's best for normal-to-narrow feet, but as reported by an expert, the upper can adapt and accommodate slightly wider feet too. Keep in mind, there was only one report of this kind.
Fact check
Based on our measurements, the toebox is 94.2 mm at its widest part which is 4 mm narrower than the average. So it cannot be referred to as wide-foot friendly.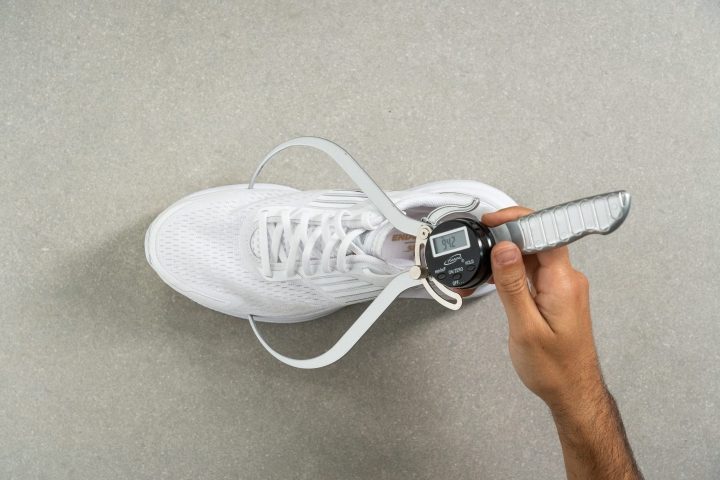 It also features a gusseted tongue which makes a positive impact on the locked-in fit.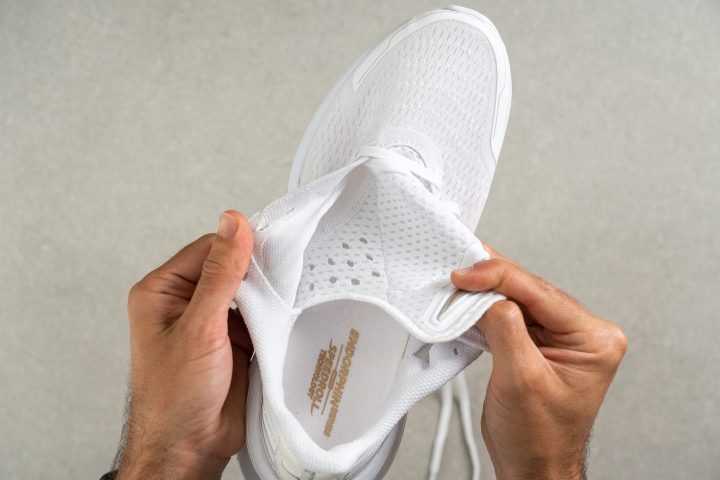 In addition, there is a moderately stiff heel counter that secures the ankle. We gave it 3/5 in our assessment. There have been no reports of heel slippage.
Pushes you forward
The Endorphin Shift 3 has a highly rockered geometry that helps propel the feet.
Runners pointed out that this technology:
"cruises through your stride"
"gives you a pretty solid rolling-forward feeling"
"performs incredibly well."
The rolling sensation is in part provided by the shoe's rocker design and a rather stiff forefoot. The Shift 3 is 30% stiffer than running shoes on average.
This Endorphin can handle it all
With a massive stack and slightly soft cushioning, this is a "gentle giant" that's perfect for slow-paced runs. But as a tester noticed, it "can easily perform multiple duties," and be at ease on faster paces like uptempo efforts, and even very long workouts.
An experienced runner put it perfectly: it's a Saucony running shoe "for the runs that we say will be easy (and should be) but always end up too fast."
Fact check
The shoe has a "massive" stack indeed. In the heel, it is 39.6 mm which is 7 mm taller than the average and makes it one of the thickest midsoles on our list.
Disclaimer: Our stack measurements include the shoe's insole too. On the Endorphin Shift 3, the insole is 6.9 mm thick which also happens to be 2.4 mm thicker than the average.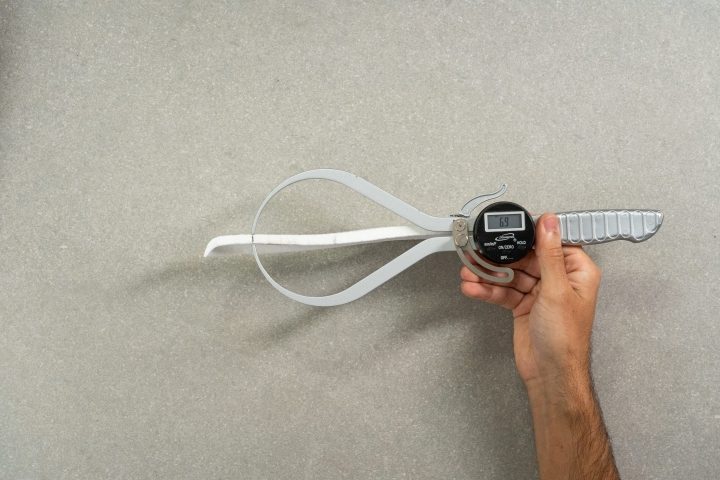 Fact check
What the reviewers referred to as "slightly soft" cushioning turned out to be softer than average, based on our durometer measurements. It is 20% plusher, to be specific.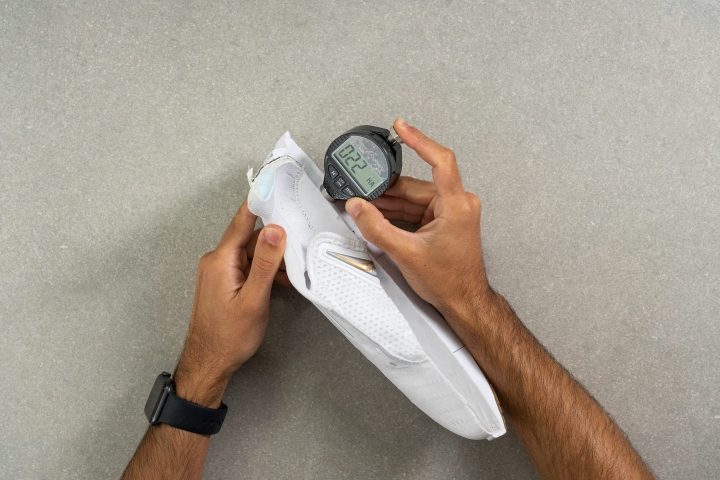 Disclaimer: The photo shows 1 out of 5 takes that we made with a durometer. We always measure the softness five times to ensure accuracy.
And if you are planning to take the Saucony Endorphin Shift 3 out on a chilly day, keep in mind that the foam will get a bit firmer and will require some breaking in. We kept the shoe in the freezer for minutes and the cushion got 38.6% denser.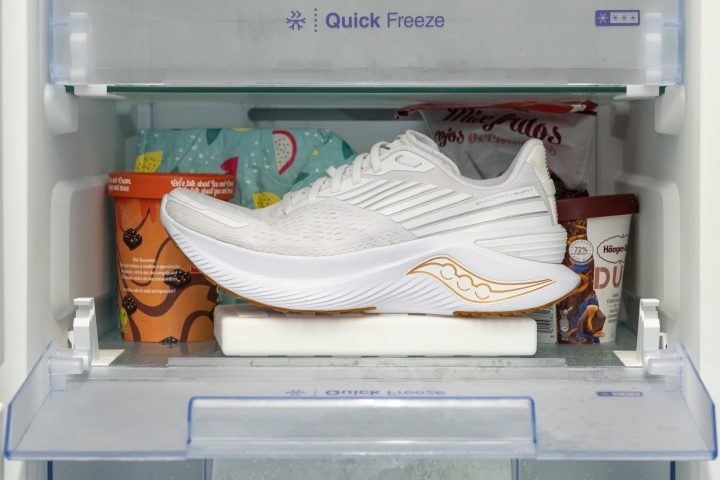 The usual, reliable traction
Experts agreed when it came to the outsole of the Shift 3 and said that, despite not being anything fancy, it gets the job done and provides a good grip most of the time.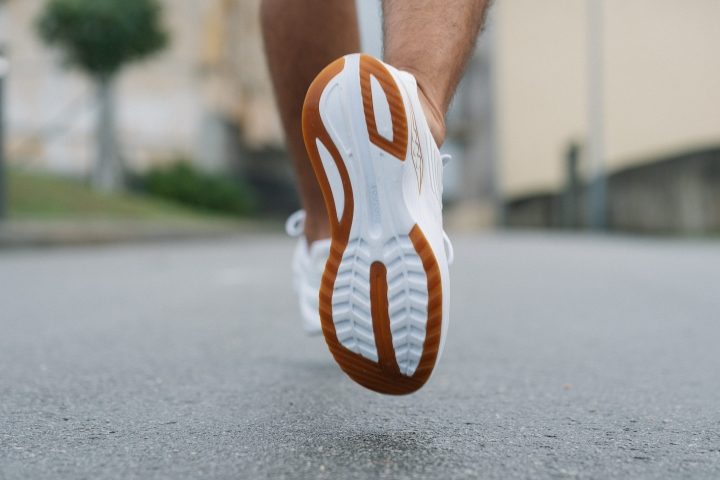 Feels light when running
Weighing 9.4oz (266g) the Shift 3 is close to the average weight for a road running shoe (9.6oz or 273g). However, runners said that it feels lighter than expected and that the weight drop from version 2 makes it "far easier to turn the legs over."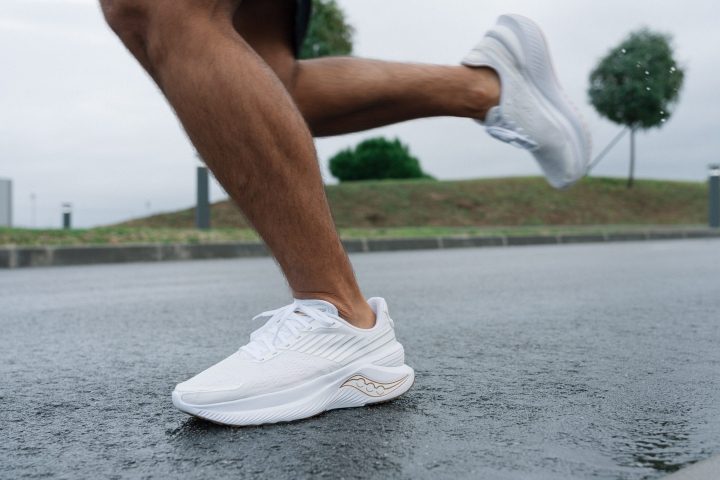 Saucony Endorphin Shift 3 is for every situation
The softer midsole, combined with a well-crafted upper, make the shoe ideal for casual wearing too. As a runner said, she wore the Shift 3 all day "with no regrets. It's just that comfortable."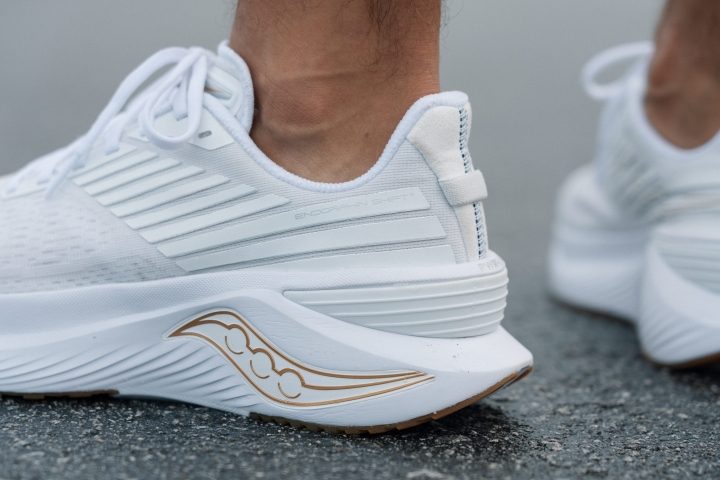 The stability you wouldn't expect
As an expert said, despite its height, the shoe "runs pretty stable throughout." This is thanks to a wide platform, and to the sidewalls around the heel and in the midfoot that combined together work very well. Ultimately, "you don't feel like you are on an unstable marshmallow."
Fact check
The shoe really has a nice and wide platform in both the forefoot and the heel. It is 110.8 mm in the forefoot (only 1 mm narrower than the average) but 93 mm in the heel (4.2 mm WIDER than average).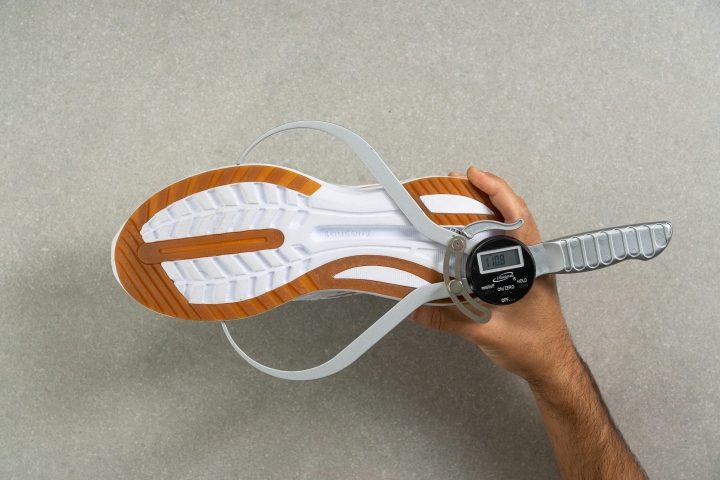 Another contributing factor is how rigid the shoe is when bent and twisted. We assessed the Shift 3's longitudinal flexibility as 4/5 and its torsional flexibility as 3/5 (where 5 is the stiffest).
This is what makes the Endorphin Shift 3 feel quite stable for a neutral shoe.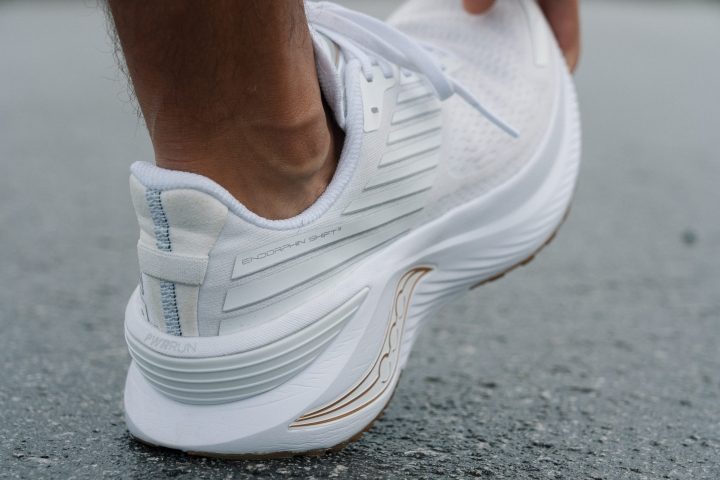 Lacing up is not an issue in the Endorphin Shift 3
No issues were reported regarding the laces and the lockdown of the shoe. Testers were able to quickly achieve a secure fit:
"very easy and very smooth"
"I felt locked in into the shoe"
it "does an excellent job of locking your foot."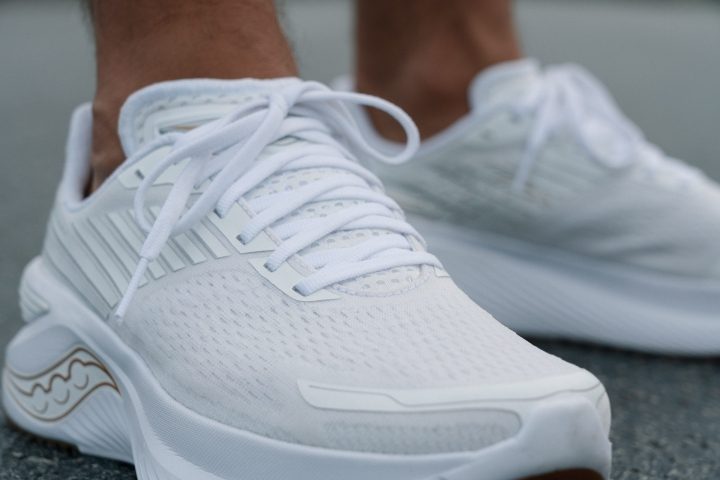 No need to replace it soon
As with previous iterations, this new Saucony Endorphin shoe is long-lasting, mainly due to a firm rubber on the outsole, that does not wear out quickly. After over 60 miles, a tester can confidently say that "the durability has been great."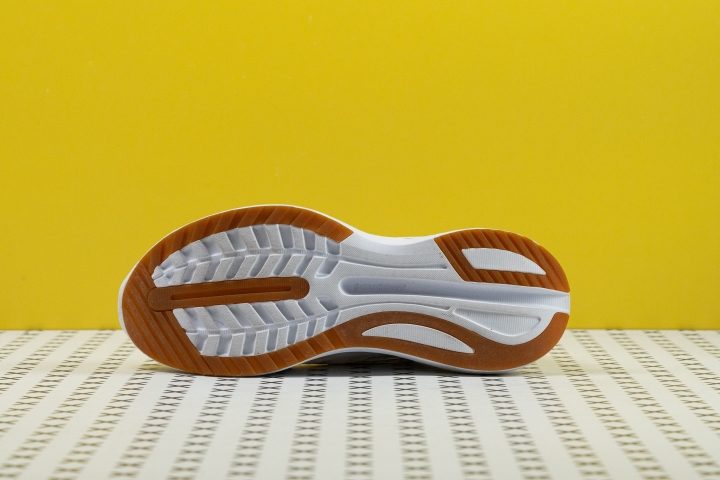 Pricey, yet worth it
At $150 this is clearly not a cheap shoe (the average for a running shoe is $123), yet runners who tried it on pointed out that for what it offers, and given the prices of some shoes nowadays, it's quite reasonable.
A tester had no doubts about this: it's "a big thumbs up from me."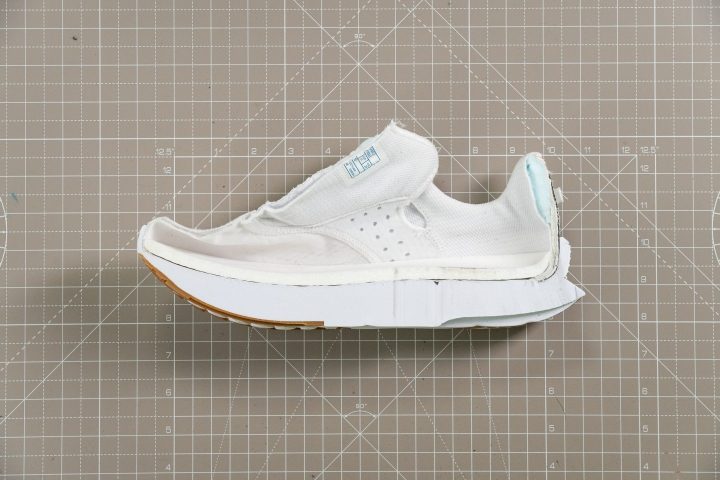 Attractive look
Runners loved the colors of this shoe. An expert said that the all-white version is "slick," and it "looks crisp and clean." Another experienced runner added that it is "capital B-E-A-utiful. I love these colorways."