Looking to build a perfect 3-shoe running lineup? Look no further! The Saucony Endorphin line has it all, the race-ready Pro, the tempo-day Speed, and the daily trainer in this, the Endorphin Shift 2. It's built around a rockered design, with a tall stack and stiff midsole it effortlessly rolls through your stride giving your legs time to recover from your faster-paced workouts. The upper is highly breathable too!.
Pros
Rockered design
Great lockdown
Breathable
Comfortable
Stable
Smooth transitions
True to size
Saucony Endorphin Shift 2 review and lab test
The Endorphin lineup got insane praise last year, their first year on the scene, and it was due the respect it got.
The three-shoe set is simple for customers to understand if you want to build a fully rounded lineup. The Shift for easy runs. The Speed for tempos and workouts. And the Endorphin Pro for race day.
Many people put the Pro and the Speed at the top of the list for speed shoes, I myself lauded the Endorphin Speed, as one of the best shoes of the year last year, minus some heel stability issues it has.
The odd duck out last year for me was the Endorphin Shift. I didn't test this shoe last year because after the Speed, what did I need to see from a significantly heavier, EVA midsole version in the group.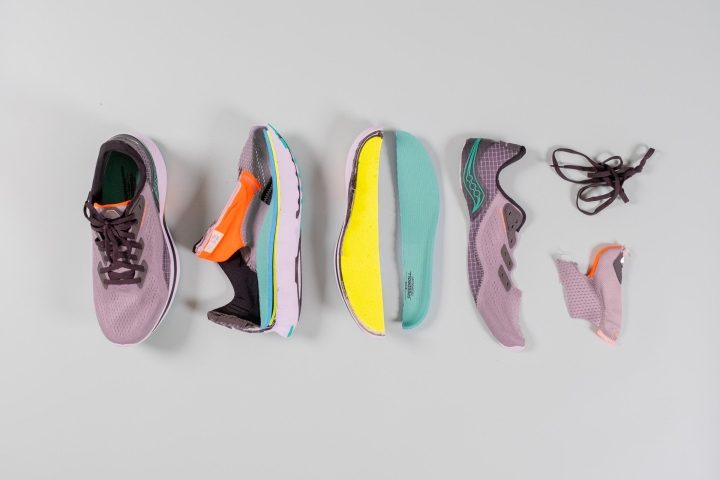 But it has arrived on my desk, and there's an argument to be made for adding this daily trainer to your rotation if you are already a Speed and Pro runner.
Dive in and see why.
Who should buy the Saucony Endorphin Shift 2
Buy the Endorphin Shift 2 if you are looking for a daily trainer to round out your Saucony lineup. It's efficient, stable, and enjoyable to run your long, slow days in.
It makes a great pair to the Endorphin Pro 2 or Speed 2 and has the durability to go hundreds of miles so you can save your spendy Pros for race day.
It works for just about any runner too, falling between a neutral shoe and a stability shoe with some slight arch support. Don't worry, if you don't require the support you may not even notice it's there.
Who should not buy it
Don't buy the Endorphin Shift 2 if:
You are a one-shoe pony. I think the Endorphin Speed 2 is more versatile and more fun to run if you have to pick just one.
You want soft and plush, this is not the daily trainer for you. Check out the Triumph 19 instead. Also in INDY flag colorways!
If you're looking to go fast. Obviously, pick the Pro 2 if racing is your sport.
Ultimately this is an auxiliary shoe, it's a 3rd in a great lineup, but the Speed or the Triumph would honestly be my picks for a daily trainer pair to my race shoes if I were to be picking.
Great Saucony fit
The Endorphin Shift 2 fits great. I love how most Sauconys fit. This is no exception. It's very comfy on the foot. The upper stretches and hugs your foot nicely.
There's plenty of room in the toe box for those with wider feet too.
And of course, I like the gusseted tongue over the midfoot. All shoes should have a gusseted tongue in my opinion and Saucony did it well on this shoe, nice and stretchy and unobtrusive.
I had no slip issues in the heel either. There's a touch less padding in the ankle collar for v2 and as in v1 they feature an external heel clutch which is interesting compared to the more modern internal stiffeners. The heel clutch has changed shape a touch from v1, but it performs the same, adding just enough stability and rigidity to the back of the shoe.
Surprisingly this heel is not as stiff as some shoes out there like the Triumph 19, even with its external heel counter, which I actually like since people with narrow heels like me, tend to find super-stiff heel counters sloppy and ill-fitting.
Enjoyable but not comfortable perse
Although the shoe fits well, I would not say it's overly comfy.
I want to be clear here, the upper and fit are comfortable (there is a nice average 4.2mm insole and a heavily padded 7.5mm tongue which does add some comfort inside the shoe), but the shoe is stiff and not soft or bouncy.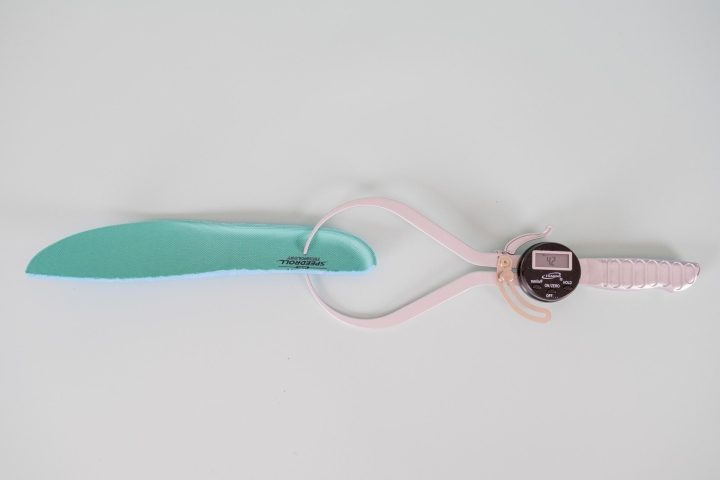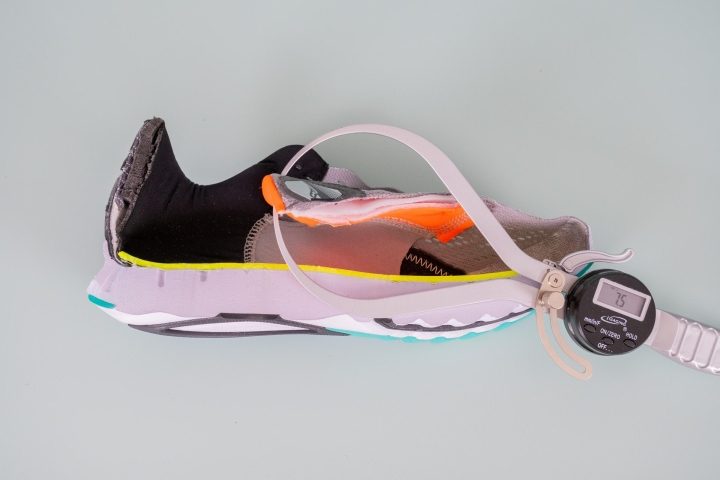 It doesn't evoke visions of running on clouds like the Skechers Max Road 4+ Hyper, or make me proclaim they are like spas for your legs like the Hoka Clifton 7.
These other daily trainers focus on plush foams to bathe your feet and legs in comfort for long runs or recovery runs.
The Shift 2 takes a different approach. They use a rockered design which I'll talk about in the next section.
Ultimately though, these are not slippers, they are finely crafted clogs, and I mean that in the best, performance clog type of way!
Endorphin Shift 2 all about the rocker
Ok back to the rocker. This is the main design feature of the Shift 2. Instead of relying on soft foams for comfort, or bouncy foams and nylon or carbon plates for propulsion, they rely on runners rolling efficiently through their stride on a stiff, rounded midsole.
It works too. They are enjoyable to run in. They are efficient and the rocker takes most of the pounding and impact out of your runs. But to do that they need to be stiff, which usually means heavy…
There really is no flex in this shoe, so be ready for a slight adjustment to this style of running if you've never run in a rockered shoe. It reminds me a lot of the MBT Hurrican or the old Skechers Shape-Ups, but in a better, more modern, and sexy way.
They also have a very tall stack at 37.3mm in the heel and 33mm in the forefoot (Average shoes are 32.7mm/24.6mm). They feel tall, and tall usually mean unstable, but again thanks to its rockered design and low 4.3mm drop, they efficiently roll through your gait without stability issues.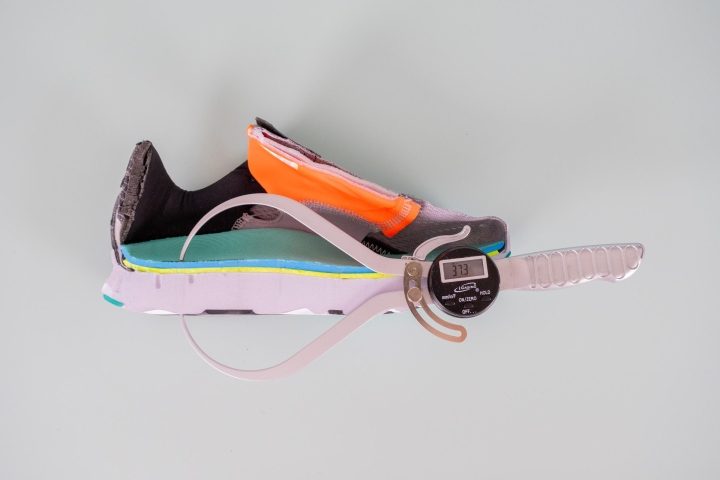 On our flex test, they scored 60.4N, nearly triple the average of 22.9N, and the foam density on the Shift 2 is 27HA on the durometer also above the average of 22.4 clearly putting this shoe in the very stiff category.
Surprisingly breathable for a heavy shoe
Most heavy shoes are heavy because all the added padding in the upper adds up. These don't have that problem, the weight comes mostly from the dense midsole.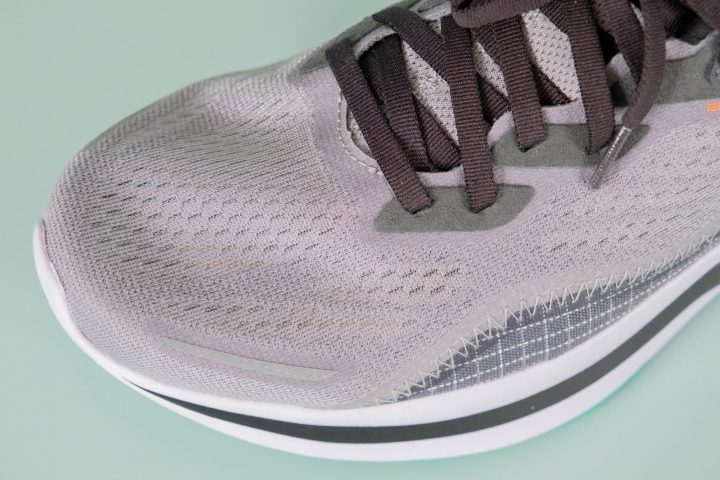 Which is a nice surprise seeing how they are pleasantly breathable in their well-ventilated and thin mesh upper.
Stiff means heavy feeling for the Shift 2
Heavy…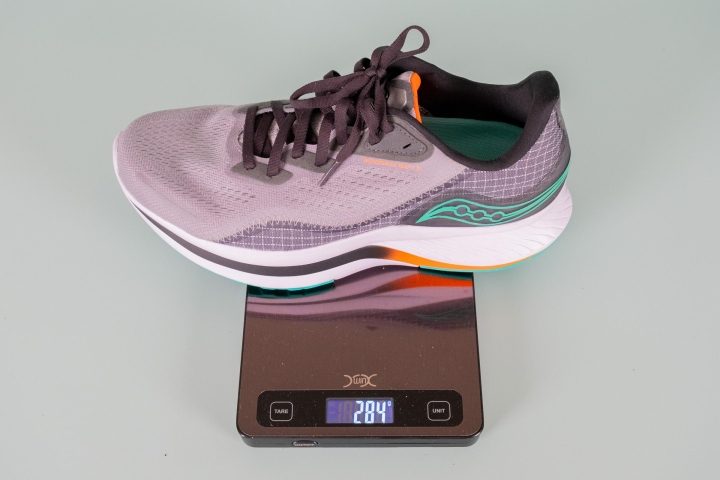 The Shift 2 weighs in at 10.0 ounces (284g) which is not technically super heavy for a road shoe in my opinion, it's not 12 ounces… But it feels heavy with its dense rockered design instead of a peppy PB springy midsole underfoot.
Unfortunately, most will test and compare this next to the Endorphin Speed 2, which help these feel like bricks.
500 miles shouldn't be a problem
Durability should not be an issue. They are built heavy-duty. Although there is minimal outsole, what is there is a nice 3.4mm thick (this is average), and hard at 91HC on the durometer (compared to 79.7HC average).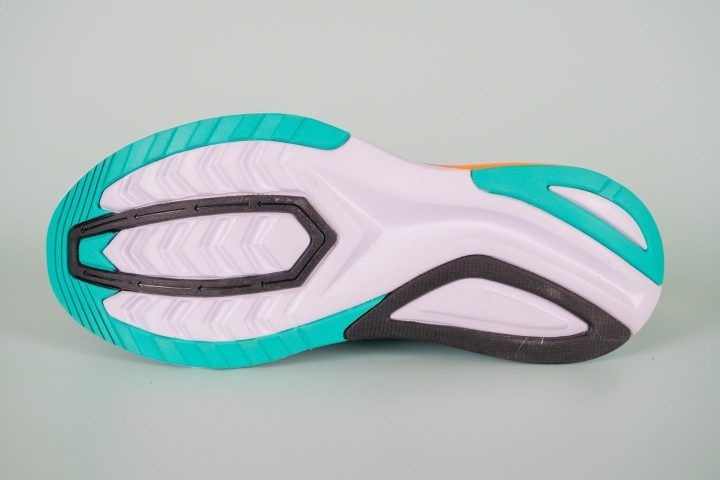 They will wear slowly and should do over 500 miles I'd think.
Adequate grip on pavement
The grip was adequate for road running, but these should not go off the tarmac as there really is no siping or road lugs on this outsole.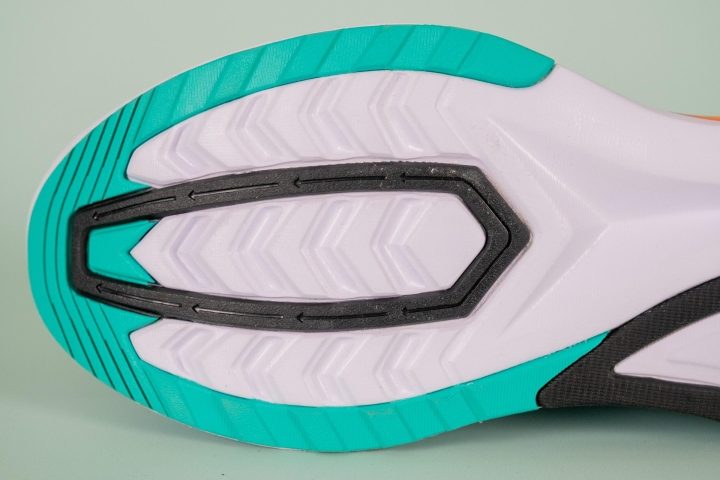 Pull tabs!
One gripe, even though I didn't test v1 last year, they did have some features I liked, specifically 2 well-placed pull tabs on the heel and tongue to help don the shoe. But these were removed!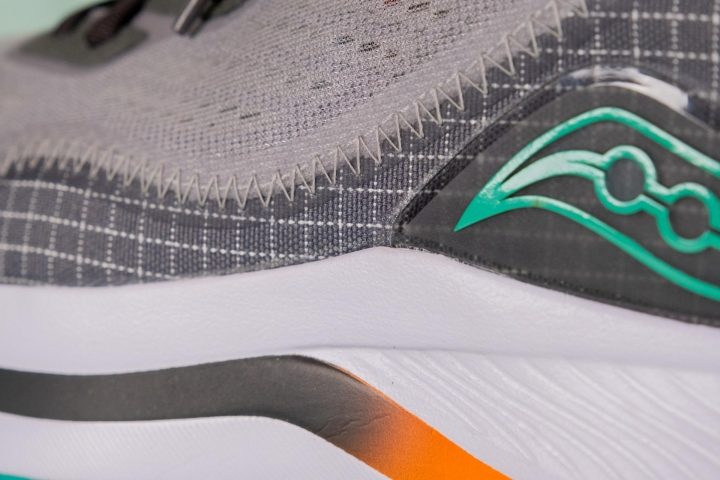 It's a bummer when small details like this are taken out. I know they are not needed, but they were a nice feature, and let's be honest, they weren't removed for weight concerns.
No running in the dark
No reflective elements mean you shouldn't run in the low light or dark in these. Too bad since recovery runs can take a long time and may tip into even hours.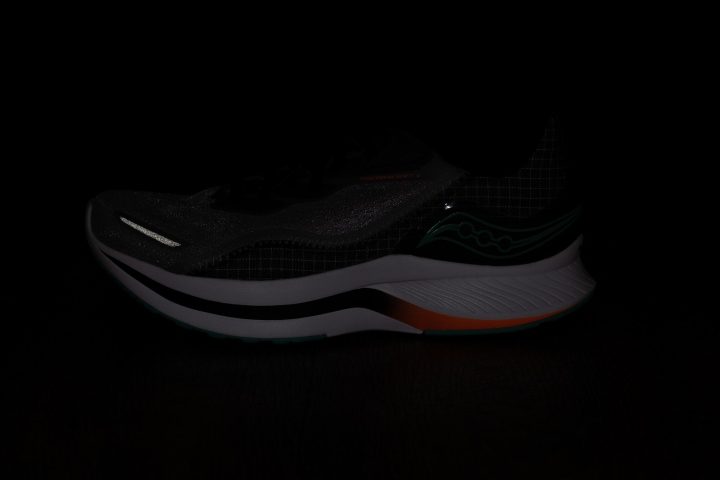 Conclusion
I think the Shift 2 looks pretty cool. I like the updated design (not the checkered flag) but the ripstop fabric look on the test pair I got, and I can see the shoe's purpose as a 3rd shoe in an all-Saucony rotation.
But for me, it's just too stiff. There really isn't any response out of this shoe, it relies on the rocker to get through your stride, and the Endorphin Speed 2 is so good, I just don't know when I would want to pull this shoe out instead of that one, even on recovery days…