A speed trainer and a race day shoe? Take both in the Endorphin Speed 2. After pacing it through, this shoe proved itself a star in speed, responsiveness, and durability. It literally sends the runner flying through the blocks! Even better, it's unlike any speed-oriented shoes - it doesn't forgo comfort in favor of lightness and agility!
Pros
Fun, peppy ride
Runs like a race shoe
Lightweight
Plenty breathable
Smooth rockered transitions
Great lockdown
2 pairs of laces
One shoe Race, Tempo, Trainer
More flexible than other carbon-plated shoes
Reflective detail for night runs
Easy to put on (pull tab on the tongue and heel)
Cons
Learning curve needed for heel strikers or slower paces
Slipper on wet surfaces
Saucony Endorphin Speed 2 review and lab test
Hands down, this shoe rocks!
Not much has changed from the Endorphin Speed to the Endorphin Speed 2 and that's a good thing. This tempo day, speed trainer didn't need a lot of updates.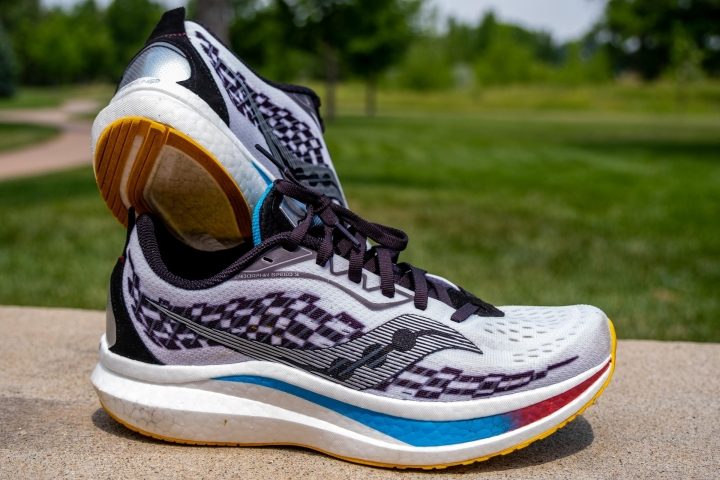 It's built as a training complement to its race sibling the Endorphin Pro 2, but honestly, the Speed 2 can be a stand-alone shoe that's race capable and durable enough for daily abuse.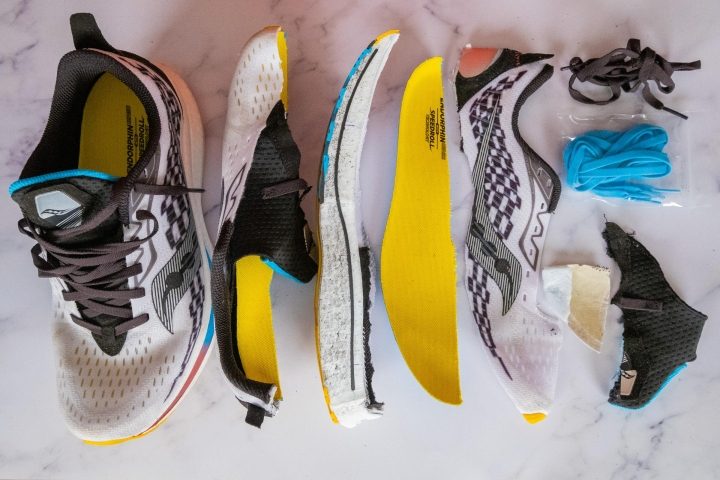 Who should buy the Saucony Endorphin Speed 2
Buy this shoe if you want a lightweight trainer with a bouncy, responsive ride that's quick enough for race days, but comfortable and durable enough for daily training runs.
If you're on a budget and want one shoe that can do it all, instead of 2-3 shoes that cover your training needs, the Endorphin Speed 2 is for you.
Who should not buy it
Don't buy this shoe if:
You want an elite-level race shoe. Check out the Endorphin Pro 2 or the ASICS MetaSpeed Sky instead
If you have super wide feet. Spend the $40 more and go with the Pro 2 for a slightly wider fit.
If you're a heel striker. This shoe has a wobbly platform unless you're on your toes. Check out the Hoka Rocket X instead.
Endorphin Speed 2 narrower than Pro 2
The Endorphin Speed 2 is true to size but does seem to run a bit narrow in the upper. I tested this back to back with the Pro 2 which surprisingly had a very roomy upper, almost too roomy.
Oddly the Speed 2 measures 109.2mm wide in the forefoot and 85mm in the heel, which is slightly wider than the Pro 2 at 107.7mm and 84.2mm. But the upper on the Speed 2 is plusher and a bit thicker, which gives it a more constricting feel that requires some break-in time for anyone with an above-average width foot.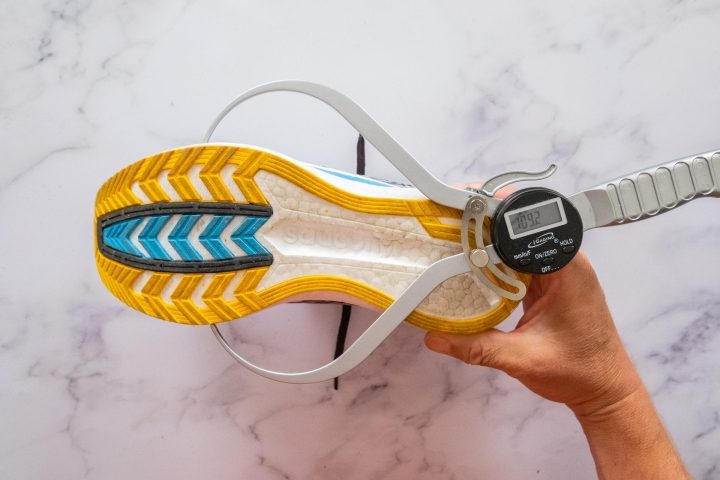 Better gussets and better comfort
The comfort on the Speed 2 is fantastic. It's got just enough padding to make it enjoyable for longer efforts but not so much that it begins to tip the scales into a negative territory.
One change I really appreciate is the update to the gusseted tongue. Saucony moved the connection point on the thin semi-gussets forward about an inch. I had a complaint in V1 about them feeling a bit too far back, which made them somewhat obsolete. Thanks for watching my YouTube review Saucony and taking my brilliant advice.
The gusset material is also a bit stretchier which I really like, bravo!
The tongue on the shoe is padded, which makes it more comfortable than its race sibling, and although the upper is a bit plusher, it's still plenty breathable.
The Endorphin Speed runs like a race shoe
Don't be fooled that Saucony placed the Endorphin Speed 2 in the middle of their 3-shoe Endorphin lineup. Even though this is technically a trainer, it's really a speed shoe built for tempo runs and even race day.
It has a nylon plate which offers a similar experience to a carbon-plate shoe but is a bit more flexible underfoot. It's a great intro to plated shoes and honestly, not everyone needs the extreme response offered by a carbon plate.
For comparison, the Speed 2 measures in at 39.6N on our flex test, so just above the average of 37.2N, but the Pro 2 with its carbon plate clocked 94.3N, which is significantly stiffer underfoot.
One other small difference I noticed between the Speed and the Pro was the midsole feels a bit thicker underfoot on the speed, and the rocker is not as noticeable. The rocker is tempered a touch making it an easier shoe to get used to if you are not used to a rockered shoe.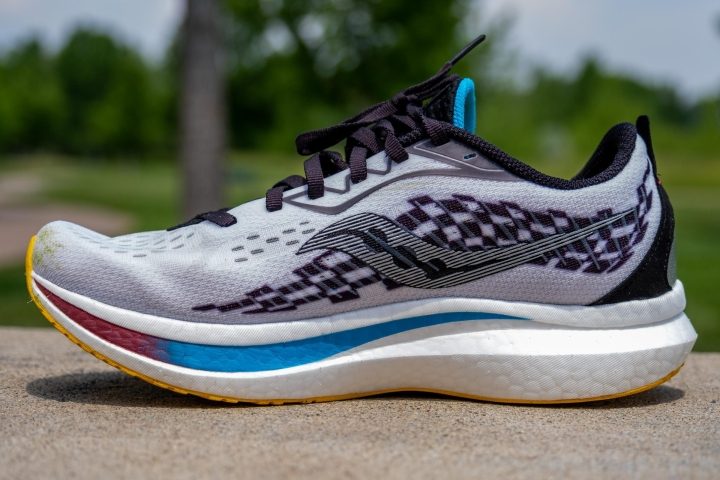 I love this midsole from Saucony too. It just feels great underfoot. It's light and responsive, it's springy but not overly bouncy, and the rockered design helps with effortless transitions.
Rocker and wobble take some getting used to
Rockered shoes like this do take some time to get used to, but after a few runs, rolling through your stride feels fantastic in this shoe.
The other thing that takes some getting used to in the Endorphin Speed 2 is its narrow heel. I had the same issue in my review of the first version of this shoe (YouTube review). If you are a heel striker or planning to run at a gentler pace in this shoe there's considerable wobble to adapt to.
The Endorphin Speed 2 is light and quick
At 8.1 ounces (229g), the Endorphin Speed 2 is surprisingly lightweight. As a training shoe, it's an incredible feat, and it's only about a half-ounce heavier than the Pro 2 which is a full-on race shoe.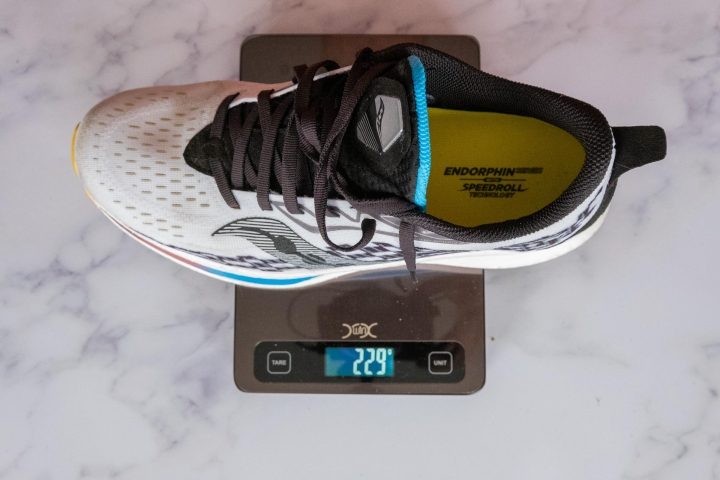 This is part of the reason this shoe could be ideal as a race shoe as well. There's not a ton of benefit to spending the money on the Pro 2 when the Speed 2 isn't far behind in most aspects.
Endorphin line still feels less durable
Durability is an issue in the Endorphin lineup, solely because there's a lot of exposed midsole and this PB midsole is still not proven in my mind for the long haul. I think this will hold up better than the Pro 2, but it's not built like a heavier trainer with a more traditional midsole and outsole like the Saucony Triumph line.
Grip could be better
The outsole is not insanely grippy but works fine out on dry roads. Just be careful on wet surfaces or if you're planning to use this shoe in the gym as the rubber is thin at only 2.9mm (compared to 3.8mm on average shoes) making it easy for the midsole to make contact with the ground which can slip easily.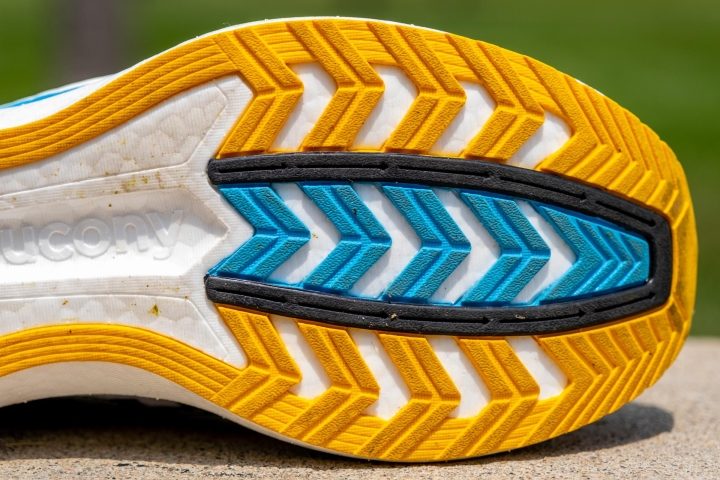 Breathability gets a thumbs up
The upper is breathable, no complaints there. It is a bit thicker than on the Pro 2 but doesn't seem to run hot by any means.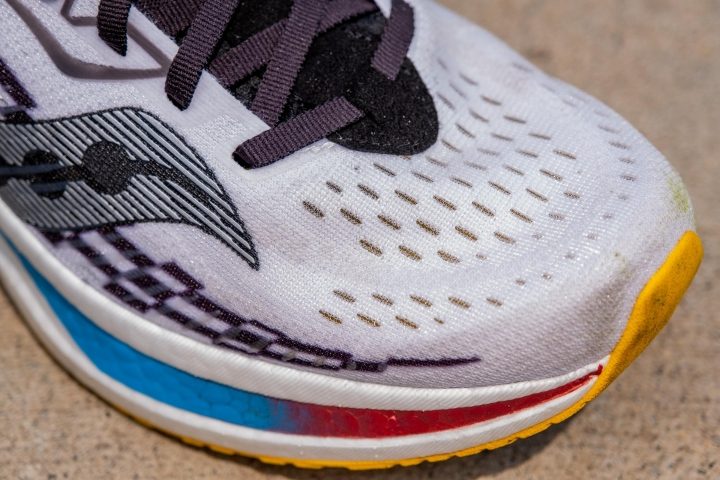 We scored it a 3 out of 5 on our breathability testing. Heat does escape nicely through the many vent perforations in the upper, but it could still be thinner material and be more breathable.
Better lock down than its racing sibling
It's snugger than the Endorphin Pro 2. I had some sloppiness in the Pro 2, maybe because the upper is a bit thinner and may flex/stretch a bit more than the Speed, but the Speed's lockdown felt better to me.
There's a bit more structure and it runs a touch narrower, solving the issues the Pro had in my tests. The Endorphin Pro's laces also cross the top of your foot one less time than they do on the Speed which could help with the Speed's advantage in lockdown.
Nice addition with extra laces
One nice thing, the Endorphin Speed 2 comes with an extra set of different colored laces in case you want to change things up a bit. It's not a big thing, but a nice detail.
Reflective from the rear
The backs of the shoes do have a small reflective patch for runs in the dark. This is a nice feature other shoes lately have been missing. Especially in the middle of the summer heat, evenings or early mornings may be the only time you can get out for a run, so I appreciate this detail.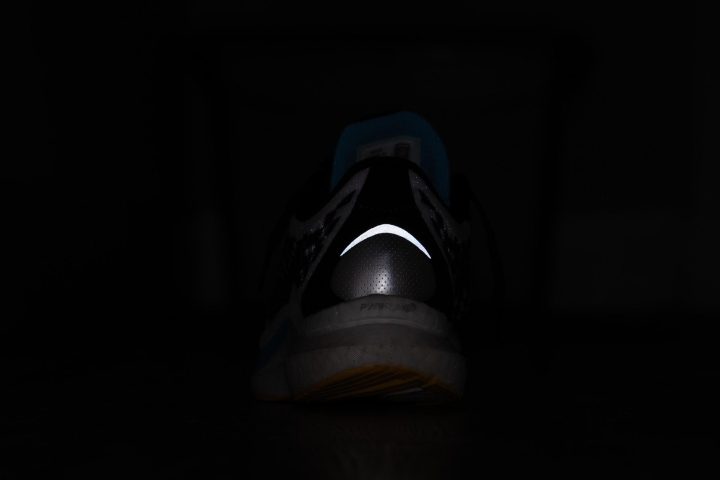 Addition of pull tabs and toe form
Saucony added a very thin pull tab on the tongue and heel to help get the shoe on and the tongue adjusted. I like this.
There's also a bit more form around the toe. This doesn't really do much but the upper is stiffer around the toe and a bit taller giving your toes a tiny bit more room over the top.
Conclusion
Honestly, this is hands down a great shoe.
I don't think most people need to go to the Endorphin Pro 2 and spend the extra money unless you really need that extra weight and speed advantage of a true race shoe.
I like that Saucony packages the Endorphin line as a complete shoe rotation but I think most people can get away with racing in the Endorphin Speed 2 and may not necessarily need a $200 race shoe sitting in their closet just for race day.
Ultimately, I'm reframing my opinion of this shoe. On V1 I called it the middle child because I didn't really see its place since for just $40 more you could get the Pro. But I've decided that this is a stand-out middle sibling instead of a shoe without a purpose. It can do it all, and unless you are a dedicated racer, you may not need the Pro 2.