When comfort is the top priority look no further than the Saucony Triumph 19. This plush, luxurious shoe is built for enjoyable cruiser runs, long runs, and recovery days thanks to its padded upper and insanely soft landing midsole. This year's
Triumph
gets a few big updates too, both losing a ton of weight and becoming nice and breathable. Your legs and feet will thank you the next time you lace up the Triumph 19!
Pros
Comfortable
Breathable
Grippy
True to size
Soft ride
Losing weight
Cons
Overly stretchy laces
Heel slip
Saucony Triumph 19 review and lab test
Saucony's long-standing comfort trainer gets an update for round 19!
The Saucony Triumph is a plush, cushioned shoe meant for recovery days, long slow days, and joyfully cruising mile after mile. It's always been all about comfort with this shoe for nearly two decades, but v19 gets a thoughtful update.
This is for sure a shoe not to ignore if you are looking for something to take the pressure off your legs and feet. It's plush, bouncy, fun to run in, and comfortable as hell.
It's not a race shoe and won't instill confidence to run lightning-fast splits, it's not the Endorphin Speed or Pro, but it's smooth as butter and consistent under every step.
The big news for v19 is it's got a completely updated upper and its diet through COVID has resulted in the loss of a full ounce of weight! Well done Saucony!!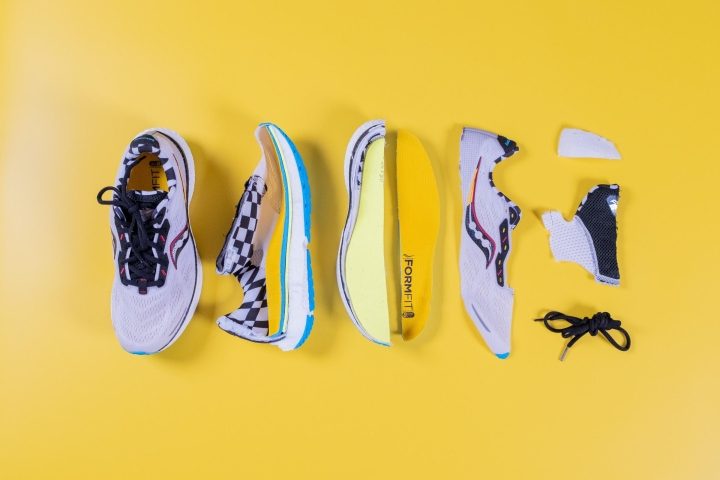 Read more to find out if you need the Triumph 19 in your lineup.
Who should buy the Saucony Triumph 19
Buy the Triumph 19 if you are looking for a recovery shoe, or a daily trainer for long cruiser runs.
If you want something that's just about comfort and ease, and not about speed this is a great option.
It's also pretty stylish and in my opinion blows its closest competition, the Brooks Glycerine 19, out of the water with a slightly more peppy ride.
Who should not buy it
Don't buy the Triumph 19 if:
What you really want is a speed shoe. This new design and colorway may look fast but check out the Endorhpin Speed 2 for fast training, they even look similar if you were buying the Triumph for its looks.
You want a light, nimble daily trainer. Check out the Kinvara 12 instead.
You want a stiff, rolling shoe instead of a softer cushioned ride. Check out the Endorphin Shift 2, it's rockered design fits that bill.
Ultimately, the Triumph 19 is about cruising. It's worthwhile in anyone's lineup, but this is not a shoe for pushing the pace, it's about active recovery and long enjoyable runs.
Fit and comfort feel amazing
The Triumph 19 fits true to size and accommodates slightly wider feet like mine nicely. The toe box has plenty of room for my toes to run happily.
The shoe is super plush, both in the upper and in the midsole, creating a very soft embrace for your feet. It feels great from day one, and hitting the road is like running on soft Kentucky Bluegrass.
The big change in v19 is the upper. The new FormFit mono mesh upper has replaced the double-layered mesh making this shoe lighter, and much more breathable than past versions without losing that luxury Triumph feel.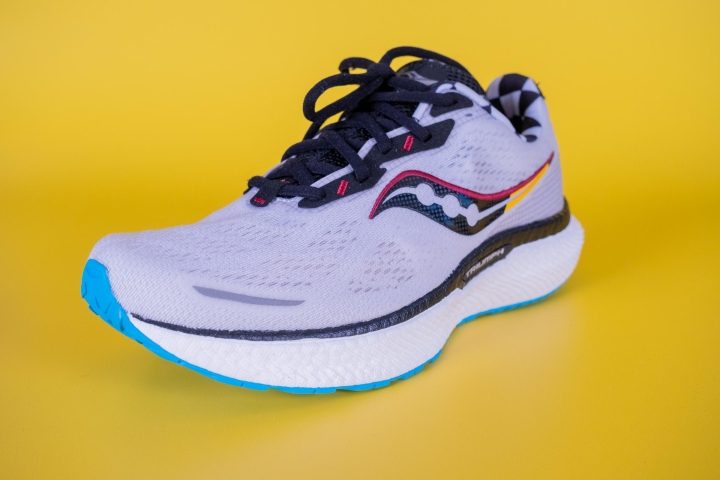 The shoe has a robust 9.5mm thick tongue (average tongues measure just 5.5mm) which is like a pillow over the top of your foot and secured with stretchy mesh gussets giving this shoe decent midfoot lockdown.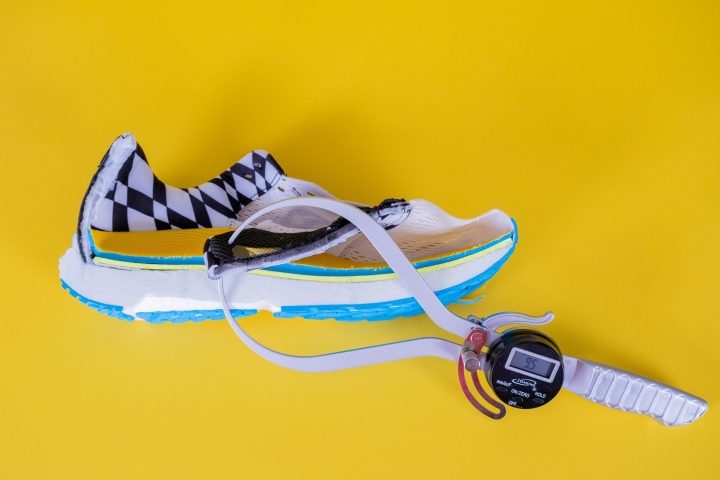 The laces are super stretchy (scoring 5 out of 5 on our stretch test). Super stretchy laces kill lockdown most of the time, but on this shoe, with its snug gusseted tongue, the stretch lace is actually a nice touch.
The laces move with your foot instead of constricting it, which felt great.
It can be a challenge to get this shoe really tight if you are aiming at superior lockdown and performance, but honestly, you probably won't be going so fast in the Triumph as to need that level of fit.
One gripe, there's a bit of heel slip thanks to the extremely stiff heel counter. I just don't love stiff heel counters, but it's amply padded and although there was some movement it didn't cause any hot spots or adverse rubbing.
Cadillac of running shoes
Ok, let's talk about the ride. The Triumph 19 has the same great midsole as the past version with its PWRRUN+ material and blown rubber outsole, which truly is a great product, glad they didn't change this.
It's smooth yet somewhat energetic. It's not overly peppy like the Endorphin. The ride feels cushy more than bouncy, but the end result is happy feet no matter how you describe it.
It has a wide, stable platform at 114.4mm under the forefoot and 90.7mm in the heel which is slightly above average (113.0mm/89.5mm).
The 34.6mm heel stack and 8.3mm of drop make this shoe ideal for heel strikers with ample padding in the rear.
Adding to the padding is a removable 4.6mm plush insole just extenuating the shoe's soft landing feel.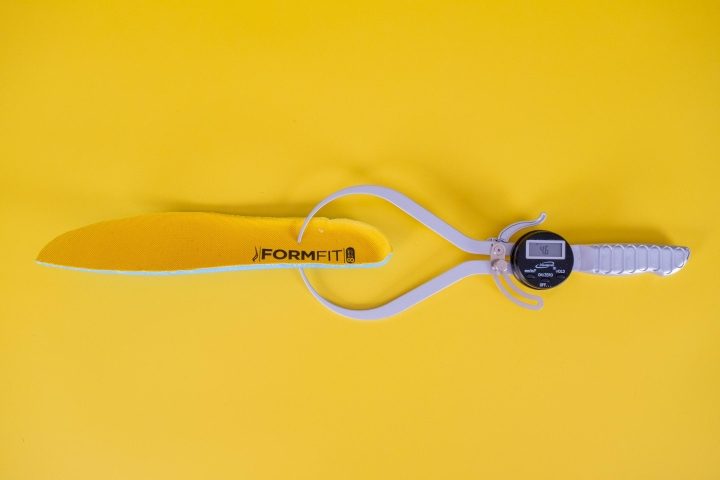 The shoe offers nice flex at 32.3N on our flex test, this puts the shoe below the average stiffness of 38.9N allowing your foot to flex through your stride, again with comfort in mind.
What a weight loss for the Triumph 19
The triumph weighs in at 10.6 ounces (300g), which is still a midweight to slightly heavy shoe in my opinion, but Saucony has seen the light that less is more and the Triumph 19 lost nearly a full ounce since version 18.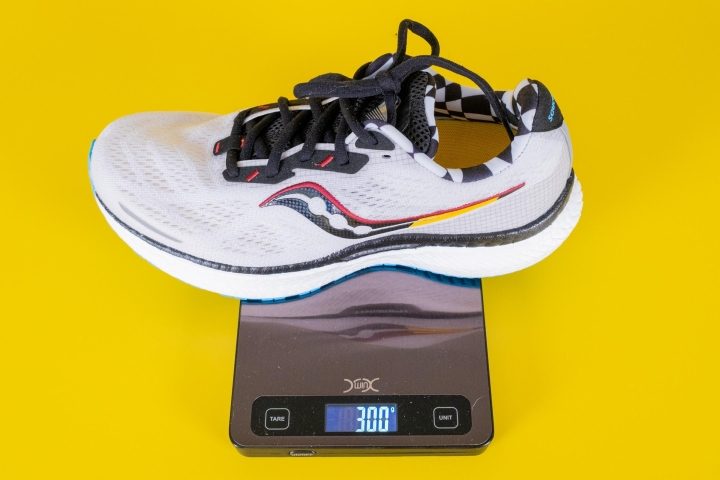 Could it lose more weight? Sure, but it's more manageable than past iterations, and even though it's technically heavier than the Endorphin Shift 2 (10 ounces) we recently reviewed, it feels lighter thanks to its peppier midsole.
Durability ok, grip great
There's a thin 1.9mm thick blown-rubber outsole which is super grippy thanks to its softer makeup. At 72.5HC it's softer than most shoes (79.7HC is average) so it may wear down quicker than other trainers.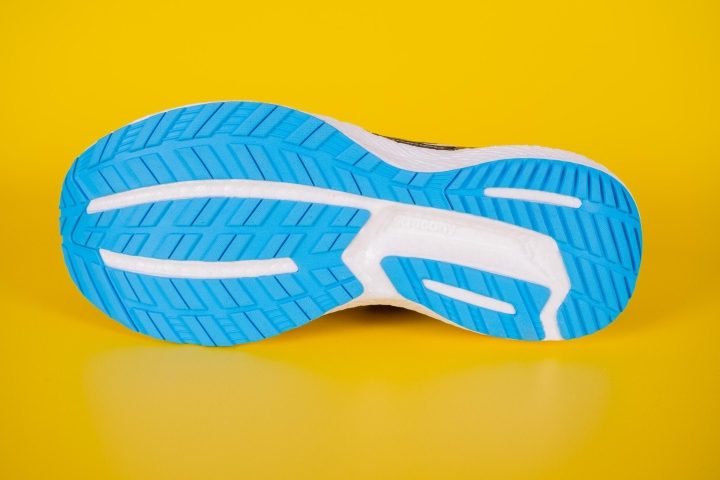 But, the shoe is plenty durable. The thick midsole is a rubberized version of the Endorphin PB product which should hold up mo problem.
Its best feature though is for a road shoe it has a lot of mini-lugs and siping which makes it ideal on a variety of terrain from tarmac to packed dirt or even gravel roads.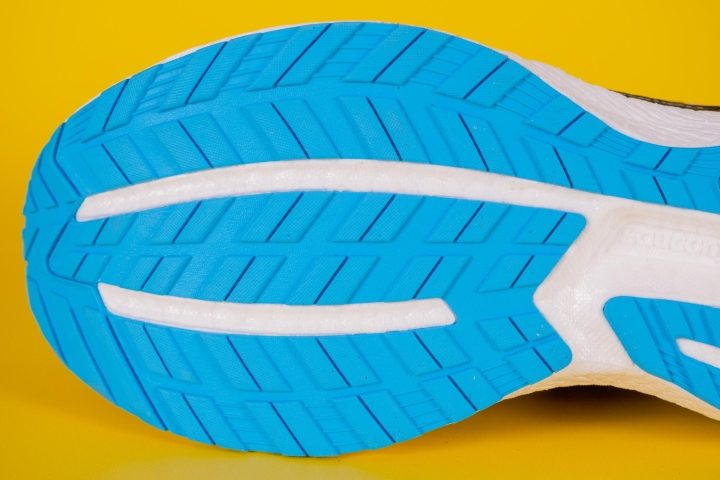 Saucony Triumph 19 nicely breathable
The update to the upper was needed. Not only did it help the shoe drop a considerable amount of weight, but it's also made the shoe more breathable.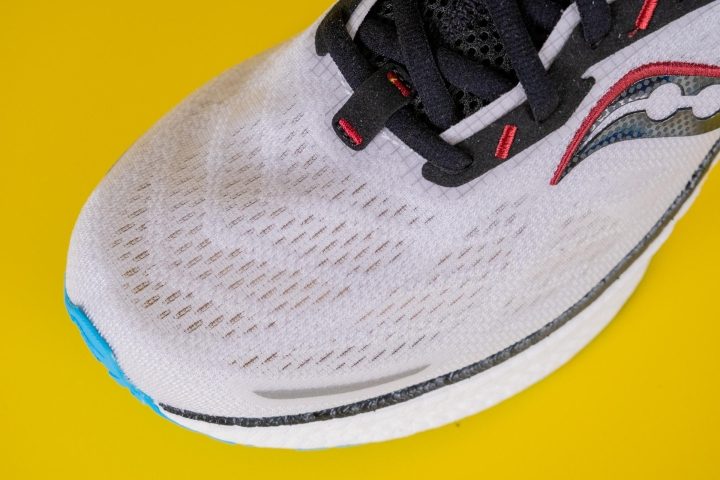 The upper material is thinner and covered with venting perforations making this shoe much more enjoyable to run in than past versions.
Extra laces for added color
The Triumph 19 comes with a second set of colorful yellow laces if you want a bit more pizzaz. Not a big deal, but a nice touch.
Thumbs up for night running
For those doing long training days that possibly start or end in the dark, there's a great reflective strip on the heel of this shoe that lights up brightly when needed, keeping you safer in low light.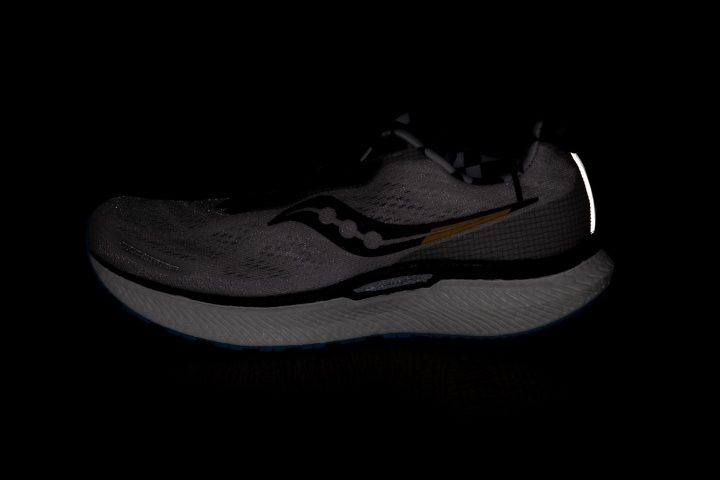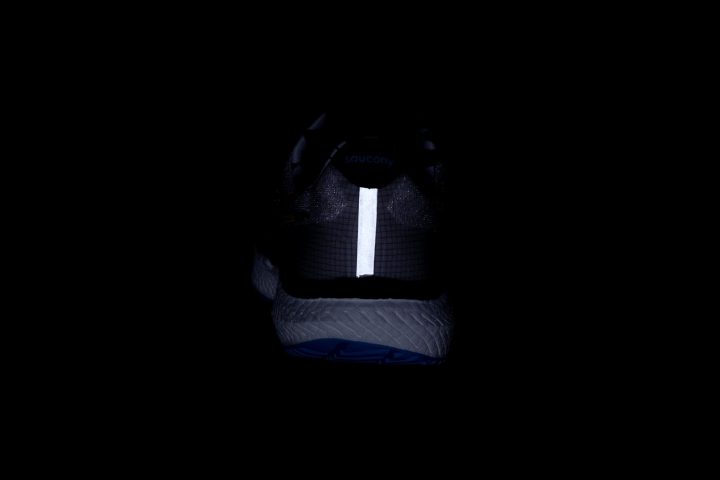 Conclusion
I think this is a great shoe. It's not WOW!!! But it's comfortable, stable, consistent, and feels great on your feet.
If you need a solid, comfortable, breathable daily trainer, check out the Triumph 19.