Having tested Kinvaras of the past, we are happy to report that the Kinvara 12 continues to delight our feet as a lightweight daily trainer. So much so that we even forgot we had shoes on! Like all other do-it-all shoes, it's good at everything and great at nothing (not a bad thing). For 110, it's a solid choice for a shoe that performs on slow runs, long-distance efforts, tempo sessions, and everything in between!
Pros
Perfect fit
Wide feet friendly
Balanced and reliable ride
Fantastic foot lockdown
Tongue stays put
Great laces
Insanely flexible
Removable insole
Lightweight
Cons
Not for cold days
Non-durable outsole
Saucony Kinvara 12 review and lab test
It's a simple, fast, light, nimble trainer with a lot of flex and not a lot of drop. It's not truly a minimalist shoe, but it feels minimal in all the right places.
Buy this shoe if you want a minimal, lightweight daily trainer that can do a little of everything, has quicker transitions, and great lockdown at a very competitive price.
Don't buy this shoe if you want:
It's simple, and well done, but it's not an Endorphin.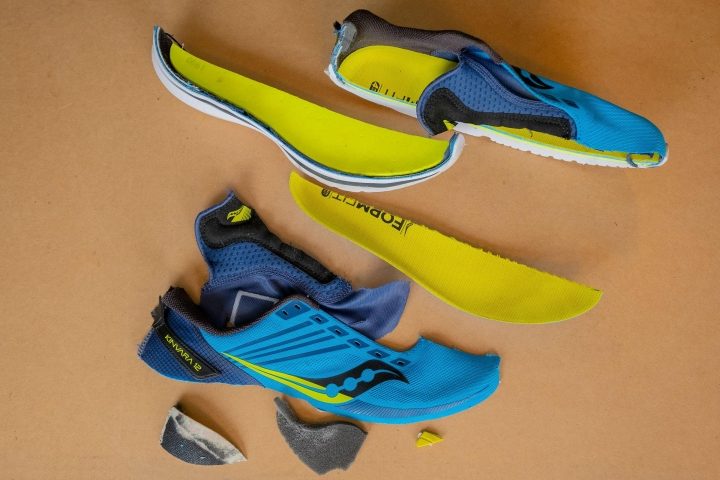 The Kinvara and I have a sorted past. When I first started running about 12 years ago I was running in truly minimalist shoes, the fad came and went, and I bought my first pair of real shoes, the Kinvara.
I appreciated the added padding underfoot and that they were still light and somewhat minimal. I loved them and ran my first marathon in Kinvaras. A decade later I was still excited to lace these up, they disappear on your feet, they feel low to the ground, balanced, and the fit is great, but that first pair wore down quickly and I fear the same for this latest iteration.
Zero complaints in the comfort department
Saucony Kinvara 12's fit is great, period. Although they are not extremely roomy shoes, there was plenty of space in the toe box for my caveman's feet.
I was glad to test these after the Adidas Ultraboost 21 and the New Balance 1080v11, because I needed my faith in uppers to be restored.
They also have a simple, but comfortable, removable Form-Fit insole, that adds a bit of stiffness underfoot. At 40.7ha, the durometer of the insole is 37% firmer than the average, helping to give the Kinvara that balanced feeling underfoot since the midsole itself is so flexible.
Not a cold-day running shoe
One thing to consider though is if you'll be running in cold weather, the Kinvara failed our flex tests after an hour in the freezer.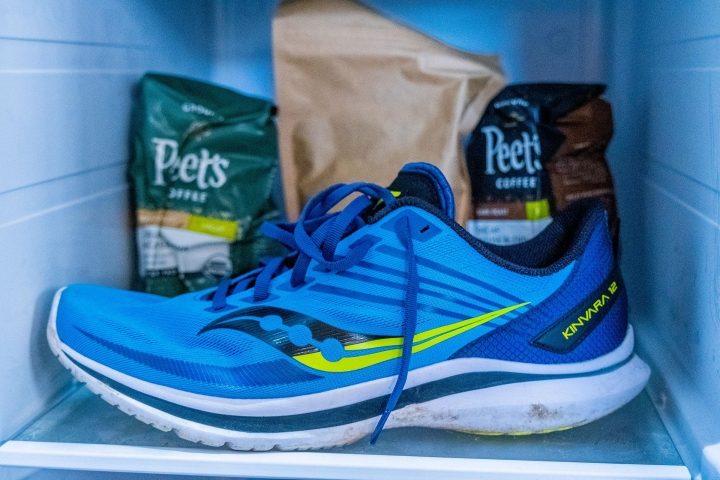 The flexible PWRrun foam is a liability, stiffening almost 130% compared to its room temp firmness. If you're a winter runner, this shoe is going to disappoint on those extremely cold days.
Kinvara 12 offers a balanced and reliable ride
What you should now about the midsole and how the shoe rides:
it's "bounce-lite" or maybe "bounce-firm",
it's not super responsive but it's not dull like so many other lower-price shoes on the market today,
the bounce is very mellow, making it feel balanced and comfortable rather than either overly sprung or uninspired.
It feels balanced, light, and fast, what more can you ask for?
Fantastic foot lockdown
No slip issues: The Kinvara 12 has a very lightweight upper made from airy, breathable mesh, and minimal welded overlays giving it enough support that I didn't have any slip issues at all.
Fantastic lockdown: This one-piece design felt great on my foot, there's really not a single seam anywhere. I even dig the inclusion of some ripstop nylon to stiffen up the heel cup, looks cool.
A sweet spot in the midfoot area: These have pretty standard flat braided laces. They are lightweight at 4.1g, and have ample stretch giving the top of the shoe a bit of wiggle room. This works well in a shoe like this, normally 22.45% stretch is too much, but since the upper doesn't flex at all, having a stretchy lace is a plus, giving the top of your foot room to move throughout your stride.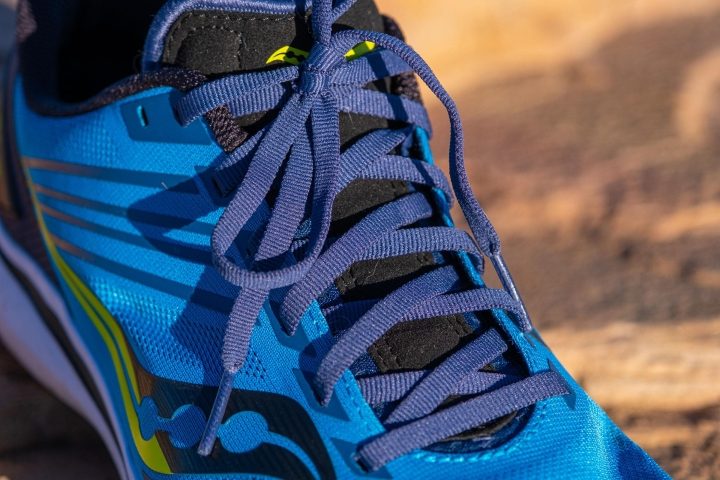 Lately, I've seen super stretchy laces on shoes with super-stretchy uppers, leading to a feeling of sloppiness. Well done Saucony for getting this small detail right.
Flexibility of Saucony Kinvara 12 will wow you
The Kinvara is highly flexible underfoot as well, measuring at just 18.3 N on the force gauge to flex this shoe completely, compared to the average of 24.5 N, which's about 25% more flexible.
Tongue is fantastic and stays put
Take note, all other running brands.
It's somewhat thin at just 5.5mm, breathable, and although it's minimal it has a small strip of padding down the center, offering just enough to keep the laces from digging into the top of your foot.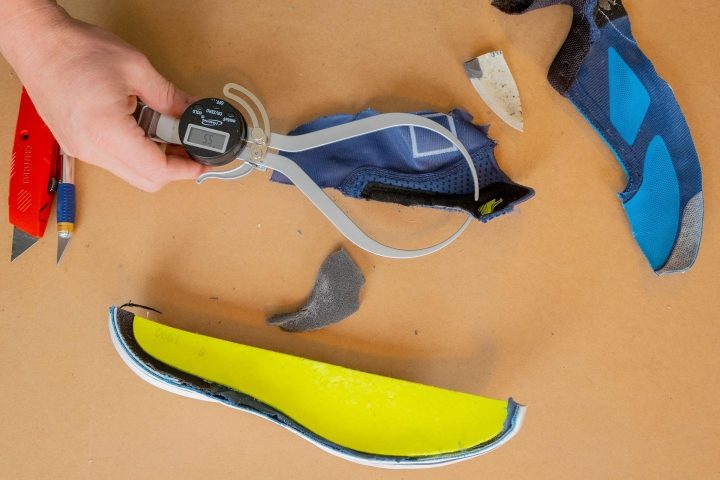 It's also fully gusseted with a sheer, slightly flexible mesh that keeps the tongue in place, makes it easy to slide your foot in and out, and provides excellent lockdown. It seems simple at first glance, but it's really just well designed.
Lacks a proper outsole, especially the durable one
The lack of proper rubber makes this shoe a little slipper in my experience. The snow is melting here in Colorado and I found myself wishing for more outsole than the slivers of rubber Saucony gave us with this shoe.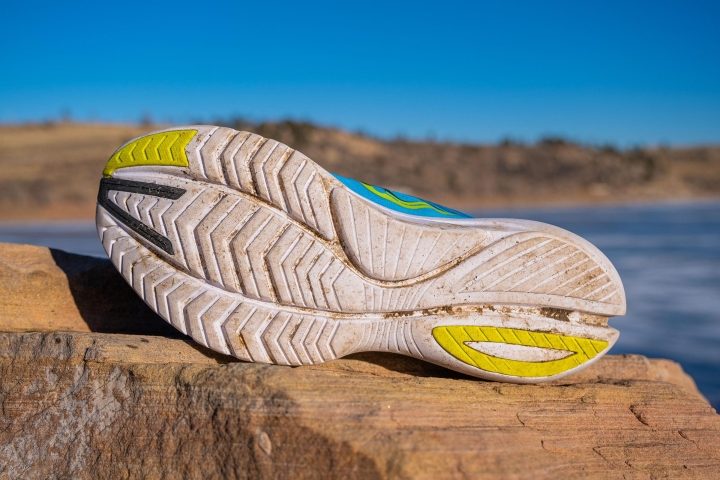 The Kinvara has always had a lot of exposed EVA on its underside, it keeps weight down. To me, it's a downside though.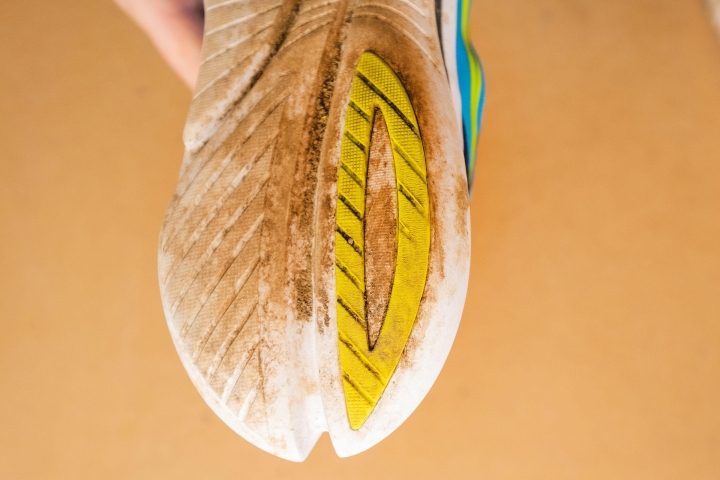 Also, I only put in about 22 miles on this shoe and there's already enough wear to concern me. I don't think this is a 500-mile shoe, the lack of outsole takes away from its longevity.
Keeps you close to the ground
In a day and age where midsoles have gotten taller and taller, I am glad the Kinvara 12 keeps my feet close to the ground.
At just 26mm this shoe is one of the lower stack shoes we've tested and it made me forget why we needed 40mm stack heights at all.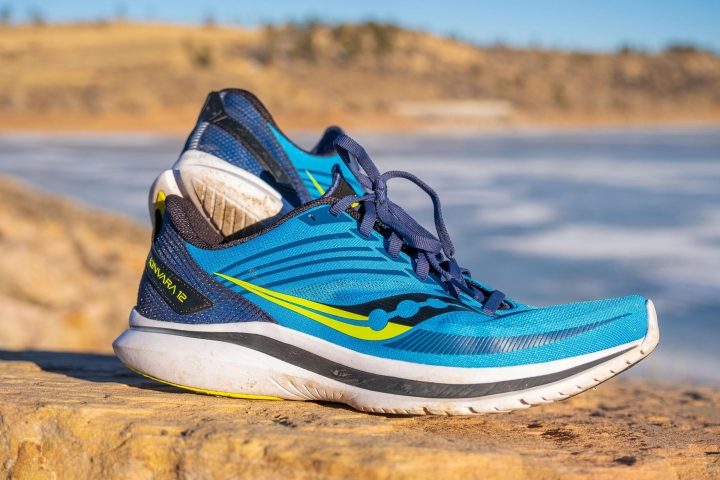 The Kinvara is designed as a midfoot and forefoot striking shoe with a low 4mm drop, and it's not the same responsiveness you get out of higher-end midsoles like on the Endorphin Speed.
Where it shines is: it is simple and it works without the unnecessary weight other shoes in this price range usually carry.
Lightweight level: You'll forget you're wearing Saucony Kinvara 12
I really enjoyed running in these, mainly because of how light they are.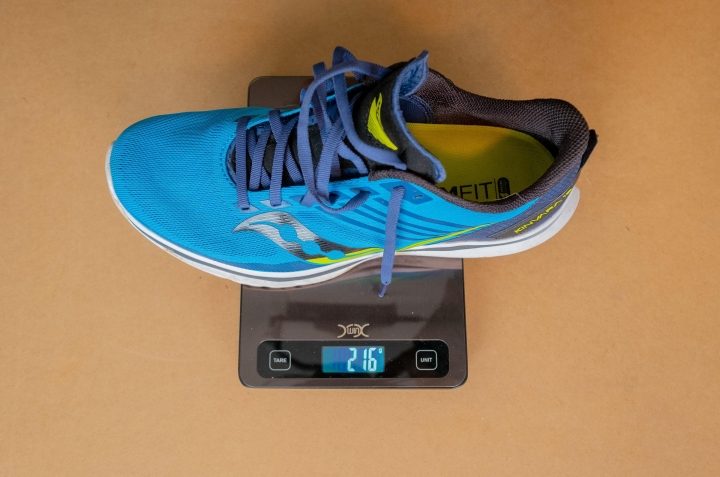 At 7.6 ounces, they are a joy to have on your feet, and without really trying, they actually carried me to my fastest 5-mile effort in a while.
Conclusion
Overall, it's a Kinvara. It's simple, it's light, it will pack well for travel, it can do long runs, fast runs, slow runs, and everything in between. It's minimal in nature but not lacking too much.
Sure it's not high-tech like the Endorphin line, and it's not the rockstar it was 10 years ago, but it's a solid performer, at a great price point ($110), that's comfortable, consistent, and one shoe that can check a lot of boxes.
If you need a shoe that's light and isn't trying too hard to be something it's not, the Kinvara 12 fits the bill!