Now in its 21st iteration, the
Adidas Ultraboost
may have wowed runners with its style and durability, but it's becoming more and more like a lifestyle shoe than a running shoe. But its strength is what makes it a standout - it can literally swallow miles and miles of pounding on the pavement. It may not be the fastest, lightest shoe, but if you want loads of pop, it's THE shoe.
Pros
Sock-like fit
Fantastic peppy ride
Really durable
Heel stays put
Great midfoot lockdown
Good grip
Stretchy upper for wide feet
Fun daily trainer
Cons
Loose on sharp turns & faster runs
Sweaty on hot summer days
Heavy
Adidas Ultraboost 21 review and lab test
The Ultraboost 21 is a neutral sock-like trainer with roots in high-tech shoe design. To me though it felt heavy, outdated, and a bit sloppy.
I think Adidas needs to get back to the drawing table and focus on performance over looks to stay relevant in this category.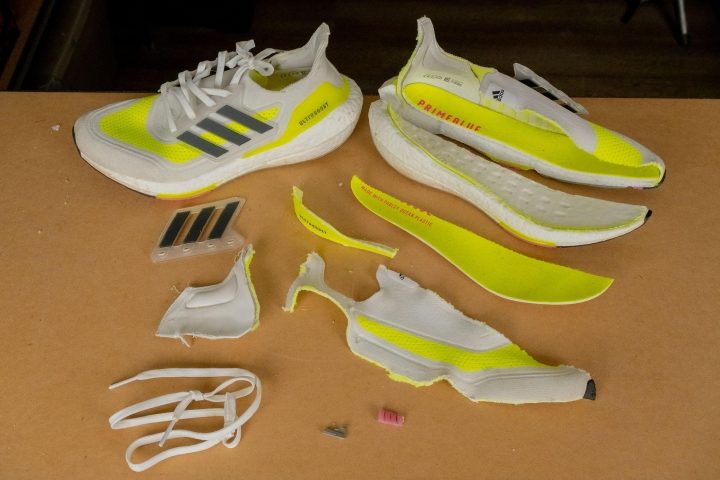 This shoe is recommended for runners who like that sock-like feel and usually train on flat, straight courses.
Don't buy this shoe if you:
Too stretchy, too loose
Adidas needs to stiffen this shoe up significantly. The flex that allows it to form around your foot so well, also lacks the proper lockdown runners need.
They need to add some welded overlay as I felt like I was going to roll out of this shoe around tight corners. You'll see in the video of me wiggling my toes just how flexible this material is.
Adidas Ultraboost 21: one of the heaviest road shoes!
Boy oh boy, do they feel heavy.
I wish the Ultraboost 21 were lighter because I did like the feel of them, the peppy ride, and the form-fitting upper, but I really can't get past the weight.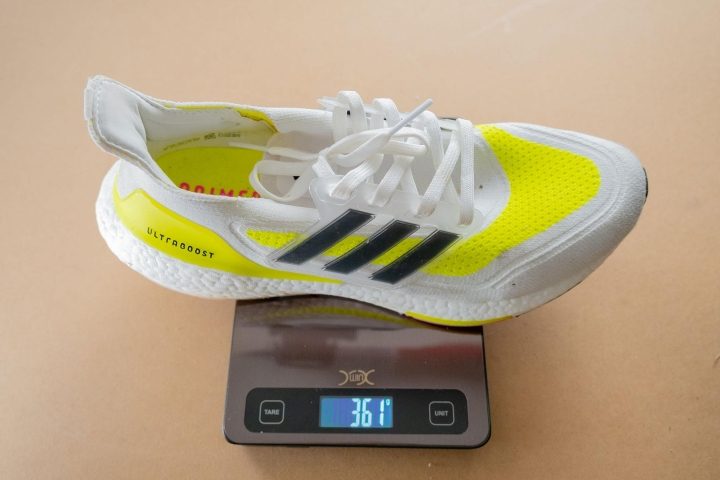 At 12.7 ounces, these may be one of the heaviest road shoes currently available. Now if your goal is to do weighted training runs so come race day your light shoes feel like nothing but air, maybe these are what you need.
Proper sock-like fit
The upper is very accommodating for a wide variety of foot shapes and widths.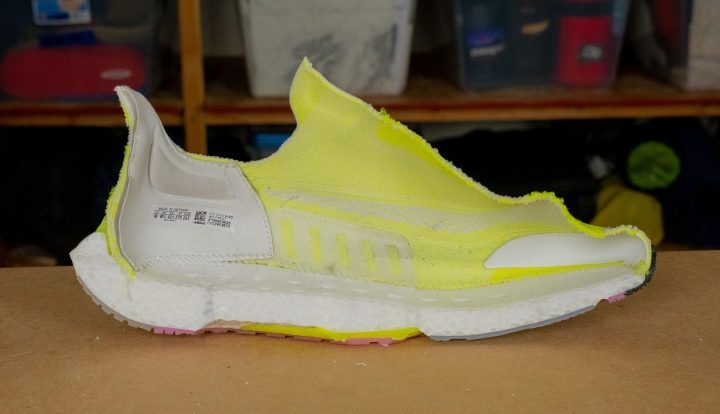 Here's why:
The upper on Ultraboost 21 is made from insanely stretchy Primeknit material that's only 1.9mm thick and is more like a sock than a traditional upper.
It stretches to form around your foot. I would not say this is a high-volume shoe, but it easily molds to fit your foot in a very comfortable fashion.
The lace is nice and stretchy though with 0.156 stretch ratio, keeping the top of the shoe comfortable as your foot flexes through your stride.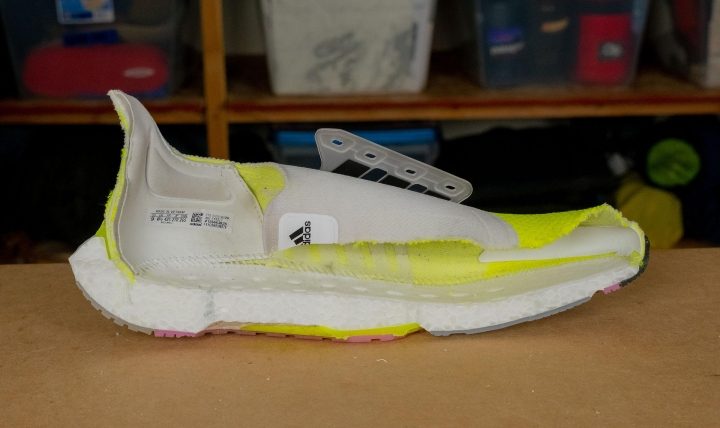 There is one challenge, however: if your socks are not super tight or are too thick, it's very easy for them to bunch up as you don the shoe.
Fantastic peppy ride
The ride is sweet under foot and the toe-off is fantastic thanks to the LEP Torsion System which the Ultraboost 21 gains as an update.
It adds rigidity throughout the midfoot and into the front of the shoe which feels nice and springy at the very end of the stride.
Breathability issues
While the Primeknit got a record high result on our light test (28.2LUX), during my runs it did not performed well. It's not breathable. The materials and the color of the upper surely managed to show our light test needs improving. Coming soon.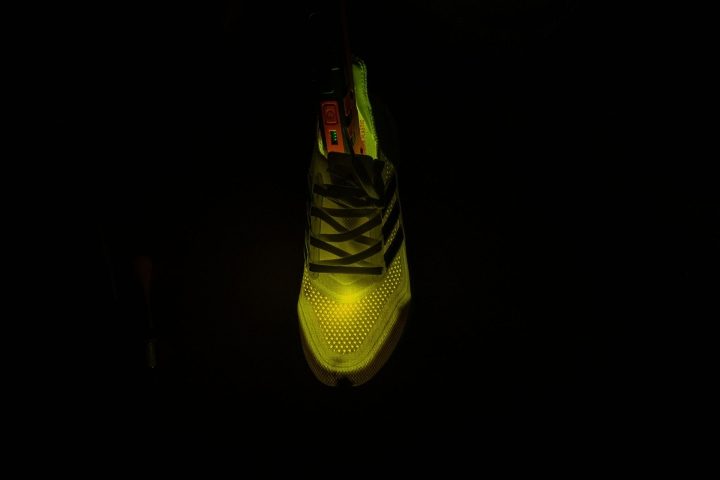 Heel stays put in Ultraboost 21
There's also no real heel counter in this shoe, and what does exist is a dated design of a rigid, thick (4mm) external plastic cup that adds lateral stability only. I can proudly say that my heel did not budge, unlike the front of my foot.
The heel itself is very flexible measuring in at only 19.8N in the center, our softest shoe yet. However, thanks to the tight upper and the plastic heel cup, there's no heel slip to report.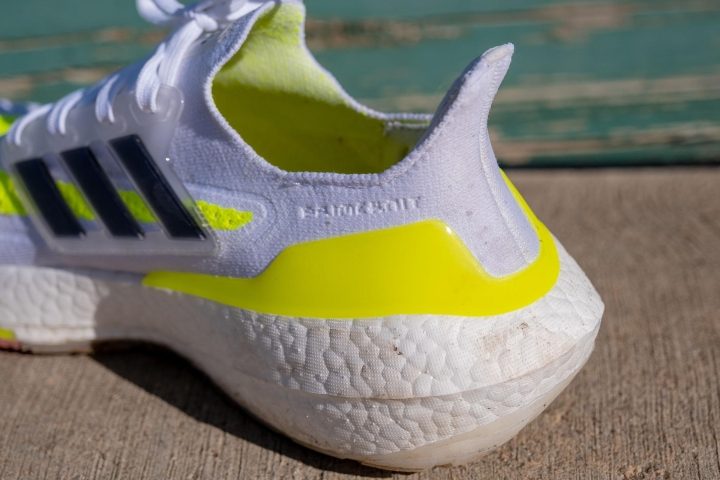 The heel is topped off with an elf-like tab to help pull the shoe on, I'd prefer a loop but at least there's something built into the design.
External lacing system: outdated and too heavy
I will admit, although I had issues with the overly-flexible upper around the toebox, the lockdown over the mid-foot works. However, it's accomplished with a sewn-on plastic lacing structure.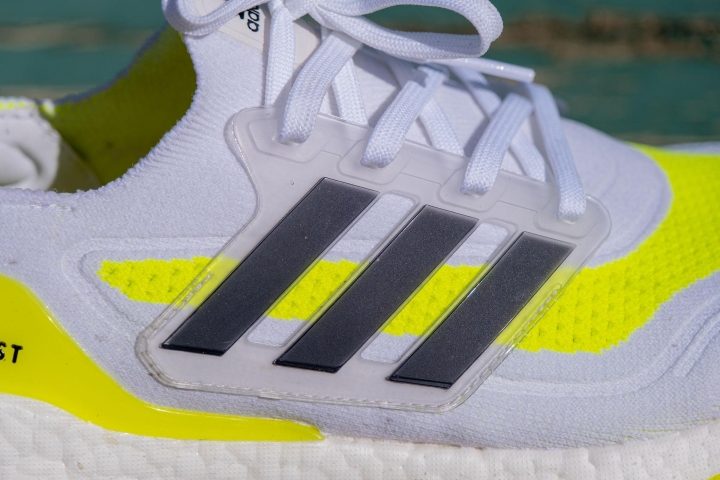 I hate this design feature, it adds weight, it's ugly, and it's outdated.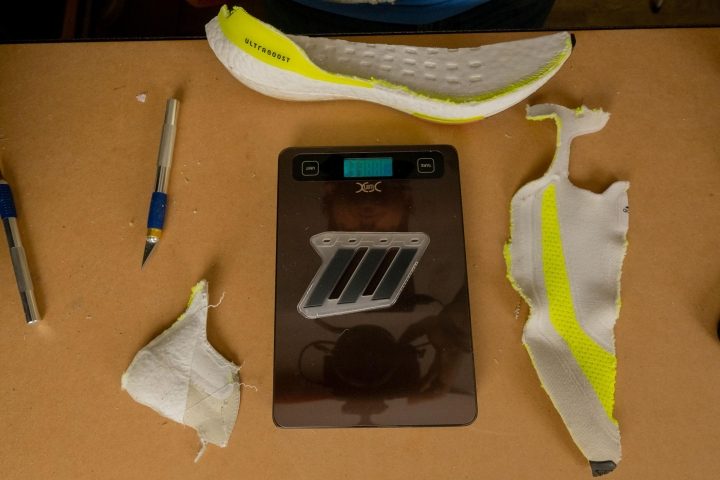 I cut it off just to see how much unnecessary weight it adds to the shoe, and 22g (both sides combined) is just too much when a few welded overlays and eyelets would have sufficed.
Even the laces are heavy
Adidas finishes off the lacing structure with a quality lace, but it's heavy too. At 38.5'', it's a pretty short lace but weighs in at 4g which is how much the lace on the Brooks Ricochet 3 weighed but is almost 10'' longer.
Ultraboost 21 is grippy and durable
The continental outsole rubber is soft enough (72.8hc on the durometer) to offer a nice grip across a variety of hard surfaces I tested this shoe on like cement and asphalt.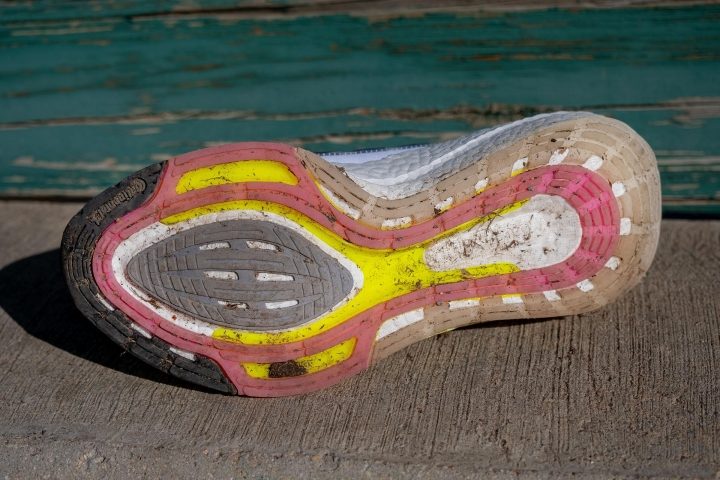 It gives the shoe some color and although it's not technically full-coverage, there's the very limited exposed midsole, adding some welcomed durability. I don't see any problems with this shoe lasting 300-500 miles.
Heel: too steep AND too heavy
A lot of the weight comes from the "junk in the trunk". These have a big heel, and a lot of heel stack.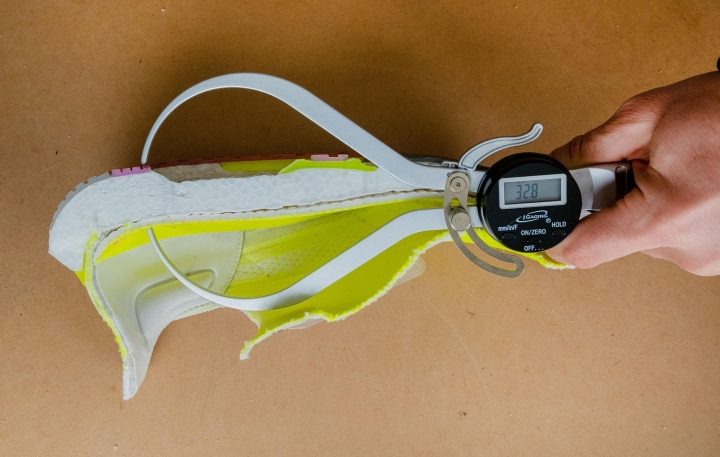 We measured 32.8mm in the heel, giving these a 12mm drop, and although Adidas claims they are a 10mm drop shoe, they feel steep to me and like they have a considerable amount of heft in the rear of the shoe.
The heel drags, and other than making them easier to slip off, I'm not sure they need this much foam on the back end.
Conclusion
I find myself wondering if the Ultraboost 21 is really a running shoe. Has Adidas built a fashion shoe with running DNA that's long since been outdone and one-upped by almost all the other brands out there? Is this just a slightly-more technical version of a Yeezy?
To me, the Ultraboost 21 is too heavy, and the upper is too flexible to really be ultra-useful as a real running shoe. Maybe it will work on slow, long runs, but ultimately I will keep my fingers crossed for the 22 and a return to triumph!
Discussion-worthy
Yes, it's true, Ultraboost is a great midsole, and 7 years ago when it first arrived on the scene it was groundbreaking. But, it's heavy. And most other brands have caught up in the last ¾ of a decade and have a product that's similar in comfort, shock absorption, and responsiveness without the heft.
Adidas is not the only game in town with high-tech midsoles, hell, the midsole on Saucony's Endorphin Speed and Endorphin Pro even looks like Ultraboost, but they found a way to do it better and lighter.