"This is a killer shoe!" is a comment from one expert that sums up the totality of the Endorphin Speed 3 from Saucony. It's energetic, stable, and light; it ticks all the important boxes of a tempo running shoe. Even more, it can be your do-it-all trainer. From easy days down to the faster, more competitive race days, you can count on the Saucony Endorphin Speed 3.
Pros
Peppy all the way
Comfy for easy days
More stable than ever
Cushioned for long miles
Quick and smooth transitions
Lightweight
Airy as hell
Roomy toe box
Fit is amazing
Grippy on dry and wet roads
Cons
Rubs the heel
Not for narrow feet
No reflective details
Who should buy the Saucony Endorphin Speed 3
As one runner puts it, "If you can only buy one shoe, people, it is really the Saucony Endorphin Speed 3." And he ain't lying. Definitely grab a pair now if you want a:
fast shoe with loads of kick for both speed training and race days,
running shoe that's also cushy and stable for daily runs and long miles.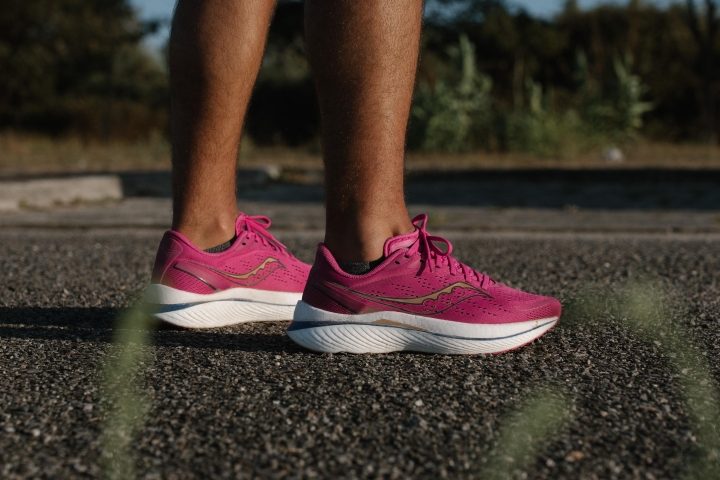 To sum it up, the Endorphin Speed 3 is a shoe "you can literally take from everyday work to race day" as one reviewer describes.
Who should NOT buy it
Everything about the Saucony Speed 3 gets a thumbs up from multiple road runners, save for the heel counter. It's less padded, which is slightly abrasive to the heel. This said, it's highly recommended to go for the less pricey Saucony Kinvara 13.
However, if you're head over heels in love with the Saucony Endorphin series but want a comfier heel wrap, it's best to stick with the Saucony Endorphin Speed 2. It's also a great alternative for those with slim feet.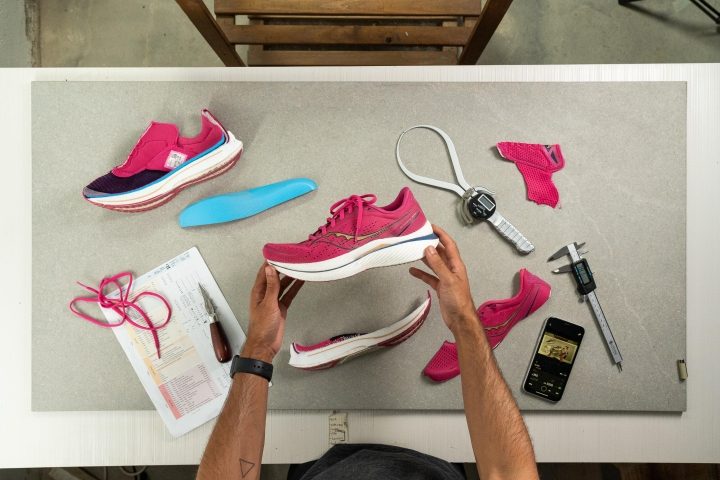 Great for cold weather!
Here's why: it's a soft midsole that stays soft even after exposing it to cold temperatures for 20mins.
The durometer measured 13.8 at room temperature and 14.5 after 20mins in the freezer.
This is an astonishingly low change of 5.1% in softness - the average is 21.6% (going from 28.9 for room temperature to 36.4 for after-freezer temperature).
Even after exposing it to the cold, it is much softer than other shoes at room temperature.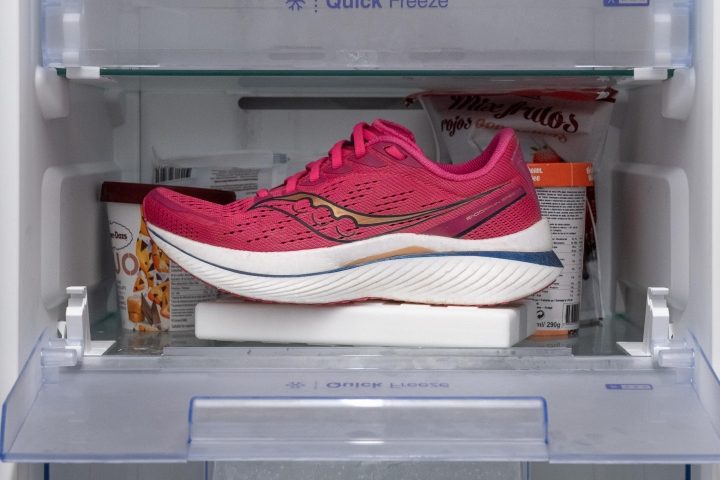 Flexibility changed less than the average as well: we needed 31.9% more force to flex the shoe. On average, we need 40.5% more force to bend the shoe after 20mins in the freezer.
Breathability deserves a chef's kiss
From double-layer mesh to single-layer mesh, this speedster is airy AF. If you plan to use it in the summer, we have nothing else to say, but lace it up!
The Endorphin Speed 3 is more stable this time
The Speed 3 is proof that Saucony really listens to runners' feedback. In the past, the Endorphin Speed's weak point is its lack of heel stability.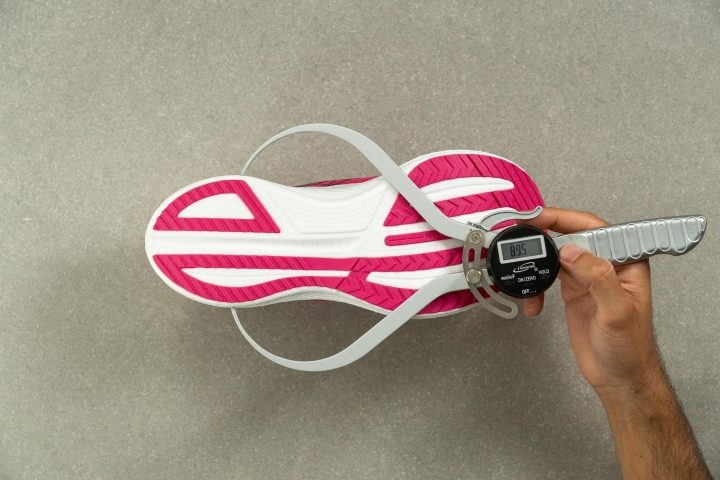 But this model changes all this.
It has a widened base (both in the forefoot and rearfoot); it's more stable, especially at slower paces.
Fact check
When compared to the other shoes and not the Speed 2 only, this is partially true and here is why:
The width of the midsole at the forefoot is only slightly wider than the average (113.8 vs 111.8mm);
The width of the upper at the forefoot EXACTLY matches the average (98.5mm);
The width of the midsole at the heel is also only slightly wider than the average (89.5 vs 88.7mm);
The width of the upper at the heel is 66.6mm which is 9.2mm (!) less than the average (75.8mm).
This is why runners have experienced a very stable and narrow heel area. The forefoot area, on the other hand, has just-around-the-average measurements.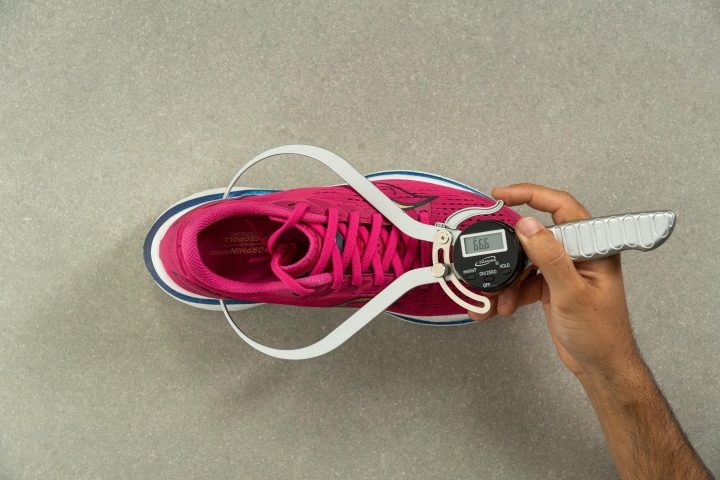 Everything a speedster should be
Generally speaking, the Saucony Endorphin Speed 3 is "a cracker of a shoe," remarks one reviewer. It has more bounce this time and a snappy toe-off, picking up the pace is 10/10 easy.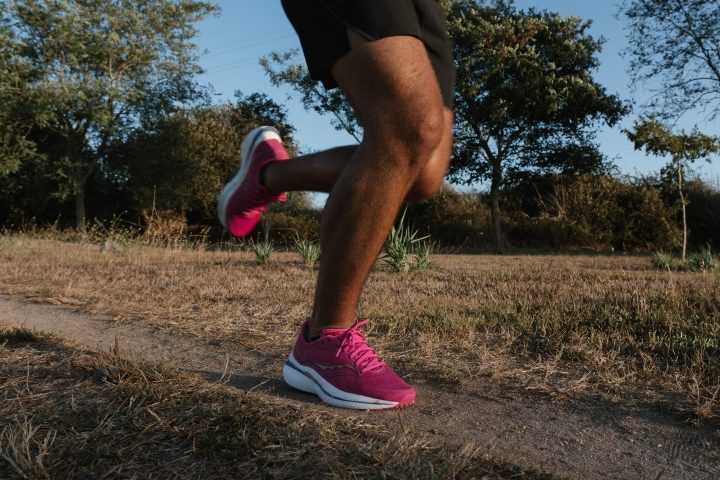 "This shoe's gonna feel like you've landed on the moon and found a pot of gold," happily expresses one tester. According to another, "It lived up to [his] high expectations."
And this is not just because it's a shoe that has speed written all over it. It's also because the nylon plate it has (responsible for the snappy toe-off) doesn't feel harsh. "It's a treat," explains another critic. Compared to other plated running shoes, the Endorphin Speed 3 is more natural-feeling.
Friendlier this time
Unlike the Saucony Endorphin Speed 2, this time around the Endorphin Speed 3 is comfier. "When you put it on, it's comfort all the way," explains one road runner. The midsole now has some give to it. If you want to use the Endorphin Speed for easy days, you surely can.
Even better, it "hasn't lost any of that punch," confidently shares one runner. In the words of another commenter: On easy days, it delivers "everlasting fun!" And if you want to push it to go faster, it certainly can too.
What a smooth, smooth, smooth ride!
In this iteration, the shoe's rocker geometry is very noticeable. "You are carried forward with every step." This is how a running athlete describes the heel-to-toe transitions.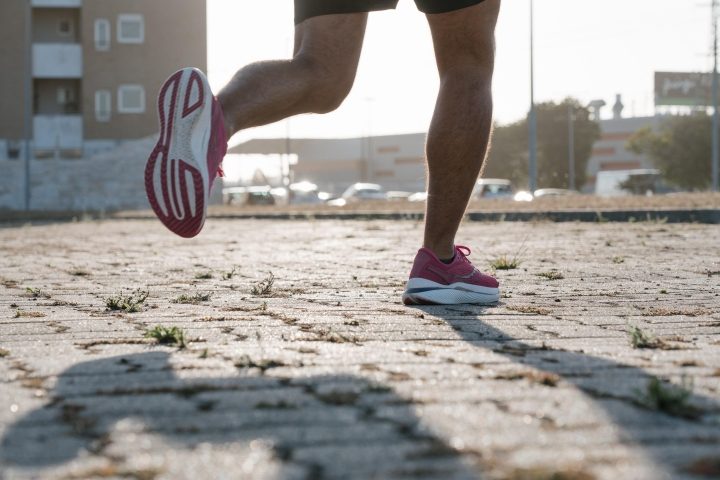 "The Saucony Speedroll technology thus lives up to its name in the ES3," adds another.
This is a very flexible shoe!
We've already covered this partially in the section about cold weather, but on our subjective tests where we rate shoes 1-5 (5 being the stiffest), the Speed 3 scored 2/5 both for longitudinal and torsional flexibility.
The average for other shoes is 3.4.
Ready to clock up the miles
It's not only more comfortable; it also has more cushion.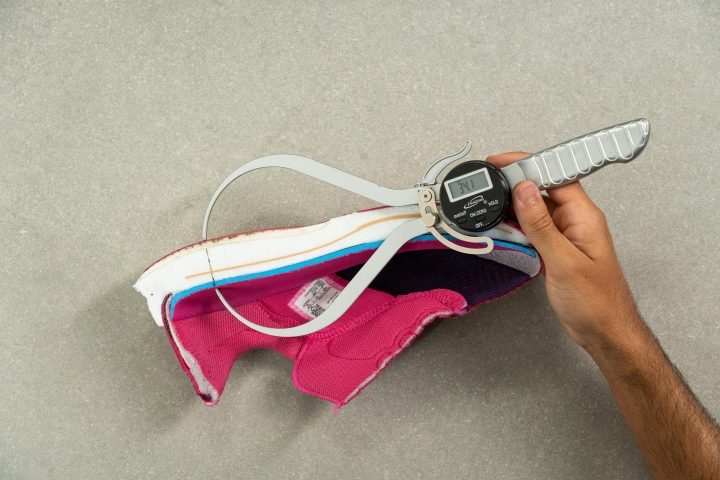 What does this mean? As many runners have confirmed, the Saucony Endorphin Speed 3 is a mile eater. And a very good one too!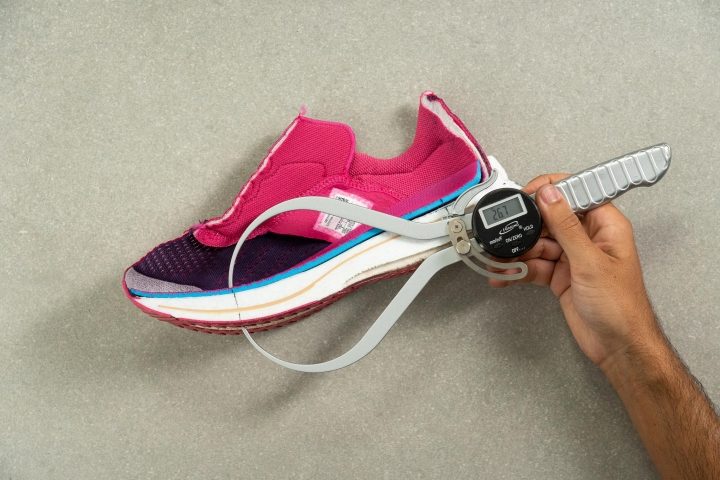 Fact check
Comparing the Endorphin Speed 3 to all the other shoes we've tested in the lab confirmed this - it has a bit more cushion (stack height) than the average numbers: at the forefoot 26.7mm (average is 24.1) and at the heel 34.1mm (the average is 32.7).
Important note: the brand advertised slightly different numbers: 28mm for the forefoot and 36mm for the heel stack height.
Weight is as awesome as ever
On average, speed trainers weigh in at 248 grams/8.7 ounces. Meanwhile, the Endorphin Speed 3 from Saucony only weighs 212 grams/ 7.5 ounces. Both newbies and long-time runners alike still find its weight excellent.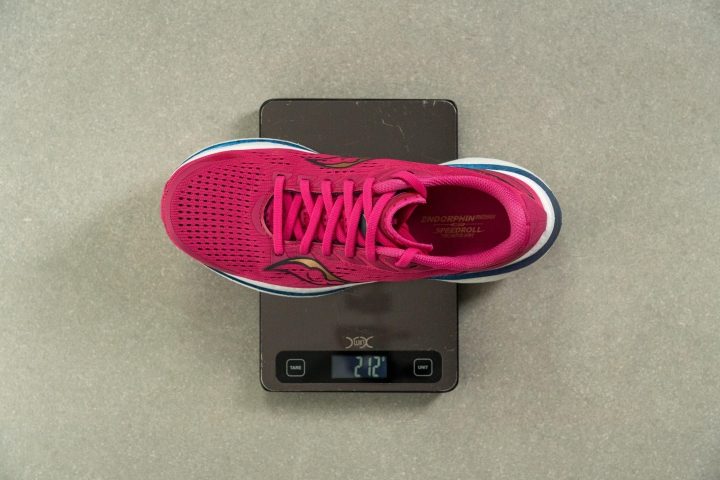 As one of them explains, Saucony has already "streamlined the Endorphin Speed 3 to the optimum." And they fear that if weight is brought down, even more, it will be at the cost of comfort and fit.
Follows the contours of the foot
"Extremely successful" is a comment that perfectly encapsulates the thoughts of the majority on the shoe's fit. The upper is stretchier; it mimics the natural shape and size of the foot.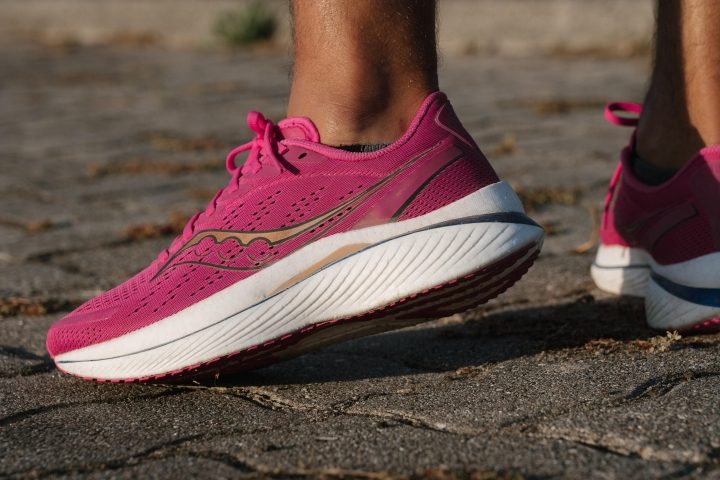 The shoe's secure wrap is also complemented by its semi-gusseted tongue and padded laces. They work so well together; getting a solid lockdown won't be a challenge in the Speed 3. Tongue nails the amount of padding scoring 3.9mm on our caliper measurements, while the average is 5.9mm.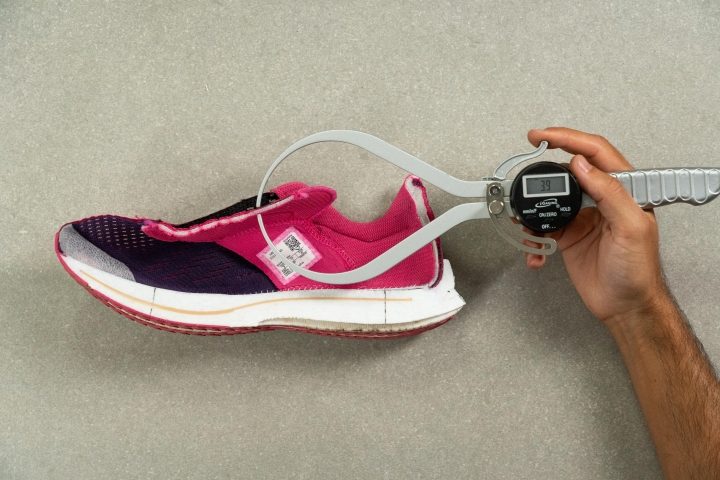 However, a running shoe expert, who has narrow feet, finds the fit a little too roomy. According to him, even if he cinches the laces down, his foot still slides around.
The toe box is roomy
This is because the upper has more stretch to it. "My rather wide forefoot therefore immediately felt even more comfortable," says an expert. He even continues, "I am of course extremely happy about this!"
Fact check
Definitely only due to the stretchy upper because it almost exactly matches the average width: Speed 3 is 111.5mm wide at the forefoot while the average is 111.8mm.
Attesting to this, another road racer claims that it's plenty roomy, especially when the foot starts to swell.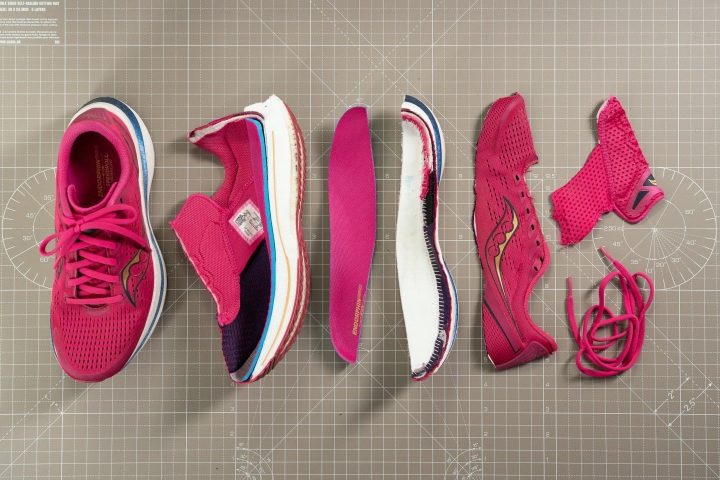 The heel could use a little more padding
This is the ONLY complaint reviewers have for the Saucony Endorphin Speed 3. The heel is a tad bit uncomfortable and scratchy because it has minimal padding.
A critic even says that this version's heel "felt more intrusive than the version 2." This is definitely due to the choice of materials because the heel counter itself is very soft, it scored 2/5 on our flexibility tests (5 being the stiffest).
Their recommendation? Wearing thicker socks is a must.
A clingy tank
Yes, we mean the outsole. It has plenty of traction and plenty of durability too! On wet asphalt passages, a tester says they "felt safe at all times." And during fast corners, the grip doesn't compromise.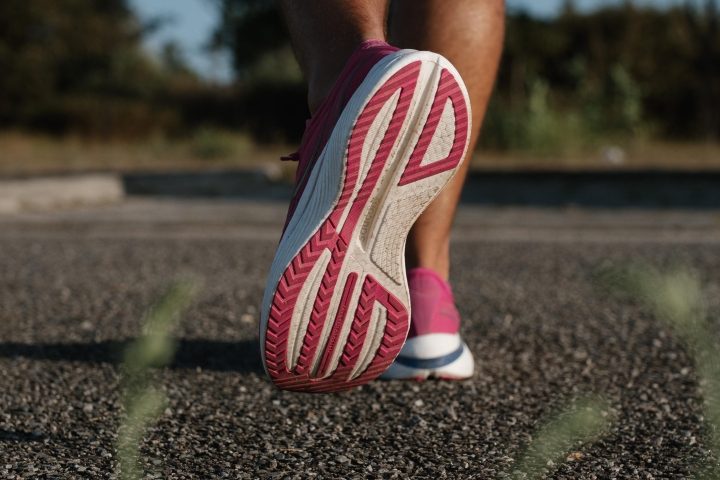 In terms of durability, this shoe surely lasts. After several miles in it, many have reported that the outsole still has little to no wear and the midsole is not bottoming out.
Saucony Endorphin Speed 3 vs. 2
This version of the Endorphin Speed doesn't go through a lot of changes, which is why runners continue to rave about it. It has minor touch-ups, which make it an even better version:
More cushion (by 0.5 mm) for a comfier, bouncier ride
Wider toe box and thinner, stretchier upper for a more precise fit and a breathable running experience
More stability in the forefoot and heel because of the widened base
A new plate for a snappier toe-off (but slightly increases weight by 2 grams)
Stripped-down heel padding to minimize the bulk as much as possible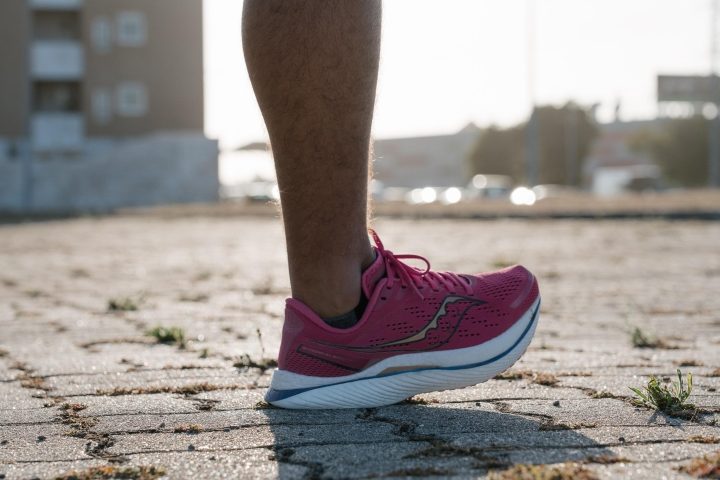 Good to know
There are no reflective details on these shoes. Find other ways of making yourself visible during night runs.
We've measured a heel drop of 7.4mm. The brand advertised 8mm.