With its ultra-light upper, lofty cushioning, and modern insole, you wouldn't be remiss to think that the Kinvara 14 had strayed from its path. While it's no longer the lean mean Kinvaras of old, this new version still boasts the flexible, natural-feeling, low-drop ride loyalists have come to know and love. And despite the radical overhaul, this Saucony favorite remains one of the best uptempo trainers for those on a budget.
Pros
More cushioned and protective than ever
Responsive foam
The lightest Kinvara yet
Offers some mild guidance
Good grip even on wet surfaces
Smooth, natural-feeling ride
Pleasantly airy
Works for fast and slow paces
Can go the distance
Also a worthy racing shoe
Fairly priced
Cons
A bit on the firm side
Less outsole rubber means less mileage
Lockdown is so-so
Who should buy the Kinvara 14
Definitely give the Saucony Kinvara 14 a second, third, and fourth look if you:
Want an agile speedster without the stiffness brought about by plates and shanks.
Prefer a lightweight runner that has a soft and protective ride.
Want an affordable daily trainer that can handle any distance at any pace.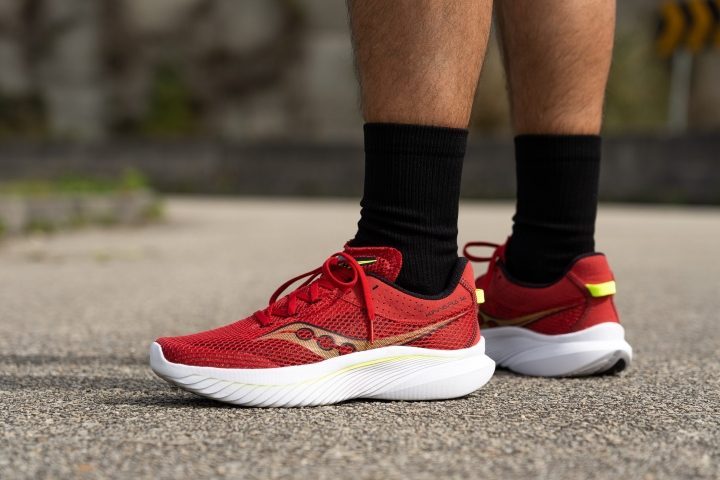 Who should not buy it
Don't be fooled, while the Kinvara 14's cushioning looks pillowy, it's actually quite firm. If a soft ride is what you're after, check out the New Balance FC Rebel v3 or the ASICS EvoRide 3. For a wider-fitting trainer/racer with a solid lockdown, have a look at the ASICS Noosa Tri 14.
What's changed?
Comparing the Kinvara 14 to its predecessors, it's unmistakable that this latest version underwent a complete overhaul.
These updates are what made the 14 a mid-cushioned shoe for this max-cushioned age:
A beefier midsole made of a lighter blend of PWRRUN foam: it's got 2.5mm more cushioning than the Kinvara 13, but maintains the signature 4-mm drop.
A thick PWRRUN+ insole: this replaces the 13's thin topsole layer, and adds a bit more soft comfort underfoot.
More weight loss: the 14 is remarkably lighter than the previous version, despite the thicker stack.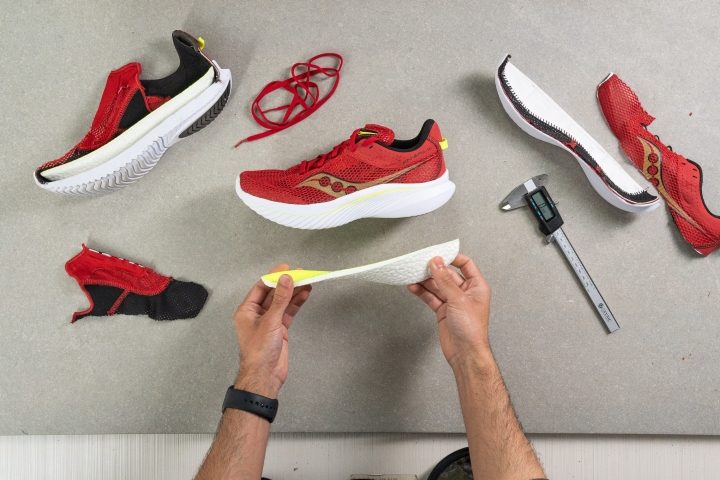 Minimalist, racing-shoe breathable upper
It seems the Kinvara 14 took a page from the Endorphin Pro 3's upper. Reviewers noted that it uses the same light, breathable mesh that even has "the same sparkly finish that the EP3 has."
Fact check
As expected due to its ultra-light upper, breathability is just fantastic. We awarded the Kinvara 14 the max score (5/5).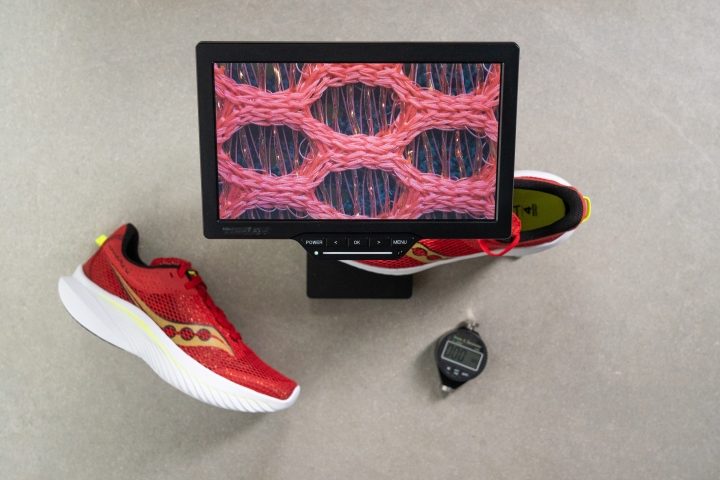 As evident in our eye-popping microscope images, the upper lacks significant structure and it's all about breathability, leading us to believe that durability may not be its strong suit.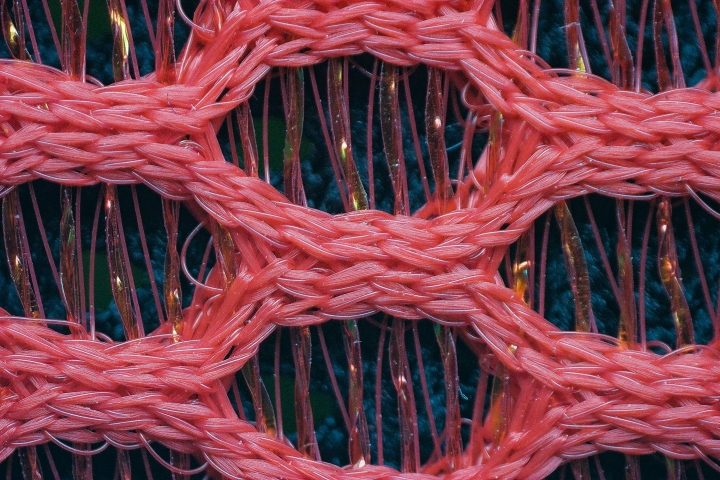 But unlike the EP3, lockdown in the shoe is not quite as race-ready.
Users say that it's "a bit loose" around the midfoot, partly due to how pliable the upper material is. That's perfectly fine for us, as these are training shoes and not the ones you wear for your main race.
After this examination, we were concerned that the durability of the upper might be very low.
Fact check
Our signature Dremel test—which applies consistent force to each shoe for 4 seconds—verified our concerns. Those who often wear holes in certain shoes should be cautious with this one...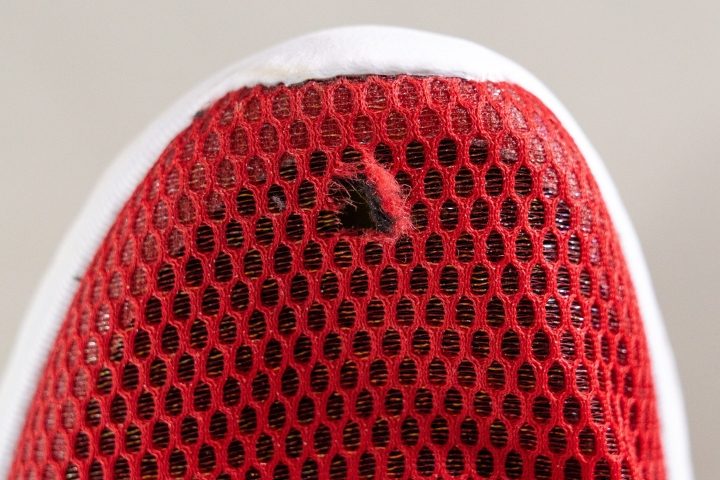 The Kinvara 14 is all bulk, no bloat
The Kinvara 14's added midsole foam, combined with the new crazy-thick insole, gave it a cushier and more protective feel, while remaining as responsive as prior models. Kinvara enthusiasts won't be disappointed.
It's still "not a soft shoe," one expert clarified, but the PWRRUN+ footbed provided "a little extra cush under step" and "a little extra spring as well."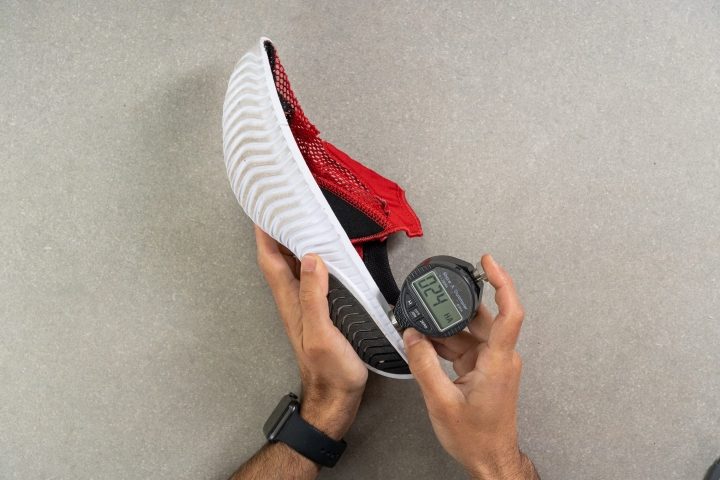 Disclaimer: To determine the average, we take 4 readings, excluding any outliers. The image above displays just one measurement.
Fact check
We measured the TPU foam of this Saucony shoe at 24.8 HA, which is 15.3% firmer than the previous Kinvara model. This confirms the general consensus in the running world that it isn't a soft shoe. Take a look at the
Nike Streakfly
for that cloud-like feel.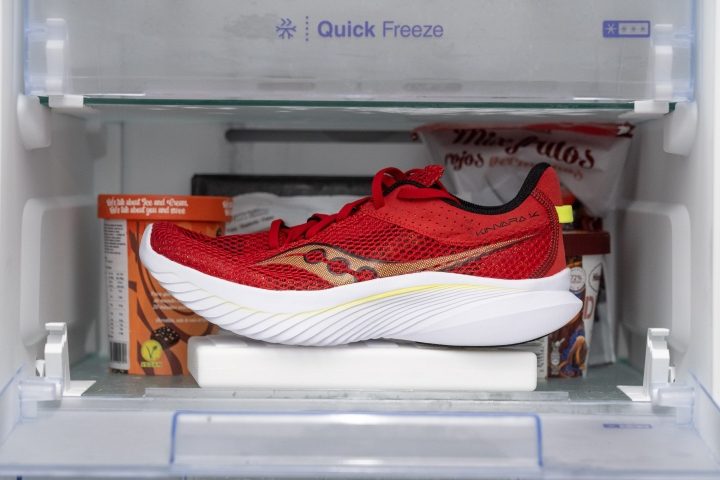 Fact check
When exposed to freezing temperatures, this shoe's TPU-based foam retains its properties due to its ability to withstand cold conditions. The Kinvara 14 becomes only 6.1% firmer after 20 minutes in our freezer. In comparison, the
Hoka Kawana
's foam becomes 26.7% firmer, while the
New Balance FuelCell Rebel v2
astonishingly hardens by 115.4%.
The Kinvara 14 can go as fast as you can take it
"It is still truly a Kinvara." That's how one expert summarized the 14th-gen's ride. The updates add a little extra pepper to its already fun ride, but overall, its traditional Kinvara DNA still shines through—much to the delight of longtime fans.
It's light, agile, smooth, and natural—qualities that made it a marathoner's weapon of choice before the dawn of super shoes. Those seeking this type of ride, where there's no mechanical assistance from carbon plates and the feet have to do most of the work, will enjoy doing speed work and racing in these shoes.
We only needed 15.3N of force to bend it to 90º. Some context:
It's 117% less than the average shoe.
Out of the 180+ shoes we've analyzed in our lab, only 7 required less force than this one.
So yes, the flexibility of this shoe is truly out-of-this-world.
Fact check
In our manual evaluation, we verified that this Kinvara is again one of the most flexible shoes on the market. Due to its minimal rubber and structure, this shoe scored a 1 out of 5 in both longitudinal and torsional flexibility tests—being 5 the stiffest.
It's important to note that the Kinvara 14 becomes 86.9% stiffer after our freezer test, making it feel firmer-than-usual during winter.
Just a tiny bit stable
There's also a touch of medial side guidance in these neutral trainers, said one runner, but it's "way tuned down" and felt more like the stability on the Tempus rather than the Guide.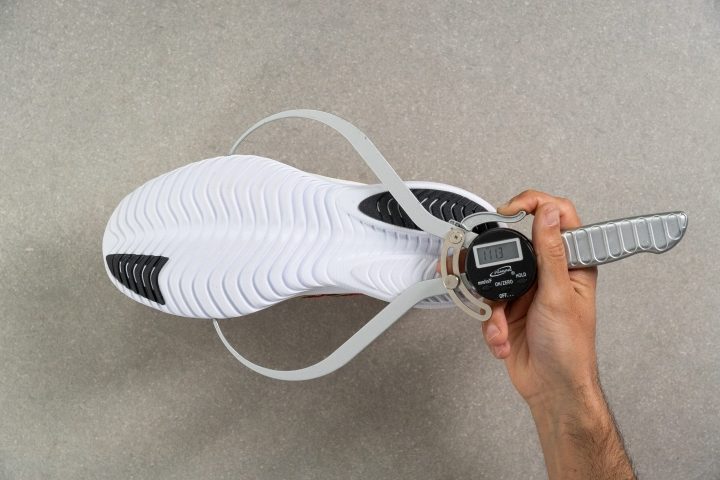 Once more, Saucony has upheld the Kinvara legacy by maintaining a relatively narrow platform. With a 111.3mm forefoot and an 87.5mm heel platform, this shoe it's narrower than the average shoe (112.5 mm / 89.7 mm), particularly in the heel area. This is a shoe better suited for midfoot-to-forefoot strikers.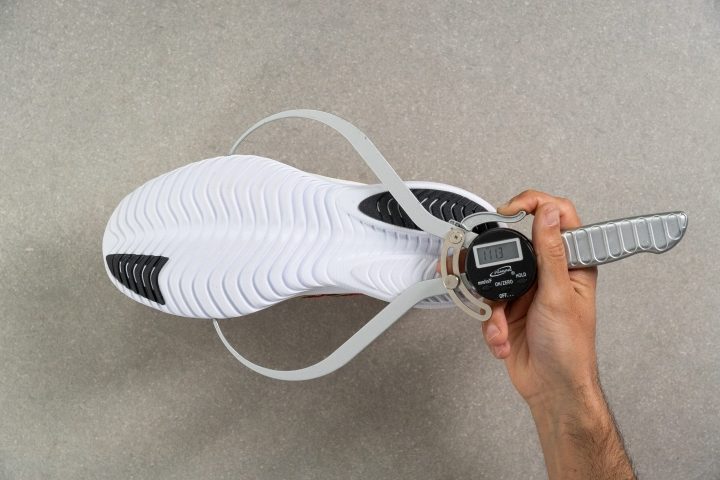 Fortunately, we still have the signature 4 mm low-drop of this saga. That creates a more stable ride despite the narrow platform.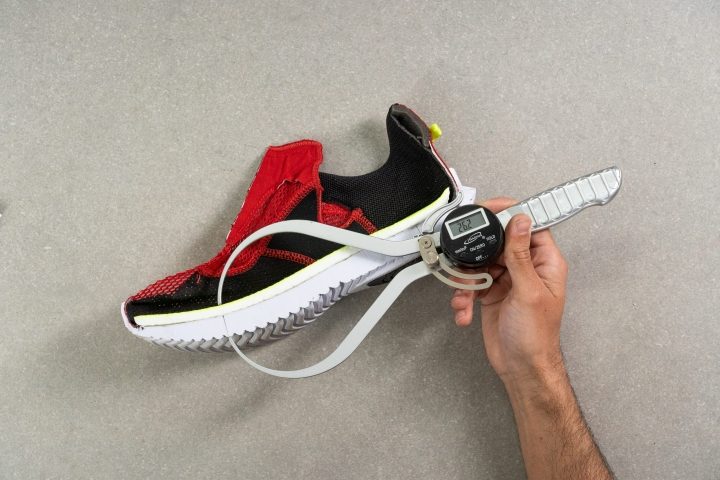 Disclaimer: We include insoles in our stack measurements.
Fact check
You simply can't rely on official drop numbers—that's the unfortunate reality in the world of running shoes. We've observed discrepancies of over 100% between a brand's official claim and our accurate measurements. However, Saucony delivered. The Kinvara's advertised 4mm drop was measured by us at 4.1mm, which is quite impressive!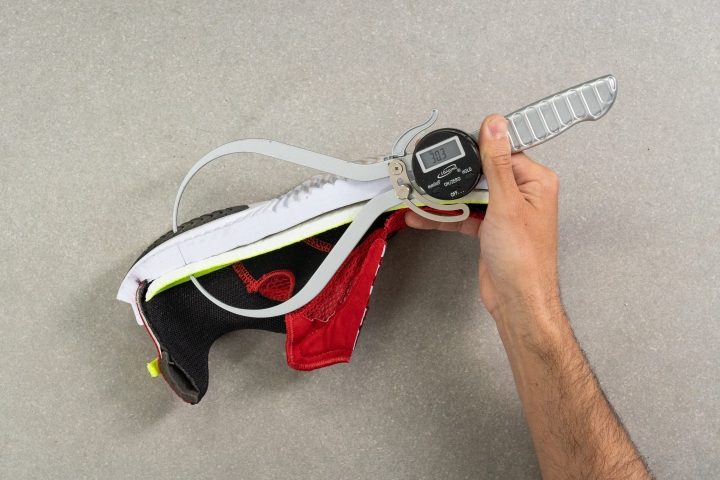 To make up for the lack of structure, the American brand opted for an moderately-hard heel counter. We measured it as a 3 out of 5, slightly above the median result, which helps prevent heel slippage effectively.
Barefaced outsole
The Kinvara 14's outsole is mostly exposed PWRRUN midsole foam, with only two sections—the lateral-side heel and the medial-side toe box—covered by rubber. And, in an attempt to reduce weight, the rubber incorporated is not particularly thick, being 41% thinner than the average thickness found in other shoes.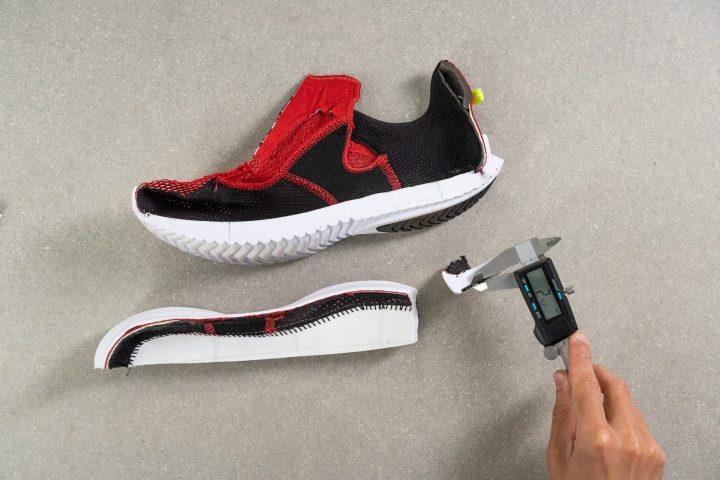 Fact check
Although this Saucony model doesn't have a durable-and-thick rubber, its mileage will surpass that of previous Kinvaras. The rubber in this version is 16.6% thicker than in the v13 and 37.5% thicker than in the v12, marking a positive step forward.
Disclaimer: The displayed measurement is 1 of 4 durometer readings used to calculate the average.
Despite the rubber scarcity, it still has good grip on wet and dry surfaces because of the ribbed tread pattern at the bottom of the midsole. To accomplish this, Saucony chose a pretty-standard rubber compound, which we measured at 79.4 HC, nearly the same hardness as the average shoe (79.8 HC).
Not everybody was convinced, though. A tester said: "While the grip on the outsole worked well enough, there were a couple of surfaces that did not inspire confidence."
No rubber? No problem
One runner found that the uncovered foam stood up pretty well against abrasions and scuffing. He noted that after about 80km of running, the outsole showed very little signs of wear.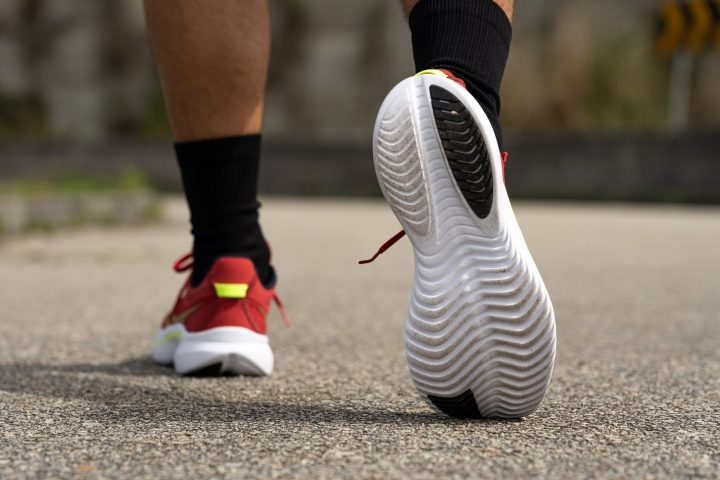 He warned, however, that it still won't last as long "as a daily trainer which has much more outsole rubber coverage." And you shouldn't expect the durability of a full-covered outsole.
Wider than before and true to size
While there is some of that aforementioned extra volume in the midfoot, the Kinvara 14 is generally a snug-fitting shoe that's more suited to narrow feet. With that said, the upper has more real estate than ever, with a woman running expert noted: "they felt wider than previous models. In fact, I went to check the box and ensure that I hadn't gotten a men's version."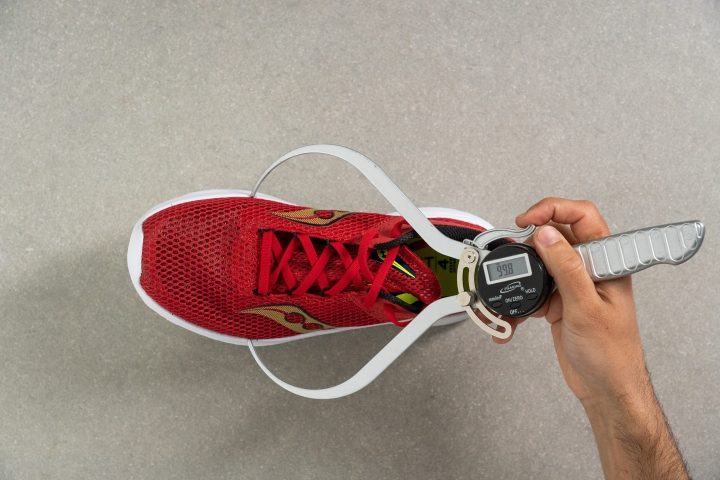 Fact check
We can confirm that Saucony is making the Kinvara wider than ever, while still offering wide sizes as an option. The upper of the Kinvara 14 is 4.1% wider than the v13 and 1.3% wider than v12. To compare it with a similar shoe, the Nike Pegasus Turbo Next Nature is 4.8% narrower!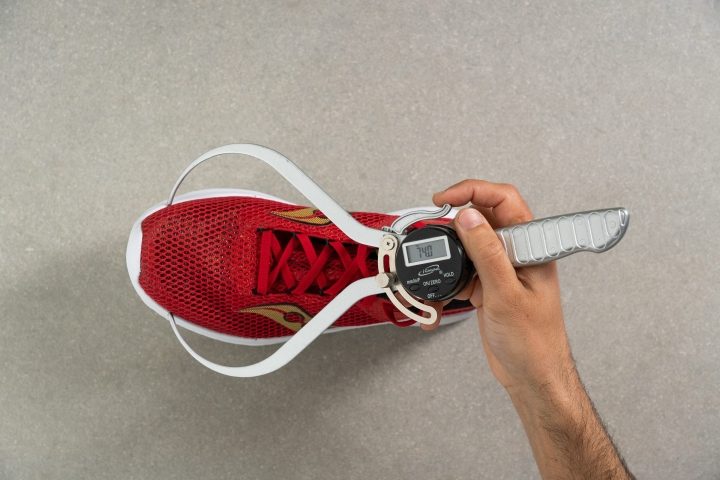 It's not just at our main measuring point—the widest part of the upper—but also in the big toe area where the Kinvara 14 is roomier. We measured it at 74.0mm, which is wider than the average shoe measurement of 73.1mm.
Regarding the length, our measurement of the overall internal length put the shoe as 100% true to size. A running expert agreed with us: "The Saucony Kinvara 14 fits me true to size length-wise. The upper mesh is light and does stretch."
No longer just for short hauls
The 14's updates have made it an even more versatile Kinvara. Thanks to the added cushioning, this new edition can now take on longer distances. Runners accustomed to firmer rides will find that it can even handle the classic Sunday long run.
We agree, and we also confirmed those natural and unassisted running sensations, thanks to the lack of rockered geometry—just what a Kinvara enthusiast expects.
One expert said: "The adjectives which best describe the ride were smooth, natural, and lightweight." and "The ride also felt stable without much lean bias."
Additionally, while primarily a speedy trainer, its mild stability also allows the shoe to handle easy and steady-paced runs equally well. And the semi-gusseted tongue provides security both in easy and fast runs.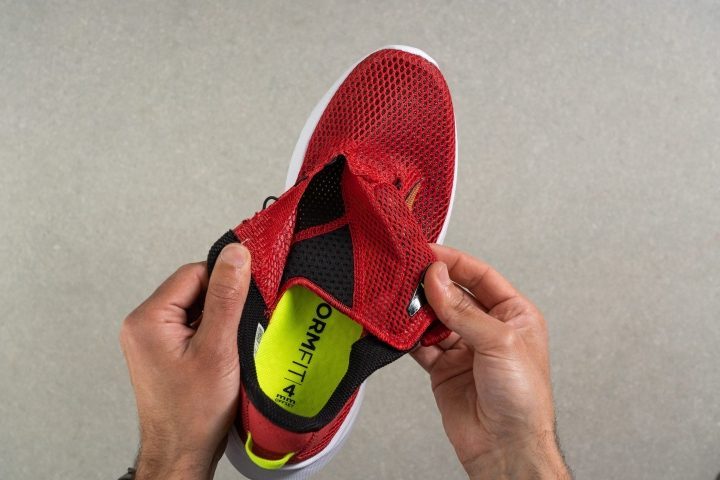 Super-thick insole and a convenient pull tab
One of the most significant transformations in the latest Kinvara model is the insole. In a clever effort to enhance foot cushioning without resorting to an overly soft midsole—which would disappoint Kinvara enthusiasts in terms of stability—Saucony opted for an incredibly thick and comfy insole.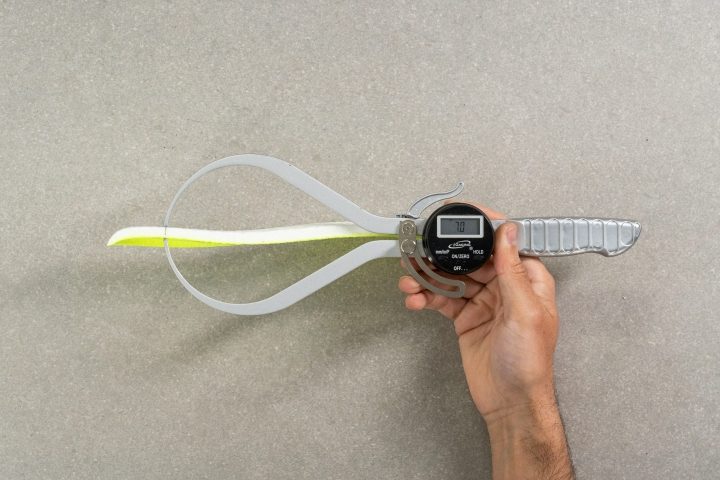 Fact check
The insole of the Saucony Kinvara 14 measures 7.0mm, which is an impressive 85% thicker than the Kinvara 13 and a breath-taking 89% thicker than the Kinvara 12. Wow!
We also appreciated the finger loop pull tab. It makes slipping into the shoe easier and it just looks fantastic.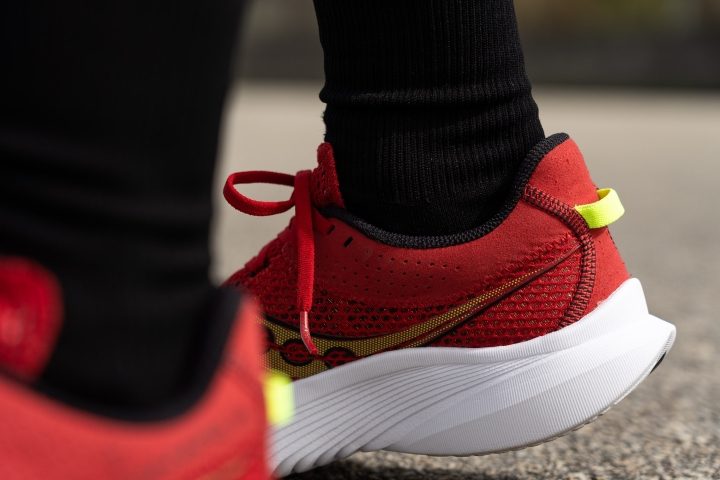 Fantastic price point
At $120, the Saucony Kinvara 14 is one of the more affordable speedwork options out there. For comparison, the average price of speed training running shoes is $138.