7 Best Saucony Running Shoes in 2023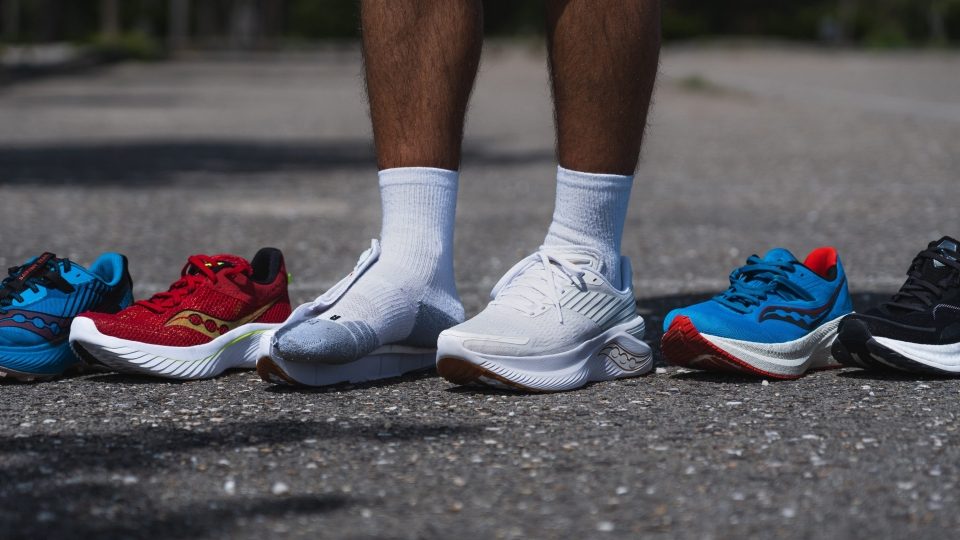 We earn affiliate commissions at no extra cost to you when you buy through us. Why trust us
With a 120+ year history, Saucony has gained extensive experience in the running shoe industry. Not to mention that it has several lineups that have stood over 10 iterations, retaining a wide fan base.
As one of the best-rated running shoe brands, Saucony leads not only in quantity (130+ models) but in quality too. The brand ranks #7 in our running shoe brands' rating.
We've been following Saucony for years and have tested over 50 of their most recent releases to find the best and brightest. Famous for their speed-oriented Endorphins, we have also selected some excellent daily trainers, supportive shoes for flat feet, as well as some wallet-friendly options.
Comparison of the 7 best Saucony running shoes
| | | | | | | | | |
| --- | --- | --- | --- | --- | --- | --- | --- | --- |
| Best | | | | | | | | |
| CoreScore | | | | | | | | |
| Users rating | | | | | | | | |
| Experts | | | | | | | | |
| Best price | | | | | | | | |
| Ranking | | | | | | | | |
| Popularity | | | | | | | | |
| # of colorways | | | | | | | | |
Overview of Saucony running shoes
Unlike most popular athletic brands, Saucony keeps its focus on running alone.
Over the years, the brand has developed a wide range of running shoe categories for any type of run: easy, fast, race, trail, mud, etc. The sections below will help you make an informed decision on which models match your needs.
Saucony running shoes
Road
Trail
Daily running

Speed trainers

Race shoes
Neutral
Stability
Daily running shoes from Saucony
If you are after a hardy workhorse for daily miles or training for a marathon, Saucony has quite a selection to choose from. Minimal or highly cushioned, neutral or stability, find out more about each collection below.
Neutral or stability?
TIP: Choose neutral shoes if you've never experienced discomfort or pain in most footwear.
Neutral shoes are meant for runners with normal pronation (no excessive inward or outward rolling of the foot), while stability shoes have supportive components to prevent overpronation.
Learn more in our guide on pronation.
Neutral running shoes from Saucony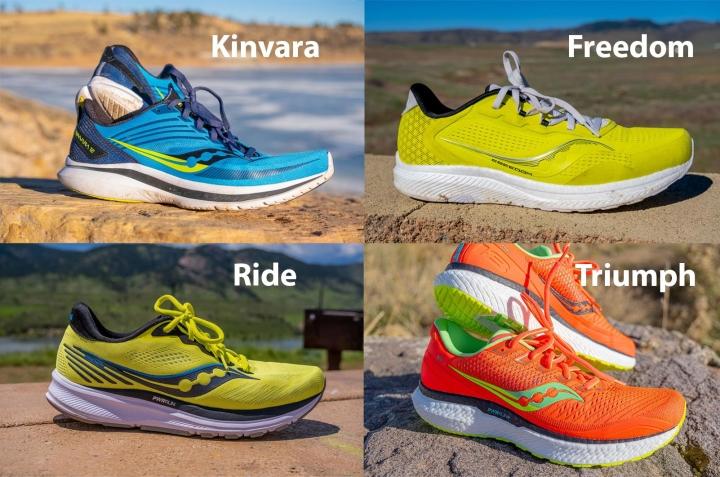 Kinvara and Freedom are on the firmer, more minimal side. Ride is more cushioned. Triumph is the softest, max-cushioned option.
Saucony Kinvara

lightweight trainer for easy-to-fast runs

Simple, fast, light, nimble, it feels minimal in all the right places. The firmest and lightest of Saucony daily trainers, it makes a great speedwork option.

Saucony Freedom

light, responsive trainer for any run

It is a versatile lineup that is ready for slow daily miles as well as speed training. It is more cushioned and durable than the Kinvara.

Saucony Ride

solid daily trainer

The Ride has a more traditional feel and a great fit. Moderately firm and responsive, it's the middle ground between Triumph and Kinvara.

Saucony Triumph

max-cushioned daily cruiser

"Cadillac of easy run shoes," it is a series of premium, highly-cushioned trainers, perfect for building up the mileage.
Stability running shoes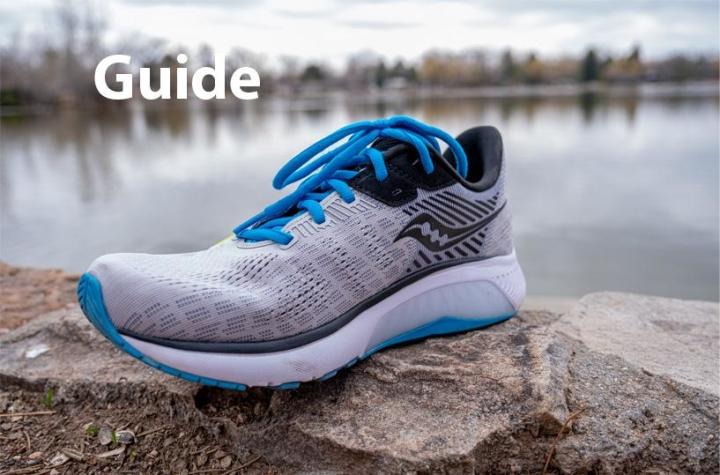 Guide is a staple stability shoe from Saucony
Saucony Guide

subtle stability version of the Ride

This lineup shares most design components with its neutral counterpart. Its inherent support not only works for mild overpronation but is also unobtrusive for neutral runners.

Saucony Hurricane

max-cushioned stability

Pulling cues from the Triumph series, the Hurricane is a highly-cushioned premium stability shoe from Saucony. Recommended for moderate overpronation.

Saucony Omni

maximum pronation control

The most stable in this lineup, the Omni is recommended for moderate to severe overpronators.
Saucony Endorphin collection
In 2020 Saucony made a hit with its Endorphin trinity, which provided tough competition to the revolutionary Nike Next% race shoes.
It is a premium lineup that includes three models for different purposes, from easy runs to setting personal bests. Equipped with the latest technologies from Saucony, these are meant to minimize energy loss and maximize your running performance.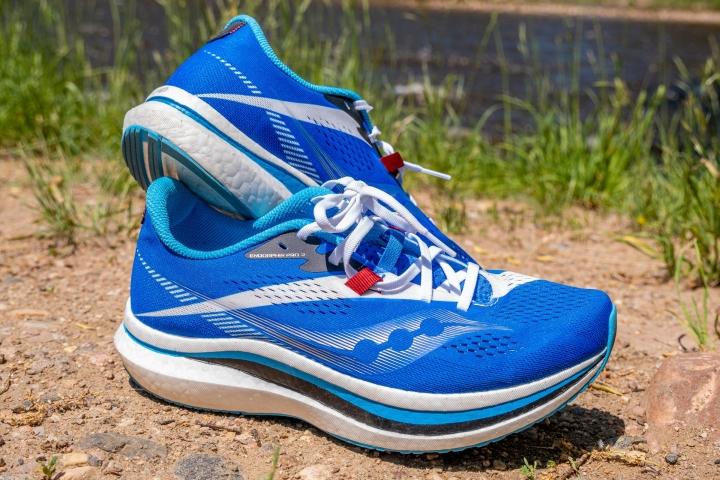 a daily trainer for easy and long-distance runs

most durable
highly cushioned
stable and supportive
heavier (10.1 oz / 286g)
less expensive ($140)

a versatile shoe for speed training and racing

less propulsive than Pro but still snappy (flexible nylon plate)
light (7.8 oz / 221 g)
expensive ($160)

an elite race shoe

most propulsive (stiff carbon plate)
thinner and reduced upper for higher speed
the lightest (7.5 oz / 213 g)
the most expensive ($200)
Saucony trail running shoes
You'll need something more rugged to go off the beaten path and explore the forests and mountains. Here is an overview of the brand's dedicated trail shoes.
Peregrine is the brand's flagship trail shoe that can do it all
Saucony Switchback

minimalist trail shoe

This shoe prioritizes ground feel above anything else. Light, nimble, grippy, it can take you fast along moderate trails. An innovative BOA closure is a welcome touch. Has a rock plate.

Saucony Mad River TR

softer shoe for semi-technical trails

More flexible, plush, and forgiving than the Peregrine, Mad River works best for cruising on less demanding terrain. No rock plate.

Saucony Xodus

versatile trail-to-road workhorse

This heavy, max-cushioned trainer can go from paved roads to technical trails easily. Its high stack and rock plate will keep you surefooted at all times.

Saucony Peregrine

flagship, high-performance trail runner

This lineup is not only best within the brand itself, it is also among the top-rated shoes in the market. Outstanding grip, durability, and lockdown that work at any speed and terrain. It also comes with a rock plate for extra protection.

Peregrine GTX - waterproof version
Some of the road running shoes are also released in trail versions (see shoes with "TR" in the name). They are meant to bring the familiar experience of your favorite road shoes to the trail, but with added grip and protection.
Let's talk tech: Special features in Saucony shoes
Technology name means nothing if you have no idea how it benefits you. Here we briefly explain the most common and popular features used in Saucony shoes.
ISOFIT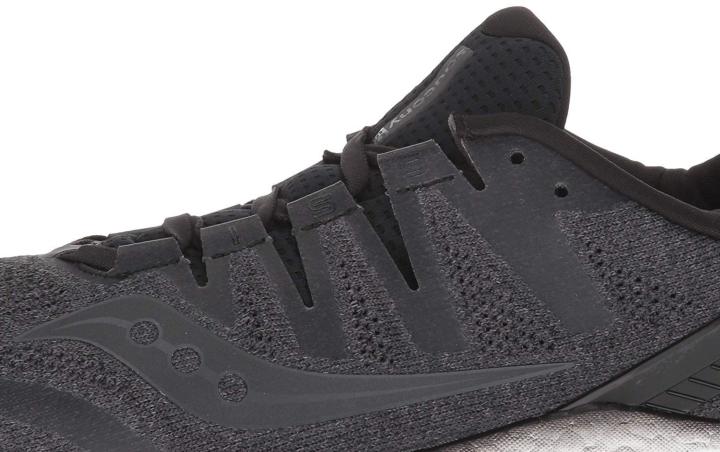 ISOFIT is an upper design that was present in nearly all Saucony running shoes throughout 2015-2019. It was meant to provide a more adaptive fit by separating the inner sleeve and the external floating support cage. However, it received criticism for making it harder to lace the shoe up and adjust the tightness. That's why more recent releases come without it.
FORMFIT
First seen in the 2020 editions of the Triumph and Guide, this design offers a holistic approach to comfort. It aims to cradle the foot from above, below, and behind to give a secure fit with no pressure points.
PWRRUN / PWRRUN+ / PWRRUN PB
A step-up from the EVERUN, PWRRUN was first introduced in Saucony Guide 13 (2019 release). Based on runners' feedback, it feels noticeably lighter and softer than the EVERUN.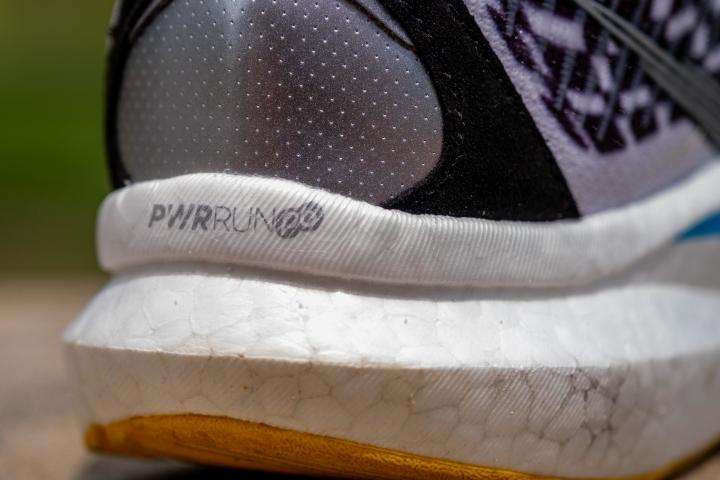 Comprised of small TPU "bubbles", it may look very similar to Adidas Boost but it has a lighter, livelier ride.
A more advanced version is the PWRRUN+. First seen in 2019, it is now incorporated into such premium lineups as Triumph, Hurricane, and Freedom. It is 28% lighter than the standard PWRRUN and is highly praised for its responsiveness.
Comprised of small TPU "bubbles", it may look very similar to Adidas Boost but it has a lighter, livelier ride.
The PWRRUN PB stands at the help of the series. It is considerably lighter than the PWRRUN+ (by 40%) and embodies an elite-level of energy return and durability. "PB" stands for Pebax, a material that's used in the high-end race shoes like Nike Alphafly and Vaporfly. This foam is currently only employed by Saucony Endorphin Pro racer.
SPEEDROLL
The Speedroll was introduced along with the Endorphin collection. It is the brand's take on the rocker design, which promotes a faster and livelier forward roll.

The upturned forefoot helps to create a rocker-like sensation.
Carbon-fiber plate
Used only in the Endorphin Pro race shoe, this full-length piece of stiff carbon creates extra propulsion for the speediest runs. It helps you maintain a high tempo on long distances and push through those final marathon miles easier.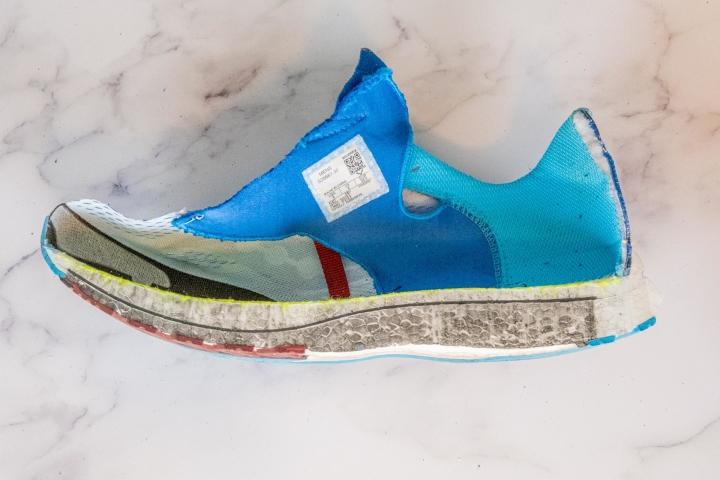 The black elements inside the white foam are carbon plates.
PWRTRAC
Used on the Peregrines and some other Saucony trail shoes, this tacky rubber compound works together with the lugs for efficient traction in all conditions. It is also more resistant to abrasion than standard rubber.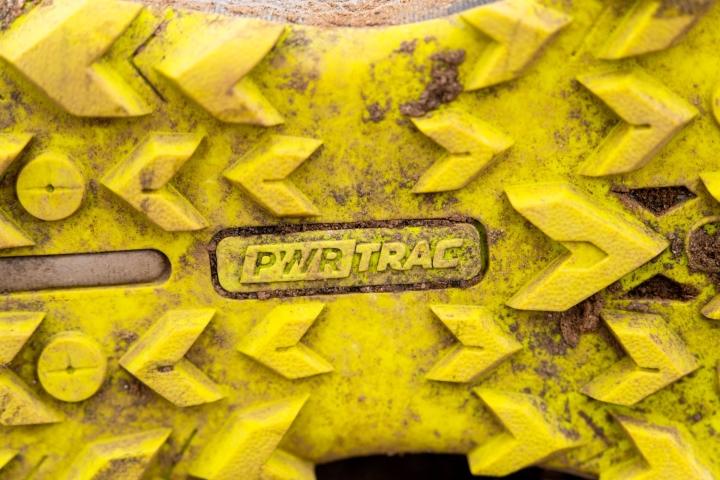 Frequently asked questions
Are Saucony running shoes good for walking?
Yes. All daily running shoes from Saucony can double for all-day wear. If you want to expand your options for casual wear, we recommend looking at stylish Saucony sneakers.
How long do Saucony running shoes last?
The brand itself estimates around 400 miles for its shoes' lifespan. However, some models can be more durable, while others may not live up to that claim. Here are some of the signs that you need to replace your pair:
worn-out treading, lack of grip
tears, holes, creases and other deformities that affect comfort
the cushioning feels "dead"
Seasoned runners keep several pairs in their rotations to avoid burning through one shoe too fast. You can also use apps like Strava to keep track of your miles.
What Saucony shoe is best for plantar fasciitis?
Shoes with more cushioning, ample underfoot and upper support will make sure your foot condition doesn't aggravate. There are more than a few lineups from Saucony that can help you feel more comfortable.
Are there cheap Saucony running shoes?
Saucony Echelon: stable, orthotic-friendly running/walking shoe
Although marked as a neutral shoe, the Echelon is constructed with a wide, straight base that offers stability. It is recommended for people with flat feet and other foot conditions as its spacious interiors accommodate custom orthotics.
Saucony Cohesion: cheap, beginner-friendly
An entry-level running shoes that is easy on the wallet and can double for gym and athleisure.
See our full list of affordable running shoes from Saucony.
Is Saucony made in the USA?
Not anymore. The manufacturing shifted abroad back in 1990s.
How do you pronounce "Saucony"? What does it mean?
Pronounced as [saw·kuh·nee], the brand is named after Saucony Creek in Pennsylvania where it was founded in 1898. It is translated from Native American as "place of outlet."
Who owns Saucony?
The company is owned by Wolverine World Wide, an American manufacturer of footwear which also produces shoes and boots from Caterpillar, Merrell, Keds, Hush Puppies, Sperry, among others.
Are Saucony running shoes vegan?
Only two models are currently marked as 'vegan' on the brand's official website: Endorphin Speed and Pro. It implies that they contain no animal products, by-products, or derivatives.
Is Saucony an ethical company?
According to Good On You, a company that ranks fashion brands based on to the principles of ethical and sustainable production, Saucony is "Not good enough." There is no evidence on its reduction of environmental impact, low scores on labor standards, and lacking animal welfare policy.
How we test running shoes
As a team full of running shoe enthusiasts with an independent RunRepeat shoe lab, we thoroughly analyzed every new release from Saucony:
We measure over 30+ parameters that contribute to the shoe's performance. That includes cutting each one into pieces, testing breathability with a smoke machine, and more.
We run 30-50 miles on average in each pair to deliver extensive feedback.
No free shoes are received from the brand. We purchase every pair with our own funds to avoid bias.
This way we make sure that only the best Saucony running shoes make it to this list.