10 Best Stability Running Shoes (Buyer's Guide)
Stability running shoes are helpful in providing runners the additional arch support, especially if they feel that the lack thereof is preventing a natural and comfortable movement. As a beginner, it could be a worthy investment for you, but make sure to identify first if the features are truly beneficial to your run.
In this article, we define stability shoes and the top-rated stability running shoes currently in the market to help narrow down your choices.
How we test for the best stability running shoes
RunRepeat provides users with recommendations for the best stability shoes based on user ratings and expert reviews. These data are aggregated to form the Corescore, which is a numerical value (from 0 to 100) that indicates how well-liked a shoe is.
We have reviews and ratings from 1,500+ experts and 250,000+ users for over 300 stability running shoes.
Each stability shoe product page has been done with around 7 hours of research on shoe details and reviews.
Ranking of the 10 best stability running shoes
Based on 834,264 user ratings 1,653 expert reviews
Here is a list of all 270 stability running shoes, where you can sort by "best rated" and apply filters.
Popular running shoes aren't the better rated ones
Do I need a stability running shoe?
Yes and no.
If you are a beginner, or if you don't have any pain in walking or running, a stability running shoe is not absolutely necessary. You may find that neutral shoes are comfortable enough and can get you across Point A to Point B without problems.
However, if you have excessive inward foot movement or if you are experiencing injuries related to it, you might have overpronation. In this case, a stability running shoe could help alleviate these issues.
What is overpronation?
To better understand overpronation, we will first define pronation. Pronation is the natural movement of the foot as it lands, such as during walking or running.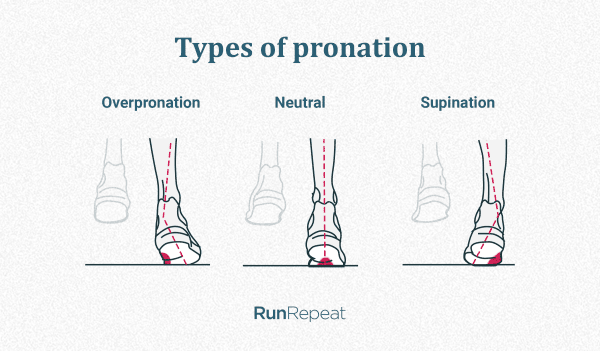 Normally, pronation is a side-to-side motion, which results in the foot rolling inward with each step. To some, this happens in higher degrees (could be mild or severe). When this occurs, you may have overpronation.
Neutral vs stability vs motion control shoes
For most runners, neutral shoes are the more common choice. This is relatively harmless, especially if you don't have problems walking or running. On the other hand, if you have overpronation, stability shoes, or motion control shoes could be more beneficial. Here is a guide on how we can differentiate between neutral shoes, stability shoes, and motion control shoes.
Differences between arch types
High-arched runners have a prominent rise on the bottom of their feet. Because it is high, the risen area has little to no ground contact. This results in the foot to move rigidly.
Runners with moderate arches have an underfoot rise that is neither too high nor too low. Their foot rolls inward to a certain degree, which lends them impact absorption upon landing.
Runners with very low arches usually possess flat feet. A runner with a flat foot does not get sufficient arch support. This means, as the foot lands on the ground, it tends to roll inward excessively.
Which type of shoe should you get?
High-arched runners are the most compatible with neutral shoes. These shoes are well-cushioned to make the runner feel more comfortable and their foot more flexible.
Stability shoes are for runners with mild overpronation. Runners with feet that tend to move inward will benefit from a shoe that offers support and controls the excessive rolling of the feet. Stability shoes offer adequate cushioning but have a firm midfoot area to reinforce arch support.
For runners with severe overpronation, motion control shoes are most suitable. These shoes are similar to stability shoes in that they provide support and keep the foot from rolling inward. However, motion control shoes have stiffer parts, especially in the heel area. The aim of this is to make the shoe a bit heavier to prevent the foot from moving inward extremely.
3 noteworthy attributes of stability running shoes
An efficient stability running shoe should be able to correct your pronation and alleviate any discomfort brought by the foot rolling inward. The listed qualities below help stability shoes achieve these goals.
A semi-curved shape
A stability shoe has a slightly curved shape, which allows it to provide a good balance of support and cushioning. In contrast, a neutral shoe has more curves, while a motion control shoe is almost straight. Below is an illustration for reference: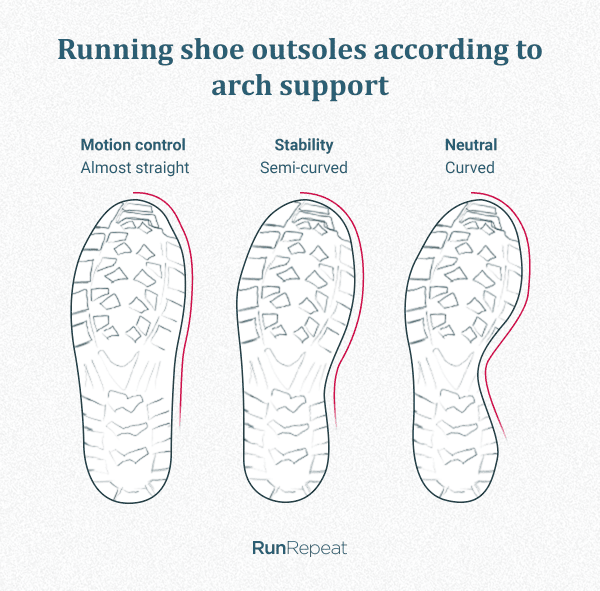 On the left, the motion control shoe shows an almost straight layout with its shallow curves on the arch area. In the middle is the stability shoe, which is slightly curvier. On the right is the neutral shoe that displays the deepest curves among the 3.
Guide rails
A gradually increasing trend among stability running shoes, the guide rails are a special feature that prevents the inward rolling of the foot, which is the most apparent sign of overpopulation.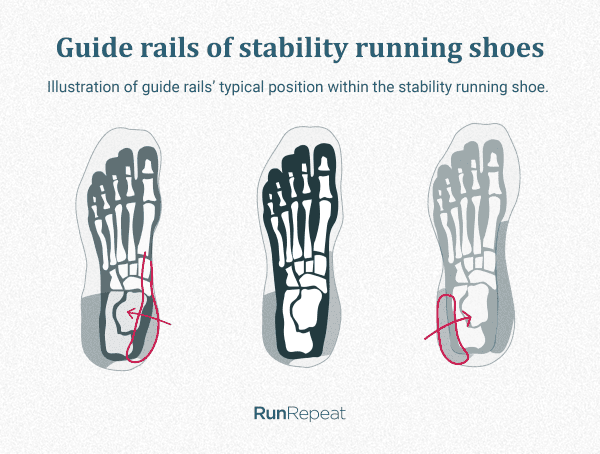 Here you can see an illustration of how the guide rails are typically positioned within the stability running shoe. This layout effectively prevents the foot from rolling inward, as with overpronation.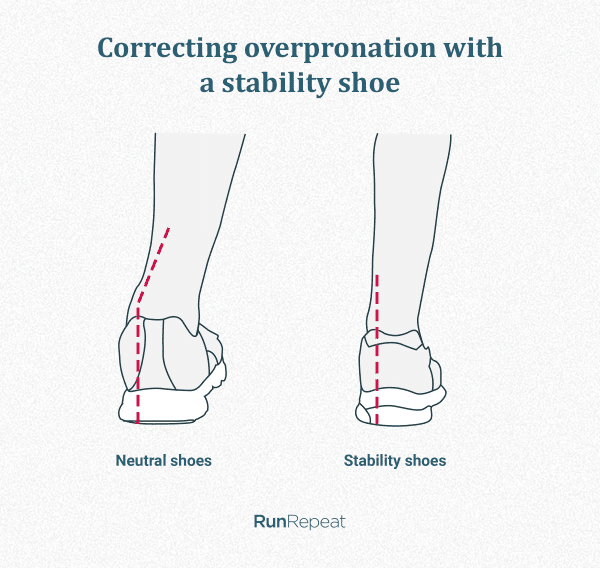 Midfoot support elements
A usual companion of the guide rails in stability running shoes is the midfoot features. These may come in the form of overlays or saddles, both of which have the same purpose: enhance the shoe's stabilizing quality by providing support to the midfoot.
While overlays act as a supportive frame, they can double as decorative elements to the shoe, so they are usually set up as the brand logo, or any other symbol that is relevant to the model.
Frequently asked questions
Will a stability shoe correct my pronation permanently?
The answer is no, unfortunately. A stability shoe provides extra arch support and it stabilizes the foot to avoid unnecessary movements. However, the shoes are only meant to guide the feet towards a correct gait, but it does not permanently fix the condition. If you are looking for a long-term solution, you may try physical therapy and some exercises aimed at strengthening foot muscles.
Should I use stability shoes even when I am not running?
A stability shoe corrects the step of an overpronator by giving a sufficient amount of arch support. If you suffer from pain and injuries that are associated with overpronation, then a stability shoe can continue to be beneficial in your other activities that involve a lot of mobility.
The best stability running shoes in every category
Which stability running shoes brand has better reviews?
Other buying guides
Now, are you ready to buy stability running shoes?