The Guide 16 continues to be the mild-to-moderate stability shoe Saucony loyalists keep coming back to for their pronation needs. This lightweight runner toes the line between traditional and modern guidance—offering the type of support that's slightly reminiscent of posted models thanks to its many stability elements, while also keeping a relatively low-key, 'there when you need it' presence underfoot.
Pros
Softer, more comfortable upper

Breathable
Excellent lockdown
Good guidance without being too intrusive
Protective and fairly responsive
Good grip
Natural-feeling ride
Roomy toe box
Lightweight
Best for daily miles and as a walking shoe
Cons
Uncomfortable for going sockless
Firm cushioning
Does not like to go fast
Durability is so-so
Who should buy the
Guide 16
Get this Saucony Guide 16 if you:
need a road runner that provides extra support and guidance for flat feet and overpronation
are looking for a lightweight daily trainer
want a rotation partner for your speed-ready Saucony Tempus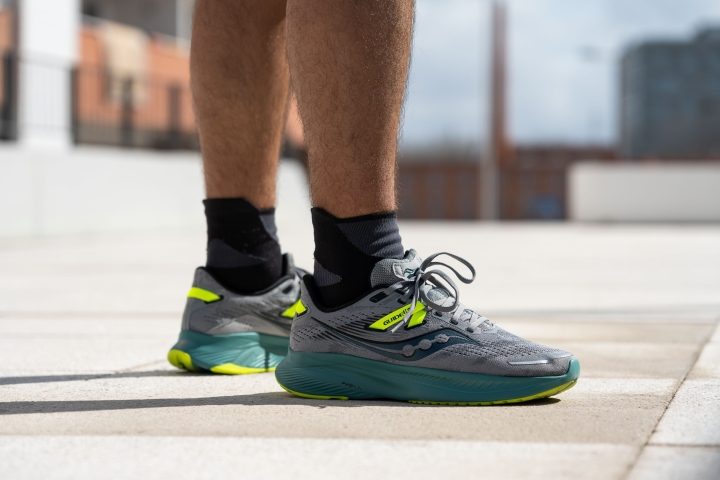 Who should not b
uy it
If you prefer a cushier feeling underfoot from your stability runners, check out the ASICS Gel Kayano 29 or the Hoka Gaviota 4. For one that can handle speedwork, try the aforementioned Saucony Tempus or the ASICS Gel DS Trainer 26.
Your feet are in for a treat
Like its neutral counterpart, the Ride 16, the 16th iteration of the Guide also received minimal—yet quite impactful—alterations this time around.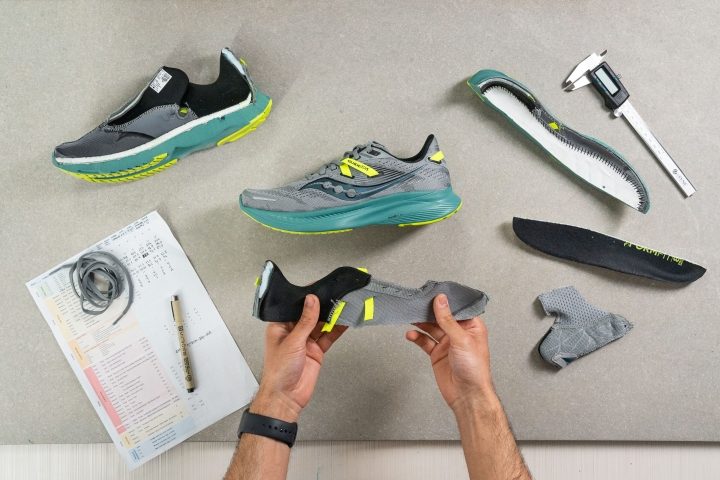 Reviewers note that most of the changes occurred up top, with the Guide 15's dense and thin upper being replaced by a softer, more pliable mesh material. Together with the gusseted tongue and ghillie lacing system, it does "an excellent job of keeping the foot dialed in" without having to lace lock.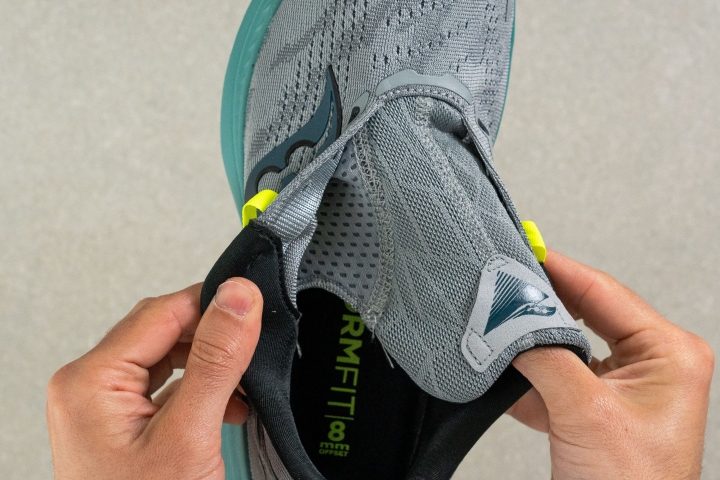 One tester also mentioned that the upper, while breathable and comfortable, caused "some mild rubbing while running sockless," so using socks for running is advised.
Saucony Guide 16 (left): a decent amount of smoke is passing through the upper; Adidas Runfalcon (right): the toe box is not letting any smoke out.
Fact check
In our lab, we measured the breathability with the smoke test. On a scale of 1 to 5, the shoe received 3, which means that it is averagely breathable.
For this test, we use a smoke-pumping machine and cover up the shoe mouth entirely so that the smoke is only able to escape through the upper.
We carried out a second test on the upper. By putting it against light, we could see that the light can pass through the fabric, proving that it's breathable.
The photos we took with our microscope show the texture of the mesh upper and the holes that let the moisture out.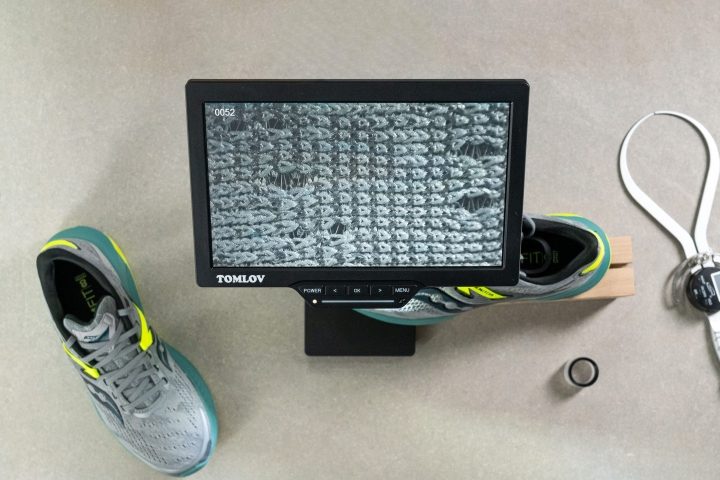 A close-up photo of the knit on the Nike ZoomX Invincible Run Flyknit 2
Firmness with a purpose
A group of shoe experts found the Guide 16's PWRRUN foam to be "one of the softer midsoles in the genre." But make no mistake—in the stability 'genre', midsoles are bound to be on the firm end, and this shoe is no exception. For comparison, the Asics Gel Kayano 29 is exactly as soft.
Fact check
We tested the foam in our lab and we can confirm that it's soft. To be exact, it's 24% softer than most shoes we tested.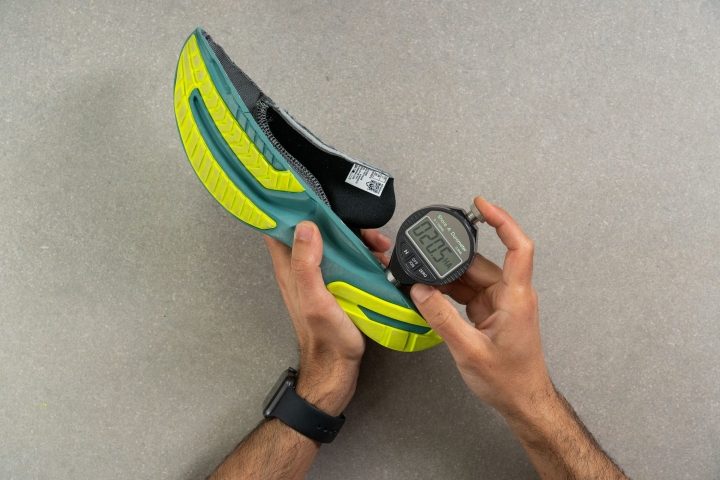 Disclaimer: We take an average of 4 measurements and exclude any outliers. This image shows just one of our measurements.
Despite the general firmness, runners reported that the Guide 16 had a good amount of cushioning, shock absorption, and bounce that made it a comfortable option for longer outings. Reviewers also liked how its carved-out footbed allowed their feet to sit inside the cushioning (and not just on top of it), which created "a cozy, supported sensation."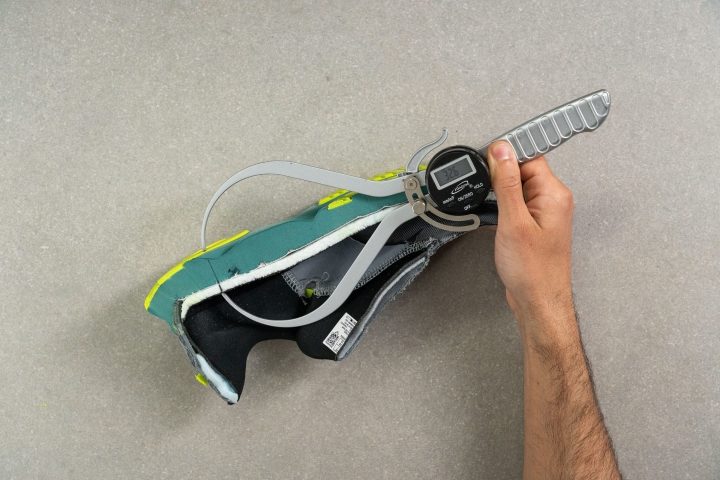 We measured the stack height at the heel and we found that it is 32.6 mm, which is close to the average of 33.2 mm. We did the same with the forefoot and received 24.8 mm. Again, very close to the average of all running shoes we've tested (24.5 mm).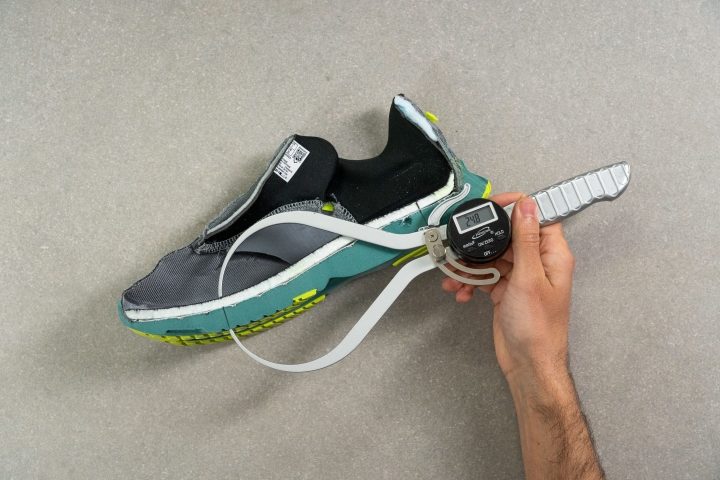 Disclaimer: Our stack measurements are taken with the insole included
Guidance that adapts to your needs
There's a bevy of stability components that contribute to the Guide 16's centered ride, with the HOLLOW-TECH frame serving as the primary mechanism. According to experts, this provided a subtle but supportive firmness underneath the arches that reduced their overpronation and propelled them forward.
Additionally, the shoe's sidewalls, sole flaring, heel lockdown, and geometry also assist in providing runners with a well-integrated level of stability "without being too pushy," as one tester so adequately put it.
The heel also features a slightly lateral bevel "that guides landings in well" and creates a more stable experience.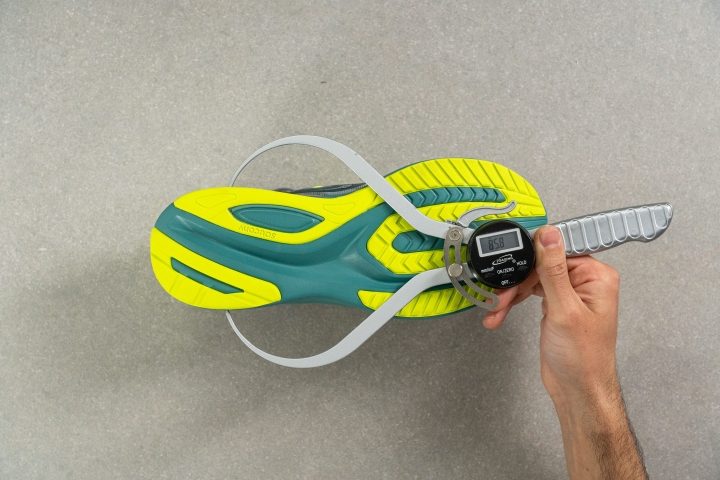 Being 114.4 mm at the forefoot the sole is slightly wider than average, which is 112.5 mm. On the other hand, at the heel, it's actually narrower: only 85.8 mm compared to the average of 89.4 mm.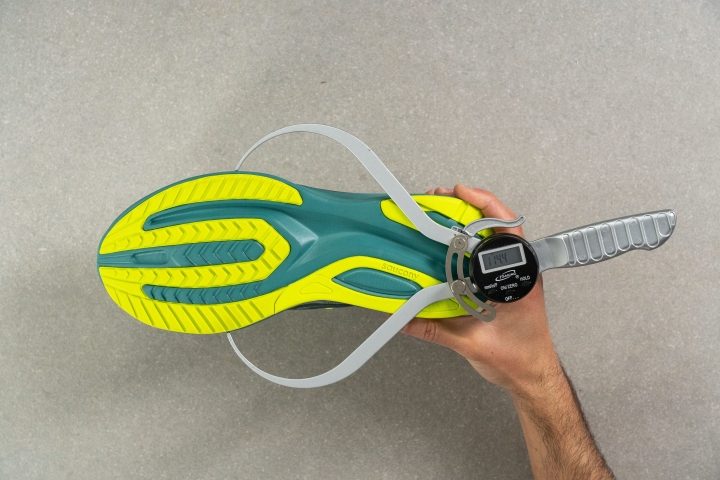 Unlike the rest, the heel counter is extremely stiff. In our test, it received 5 out of 5 (5 being the stiffest).
Doesn't ride like a stability shoe
"It just goes and goes with pleasure," remarked one runner about the Guide 16. Thanks to its flexible outsole and mild forefoot rocker, it bucks the trend of 'rigid stability shoes', and provides fluid mid-to-forefoot transitions and a ride that's easy to get into a rhythm with.
Fact check
Reviewers are right about flexibility. Out of all the shoes we had in our lab, the Guide 16 is nearly 50% more flexible, which is uncommon for a stability shoe.
Fact check
A second test confirms the first one: the shoe scored 2 out of 5 (with 5 being the stiffest) in both longitudinal and torsional flexibility.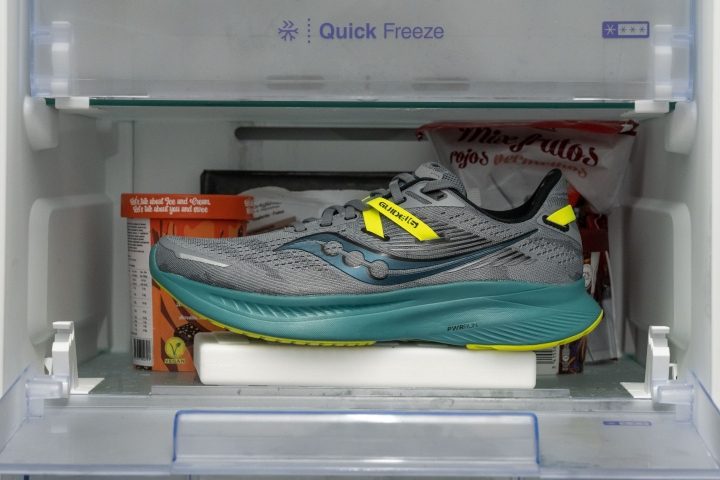 Fact check
Cold temperatures can make running shoes stiffer. After 20 minutes in the freezer, the Saucony Guide 16 became 47.7% more rigid, yet it still remained 12% more flexible than most shoes we tested.
Sacuony Guide 16 (top) vs. New Balance Fuelcell SuperComp Trainer (bottom)
The Guide 16 doesn't have a rockered geometry. The video above shows the difference with a very pronounced geometry, which rolls much better and smoother.
Not your run-of-the-mill sock liner
Also among the updates to the v16 is the new PWRRUN+ insole, which reviewers found to be more plush and comfortable than its predecessor. One expert added that the insole does a great job of deadening the midsole's firmness, and puts the Guide's underfoot feel in contention with—but not surpassing—its faster stability cousin, the Tempus.
Fact check
Our lab data confirms what runners have experienced with the insole. Using a pair of calipers, we measured the insole thickness at 6.3 mm. It is 1.8 mm thicker than the average of all the insoles we measured.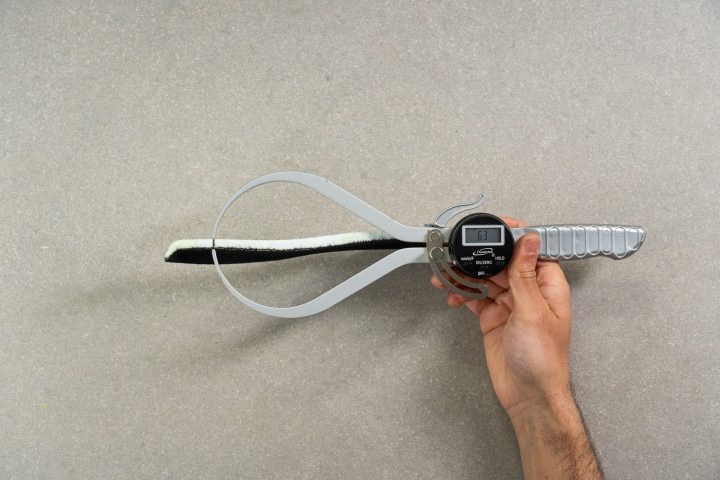 Want to go fast? This ain't it
The Guide 16 is a daily trainer that's "definitely more of a pure mileage eater," says one expert. It's at its best when running relaxed paces, but also does fine for longer efforts.
While it can also pick up the pace decently, one runner shared that he "wouldn't use this for a full workout." And because of its comfortable insole and traditional-feeling geometry, it can also double well as a stable walking shoe.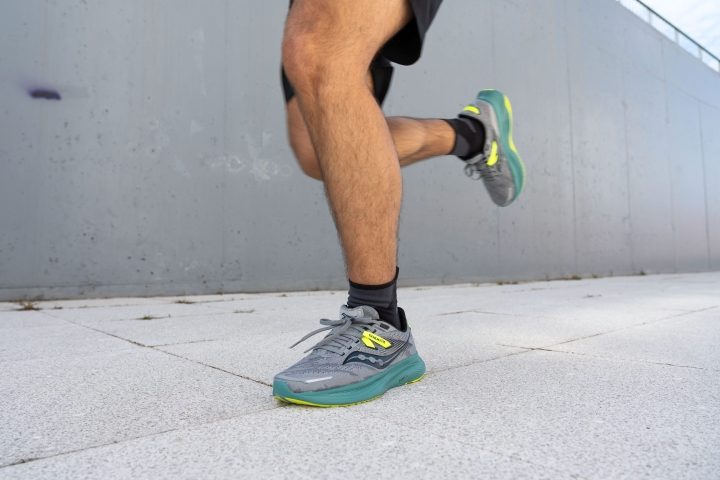 More splay room than before
According to most reviews, the Guide 16 has a more spacious toe box than the v15, with the new pliable upper allowing it to open up even wider.
Fact check
Based on our measurements, we can confirm that this new version is nearly 5 mm larger in the widest part of the toebox.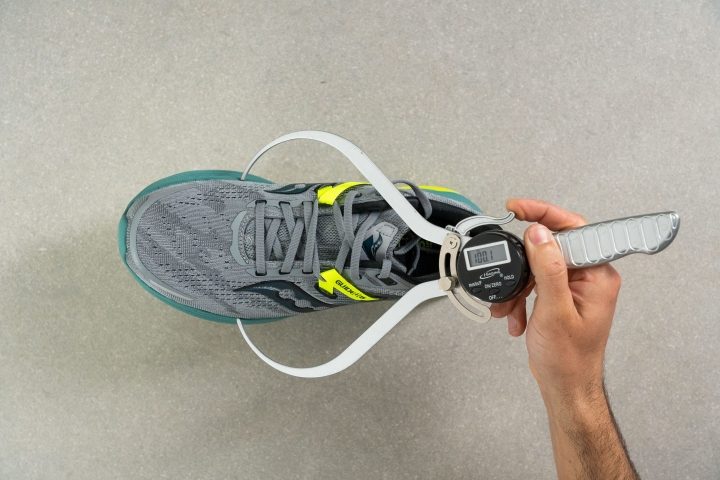 Fact check
Unlike the width at the forefoot, at the heel the upper is now a little bit narrower than before. It's nearly 2 mm narrower than the previous version.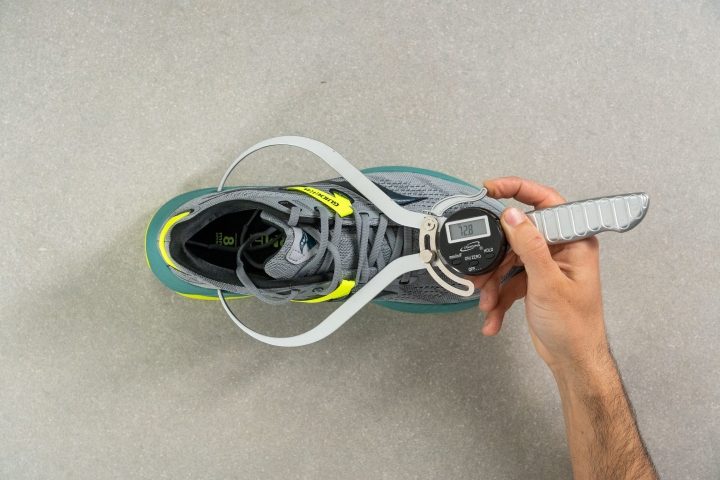 Smooth but doesn't slip
The Guide 16 sports two types of rubber on its outsole: a softer blown rubber on the forefoot which aids in providing swift transitions, and a firmer carbon rubber from the midfoot back for some added stability.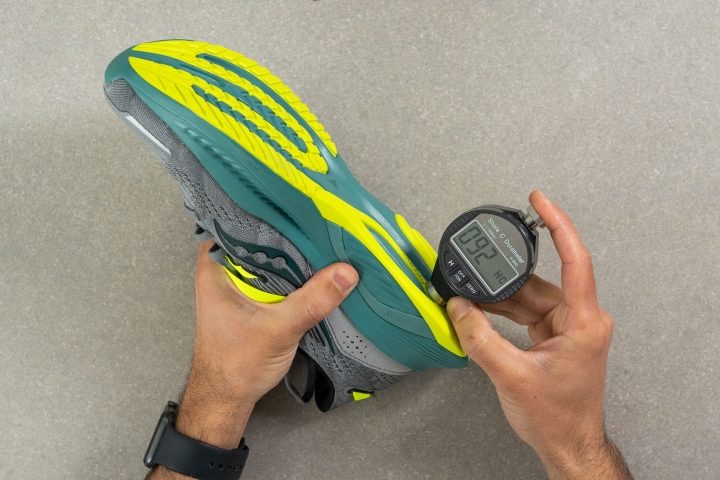 Fact check
We measured the outsole rubber and found that it's particularly hard. At 92.0, it's 14% firmer than most running shoes we have tested.
Though it's relatively smooth, runners shared that the outsole offered enough traction even on groomed trails, wet smooth surfaces, and slick pavements.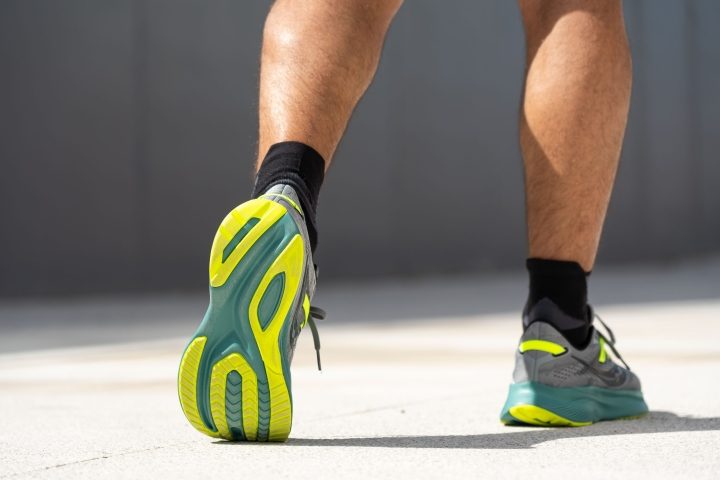 The Guide 16's durability is nothing to write home about
An expert who ran in the Guide 16 said that he wasn't able to log a lot of miles before seeing mild wear on his outsoles—nothing too premature or extreme though, but nothing too spectacular either.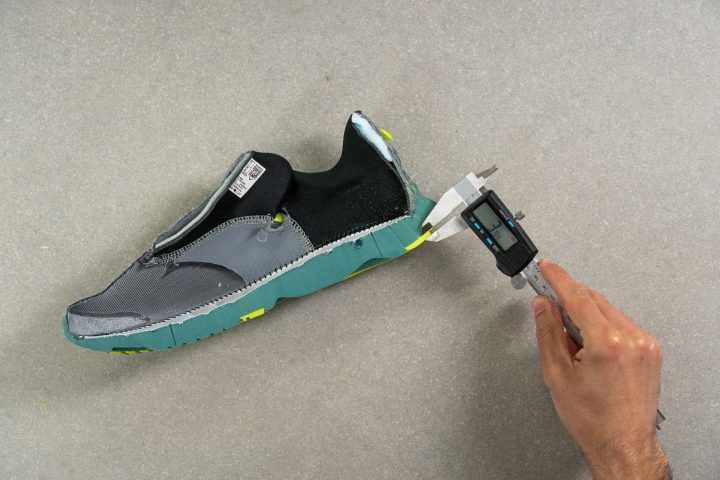 As for the outsole's thickness, we measured it to be 3.9 mm, slightly thicker than the average of 3.5 mm.
Lean, mean stability
machine
Testers were pleasantly surprised that the Guide 16 only weighed 269g for a men's US9. It's significantly lighter than most stability shoes (299g on average) and weighs just about the same as most neutral runners (266g).
Don't save it for a rainy day
Though not marketed as water-resistant, one runner made a point to emphasize how bad an idea it is to use the shoe in the rain. He warned that it gets "pretty easily soaked and cold quickly," and that the water that seeped through "made the insole feel a bit damp and slightly spongy."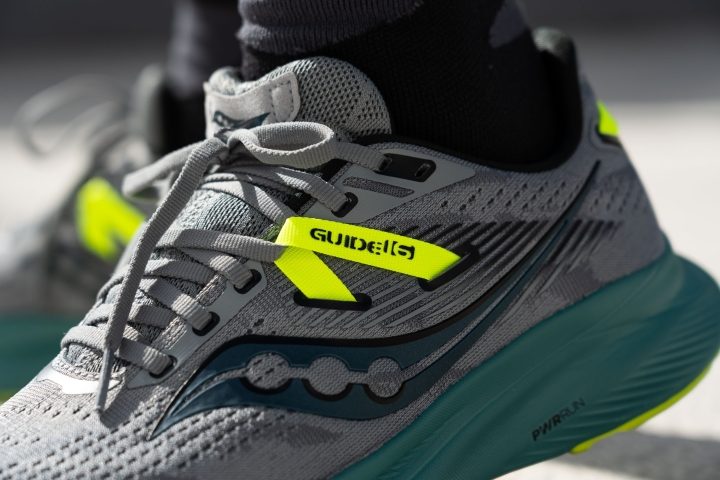 It's best to take a light with you
While its presence is better than nothing, the small reflective detail doesn't do much to make a runner visible at night.