The eleventh iteration of the ASICS GT 2000 is a solid daily trainer that ensures a stable and comfortable ride for runners who need that extra support. The integration of ASICS tech into these stability daily runners allows runners to experience that excellent balance between a squishy and responsive run. These versatile running shoes keep your feet happy whether it's an easy run around the block or a day-long adventure.
Pros
A gentle stability shoe
Well-cushioned
Comfortable in-shoe feel
Responsive ride
Light for its kind
Secure lockdown
Breathable
Great value for money
Cons
Narrower-than-expected toebox
Overly padded tongue
Who should buy the
ASICS GT 2000 11
The ASICS GT 2000 11 is an excellent choice for:
Those who are looking for daily running shoes that are both supportive and comfortable.
Runners who need a daily trainer that's both lightweight and responsive.
Fans of the Cumulus 24 who have low arches or flat feet.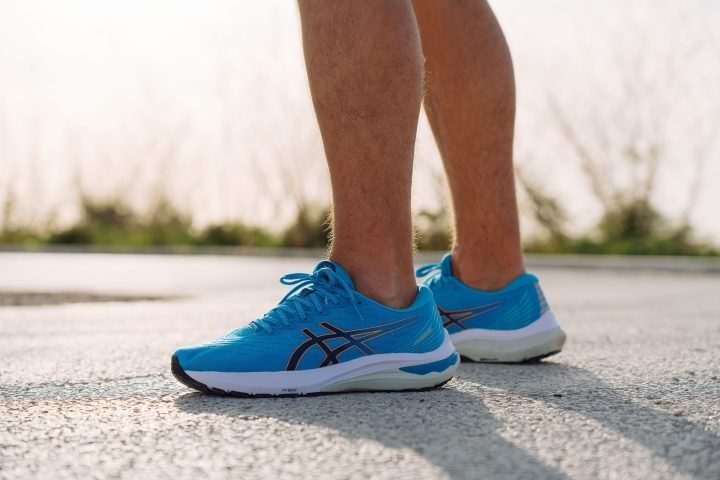 Who should NOT buy it
This might be a pass for runners with severe overpronation. They could consider the ASICS Gel Kayano 29 instead - the brand's most stable shoe.
For those who need just a touch of stability, the neutral ASICS Gel Nimbus 24 might be a better option.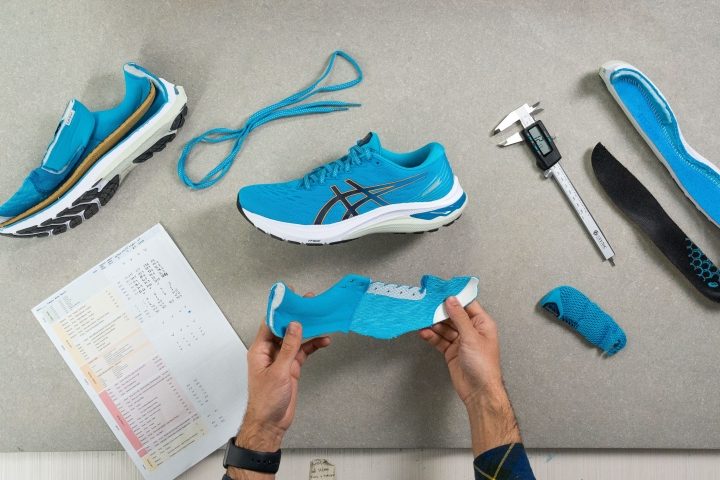 Dare to take the ASICS GT 2000 11 on any run
These trainers are the most reliable option, from easy runs to tempo runs, and backyard excursions to day-long adventures. An expert loved how versatile these shoes are as they said how these are great "if they want to pick up the pace of if they want something to use every day of the week." Another critic appreciated the shoe's stability as they said: "This is something that can hold you in position and get you efficiently through your gait cycle."
As some buyers mentioned:
"The GT-2000 11 is a really solid choice for a stable everyday trainer."
"It's a perfect everyday choice for regular training runs, walking, and travel."
The GT 2000 11s are an excellent pick for runs in warmer weather as the engineered jacquard mesh upper provides "solid breathability" according to a critic.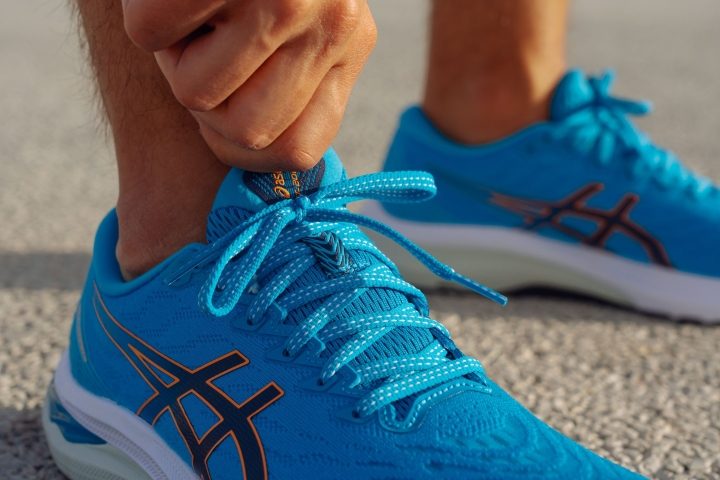 GT 2000 11 is well-ventilated for summer runs
Runners had no problem choosing this ASICS shoe for hot summer days. Even though it is not THE most breathable shoe, it is still effective in keeping the foot fresh.
Fact check
Pumping smoke through the shoe's upper, we rated the shoe's ventilation capacity as 4 out of 5 where 5 is the most breathable.
ASICS GT 2000 11 (left), Adidas Runfalcon (right)
Fact check
Most of the air passes through the top of the toebox. See how large the ventilation pores are in this area.
Flat feet are nice and supported in the shoe
The overall structure of the ASICS GT 2000 11 supports flat feet and encourages a straight gait.
The shoe's integrated LITETRUSS system received praise from runners for its unintrusive stability. As an expert says, "it gives a little bit more guidance." According to an expert, flat-footed overpronators are those who would benefit the most from these daily trainers. Other reviewers couldn't help but notice the unintrusive nature of stability:
"much more

gentle in its support

compared to other stability trainers"
"not obvious it's there until you need it"
From the tongue to the ankle, all the way to the Achilles, an expert says that "this feels very much like an ASICS experience." That is to say, tons of padding, a really well-constructed upper, and a rather strict heel counter were what they found on the ASICS GT 2000 11. All this put together provides runners with a comfy and stable ride.
Fact check
This GT shoe skips the famous "ASICS clutch" by making the heel counter more forgiving. We rated its heel stiffness as 3 out of 5.
Fact check
As for the "tons of padding," this proves to be true. The tongue is a whopping 12.5 mm thick! This is mind-blowing considering that the average is 5.6 mm.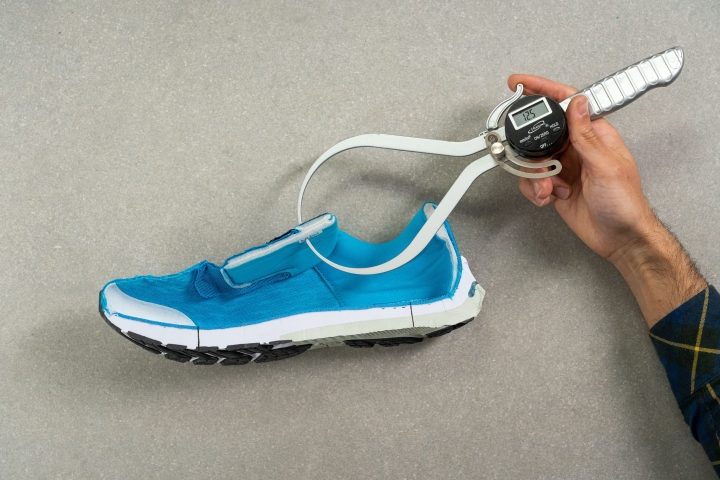 Not a stiff stability shoe
Some reviewers also pointed out that the GT 2000 11 strikes a balance by being "stable in the heel with flexibility in the forefoot."
Fact check
The shoe is indeed surprisingly flexible for a stability shoe. Based on our resistance check, it is 27% more pliable than the average for road running shoes. The GT 2000 11 is also 14% more flexible than the Kayano 29.
Fact check
In a manual assessment, we rated the shoe on a 1-5 scale where 5 is the stiffest. Its longitudinal flexibility got 2 out of 5 and the torsional flex got 3 out of 5.
Lots of cushion in each step
In terms of comfort, the GT 2000 11's cushion is well-appreciated as an ASICS fan said that this version is "even more cushioned than its predecessor."
Another went on to give their appreciation for the extra millimeter of stack height which "offers more cushioning for your stride." A reviewer who loved the overall comfort of the shoes said: "I didn't mind taking off my slippers to put these on."
Fact check
We found the stack height of the GT 2000 11 to be lower than stated. In a men's shoe, it is claimed to be 35 mm in the heel and 27 mm in the forefoot, which gives us an 8-mm drop. However, based on our caliper measurements, the heel is 30.7 mm thick...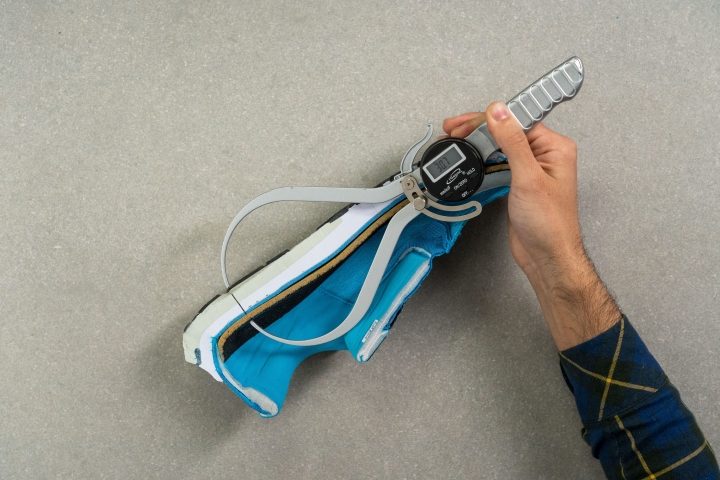 Fact check
...while the forefoot is 24.7 mm thick. This returns the heel-to-toe drop of 6.0 mm.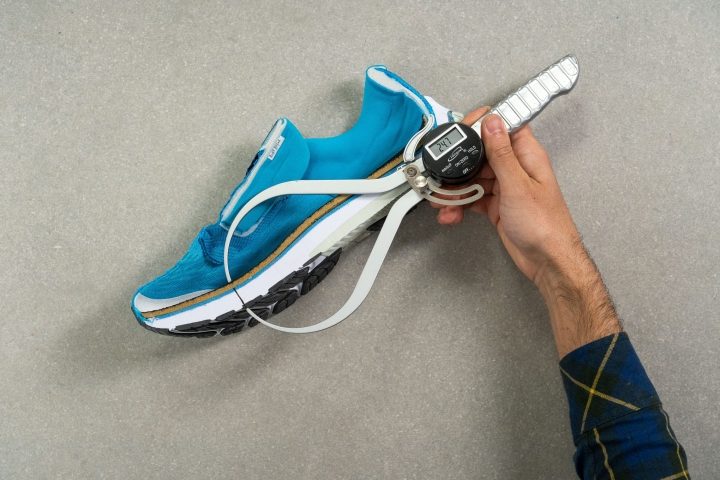 Disclaimer: All stack measurements are taken with the insole included.
Fact check
The insole is well-padded in the GT 2000. We measured it at 4.8 mm.
A springy and firm experience from front to
back
One expert described how the FF Blast in the forefoot provided "a little bit more energy and toe-off." Another chimed in to say that it offers just enough "spring and softness for a mellow ride." More on the forefoot experience, a runner commented on the added flex grooves which provided "a little more toe spring overall."
Meanwhile, regarding the back half of the shoe, another critic described this as a "firm experience." A reviewer said it best when they described the ASICS GT 2000 11 as having a "moderately cushioned, moderately stable ride."
Fact check
Having checked the shoe's midsole with a durometer, we can confirm that it has a balanced type of cushioning, neither too soft nor firm. It is 12% firmer than average though.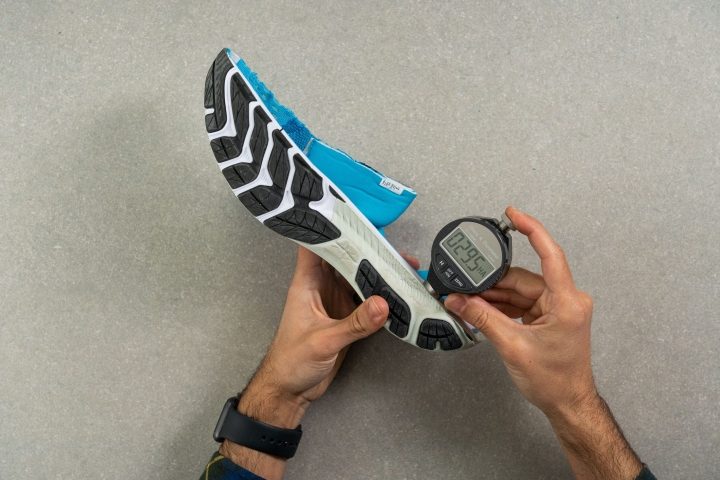 Disclaimer: We take the measurement five times to avoid error. The photo above shows our final measurement.
Such a balance is achieved through the dual-density midsole. The white foam is softer and the minty green one below it is made of a firmer compound.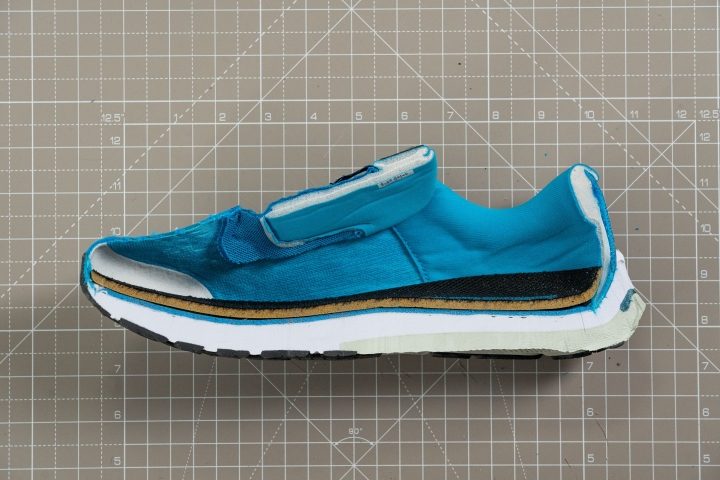 Fact check
Those running in chilly conditions need not worry about the cushioning firming up too much in this ASICS shoe. After 20 minutes in the freezer, we found that the foam got only 10% firmer.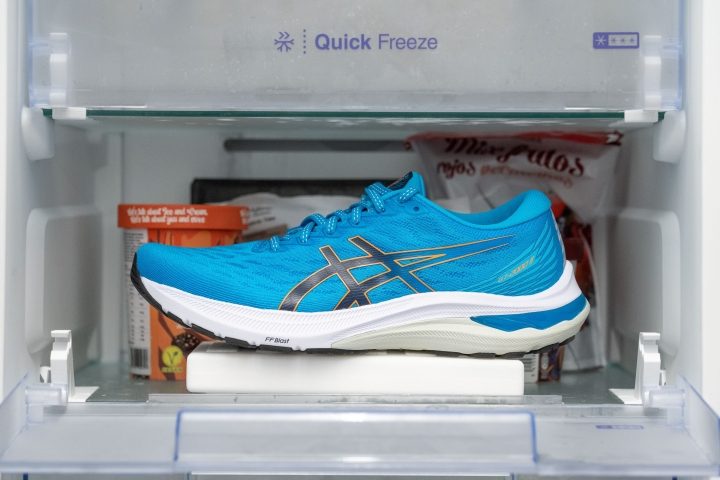 The ASICS GT 2000 11 is a
hugger
Critics love the overall fit of these daily runners. One says that this has a fit that is true to size and provides a snug experience. Another mentioned: "this kind of hugs my foot."
One expert also mentioned that these "have all the space [they] need without any excess volume in the shoe." However, another reviewer did find the toe box to be a tad too narrow for them which didn't improve much even after going on a few miles.
Fact check
Our toebox width measurement indeed proves that the GT 2000 11 has a narrower-than-average toebox. It is 95.6 mm in the widest part, while the average is 97.8 mm. Thus, it can feel tight for wide feet. Luckily, this ASICS shoe is available in Wide and Extra Wide options.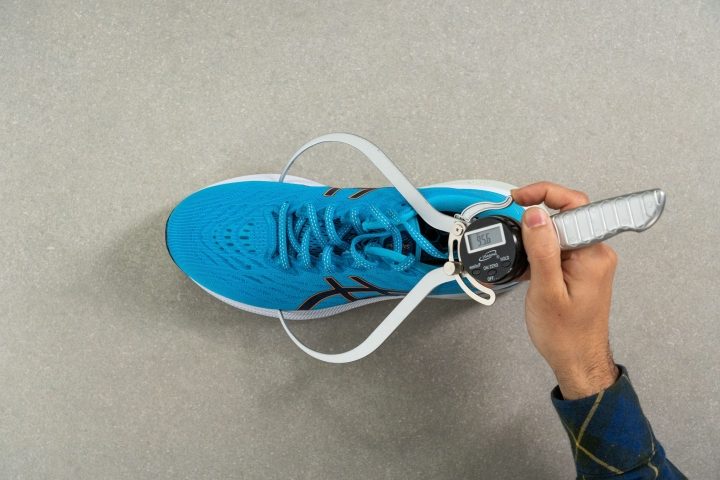 Fact check
As for the sizing, the GT 2000 runs true to size, so you can order your regular ASICS size. You can double-check with the brand's official size chart if necessary.
In a men's US size 8, the shoe is 263.2 mm long inside.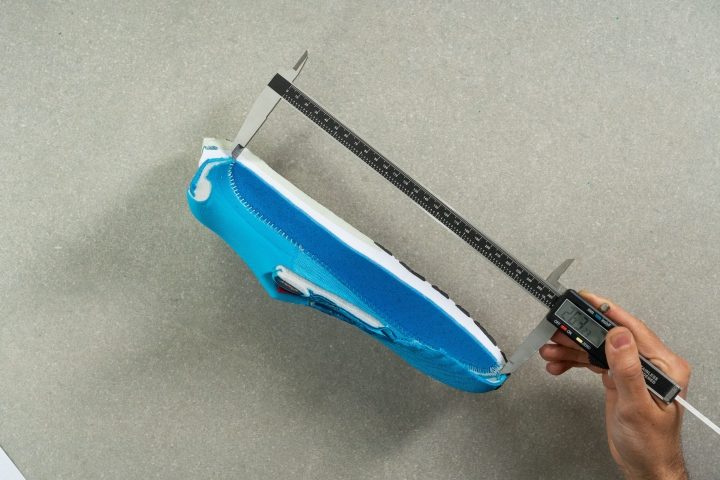 Very slightly more expensive but significantly lighter than most
The ASICS GT 2000 11 is a little above average in terms of its price. With the average price of stability daily runners being $137, the GT 2000 11's are just around it at $140 which makes it a tad expensive. However, at 275 grams, these daily runners are 8.70% lighter than others of the same style.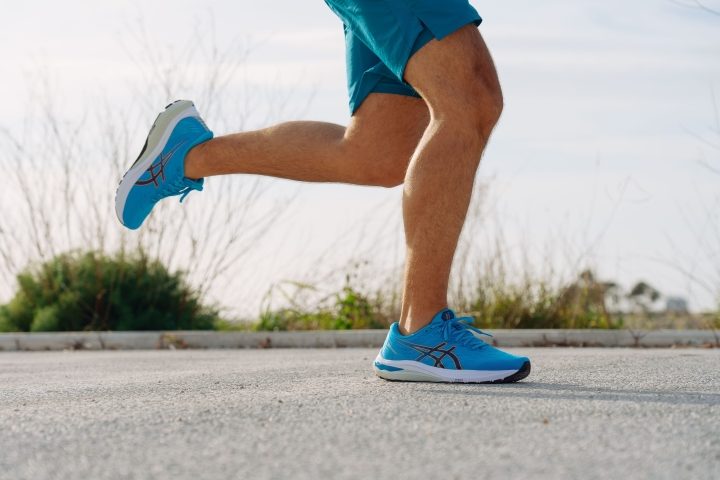 The ASICS GT 2000 11 is a more supportive Cumulus
Comparing these with the Cumulus 24, the GT 2000 11 has a "very similar toe-off and forefoot experience," according to an expert. However, the same expert recommended these shoes for fans of the Cumulus "but wants a little bit more support." Essentially, these are the stability version of the Cumulus 24.
Fact check
Based on our durometer measurements, the cushioning of the GT is 35% firmer than that of the Cumulus.
Soft cushioning of the ASICS Cumulus 24
Fact check
When it comes to sole width, the GT 2000 also proves to have a wider platform. It is 115.0 mm wide in the forefoot and 92.8 mm in the heel, whereas the Cumulus is 108.9 mm and 86.1 mm wide respectively.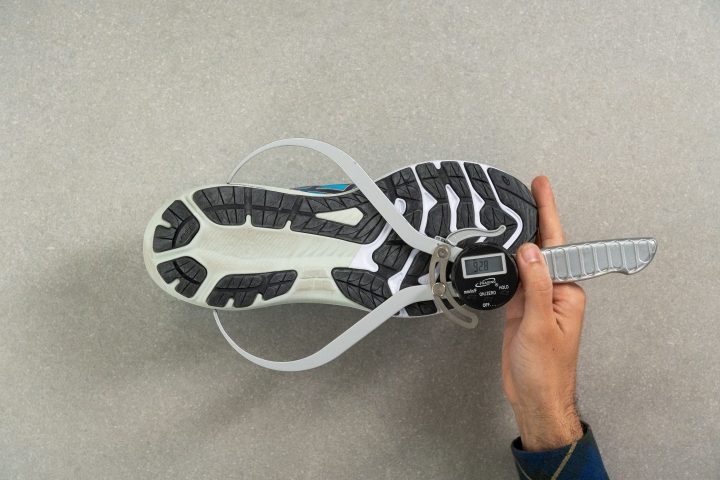 GT 2000 11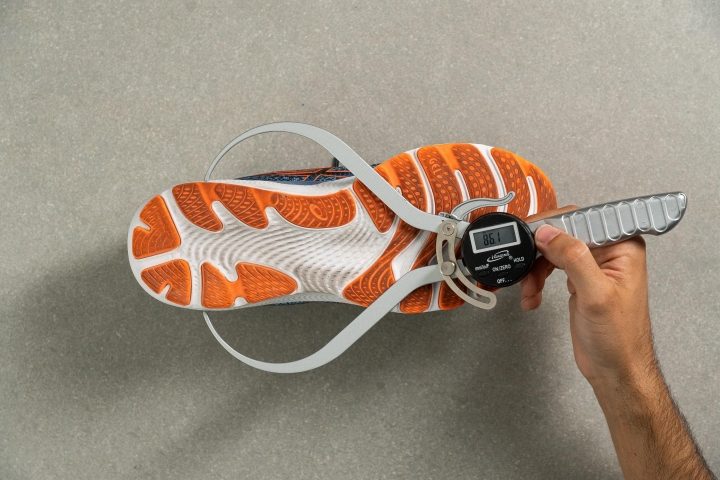 Gel Cumulus 24
Reflective heel stripe
Those running in low-light conditions appreciate this touch of reflectivity in the back of the shoe.