7 Best Running Shoes For Plantar Fasciitis in 2023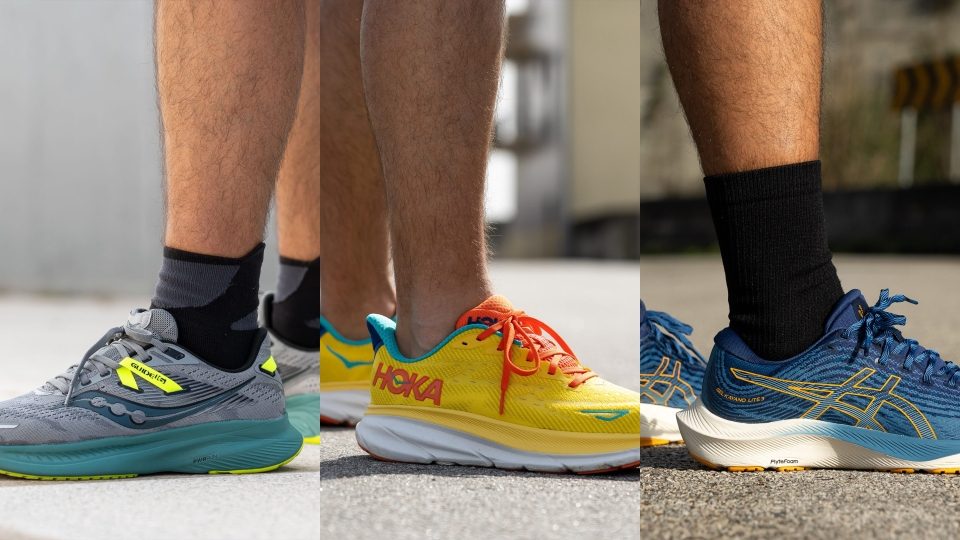 We earn affiliate commissions at no extra cost to you when you buy through us. Why trust us
Based on studies, plantar fasciitis affects 1 in every 10 adults, both men and women. Whether you are an athlete or not, one of the ways to reduce plantar fasciitis is to wear comfortable shoes.
We have tested over 40 running shoes that are recommended for plantar fasciitis in our lab to help you find the best ones. And because you may have preferences regarding the level of support, cushioning, or price range, we have selected our top picks in different categories.
And if you want to learn more about this foot condition, read our in-depth article on plantar fasciitis and how to deal with it.
Comparison of the 7 best running shoes for plantar fasciitis
| | | | | | | | | |
| --- | --- | --- | --- | --- | --- | --- | --- | --- |
| Best | | | | | | | | |
| CoreScore | | | | | | | | |
| Users rating | | | | | | | | |
| Experts | | | | | | | | |
| Best price | | | | | | | | |
| Ranking | | | | | | | | |
| Popularity | | | | | | | | |
| # of colorways | | | | | | | | |
What is plantar fasciitis?
Plantar fasciitis is the pain in the arch of the foot that is caused by the inflammation of the plantar fascia, a thick ligament that connects the heel and the front of your foot. The repetitive pressure on the ligament can cause lots of small tears that result in pain and inflammation.
Those who are suffering from this foot condition often notice acute pain in the morning, after a running session or after exercise. The pain also tends to become unbearable when standing for a long period.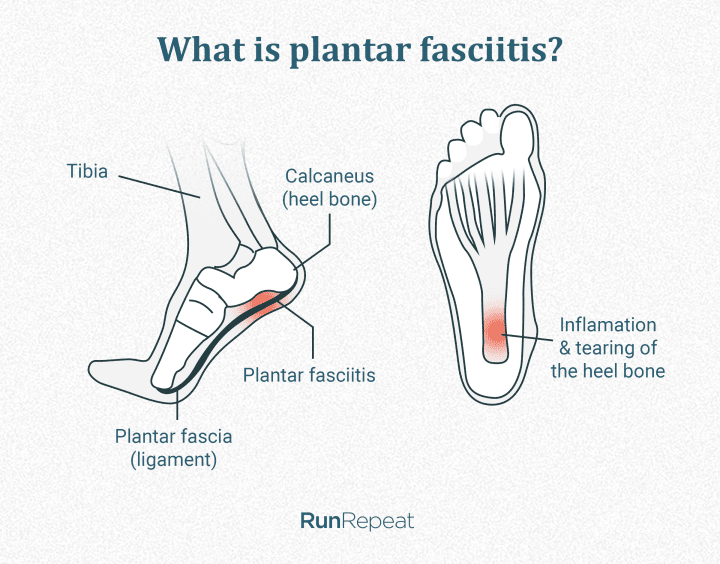 5 expert tips to find the best shoes for plantar fasciitis
If you are experiencing plantar fasciitis, your goal is to find a comfortable running shoe that is cushioned and at the same time, supportive. In finding the right pair, consider these tips: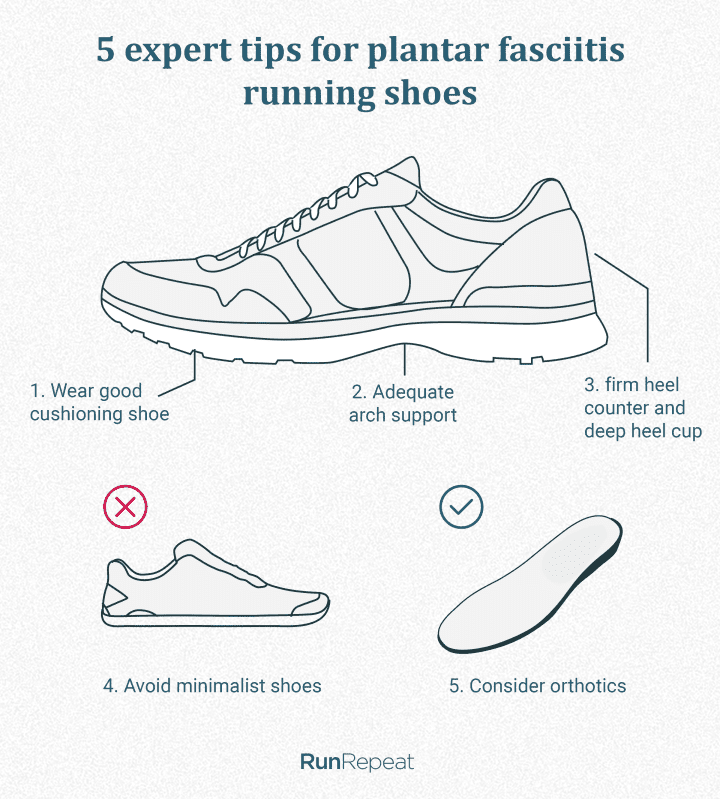 Good cushioning helps with pain relief
Cushioned running shoes will protect the plantar fascia from tension caused by repetitive impact while running. A reliable running shoe for plantar fasciitis offers excellent shock absorption as the foot strikes to the ground.
At the same time, it is not recommended to wear an overly plush shoe as it may cause instability in the foot and ankle.
Running shoes with balanced or firm cushioning are more suitable in the case of plantar fasciitis.
Adequate arch support is important
Arch support is one of the important elements to look out for if you have plantar fasciitis. No matter how expensive the shoe is, without proper arch support, the problem will continue.
Depending on the severity of the condition, arch support comes in different levels. Some running shoes are better for high arches while others are best for low arches; thus, it is important to find a shoe that matches your arch needs:
If plantar fasciitis is accompanied by low arches/flat feet and overpronation, consider stability shoes. Previously, motion control shoes were recommended but they are more and more replaced with stability shoes now.
For those with normal or high arches, it is more beneficial to wear a softer, neutral shoe.

neutral shoe (left) vs. stability shoe (center) vs. motion control shoe (right)
Robust heel counter stabilizes the feet
A firm heel counter reduces the abnormal stretching of the plantar fascia. It also stabilizes the feet and keeps them aligned. A flexible toe box goes well with a robust heel counter, allowing the front of the shoe to stretch while keeping the back of the foot strong and stable.
Runners with plantar fasciitis can also benefit from shoes with deep heel cups as it also protects the heel bone and reduces pronation.
Avoid minimalist running shoes
Minimalist running shoes are not recommended for runners with plantar fasciitis because they have less cushioning with little to no arch support.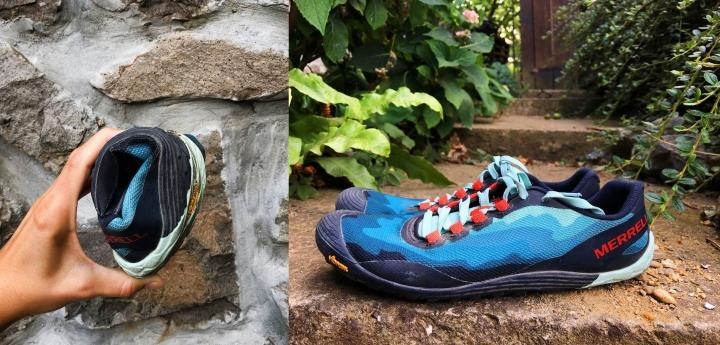 Merrell Vapor Glove is one of the most well-known minimalist shoes
Minimalist shoes are bad for both heel and forefoot strikers since there is no enough cushioning to lessen the impact forces.
Consider wearing orthotics
Orthotics provide additional arch support that your running shoe may lack and the deep heel cup helps absorbs impact in every step. Orthotics are also great in minimizing the tension on the plantar fascia.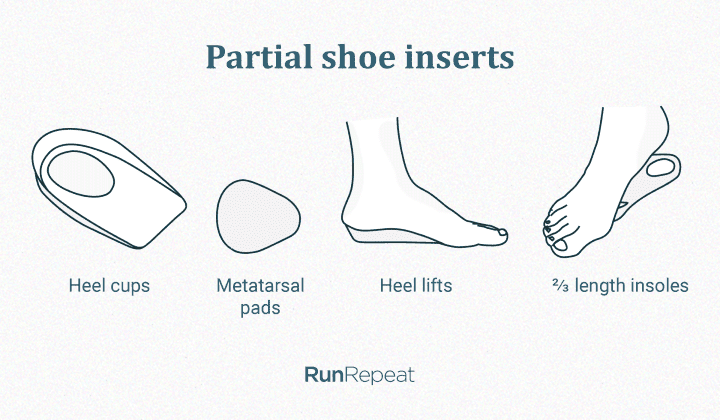 Both custom and over-the-counter orthotics offer plantar fasciitis relief. If you wear custom orthotics, consider buying a shoe with a removable insole.
For more guidance on custom insoles and orthotics, see our ultimate guide.
Plantar fasciitis and flat feet: Are they related?
Plantar fasciitis and flat feet are often confused. They are not the same but they are related.
Flat feet, sometimes called fallen arches, refer to a foot condition in which the arches are flattened, so when standing, the soles of the feet touch the floor. Flat feet are linked with overpronation and those suffering from this condition are more likely to develop plantar fasciitis.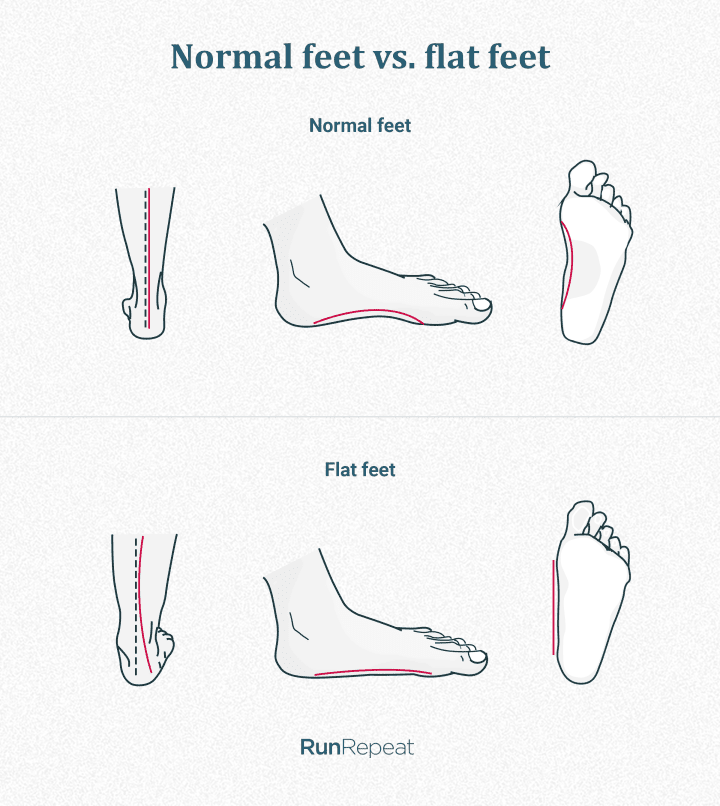 How to prevent plantar fasciitis
Prevention is always better than cure. Here are a few things to remember to avoid or address an early stage of plantar fasciitis.
Do not wear uncomfortable shoes. Avoid heels and shoes with no support. Instead, choose running shoes with impact-absorbing heel support.
Rest as soon as you notice discomfort during or after running. Avoid running and other impact sports for a few weeks.
Keep doing leg and foot stretches.
How we test running shoes
Foot pain is no joke. It is our mission to help you find the best shoe to alleviate the discomfort of plantar fasciitis. Given our extensive knowledge base, we have developed a comprehensive review methodology to find out which shoes work the best.
To avoid bias, we purchase all running shoes with our own money.
Log at least 30 miles in each pair, indoors and outdoors, and on roads and trails.
Cut the running shoes open and measure 30+ different parameters.
Summarize our data and observations all in an extensive review.