10 Best Plantar Fasciitis Running Shoes (Buyer's Guide)
Based on studies, plantar fasciitis is a common foot condition that affects 1 in every 10 adults, affecting both men and women. Athletes or non-athletes, one of the ways to reduce plantar fasciitis is to wear comfortable shoes. If you are a runner and have been experiencing this foot condition, read this ultimate guide for plantar fasciitis.
Ranking of the 10 best plantar fasciitis running shoes
Based on 1,068,532 user ratings 825 expert reviews
Here is a list of all 80 plantar fasciitis running shoes, where you can sort by "best rated" and apply filters.
Popular running shoes aren't the better rated ones
5 expert tips to find the best running shoes for plantar fasciitis
If you are experiencing plantar fasciitis, your goal is to find a comfortable running shoe that is cushioned and at the same time, supportive. In finding the right pair, consider these tips: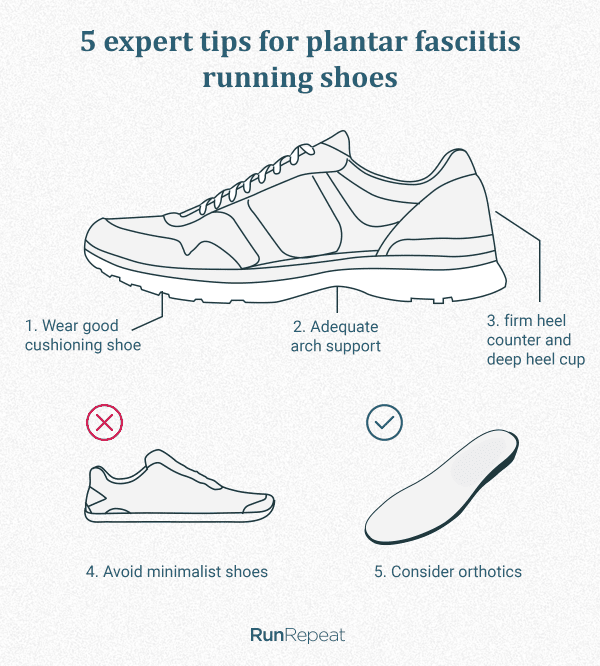 1. Good cushioning helps with pain relief
Cushioned shoes will protect the plantar fascia from tension caused by repetitive impact while running. A reliable running shoe for plantar fasciitis offers excellent shock absorption as the foot strikes to the ground. It is recommended to wear a running shoe with extra firmness and rigidity in the midsole to prevent heel pain.
2. Adequate arch support is important
Arch support is one of the important elements to look out for if you have plantar fasciitis. No matter how expensive the shoe is, without proper arch support, the problem will continue.
Depending on the severity of the condition, arch support comes in different levels. Some running shoes are better for high arches while others are best for low arches; thus, it is important to find a shoe that matches your arch needs.
For those with severe plantar fasciitis, it is best to wear running shoes with thick and strong arch support.
For those with high arches, rigid arch support causes further restrictions. It is more beneficial to wear a softer shoe but don't go too soft.
Runners with low arches tend to pronate; thus, more rigid arch support is recommended.
3. Robust heel counter stabilizes the feet
A firm heel counter reduces the abnormal stretching of the plantar fascia. It also stabilizes the feet and keeps them aligned. A flexible toe box goes well with a robust heel counter, allowing the front of the shoe to stretch while keeping the back of the foot strong and stable.
Runners with plantar fasciitis can also benefit from shoes with deep heel cup as it also protects the heel bone and reduces pronation.
4. Avoid minimalist running shoes
Minimalist running shoes are not recommended for runners with plantar fasciitis because they have less cushioning with little to no arch support. Minimalist shoes are bad for both heel and forefoot strikers since there is no enough cushioning to lessen the impact forces.
5. Consider wearing orthotics
Orthotics provide additional arch support that your running shoe may lack and the deep heel cup helps absorbs impact in every step. Orthotics are also great in minimizing the tension on the plantar fascia.
Both custom and over-the-counter orthotics offer plantar fasciitis relief. If you wear custom orthotics, consider buying a shoe with a removable insole.
What is plantar fasciitis?
Plantar fasciitis is the pain in the arch of the foot that is caused by the inflammation of the plantar fascia, a thick ligament that connects the heel and the front of your foot. The repetitive pressure on the ligament can cause lots of small tears that result in pain and inflammation.
Those who are suffering from this foot condition often notice acute pain in the morning, after a running session or after exercise. The pain also tends to become unbearable when standing for a long period.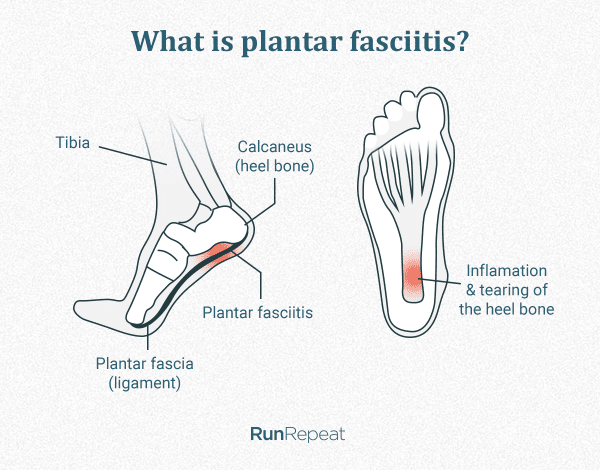 Plantar fasciitis and flat feet: Are they the same?
Plantar fasciitis and flat feet are often confused. They are not the same but they are related.
Flat feet, sometimes called fallen arches, refer to a foot condition in which the arches are flattened, so when standing, the soles of the feet touch the floor. Flat feet are linked with overpronation and those suffering from this condition are more likely to develop plantar fasciitis.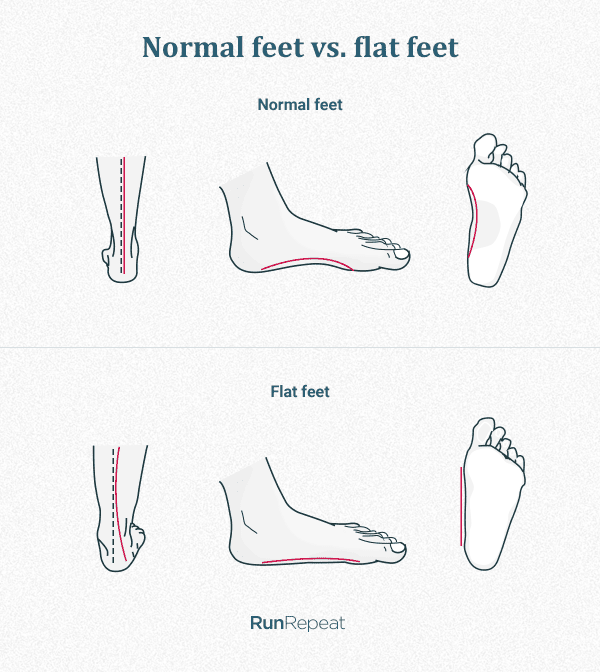 Bonus topic: How to prevent plantar fasciitis
Prevention is always better than cure. Here are a few things to remember to avoid or address an early stage of plantar fasciitis.
Do not wear uncomfortable shoes. Avoid heels and shoes with no support. Instead, choose running shoes with impact-absorbing heel support.
Rest as soon as you notice discomfort during or after running. Avoid running and other impact sports for a few weeks.
Keep doing leg and foot stretches.
The best plantar fasciitis running shoes in every category
Which plantar fasciitis running shoes brand has better reviews?
Other buying guides
Now, are you ready to buy plantar fasciitis running shoes?