Hoka's lightweight stability shoe is almost identical to its predecessor, the Arahi 5, with a nice, even amount of cushioning and consistent yet subtle stability. This shoe's ready to take you through long miles and help you with recovery runs. What's more, it's lightweight, especially compared to its chunky aesthetic.
Pros
Fits true to size
Balanced cushioning
Lightweight for stability shoes
Good lockdown
Stable platform
Fun to run in
Very comfortable
Improved lacing
Cons
Grip is not reliable
Durability problems
Hoka Arahi 6 review and lab test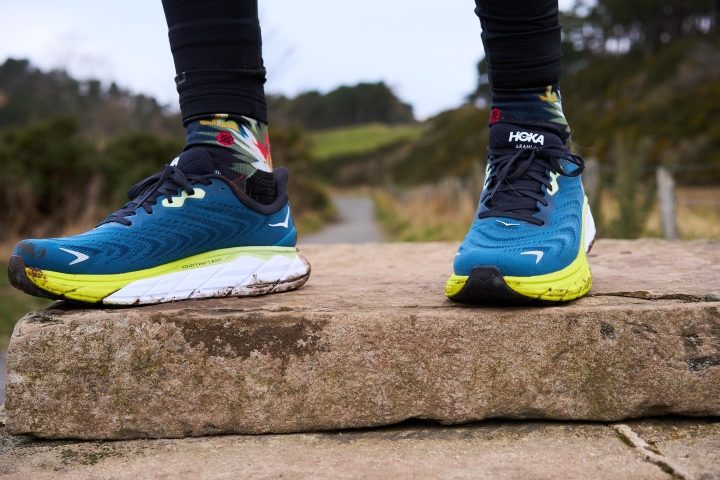 This lightweight offering in the stability shoe market comes with Hoka's trademark comfy-as-a-cloud exterior. Even so for a Hoka, the Arahi 6 feels relatively reserved underfoot. The cushioning is lovely though and with added support for overpronators (myself included), it's a great option for the long, slow days.
Who the shoe is for
The Hoka Arahi 6 is ideal for overpronators who are looking for a daily runner that provides a gentle amount of support and a wide, stable platform.
Who the Hoka Arahi 6 is not for
The Arahi 6 might not be for you if you:
Are a neutral runner, the Arahi series is the stability version of the Hoka Clifton Series which are perfect for neutral runners.
Are in need of stronger stability support, look no further than the Hoka Gaviota Series
Want to go FAST(!), try something with carbon in it like the Carbon X3
Hoka has kept a near flawless design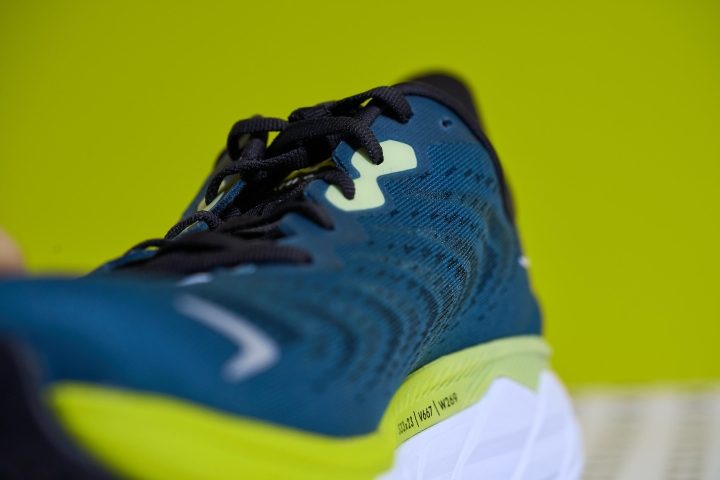 At 9.4oz (266g) the Hoka Arahi 6 is superbly light for a stability shoe. Usually, the addition of a medial post for stability adds a lot of weight, especially when there's so much stack height (32.6mm)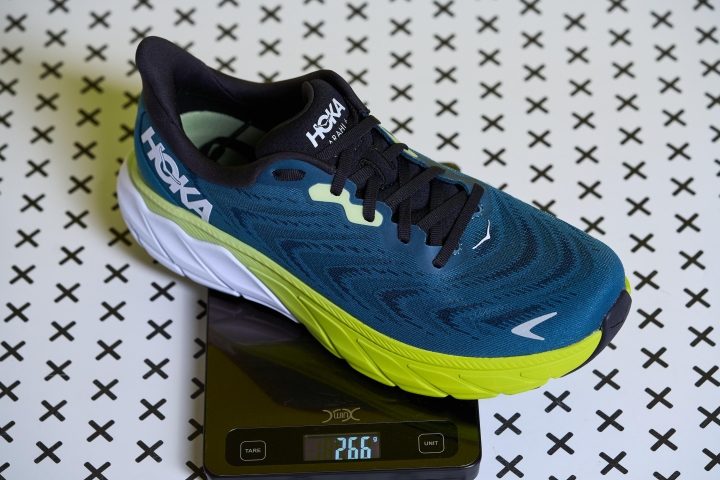 I'll talk more about the midsole later, but often with this much cushioning you find the shoe feels heavy because there's little to no energy return. Not the case here, the Arahi 6 is firm enough to feel light too.
Decent Lockdown
I didn't find much of an issue with the lockdown here, but I have heard of problems in the past with the Arahi 5. Perhaps the new lacing system (and shorter laces) have done the trick.
Another potential issue with the Arahi 6 is the extended heel counter. While it helps you get the shoe off and on, it definitely means that some people's heels aren't going to fit into it perfectly. I found the same issue with New Balance's stability shoe, the Freshfoam 860 v11 (they quickly removed the heel flare for the v12)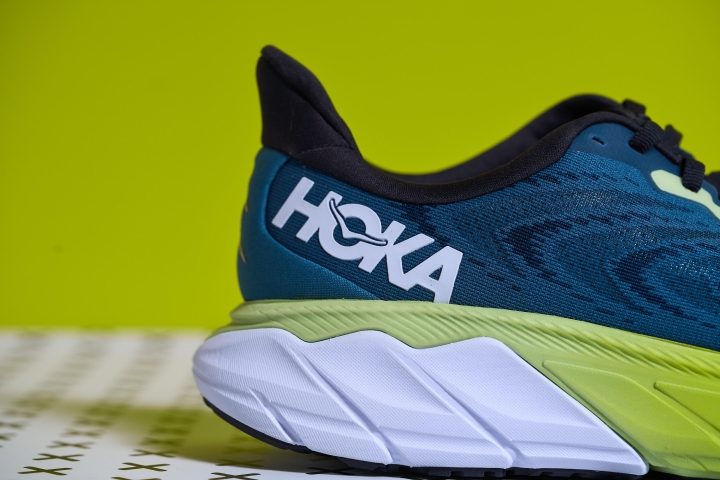 The Hoka Arahi 6 runs a little wide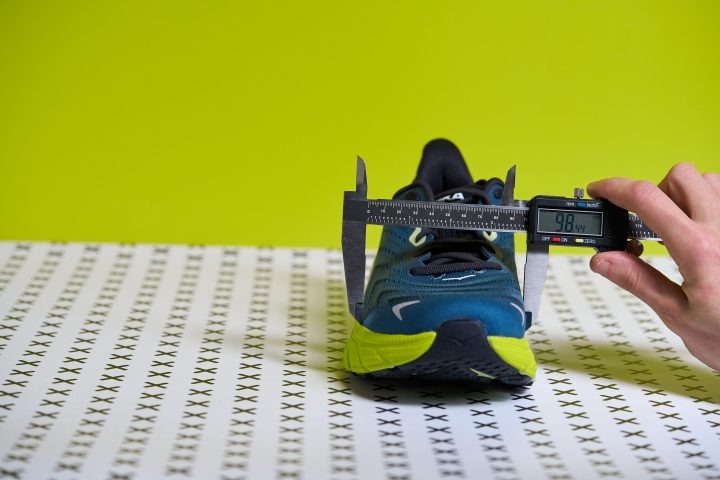 Width is one of those things that companies are often 'damned if you do, damned if you don't' and it's something that provides a lot of comfort to consumers. The Arahi 5 and the Arahi 6 are both relatively wide, with the 6 actually gaining a millimeter with a 98.5mm toe box compared to its predecessor's 97.5mm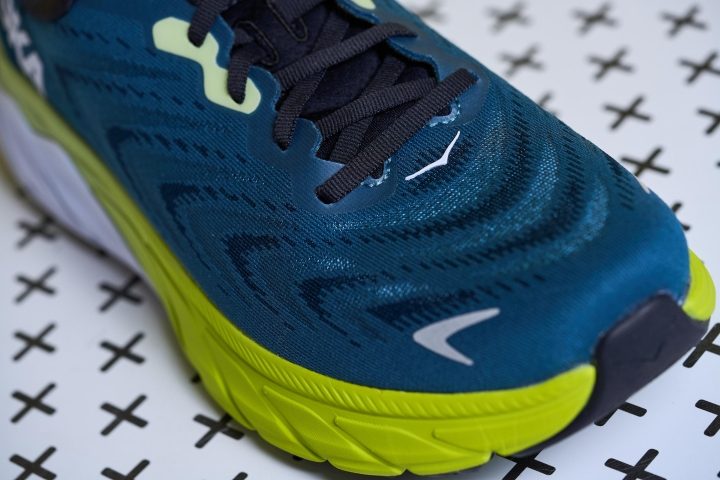 I have narrow feet and noticed that there was a lot of room in the toe box, but personally I don't see it being a problem if you're using the shoe specifically for what it was designed for, long, slow recovery runs.
The Hoka Arahi 6 midsole looks plush, but actually…
After a few long races at the end of winter, I was really looking forward to testing the Arahi 6s out for a bit to rest the legs. So I was surprised to find a durometer of 49HA in the midsole, and that's the softer of the dual-density foams. Our average result is 41.4HA so the Hoka's are quite far above that.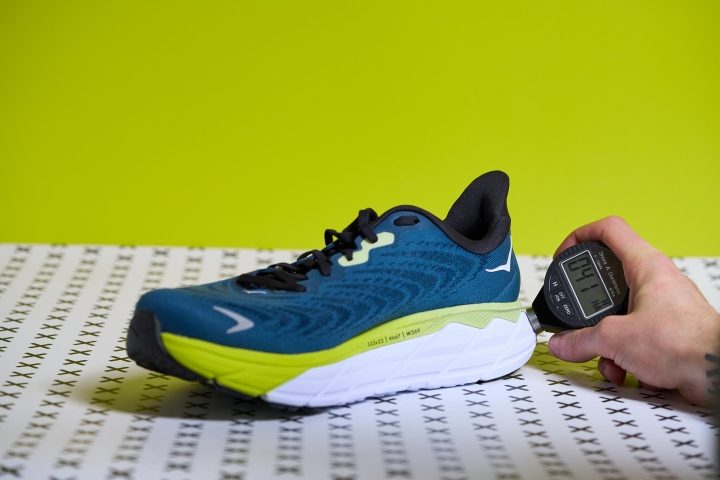 It's not a bad thing though, thanks to a high stack height of 32.6mm in the heel and 28.5mm in the forefoot, there's still a lot of padding and the result is a recovery shoe that feels fairly responsive. It's a really nice ride actually.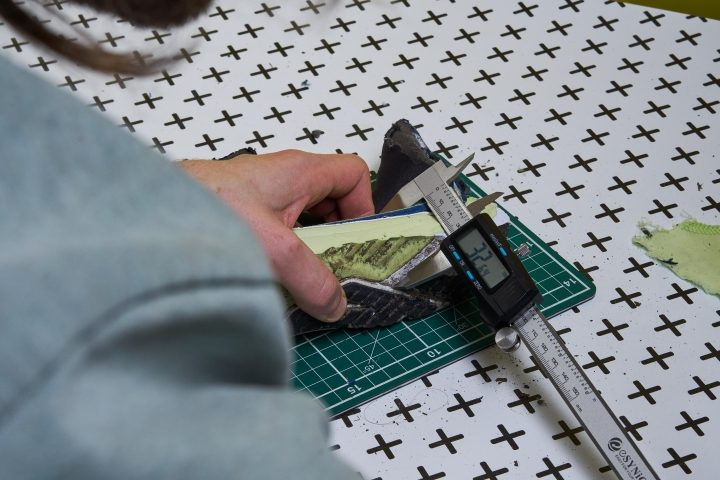 A balanced ride
Something I've been loving to see in the running shoe world in recent years is a specific focus on what consumers want from slower shoes. Sure, Hoka has made a name for themselves with big, plush, bouncy-castle-looking midsoles that promise more comfort than a foot rub from a cloud, but it's nice to see them rein it in for a normal (dare I say boring) running shoe.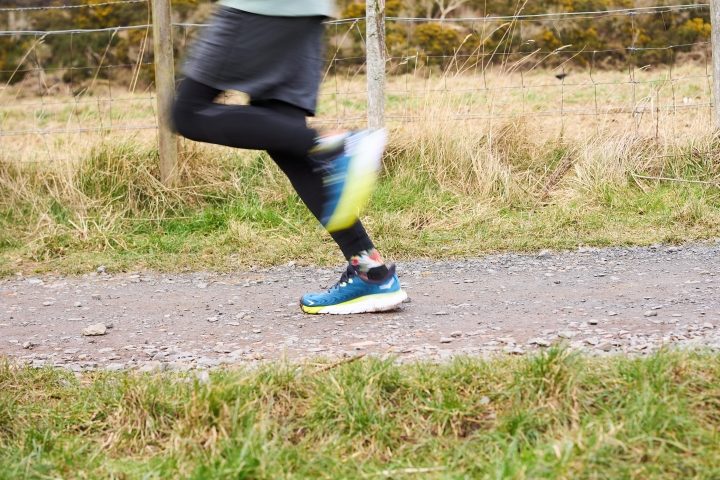 Thanks to its firmer feel underfoot the wide midsole really adds consistency to every footstrike and is just easy to use. It's great to see because its selling point is that you can throw it on and forget about it. Fewer barriers to running well mean more running well!
The Hoka Arahi 6 is a low-key stability shoe
Every brand that has a stability shoe has its own terminology for the sequence of changes to the midsole that correct any pronation in your strike, it's important to note that in most cases they're the same thing.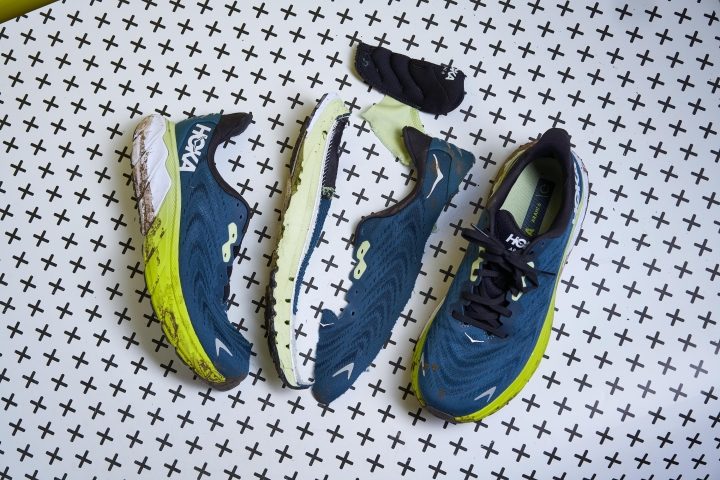 The Hoka offers its J-Frame "technology", which is essentially a high-density (harder) foam running in a J shape around the outside of the midsole. This has a bit more coverage than your usual medial post, and as a result, is a gentle nudge towards the right stride than other stability shoes like the New Balance Fresh Foam 860 v12.
A little stiff and quite inconsistent
In our lab testing, we measure the force needed to bend a shoe to a 45° angle. The Hoka came in quite far above the average at 37.9N (avg: 27.9N) which isn't too surprising given both the amount of foam and the stability tech in the shoe.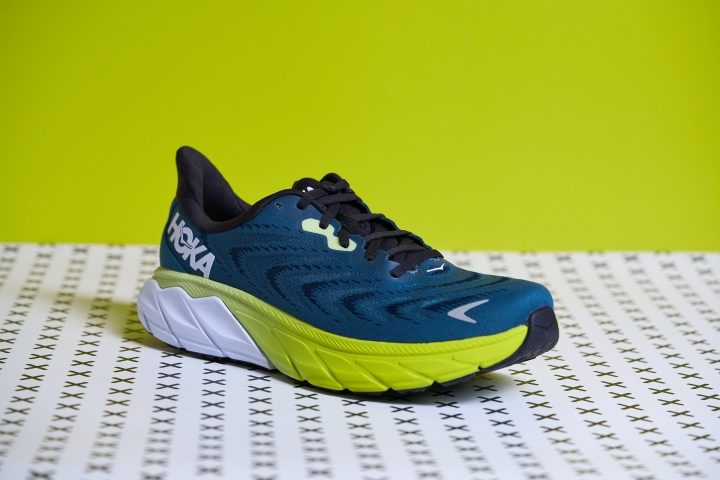 What did surprise me though was the increase in stiffness in the cold. I conduct the same test after putting the shoe in the lab freezer for 20 minutes and the result was a score of 49.34N which is a 41.6% increase in stiffness. The average is 33.1%, and even that, I consider to be a poor score for consistency.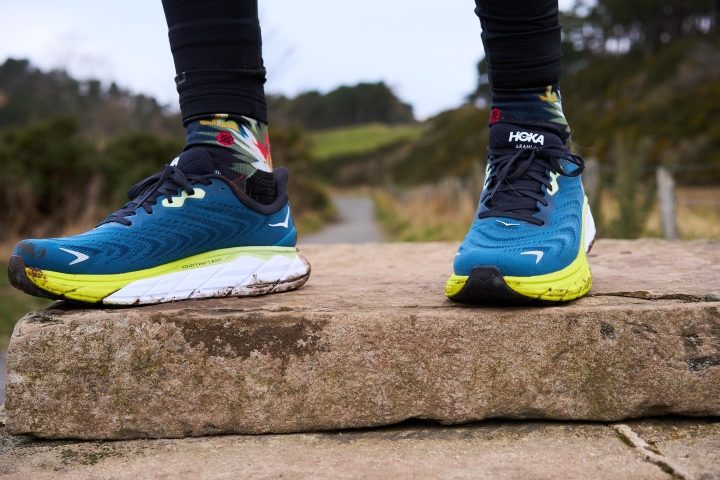 Just be warned that this plush shoe might run quite differently in colder climes.
The outsole could use some work on the Hoka Arahi 6
In general, I prefer an outsole that covers more of the midsole than the Arahi's does. Call me old-fashioned, but from a durability standpoint, I think it's useful.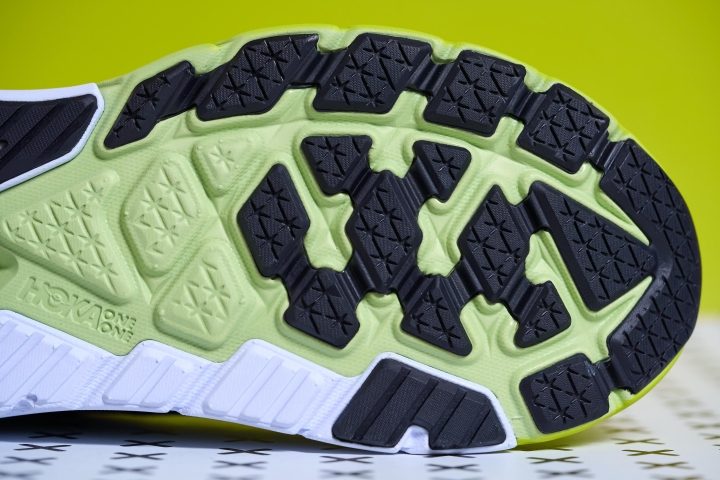 The rubber outsole is quite minimal in thickness too, with only 2.1mm of material between the road and the soft foam. This gives me a bit of concern about these lasting more than 300/350miles.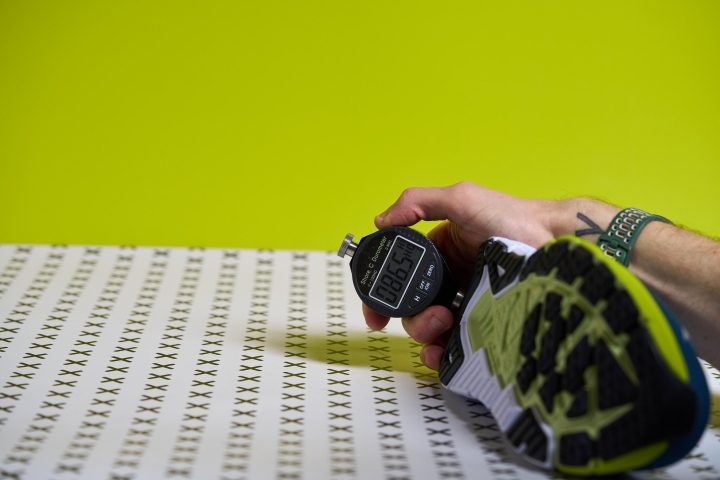 While I know the Arahi isn't made for fast runs, the grip definitely removes that option for me. It's just not quite at the level of being able to confidently take a corner at speed. This is probably the biggest downside for me.
Conclusion
The Hoka Arahi 6 is a standout shoe for those needing stability. While not overbearing in its corrections, I found it super-comfy and fun to run in. It's also one of the lighter stability shoes out there which is always great. With mild improvements over its predecessor, the Arahi 6 is a really nice option for your new daily shoe.