We are happy to see the famous
stability shoe
from
ASICS
evolve from brick-like to foot-friendly in its 29th iteration. This
Kayano
offers a wonderful mix of familiar support and even more comfort. So if you're looking to clock up the miles for your next road run, its impact-eating midsole and tank of an outsole will help you reach new distances.
Pros
Stable but not harsh
Cushy for long miles
Awesome impact protection
Supportive fit
Glides you forward
Lighter than it seems
Long-lasting
Cons
Lacks breathability
Expensive
Who should buy the ASICS Gel Kayano 29
Don't miss the ASICS Gel Kayano 29 if you're any of the following runners:
an overpronator (feet roll inward) who wants a non-bulky support
a long-distance runner who needs lots of protection and cushion
a road runner who highly values durability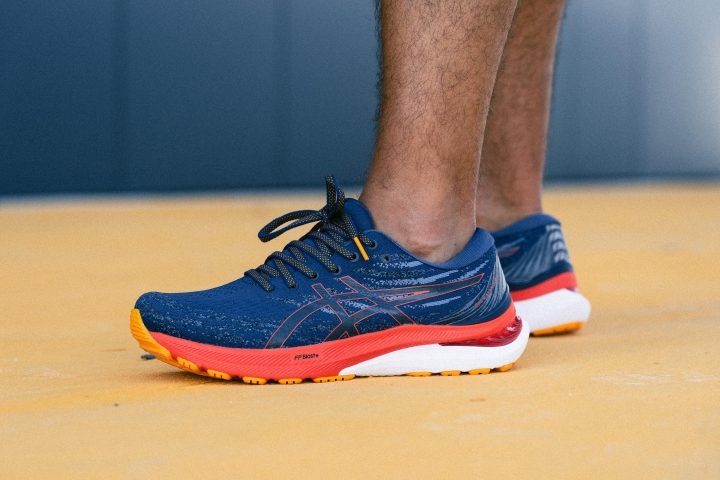 Who should NOT buy it
Although better than its precursor, the Kayano 29 can still use some improvements. We found that the newer Kayano 30 manages to level up the game by being much more breathable, more forgiving, softer, and even having more cushioning.
And if you'd like to explore stability options from other brands, the Brooks Adrenaline GTS 23 has been one of our favorites too!
Doesn't lose its identity
It's still the supportive ASICS Kayano we have come to love and it still lives up to its proud reputation. Meaning, that it's stable and doesn't let your foot roll to the side.
But at the same time, the 29th Kayano introduces some updates that help the series evolve. And that's on the now comfier and lighter feel it offers, which will be discussed more in the coming sections.
Kayano 29 vs. 28
Even though the Kayano established an excellent reputation many years ago, it must continue to evolve to meet its competition.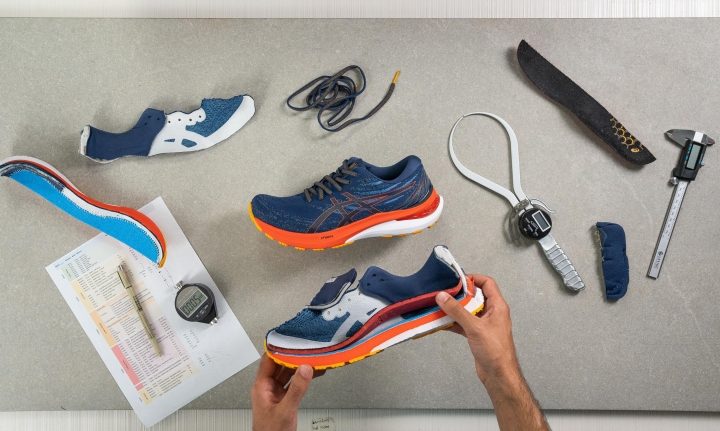 Yup, the Kayano 29 is a better version, and this is owed to its:
less invasive support that keeps the foot and the leg comfy at all times
new midsole that offers squishier landings
a couple more millimeters of stack for better impact protection
Including the outsole rubber and the insole, the shoe's heel stack shows 33.1 mm. This is considered average among our lab-tested road running shoes.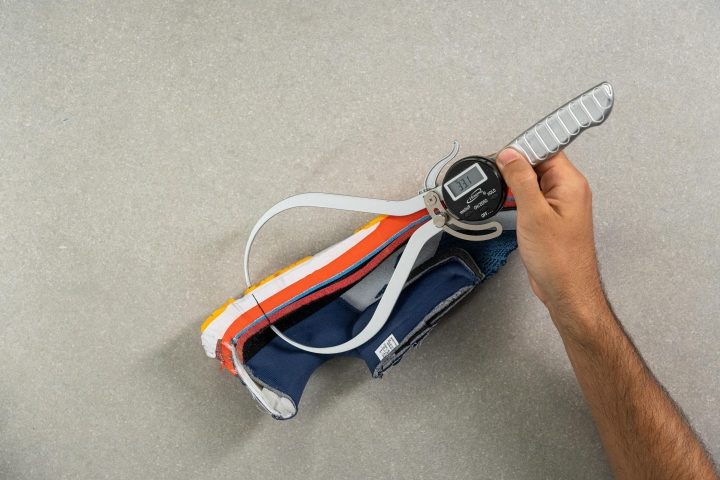 A comfort-loaded miler
The Kayano now features Asics' softest foam yet — the FlyteFoam Blast+. Because of this, it feels substantially cushier underfoot!
Checking the foam's softness with a durometer, we couldn't believe it was a Kayano! At 21.0 HA, it is 14% softer than the average of road running shoes!
Disclaimer: We take 5 measurements to ensure accuracy. The photo below shows one of the measurements taken.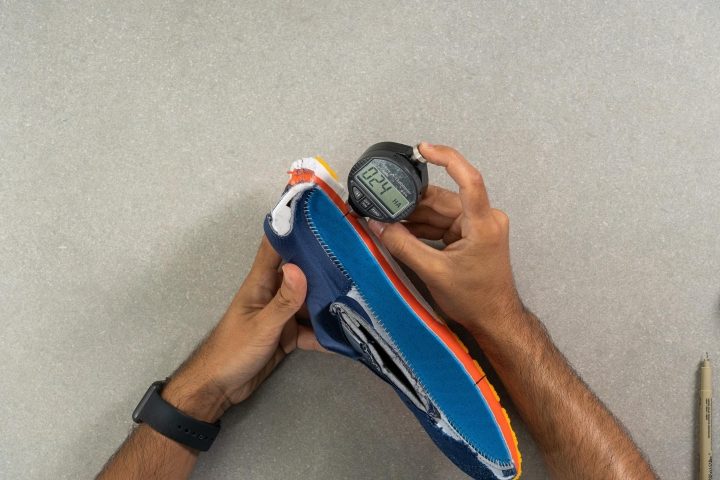 The foam does get 36% denser when exposed to cold temperatures. However, even in its "frozen" condition, the Kayano 29 shows average softness of a running shoe at a room temperature.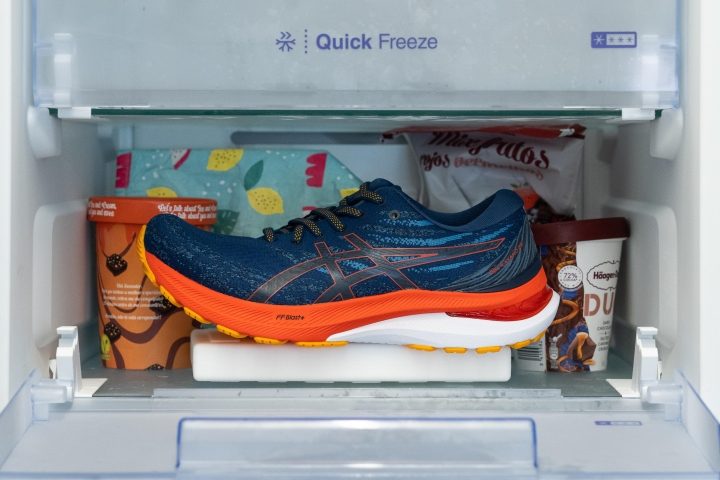 The shoe's soft and well-cushioned setup allowed us to embark on longer distances strain-free!
Let some air in, ASICS!
This is a toasty shoe! The shoe's heavily padded upper design offers tons of comfort at the expense of breathability. The lack of ventilation in the shoe's upper is easy to see in our smoke test below:
Note: If you're wondering, the shoe on the right is Saucony Triumph 20.
It is also visible how little light comes through the shoe's dense upper fabric.
While all this padding is great for winter runs, it's better to go with the Kayano 30 or the Adrenaline GTS 23 if you run in scorching 90-degree weather.
The Kayano 29 has a record-breaking tongue thickness among running shoes - 9.7 mm! That is an insane amount of padding given that the average is 5.8 mm.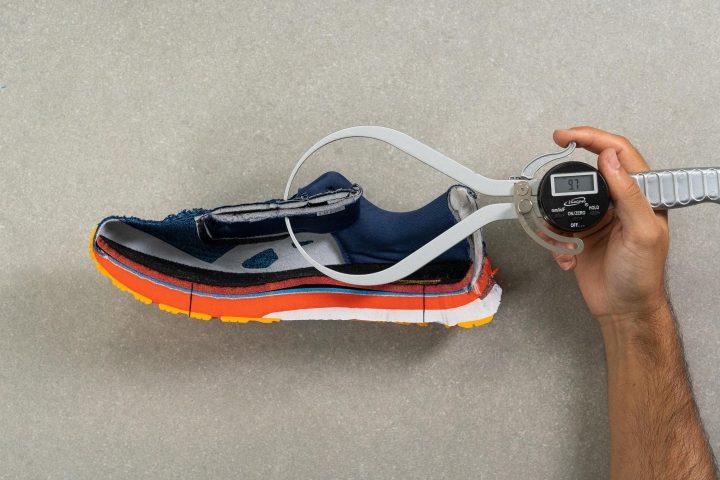 The insole is just as generously padded: it is 5.5 mm thick while the average is 4.5 mm.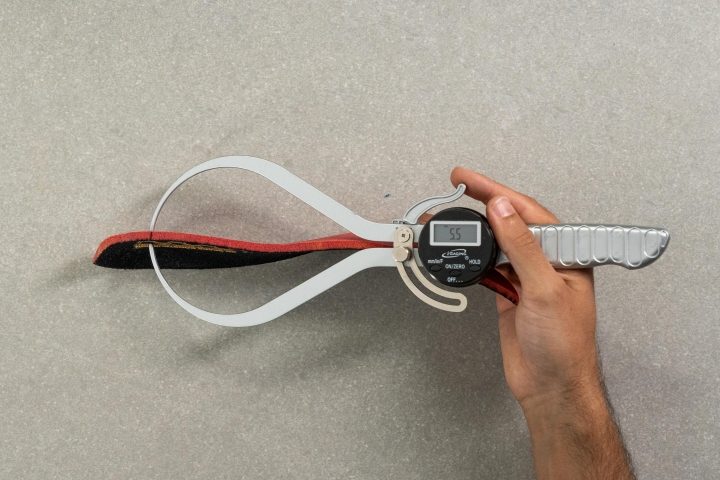 The Kayano 29 won't let you feel any impact
More than comfort, the copious amount of foam also gobbles up the impact. Because of this, we had no issues on longer runs and our legs felt surprisingly fresh the next day.
No need to push it forward...
...because the shoe will do it for you. The slight rocker geometry of the sole makes heel-to-toe transitions seamless and smooth in the Kayano 29.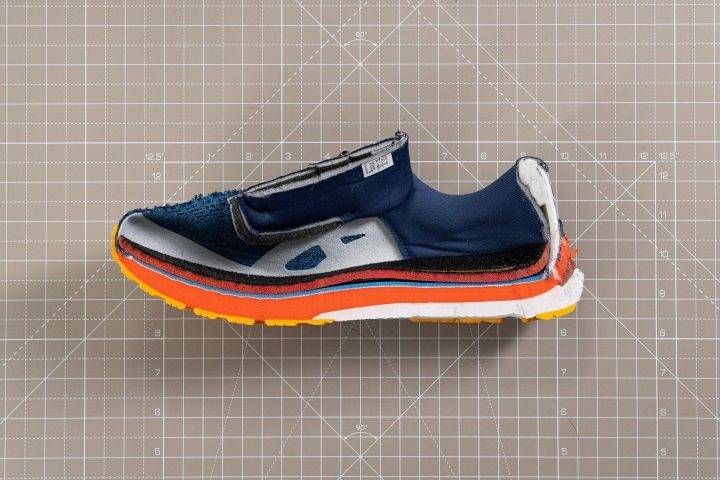 We never felt as if we had to put in much effort and the shoe made it feel as though we were gliding.
Runs and feels lighter than it actually is
At 299 grams/10.5 ounces, the ASICS Kayano 29 is not the lightest stability shoe. As a matter of fact, it's a few grams heavier than most stability shoes (which weigh 297 grams/10.4 ounces, on average).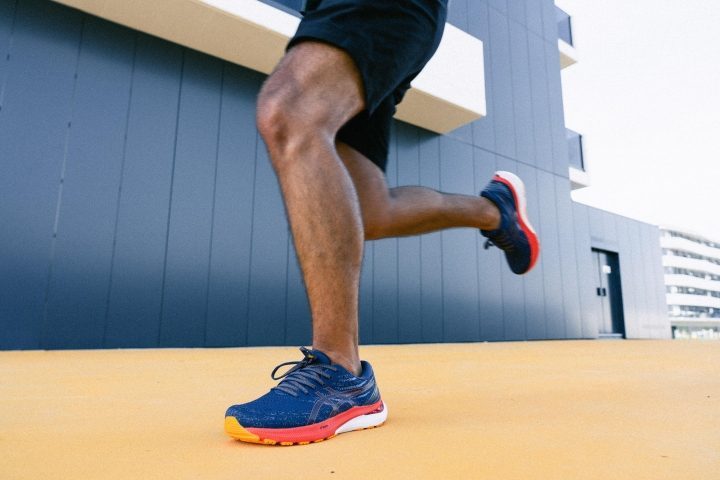 But don't be discouraged because it doesn't feel heavy on the foot at all!
Quite flexible for a Kayano
Just because it is a stability shoe, it doesn't mean that it must be stiff, And this iteration of the Kayano proves it to be true. Based on our lab measurements, the shoe is actually 6% more flexible than the average.
On a scale from 1 to 5, where 5 is the stiffest, we gave the shoe's longitudinal flexibility 2/5 and 3/5 to its torsional flex.
Support is also provided by the upper
Like most ASICS running shoes, the Kayano maintains a snug hold from the rearfoot to the midfoot and opens up in the forefoot.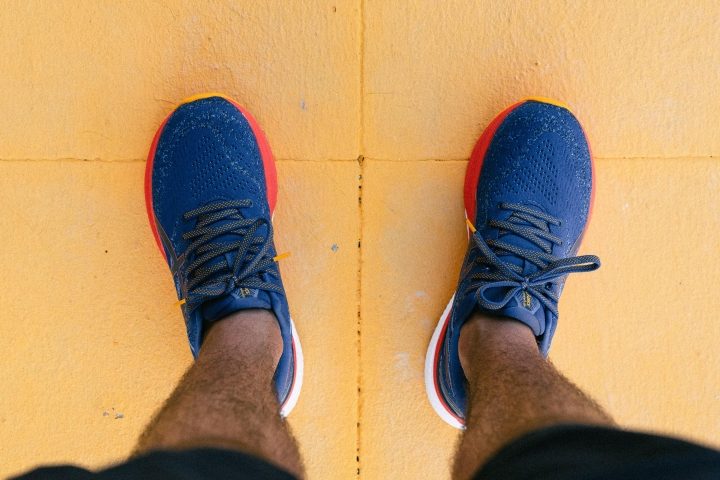 We haven't experienced any hot spots or undue movements throughout our test runs.
The Kayano's heel stiffness received 4 out of 5 in our subjective assessment. It is not as hard as in the classic Kayano and yet solid enough to hold our ankles tight.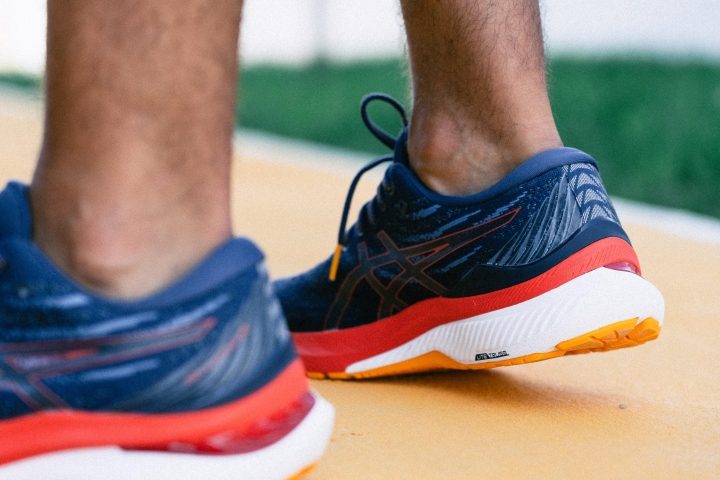 Although the shoe's tongue is not gusseted, it is designed in a way that doesn't let it shift or slide.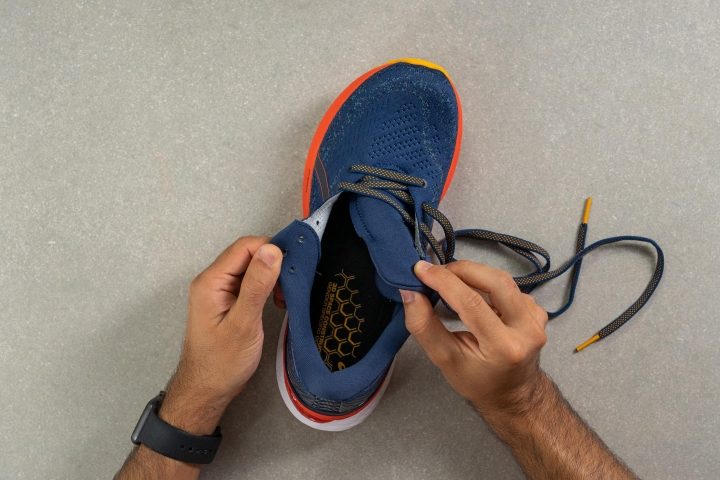 There's room for your toes
For our medium-sized feet, the Kayano 29 offered ample room to wiggle and splay our toes.
Based on our caliper measurement, the Kayano 29 comes in at 96.9 mm in the widest part of the forefoot. That way, it sits right at the average of road running shoes.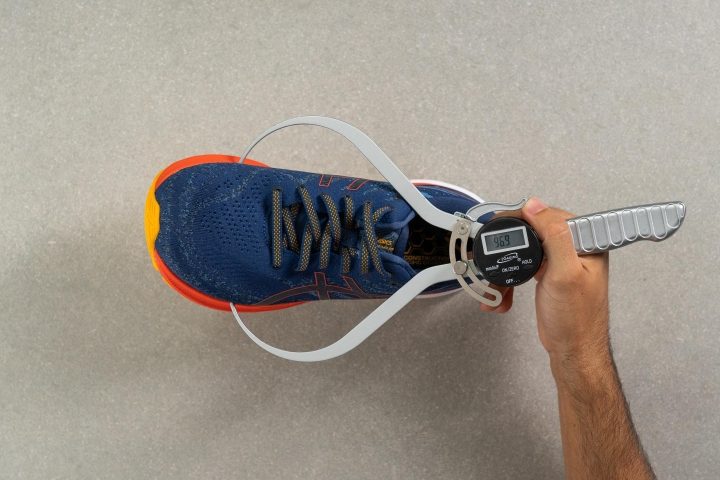 However, this may not be enough for a wide foot. But the problem is easily resolved by getting the wide or extra-wide versions of the shoe.
Ready for serious miles
The Kayano outsole is a definite tank. This shoe is built for hundreds of miles - 400 to 500 at least! After putting the Kayano 29 through a series of wear tests for a total distance of 30 miles, we found that the outsole was still unscathed.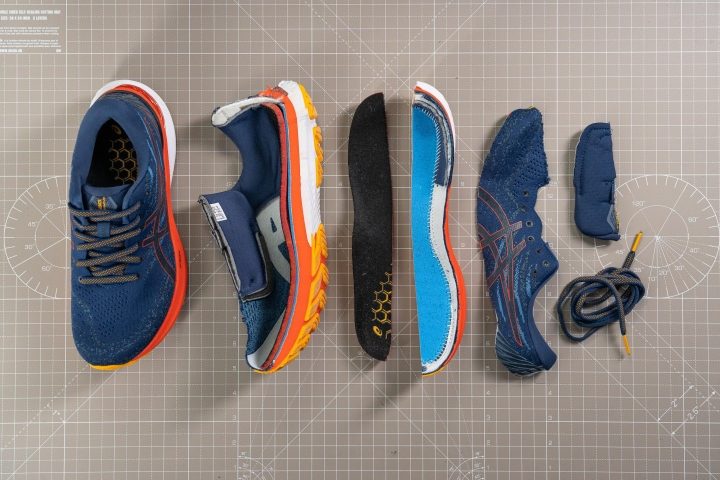 And with the outsole rubber being 4.1 mm thick, it turns out to be nearly a millimeter thicker than average!