The ASICS Noosa Tri 14 is a light, nimble, extremely comfortable shoe that performs great at various paces. Best for short daily workouts, it is a great choice for race day too. It's really fun to ride in and can be a solid alternative to carbon-plated shoes.
Pros
Do-it-all

shoe

Superior comfort
Light and nimble
Responsive and lively
Versatile for slow and fast runs
No need for socks
Great stability
Efficient lockdown
Eye-catching
Cons
Firm at first
Not as grippy on wet and dirt
Who should buy ASICS Noosa Tri 14
Get the shoe if you are looking for a great performance trainer that can do a little bit of everything: slow workouts, tempo sessions, races. It provides stability, responsiveness, durability, and won't go unnoticed with its bright colors.
On top of this, given its amazingly comfortable upper, it's an ASICS shoe that can be perfect for triathletes looking for an easy-to-slip-on shoe.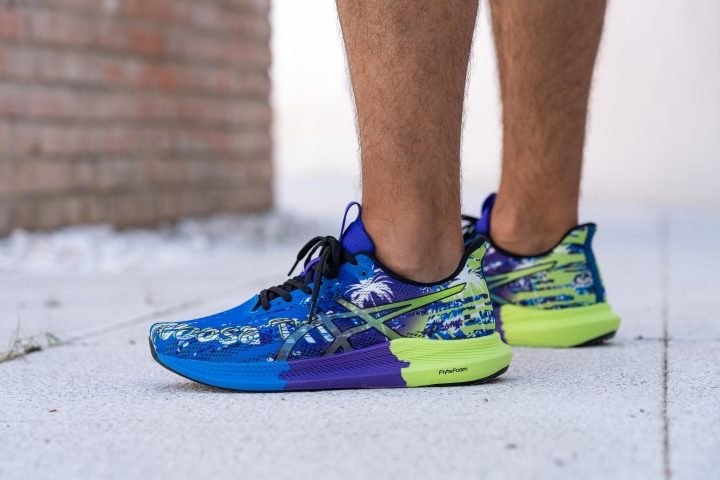 Who should not buy it
Look elsewhere if you:
like super soft shoes. The ASICS Novablast 3 is what you are after
want a grippier outsole. Try the Magic Speed 2 instead
don't like to be noticed. You might prefer a shoe with more traditional colors, like the ASICS EvoRide 3
ASICS Noosa Tri 14 vs. 13
There have been quite a few changes and, compared with the previous version, the 14 is now softer underfoot, more flexible, lighter, slightly faster, and also more race-oriented.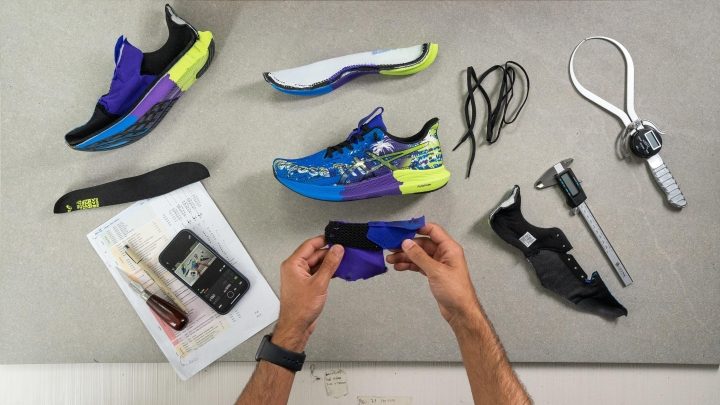 Really fun to
ride

in

All testers found this ASICS to have a lively, responsive and fun ride, as they put it:
"an incredibly vibrant experience"
"definitely a fun shoe to run in"
"a very fun and exciting combination"
"very lively ride that feels good"
There is a good amount of thickness in the sole too. We measured it at 30.2 mm in the heel (insole included), which puts it closer to the max-cushioned category.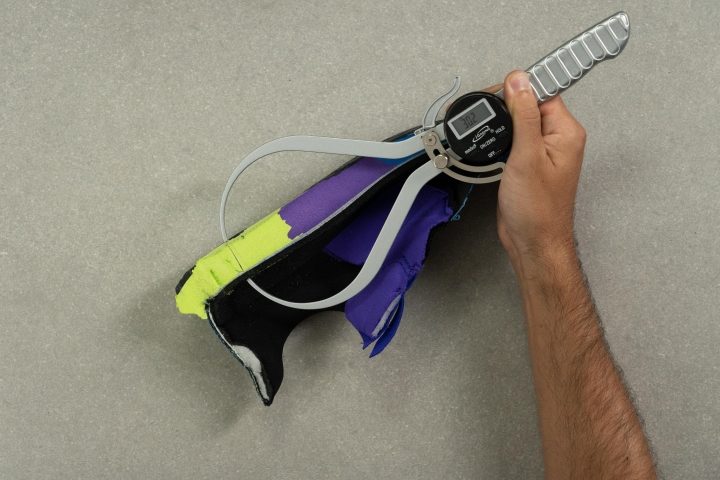 For reference, the insole is 4.5 mm thick, which is typical for running shoes.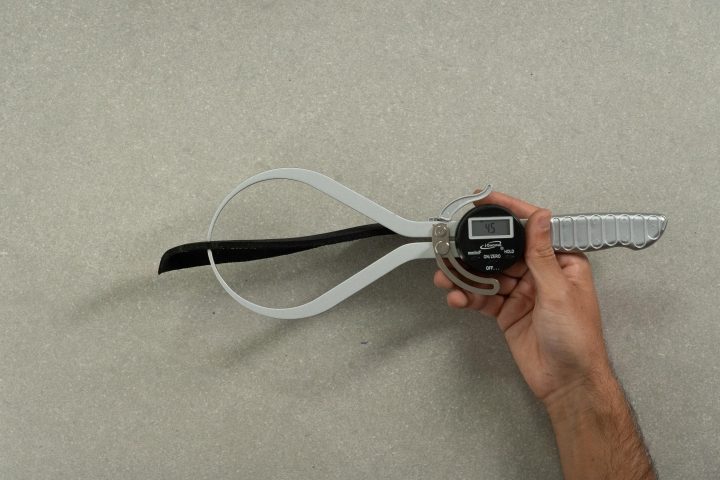 Fact check
To our surprise, the heel-to-toe drop turned out to be 8 mm instead of the officially claimed 5 mm. Perhaps that's what makes the Tri 14 a bit more versatile for the longer and slower runs too?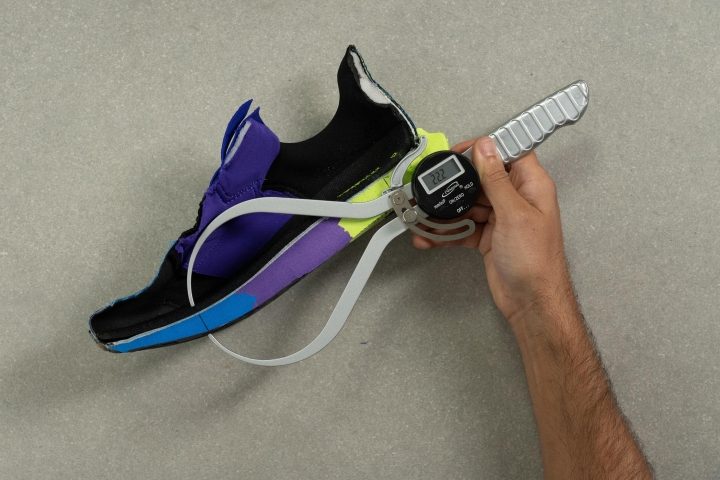 Surprisingly stable
This is a neutral shoe, but those with mild stability needs found it suitable for their feet, because the last is wide and there is some arch support and lateral stability.
Fact check
The platform of the Noosa Tri 14 is not wider than the average but still has some solid width in both the heel (88 mm) and forefoot (110.8 mm).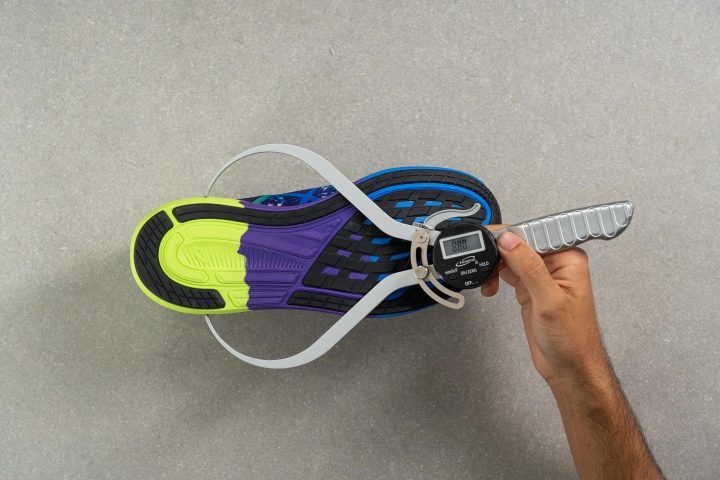 Shifting the foot side-to-side, you can feel (and see) how little the foam itself collapses.
ASICS Noosa Tri 14 needs some breaking-in
According to most runners, it takes some time to break in the shoe. It initially feels firm, particularly when landing on your heels, but the stiffness softens as the kilometers go by.
Fact check
We checked the shoe's foam softness with a durometer after just a couple miles of a test run. It is 57%(!) softer than most running shoes out there.
Disclaimer: We take 5 durometer measurements before claiming the shoe's softness.
We were cruel enough to keep the shoe in a freezer for 20 minutes to check the foam density in cold conditions. It did get 25% firmer compared to room temperature. But even in its "frozen" state, the cushioning is still 46% softer than most running shoes in room temperature.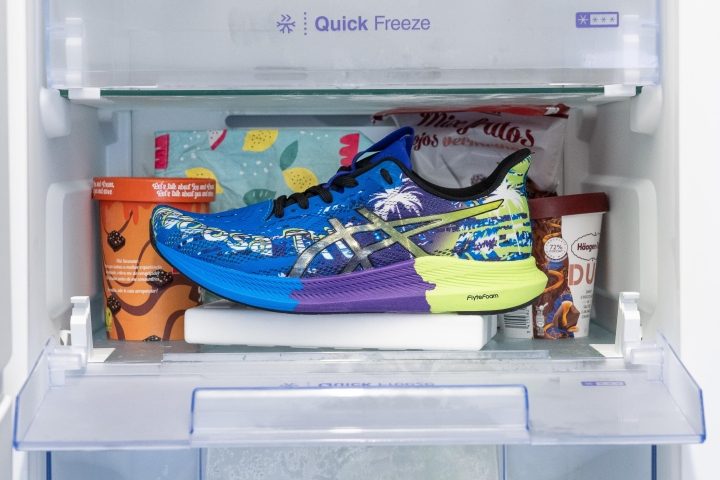 A flexible shoe for sure
There is no break-in needed when it comes to the shoe's flexibility. From the get-go, the Noosa Tri 14 is more flexible than most running shoes on the market: 18.5% more flexible than the average.
Disclaimer: The video below shows only 1 out of 5 measurements that we took to ensure accuracy.
Twisting the shoe sideways, we can also confirm that it's more flexible in this part. Subjectively, we gave it 2/5 on longitudinal flexibility and 3/5 on torsional flex, where 5 is the stiffest.
Amazing upper
Many reviewers praised this part. One of them said the upper is "incredibly comfortable and breathable throughout."
Fact check
Looking at the footage of our smoke test, we can confirm that the Noosa Tri 14 belongs to the more breathable bunch.
You can also see the light passing through the upper in our transparency test below.
According to the reviewers, on top of this, the shoe is seamless and extremely well-padded.
Fact check
We were quite surprised to see how breathable the tongue area is given that the shoe's tongue (6.7 mm) is thicker than the average (5.8 mm).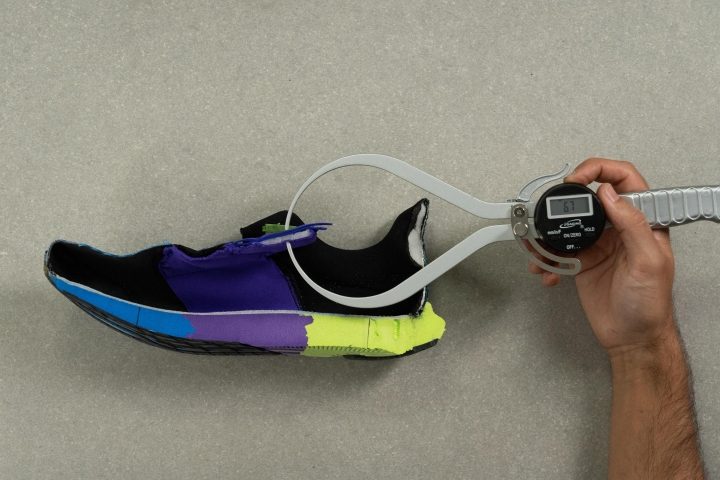 However, the collar doesn't appear to be as padded.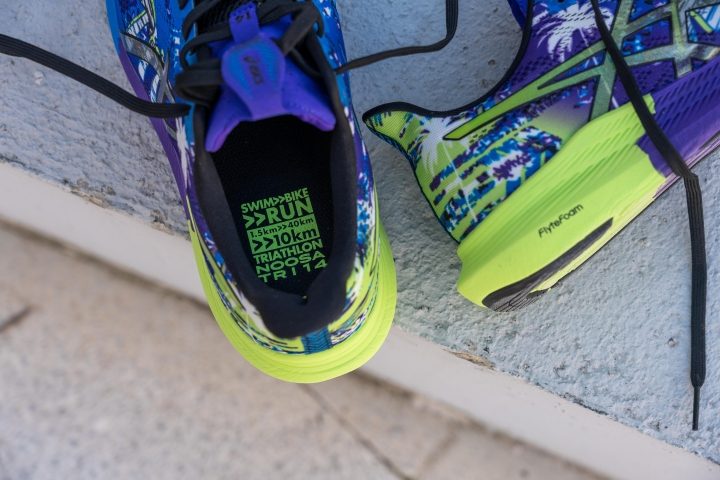 Superior fit and comfort
All reviewers pointed out that there's plenty of comfort in this shoe. The fit is true to size and snug, but the toe box does not feel narrow, given that the upper can stretch a little bit and offers quite enough room for larger feet.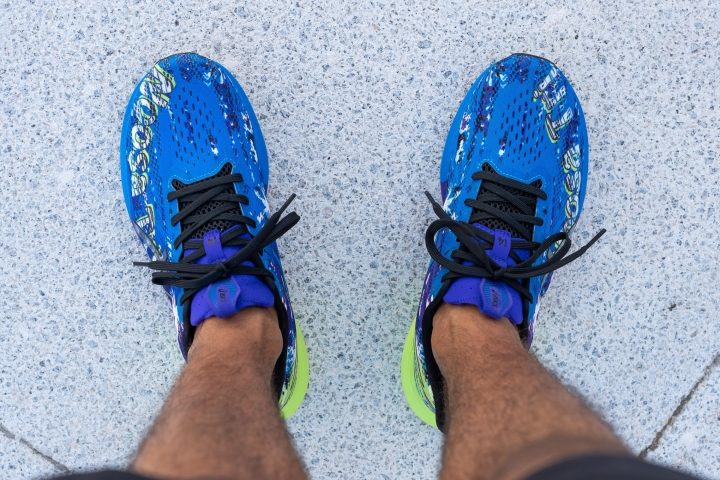 Fact check
At its widest part, the shoe's forefoot width is even a little below average. It is 1.9 mm narrower, to be specific.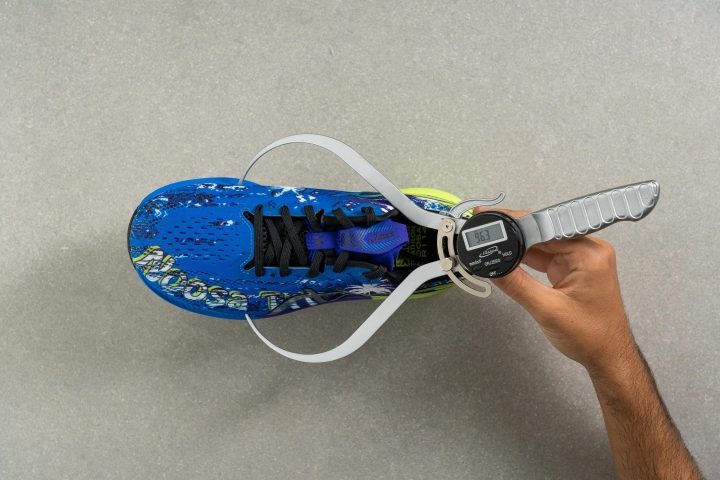 The heel counter is solid and noticeable, but well padded so it doesn't cause any irritation.
Fact check
We gave the heel counter 2 out of 5 in our subjective flexibility assessment. For reference, 5 is the stiffest.
Overall, according to a runner, the fit is "surprisingly good" and the comfort "is superior."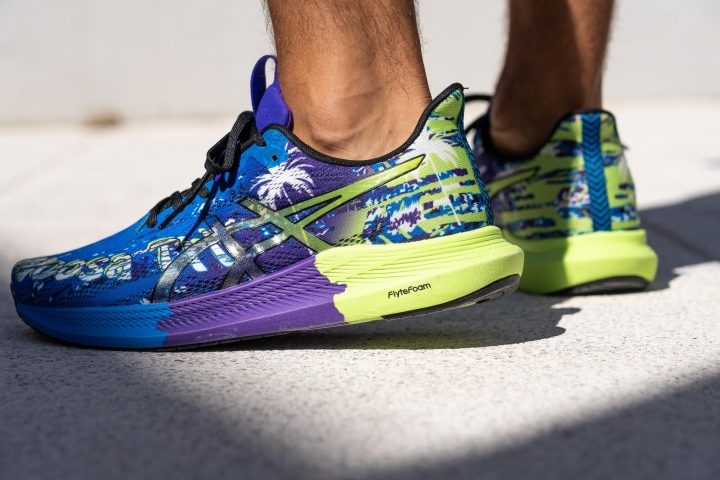 Noosa Tri 14 has a great lockdown
The shoe feels secure, as a reviewer pointed out: "lockdown is very efficient" and the shoe "hugs the foot well enough that [he] did not have to lace lock the shoe."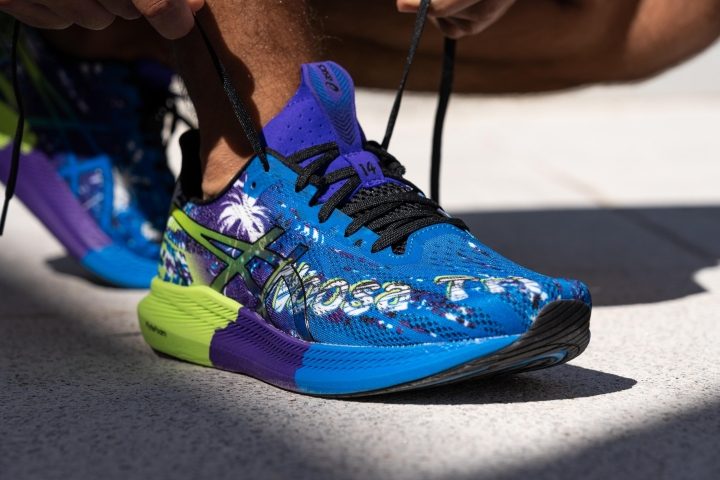 The shoe's gusseted tongue is among the contributing factors to this locked-down feel.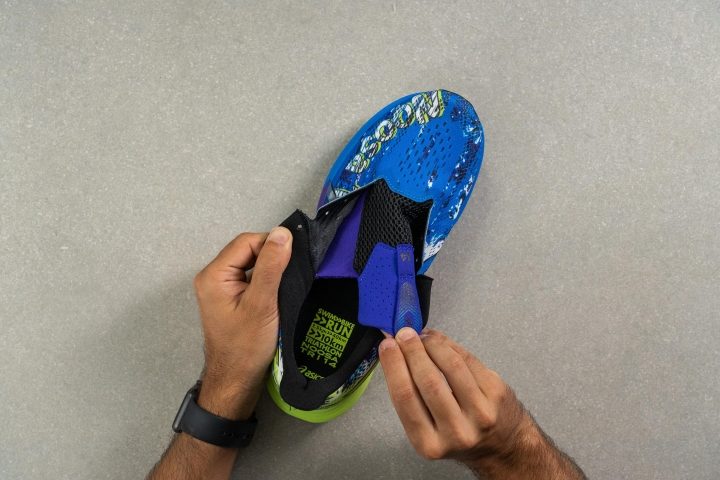 Perfect for sockless wear
The seamless upper and the comfortable mesh make it possible to avoid any friction and the result is a great shoe to wear even without socks, which is what some runners do, especially triathletes.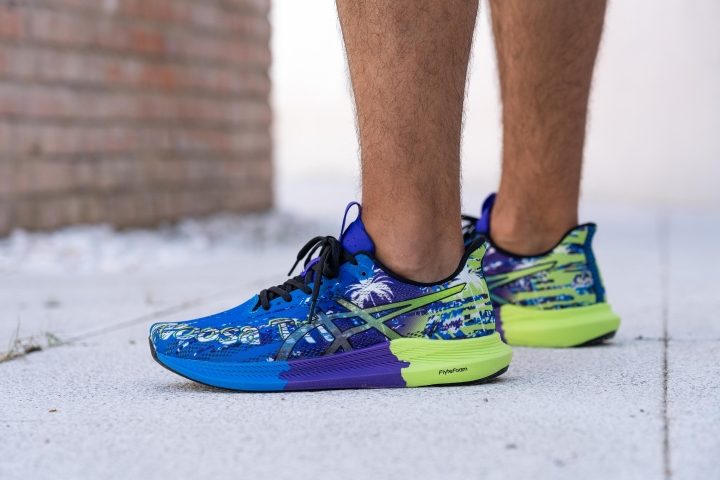 This was confirmed by an experienced tester who said it "feels great against bare skin" and another one who had no blisters after running 10 miles and wearing it all day without any socks.
A shoe for any runs
Another great advantage of this Noosa Tri 14 is its versatility. A runner said it is "everything that you need for peppy, fun, speedy runs," but it's equally at ease when taken to a slow run.
Grippy on dry roads only
This part hasn't been changed from the previous iteration and still provides very good traction on roads, yet it is not perfect when it comes to wet and dirt. As a tester said, there was some slipping and they found themselves "not fully trusting the shoe" on dirt.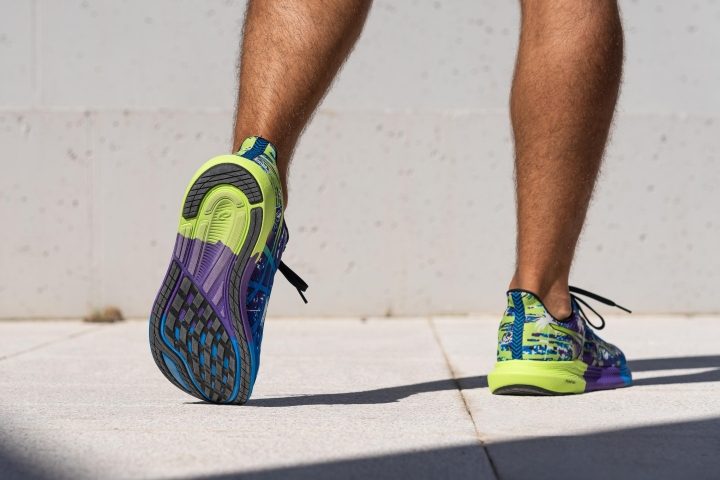 The rubber outsole looks pretty durable though
Despite its lack of traction on wet surfaces, the rubber on the Noosa Tri 14 is rather thick and sturdy for a speed trainer. It is 4.1 mm thick, while the average is 3.6 mm (road and trail running shoes included).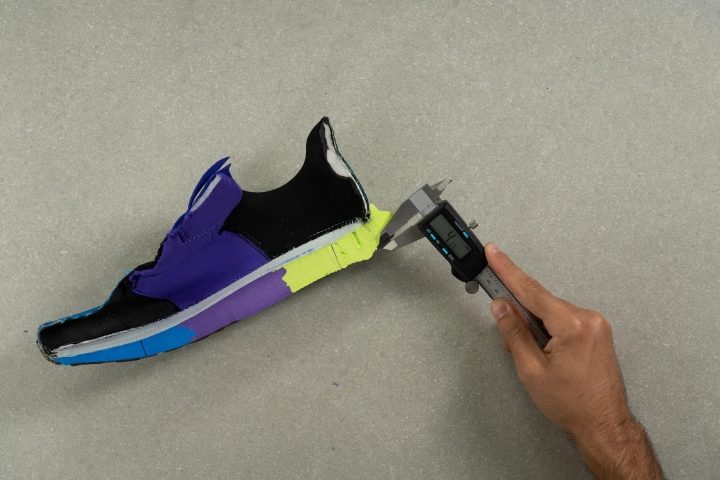 In addition, it is 5.6% denser than the average across running shoe rubber outsoles.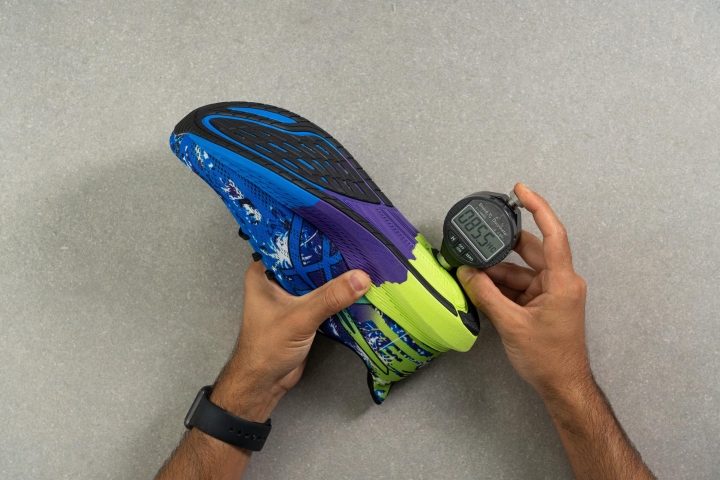 Weight kept at
bay
The average weight for an ASICS road running shoe is 10oz (284g). This Noosa is 9.1oz (260g) and therefore light. A tester said that this "makes it easy to turn the legs over in."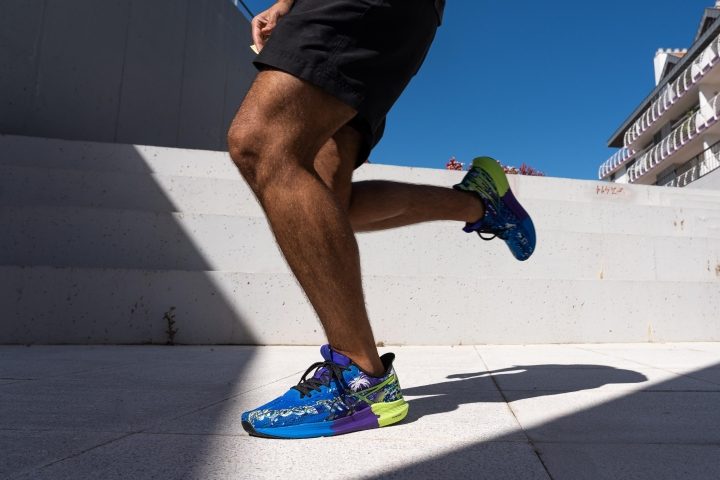 You'll get noticed in the ASICS Noosa Tri 14
While these screaming colors might be too much for some, the majority of runners say that the eye-catching colors get them noticed. As a runner has put it, the Noosa Tri 14 is "an excellent option for those who want a flashy shoe."