"The Magic Speed 2 may just be the plated racing shoe for the masses," describes one expert. At $150, it's a no-nonsense tempo shoe that can double as your short-distance racer if you want to make the most out of your purchase. And if you prefer a firmer ride with loads of snap, the Magic Speed 2 from ASICS has the magic you're looking for.
Pros
Snappy kind of fast
Unbothersome plate
Velvety smooth transitions
Secure when cornering
Roomy toe box
Tongue stays in place
Not a bank breaker
Grips on wet roads
Cons
Heel feels tippy
It won't bounce you to your next step
Who should buy the ASICS Magic Speed 2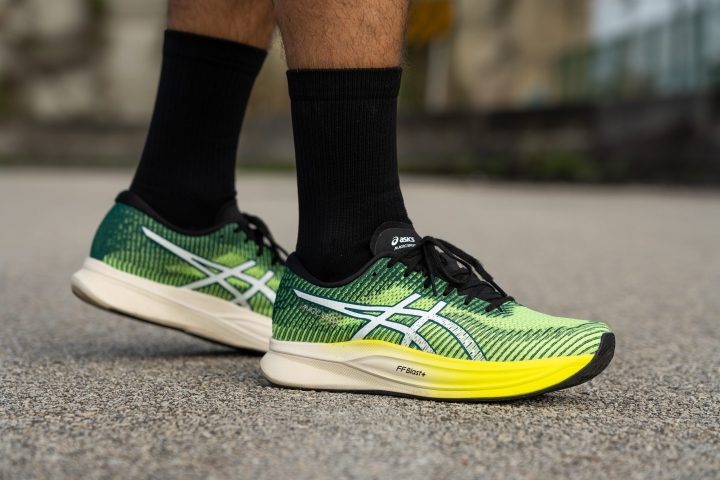 The second version of the ASICS Magic Speed should be on your list of to-buys if you're looking for a shoe that "works well for tempo runs, workout days, and even as a budget racer," advises one running shoe reviewer.
Who should NOT buy it
The Magic Speed 2 is not perfect. And if you're looking for alternatives that will be just as fast, we have you covered:
If a tippy-feeling heel is a deal breaker for you, you might want to lace up the ASICS Gel Nimbus Lite 3 instead.
Bouncy ride? This ain't it. But, the ASICS Novablast 3 can fill in this department for the Magic Speed.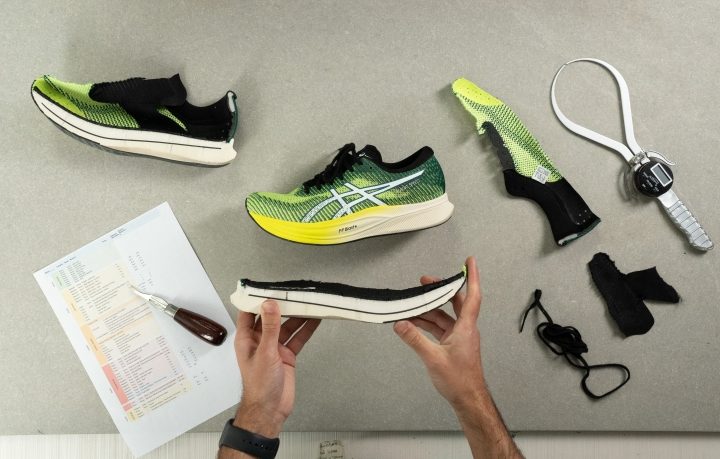 ASICS Magic Speed 2 vs. 1
The OG Magic Speed shoe was nothing short of anticlimactic. But with the Magic Speed 2, the line has been much improved. So much so, a runner even calls it the "MIP (Most Improved)." And it's all because of the following:
better fit and comfier upper wrap
snappier ride owed to the now-full-length plate
slightly softer foam
Looks fast. Runs fast.
Overall, the ASICS Magic Speed 2 is a shoe that looks fast and "certainly plays the part," remarks one tester. The full-length plate creates snappy strides. And what's more, it doesn't feel obtrusive at all. A runner even describes the plate's feel as "a bit more organic overall."
Nice and airy
The mesh upper on this ASICS shoe shows a high level of ventilation. The amount of air passing through the fabric is visualized with the help of smoke in the video below.
You can also observe the most breathable parts of the upper as they are also the most transparent ones in another test.
For a Flyte Foam shoe, the Magic Speed 2 feels flat
In exchange for the snappy ride you get, the shoe's Flyte Foam Blast+ foam "feels a little dead in the Magic Speed 2," reviews one long-time runner. It's on the firmer side, making it a shoe for those who prefer the traditional ride.
Fact check
This can be argued with a durometer measurement. Checking foam softness in the heel, we found out that it is actually one of the plushest cushioning units. It is 49%(!) softer than the average.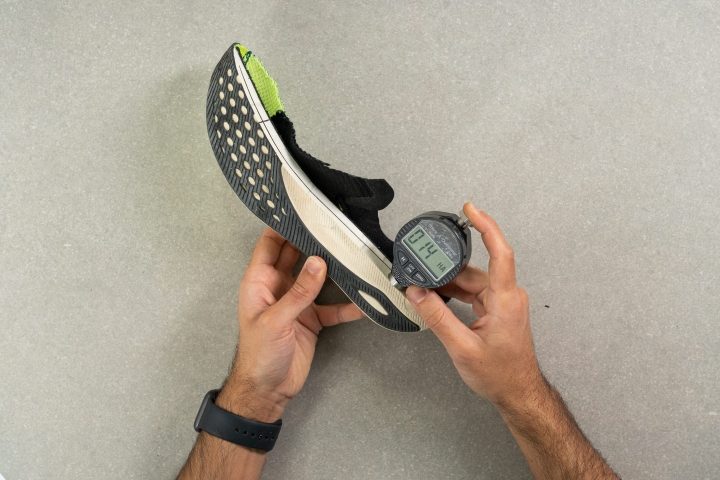 Disclaimer: We always take the durometer measurement five times to make sure it is accurate.
But if you are planning to take the shoe out on a chilly day, be prepared that it is going to get MUCH firmer. After being exposed to a cold temperature in the freezer, the foam got a whopping 125% denser! For reference, most running shoe foams only get around 26% firmer.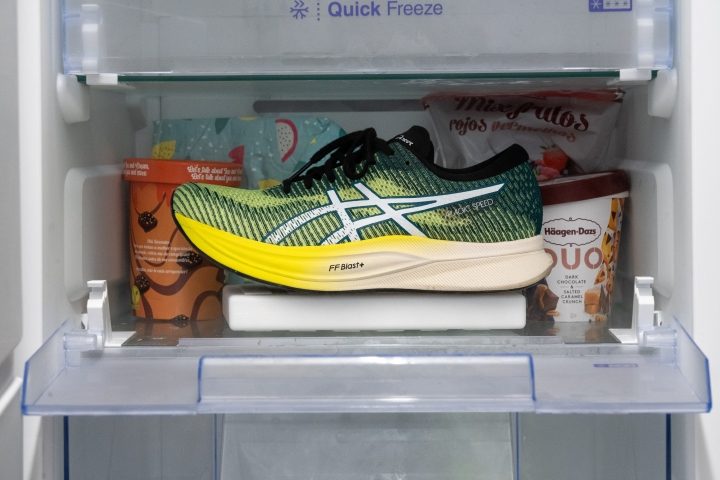 Stiff carbon plate snaps you forward
Using a full-length carbon plate, the shoe mimics a pool jumping board, pushing your feet with each step.
Fact check
The Magic Speed 2 is one of the stiffest shoes on the market. We measured it to be 48% stiffer than the average as it takes much more force to bend this ASICS shoe.
Fact check
Twisting and bending the shoe in our hands, we also gave it 4 out of 5 on both torsional and longitudinal flexibility (5 being the stiffest).
Magic Speed 2 rolls from heel to toe
How? It's all in the shoe's rocker geometry. A reviewer who took it on a tempo run claims that it's "very easy to transition between paces and switch directions quickly." Another runner expounds on this by saying that "when you pick up the pace, it goes with you."
This said, the shoe is "definitely heading in the right direction," commends an expert who found the transitions very effortless.
Be careful, it can be a little tippy
It's a tall shoe and there's not much for your foot to sit on, especially in the heel area. "It feels like you're balancing on a rail," shares one critic. He even says that the Magic Speed 2 is definitely "not for the faint of ankles."
Fact check
The shoe has an above-average stack in both the heel and the forefoot: 35.1 mm and 26.4 mm respectively.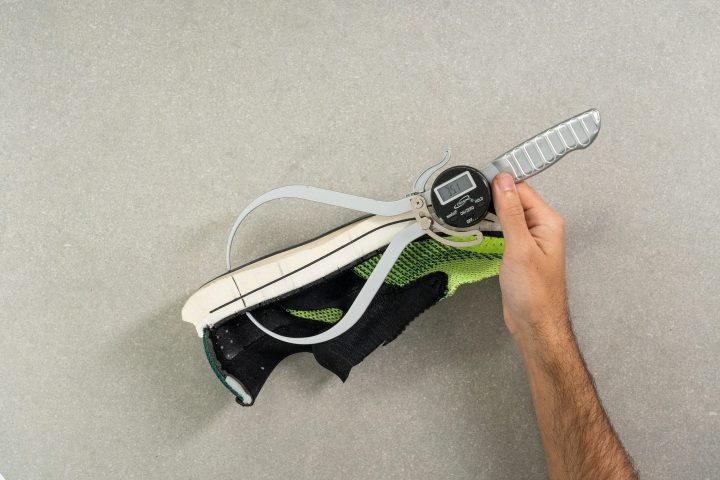 Disclaimer: We measure stack height including the shoe's insole. In the Magic Speed 2, it is 3.0 mm thick.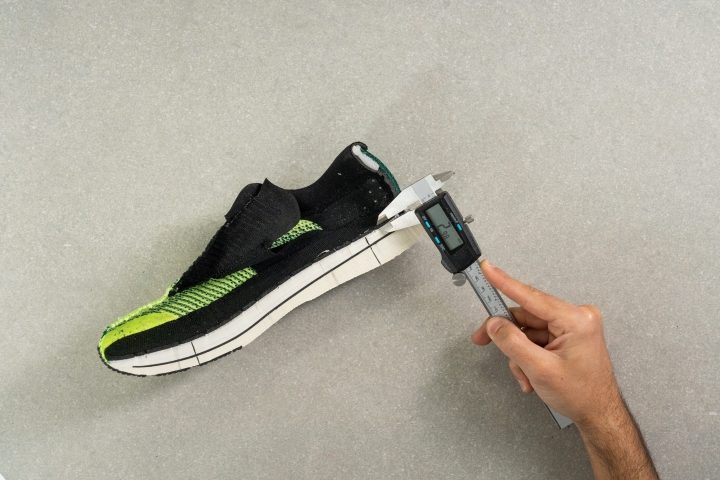 Fact check
As for the shoe's platform width, it is indeed narrower than most shoes. You've got 104.4 mm in the forefoot (7.4 mm narrower) and 79.6 mm in the heel (9.1 mm narrower).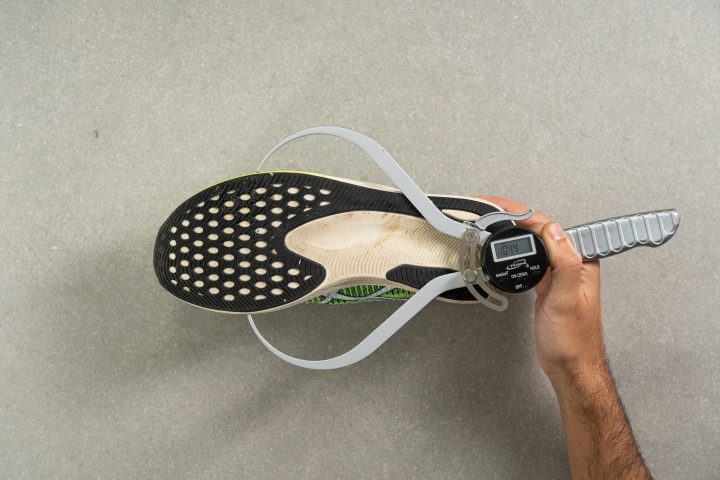 But on the bright side, this problem does kinda disappear when you start to pick up the pace. "So reserve this shoe for faster efforts," recommends one ASICS fan.
Lockdown fit
"ASICS knows how to make an upper." This is a statement that encapsulates what the majority thinks about the shoe's fit. From the "fit was awkward and all over the place" in the first iteration to "a very solid overall hold," the ASICS Magic Speed 2 is really an upgrade.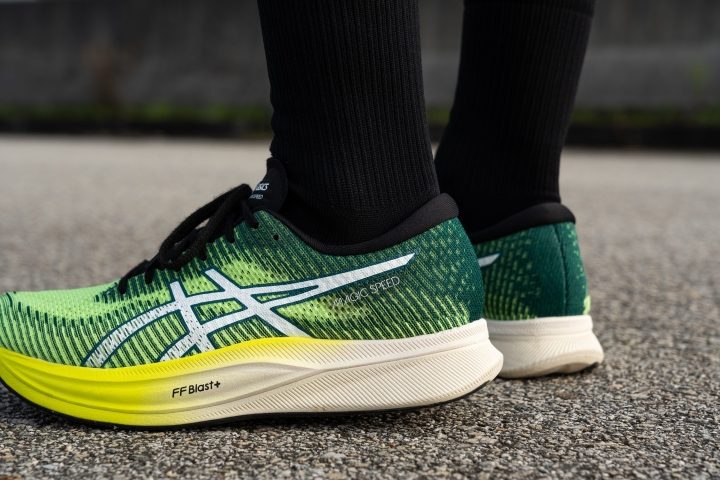 "Because the upper fits so well, it does feel like a nimble shoe when cornering or going at faster paces," adds another veteran runner.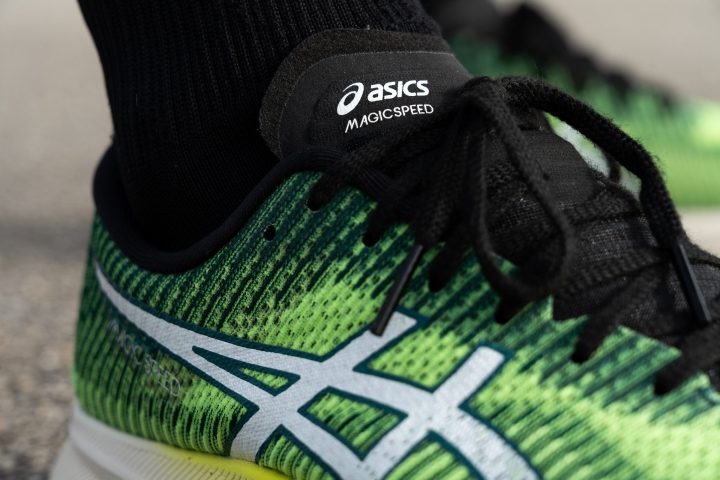 And even better, the tongue stays in place, "disappears on the top of the foot and doesn't slide around." It is unbelievably thin (only 1.2 mm compared to the average 5.8 mm) and semi-gusseted.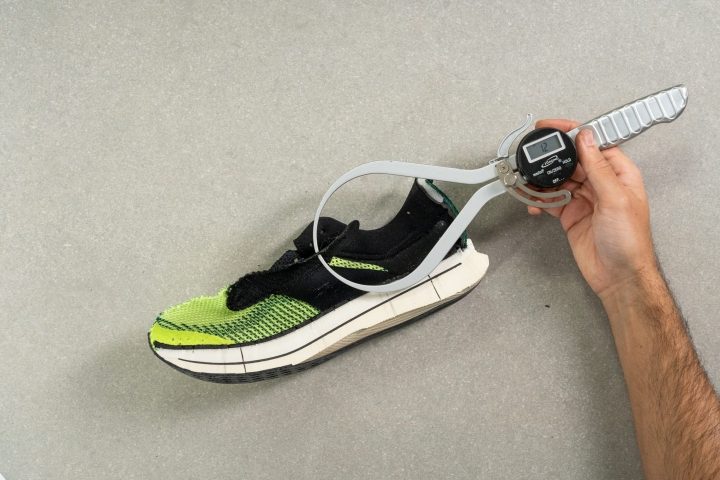 Another thing is that the rubbing issues in the heel have already disappeared because of its more padded design.
Spacious room for your piggies
Because it's unstructured, it has plenty of room, especially for those with wide feet.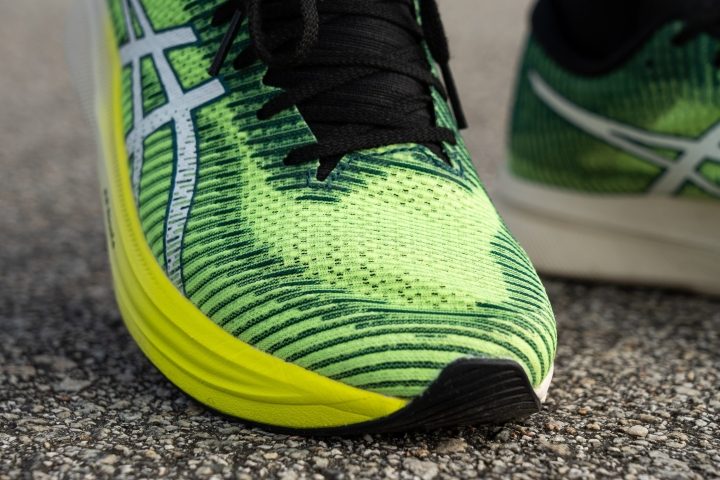 Fact check
Looking at its toebox measurements (94.5 mm in the widest part), the shoe falls into the medium-width range of speed-oriented shoes. It is actually wider than the race-ready ASICS Metaspeed Edge+ (93.4 mm) and the ASICS Metaspeed Sky+ (92.2 mm).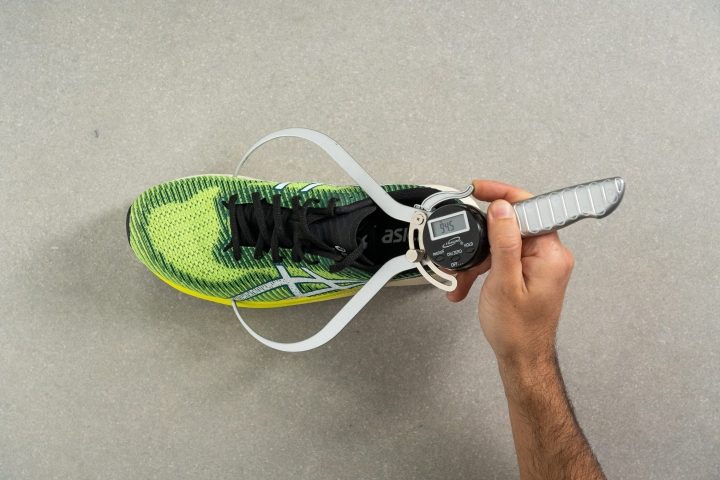 The price is right!
It's only $150 a pair; an expert even says that for this price, the Magic Speed 2 "has to be rewarded." And runners are even more impressed because while many others have gone up in price, "this one held strong and remained $150," commends one tester.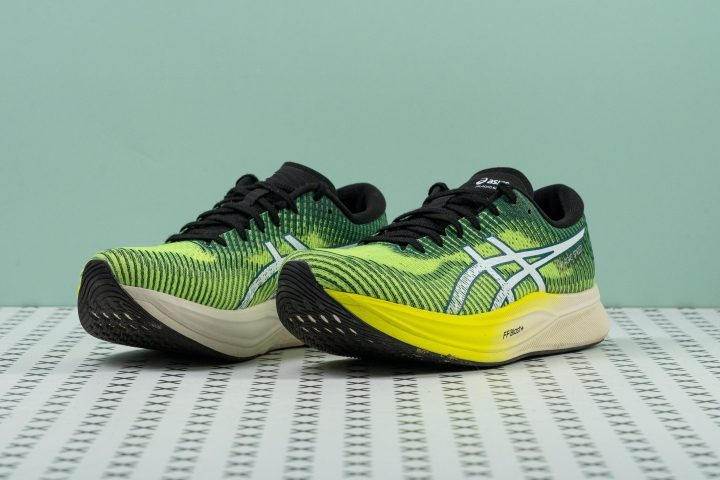 Keeps your steps fixed
"I noted excellent grip over my usual test patch of fine thin sand over concrete."
"Outsole traction is solid."
"Wear has been excellent so far as has grip."
These are some of the comments runners have about the ASICS Magic Speed 2's traction. Whether it's on dry or damp roads, you don't have to worry about slips.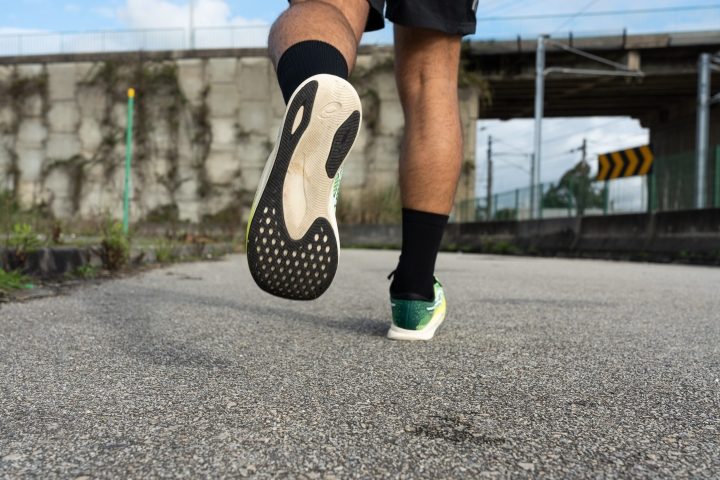 Complete lab-specs overview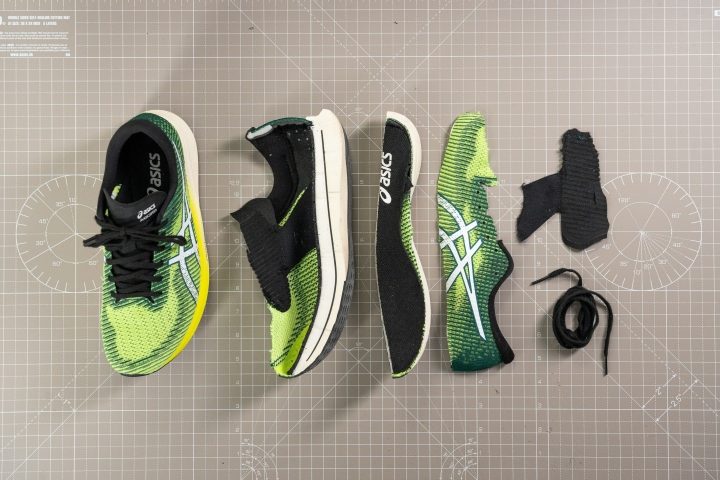 ASICS Magic Speed 2
Average
Whole shoe

Weight (g)
215
269
Drop (mm)
8.7
8.4
Flexibility of the shoe (N)
59.4
30.9
Flexibility of the shoe (Freezer 20 min) (N)
80.0
43.8

Flexibility of the shoe (% of change)

34.7
45.0
Longitudinal flexibility (1-5 scale, 5 being the stiffest)
4
3.1
Torsional flexibility (1-5 scale, 5 being the stiffest)
4
3.2
Upper

Thickness - Tongue (mm)
1.2
5.8
Width Upper - Forefoot (mm)
94.5
98.1
Width Upper - Heel (mm)
60.7
75.1
Flexibility of the heel counter (1-5 scale, 5 being the stiffest)
1
2.8
Tongue: gusset type
both sides (semi-gusseted)
-
Heel: pull tab
none
-
Midsole

Width Midsole - Forefoot (mm)
104.4
111.8
Width Midsole - Heel (mm)
79.6
88.7
Stack - Forefoot with insole (mm)
26.4
24.3
Stack - Heel with insole (mm)
35.1
32.6
Durometer Midsole Heel (Room temperature) (HA)
14.0
27.3
Durometer Midsole - Heel (Freezer 20 minutes)
31.5
34.6
Durometer Midsole - Heel (% of change) (TEST)
125
26.1
Outsole

Outsole thickness (Heel) (mm)
2.4
3.5
Durometer Outsole Heel (Room temperature) (HC)
75.5
80.8
Insole
Insole Heel Thickness (mm)
3.0
4.5
Insole: removable
no
-