If you're new to the world of carbon-plated running shoes, you should give the ASICS Magic Speed some serious thought. It's plated tempo-day speedster that is seen as a training complement to the MetaSpeed Sky. But if you want a full-on racing shoe, this can fit the bill too! Its ride is just so efficient and peppy, you don't have to put much effort into it to go fast.
Pros
Lightweight
Affordable at $150
Fast and nimble
Smooth transitions
Peppy toe-off
Minimally padded
Breathable
Great grip
Cons
Not for wide feet
Not built for comfort
ASICS Magic Speed review and lab test
Fast, plated, and only $150!
The ASICS Magic Speed is a partially carbon-plated shoe in the daily-trainer price range. It's firm and responsive, without the extreme spring of a fully-plated shoe or the steep price tag. With a price point less than the Nimbus or Kayano, this may be the ideal ASICS to consider!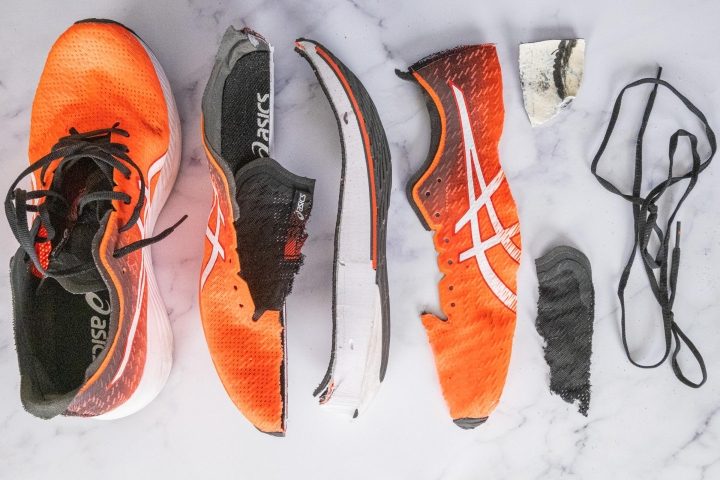 Who should buy the Magic Speed
This shoe focuses on customers exploring plated options for the first time, racers that want a speed-day shoe to pair with their MetaSpeed Skys, or runners that just want one shoe they can train and race in without the fuss of maintaining a shoe lineup.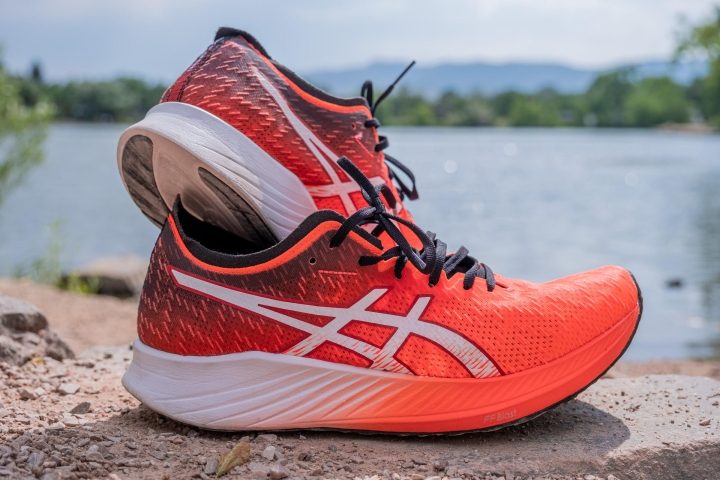 Buy the Magic Speed if you like a firmer ride underfoot, not a lot of padding in the upper, and a little extra pop off your toes.
Who should not buy it
Don't buy this shoe if you are looking for:
If you are searching for a more plush shoe from ASICS, check out the Novablast 2 instead, or the Saucony Triumph if you're interested in Saucony's plush shoes.
The Magic Speed can do a lot, but this is not the right shoe for someone looking to trod along at a gentle pace. It's great for tempo workouts and going fast.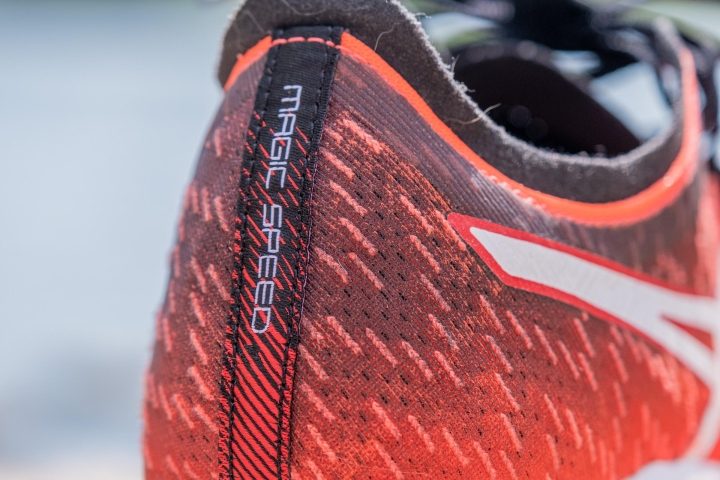 Magic Speed runs a bit narrow
The Magic speed fits true to size but feels narrow out of the box. It took a few runs to break in, but eventually, it stretched nicely to accommodate my wide foot.
Super wide feet beware though, this does feel snug for sure.
Not built for comfort
Comfort is not the goal with the Magic Speed. This is a fast shoe that's both light and quick.
The upper is extremely thin and breathable with virtually zero padding, except for a very small amount of foam in the rear of the ankle collar over the Achilles.
The tongue for example is just .7mm thick, compared to 5.2mm on the average tongue.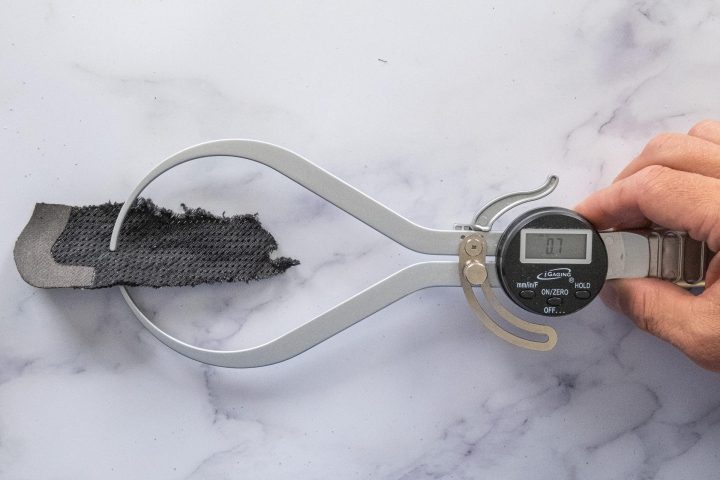 And the FFBlast EVA midsole is firm underfoot, it's just not plush.
However, I enjoyed the ride and didn't have any hot spots in the shoe.
Ultimately my only complaint is it's a bit narrow and snug over the midfoot and through the toebox.
Magic Speed's ride doesn't disappoint
When I first pulled this shoe out of the box I was excited, I was coming off the high of crushing PRs in my ASICS MetaSpeed Skys and I was ready to try the next plated ASICS runner. Then I put it on my foot, and it just didn't excite me as the Skys had.
It felt dense underfoot instead of bouncy and heavy in hand compared to its racing sibling. Where the Sky fit wide, this fit narrow. I sighed…
Then I went and ran in it and all that disappointment faded away. The rockered design felt quick underfoot and transitions from midfoot to toe were smooth and effortless. The partial carbon plate provided pep in toe-off without being overly "sprung" underfoot.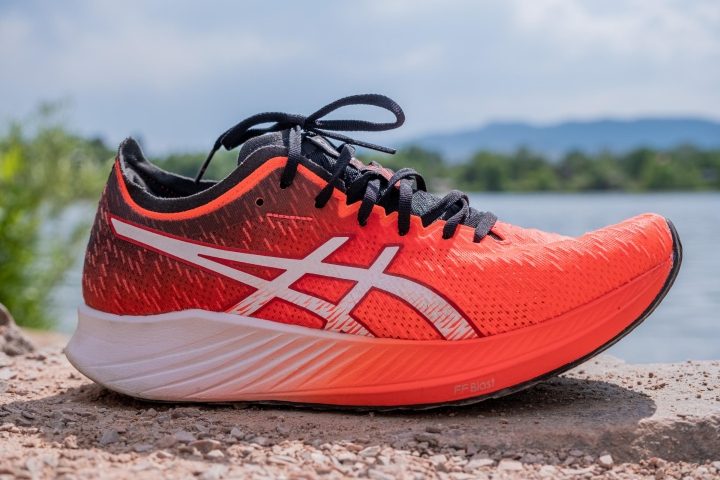 It felt nimble and quick while remaining balanced and tempered. What I like about this shoe is it's bucking the trend of super tall stack heights (just 24.2mm under the forefoot) which gives it a grounded feel.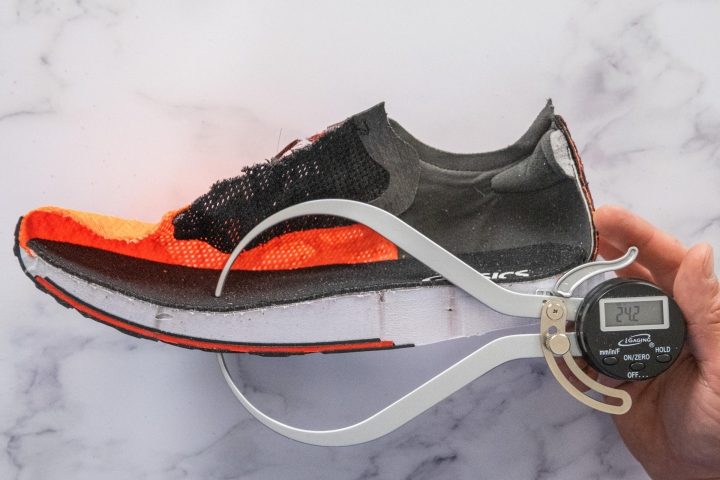 I think if you like a firmer feel underfoot, the Magic Speed is a great option, I really enjoyed my time in this shoe.
Wide feet may need a break-in period
If you have a wider foot you are going to have to break this shoe in, it runs a touch narrow. Otherwise, it's ready to go right out of the box.
Impressive at around 8oz
I kept comparing this shoe to the MetaSpeed Sky (6.7 ounces), with one in each hand, these felt heavy. But at 8.2 ounces (233g) I'm actually pretty impressed considering it has a more traditional, and durable EVA midsole.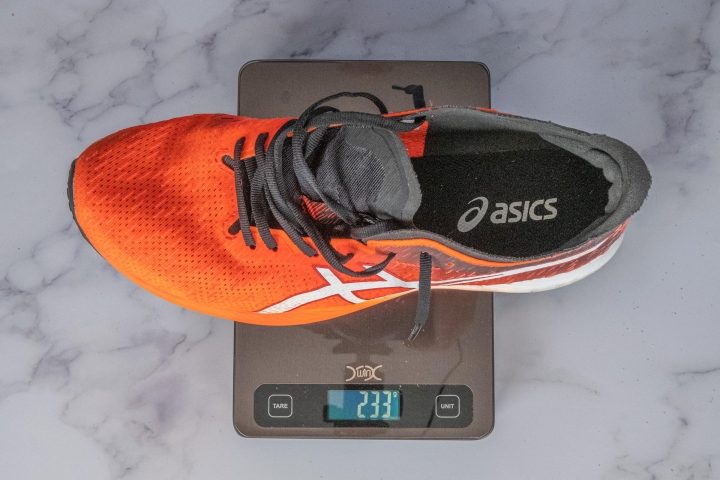 On your feet, they feel light and fast.
Durable for a carbon-plated shoe
The Magic Speed is a fast shoe but has great features that should keep it running for a long time. Its outsole is thin at just 2.5mm (compared to 3.8mm average) but it's full-coverage and durable.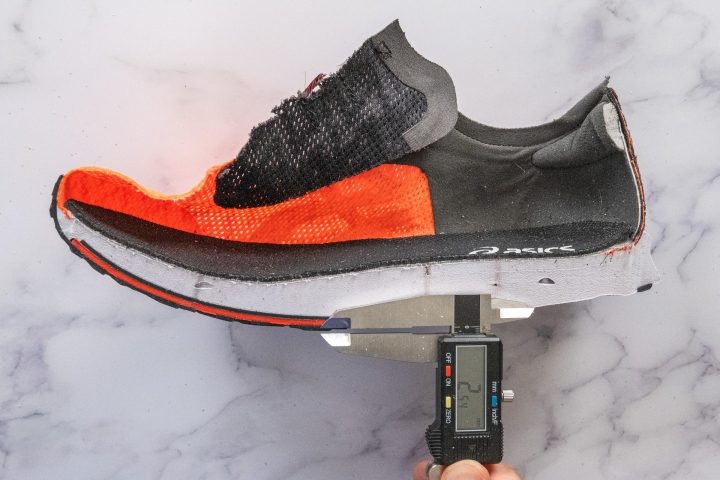 The firm midsole shouldn't pack out prematurely either. At 80.5HC on the durometer, it's a bit harder than average outsoles at 78.6HC.
Most carbon-plated shoes are not built for extended use, but the Magic Speed shouldn't have that problem.
Grippy textured outsole
The grip is great on these. The outsole has mini-lugs covering its whole surface which I really appreciate.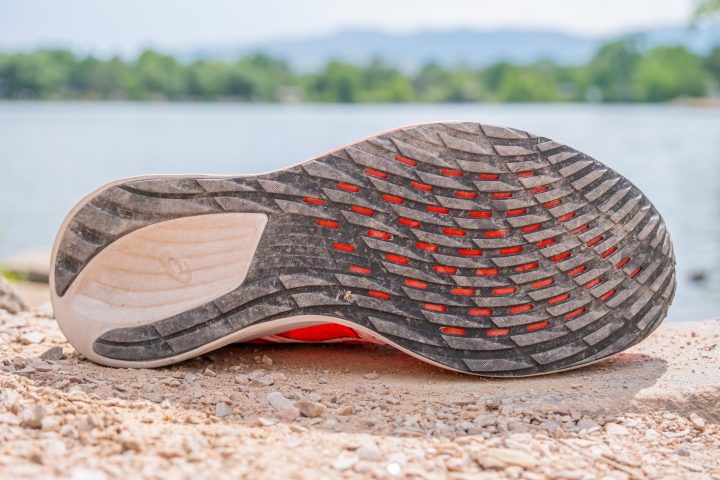 The Magic Speed is very similar to the ASICS Hyper Speed in this regard. They look a lot alike and have the same outsole, which was one of the features I liked on the Hyper Speed. The Hyper Speed is a bit more budget-minded without a carbon plate and some added padding in the upper.
ASICS Magic Speed can go on race day
This shoe fills a lot of roles in my opinion. I think it's a perfect companion to the MetaSpeed Sky as a tempo trainer in an all ASICS rotation, but it can also stand alone.
If you just want one shoe that can be ready for race day on the weekends, and fill in on fast training days all week, this shoe has the chops.
Ultimately, it wants to go fast, so keep that in mind if what you really want is a soft-riding shoe for long slow days.
Extremely breathable upper
The thin upper is extremely breathable. I love shoes with less padding, and I like that the Magic Speed is not overbuilt with unneeded cushioning. Well done ASICS on this upper!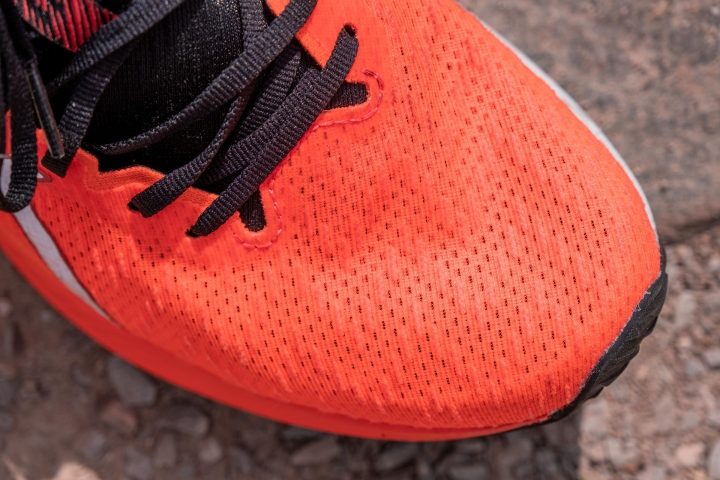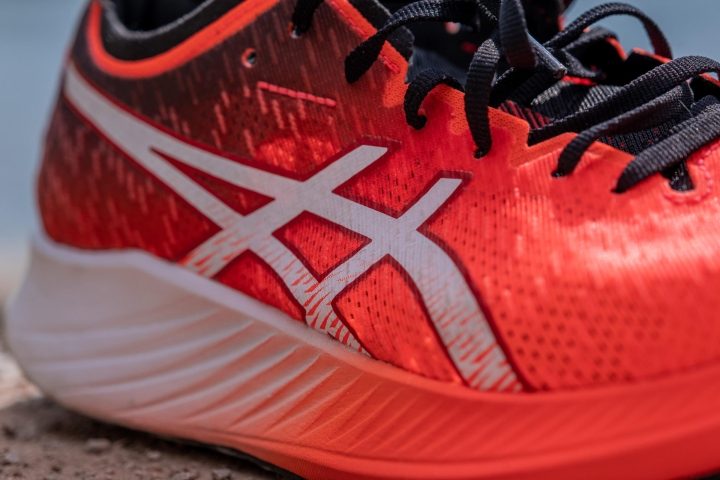 It scored 5 out of 5 on the breathability tests, thanks to its thin construction but also there are small venting perforations throughout the whole upper. I love this!
Magic lockdown in the Magic Speed
Lockdown in the Magic speed was great. The mesh upper material is devoid of stretch, and the lace stretch was rated at a 2 (from 1-5, 5 being the stretchiest), meaning my foot didn't move at all.
I really liked the ankle collar, there's basically zero padding except over the Achilles. This works really well for my foot, I didn't have any heel slip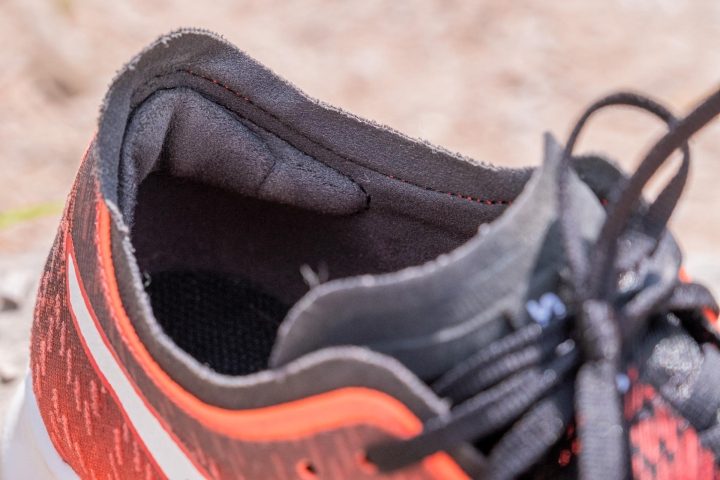 The shoe does run a bit narrow, so it was snug on my foot which helps with lockdown, but I wish the tongue was gusseted. Even though I didn't need the gussets to assist in lockdown, the thin tongue did slide around a bit on me, so I would have preferred it to be locked in place.
Not a night runner
This is a tiny detail, but there are no reflective elements on the Magic Speed, so do your magic running during the day, not at night.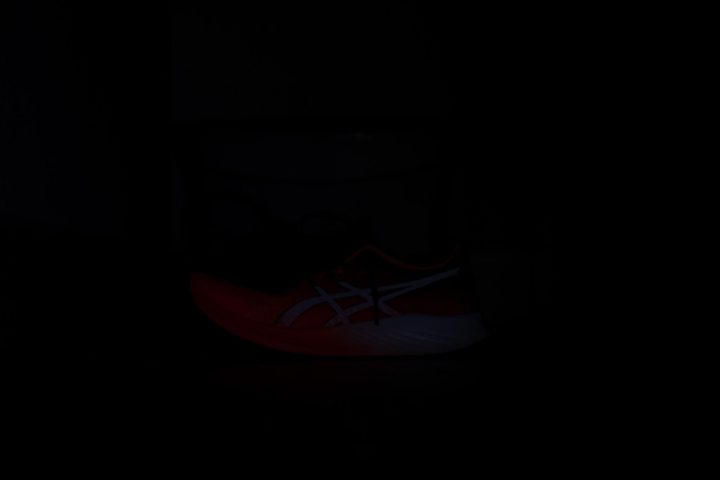 Compare this to the Hoka Mach 4 and you'll see the difference if you're out after dark.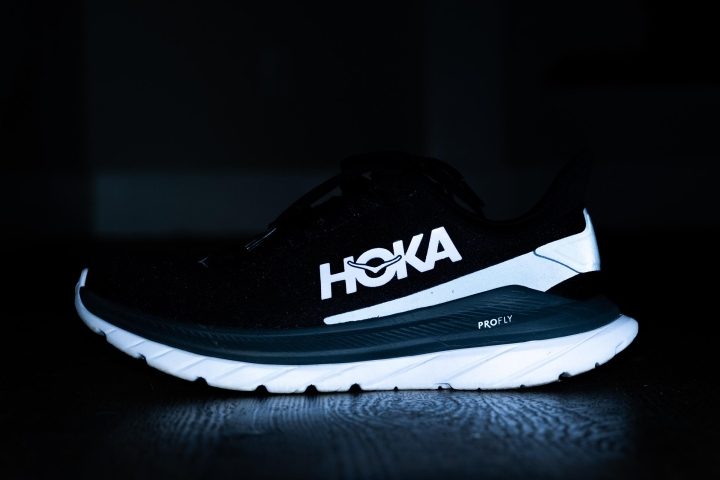 Conclusion
The ASICS Magic Speed is a pretty impressive shoe that can be race-day ready and your fast-day trainer.
Its firm ride is quick and most people are not in search of that overly energetic pop you get from a fully-plated shoe. Many may find the partial plate, and its more tempered ride, ideal. And at $150 you are getting 75% of the performance of a fully-plated shoe without the extra $100 price tag.
Ok, ASICS you have our attention in 2021!