New Balance FuelCell Rebel v2
90
The Corescore is a score from 0-100 that summarizes opinions from users and experts. Below shows the distribution of scores for all running shoes.
Verdict
Even as a nitpicking expert, it was so hard for us to find a flaw from the Rebel v2 from New Balance! The usual case is that all-rounders are good at everything and great at nothing. But this shoe literally REBELS against that! It excelled at everything we paced it through - it's plush for easy recovery days and long runs, but exceptionally bouncy and peppy to pick up the pace in tempo sessions!
Pros
True to size
Fits wide feet well
Lightweight
Fun to run in
Responsive and bouncy ride
Soft cushioned feel
Breathable upper
Great lockdown
Amazing looks
Ultra-comfortable
Bargain at $130 (should be $160)
Cons
Slightly unstable when walking
Durability may be an issue
No reflective elements
No heel-loop
Stiffens in cold temperatures
Tongue placement needs attention
60% say it's true to size.
We earn affiliate commissions at no extra cost to you when you buy through us.
Comparison to similar running shoes
New Balance FuelCell Rebel v2 review and lab test
The NB Rebel v2 sees big changes to an already great platform. I'll just say it, it's nearly non-plated perfection!
Normally I am hyper-critical and need to poke and prod to find the smallest details that I don't like about a shoe but I'm going to struggle with my modus operandi on the New Balance FuelCell Rebel v2.
This shoe can do it all! It's soft and plush working well on recovery days or for longer runs, but the midsole is bouncy and energetic enough to speed things up on tempo days too.
It's not mushy or energy-sapping like so many soft shoes, and its lightweight construction and super-breathable upper fit right in on race days.
This shoe lives in the golden triangle of weight, response, and cushion where most shoes don't even dare visit. NB nailed it!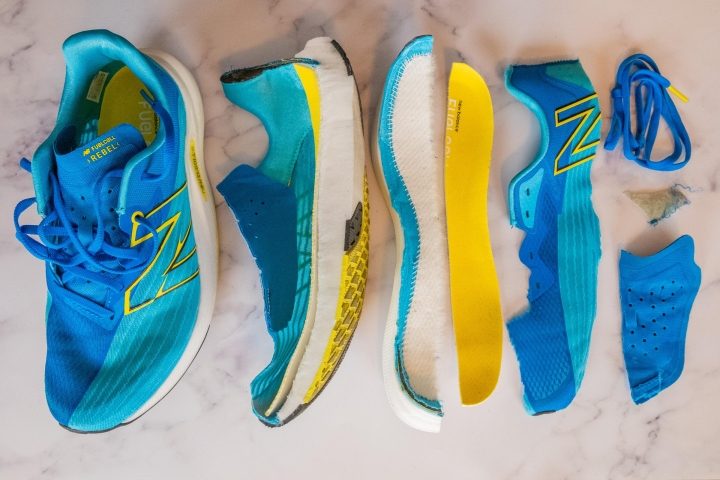 Oh ya, and it's fun as hell too!
Who should buy the FuelCell Rebel v2
If you are looking for a true do-it-all shoe that's light, flexible, soft, and non-plated, the Rebel v2 is it!
This shoe is ultra-comfortable, peppy, quick, and cushioned, a challenging mix to nail, but New Balance did it. Pair with this its carbon-plated big brother, the New Balance FuelCell RC Elite v2, and you have all your bases covered.
Honestly, you may not even need the RC Elite if you're not a hardcore racer. The Rebel v2 will be at home on the start line too.
Who should not buy it
Don't buy the Rebel v2 if you hate fun. I honestly don't even know what other shoes to suggest here, it's that good.
If you really wanted a plated shoe for long race efficiency you could try:
But for an all-around shoe, the Rebel v2 is pretty special.
I guess one suggestion would be if you are a pronator, the midsole is a bit soft and can angle inward a bit.
If you require more support underfoot but still want ultimate New Balance comfort, check out the New Balance Fresh Foam More v3 or New Balance Fresh Foam 1080 v11.
Of course, if you need stability shoes specifically there are plenty to choose from as well.
Rebel v2 fits like a dream
The Rebel v2 fits true to size, and in typical New Balance style, they work well for wider feet.
They are super easy to get in and out of compared to v1 which had a knit, sock-like upper. That design is long gone, and this engineered mesh upper has a non-gusseted tongue that allows the shoe to splay wide open when slipping your foot in or out.
The mesh is much less stretchy than the old knit upper too, offering solid lockdown in my experience without any hot spots or slipping.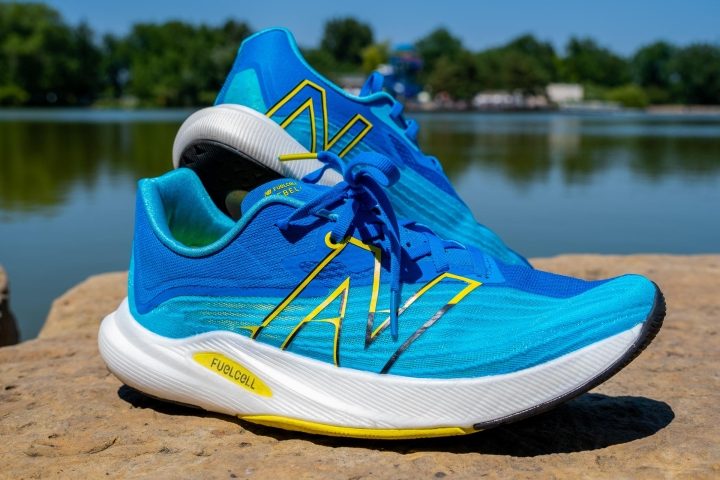 One thing to mention as well, the ankle collar is soft and flexible (2 out of 5 on our stiffness scale with 5 being the stiffest), much more so than typical daily trainers, but with a touch of padding for added comfort and form. It's a nice compromise in my opinion that performs exceptionally.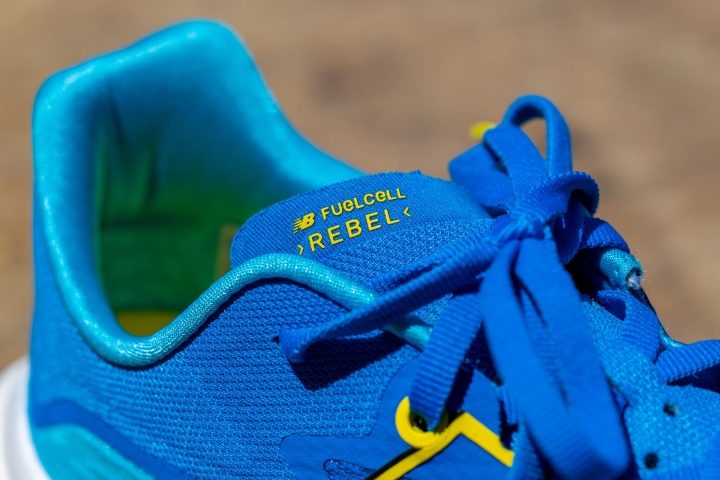 New Balance nails the comfort with Rebel v2
Wow, the step-in comfort is fantastic, and it doesn't end there. Wearing these is like strapping on fluffy angel food cake to your feet, and you just don't want to ever take them off.
It's so comfortable New Balance basically left out the insole. The one provided is super flimsy, and super thin at just 1.5mm (4.2mm is average). For all intents and purposes, the insole simply acts as a cover over the stitching on the strobel board. The midsole feels so good underfoot NB didn't have to waste weight on any extra padding, smart.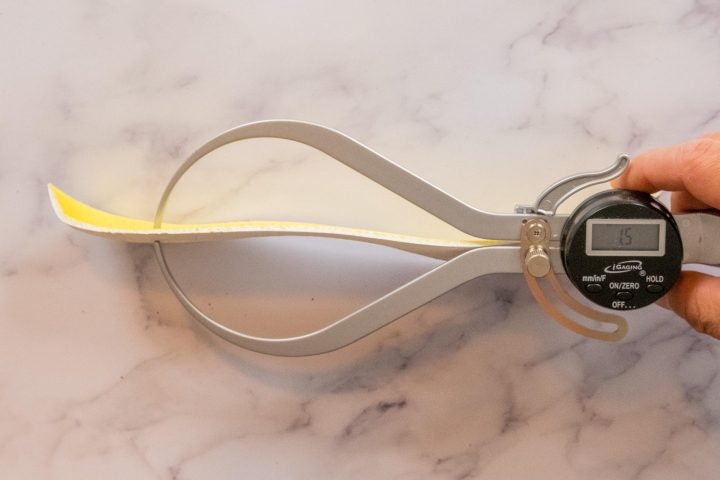 I also really liked the thin tongue. I like really thin tongues on shoes, this is just 1.6mm thick (compared to the average of 5.3mm) but there's a slight hint of padding keeping things comfy and breathable over the top of your foot.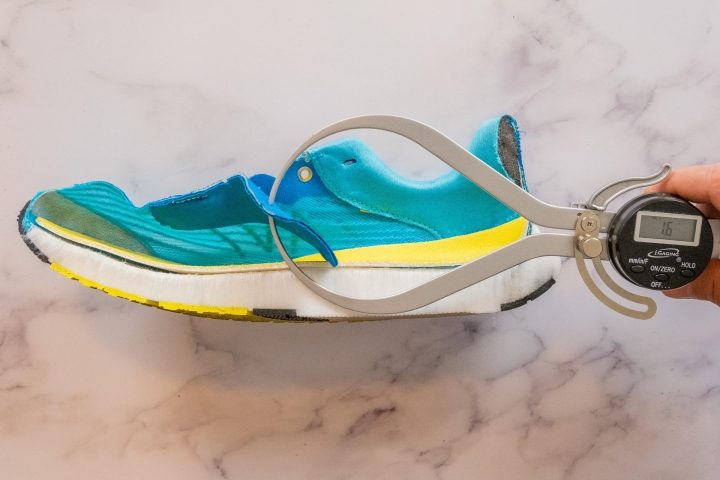 Wow the ride is fun
The ride can simply be exclaimed as fun!
The midsole is lively, it feels bouncy, which is surprising for how soft it is, most extremely soft shoes feel mushy, but not the Rebel v2.
An odd thing about NB FuelCell midsoles is they are not all created equal. There are a few shoes in the NB lineup with this material, but on the Rebel V2 it's the softest yet, and the softest we've ever tested. At just 6.5HA on the durometer it's 70% softer compared to average (22.3HA) midsoles and even 48% softer than the similar FuelCell midsole used on the RC Elite (12.5HA).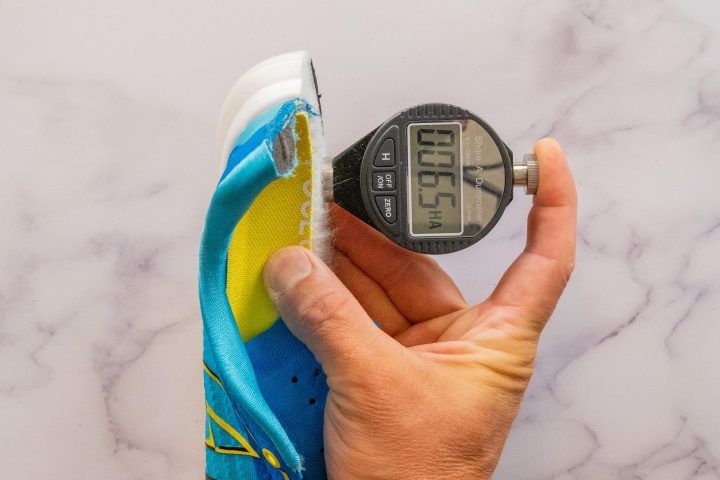 On top of the bounce, there's a nice rockered design, giving it smooth transitions through your gait.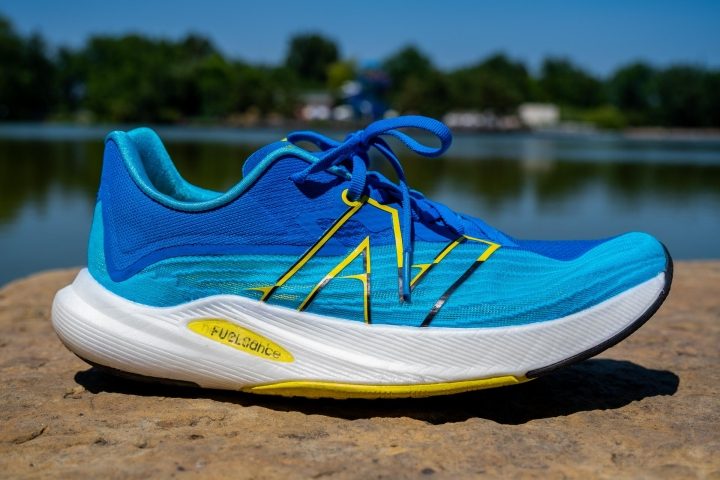 The shoe really performs at higher speeds, but at lower speeds, it's soft and cushioned. It's just amazing the balance this shoe has between how it performs for different paces.
The only time I saw an issue, and the only gripe I have, is at walking speeds the heel is a bit unstable. But if you are not a heel striker, and won't be walking much in these there are no complaints.
Light, light, light
A daily trainer coming in at 7.1ounces (201g) is phenomenal! This is race weight, well almost anyway.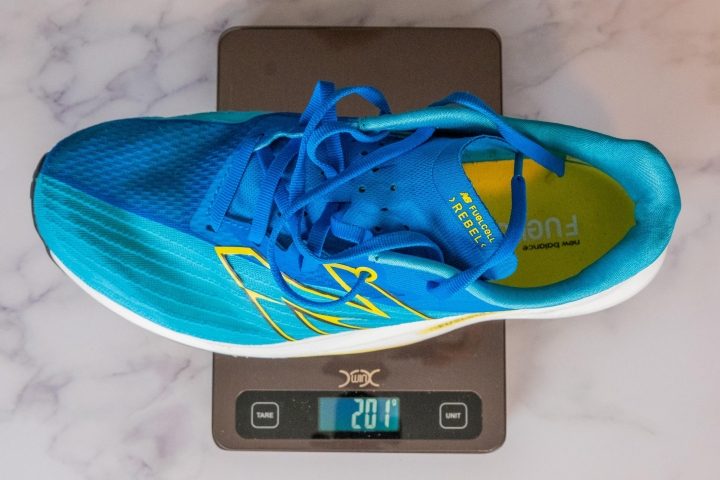 I like that this shoe can be your long-run shoe yet it's just over 7 ounces. Feels wrong to have such a light shoe as a daily trainer and for longer, medium-paced runs, while still being able to wear it for tempo workouts and races.
Is this magic?
Durability and grip
Ok, I guess we found issue #2. Durability may not be great. The midsole is just so incredibly soft I think it will pack out by 300 miles.
Also, the 4mm outsole is built out of a dual-density material that's pretty dang soft. This is great for grip, but even the harder, more wear-resistant NDurance patches (black rubber) in high-wear areas are just 74HC on the durometer compared to average outsoles at 79.1HC.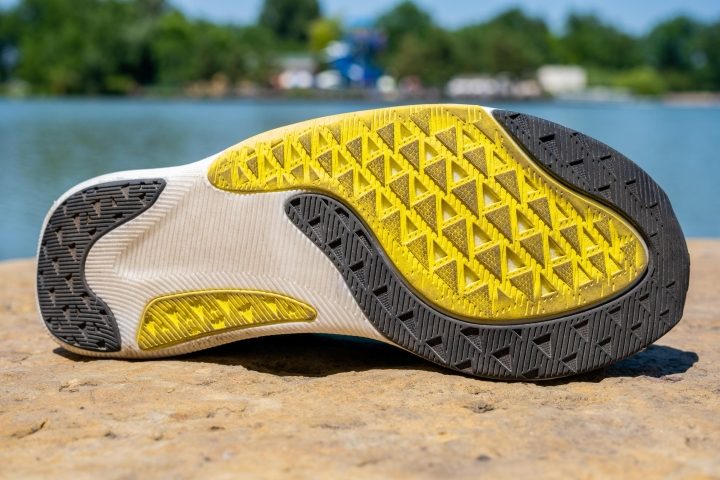 In the end, this shoe is fantastic but may wear down a bit prematurely.
Rebel v2 is extremely breathable
The shoe breathes great. It scored a 5 out of 5 on our breathability test.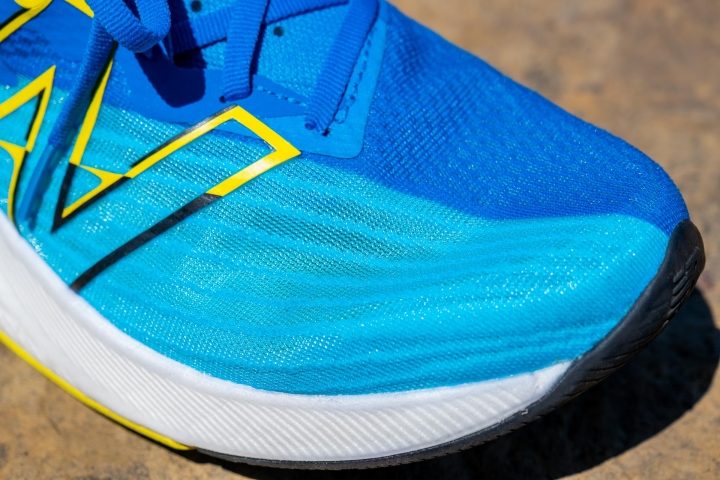 The thin mesh upper is almost see-through and lets heat and vapor escape easily all around the foot.
Offset lacing locks down well
I had no issues with lockdown on the Rebel v2. The upper is stiff enough to not flex much while still offering a custom fit for every foot.
The medial side lacing offset is a bit funky but works without any issue as far as I could tell.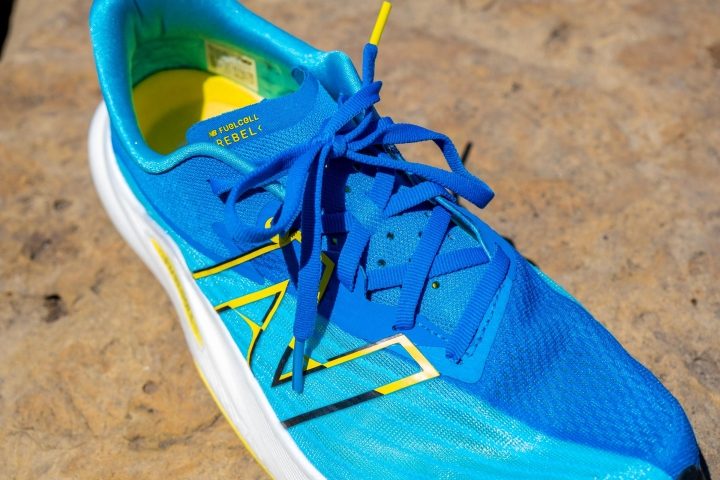 And the slightly stretchy lace which scored 3 out of 5 on our lace stretch test (5 being the stretchiest) gave enough for comfort over the top of your foot but not so much to cause slipping or sliding in the shoe.
Amazing value
The New Balance FuelCell Rebel v2 is a great value at $130. This shoe fits into the $160 category easily.
Buy v2 before NB realized they mispriced this and ups the cost for v3!
Hologram ads to its sexiness
I love how this shoe looks and the other colorways are rad too.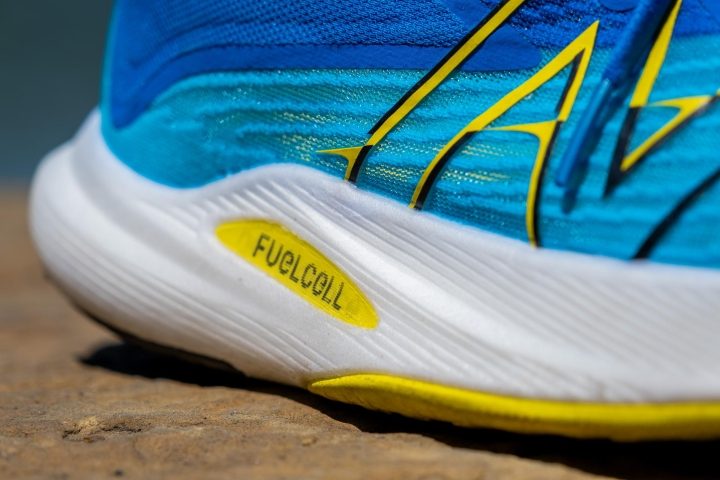 And the tiny detail of a New Balance/FuelCell hologram logo on the side brings me back. Love it!
Volatile to cold weather
I don't know how many people will run this in extreme cold temps, but the extremely soft midsole gets stiff when cold. The durometer of the midsole increases 115.4% from 6.5HA to 14HA, the largest difference in change in any shoe we've tested, but even at 14HA it's under the average stiffness of room temp shoes (22.3HA).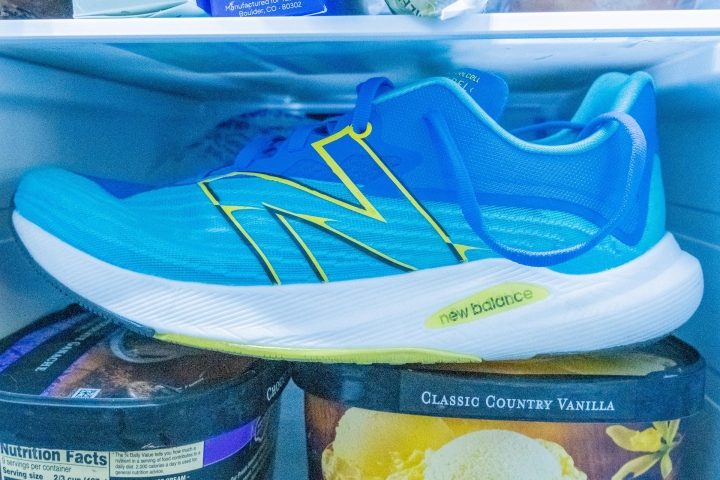 The flex is affected too. The shoe stiffens 55.7% in flex tests from 14.9N (again our most flexible shoe we've tested, the average shoe flexes around 36.7N) up to 23.3N (average cold weather flex is 48.2N).
Lastly, some tiny gripes
Ok, I couldn't not list these gripes.
These are so small though and inconsequential compared to how much I enjoyed this shoe I almost left this section out, but I needed to get them off my chest.
No reflective elements
No heel-loop
The tongue can require a bit of manual placement since it's not gusseted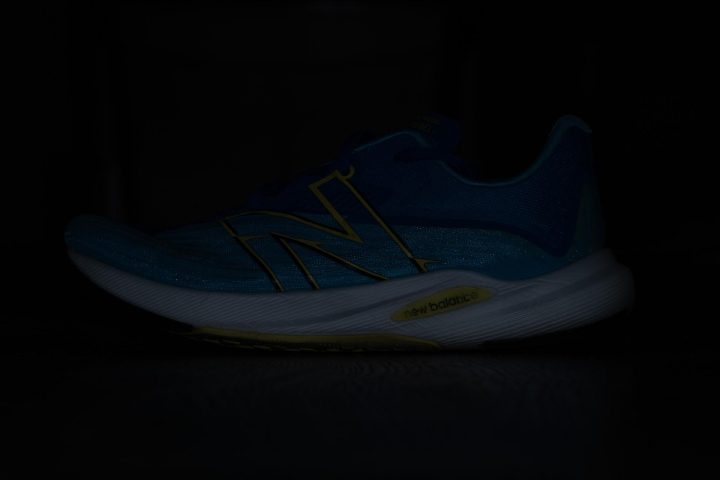 Complete lab-specs overview
Rebel v2
Average
Whole shoe

Weight (g)

201

265

Drop (mm)
8.9
8.4
Flexibility of the shoe (N)
14.9


36.7

Flexibility of the shoe (Freezer 20 min) (N)

23.2

48.2

Flexibility of the shoe (% of change)

55.7

41.3

Lace slip test with the knot (N)

12.3

22.7

Longitudinal flexibility (1-5 scale, 5 being the stiffest)

2

2.9

Torsional flexibility (1-5 scale, 5 being the stiffest)

2

3.1

Upper

Thickness - Tongue (mm)

1.6

5.3

Width Upper - Forefoot (mm)

95.9

98.5

Width Upper - Heel (mm)

64.9

75.4

Lace Stretch (1-5 scale, 5 being the most stretchy)

4

2.8
Flexibility of the heel counter (1-5 scale, 5 being the stiffest)
2
2.8
Tongue: gusset type

None

-

Heel: pull tab

None

-

Midsole

Width Midsole - Forefoot (mm)

110.2

112.6

Width Midsole - Heel (mm)

83.2

89.2

Stack - Forefoot with insole (mm)

17.3

24.5

Stack - Heel with insole (mm)

26.2

32.9

Durometer Midsole Heel (Room temperature) (HA)

6.5

22.3

Outsole

Outsole thickness (Heel) (mm)

4.0

3.8

Lugs Depth (mm)

N/A

3.1

Durometer Outsole Heel (Room temperature) (HC)

74.0

79.1

Insole
Insole Heel Thickness (mm)
1.5

4.2

Insole: removable

Yes
Compare popularity
Interactive
Compare the popularity of another shoe to New Balance FuelCell Rebel v2:
New Balance FuelCell Rebel v2 video reviews