Looking for a luxurious spa-day treat for the feet? The New Balance FuelCell RC Elite v2 will do the job! It's got an uber-plush midsole but it also has a plate that balances it out, making the ride not only cushy but also very snappy and stable. If you're looking for a mid to long-distance racing shoe that will outthrow the Swoosh, this, along with the MetaSpeed Sky, can do it handsomely!
Pros
Plush comfort in a race shoe
Smooth, fast ride
Breathable
Responsive toe-off
Carbon plated
Stiff but not overly stiff
Fits wider feet well
True to size
Stretchy material hugs feet
Sticky, grippy tread
Sexy! Sparkles in sunlight
Cons
Spendy at $225
Heavier than other race shoes
Tongue tends to fold under
New Balance FuelCell RC Elite v2 review and lab test
Welcome to the show New Balance!
The New Balance FuelCell RC Elite v2 is fantastic. It's smooth and plush. The lavish foam treats your feet like a Saudi Prince at the spa. And the carbon plate stabilizes this soft platform while keeping the shoe lively and efficient through toe-off.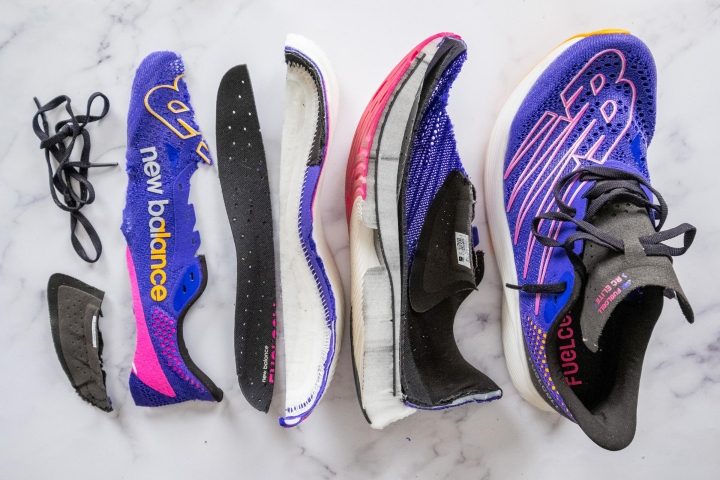 With its surprisingly wide, comfortable fit for a race day shoe, there's a lot to like about the overhaul New Balance has done with v2 of this RC Elite.
But there's always something to pick apart, read on to find out more.
Who should buy the NB FuelCell RC Elite v2
The new RC Elite v2 is ideal for medium to long-distance racers that prioritize comfort in their performance shoe. Marathons and half-marathons beware!
It's also ideal for those competitors with a wider foot as most other race shoes seem to be cut narrow.
Consider this shoe if you are in the market for a top-of-the-line race shoe and are looking at any of the following:
Who should not buy it
Don't buy the New Balance RC Elite 2 if you aren't racing but instead need a speed trainer for more frequent use. This shoe feels great on any run but may not be durable enough for daily abuse. Consider the New Balance FuelCell Rebel v2 instead, it's got the same great midsole, but a bit more outsole and durability.
Although carbon plates seem high-tech and fancy, not every runner needs to spend the money on a race shoe, resist the urge to just buy the best if your running style doesn't match.
If what you really need is a daily trainer on an ultra-soft platform, consider the New Balance Fresh Foam 1080 v11 or the New Balance Fresh Foam More v3. They are plush and comfortable and great for runners who don't need the tech of a plated shoe.
RC Elite v2 has a surprisingly wide fit
New Balance updated the fit in v2 of the RC Elite and cut it a bit wider which is fantastic!
A wide-fitting race shoe is nice to see as many are just so narrow feeling on your feet.
I will admit though, as I tried the shoe on for the first time it felt tight in the forefoot and I was starting to feel disappointed that the update didn't solve the narrow feeling from v1.
The lacing pattern seems to start a touch higher up than some shoes and there's a tight spot at the bottom of the pattern which obviously cannot be loosened.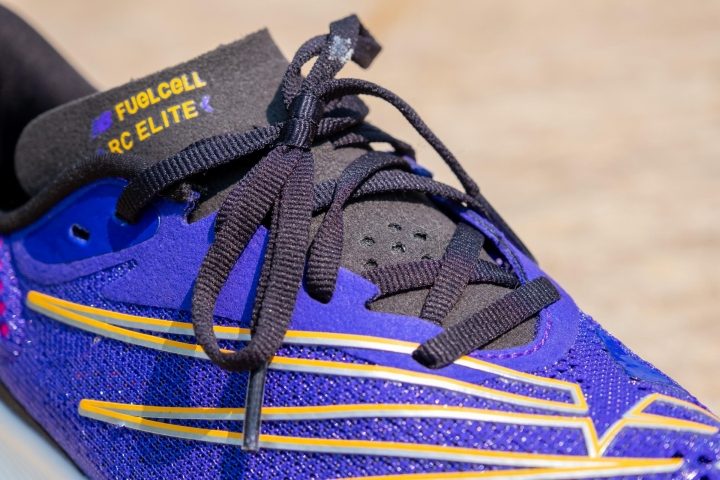 However, once laced up and tightened that problem instantly melts away and the shoe's upper begins to stretch and accommodate your foot. It feels good from there on out!
This race shoe is amazingly comfortable
First off, the FuelCell midsole is insanely soft underfoot, I'll talk more about this in the ride section below, but wow does it make this shoe comfortable to run in mile after mile after mile.
Helping the midsole is a fantastic upper design. What's interesting is that the welded overlays don't connect to the midsole so there's a lot of flex in the upper through the midfoot which is atypical for a race shoe.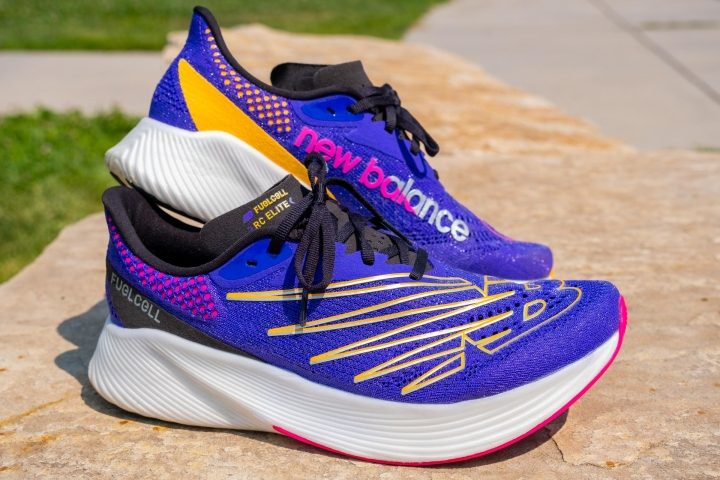 This makes it more accomodating to wider feet and a bit more comfortable. Even if you lose a tiny bit of lockdown support I think it's a good tactic for a large portion of runners who may be considering this shoe.
The race-inspired tongue is thin and lightweight with a swallowtail top that fits nicely along the contours of your ankle. The tongue also has a single, minimal strip of padding down the center to help with any pressure over the top of your foot, a detail that makes a difference in a long race.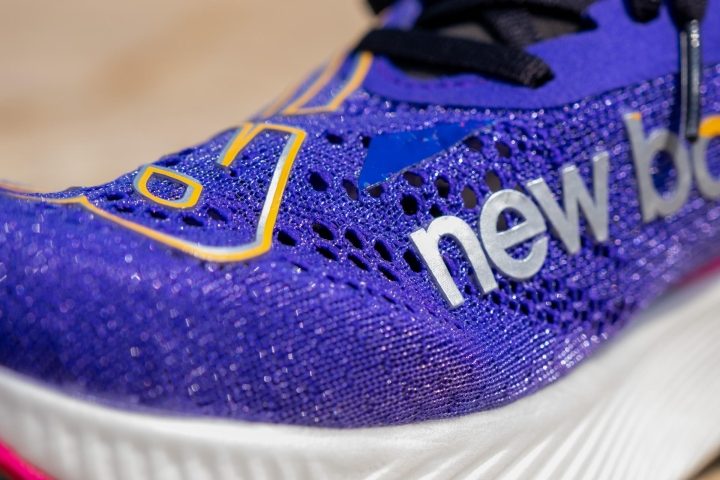 There is one issue I encountered with the tongue though. It's not gusseted for obvious weight benefits and the bottom of the tongue is sewn into the upper in a very narrow section which can allow the corners on the bottom edge to folded up under the upper of the shoe if you don't place the tongue carefully. This was annoying as it's not easy to get your fingers under the upper to smooth this issue out.
There's more padding and structure in the heel than most race shoes which makes this shoe a bit more marketable to runners that are not hardcore racers and prefer a performance shoe that feels similar to their training shoes.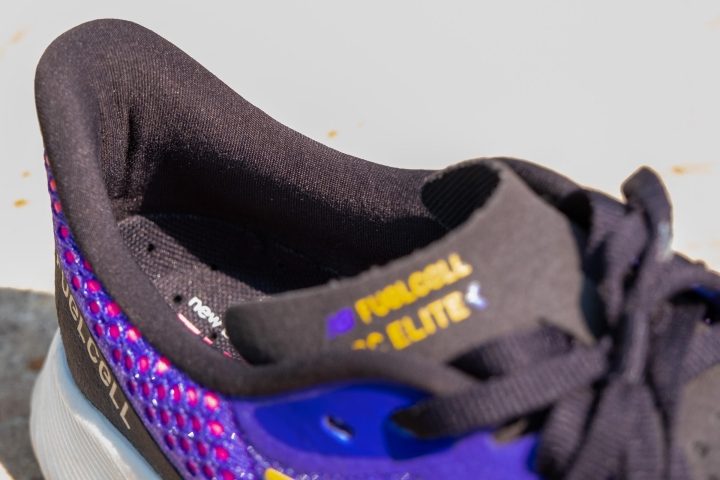 One minor gripe, the insole is very cheap and thin at just 1.8mm (compared to the average of 4.3mm). You really don't need much internal padding though as the comfort of the FuelCell midsole does the heavy lifting.
New Balance FuelCell RC Elite v2 has a fantastic ride
Amazing! FuelCell with a carbon plate is a perfect pairing.
This midsole honestly feels like you're running on a flex deck treadmill when out on the road. It dampens almost all the impact but springs you back off your toes at the end of your stride easily and effortlessly.
There's enough rocker that it doesn't feel overly bouncy underfoot with your energy focused on moving forward rather than upward.
One thing that also makes this shoe interesting is it's not overly stiff like some race shoes. At 68.5N on our flex test, it's obviously stiffer than the average shoe at 42.3N but significantly less stiff than the VaporFly (83.7N) or Endorphin Pro 2 (94.2N) giving it a more relatable ride that's slightly tempered and easier to adjust to if you've never run in a plate shoe.
Some instability due to a soft heel
My only gripe is they are tall, at 34.1mm in the heel (NB claims 39mm however), and the heel feels significantly softer than the forefoot which at times can feel slightly unstable.
The platform is not overly wide either to solve for this. At 109.1mm in the forefoot and 82.5mm wide in the heel, this shoe is slightly narrower underfoot than the average of 112.7mm and 89.1mm.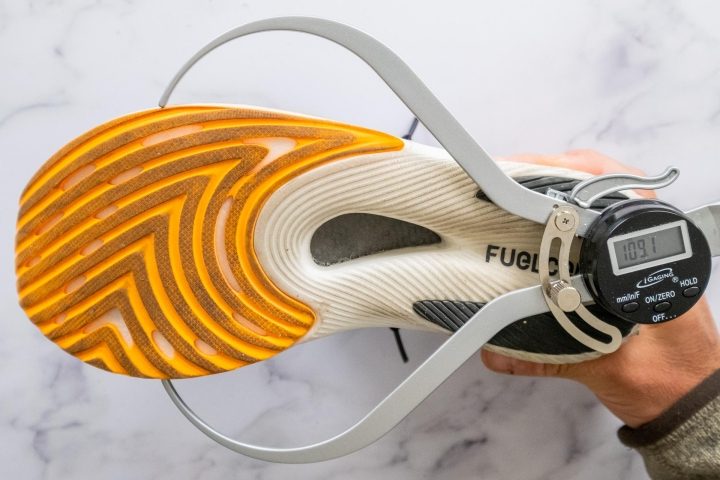 Be careful around sharp turns, on varied terrain, if you're moving slow, or if you're a heel striker.
One run adaptation period
These don't really need to be broke in, but that tight feeling at the bottom of the lacing pattern did easily subside on the first run.
The upper stretches more than other racing shoes and really hugs your feet after a few miles.
Not as light as competitors
At 7.7 ounces (217g) these are not as light as other race shoes. Yes, 7.7 ounces is light, but the Nike Vaporfly NEXT% 2 weight in at 6.9 ounces (196g), and the ASICS Metaspeed Sky is even lighter at 6.7 ounces (191g).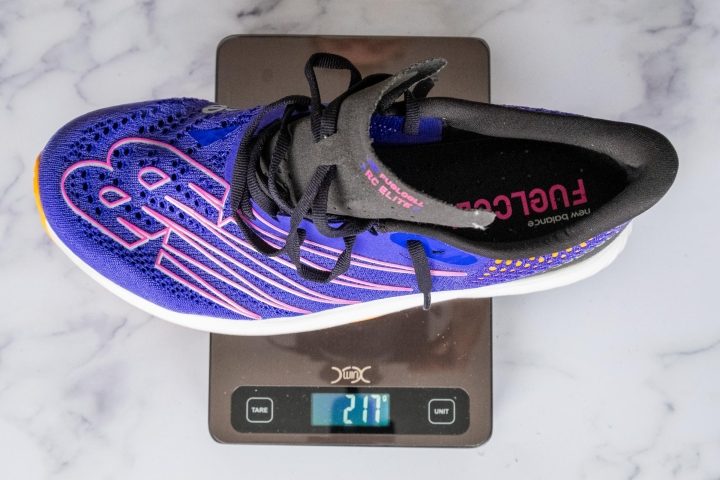 But the slight padding in the tongue and ankle collar may be worth the weight penalty to those runners that want it all, speed and comfort.
RC Elite v2 not built as a durable daily trainer
This is a race shoe, it's not really a daily trainer and it's not built insanely durable.
The upper is extremely thin and the outsole, although heftier than the Nike, is still just 2.5mm thick (compared to 3.7mm on average) and strategically placed.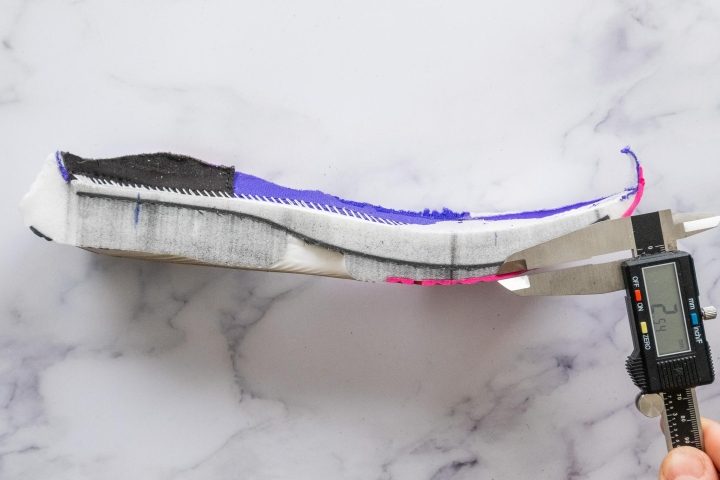 Also, the midsole is just so soft. At 12.5HA on the durometer, it's well under the average of 22.9HA and tied with the Nike ZoomX Invincible Run as the softest midsole we've tested to date which may mean premature packing out.
Surprised at the grip
The insanely grippy outsole rubber seems almost sticky. This will benefit forefoot runners the most, as there's not much outsole under the heel.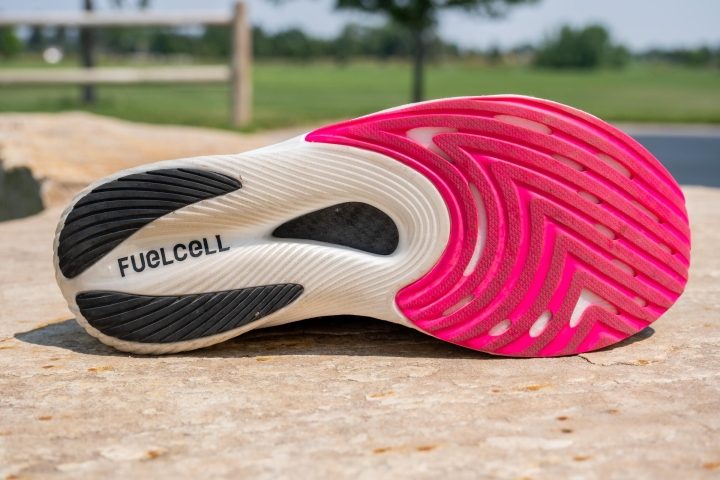 Great breathability in RC Elite v2
Very breathable upper with extremely large perforations. This shoe ran cool even in the hottest temps I could throw at it.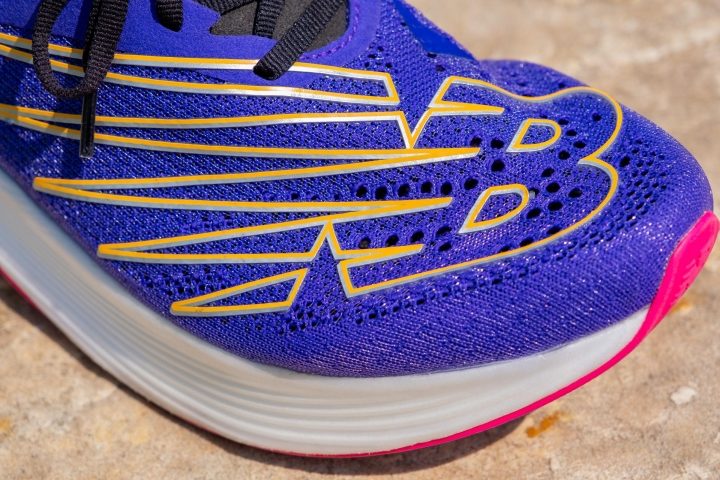 Heat easily dissipates through the vent holes, but as pressure increased it also easily vents throughout the whole upper. Scored a 4 out of 5 on our tests.
Well done New Balance!
Stretchy upper but still solid lockdown
The shoe's snug feeling around the lacing pattern offers great lockdown. I had zero heel slip or movement inside the shoe.
Purple and sparkles!
First off, I hate purple. But…
Dam I love it on this shoe. These are head turners. This shoe is sexy as hell!
There are mismatched colored outsoles and logo features on each shoe and the upper sparkles in the sunshine.
Somehow I don't hate purple anymore.
Double knots required
One last tiny complaint. The laces don't stay tight. They only scored a 15.2N on the lace slip test which is well below the average of 23.2N so be sure to double knot before your next race.
No reflective Elements
Beware if you are running at night or in dim light, there are no real reflective elements on this shoe.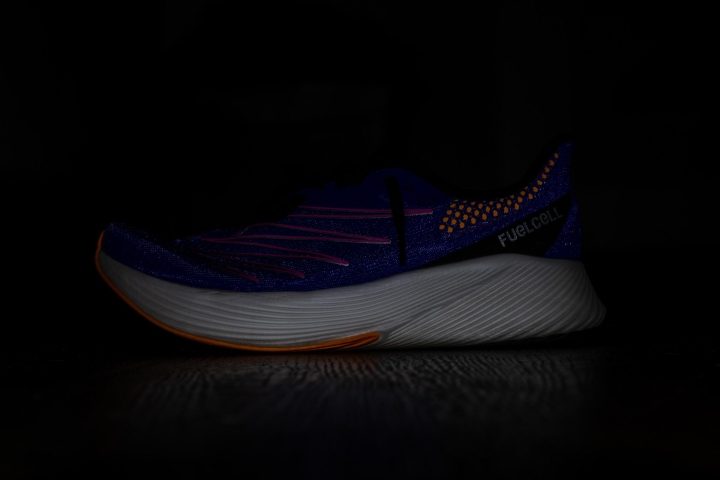 Watch out Nike
Between the New Balance FuelCell RC Elite v2 and the ASICS Metaspeed Sky, Nike is no longer the only dog in the race, and in my opinion, may not even be the top dog anymore.
I love that more companies are creating great options in this high-end product range, it's exciting to see the competition heat up with this more level playing field!