New Balance Fresh Foam 1080 v11 review
89
The Corescore is a score from 0-100 that summarizes opinions from users and experts. Below shows the distribution of scores for all running shoes.
Verdict
We found the New Balance Fresh Foam More 1080 v11 a daily running shoe where comfort is paramount! So much so that it lags behind in performance. Where it shines, however, is in its grip and surprisingly light weight. The grip was just flawless - on cement, wet and icy sections, it kept our strides stable.
Pros
Extremely comfortable
Hugs your feet
Superb breathability
Tongue stays put
Flawless grip
Lightweight
Cons
Upper too flexible
Wobbly
Need caution on sharp/quick turns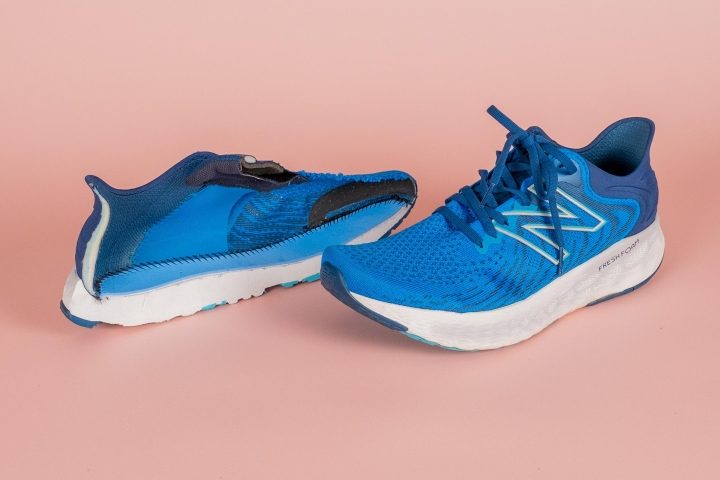 81% say it's true to size.
We earn affiliate commissions at no extra cost to you when you buy through us.
Comparison to similar running shoes
| | | | | | | | |
| --- | --- | --- | --- | --- | --- | --- | --- |
| | Add a shoe to compare | Add a shoe to compare | Add a shoe to compare | Add a shoe to compare | Add a shoe to compare | Add a shoe to compare | Add a shoe to compare |
| CoreScore | | | | | | | |
| Users rating | | | | | | | |
| Experts | | | | | | | |
| Best price | | | | | | | |
| Ranking | | | | | | | |
| Popularity | | | | | | | |
| # of colorways | | | | | | | |
New Balance Fresh Foam 1080 v11 review and lab test
Flexible uppers are great, they form to your foot's shape, they move with you, not against you, and they tend to be light and breathable - all good things. The New Balance 1080v11 went too far though. This shoe looks cool, feels light in your hands, and seeing it on the wall at the store made me really want it, but the upper is just way too flexible, and the heel counter has slip issues that to me were unsolvable.
This shoe will be appreciated by runners who:
Run slowly and straight
Need an easy day or a recovery shoe
Are really into flexible uppers and soft bouncy midsoles.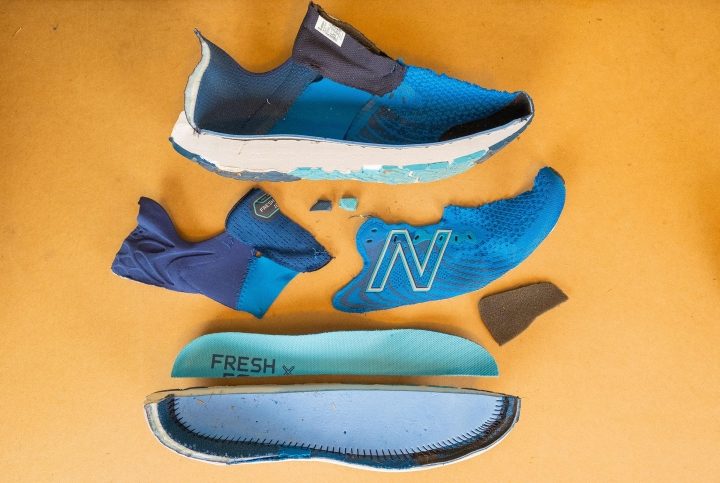 Look away if you run on uneven terrain and turn quickly on your turns. In the realm of daily trainers, the New Balance FuelCell family has more lower-to-the-ground and agile shoes. And if you want something aggressive and fast, look no further than New Balance 1400 v6.
Comfort first, performance later
The shoe is extremely comfortable, unfortunately in this case that comfort comes with a penalty:
the upper is just too flexible,
the soft material on the ankle doesn't lock down your heel, and
the springy midsole is a bit too unstable.
If this shoe was designed for just comfort it would be 5 stars, but it's designed for running and it misses the mark here.
Superb comfort
FreshFoam 1080v11 feels amazing on your foot thanks to the stretch upper. It hugs and forms right where you want it.
It has a very stretchy mesh above the toe box, but the rest of the upper is actually really stiff thanks to good use of welded overlays and the logo. After cutting this apart, I am actually surprised this shoe feels so sloppy since it's just the mesh toe box that is overly flexible.
The area around the toe where the upper connects to the midsole and all the way through the midfoot and up into the logo is not stretchy at all.
Too flexible on all fronts
It's amazing that this shoe feels too flexible, just like the Ultraboost 21 when overall this upper is much stiffer than the Adidas.
I guess it goes to show, if you have the wrong material in just the wrong place it can ruin the whole shoe.
The heel measured in as the most flexible heel out of any shoe we've so far tested at just 13.3n, where the average we've seen is 56.6n.
Sock liner needs better QA
The sock liner is not glued in to the midsole well, this is a bit odd and possibly a QA issue.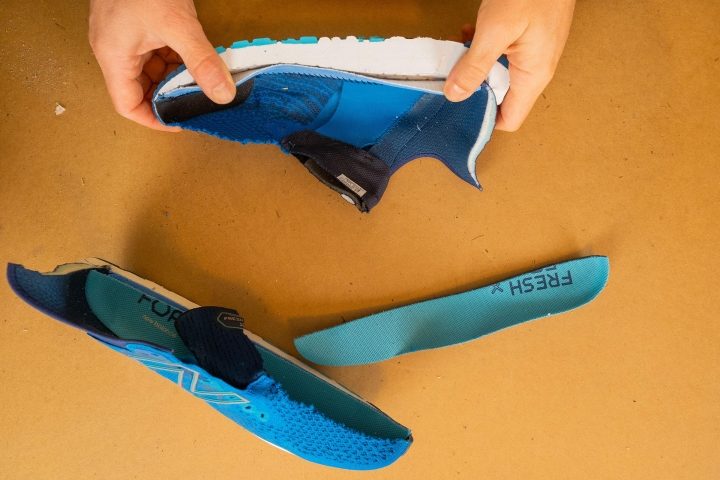 Wobbly overall and horrible on turns
It runs straight well. But, on turns, I felt like I was going to fall out of the shoes if I turned too hard or wasn't on flat ground.
At 34mm of stack in the heel, this shoe could benefit from being a bit closer to the ground since it feels a bit wobbly, but that's more due to the midsole than the height.
The midsole is too soft, and because of it, it feels slightly unstable. Between the forefoot and the heel, the foam underfoot averaged over 31% softer foam than other shoes in our test group (18.8ha on our durometer, compared to the average of 27.4ha).
This soft material made my foot work extra hard to balance which led to a bit of cramping at first. I settled into them and they got better over time but they remain a touch wobbly because of the bouncy, soft springy midsole.
Heel slipping in New Balance Fresh Froam 1080v11
Normally I really like a softer heel counter, but this absence of one completely leads to significant heel slip issues.
There's no real padding in the ankle collar, just some stretchy fabric. The thickness ranged from a minimal 2.5mm near the front of the ankle collar to a still thin 7.2mm at the thickest point in the back.
The heel counter is very odd, it dips in the middle and the upper portion is just foam and this stretchy neoprene-like material. It's more designed to act as a low heel cup to keep your heel from moving laterally, which it does, but you sure do get a ton of heel slip vertically.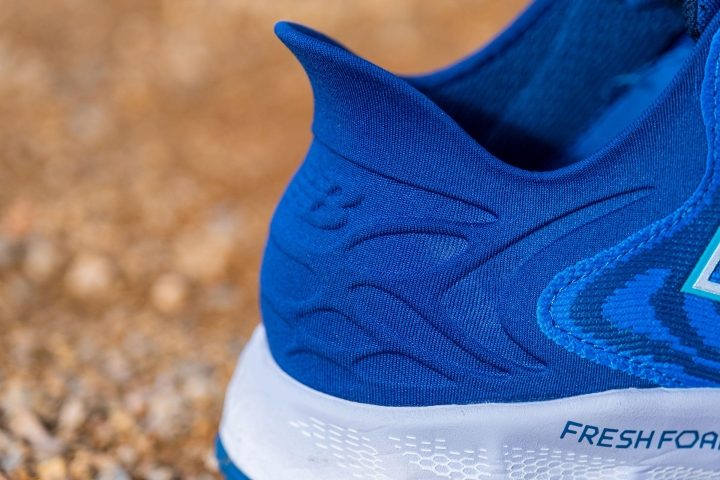 To play devil's advocate here though, the heel slip issues were a much bigger concern just walking around in them where the slip is most pronounced. While running, it's not as bad, but it's still slipping and annoying when it's all you can think about every step.
Heel tab doesn't work
There is a heel tab on this shoe, but it's more like an elf tab, there's no finger loop, and this tab is not all that easy to grasp.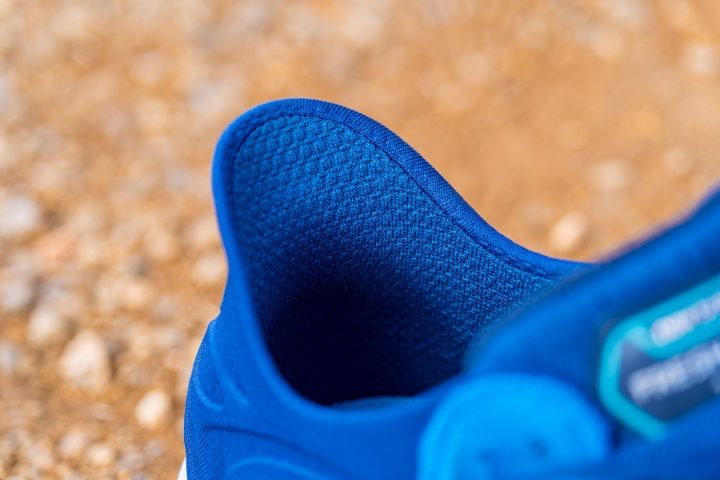 I've seen this on a few shoes this year, and I am not a fan, just sew in a simple finger loop, how hard is it?
Fresh Foam 1080v11 is extremely breathable
Breathability to wish for - all thanks to a partially gusseted tongue and a good choice of materials.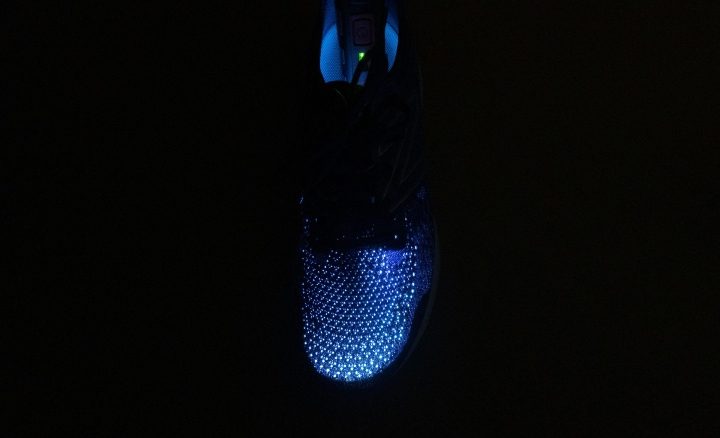 A partially gusseted tongue keeps the weight down and the toe box more breathable.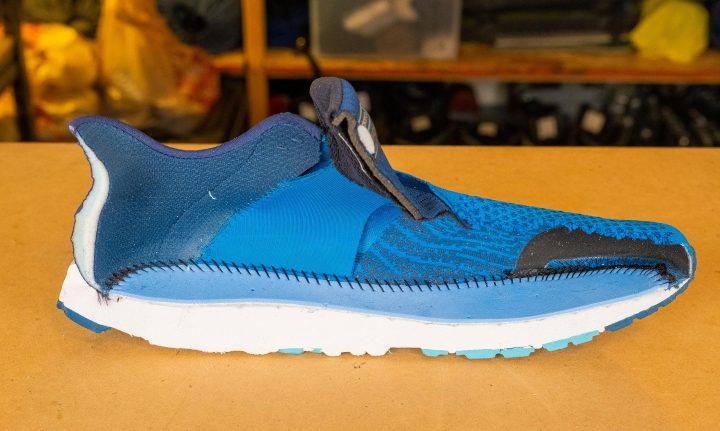 Tongue stays put
The tongue on the 1080v11 is a short, lightly-padded mesh that's partially gusseted. It's comfortable but its length (how far down the upper it goes) does make it a bit more challenging to put on than a shoe with a longer tongue that allows the upper to open up more when unlaced.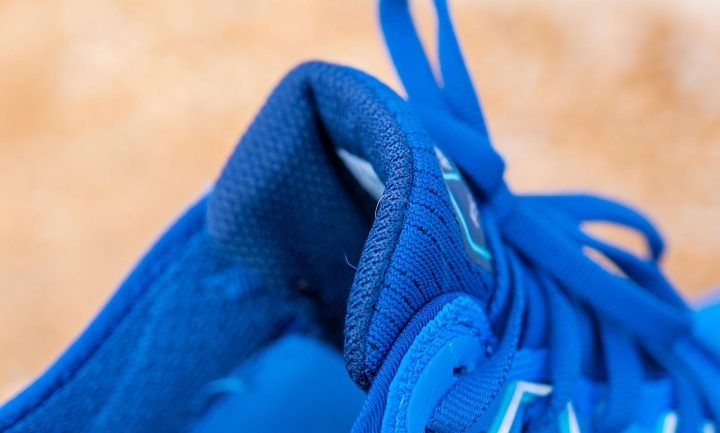 Once on though, the tongue stays put and is comfy.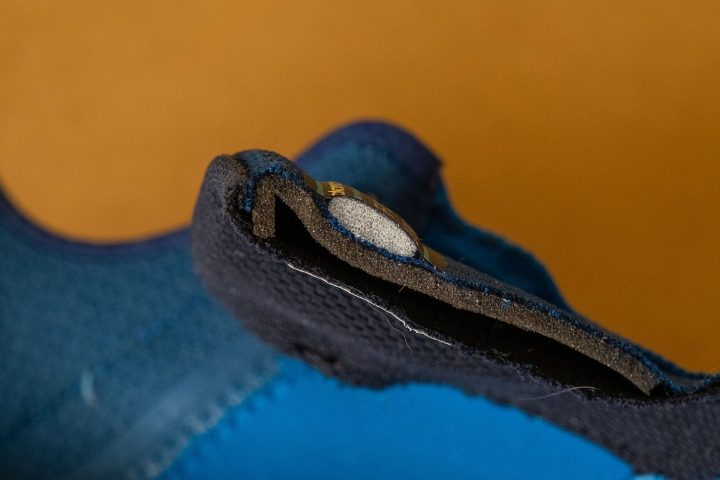 One thing I found while cutting this shoe apart that was a little odd, was a small strip of padding in the middle of the tongue under the name/logo. Not sure why they would put that there or what it does, but must add a tiny bit of unneeded weight.
Lacing system makes no sense
The lacing structure features oval lace holes, which fit the flat laces well, but the holes are vertical and on odd angles.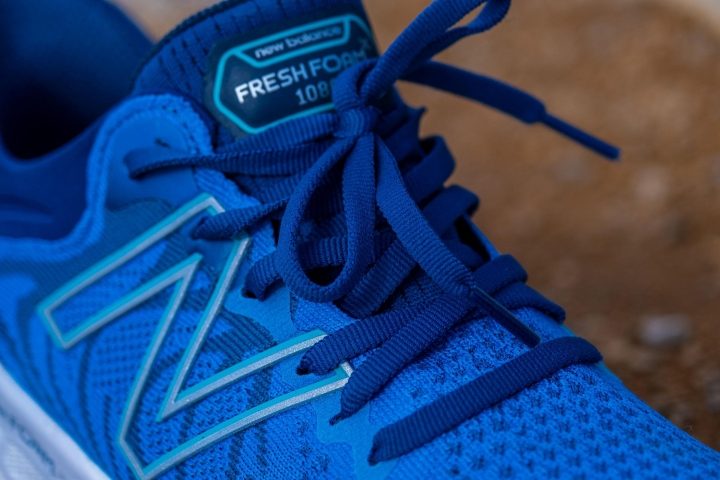 I'm not totally sure why this is, maybe it's designed to keep the laces from slipping, but the laces don't sit flat in them because of this and I didn't notice any superior lockdown because of the design.
Not for cold days!
This shoe is not ideal on cold days. The foam in the midsole is extremely temperature intolerant.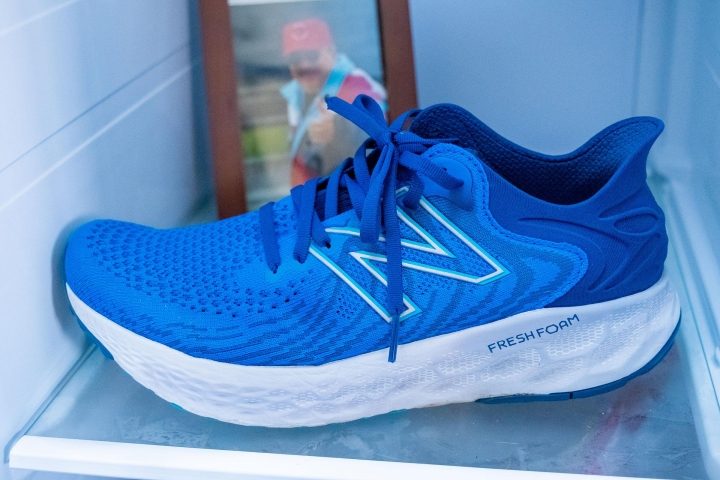 We put this in the freezer at 0 degrees F for 60 minutes and the shoe is 92.48% stiffer when cold.
Flawless grip
The outsole is pretty cool on the 1080v11. It's almost a lugged design rather than a flat road trainer, and I dig this.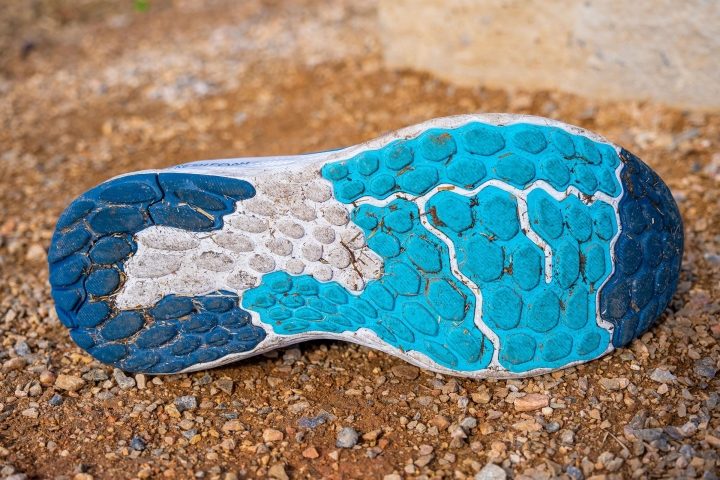 The grip was great on cement, and I ran through a few wet and icy spots and had no issues.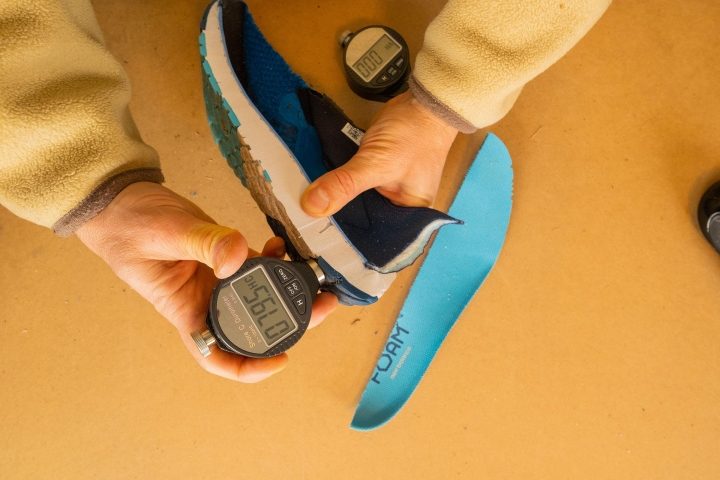 The forefoot rubber on the outsole itself is a bit harder durometer (85.2hc) than average (77.4) and should add some longevity to these shoes if you're interested in running in them for hundreds of miles.
Surprisingly lightweight
Very lightweight, especially compared to the Ultraboost 21 which we just reviewed. At 261g, or 9.2 ounces it was a pleasant surprise. It could still be lighter though with plenty of shoes in this category coming in under 9 ounces.
Another oddity I've found while testing shoes is some shoes come in at a different weight for the left vs right shoes. This has an 8g difference, which is a large enough difference to mention.
Conclusion
I Love how the New Balance 1080v11 looks. It drew me right in, and the second I had it in my hand I just wanted to run in it. NB has great marketing and designers, I just wish they had tried the shoe on before they stocked it in every running store across the country.
At $150 I think there are other shoes out there that get higher marks. I didn't shed a tear sending v11 to the saw!
Complete lab-specs overview
New Balance Fresh Foam 1080 v11
Weight - Left

261g

Weight - Right

269g

Weight - Insole

26g

Weight - Lace

4g

Length - Overall

291mm

Length - Insole

271mm

Width Midsole - Forefoot

114.9mm

Width Midsole - Heel

90.3mm

Width Midsole - Middle

73.5mm

Width Upper - Forefoot

96.6mm

Width Upper - Heel

80.3mm

Width Upper - Middle

78.2mm

Stack - Forefoot with insole

26.2mm

Stack - Heel with insole

34.2mm

Stack - Forefoot without insole

20.7mm

Stack - Heel without insole

29.4mm

Drop

8mm

Outsole thickness (Forefoot)

5mm

Outsole thickness (Heel)

5mm

Lugs Depth

NA

Insole Thickness

5mm

Laces (without stretch)

45.5inches

Laces (with stretch)

57.5inches

Lace Stretch

26.37%

Laces - Thickness (Height)

1.2mm

Laces - Width

6mm

Durometer Outsole Forefoot (Room Temp)

85.2HC

Durometer Outsole Heel (Room Temp)

79.5HC

Durometer Midsole Forefoot (Room Temp)

20.0HA

Durometer Midsole Forefoot 2nd layer (Room Temp)

N/A

Durometer Midsole Heel (Room Temp)

17.5HA

Durometer Insole (Room Temp)

20.2HA

Flexibility of the shoe (Room Temp

25.3N

Durometer Outsole Forefoot (Freezer 1 hour)

87.5HC

Durometer Outsole Heel (Freezer 1 hour)

84.2HC

Durometer Midsole Forefoot (Freezer 1 hour)

24.2HA

Durometer Midsole Forefoot 2nd layer (Freezer 1 hour)

N/A

Durometer Midsole Heel (Freezer 1 hour)

21.7HA

Durometer Insole (Freezer 1 hour)

26.8HA

Flexibility of the shoe (Freezer 1 hour)

48.7N

Durometer Outsole Forefoot (% change with temperature)

2.74

Durometer Outsole Heel (% change with temperature)

5.87

Durometer Midsole Forefoot (% change with temperature)

20.83

Durometer Midsole Heel (% change with temperature)

23.81

Durometer Insole (% change with temperature)

33.06

Flexibility of the shoe (% change with temperature)

92.48

Thickness - Heel Counter/Insert

3.2mm

Thickness - Ankle Collar (Front)

2.5mm

Thickness - Ankle Collar (Middle)

4.6mm

Thickness - Ankle Collar (Back)

7.2mm

Heel counter material

plastic

Thickness - Tongue

4.5mm

Flexibility of the heel counter

13.3N

Light test (transparence)

103.3LUX

Lace slip test with the knot

14.0N

Longitudinal flexibility (0-5)

3

Torsional flexibility (0-5)

3

Tongue: gusset type

Gusseted (both sides)

Laces: profile

Flat

Laces: extra hole

no

Laces: are they long enough to use the extra hole

-

Heel tab type

Pool tab

Insole: removable

yes
Control devices:
Multi-density midsole
Rigid heel counter
Elevated medial insole under arch
Supportive tensioned medial upper
Medial flare
Thermoplastic medial post

no
yes
yes
yes
yes
no

Longitudinal flexibility (on a 1-6 scale)

3

Torsional flexibility (on a 1-6 scale)

3

How minimalist the shoe is in %

28
Note: all the tests were done on a men's shoe US size 9.
Compare popularity
Interactive
Compare the popularity of another shoe to New Balance Fresh Foam 1080 v11:
New Balance Fresh Foam 1080 v11 video reviews