Review coming soon
Brooks Glycerin 19 has just been released by Brooks . Our experts are working on a detailed review. Please, come back later.
Get an email when final verdict is ready:
My Rating
Our reviews
The Brooks Glycerin is one of the workhorses for Brooks, now in its 19th model. My first true running shoe was a Brooks as I fell in love with the Ravenna.
The Glycerin reminds me of a lot of those first days and its cousin. To me, the Glycerin has the same characteristics of the Ravenna minus the stability features, which does knock a few tics off of the weight.
I like this shoe - for no particular reason. Let's go!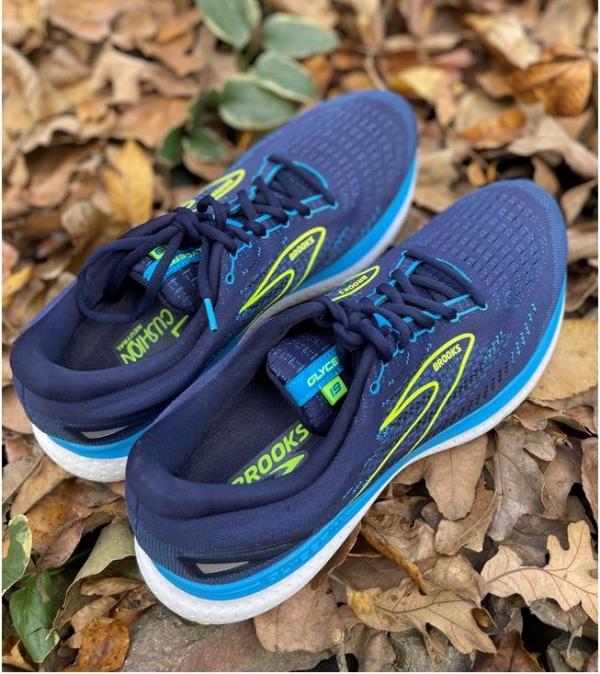 Snug yet stretchy fit
I typically prefer a wide footbed when available, but no issues at all with this fit. It is a snug, stretchy fit all around but no cramping and no sense of narrowness for me.
I have not had many shoes that the stretch actually was felt, but this one has a good mix of support while flexing.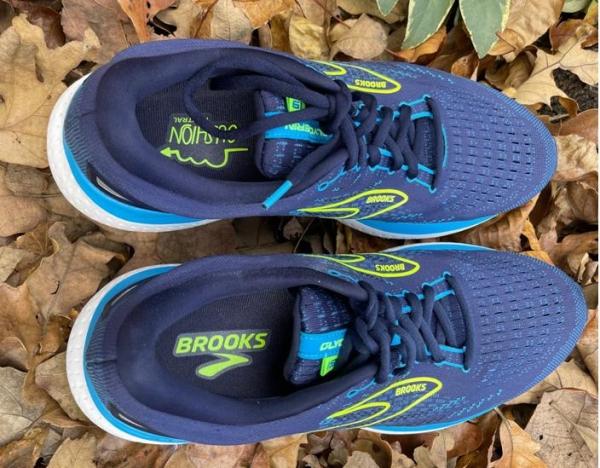 This concept seems to work against one another in physics, but it somehow works in this shoe. The knit uppers have a nice snugging effect, and the considerable cushion on the back of the heel is noticeable when pounding the pavement.
The upper construction has a light build (flex) and seems to give good air movement. It is not nearly as hot as some workhorses I have worn.
You can almost feel it breathe when running. Brooks calls it plush, which I don't get, honestly.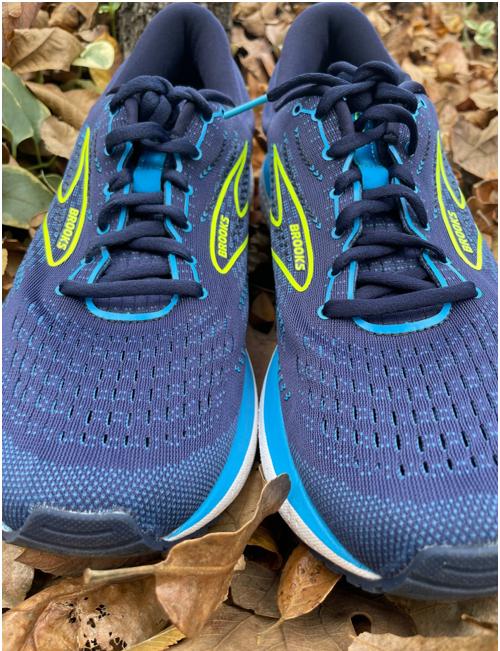 I have a plush bath-robe. These ain't that - ya know? Some have noted no pull tab on the back - yeah - and?? If that is on your got-to-have list, these are missing that snag of extra.
The drop
The drop of this shoe was noticeable for me but likely me only. That is not a ding as I knew the specs before unboxing.
As I looked back, most of my shoes were 7mm drop or below, and the 10mm drop caught my heel a time or two (at least I am placing blame on the drop).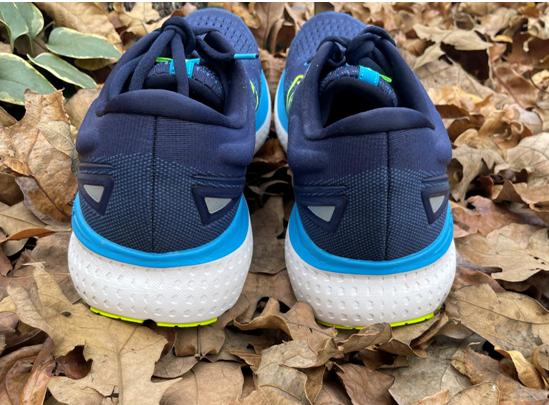 I quickly adjusted, and this drop is typical of trainers but wanted to mention it, so it is not overlooked. It caused no issues other than a minor adjustment of my early steps before getting into the rhythm.
My calves did not pay the price, as sometimes is the case when making somewhat major adjustments with the drop.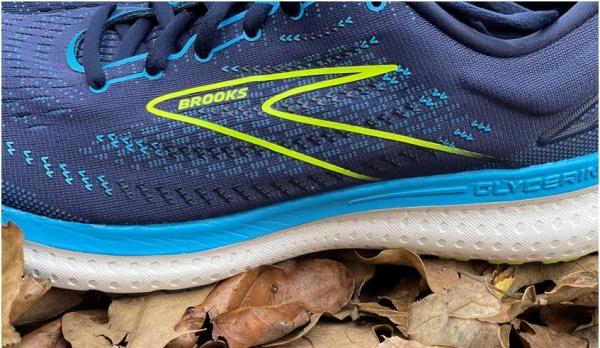 There was no break-in period whatsoever needed for me for the Glycerin. They just fit well, feel well, and perform just the same.
Ride
The ride of this shoe is - is pleasant. As a trainer, it has substance. It takes a beating and keeps you on track.
I didn't get a sense of anything magical like a propelled, rolling forward from the mid-sole or super cloudlike padding, or superstructures giving hero-like powers. But there are specialists out there for all those sorts of things if you want.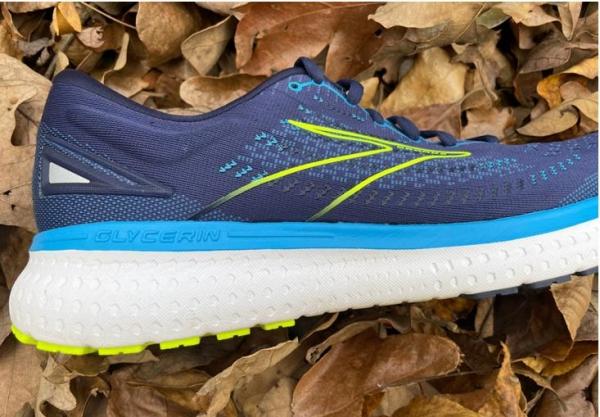 There is significant and noticeable responsive padding that just seems to meld right in with the rest of the shoe's build. Brooks notes a smooth and soft transition, which seems to describe it well.
All features seem to work together very well. Put these on when you want a good solid run, in comfort, not a lot of frills, just a good workhorse you can depend on time and time again.
The sole does not draw attention to itself, giving just enough sense of the ground to maintain confidence. I have seen no issues of pre-mature wear, even with the occasional heel click.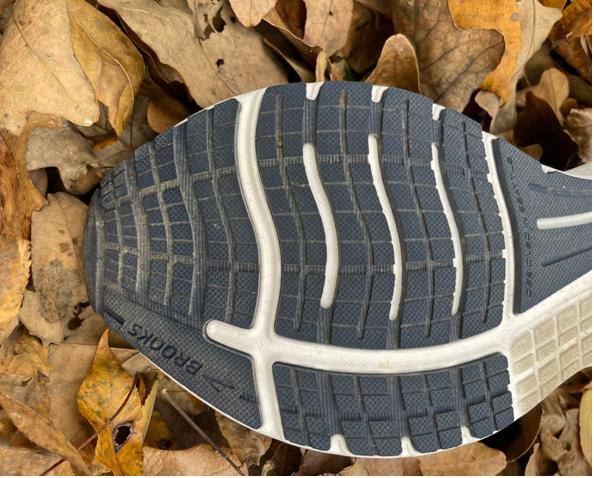 The bottom has a new design with fewer deep cracks. This is a solid training shoe in its next iteration with minor but noticeable tweaks.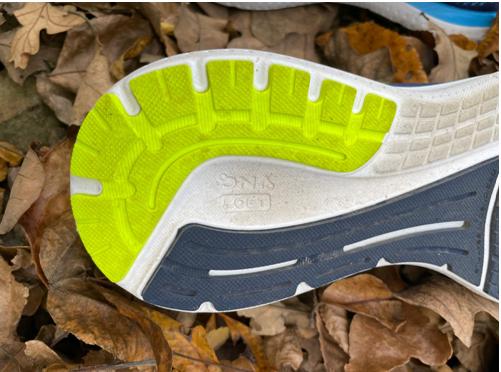 It has a snug, comfortable fit and a similar feel on the run. This can be your foundation shoe that is the go-to when you want a no-fuss, few frills workout.
Nothing special
So I always put new shoes on and walk around the house. A time or two, I have boxed them back up just after a few steps. Interestingly enough, these got a minimal response during those first steps.
I wanted to question what their niche was but moved on from that thought. Hmmm - interesting in a not interesting kind of way. I have a closet full of racers and lightweights but only one trainer - the Brooks Glycerin.
It is now my go-to for that "nothing special". You know, you plan your run while looking at your shoes, asking, "Who wants to go today?" And you bypass those special ones as you need not one thing- but everything for today's run.
These are the runs that are most enjoyable to me. There are minimal thoughts of anything - no laps to match time, no heart rate to track, no beeps at over or under pace, cadence... forget-about-it!
Battery dead on the watch - woohoo! Let's just run! Yeah, these shoes are for that run. The Brooks Glycerin 19's are a trainer that gives you nothing to think about, nothing to worry about, will get you out and back with no note that they even exist.
Nothing special has its place.
Evaluation
While I guess we all read of the latest carbon this or fluffy that, the Glycerins of the world will be the foundation of my training.
And as such, the spotlight might be elsewhere much of the time, but these will give you the miles you need time and time again without hesitation or perhaps fanfare. Not calling attention to themselves keeps them in my strong rotation.
The Brooks Glycerin 19 wants you to relax. It's everything a cushioned trainer needs to be: comfortable, dependable, durable. From the moment I slipped them on I knew I was cruising carefree—they've been my go-to shoe for long runs and relaxed recovery days ever since.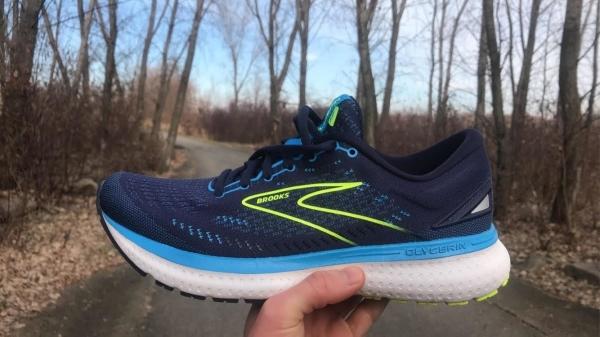 The Brooks Glycerin 19 is a neutral, high-cushioned trainer that retains all the best parts of its predecessor version (the well-reviewed Glycerin 18) while adding some simple design tweaks to improve comfort and ride.
The shoe weighs in at 10.2oz (289g) and runs with a 10mm heel-toe-offset. Brooks describes it as optimal for runners with normal to high arches.
The comfortable upper
There's a lot to love about the Glycerin 19, but what you'll notice immediately is its pristine comfort.
The upper is wonderfully plush but sturdy enough to keep the foot secure. The engineered mesh of Brooks' 3D Fit Print boasts both structure and flexibility while the OrthoLite sock liner creates an optimally snug fit around the entire foot.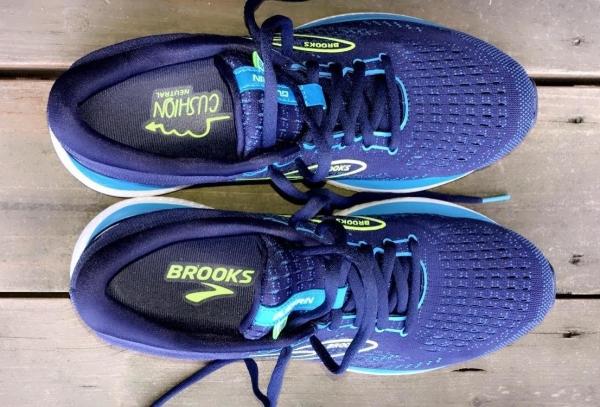 The double-jacquard mesh hugs the foot like a glove, breathes nicely and doesn't overheat even on my longer runs. A little extra padding around the ankle helps keep my heel locked in.
The tongue and laces of the Glycerin 19 are a nice mix of soft, sturdy, and low-profile to keep the foot snugly in place without being excessive. All of these elements plus a little extra room in the toe box have kept my feet happy from the very first mile in the shoe.
The plush midsole
The Glycerin 19 uses Brooks' DNA LOFT technology, known for its lightweight and durable comfort, to create a highly cushioned yet still surprisingly responsive ride.
I find the max cushioning of some shoes prevents the foot from flexing naturally and makes me feel like I'm clopping along with horse hooves during my runs.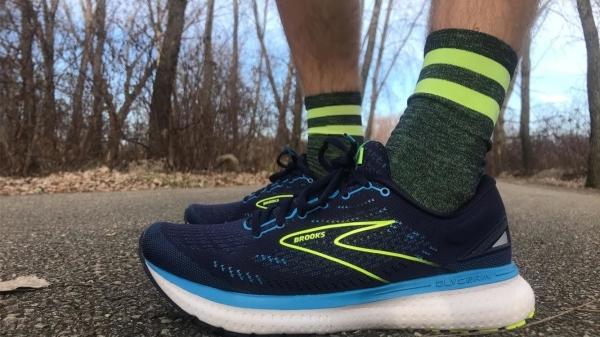 This is not an issue for the Glycerin 19 as the DNA LOFT is plenty flexible and refined for a smooth heel to toe transition. The midsole under the heel extends a bit beyond the edge of the upper which offers more cushioning when running downhill or for those who tend to land more on their heels.
The midsole of the shoe also extends a bit beyond the medial and lateral edges of the forefoot. This creates a wider platform to run on that I felt offered a degree of stability even though the shoe is a neutral trainer.
The cushion of the midsole and smooth transition helps me relax into my runs.
My one critique of the Glycerin 19, which will likely be a non-issue for many runners, comes from its 10mm offset. As someone who lands consistently on my forefoot, the drop in stack height from 32mm (heel) to 22mm (forefoot) means I lose out on almost a third of the shoe's potential cushioning.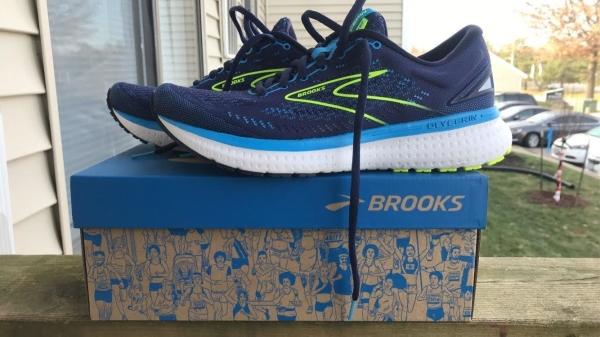 If you tend to land on your heel or midfoot, this won't be much of an issue for you. Plus, the higher stack height does help reduce the workload on the calves and achilles—something I do appreciate.
The traction
A great feature of the Glycerin 19 is the dark rubber that covers the entire forefoot of the outsole and runs along the inner edge. This grippy rubber offers improved traction on the road and track in wet conditions.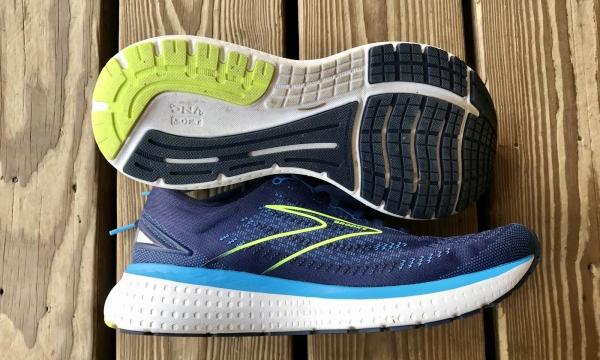 It's also plenty durable without adding much weight. Along the forefoot of the outer are five flex grooves that run horizontally across the shoe. These grooves allow the shoe to flex naturally during toe off.
Near the middle of the shoe, on the lateral side, you'll notice a section of outsole missing. This is the "transition zone" where the DNA LOFT material is left exposed to give that area of the foot a softer landing underneath as it transitions from heel to toe.
These small features show that Brooks has thought through how to craft a durable outer with superior traction all while keeping the shoe lightweight and flexible. It only adds to the Glycerin 19's comfortable and capable feel.
Conclusion
The Brooks Glycerin 19 is a comfortable, cushioned, and a capable shoe that's more than ready to help you relax through daily mileage and long runs. The DNA LOFT material and thought-out outsole create a soft and consistent ride while offering steady traction and durability.
The Glycerin 19 certainly isn't my first choice for speed, but the smooth heel-to-toe transition allows it to still perform well during longer uptempo efforts. It would make a good racing option for runners wanting more cushion or who are pushing a longer distance like the road marathon.
If you are wanting a slightly faster shoe, I'd recommend checking out the Brooks Ghost 13 which combines the DNA LOFT material with BioMoGo DNA for a soft but more responsive ride.
Anyone who's a Brooks regular will want to add the Glycerin 19 to their training rotation. Even if you're not, I'd recommend giving the Glycerin 19 a spin.
Brooks Glycerin 19: Minor changes, greater comfort
A neutral daily trainer from Brooks, the Glycerin 19 is a reliable road runner that's a touch more breathable and plusher this time. Sporting a new mesh upper, ample ventilation is provided for a cool, sweat-free in-shoe experience. Coupled with a reconfigured midsole, you can experience a softer, more comfortable underfoot sensation.
How Glycerin 19 compares
Corescore: 54-57
3 shoes (0.32% of shoes)
Corescore: 58-61
4 shoes (0.43% of shoes)
Corescore: 62-65
16 shoes (2% of shoes)
Corescore: 66-69
18 shoes (2% of shoes)
Corescore: 70-73
53 shoes (6% of shoes)
Corescore: 74-77
101 shoes (11% of shoes)
Corescore: 78-81
245 shoes (26% of shoes)
Corescore: 82-85
240 shoes (26% of shoes)
Corescore: 86-89
197 shoes (21% of shoes)
Corescore: 90-94
60 shoes (6% of shoes)
Price: $40 - $70
114 shoes (12% of shoes)
Price: $71 - $101
269 shoes (29% of shoes)
Price: $102 - $132
272 shoes (29% of shoes)
Price: $133 - $163
171 shoes (18% of shoes)
Price: $164 - $194
60 shoes (6% of shoes)
Price: $195 - $225
37 shoes (4% of shoes)
Price: $226 - $256
10 shoes (1% of shoes)
Price: $257 - $287
1 shoes (0.11% of shoes)
Price: $288 - $318
2 shoes (0.21% of shoes)
Price: $319 - $350
1 shoes (0.11% of shoes)
Weight: 3.5oz - 4.6oz
6 shoes (0.77% of shoes)
Weight: 4.7oz - 5.8oz
16 shoes (2% of shoes)
Weight: 5.9oz - 7oz
41 shoes (5% of shoes)
Weight: 7.1oz - 8.2oz
114 shoes (15% of shoes)
Weight: 8.3oz - 9.4oz
192 shoes (25% of shoes)
Weight: 9.5oz - 10.5oz
194 shoes (25% of shoes)
Weight: 10.6oz - 11.7oz
152 shoes (19% of shoes)
Weight: 11.8oz - 12.9oz
49 shoes (6% of shoes)
Weight: 13oz - 14.1oz
14 shoes (2% of shoes)
Weight: 14.2oz - 15.4oz
4 shoes (0.51% of shoes)