The Saucony Ride 14 is a daily trainer that impresses with its utilitarian and consistent ride. It stays nice and stable from short to long-distance runs, offering that peace of mind to run with confidence from start to finish! It's neither too soft nor too firm and can handle just about any type of run - from daily miles, recovery days, to even tempo paces.
Pros
Durable
Breathable
Soft, luxurious feel
True to size
No break-in
Wide feet friendly
Do-it-all trainer
Cons
A bit stiff underfoot
Could be more responsive
Saucony Ride 14 review and lab test
The Saucony Ride 14 is an everyday trainer that's built for neutral runners who want a performance shoe that can handle short or long runs with consistency. The PWRRUN midsole is cushioned but firm underfoot. It's not a brick, but it could have a little more pep and bounce in my opinion.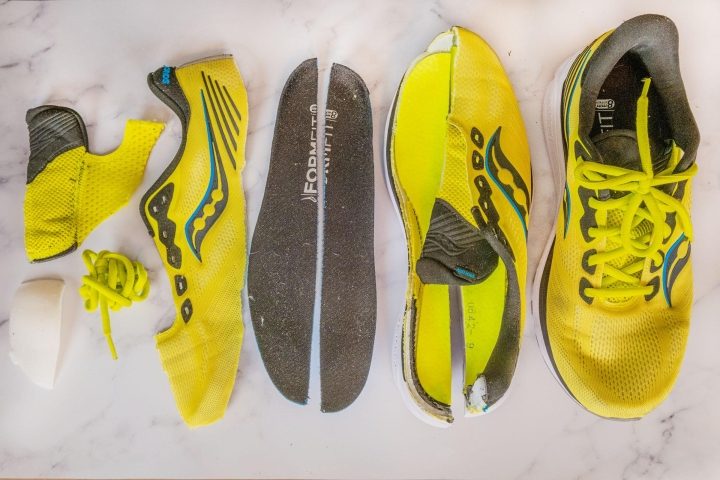 Who the Saucony Ride 14 is (not) for
Buy the Saucony Ride 14 if you want a utilitarian trainer with a plushly padded upper, stretchy tongue gussets, and a comfortable fit. If you desire peace of mind that your shoe will feel the same on mile 1, mile 20, and mile 300, this is the shoe for you.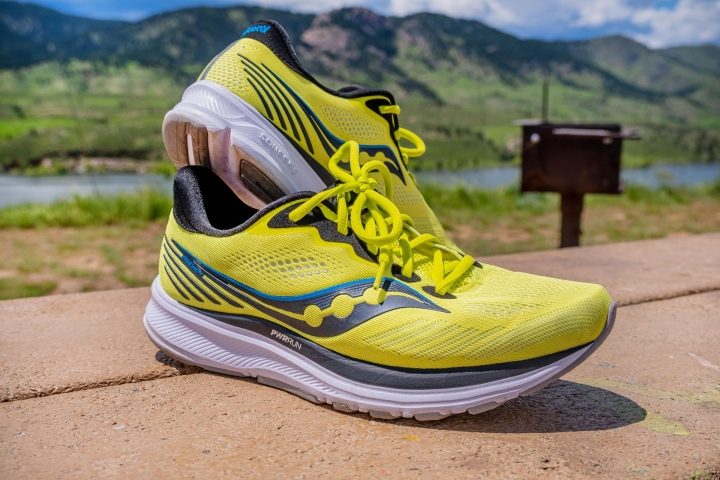 Don't buy this shoe if you want something:
Ride 14 is true to size (and wide feet friendly)
The Ride 14 fits true to size and has plenty of room in the toe box for wider feet.
At 101.4mm wide in the upper at the forefoot, the Ride 14 is slightly wider than average (98.7mm).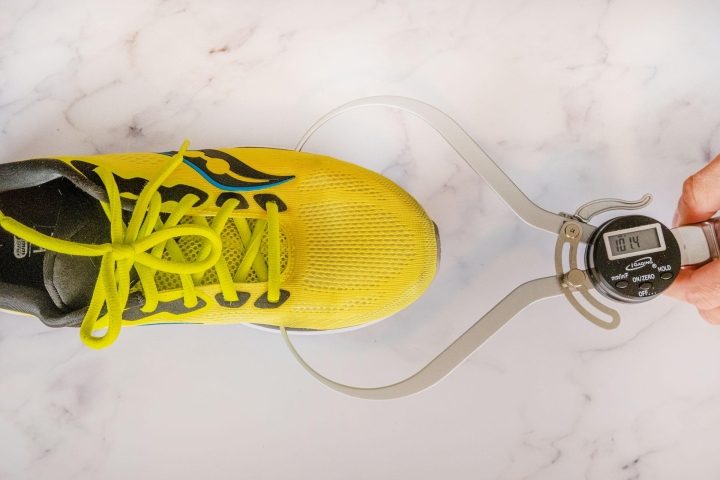 If you have super narrow feet this shoe may feel a bit roomy.
Saucony still needs to dial in the heel fit
The only real updates in the 14 were to the upper. It's a bit more vented, and the ankle collar seems to be a touch lower, which led to some heel slip in my experience. I like a deep heel cup so I am disappointed in this specific update.
Plush upper is extremely enjoyable
The Ride 14 is built for comfort. There's a thick 8.4mm padded tongue (the average tongue is just 5.6mm for context), a luxuriously padded ankle collar, and nice soft finishes on the interior.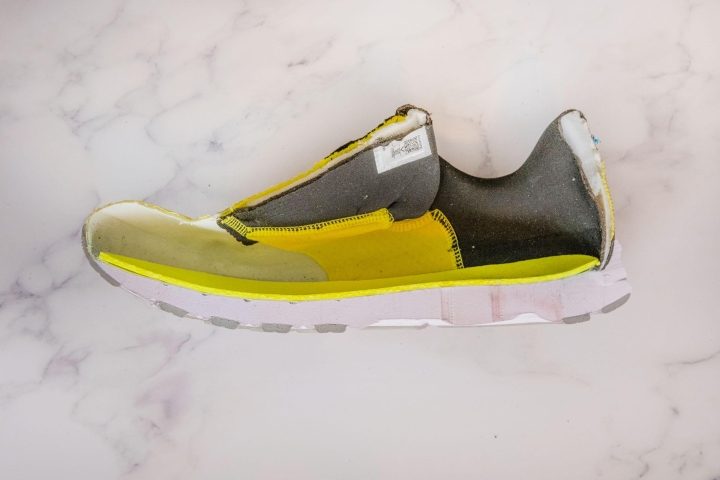 The stretchy mesh tongue gussets hug your feet nicely and are unnoticed when running.
When partial gussets are done well like they are on the Ride 14, I prefer them over a fully gusseted tongue every time. The added material on shoes with full gussets can tend to be on the warmer side.
Ride a bit firm on Ride 14
Ah, the ride of the Ride 14 is as expected if you've run in the Ride series before, nothing has changed here.
For those of you that haven't, the Ride is a very consistent and utility-driven shoe. The midsole is soft and flexible, yet firm. It's not overly bouncy which gives it a tempered feel that most runners probably appreciate.
While running in this shoe, I wouldn't say the midsole excites the soul, but it's pleasant and doesn't feel dull or heavy. This shoe is great for daily training.
No break-in period needed
The joy of the Ride 14 is that on day one it feels good on your feet. The upper hugs your foot well and the midsole isn't harsh or unstable. Whether it's day one or day 100, the Ride 14 is going to feel the same and that's its key strength.
The weight is not noticed
At 10.15 ounces (286g) the Saucony Ride 14, is no lightweight, but it doesn't weigh your feet or legs down.
I actually didn't notice the weight much while testing which is a surprise and a testament to their ability to get the job done without fanfare or fuss.
Should last a long time
I give these shoes 5-stars in the durability category. At 83.5HC on the durometer, the 4.23mm thick outsole is dense. The average outsole rubber is just 78.4HC, meaning they should wear down slowly and trudge along for hundreds of miles.
The midsole is a bit firmer than average as well, at 29HA it's 20% denser than average shoes, so it shouldn't pack out prematurely.
Superb grip and flex
The grip on the Ride 14 is superb. The outsole design works well and the flex grooves allow the midsole to roll with your foot throughout your stride.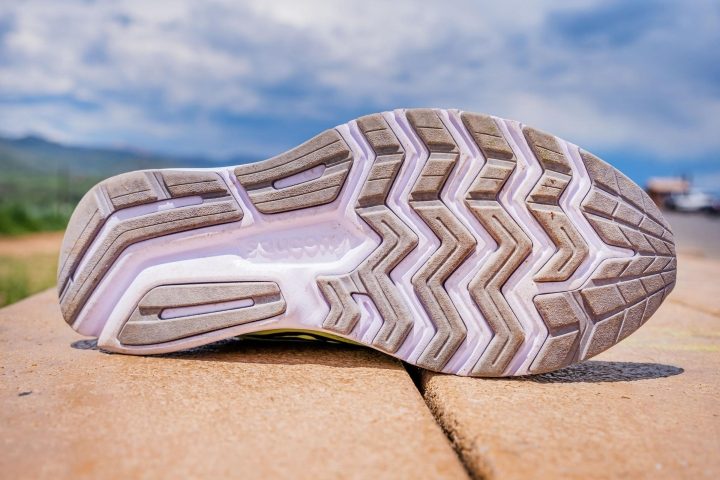 Ride 14 can do it all
The beauty of the Ride 14 is that it's built for just about any type of run. It can be a recovery day shoe, a daily trainer, and it's firm enough to pick up the pace on tempo days as well.
It's not a stand-out in any single niche, but it's an all-around shoe that works well for a variety of needs.
Updated upper gets more breathable
One of the nice updates on the Ride 14 is the upper got a bit more breathable.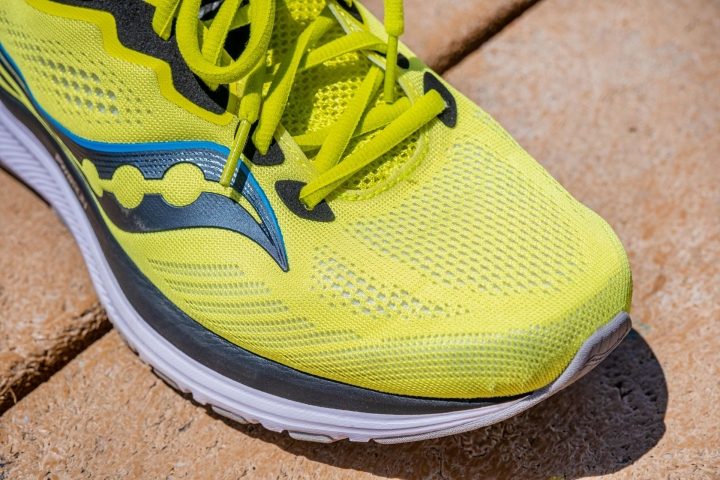 The past model was not bad but with ample padding throughout the shoe, it's nice to see a more vented upper material to let as much heat out as possible.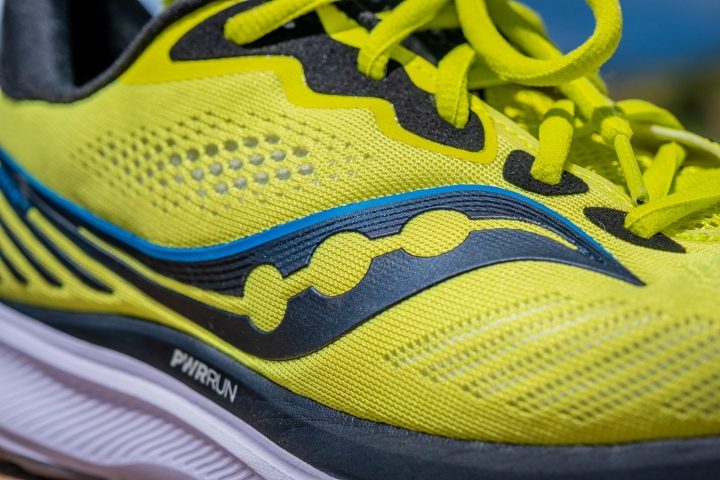 Lockdown still an issue
I was a bit disappointed with the lockdown on the Ride 14. I had considerable heel slip that annoyed me throughout my tests. The heel counter rated at a 4 out of 5 in our stiffness test and combined with the smooth material inside the heel of the shoe I just couldn't get my heel to stay put.
There are two top lace holes and the laces are long enough to do a modified heel slip lacing pattern, but for me the 14 just didn't fit as well as the Ride 13 in the heel.
Over the midfoot however, the gusseted tongue hugged my foot nicely and I didn't have an issue in the toe box either. It's wide enough for wide feet without feeling sloppy.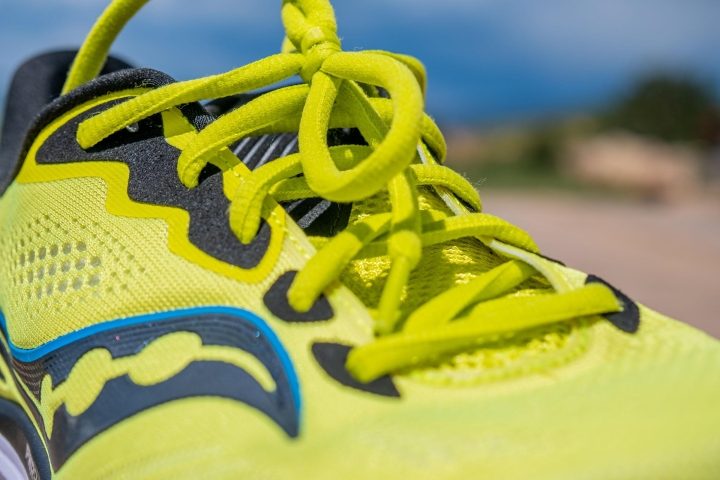 Lastly, Saucony's smooth, round lace doesn't like to stay tied. It scored just 7.6N on the lace-slip test, compared to the average lace scoring 25.2N. Be sure to double knot.
Conclusion
Overall, the Saucony Ride 14 is a decent choice for an everyday, do-it-all trainer.
It's a bit more firm under foot than I think it should be, leaving a bit to be desired in pep and bounce.
However, many people like a slightly stiffer, more consistent, and tempered shoe and the Ride 14 fits the bill well if you're one of those runners.