7 Best Training Shoes in 2023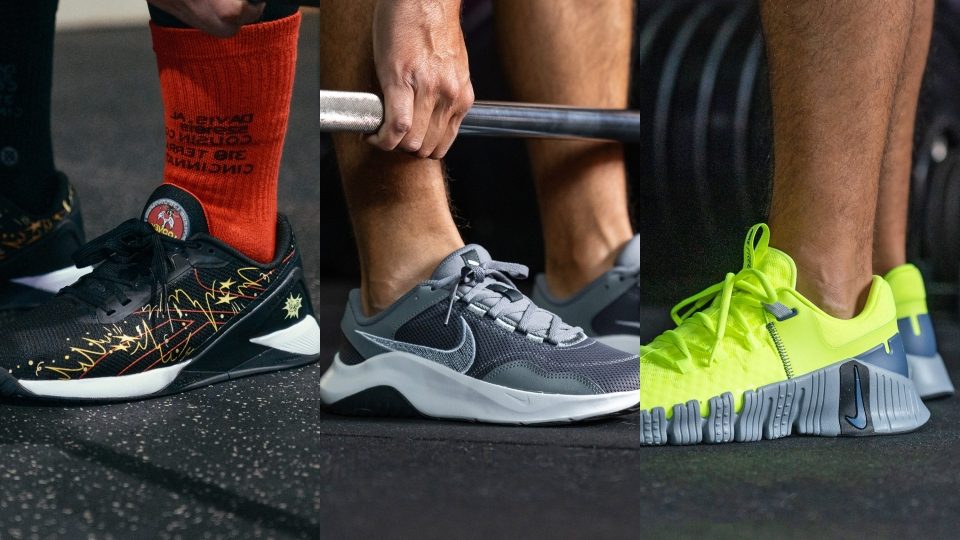 We earn affiliate commissions at no extra cost to you when you buy through us. Why trust us
Training shoes must be some of the most versatile athletic footwear. They are meant for every imaginable activity at the gym, including jumping, lifting, treadmill running, and rowing, among other exercises.
Some trainers are more geared towards a certain type of activity. For example, weightlifting shoes have a wide sturdy base with a raised heel, while HIIT shoes have plenty of cushioning for non-stop jumping.
We have reviewed over 100 various training shoes to help you choose the best. Depending on your type of training, you may prefer one feature above others. That's why we have selected our top picks in different categories.
Comparison of the 7 best training shoes
| | | | | | | | | |
| --- | --- | --- | --- | --- | --- | --- | --- | --- |
| Best | | | | | | | | |
| CoreScore | | | | | | | | |
| Users rating | | | | | | | | |
| Experts | | | | | | | | |
| Best price | | | | | | | | |
| Ranking | | | | | | | | |
| Popularity | | | | | | | | |
| # of colorways | | | | | | | | |
What are training shoes?
Training shoes are used for training (duh). They are constructed differently from running shoes as they target exercises which are performed in the gym:
Aerobic/anaerobic conditioning: jumping, lunging, speed and agility training, HIIT, etc.
Strength training/weightlifting: squats, deadlifts, cleans, jerks, bench presses, etc.
Depending on a specific set of activities they accommodate, training shoes are also divided into several categories:
Short runs

(< 5km)

HIIT & Agility training
Weightlifting
moderate

heavy

(using weight that you can only lift for 1-5 reps)

Best for: moderate gym workouts; can double as casual wear

cushioned sole

high impact protection

lightweight (~200 - 300 grams/shoe)

Best for: Olympic weightlifting

very durable

heavy (~400 - 500 grams/shoe)

elevated heel (15 - 25 mm)

non-compressible platform

Best for: intermediate to advanced gym sessions

flat and firm sole

more durable

better side support

better ground feel

low drop (0 - 4 mm)

has protection for rope climbs
Training shoes vs. running shoes
Generally, you should NOT use a pair of running shoes for a gym session. But if your workout primarily consists of running on a treadmill and doing some light bodyweight exercises, then it's okay to use runners.
Here are a few reasons why dedicated trainers are a better option for gym use:
| | |
| --- | --- |
| Training shoes | Running shoes |
| support multi-directional movements | only support linear forward motion |
| firmer midsole provides stability for weightlifting* | cushioned sole compresses easily under heavy loads which results in wobbling |
| have extra protection on the sides for rope climbing | soft materials get torn and burned by the rope at the very first climb |
| thinner sole and lower heel-to-toe drop help to feel the floor better and allow for better control of foot movement | thicker cushioned midsole and higher drop can get in the way of foot sensitivity |
| generally have a wider platform, especially in the heel and forefoot, to keep the wearer sure-footed | foot has a higher chance of rolling over the edge of the platform if moves laterally |
| due to their versatile design, they can be used for more activities, including racquet sports, basketball, and handball. | mostly appropriate only for running, walking, and athleisure |
*If you are particularly interested in how different types of shoes perform for weightlifting, check out our in-depth science-backed guide to lifting shoes.
Frequently asked questions
Can you run in a training shoe?
The same points that make gym shoes excellent for training fail them when it comes to running. However, their performance varies depending on the shoe type:
can accommodate distances of 1 to 5 miles

not the same level of comfort as in running shoes

not equipped with arch support

not appropriate for running

some workout shoes have thicker, more cushioned soles and a higher heel drop, which makes them a bit more comfortable for running

have a similar feel to minimalist running shoes

take some time and training to get used to

excessive use for running may cause injury
Here are some of the best-rated training shoes that are geared towards running:
Nike Free Metcon
Nike Free Train
Reebok Flexagon
What kind of training shoes do I need for studio workouts?
For sessions like Aerobics, Zumba, Jazzercise, and similar, choose lightweight workout trainers. In addition to feeling light on the foot, they are:
Breathable
Cushioned and shock-absorbent
Support multi-directional movements, twists, and turns
Some of the acclaimed collections for these activities include Nike SuperRep , among other HIIT shoes.
What are minimalist training shoes?
This niche of trainers is designed for people who want to go back to the essentials and shift away from external support in favor of acquiring natural strength.
While there are no strict criteria on what is considered a minimalist trainer, it is commonly agreed that such shoes:
Do not interfere with the natural biomechanics of the foot
Provide a barefoot-like experience
Compared to a standard workout shoe, minimalist footwear:
Is more flexible
Is more lightweight
Has little or no cushioning
Has low or zero heel-to-toe drop
Has a low stack height (a thin sole)
Lacks arch support
If this is something that resonates with your needs, consider Inov-8 F-Lite or New Balance Minimus.
Can I play basketball in training shoes?
Yes, you can wear training shoes for a game once in a while. But you may not feel enough support and cushion for the best performance.
Dedicated basketball shoes provide the right cushioning to absorb impact from jump shots and runs. They are also equipped with a special kind of traction that's best for indoor courts.
How we test training shoes
At RunRepeat, we are very eager to deliver elaborate scrutinization of training shoes. Due to this, the following are the things that we prioritize:
Fairness. We believe that to be able to share pure facts about the shoes, it is important to avoid any sponsorships or donations, especially from brands. So, we buy all the shoes using our funds.
Personal shoe impressions. We wear-test these training shoes. From strength and endurance training to core and balance, we do all sorts of fitness and training to get a complete review of the shoes. Plus, we move in them in multi-directions with agility.
Lab testing. We conduct different tests and split the shoes in half so we can identify the factors and features that characterize them.