7 Best Workout Shoes in 2023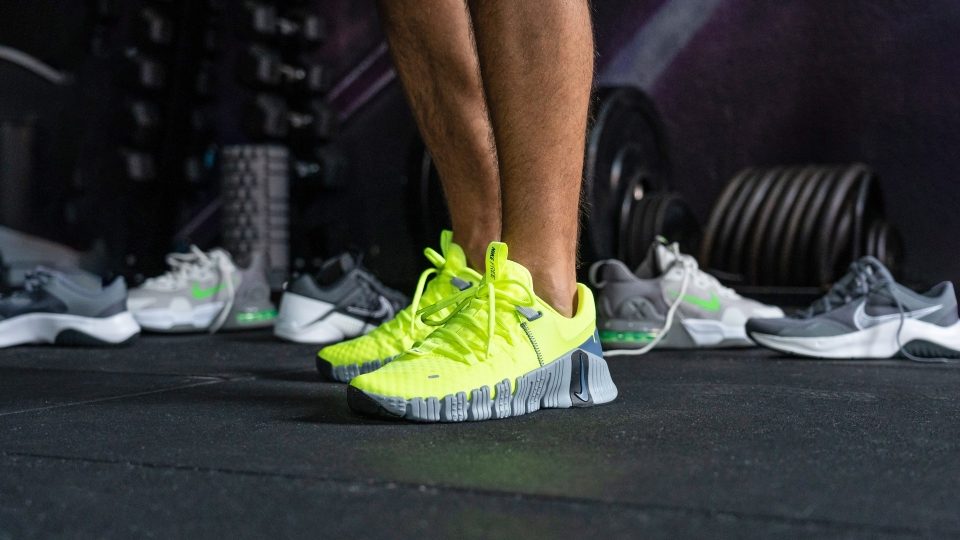 We earn affiliate commissions at no extra cost to you when you buy through us. Why trust us
Workout shoes, also called cross-training shoes or cross-trainers, are engineered to accommodate a wide range of training activities. This guide will present the best workout shoes we have tried and tested and what to look for when buying a pair of workout shoes.
Some shoes come with a wider, more stable platform to accommodate weightlifting. Others are much lighter and help you feel more nimble for agility training. Depending on your priorities, we have selected the number one in different categories through meticulous testing of 100+ workout shoes, so you can successfully bag your perfect gym shoe.
Comparison of the 7 best workout shoes
| | | | | | | | | |
| --- | --- | --- | --- | --- | --- | --- | --- | --- |
| Best | | | | | | | | |
| CoreScore | | | | | | | | |
| Users rating | | | | | | | | |
| Experts | | | | | | | | |
| Best price | | | | | | | | |
| Ranking | | | | | | | | |
| Popularity | | | | | | | | |
| # of colorways | | | | | | | | |
What to look for in workout shoes
Workout shoes are meant to keep the foot supported for multi-directional movements and protected during high-impact activities. Features to look for depend on the type of exercise.
In general, workout shoes should be:
Lightweight
Breathable
Have a firm midsole
Have a grippy outsole
However, it's more relevant to show these features in comparison to other shoes that are usually used in the gym. This way, you'll know what to look for based on the main exercise of your choice.
Short runs
(< 5km)

HIIT & Agility training
Weightlifting
moderate
heavy

Best for: moderate gym workouts; can double as casual wear

cushioned sole

high impact protection

lightweight (~200 - 300 grams/shoe)

Best for: Olympic weightlifting

very durable

non-compressible platform

elevated heel (15 - 25 mm)

heavy (~400 - 500 grams/shoe)

Best for: intermediate to advanced gym sessions

flat and firm sole

more durable than workout shoes

better ground feel

low drop (0 - 4 mm)

protection for rope climbs
Workout shoes vs. running shoes
Generally, you should NOT use a pair of running shoes for a gym session. But if your workout primarily consists of running on a treadmill and doing some light bodyweight exercises, then it's okay to use runners.
Here are a few reasons why dedicated trainers are a better option for gym use:
| | |
| --- | --- |
| Workout shoes | Running shoes |
| support multi-directional movements | only support linear forward motion |
| firmer midsole provides a stable base for side-to-side movements and weight training | cushioned sole compresses easily under heavy loads which results in wobbling |
| thinner sole and lower heel-to-toe drop helps to feel the floor better and allow for better control of foot movement | thicker cushioned midsole and higher drop can get in the way of foot sensitivity |
| generally have a wider platform, especially in the heel and forefoot, to keep the wearer sure-footed | foot has a higher chance of rolling over the edge of the platform if moves laterally |
| due to their versatile design, they can be used for more activities, including short runs & sprints, casual walking, dancing, work (spending work time on your feet) | mostly appropriate only for running, walking, and athleisure |
FAQ about workout shoes
Are shoes necessary for working out?
Depends on the type of the workout. Some people enjoy exercising barefoot or in socks. It certainly helps with building foot and toe strength and with proprioception. However, depending on the type of exercise, people look for certain stability and support features.
And sometimes it's dangerous to workout barefoot - the risk of injury is high when it's crowded (someone can step on your feet), people drop the weights when lifting, etc.
If you're looking for a barefoot experience, you can try shoes that offer barefoot features - minimal or zero heel drop, minimal cushioning (flat soles), minimal support and stability features. Protection-wise, they might come in handy, especially for planks, rope jumps, rope climbs.
Why do people workout in All-Stars?
It's usually the weightlifters that do so. They look for a flat surface (zero heel drop) and full contact with it for better weight distribution throughout the feet and no fancy cushioning: rubber offers stability, unlike wiggly foams. However, when you look at them competing, most will ditch the Chucks and get in the lifting shoes.
Are Vans/Converse/(any_brand) shoes good gym shoes?
The shoe is good for your chosen exercise if it's comfortable and if it has a set of features needed for you to optimally train. This means shoes should help you perform certain activities more accurately/freely/stable/safely and lessen injury risk. "What to look for in workout shoes" section will help you get started. If you want to start shopping, our selection of gym shoes is the way to go.
How we test workout shoes
We are very particular about the things we require in workout shoes. For cardio or running, we say yes to exquisite cushioning. For strength training, a stability shoe gets our motor running. We seek a number of things depending on the category. Because of this, we make sure that we are really on top of our game when it comes to sharing our reviews so:
We purchase all the workout shoes that we put through testing to ensure that we spit facts, and facts only.
We put them on and use them in our workouts, not just in the gym, but also in our houses and outdoors. We walk, run, hop, lift, squat, etc. in the shoes.
Also, we conduct thorough lab tests, dissect the shoes, collect data, and interpret the results.