7 Best Crossfit Shoes in 2023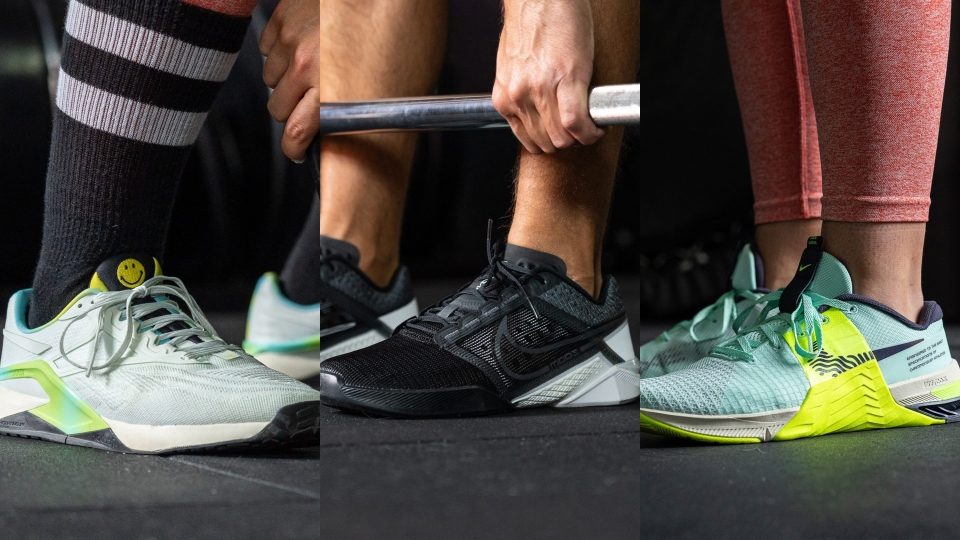 We earn affiliate commissions at no extra cost to you when you buy through us. Why trust us
WOD entails a lot of different movements: lifting, jumping, sprinting, and more. That's why Crossfit shoes must live up to a large span of expectations. We have tested over 40 trainers from 7 different brands to select the best options in different categories.
The best overall Crossfit shoes host all the necessary features to face the most demanding training sessions and competitions. Highly stable for lifting exercises, they are just as versatile for box jumping, agility, rope climbing, and other activities. As for the other categories, they highlight some features slightly above being versatile.
We all got you if you want to know why regular trainers don't always make a good Crossfit shoe, just read over our guide!
Comparison of the 7 best crossfit shoes
| | | | | | | | | |
| --- | --- | --- | --- | --- | --- | --- | --- | --- |
| Best | | | | | | | | |
| CoreScore | | | | | | | | |
| Users rating | | | | | | | | |
| Experts | | | | | | | | |
| Best price | | | | | | | | |
| Ranking | | | | | | | | |
| Popularity | | | | | | | | |
| # of colorways | | | | | | | | |
Features of crossfit shoes
We will cover the features of crossfit shoes in comparison to running shoes. This will give the answer to the "can I use running shoes for crossfit" question.
As with any other training shoe, comfort is imperative. Crossfit shoes should feel comfortable when lifting weights but also during the HIITs.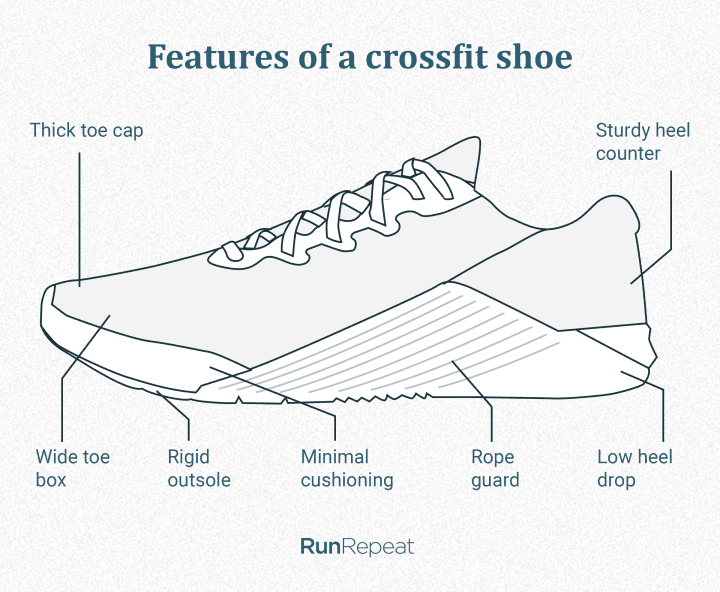 Cushioning and heel drop: minimal
Cushioning and mid or high heel-to-toe drop are usually great for running. However, they are not a desirable feature in Crossfit. When pressing a barbell over your HEAD, you want your heel firm on the ground, or as close as possible. Look for heel drop that's in the 0-4mm range.
Softer shoes are usually good for running. In Crossfit, you want them firm - this will allow for stability during squatting, cleaning, deadlift, snatching. This also means you should not expect crossfit shoes to work well for running. They will enable you to do some short warmups but are not intended for longer runs, especially outside.
When running shorter distances competitively, racers tend to look for a more snug feel. In crossfit, it's important to have a wide toe box that allows your toes to wiggle and spread. This way you're more stable because weight is distributed evenly throughout the feet. In competitive running, this extra space might cause trouble, especially on downhill trails.
There are a few durability features that usually come with crossfit shoes:
a rope-guard to shield the midfoot from rope burn with a good rope grip
a thick toe cap also protects the toe area during burpees, pushups, and weighted planks
a sturdy heel counter protects the heel and ankle-end part of the shoes from abrasions due to headstand pushups. It also ensures that the rear is held firmly in place throughout the training session.
These features are usually lacking in running shoes, since their upper is usually highly breathable. It might offer toe protection in trail running shoes, though.
Crossfit shoes vs. other workout shoes
To understand the features of crossfit shoes, the best thing to do is compare them to other workout shoes.
Short runs (< 5km)
HIIT & Agility training
Weightlifting
moderate
heavy (using weight that you can only lift for 1-5 reps)

Best for: intermediate to advanced gym sessions

flat and firm sole

more durable

better side support

better ground feel

low drop (0 - 4 mm)

has protection for rope climbs

Best for: moderate gym workouts; can double as casual wear

cushioned sole

high impact protection

lightweight (~200 - 300 grams/shoe)

Best for: Olympic weightlifting

very durable

heavy (~400 - 500 grams/shoe)

elevated heel (15 - 25 mm)

non-compressible platform
How will I know if a training shoe is appropriate for CrossFit?
Most brands don't usually market their shoes using the CrossFit name because Reebok is the only brand licensed to do so. But they have found a way to work around this restriction by naming their CrossFit-dedicated lines of shoes after specific terms used within the CrossFit community like Nike's Metcon line. Brands like Inov-8 tend to market their CrossFit trainer shoes as functional fitness shoes as opposed to everyday training shoes.
As for the construction, a surefire way to tell if the footwear is ideal for CrossFit is if it has a rope-guard in the midfoot. It also has a more robust exterior thanks to the toe guard, midfoot rubber cage, and heel counter.
FAQ about crossfit shoes
How much do crossfit shoes cost?
Here's an overview of the average MSRP (manufacturer's suggested retail price) of the most popular crossfit shoes (brands) in the RunRepeat database.
Keep in mind that MSRP is only a listed price, so if you're not eager to get the shoes the moment they hit the market, you can always look for a good deal. We've covered this process in our guide on finding cheap shoes.
Can I wear crossfit shoes every day?
Given their features, crossfit shoes aren't intended for everyday use. They might be too expensive as well to wear casually.
Do you wear socks in crossfit shoes?
You do. Preferably the long ones. They protect your shin during rope climbs, but also during activities where you keep the bar close to your shin (deadlifts, clean, snatch).
Metcon 5 hype - what's that about?
These shoes have caused great hype within the crossfit community. The most innovative feature they offer is the Hyperlift - foam risers you can insert in the shoe when needed. These inserts are also compatible with previous Metcon versions. They offer a good boost on heavy lifts, thrusters, pistol squats. Unfortunately, they aren't sold separately.
Which Reebok Nano is the best?
Reebok Nano was the first official crossfit shoe, released in 2011.
Here you can see all the current Nano models ranked by their score. When you choose a certain model you can also see how it compares to the most similar ones.
How we test crossfit shoes
To paint you a picture of what we do before we share our top picks:
We personally shop for the CrossFit shoes we like to test. We buy them using the money from our wallets. This way, we are objective in examining the shoes.
We get firsthand experience using the shoes. In the case of the CrossFit shoes, we like to explore more on their versatility. Therefore, we use them in as much high-intensity training as we can, dedicating a significant amount of time to each activity: jumping, sprinting, cycling, deadlifting, squats, and more.
We split open the shoes and conduct sorts of tests, which back up what we feel while working out on the shoes. This also gives us different quantitative data that we can interpret, qualitatively.