3 Best Nike Crossfit Shoes in 2023
We earn affiliate commissions at no extra cost to you when you buy through us. Why trust us
CrossFit is a fitness phenomenon that appeals to many athletes all around the world. To become good at it, you will need a special type of CrossFit-specific shoes that can handle the rigorous training regimens - from weightlifting, and gymnastics, to pulling, climbing, and running.
Aside from Reebok, the other brand that dominates the CrossFit shoe space is Nike. The Metcon shoe line is Nike's answer to the growing popularity of Reebok's Nano series. The Swoosh's well-rounded Metcon models get better with every iteration and are ideal for plyometrics and lifting.
With many great choices of CrossFit kicks from Nike, choosing the right pair can be mind-boggling. To save you from all the hassles, we've tested and analyzed all the best Nike CrossFit shoes. We focused on critiquing how the shoes feel when worn on different sets of CrossFit exercises, how they react to the demands of the activities, and how they perform in the other tests we conducted. In this article, we present you with our top picks!
Best Nike Crossfit shoes for speed

























What makes it the best?
Being nimble was such a breeze with the Nike Zoom Metcon Turbo 2 because of its totally noteworthy flexibility, close-to-the-ground build, and perfectly breathable upper. Among all the Nike CrossFit trainers that we've tried, this one was definitely the best for agility workouts.
Our eyes widened when we saw on our digital gauge that this shoe needed only 15.3N to bend at 90 degrees. A typical trainer would need as much as 22.5N! The added flexibility allowed our feet to move more naturally, effectively increasing the range of motion that we are able to perform with ease.
Compared to the average midsole, the one in the Zoom Metcon Turbo 2 is thinner. Our caliper in the lab measured its thickness to be 22.9 mm at the heel (ave 24.6 mm) while it's 15.2 mm at the forefoot (ave 18.3 mm). This setup allowed us to feel the ground more; giving us more control over our movements.
The breathability of the upper was also a delightful benefit. During our lab breathability test, the smoke that we pumped into the shoe had no difficulty escaping through the upper material. Hence, we gave this trainer a well-deserved perfect 5 for ventilation.
It is important to point out here this shoe is heavier than average. It weighs 12.06 oz or 342g while the average is only 11.18 oz or 317g. Given that it is a speed-oriented trainer, the fact that it weighs a bit more is ironic.
Pros
Bouncy Zoom Air in the forefoot
Good for short runs
Perfect for jumps and aerobics
Stable for moderate lifting
Excellent flexibility
Amazingly breathable
Durable outsole
Cons
Upper is not durable rope climbing
Heavy for a "speed-oriented" trainer
Full review of Nike Zoom Metcon Turbo 2
Best lightweight Nike Crossfit shoes



































What makes it the best?
Weighing only 10.5 oz or 298g when the average is 11.2 oz or 317g, the Nike Free Metcon 5 is indeed light. Not relying only on the merits of its weight, this shoe also delivered top-tier flexibility, amazing stability, and jaw-dropping impact protection. Hence, it easily rose above all others as the best lightweight Nike CrossFit shoe that we could ever find.
In the lab, we learned through our digital force gauge that the Free Metcon 5 needed only 8.8N of force to do a 90-degree bend. This force requirement is far lower than the 22.5N that a typical trainer would need. Given this much flexibility, it was easy for the shoe to keep up with the natural flexions of our feet.
We attribute the amazingly stable feel of this shoe to its wide midsole platform, especially in the heel area. While the average heel width is only 87.0 mm, our caliper measured the heel area of the Free Metcon 5 to be a staggering 95.1 mm wide! The 8.1 mm difference is big, especially when we started to lift under immense time pressure.
The footbed felt so plush, and we loved it! It kept us free from pain even when we were running and jumping around a lot. Using an HA durometer, we found that the midsole only has a 17.4 rating for softness when the average is as high as 27.0!
Too bad the upper was not as durable as we hoped. Twelve seconds of Dremel drilling already left considerable damage in it.
Pros
Impressively stable
Noteworthy ankle support
Awesomely close-fitting
Roomy toebox
Nice and airy upper
Comfortable for all-day wear
Quite cushiony
Notably lightweight
Exceptionally flexible
Stylish design and overall look
Cons
Not for long runs (2-3 miles max)
Upper lacks durability
Full review of Nike Free Metcon 5
Best Nike Crossfit shoes overall












































What makes it the best?
We lab-tested and hit the box with our Nike Crossfit kicks and deem Metcon 9 as the best overall. Deserving of its title, it handles our most demanding WOD workouts with finesse. It provides support for lifting, stability for jumps, traction for climbs, and flexibility for plyometrics.
We powered through all kinds of lifting with Metcon 9's supportive and vast platform. Its 108.0 mm wide toebox allows our natural toe splay, improving our stance and form. There is a non-compressible Hyperlift plastic under the heel, which ensures we're stabilized when lifting heavy loads. The raised sidewalls and solid foothold have their fair share of keeping us balanced.
Our box jumps, lateral movements, and floor workouts feel very fluid and controlled thanks to Metcon's mix of flexible and rigid elements. We found it difficult to twist the shoe in our manual assessment, scoring the highest 5/5 in our torsional rigidity test. This avoids awkward ankle rolls. Yet we can perform exercises with ease as the shoe bends easily with our motions. In our bend test, it stands 15.0% more flexible than average.
Metcon 9 offers traction that allows us to perform the workouts correctly. We had no instances of slipping during our handstands, rope climbs, and sprints.
Unfortunately, the padded upper lacks ventilation for tropical weather and humid indoor workouts. We recommend checking other options for summer.
Pros
Exceptionally stable for weightlifting
One of the most durable cross-trainers
The best shoe for rope climbs
Reliable foot containment
Very comfortable in-shoe feel
Nice grip on gym floors
Accommodates wide feet (finally!)
Surprisingly flexible
Cons
Heavier than average (and previous Metcons)
Not great for cardio workouts and rope jumps
So-so breathability
Full review of Nike Metcon 9
Comparison of the 3 best Nike crossfit shoes
| | | | | |
| --- | --- | --- | --- | --- |
| Best | | | | |
| CoreScore | | | | |
| Users rating | | | | |
| Experts | | | | |
| Best price | | | | |
| Ranking | | | | |
| Popularity | | | | |
| # of colorways | | | | |
Buyer's guide on Nike Crossfit shoes
CrossFit shoes from Nike are known for their combination of stability, support, and cushioning, making them a popular choice among CrossFit athletes.
Let's drill down on what to look for when buying a Nike CrossFit shoe.
What to look for when buying a Nike CrossFit shoe
Here is what to look out for to get a Nike CrossFit shoe that does it all.
Durability
CrossFit shoes need to be more durable than most other types of trainers. That's because they have to endure punishment from rope climbing, handstand push-ups against the wall, zig-zag sprint changes of direction, and everything in between.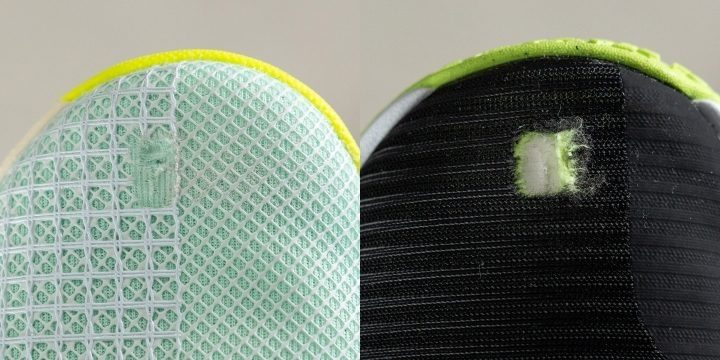 We test every shoe with a Dremel to check its wear resistance
Support
You also need a shoe that has enhanced support and a secure foothold to keep you stable for side-to-side movements and when lifting weights above your head.
Cushioning
Getting the right level of cushioning in a CrossFit shoe is another balancing act. You need a stable heel with minimal cushioning along with sufficient midsole cushioning and arch support to absorb the shock of plyometric moves.
Lightness
When fatigue sets in at the three-quarter mark of your WOD you need every advantage you can get. The last thing you want is shoes on your feet that feel like weight plates. A lightweight shoe that is soft and springy will provide you with the performance boost you need to carry you through.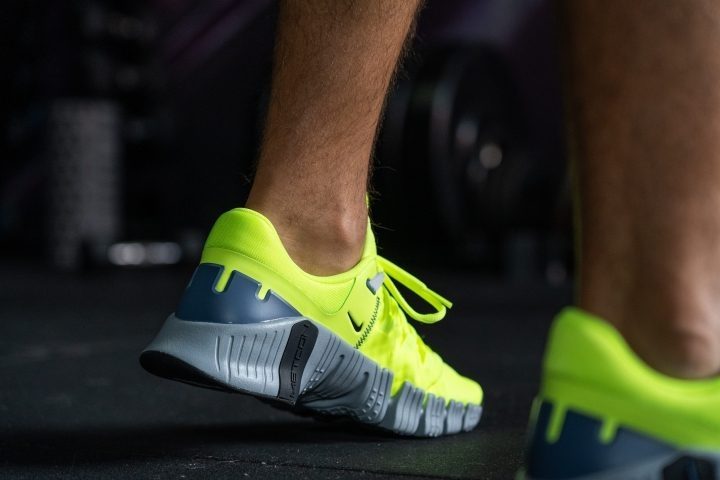 Flexibility
The running, jumping, twisting, rotating, and bending that's part of every CrossFit WOD demands a shoe with a high level of flexibility. At the same time, it needs to deliver stability for Olympic lifting. Getting the ideal balance between heel stability for lifting and flexibility for movement activities is the key to a great CrossFit shoe.
Grip
Most CrossFit WODS involve some form of sprinting and change of direction speed work. More often than not these workouts will be performed inside on slick flooring. To maximize your performance and reduce the possibility of sliding, you need an outsole with a high level of traction and grip.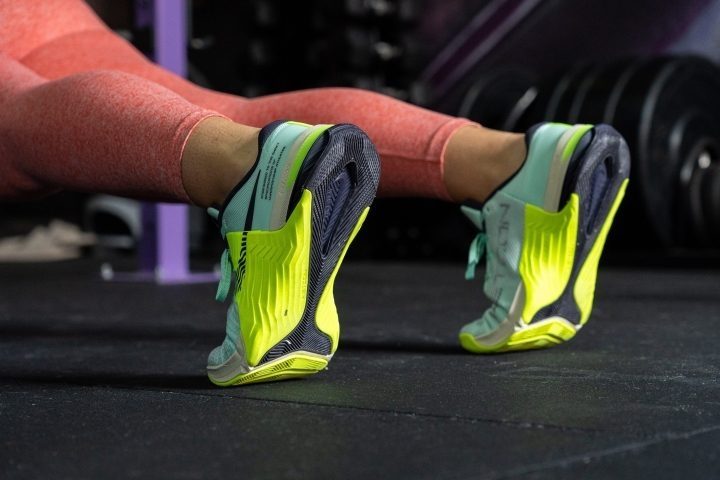 Traction is just as important when you're doing your Olympic lifts. Your foot connection with the floor needs to be rock solid to make sure that 100% of your energy transfer goes directly up into the weight rather than being leaked out by lateral movement.
The Rise of the Metcon
Between 2010 and 2015, Reebok established a giant foothold on the market (pun intended), with their CrossFit Nano shoe. By the time of the 2015 Crossfit Games, the Nano was already in its fifth iteration. Yet, the market was in eager expectation of Nike to come up with a response.
Nike Responds with the Metcon
Astute observers had noticed that top competitor Josh Bridges had been wearing a new style of Nike shoe at the Southern California Regional Crossfit champs in 2014. It turned out Josh was road-testing the long-awaited Nike response to the Nano.
The Nike Metcon was released on January 31st, 2015. The creative minds at the company managed to get around the ban on using the CrossFit name by coming up with a mash-up of metabolic conditioning, which is a key benefit that comes from CrossFit training.
The Metcon1 sold out in Europe within 24 hours of its release. It seemed as if CrossFit athletes had been hanging out for a challenger to the supremacy of the Reebok Nano.
Don't ban our shoe - beat our shoe!
CrossFit's reaction to the massive popularity of the Metcon was to announce that Nike athletic shoes were banned from CrossFit competition. Only Reebok footwear could be worn by competitors.
The banning of a new shoe by the reigning sporting body was nothing new for Nike. The same thing happened in 1984 when the black and red Air Jordan was banned by the NBA. Apparently, MJ was fined $5000 every time he played in the shoe, with the tab being picked up by Nike.
Nike capitalized on the controversy by creating an ad campaign based on the ban. It was a huge success and the Air Jordan has gone on to become the most successful shoe in history.
With the latest ban, Nike saw another huge opportunity. They quickly brought out a version of the Metcon in the red, white, and black colorway of the Air Jordan and ran a campaign with the tagline:
Don't ban our shoe - beat our shoe!
It was another piece of marketing brilliance that led to a massive surge in sales.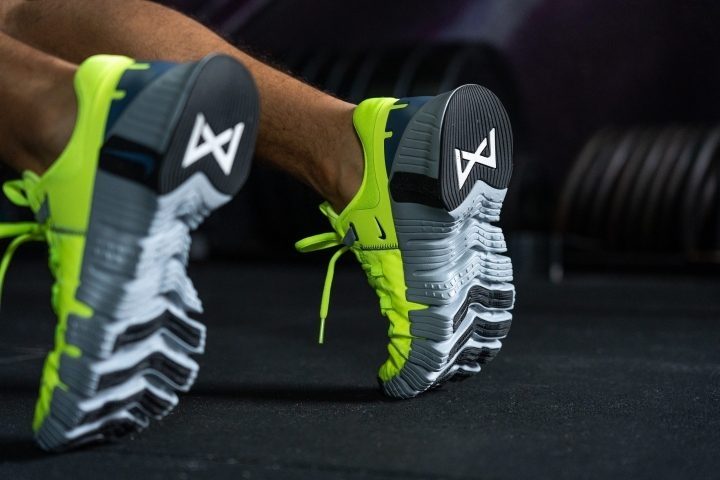 FAQs about Nike Crossfit shoes
What is the heel drop on Nike Metcons?
Most models of the Metcon have a 4-mm heel drop.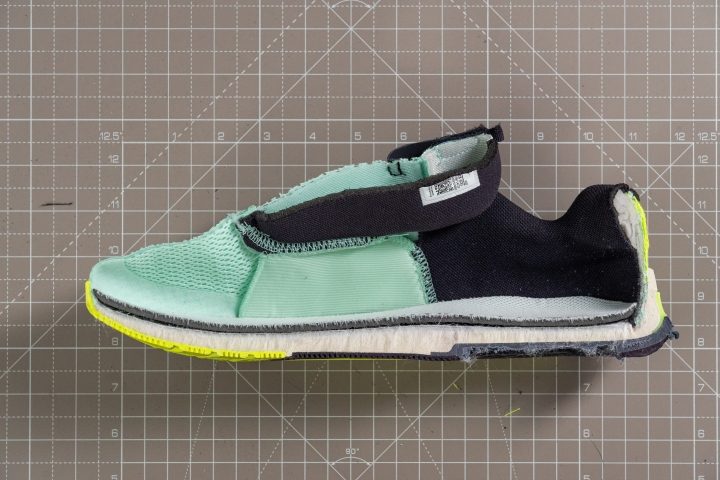 The Metcon 5 introduced the Hyperlift insert. This is a wedge-shaped piece of plastic that increases the heel lift by 8mm in men's shoes and 6mm in women's shoes. The Hyperlift was available in Metcon 6 as well.
What is lace-lock technology?
Lace-lock technology provides a tab that runs down the middle of the laces to prevent them from untying or getting in the way of your movement when you're working out.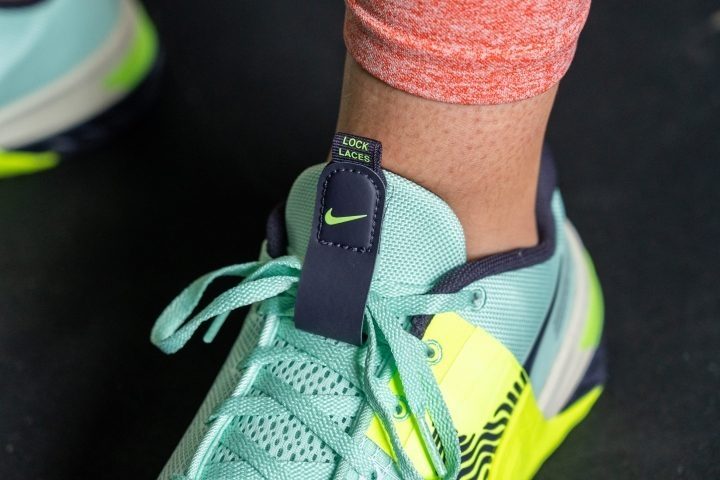 Are Nike SuperRep shoes good for Crossfit too?
The short answer is, sort of.
The Nike SuperRep shoes were designed as high-intensity trainers. They are great for high-impact workouts such as circuit training and HIIT classes but are not as stable for weightlifting as the Metcons.
Here is what sets the SuperReps apart:
A thick layer of soft foam through the midsole for enhanced support during jumping exercises
A pair of Zoom Air units in the forefoot or in the heel for greater energy and power return
How we test crossfit shoes
We understand that not every CrossFit athlete is the same. Depending on your training style, some Nike CrossFit shoes might be better than others. This is why in our selection process we identify the top performers in different categories based on our tests doing actual training exercises.
Here's exactly how we do it:
We buy Nike CrossFit shoes for our wear tests. We spend our own money to ensure 100% impartiality of our reviews.
We use a particular model in actual CrossFit workout sessions. We keep a record of the shoes' fit, cushioning, stability, traction, and many more.
After putting in 10+ hours of usage, and subjecting the shoes to the rigors of the CrossFit program, we gather more data about their various aspects, such as outsole and midsole hardness, stability, and others. We also get to a point where we split the shoes in half to pick out each of their units and sections.