The Salomon Sense Ride 4 is a surefire winner in the trail running scene! It's a beast that has INSANE grip, loads of underfoot protection, and a fun, lively ride. Now, that's a combo you don't get every day from a dedicated trail shoe! It can eat up anything you throw at it, for sure, but where it shines is during steep climbs, telling you so much of its ground-digging traction!
Pros
Fits wider feet
Energy-efficient ride
Great lacing system
Doesn't weigh you down
No heel slip
Insane grip
Really durable
Cons
Runs ½ size longer
Needs breaking in
Salomon Sense Ride 4 review and lab test
I'm officially a Salomon fan!
The Salomon Sense Ride 4 is an aggressive trail running shoe that's responsive and protective underfoot, with great grip, plus after a short break-in period, they fit my wider foot nicely.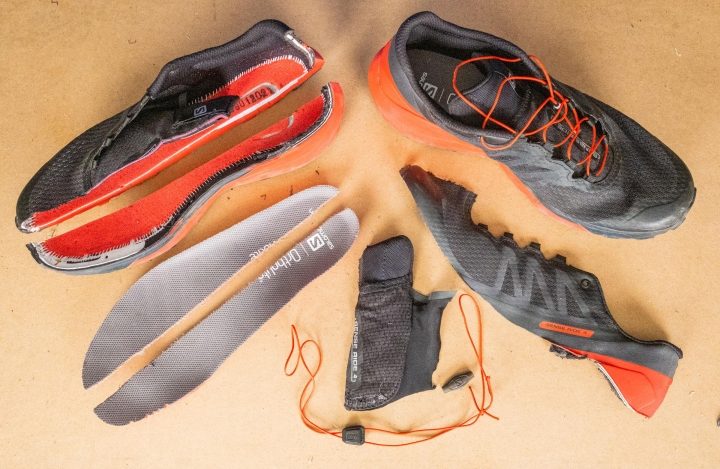 My past complaints about Salomon's were they felt a bit too narrow for my liking, but the Sense Ride 4 was fun and nimble without a lot of downsides.
Who the shoe is (not) for
This shoe is a winner! Mainly I am in love with the lacing structure, but I was impressed with the overall fit, grip, comfort, and looks of the new Sense Ride 4.
Buy this shoe if you want a no-frills trail beast, with a breathable mesh upper, durable welded overlay protection, and a stiff midsole that's responsive and nimble.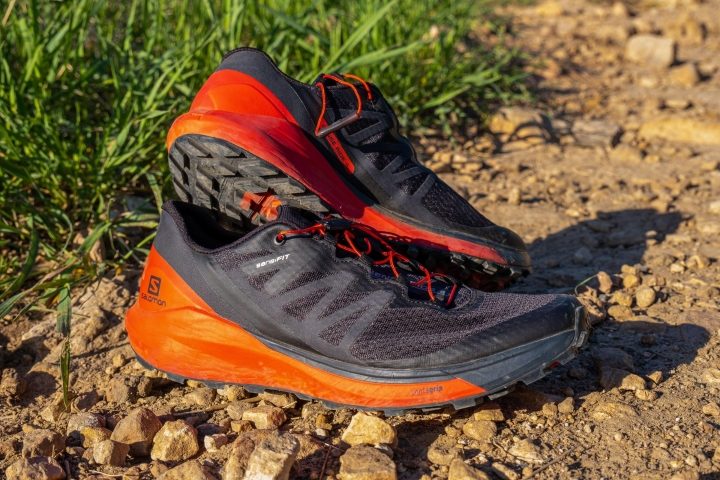 Don't buy this shoe if you want a:
super plush and padded trail shoe (then look at Salomon Ultra Glide),
bouncy, wide-bottomed downhill shredder.
Sense Ride 4 runs ½ size long
To start, I'd recommend sizing down half a size, this shoe is a bit long.
Finally, Salomon for wider feet
Other than that, I was surprised at how much I liked how this shoe fit.
I've avoided most Salomons over my stubborn impression that they ran a bit narrow, but the Sense Ride 4 fit my wider foot well, especially after a short break-in period.
Best for long or steep runs
The Sense Ride 4 is ideal on runs where efficiency is key like longer trail races or steep climbs. The firmer materials help translate energy into the ground making the shoe responsive and quick.
Flying colors for the comfort department
The Sense Ride 4 is comfortable, there are no hot spots, no rubbing, the upper breaths nicely, and it hugs your foot.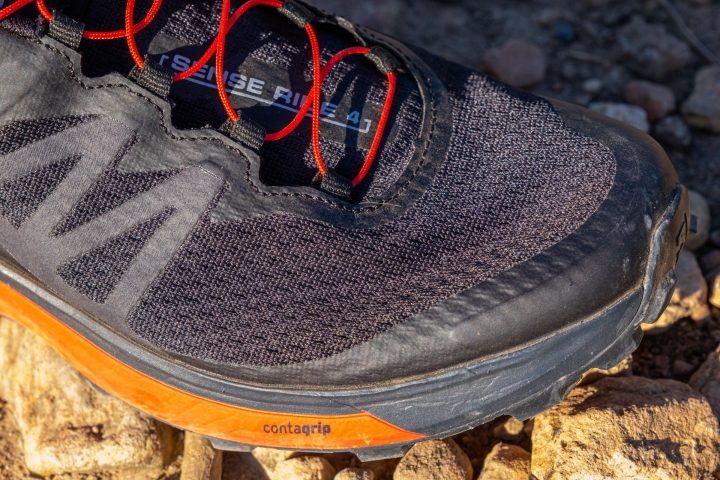 But, this is not a plush, padded, soft shoe by any means.
Salomon Sense Ride 4 is stiff and responsive
The midsole is stiff and responsive. It's made from two densities of foam, the main part measuring 35.5HA on the durometer, which's 31.7% stiffer than the average midsole (26.8HA). Then there's a second foam under the heel that is much stiffer at 55HA.
Normally I'd want softer foam under the heel to help absorb more impact when landing, so it's interesting Salomon adds firmer foam back here. With both foams being stiffer than average, the shoe feels tempered underfoot. It's not bouncy and it doesn't absorb a ton of impact, but it doesn't hinder the shoe from flexing with your foot, and it leads to a consistent ride and an efficient transfer of energy through every step.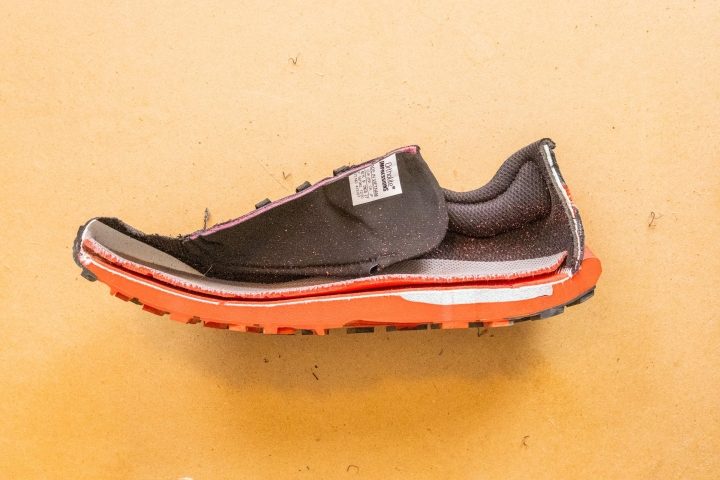 Lastly, Salomon outfits the Sense Ride 4 with an Ortholite insole for a bit of added comfort, but it's thin, at 2.8mm it's nearly half the thickness of average insoles (4.5mm), again giving it minimal padding and catering to runners who desire a stiffer platform.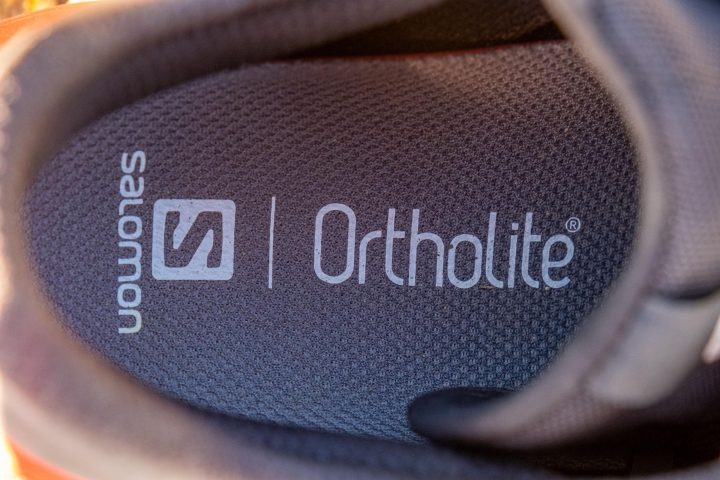 Fun and energetic ride
This shoe feels solid under foot. It's stiff, I've mentioned this, but this doesn't mean it's bad. It's also low to the ground which I love, with just 19mm of the stack under the forefoot, I feel in touch with the terrain compared to most shoes with towering stacks in the high 20s-low 30s.
It's actually really fun to run in as every bit of energy you're pushing into this shoe directly translates into power. None is absorbed in overly plush foams which make it great out on steep climbs or harder efforts.
Sense Ride 4 has an insane grip
The lugged outsole grips insanely well thanks to deep 3.57mm lugs.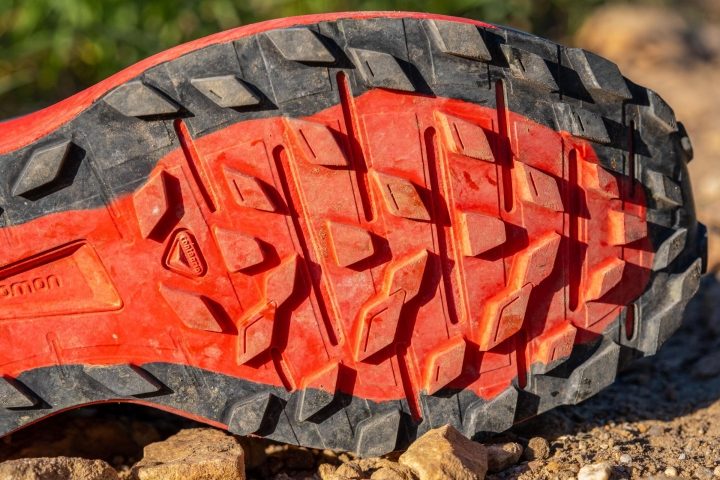 You need to break it in
One downside is this shoe needs to be broken in. It's stiff, and a bit narrow out of the box, but after a few runs, the shoe opens up nicely and really starts to feel great on your feet.
Love for the lacing system
One of my big hesitations on Salomon has always been their lacing structure. I couldn't convince myself that proper lockdown and fit could be achieved with a 1.5mm round lace and a sliding toggle.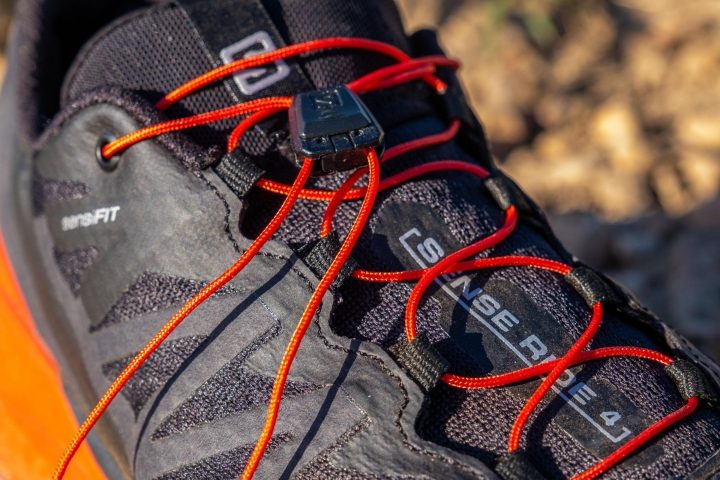 But it works, my foot didn't move at all in the shoe, no heel slip, plenty of room in the toe box, and great lockdown over the top without excessive pressure.
It's quick and easy to lace up, adjust, and unlace at any moment, and I really like how quickly you can loosen and take these off, you never have to manually loosen the laces from each eyelet, brilliant!
This is a small thing, but I also like that in the fully loosened position, the shoe still fits well enough to wear around, and there's no lace ends dragging on the ground. I found myself just loosening these after a run and lounging in them a bit rather than feeling the need to immediately take them off post-effort.
Sense Ride 4 doesn't weigh you down
At 10.5 (297g) ounces the Sense Ride 4 is not really a lightweight shoe, but it's not overly heavy either.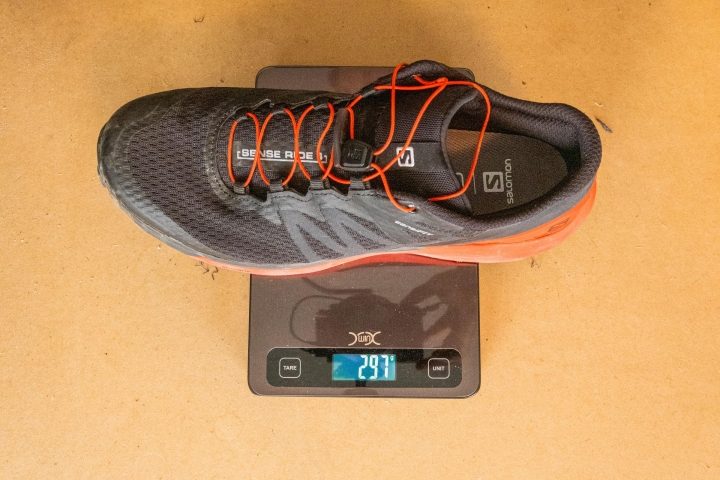 The shoe feels nimble under foot thanks to its narrower platform, so the weight is not noticed. It's also lost about 20g from the previous model so Salomon is going in the right direction. I'd love to see the next version a touch lighter though.
Salomon Sense Ride 4 lasts a long time!
One thing I noticed, the outsole is also firmer than average shoes at 81.5HC durometer compared to 75.1HC. Everything is stiffer on this shoe and when it comes to the outsole that translates into durability. And the upper is crisscrossed with thick welded overlays.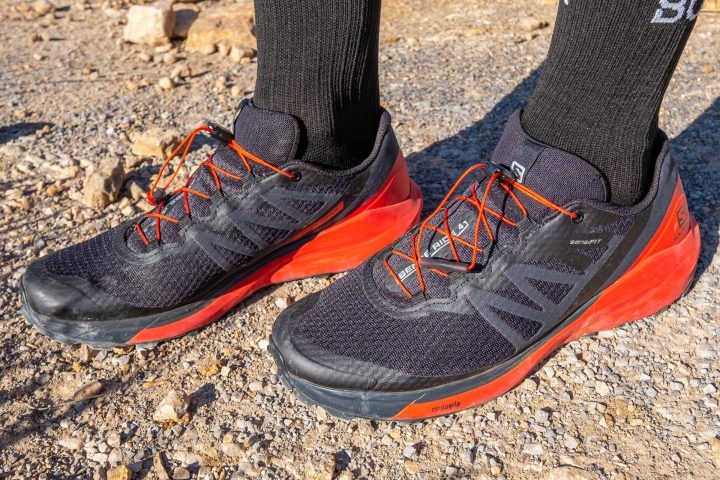 It's a stoutly built shoe that won't pack out or deteriorate quickly.
Lace garage difficult to access
One annoyance, the laces have a rubber pull tab and it bounces around a lot. Salomon did add a small mesh lace garage to the top of the tongue, but when the shoe is laced up tightly it's really hard to get the excess lace into the garage… The poor design here, and if you have narrow feet, you may have a lot of extra lace hanging around.
No pull tab: a big oversight
The last thing I need to mention is that it really needs a heel loop.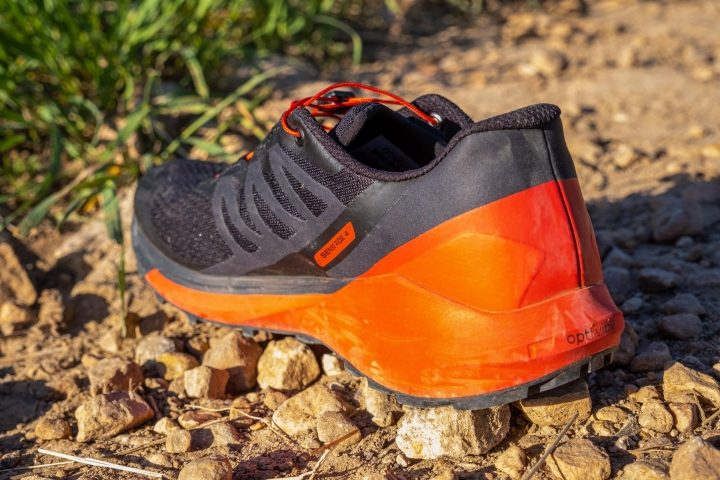 That's the one thing this shoe is missing. Since the lacing structure doesn't allow you to fully unlace and open up the shoe, a pull tab would really help. Please add this to the 5, Salomon.
Conclusion
I really liked this shoe, I hated cutting it in half. It's low, firm, and fast. There's not an ounce of extra padding, and surprisingly I really enjoyed that about this shoe.
I also really love the lacing system. It may be a challenge to get the fit perfect for some, but it works well enough and you never need to lace or unlace your shoes ever again which may seem like a simple pleasure but in actuality is a surprising luxury.
It also looks awesome! This is a sexy shoe.
In the end, if and when a day comes that I need to purchase my own trail shoes, these will probably be the ones I focus on.