All beefed-up. That's perhaps the simplest way to describe the 5th edition of the Sense Ride. With its soft cushioning, protective ride, secure lockdown, and improved traction, this
Salomon
favorite became an even better all-around, all-terrain trainer that especially excels on moderate trails.
Pros
Immaculate lockdown
Good responsiveness
Plenty of ground feel
Confident on moderate trails and steep downhills
Smooth and stable ride
Can hold its own for speedwork
Comfy and breathable upper
Best for daily miles, longer efforts, and even road runs!
Cons
Forget about hard trails
Thin under forefoot
Runs a little bit narrow
Who should buy the Sense Ride 5
The Sense Ride 5 is a great option for you if:
You're looking for a good road-to-trail hybrid shoe.
Your usual routes only include a mix of light to moderate trails.
You need a trail runner that can handle both your everyday runs and the occasional speedwork.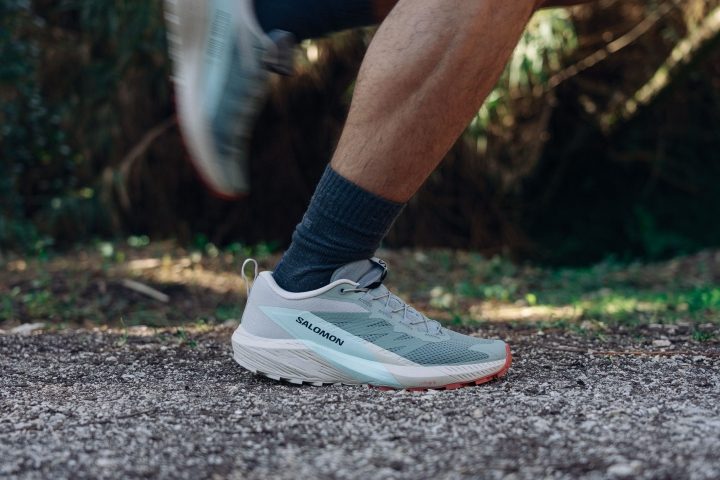 Who should NOT buy
Pure forefoot strikers might find the Sense Ride 5 a bit too uncomfortable, especially on rougher trails, because of its midsole. A good alternative could be the more cushioned Ultra Glide. For those with wider feet, check out the Salomon Pulsar Trail.
A solid choice for your summer trails
Most trail running shoes struggle when it comes to breathability. In fact, the average breathability score for road running shoes is 3.8, while the one for trail running shoes is 2.9. That's a 39% difference that's pretty obvious when you run in hot temperatures.
The magnificent upper in the Sense Ride 5 outperforms even most road shoes, as it scored 4 out of 5 in our breathability test.
We put this Salomon hybrid trail/road shoe under our microscope and examined it closely.
The material is weaved less densely around the toe box which ensures good breathability and packed tighter around the heel which keeps it in place.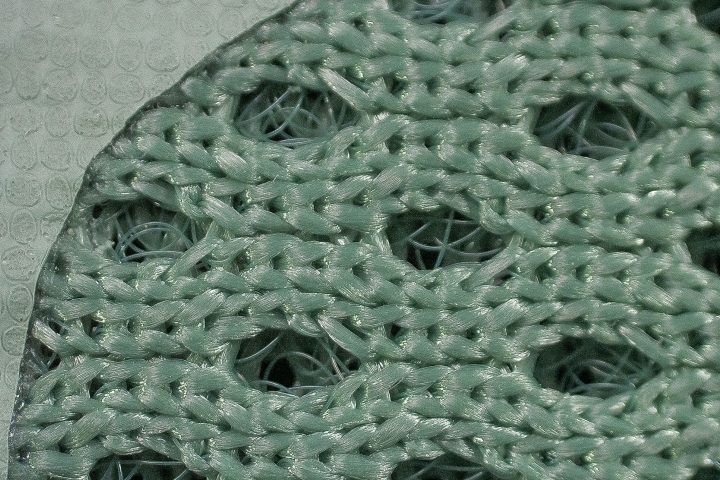 Salomon added tons of holes to improve airflow, even though their mesh isn't the thinnest—but that's okay since it's a trail shoe that needs to be resistant, right?
The Sense Ride 5 has an impeccable upper
In the midfoot, the overlays work in tandem with the shoe's Sensifit system—which connects the midsole to the upper—providing a snug, secure lockdown. We also took note of the well-padded heel collar and the adequately rigid heel counter which contributed to the shoe's comfortable step-in feel.
In our heel stiffness test, the SR5 received a score of 2 out of 5 (5 being the stiffest). This means a more flexible and forgiving heel design which is still effective in providing a secure lockdown.
Soft and cold-proof midsole
The Sense Ride 5 abandons its predecessors' Optivibe cushioning in favor of the newer Energy Foam, which is an EVA + OBC blend that works really well—check our in-depth guide about foams to delve deeper into this topic.
We felt that this setup provided a softer and more protective underfoot feel, making the shoe better for longer distances.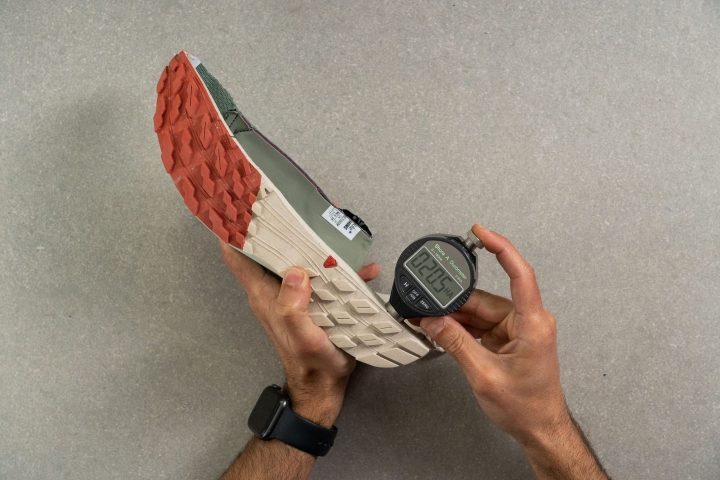 Disclaimer: We average four measurements and eliminate any outliers. This image depicts only one.
Our durometer measurement verified that you'll experience a softer-than-average shoe. In fact, the SR5 is an astonishing 63% softer than its predecessor. Yes, you read that right!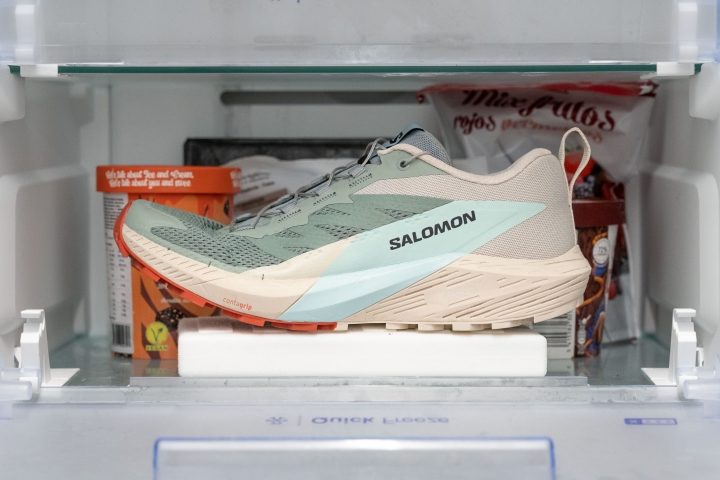 Despite being an exceptionally breathable shoe that's ideal for summer trails, it also performs superbly in winter. The EVA + OBC midsole becomes only 14.6% firmer after spending 20 minutes in our freezer, which is significantly below the 28.4% average.
In terms of flexibility, it's fantastic, with only a 19.5% increase in stiffness. This is particularly impressive when compared to the 47.6% stiffness increase in the New Balance Fresh Foam Hierro v7 or the 43.5% for trail running shoes.
Not for the toughest of trails
Thanks to its Contagrip rubber outsole, the Sense Ride 5 offers a ton of traction on light to moderate terrain. It's especially great for road-to-trail applications and dry/slightly wet surfaces, but it can struggle a bit in the mud, slush, or hard-packed snow.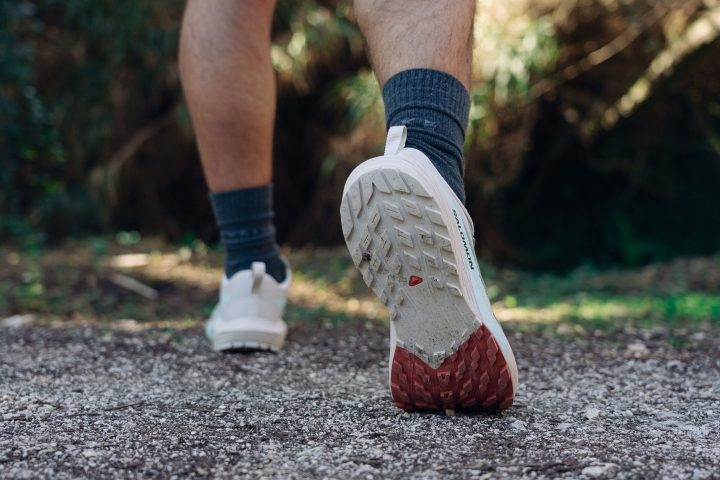 Salomon chose to use diamond-shaped lugs that measure 3.5 mm, so it's no surprise that this shoe works wonders on both easy and moderately-difficult trails but maybe not enough for the hard ones.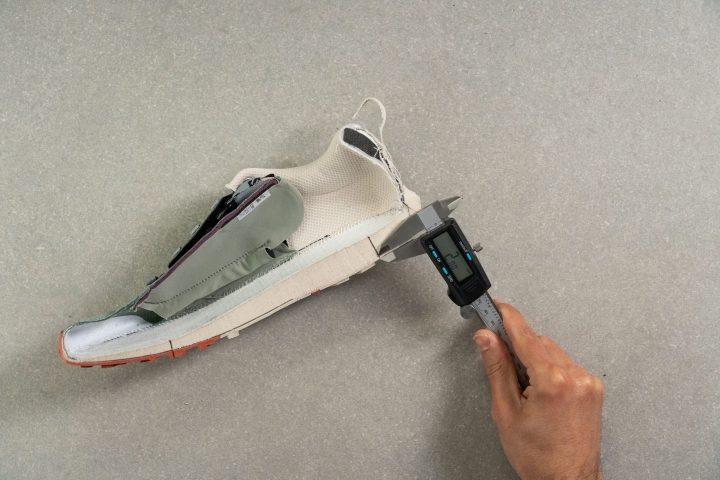 Keeping a reasonable weight is a 2.0 mm thick outsole, which is 65% less than the average trail running shoe. And due to its lack of a rock plate and thin outsole, some sharp rocks can be felt through the midsole—so it's not particularly advisable for rocky terrain.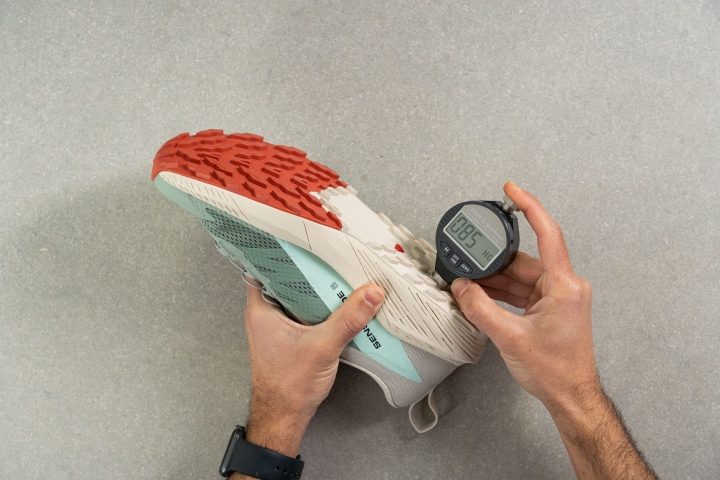 Disclaimer: We do 4 measurements and exclude any outliers. The photo above shows just one measurement.
The Contagrip rubber falls within the average range when it comes to softness. The typical measurement for trail shoes is 84.9 HC, and the SR5 scored 85.4 HC, making it slightly harder. As a result, you can expect middle-of-the-roadtrail durability and grip from this outsole.
A Ride that makes Sense
We found the Sense Ride 5 to have a generally smooth, secure, and stable ride.
Though its stiff and flat-feeling forefoot somewhat limits its utility on rough, technical mountain terrains, it can still handle those stretches in a limited amount.
Even though it's not a super-fast and responsive speed trainer, we found that it didn't really get in the way when we tried pushing the pace. It just wasn't particularly helpful in it, that's all.
An ideal low-profile trail running shoe should be flexible and should not feature a rockered design, and this shoe delivers exactly that!
Earning a 3/5 in both of our manual flexibility tests might classify a road shoe as moderate or even stiff. However, for a trail shoe like the SR5, this level of flexibility is truly notable. In fact, the SR5 achieves similar results to other hybrid shoes such as the Pegasus Trail 3 GTX and the Altra Outroad.
Disclaimer: We take an average of 4 measurements and eliminate any outliers. This video portrays only one of our four measurements.
The bend test further demonstrated the Sense Ride's flexibility. It specifically required 30.2N of force, which is exactly the same as the average of trail running shoes.
Only for low-stack lovers
We are afraid that the shoe's cushioning is not going to be enough if you are a midfoot-to-forefoot striker. However, if you love low-stack racing flats, this may be your trail shoe.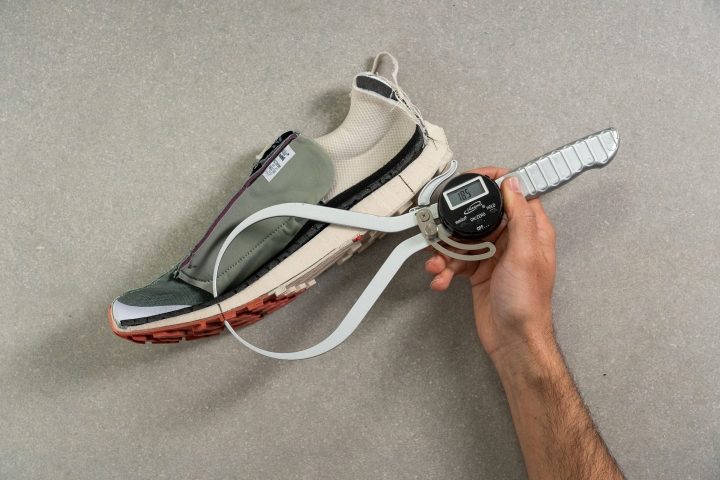 Salomon claims that this shoe has gained 4 mm of stack height compared to its predecessor. According to them, the shoe features 21.3 mm in the forefoot and 29.6 mm in the heel, resulting in an 8.3 mm drop.
However, our precise measurements show 18.5 mm in the forefoot and 27.2 mm in the heel, so it's less than advertised.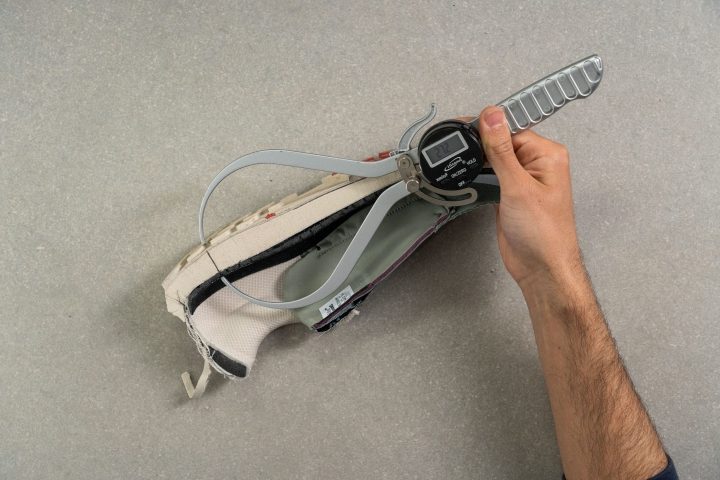 The 8.3 mm heel-to-toe drop on the Sense Ride may not be suitable for fans of low-drop trail shoes.
Toe box space is in short supply but nice-and-secure platform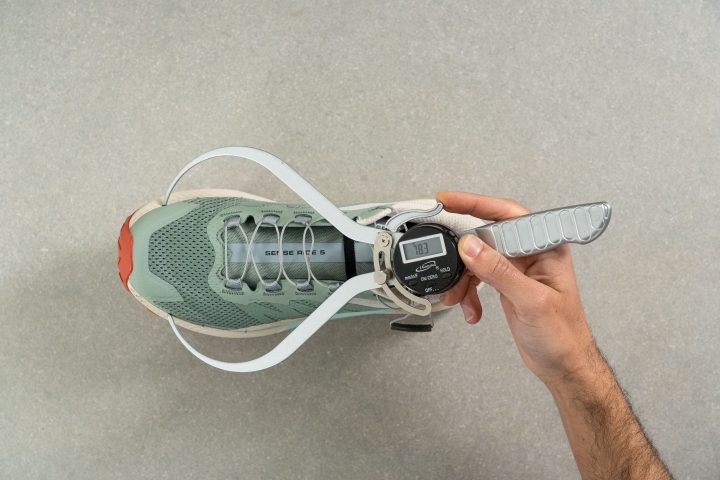 We noticed that the Sense Ride 5 has gotten clearly narrower and less roomy in the forefoot compared to the v4. Because of this, we recommend going up half a size to make the fit work.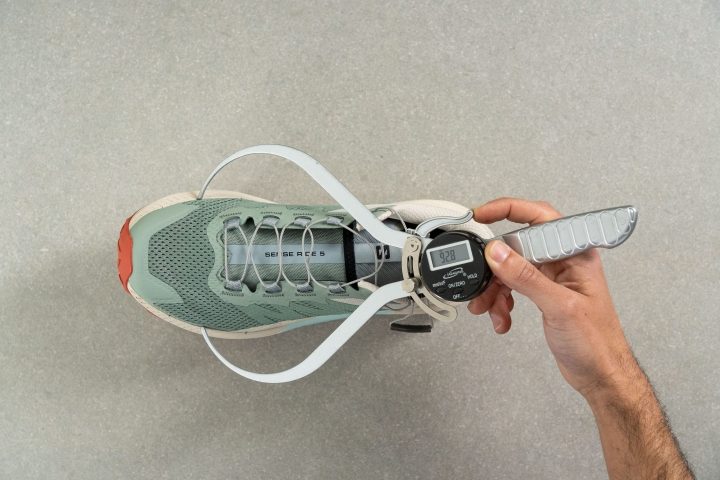 Upon closely comparing both Sense Ride models, we can confirm that the v5 is indeed smaller than the v4. At its widest point, the newer version is 2.3 mm or 1% smaller. Although this may not appear significant, it makes a difference.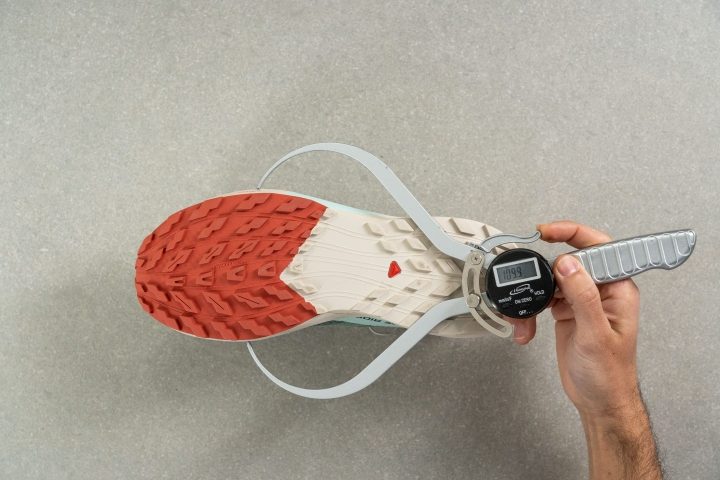 Our lab measurements validate that the Sense Ride 5 boasts a wide enough platform for most runners. For example, when compared to its competitor, the Altra Lone Peak 7, it's 3% wider in the forefoot and an impressive 6% wider in the heel, making it a more appealing shoe for runners with stability concerns.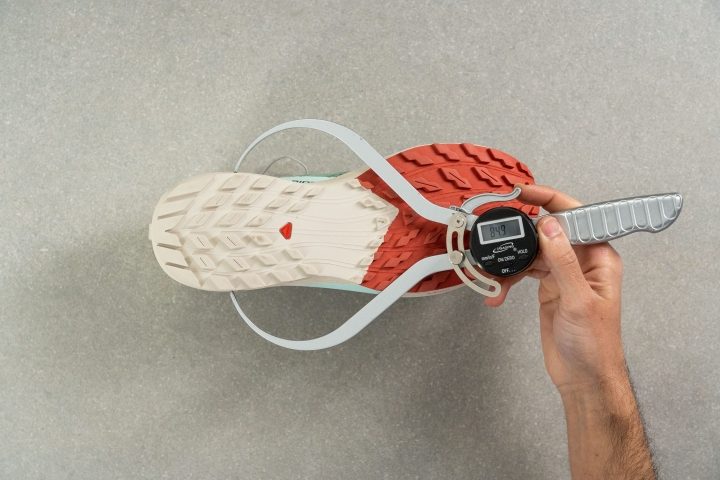 Lockdown is just one pull away
Topping off the Sense Ride v5's solid foothold is its Quicklace system, which goes all the way down to the forefoot and does a terrific job of locking down everything.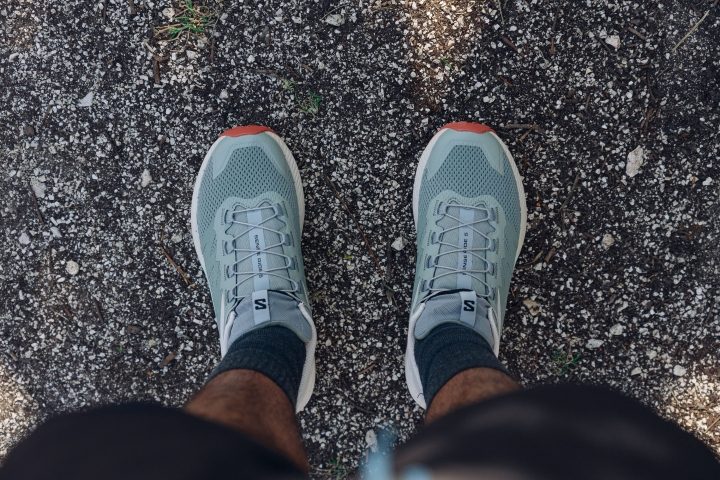 The lace garage was a real gem as it allowed us to keep the excess laces from flopping around.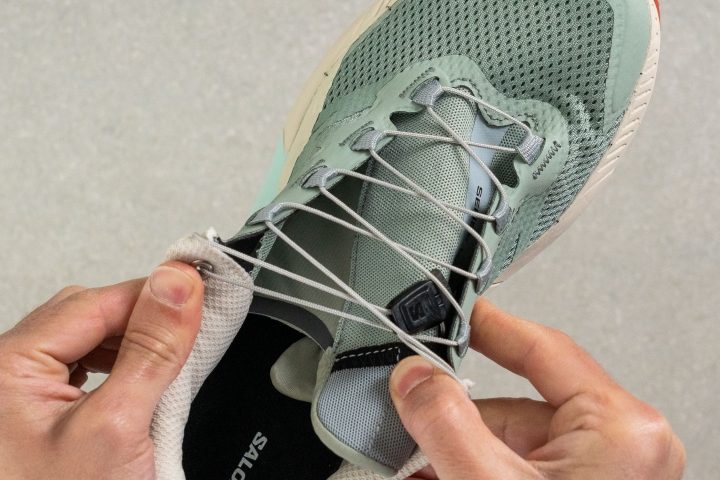 Regarding the tongue of the shoe, it's designed just as it should be: gusseted. It is connected to the sides to prevent any debris or rocks from entering the shoe.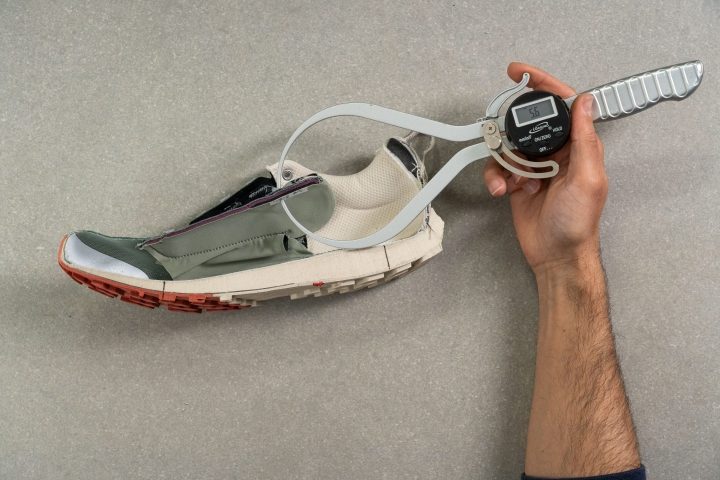 We also appreciated the tongue with its state-of-the-art thick 5.6-mm padding. You can say goodbye to lace bite. This enhancement is a notable upgrade from the v4, which was a considerable 25% thinner.
Two is better than one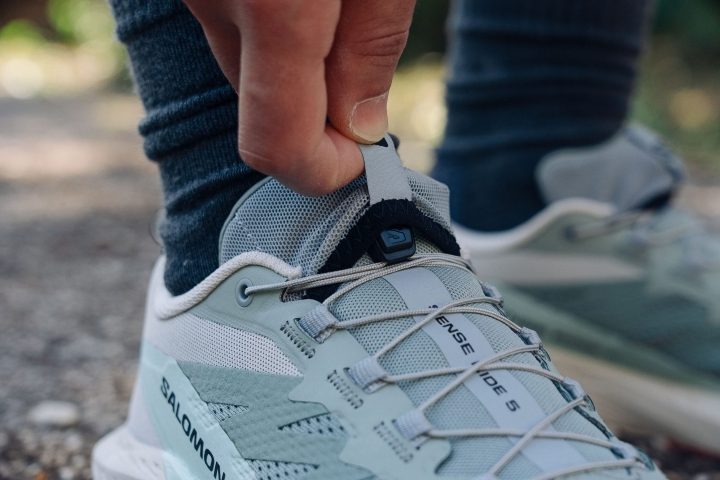 Are you a fan of pull tabs? Salomon seems to know how good they are for slipping on shoes and has pleasantly surprised us with not just one, but two pull tabs. You'll find one on the heel and another on the tongue. Love it!