Don't let anybody tell you otherwise—running fast and running comfortably aren't supposed to be mutually exclusive in an ultra-distance race. Case in point: the Ultra Glide 2. As
Salomon
's second crack at their cushioned trail line, the shoe addresses the v1's stability issues and it's softer than before. We found it to be a fantastic versatile runner that could keep the
Speedgoat
and Xodus Ultra on their toes.
Pros
Breathable upper
One heck of a lockdown
Soft and protective cushioning
Good energy return
Very smooth, fun ride
Comfy for roads, good traction on moderately technical trails
Outstanding for daily miles and (very) long runs
Also works for faster efforts
Cons
Poor outsole durability
Using lace garage can get frustrating
Long tongue has a tendency to cause some rubbing
Maybe too narrow for some
Who should buy the Ultra Glide 2
Its responsive cushioning, stable traction, and solid lockdown all work in unison which makes the Ultra Glide 2 an astoundingly do-it-all shoe. It's comfortable for daily training and ultra distances, but also energetic enough when picking up the pace.
Get the Ultra Glide 2 if: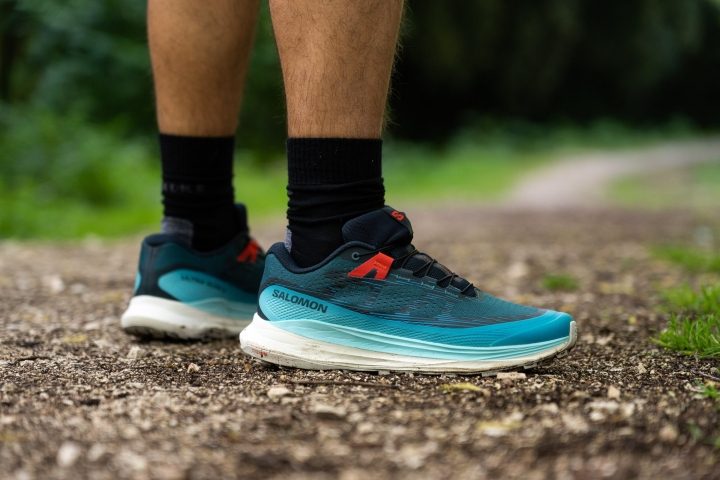 Who should not buy it
If you're planning to take on a lot of hard, rocky trails, the Ultra Glide 2's outsole might let you down.
Better to check out the Pulsar Trail instead. For a trail runner with one-and-done lacing and an upper that's unlikely to rub you the wrong way, try the Hoka Mafate Speed 4.
Ultra Glide 2 has bells and whistles in terms of breathability
The Ultra Glide 2 finds a way to balance breathability and comfort all at once!
The shoe's engineered mesh upper features a sock-like sleeve underneath that hugs the foot snugly in all the right places. The materials used are lightweight and airy, making it very comfortable for long, hot days out on the trails.
Only a few trail shoes managed to achieve a remarkable 4 out of 5 score in our breathability test, but the UG2 accomplished it! This is a summer-ready option for sure.
We share the same opinion, even though the light test revealed no huge ventilation holes, which is typically a common technique used by shoe designers to enhance airflow. So, how the hell did Salomon manage to achieve such an impressive result?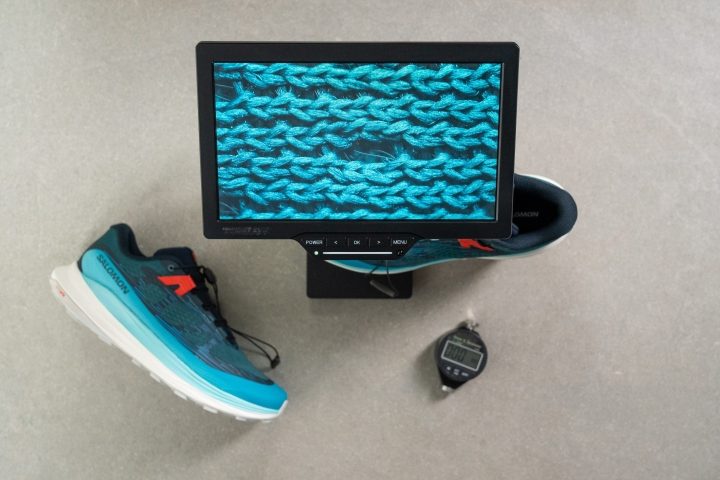 We decided to bring the microscope to the party. And then we found the answer: Salomon chose to use a thin mesh that allows air to flow and also implemented small and efficient openings.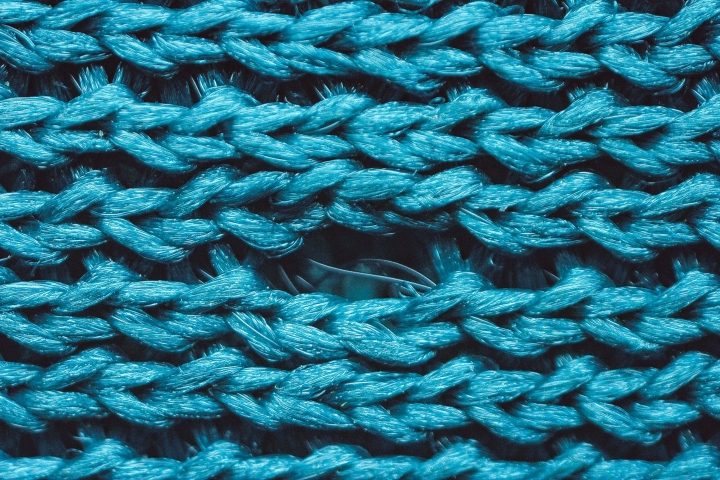 By the way, with this thin mesh upper, don't expect this shoe to excel under the rain.
Lightweight 1 - 0 Durability
Our experience tells us that finding a lightweight and breathable shoe that's built like a tank is extremely hard. The Ultra Glide 2 tips the scale at 10.1 oz (286 g), which is 4% less than the median of trail running shoes.
Considering the shoe's airiness, our Dremel test brought disappointment. We discovered that the synthetic overlays in the toe box lack durability, and the only benefit it's just shaving a few grams from the overall weight. It's a clear letdown and an issue that needs addressing in v3.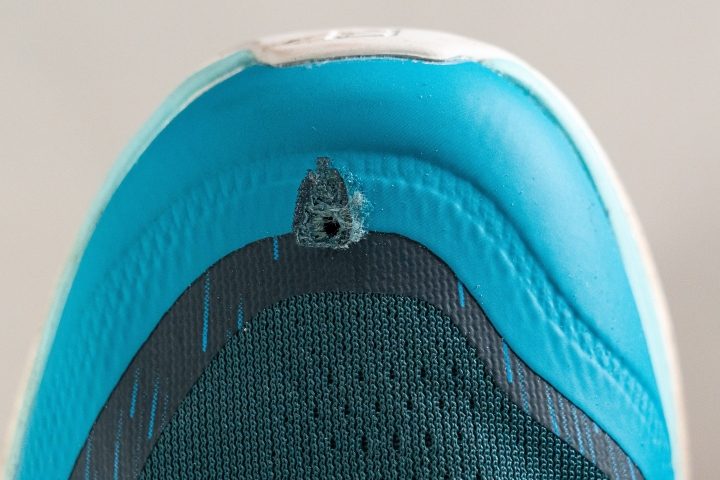 A+ Upper, A++ heel
Reinforcing the upper is an array of overlays that are complemented by the shoe's Sensifit system—allowing for a very secure and customized wrap over the top of the foot.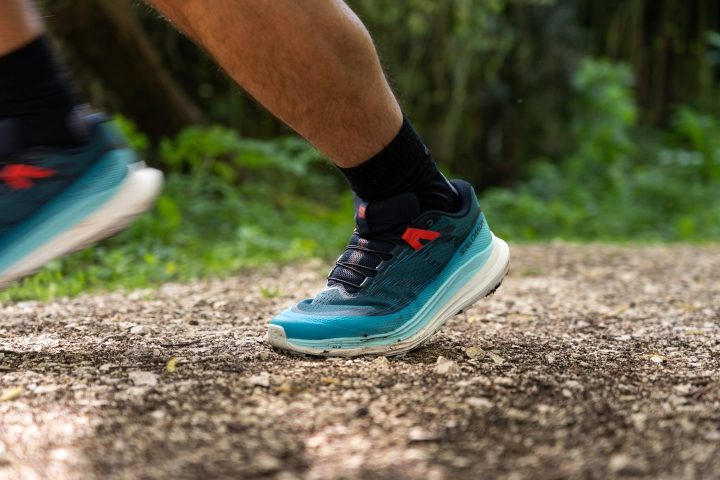 Moving to the rear of the shoe, you'll find a moderately stiff but cushioned heel counter. We rated it at 3/5 in our heel stiffness test, and we loved how cushioned it is. No heel slippage!
Numerous runners expressed their disappointment with the stiff heel counter in the UG1. Fortunately, Salomon has addressed this concern and fixed it, as demonstrated in the video above.
The Ultra Glide 2 will have you gliding through the trails
We also discovered that the Ultra Glide 2's energyFOAM has excellent cushioning and bouncy responsiveness. It feels soft and rebounding at the same time!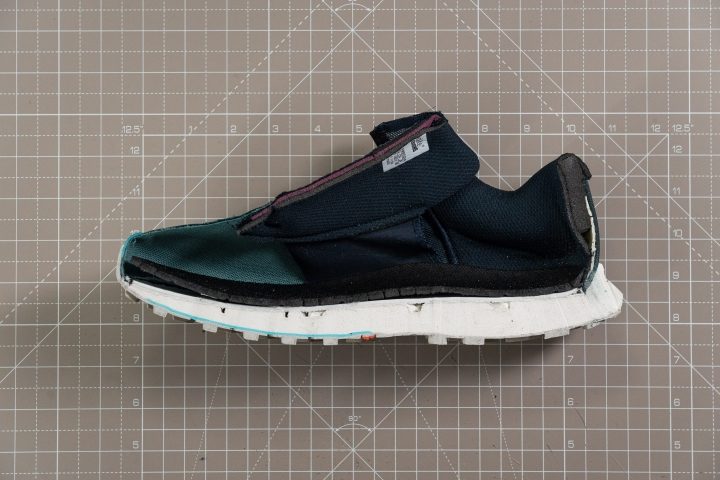 It's also quite effective in absorbing the impact from bombing downhills. This is important—especially over long distances and during high-mileage training—as it helps in reducing leg fatigue.
This foam has an EVA base, but it's enhanced with OBC (Olefin Block Copolymers), and that's the reason for its bounciness and fun ride. If you want to delve deeper into this and other foams, check our in-depth guide.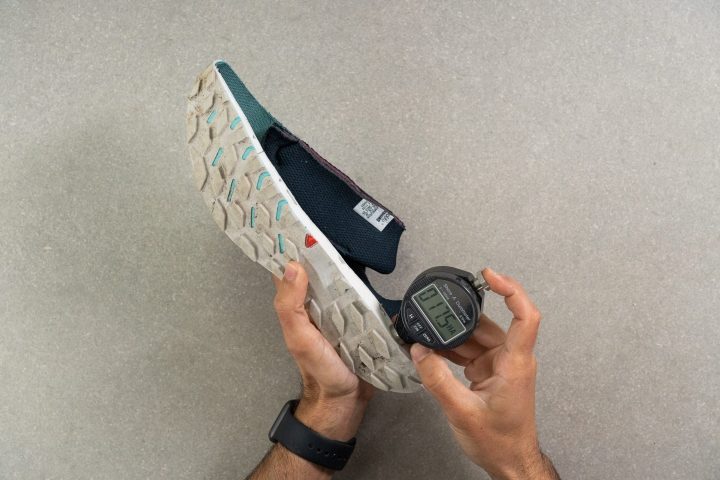 Disclaimer: We take an average of 4 measurements and eliminate any outliers. This image portrays only one of our four measurements.
We measured the foam softness of the Ultra Glide 2 at 18.0 HA, which makes it 50% softer than trail shoes on average. It is very far on the plush side of the trail shoe spectrum, competing with the Hoka Speedgoat 5 and the New Balance Hierro v7.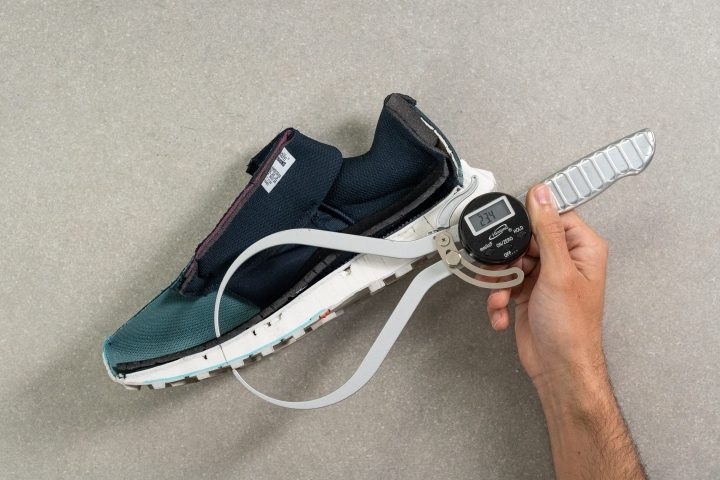 Despite that, to experience that heavenly sensation while running, it takes more than just a hyper-plush foam. A sufficient stack height is also key.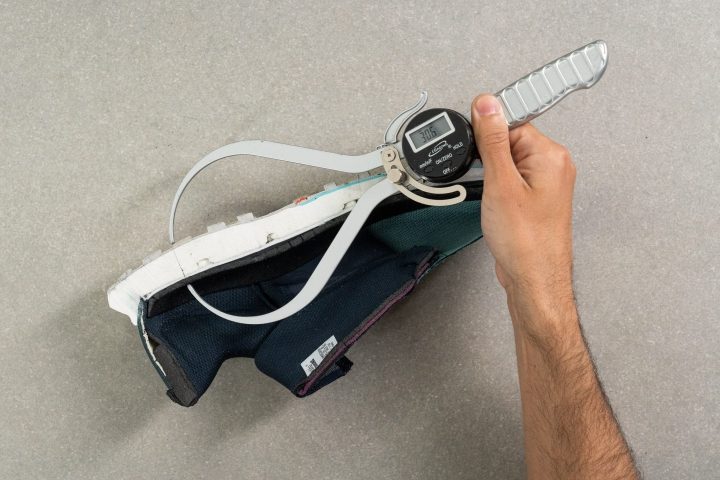 The forefoot in this Salomon shoe measures 23.4 mm, while the heel comes in at 30.6 mm, which results in a 7.2-mm heel-to-toe drop. This number falls slightly below the median for trail shoes, hence heavier runners may experience discomfort or bottom-out when using it.
The best part about not having a skyscraper-like stack height is that you can be a trail ninja without stressing about stability.
Additionally, the shoe's Reverse Camber geometry—basically a 'rocker' on the forefoot and heel—provides an incredibly smooth, stable, and enjoyable ride that puts a lot of other Salomon shoes to shame.
Running in this shoe, soft landings are followed by smooth and easy forward rolls.
It falls slightly short when compared to the New Balance SC Trainer, but that's because this is one of the most heavily rockered shoes ever made. Additionally, trail shoes tend to perform poorly in this test due to their rugged outsoles.
Not your best winter shoe
As an upper with high ventilation, one might assume that this shoe is ideal for mild-to-hot weather and it should not be the best choice for winter. However, the real disappointment lies in the midsole, which really falls short of expectations and it's truly mood-dampening.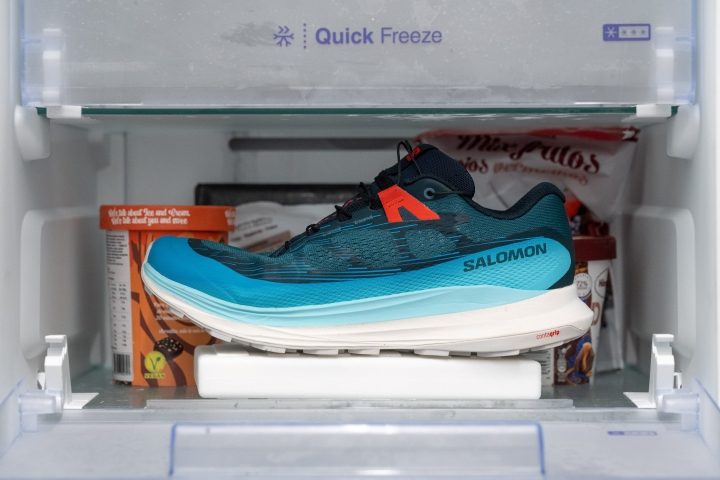 The EVA+OBC energyFOAM midsole turns teeth-grindingly 81.9% firmer and 56.1% stiffer in cold temperatures. In comparison, the average change is only 29% and 43.5%, respectively. That's too much, Salomon.
If you want a trail shoe that delivers the same ride across the whole range of temperatures, check the Saucony Endorphin Edge.
Among the more flexible shoes
We took note of the presence of cut-throughs along the outsole, which seems to give the shoe more flexibility and agility.
Disclaimer: We do 4 measurements and exclude any outliers. The video above displays just one measurement.
In our 90º bend test, we measure the force that we need to apply to the shoe to bend it to 90 degrees. Our force gauge returned 20.5N which is 50% less compared to the average.
Narrower than average platform
What sets the Ultra Glide series apart from other all-rounders is its remarkable narrowness.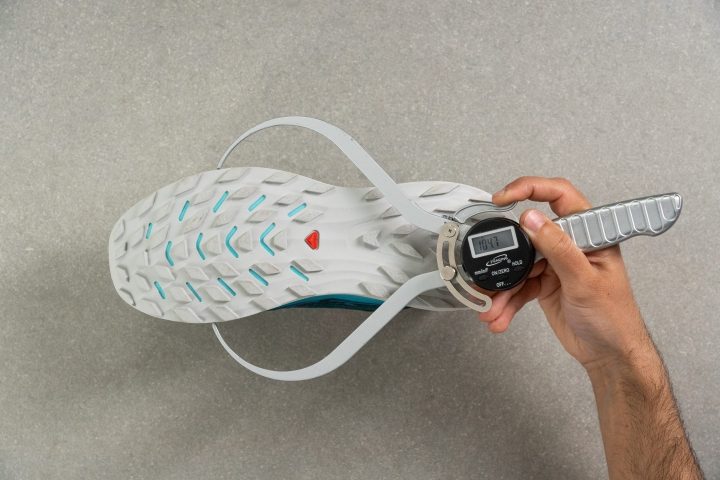 Measuring the shoe's platform, we were really surprised to find that the widest part of the forefoot is only 104.7 mm. That's 6.5 mm narrower than the average of trail shoes!
The heel, on the other hand, did better at 89.7 mm (average width).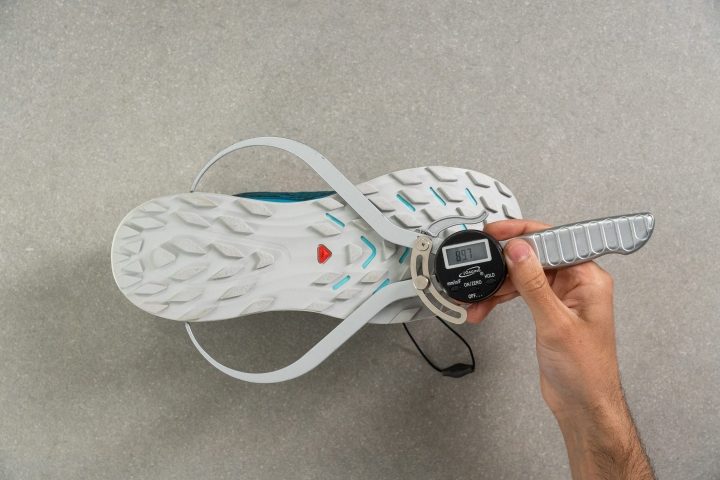 But what does that translate to when you're out running on your favorite trails?
| | |
| --- | --- |
| Narrow platform | Wide platform |
| Less risk of ankle injuries | More room for your feet |
| Agility and responsiveness | Improved balance and stability. |
| Fantastic precision and control during direction changes or descents | Best choice for those with pronation issues or wider foot shape |
If you need that width for stability, we recommend the Hoka Speedgoat 5 (116.4 mm/97.5 mm) or the Brooks Cascadia 17 (113.3 mm/97.7 mm).
Not for wide feet
One of the major problems with the OG Ultra Glide was its tight midfoot area, and the v2 version is even narrower in standard width. Fortunately, Salomon offers a wide option for this model too.
Upon carefully measuring the upper, we discovered that the toebox's widest part measures 95.0 mm, and the big toe measuring point at 74.0 mm. Both narrower than average by 3-4 mm.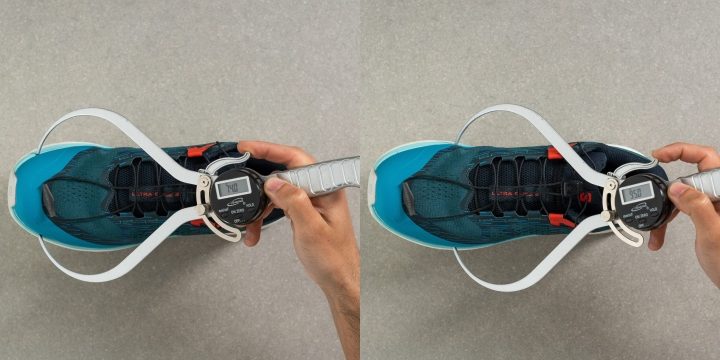 Good lockdown in a jiff
As usual, we were quite pleased with Salomon's Quicklace system, as it vastly simplified the lace-up and removal process. There is also a handy pouch on the tongue where the excess laces can be tucked in.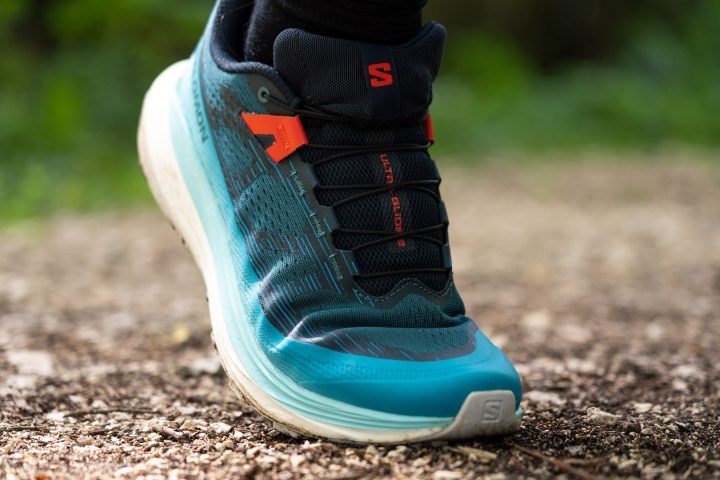 One caveat, however, is that the shoe's tongue seems too long. It rides a bit high up and grazes the ankle area. Of course, that's a matter of preference and can be fixed with taller socks.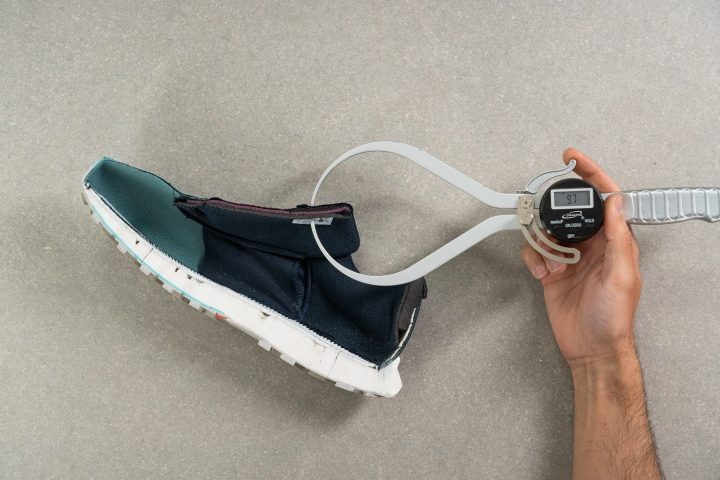 We can confirm that the tongue is incredibly comfortable. It's semi-gusseted, and we measured its thickness at a remarkable 9.7 mm. This is an exceptionally high measurement for a trail shoe weighing under 300g.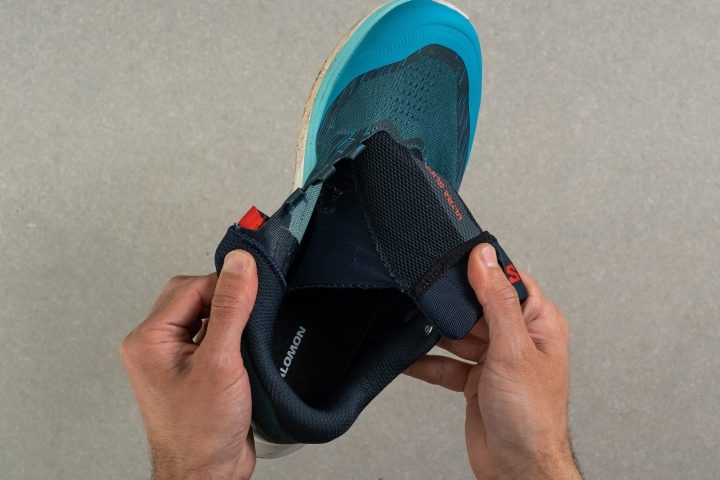 As all-terrain as it gets
The shoe's Contagrip rubber outsole is all about versatility and stability. It performs best on hard and dry surfaces, but don't expect superior grip as if you're running on a Vibram rubber.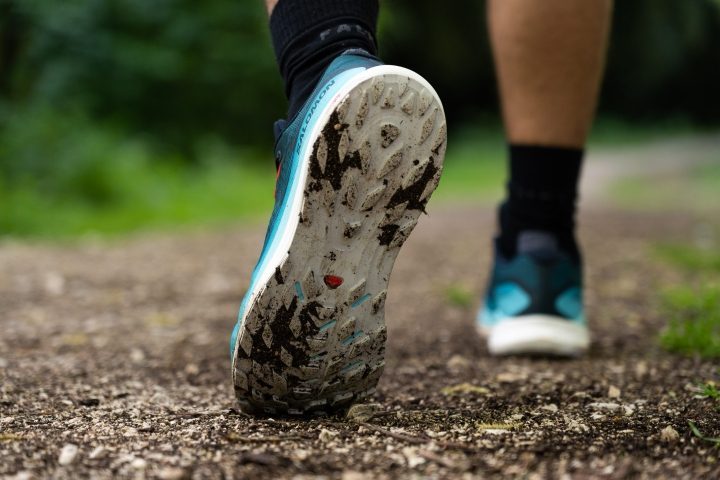 The shoe's Contagrip rubber measures 1.6 mm, and the lugs come in at 2.8 mm, making the latter 25% smaller than v1. These numbers are below the average trail shoe (3.5 mm) and confirm that this is indeed a versatile option.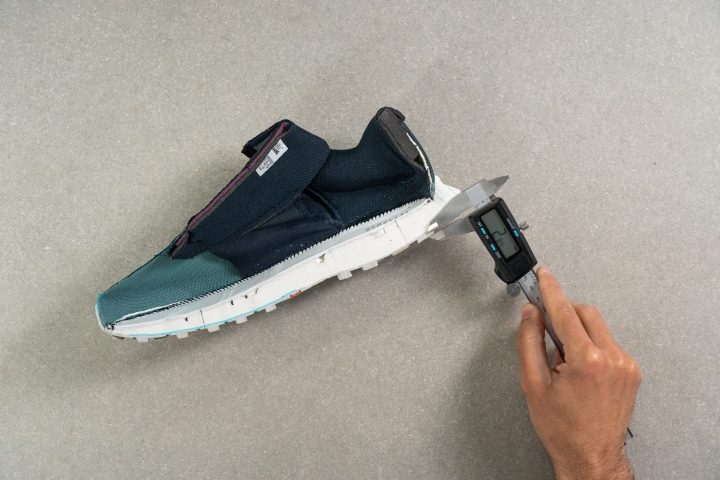 Durability, though, is where the shoe takes a hit—we noticed more wear on our pair of UG2s compared to other shoes with similar mileage. Saving weight and adding versatility always comes with a trade-off.