The Endorphin Edge from Saucony is the brand's "sweet redemption," in the words of one runner, of the not-so-great Saucony Endorphin Trail. And others can't help but agree with this. It's everything super, they say. It has a carbon-fiber plate, it's max-cushioned, and it can go fast, fast, fast. Even better, it's ready for runs ranging from short to long distances.
Pros
Fast as hell
Comfort written all over it
Super smooth ride
Light AF
Protection can't be more awesome
Breathable under warm temps
Toe box is ready for ultras
Carbon plate is not harsh
Grippy on wet, loose, and soft trails
Also great for the roads
Cons
Unstable at slow paces
Loose heel
Who should buy the Saucony Endorphin Edge
If you're looking for any of the following, then we highly suggest not skipping on the Saucony Endorphin Edge:
a trail running shoe with maximum protection and minimal weight
an off-road racer that's grippy on wet, dry, and muddy terrains
a shoe that can go fast and go the distance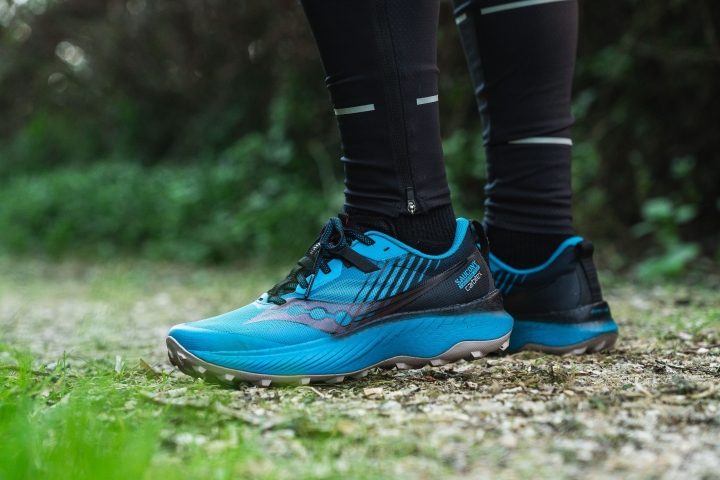 Overall, the Endorphin Edge is described by an expert as a "modern take on the long and fast trail racer." Another even adds, "It's built for both speed and the long haul, no doubt about it."
Who should NOT buy it
The heel fit of the Endorphin Edge is rather sloppy. If you crave a dialed-in rearfoot fit, chances are you'll love the Saucony Xodus Ultra better. And if you want a consistently confident footing, regardless of pace, the Saucony Peregrine 12 is right up your alley.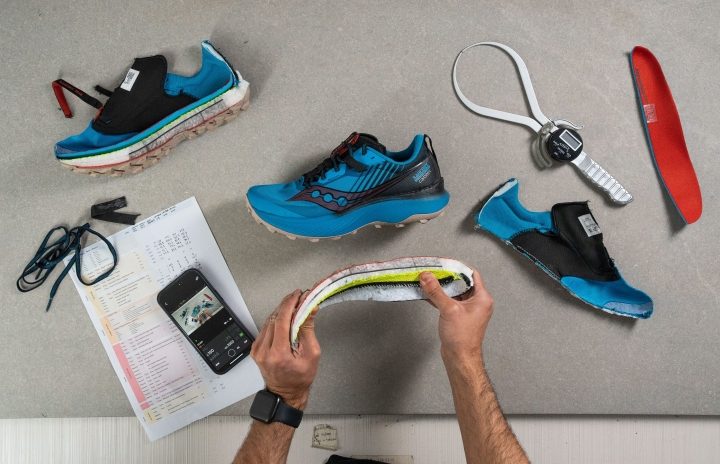 Breathability is anything but a bust
Because it's downright awesome! "The engineered mesh walks the fine line between breathability and debris protection like a champ," shares one expert. Another who has tested the shoe under 90-degree weather remarks that breathability remains excellent. One more reviewer adds that it's an environment "where your foot can stay for a long, long time."
Saucony Endorphin Edge (left), Salomon XA Pro 3D GTX (right)
Fact check
Using a smoke-pumping machine, we have visualized the shoe's ventilation capacity. Judging by the amount and speed of smoke, we gave the shoe 3 out of 5, where 5 is the most breathable. It is considered average for running shoes.
Minimal weight for maximum cushion
"A tremendous amount of shoe" is how one running shoe reviewer finds the Saucony Endorphin Edge. But just like everyone else, he was speechless when he found out that it only weighs 258 grams/9.1 ounces in US men's 9. For context, trail shoes weigh 297 grams/10.5 ounces, on average.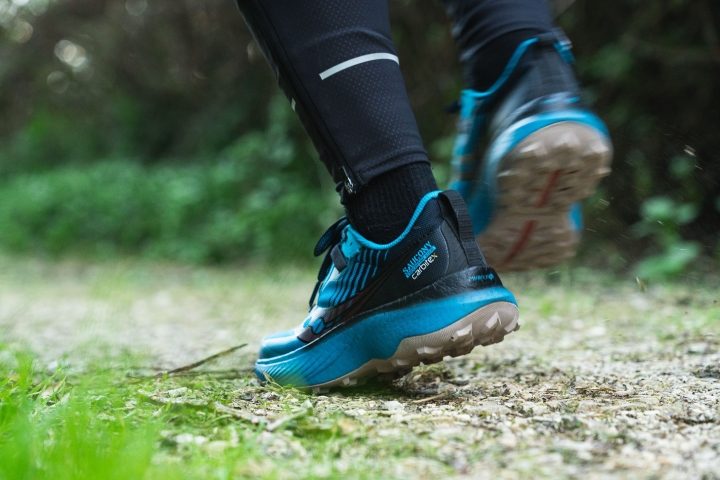 A running expert couldn't believe this; he said he "zeroed out [his] scale twice to make sure it was working." Another chimes in stating, "Considering how much shoe there is, it's almost hard to believe."
Nothing can top the Edge's protection and comfort
As mentioned, this trail racer is jam-packed with copious cushion. And this tells us two things: (1) it's one heck of a comfy shoe, and (2) it will keep your feet and legs free from strain. And this is all thanks to the "thick juicy slab of PWRRUN PB goodness," as reported by one trail runner.
Because of the maxed-out cushion, a reviewer claims that sliding the shoe on equals "exceptional comfort." Another attests to this stating that the shoe "sets a new and high standard" in this department.
And if you don't want to feel any of that slapping against the surface, the Saucony Endorphin Edge is an effective and solid impact dampener.
Fact check
Measuring the shoe's foam softness with a durometer, we found that it is 27% softer than running shoes on average.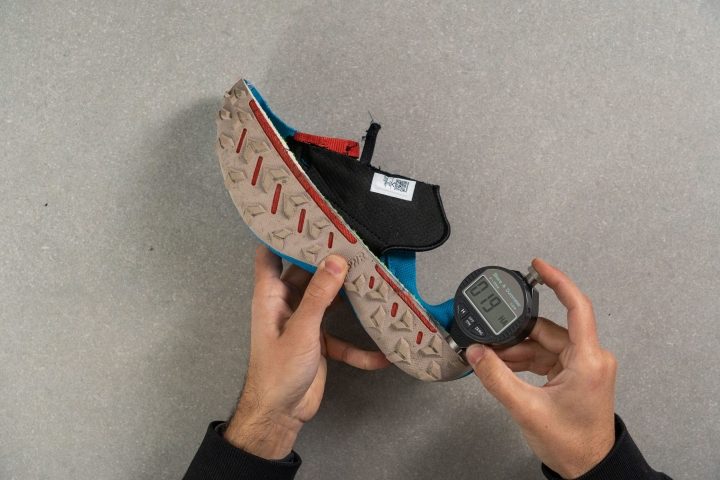 Disclaimer: We check the measurements 5 times to ensure accuracy. The photo shows the final take.
Fact check
Good news for those who run in chilly weather - the foam doesn't get much firmer!
After spending 20 minutes in the freezer, the cushioning of the Endorphin Edge only got 14% firmer. For reference, most foams get around 26% stiffer on average.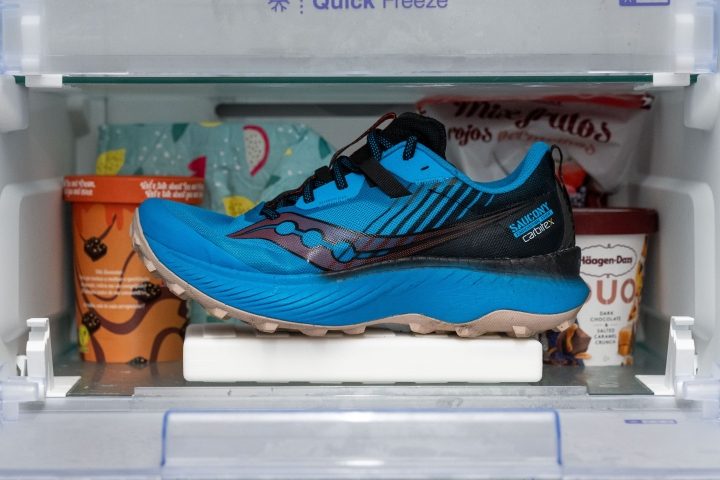 Fact check
The Endorphin Edge is a generously cushioned trail shoe. Measuring its stack height with a pair of calipers, we found that it is 33.4 mm in the heel and 26.3 mm in the forefoot. Compared to running shoes on average, it is 0.6 mm thicker in the heel and 1.9 mm more in the forefoot.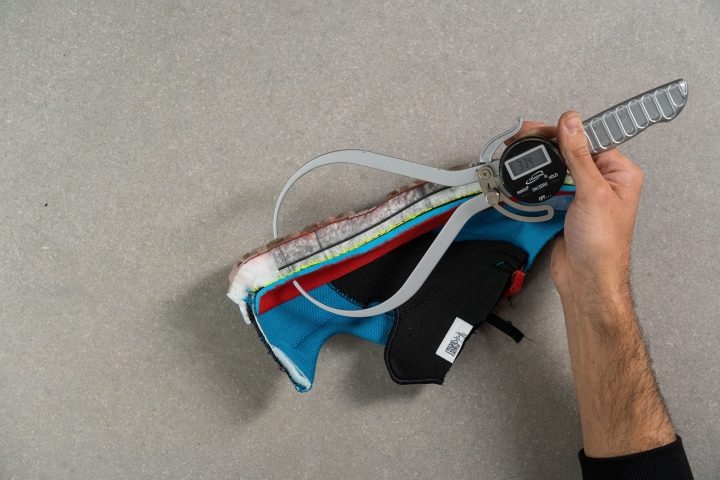 Disclaimer: We measure the shoes' stack height together with the insole. In the Endorphin Edge, the insole thickness is 3.7 mm in the heel.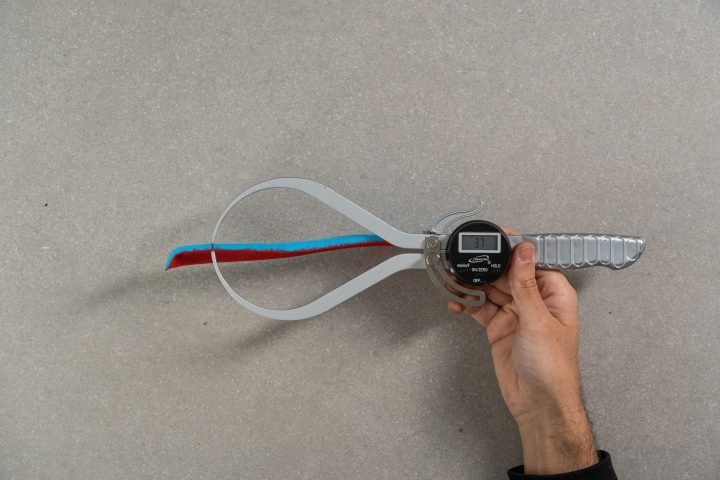 Ready to race...and win!
"This is the stuff of legends" and "like tying two bright pink wildcats to your feet" are the standout comments from different critics who can't get enough of the shoe's incredible speed.
The combination of the high energy return given by the midsole, the snappy carbon plate, and the smooth and rockered ride "scares the hell out of me," boasts one runner. He then continues, "because I cannot and do not want to slow down when I have this sucker on."
Overall, the explosive ride "warrants the hefty $200 price of the shoe," happily expresses one (very) satisfied tester.
You better not slow down
It's clear that the Endorphin Edge is made for speed. Running shoe reviewers who have tried running in it at a slow pace all report that it feels unstable. It can feel like "you are 'high and dry,'" one of them comments.
Fact check
The stiffness of the carbon plate is one of the key features that help to keep runners on their toes in the Endorphin Edge. Measuring the shoe's resistance to bending, we found that it is 38% stiffer than running shoes on average.
However, it is not as stiff as its plated counterparts like the Endorphin Pro 3 (64% stiffer than the average).
Fact check
This Saucony shoe proved to be a stiff one in our manual assessment too. On a 1-5 scale where 5 is the stiffest, we ranked the shoe as 5 on longitudinal flexibility and 4 on torsional one.
Grip is king in the Endorphin Edge
Whether you're running on rocky terrain, wet trails, puddles, creek crossings, and even mud, you can maneuver the Saucony Endorphin Edge with utmost confidence. And on the road? A long-time runner has this to say: "also exceptional on pavement, even if it's not the intended surface."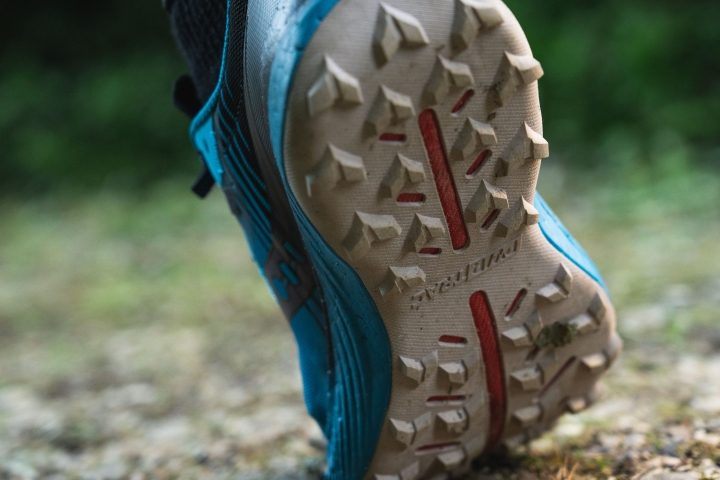 Fact check
We measured the shoe's lugs at 3.4 mm. This is the standard lug depth for trail running shoes.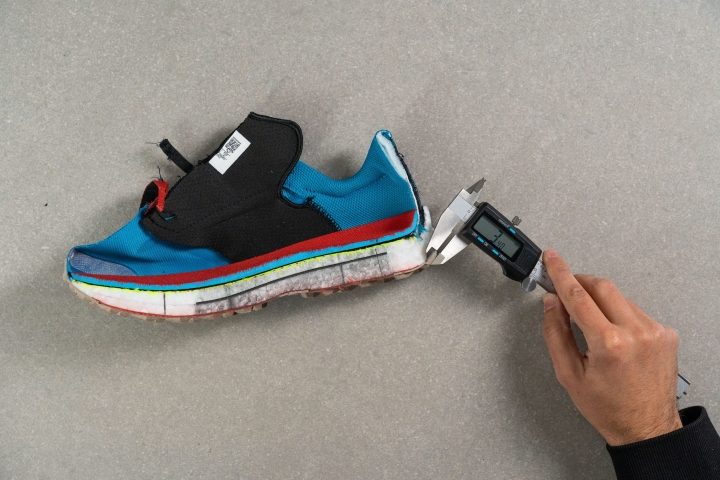 Endorphin Edge keeps you steady
More than a few runners have pointed out that they felt stable when cornering in this Saucony shoe. It has a solid amount of lateral support as well as a wide enough base to prevent the foot from rolling over.
Fact check
Measuring the widest part of the shoe's sole with calipers, we found that it is 112.6 mm in the forefoot and 88.2 mm in the heel. This is right at the average of running shoes: 111.9 mm and 88.9 mm respectively.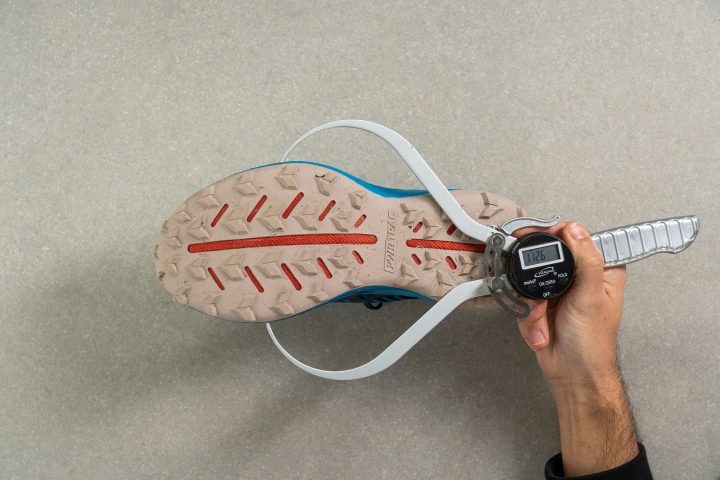 Fit: Takes the distance into account
Meaning to say it has a generous fit that bears foot swelling in mind. And despite this, runners still find it a secure fit just as long as you do the runner's loop for the laces.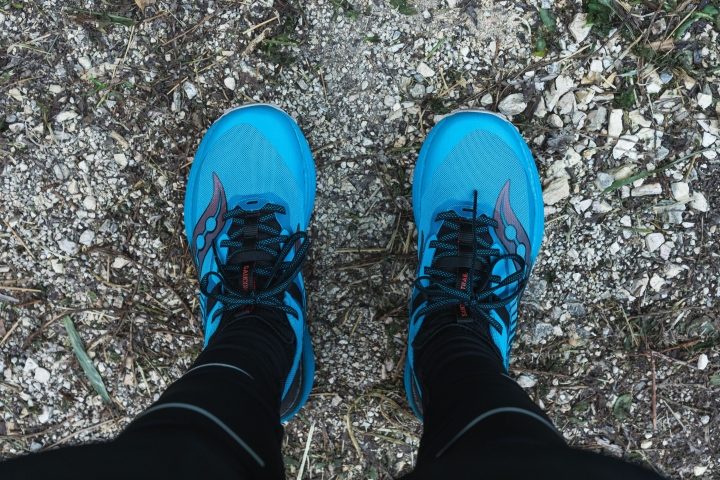 The toe box is also very roomy; there's plenty of wiggle room. It even welcomes wide feet! The only downside to the shoe's fit is the heel area. It's a touch loose, which makes "cornering and more technical segments treacherous," observes one Saucony fan.
Fact check
Based on our measurements, the Endorphin Edge is 94.7 mm wide in the widest part of its forefoot. This is actually below the average of our lab-tested shoes which is 98.1 mm. It is not as wide as the Saucony Endorphin Trail (100.3 mm) or Saucony Peregrine 12 (104.9 mm).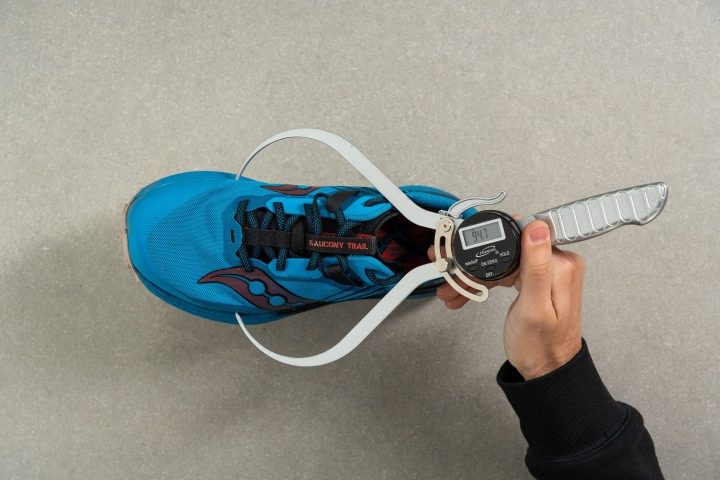 Fact check
When it comes to sizing, it appears that the Endorphin Edge runs a bit on the small side. In a men's US size 8, we measured the shoe's internal length at 256.1 mm. Based on Saucony's shoe size chart, this corresponds to the US 7.5 (255 mm), while the US 8 stats at 260 mm. In addition, about 20% of reviewers report that the shoe runs small.
We recommend measuring your foot length and double-checking with the brand's size chart before purchasing, just to be on the safe side.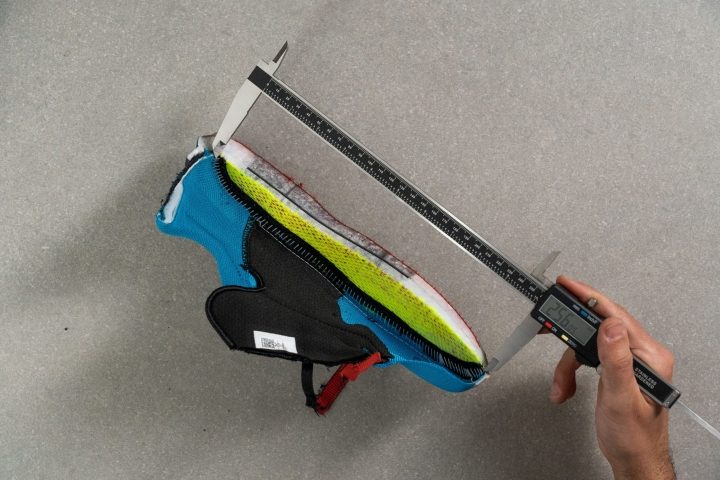 The heel fit could be sloppy though
The shoe received some complaints about the heel section fitting too loose. Apparently, this caused heel slippage for some runners.
Fact check
Checking the width of the upper in the heel, we found that it is actually narrower than average: 68.4 mm over 75.2 mm respectively.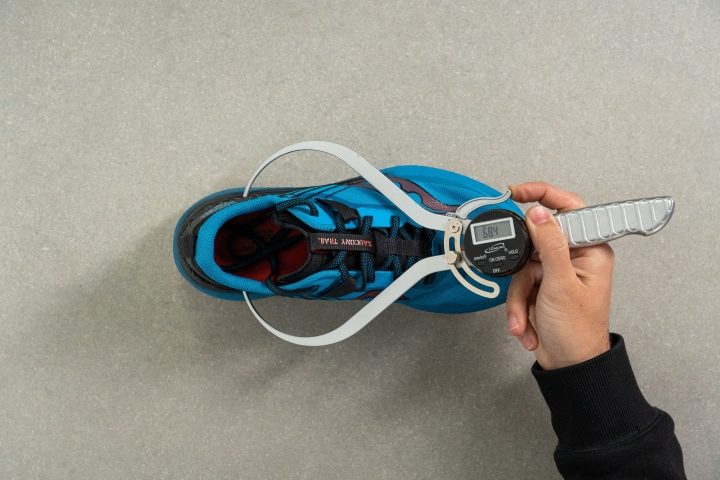 Fact check
The stiffness of the heel counter is also average based on our manual assessment. We gave it 3 out of 5, where 5 is the stiffest.
We recommend taking this information with a grain of salt as the shoe's fit is a highly individual matter and depends a lot on one's foot and ankle dimensions.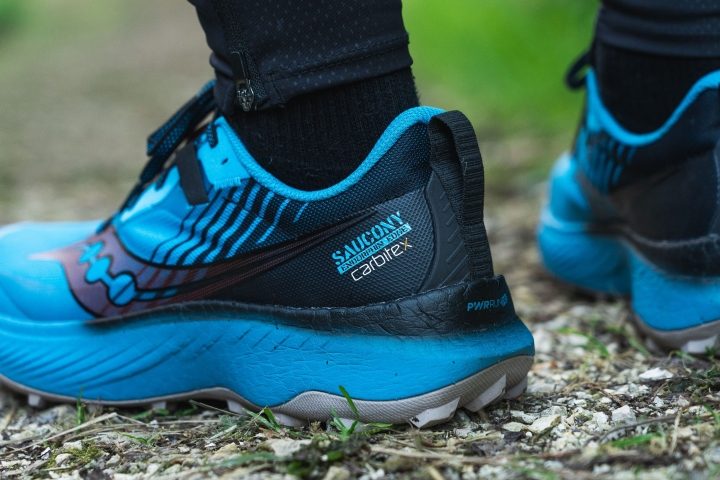 And in case you do struggle with heel slippage, the shoe comes with an extra pair of eyelets to tie a runner's knot.