Aggressive!!! That's the first impression that many runners had about the Endorphin Trail. With the shoe's meaty, deep lugs, and thick, dense midsole, it flies down any terrain you can throw at it. It's a bit of a tank, but its PB midsole is springy, and its rockered design lets you efficiently coast gentler terrain between the hard stuff. Lace these up and head into your next trail battle with confidence!
Pros
Amazing grip
Sock-like fit
True to size
Aggressive
Peppy midsole
Rock protection
Cons
Heavy
Not breathable
Poor draining
Saucony Endorphin Trail review and lab test
Endorphin Trail?!? After last year's wild success with the Endorphin Speed and Endorphin Pro who wouldn't want to buy the trail version?
Well, unfortunately, many may not want to buy this shoe. There are lots of pros and cons on this one so read on.
First off, this is a heavily cushioned, durable, trail killer with a supper aggressive lug design and a sock-like bootie upper. Its wild-looking checkered design and welded overlays may invoke awe or hate, but either way, I had to try them out.
This is the first trail shoe with the much-lauded PWRRUN PB midsole that came out last year in the Endorphin Pro and Speed road shoes from Saucony which were some of the best shoes in 2020.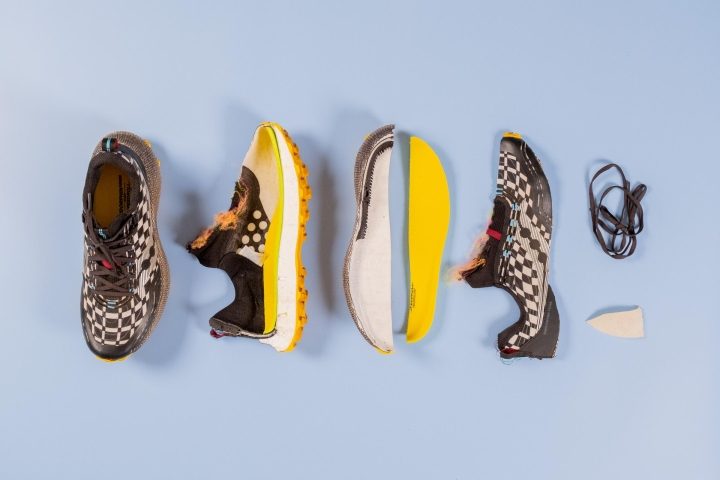 I got invited to a Saucony trail event in Boulder, Colorado to test these shoes with some star athletes like Katie Asmuth (who just finished 5th place at the 2021 Western States). So I was pumped, after a long COVID break from industry events, we were back out on the trail kicking up dust.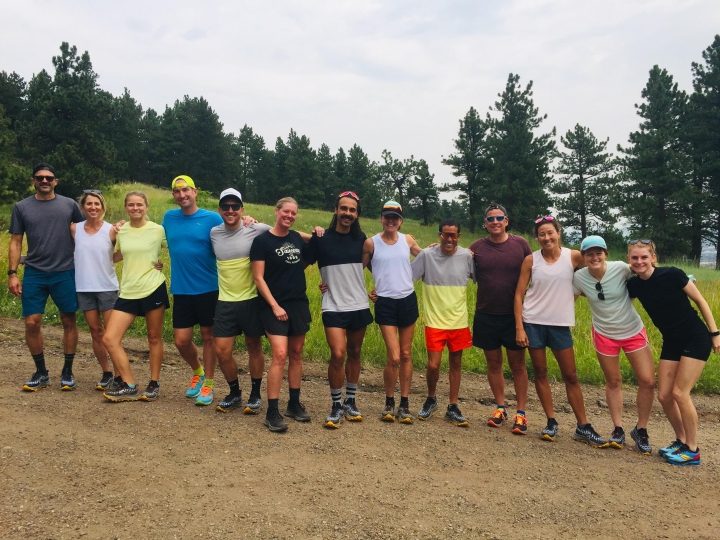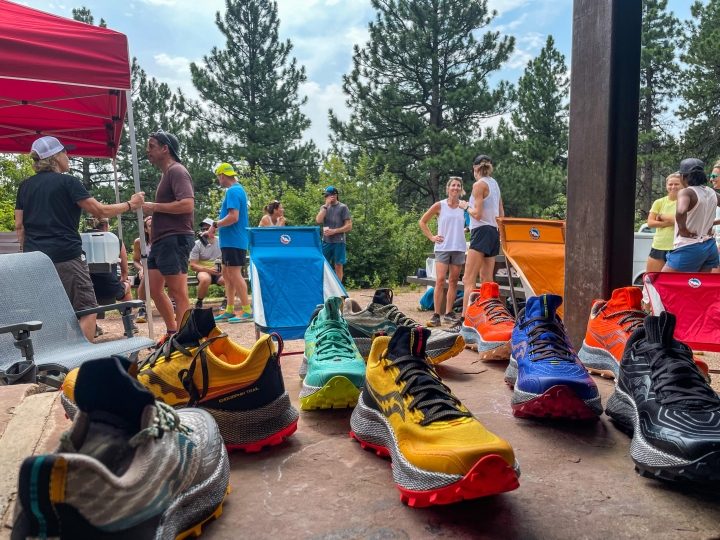 Read on to determine if you need these rambunctious kicks!
Who should buy the Saucony Endorphin Trail
The Endorphin Trail is ideal for trail runners who want protection and zero ground feel over everything else. They have so much dense midsole the sharpest of rocks won't register a second thought as you crush burly descents.
If you like stiff shoes, these may be up your alley too. Laterally they are as stiff as they come and rely on their rockered design to propel you through gentler terrain.
Lastly, if you have narrower feet, or exclusively run on dry terrain, the bootie upper may be ideal for you.
Who should not buy it
Don't buy the Endorphin Trail if:
You expect these to just be the trail version of the Endorphin Speed. I did, and was disappointed as I believe many will be. Check out the Brooks Catamount for a responsive midsole trail shoe.
You want a light nimble trail shoe. These are pigs. Check out the Switchback 2 for super light and nimble.
You desire a soft landing, trial plodder for long efforts. Sorry, check out the Hoka Challenger 6 ATR.
Ultimately these shoes need some changes for v2. They are stiff, clunky, and heavy as hell. It's a long way from what the Endorphin lineup on the road side stands for.
You buy these expecting an Endorphine Speed, but what's delivered is an Endorphin Shift with lugs.
Dialed-in fit of the Endorphin Trail
The sock-like upper fits really well once on, but it can be a challenge to get on your foot.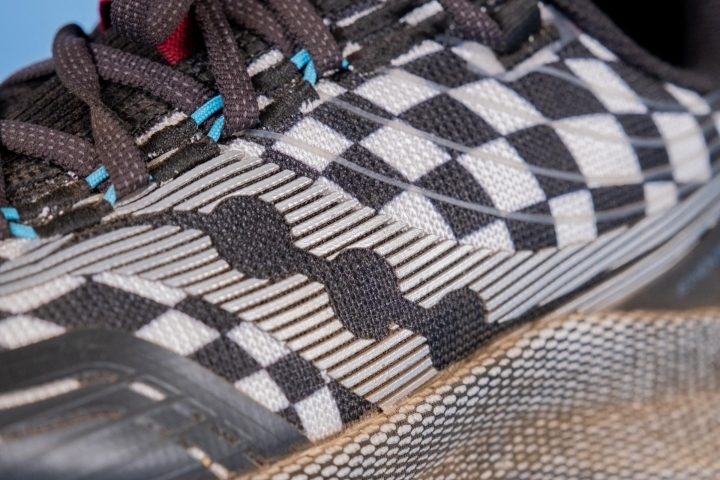 I will say they are true to size even though they have an extremely long overall length.
Comfort with a warning
Let's start with comfort. The shoe is cushioned, to say the least, and at times it feels good on your feet (unless you have very wide feet I suspect).
The bootie upper hugs your feet, and lockdown for me was ideal. I didn't have to fuss with the laces much, just slide it on and go.
The thin 4.2mm tongue is ample padding without being overly built.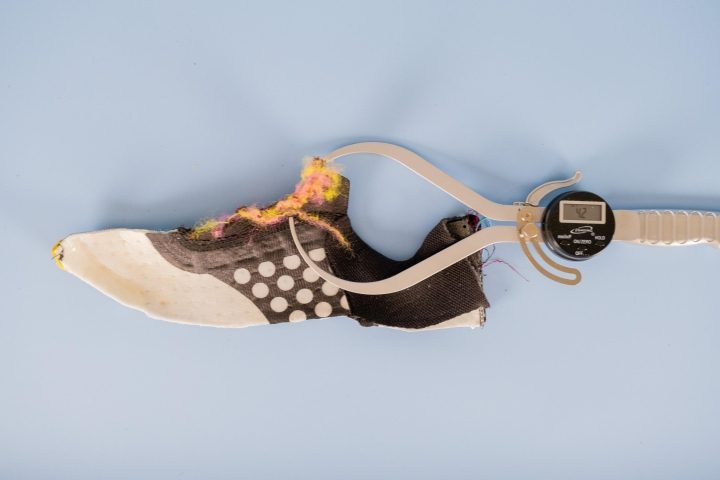 And the 3.6mm insole adds a touch more softness inside the shoe.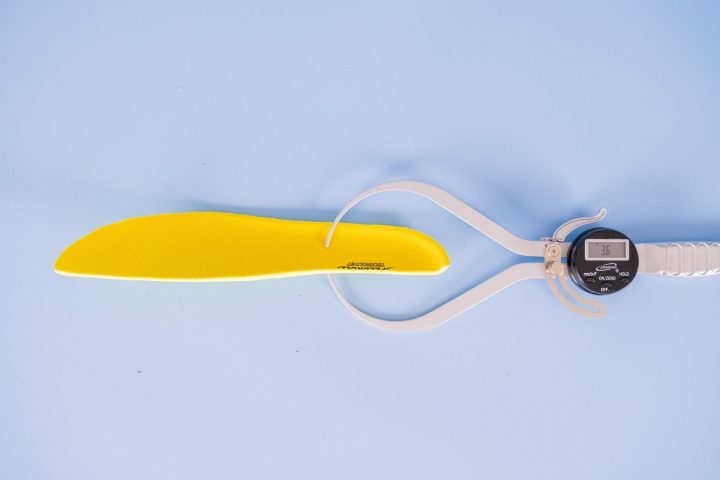 I had no heel slip, but at the end of the run, my toes felt a little squished. Not painful just something I noticed.
Also, they ran hot and my feet were sweaty, even after an easy casual run with the Saucony crew. I didn't get these wet, but I can tell they won't drain well or dry quickly, making me think a wet run on a hot day could turn these into steam rooms for your feet.
Stiff and tall, but still pretty fun
Starting with the good. Honestly, the PB midsole doesn't really disappoint. It's snappy with plenty of pep and there's enough rocker in these shoes to efficiently coast the flats between epic climbs and descents. This material is kick-ass.
But, there is zero ground feel in this shoe as they are a bit closer to a ski boot than a running shoe. This has a purpose though. While you're flying downhill it does feel confidence-inspiring to have such a stout shoe on your foot.
It's very tall which can be sketchy on the trails too. At 36.3mm in the heel and 31.1mm in the forefoot, this is one of the tallest trail shoes we've tested. Average shoes, including road shoes which tend to be tall measure 32.7mm in the heel and just 24.6mm in the forefoot.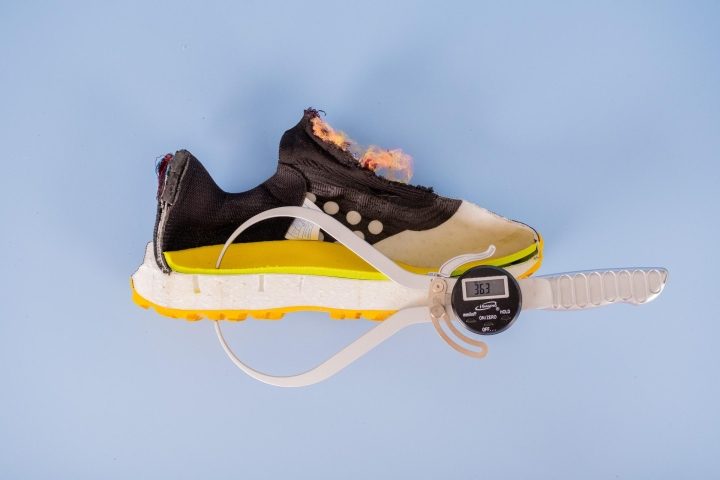 Surprisingly though these were not super wobbly, but it's mostly thanks to their super-wide platform at 115.3mm in the forefoot and 97.2mm in the heel (113.0mm and 89.5mm are average). This wide platform is needed to combat the height, and obviously, both extra height and width add grams quickly.
The shoe came in average on our flex test at 38.2N, but it feels much stiffer in hand and on foot. Laterally, it's a 5 out of 5 on our tests (5 being the stiffest), and although there's a bit of flex under the toes, there's not much to be found elsewhere.
In the end, the Endorphin PB midsole is springy and fun to run in and they feel a touch less lead-like because of it, but Saucony could get away with pairing this shoe down greatly.
Break-in may be never-ending
This shoe feels like you need to break it in badly, but I fear you'll never find the light at the end of the tunnel. Try as you may, it may be stiff forever.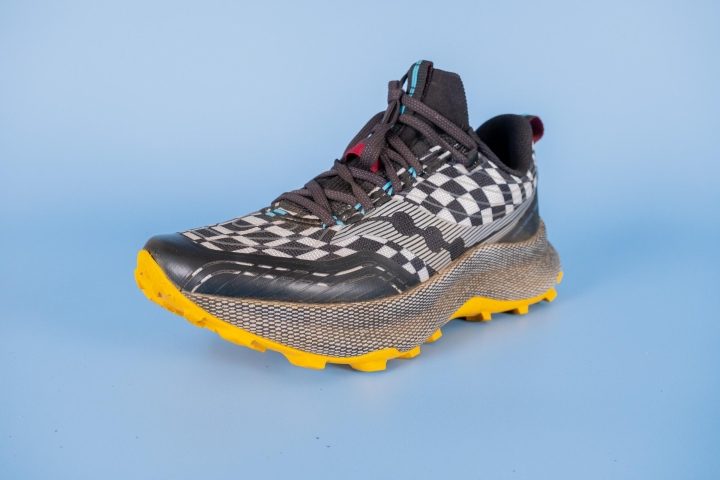 It also takes some getting used to if your trail shoes are lower to the ground, so take it easy your first few runs to avoid rolling an ankle.
It's almost wrong to make a shoe this heavy
Heavy AF!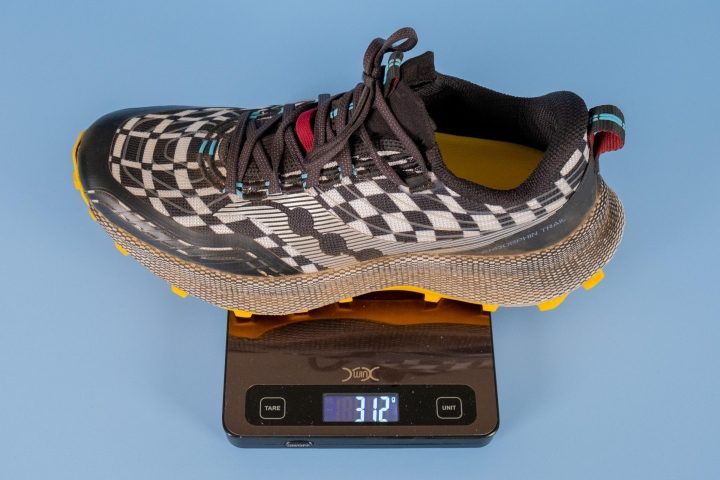 11.0 ounces (312g) is just too heavy. This shoe is robust, it could be half as robust and still be a great shoe. Get this to under 9 ounces Saucony and you have a killer!
Shouldn't be hard, just slap this outsole on the Endorphin Speed and you have the shoe…
Tank-like build
My initial reaction to the PB midsole last year on the Endorphin Speed was that it looks like styrofoam and it may fall apart. On the trail, I would obviously have that concern big time, but Saucony covered the midsole in a robust full-rubber outsole and the edges are laminated with a mesh to ensure there's no premature deterioration or anywhere exposed midsole can be cut.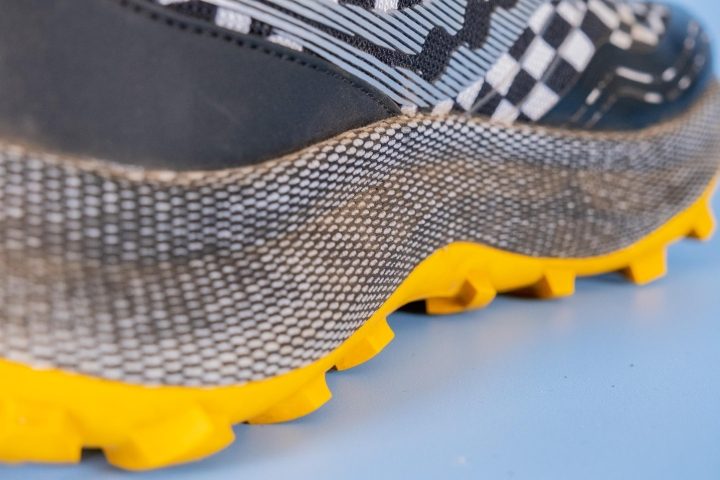 It has a very thick and durable mesh upper with plenty of robust overlays as well which should help it battle epic rock fields for a long time. It's not highly breathable and runs hot, but it can take a beating.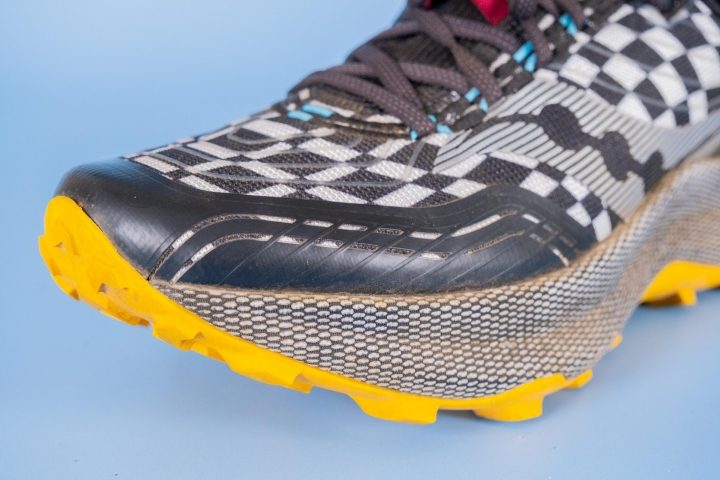 Also, at 87.5HC on the durometer (79.7HC is the average), the outsole is hard and durable and should wear slowly.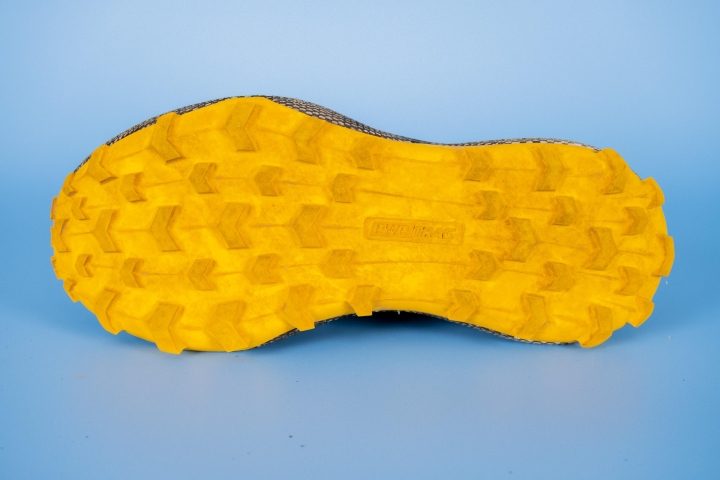 Wow this grip is amazing
I was skeptical when I got these shoes, the outsole looked shiny and hard, qualities of shitty grip, but the extremely deep and widely spaced 4.5mm lugs are aggressive and grippy as hell.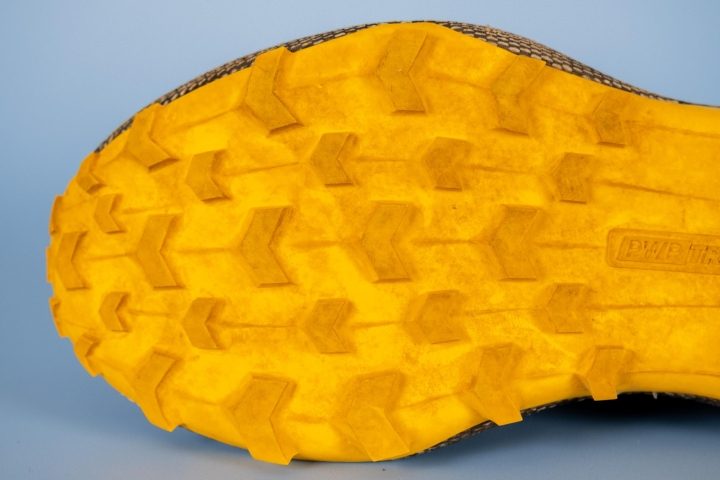 This outsole is able to charge any terrain you can throw at it from steep rocks to soft wet mud. It's very similar to the Peregrine 11 in this regard and confidence-inspiring for sure.
Maybe these are winter shoes
Breathability is an issue. I mentioned this above, but they don't breathe.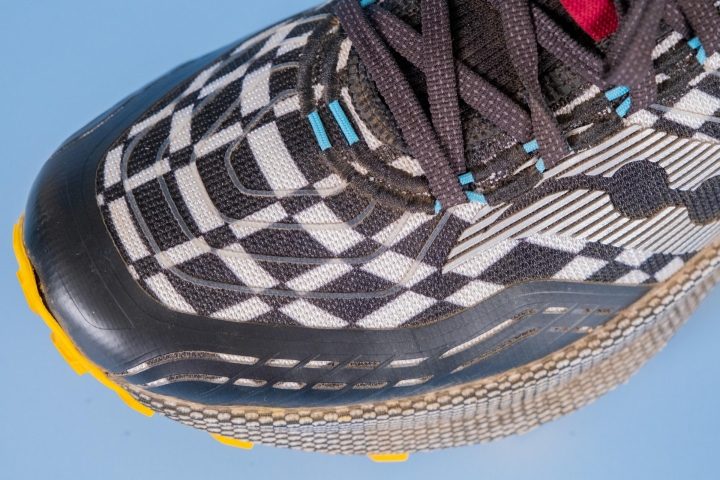 Even worse I fear they don't drain or dry quickly either, which could spell disaster on a wet trail run or race.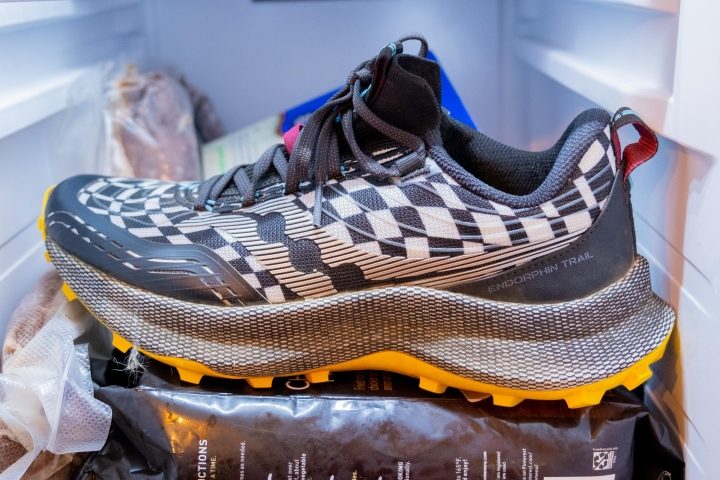 Don't get lost at night
There are no reflective elements on the Endorphin Trail so be sure to be back to the trailhead before dark.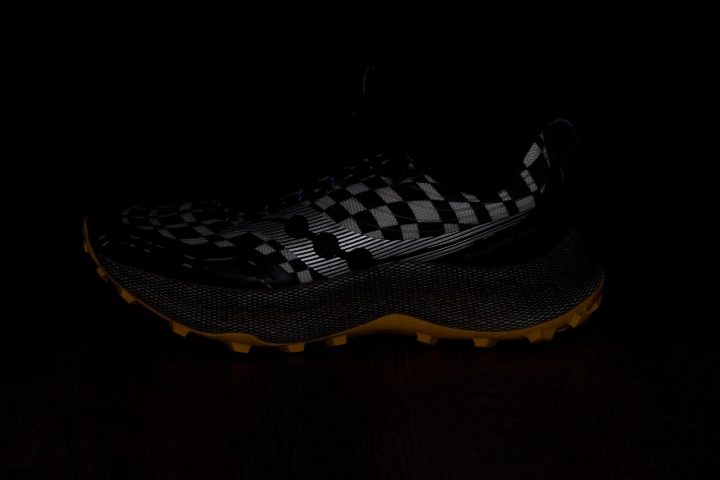 Conclusion
At $160 they are a bit pricy for a bit of a brick of a shoe, and I assume Saucony is banking on the Endorphin label to sell these, which will probably work.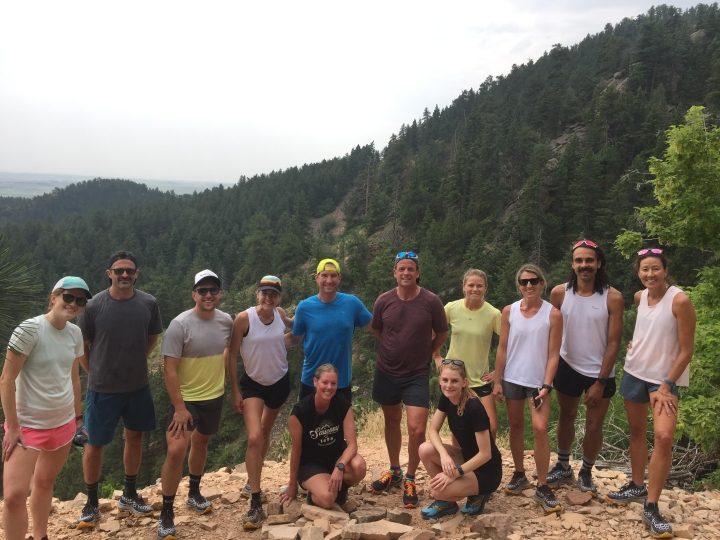 I want to love them, there are some redeeming qualities, and I may keep a pair for long slogs where I need zero ground feel and the PB spring, but I think Saucony needs to go back to the drawing board for v2 and find a way to cut the heft and price by at least 30%.