The Salomon XA Pro 3D GTX is a durable and worthwhile trail shoe for those looking to go for a hike, head into the woods for a weekend backpacking trip as well as for an adventurous runner who needs heavy-duty footwear to tackle the more arduous challenges.
Pros
Outstanding waterproofing
Highly durable
Stable platform
Solid grip
Also great for hiking
Roomy toebox
Convenient lacing
Cons
Heavy
Stiff sole
Narrow midfoot
Salomon XA Pro 3D GTX review and lab test
HEAVY-DUTY!!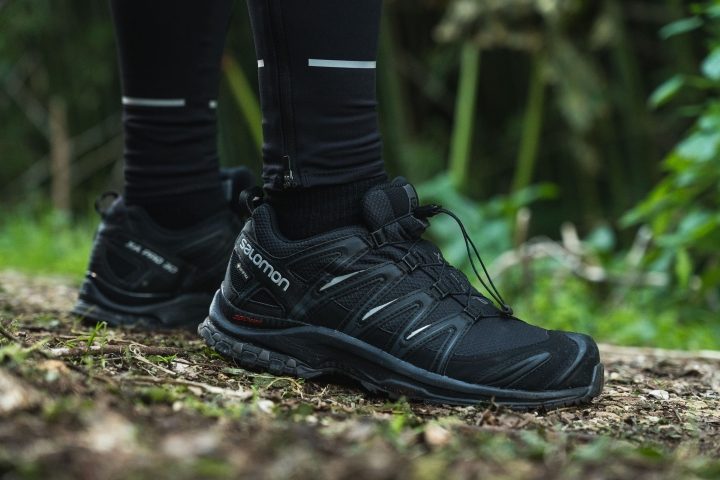 This shoe is burly. Its construction withstands anything you can throw at it. With a thick rubber toe bumper and suede overlays, rocks and debris pose no threat to the XA Pro 3D.
It is sold as a trail running shoe, but ultimately I see this more as a light hiker. It's a bit heavy and stiff compared to other more modern trail runners.
But, if you're racing up summits and bounding down scree fields, this shoe does offer something a lot of trail runners don't.
Who should buy the Salomon XA Pro 3D GTX
Consider the Salomon XA Pro 3D GTX if you are looking for a burly off-trail or technical trail shoe, or a light hiker to move fast in.
It's ideal for trail enthusiasts who need a bit more support and stability in their trail shoes as well.
Who should NOT buy the shoe
Don't buy this shoe if:
You want a true trail running shoe. Check out the Salomon Sense Ride 4 instead.
You are looking for a super plush, soft-riding trail shoe for long comfortable days out on the trail. Look at the Salomon Ultra Glide.
You want a race-ready trail shoe. The Salomon S-Lab line has plenty of race-day options.
You want a modern tech shoe. Other than colors, this shoe has not really been updated in the past few years. On one hand, don't fix what's not broken, but on the other, there is newer and lighter technology out there for those looking for a true trail running shoe.
Phenomenal waterproofing!
This is a waterproof shoe with a full GORE-TEX membrane and it is truly the best in its category. In our permeability test below, you can see how little smoke is able to escape from the upper.
Salomon XA Pro 3D GTX (left), Altra Torin 6 (right)
Do keep this in mind if you are planning to wear this shoe in primarily dry conditions. If waterproofing is not a must for you, consider the non-GTX version of the XA Pro 3D instead.
Also, non-membrane shoes tend to dry out faster, and as a low-cut shoe, it's really only waterproof up to a few inches so you'll still be getting wet on stream crossings and on any seriously wet adventures.
Narrow in the midfoot but roomy in the toebox
Overall, the XA Pro 3D GTX creates a very form-fitting one-to-one fit.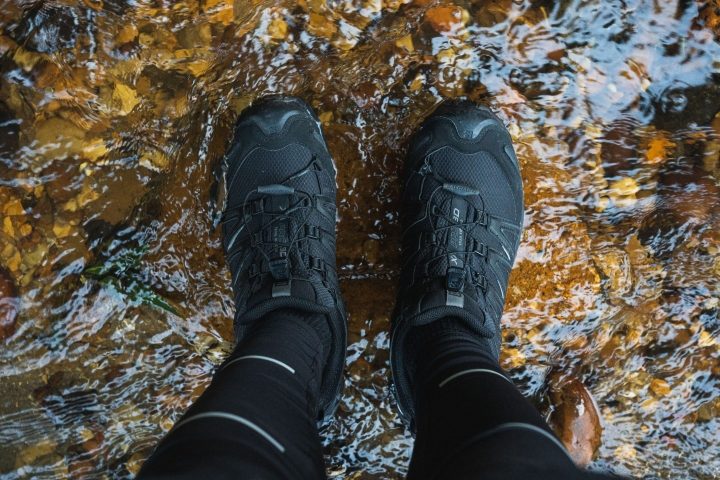 But as with most Salomons, these run a bit narrow in the midfoot which means that wide-footed runners might struggle to get the shoe on.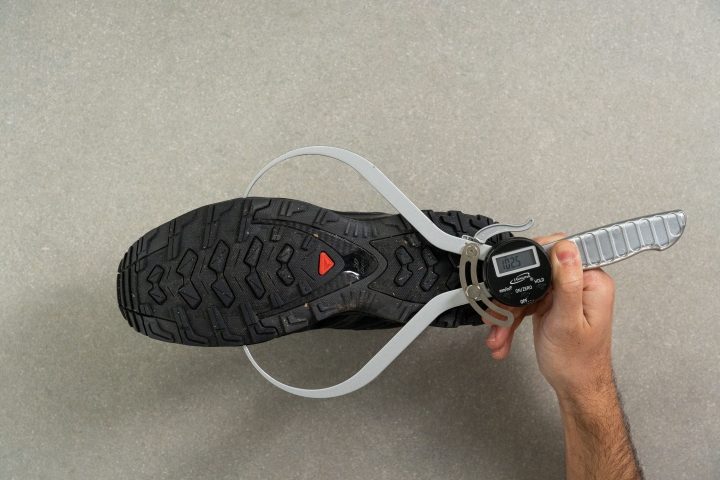 But once you have the shoe on, it welcomes you with a nice and roomy toebox. We measured the widest part of the forefoot at 99.4 mm which is 1.3 mm wider than average.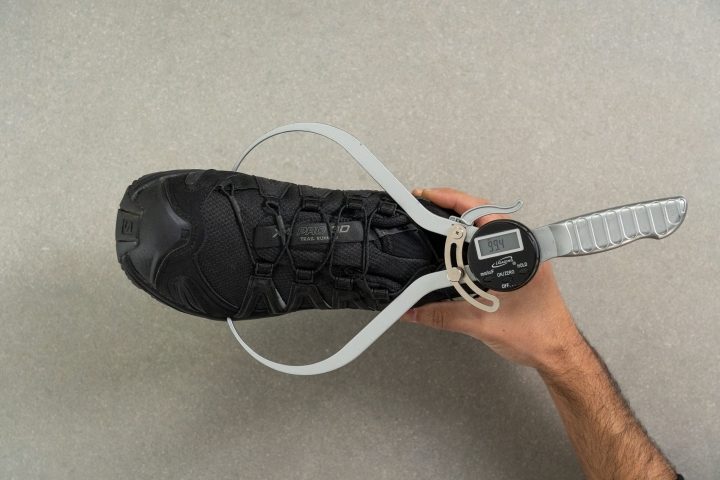 When it comes to sizing, the shoe seems to run a tiny bit on the small side. Measuring its internal length from heel to toe, we found it to be 261.7 mm in a men's US 8.5. According to Salomon's official size chart, it falls between US 8 and 8.5, while US 8.5 starts at 265 mm.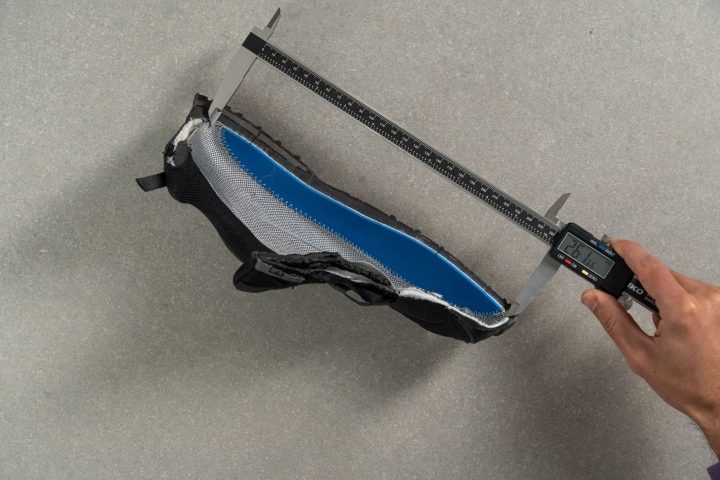 Salomon XA Pro 3D GTX could use more comfort
I didn't find these shoes to be overly comfortable by any means. First off, they run a bit narrow on my wide feet, but also, these are really stiff shoes.
The XA Pro 3D is built on a dual-density EVA platform which does provide a bit of underfoot cushioning but it's mostly focused on reducing or controlling overpronation with its firmer foam.
Based on the durometer measurement of the foam, the shoe is 31% firmer than running shoes on average. It is surely far from a marshmallow.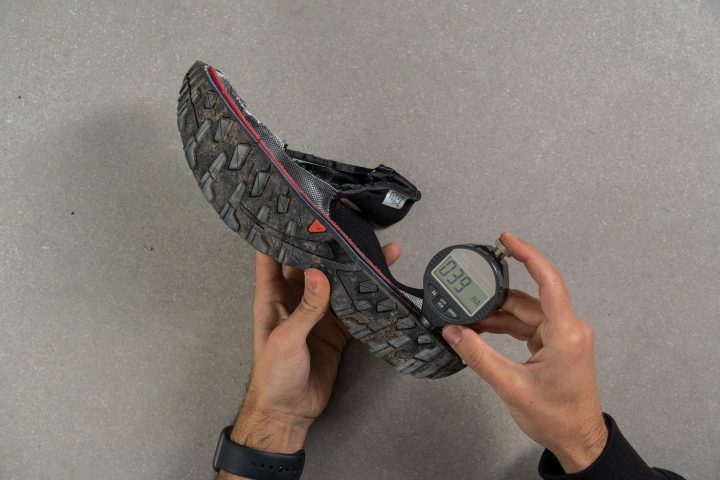 Also, given that most runners choose GTX shoes for colder months, keep in mind that this Salomon will get even firmer in low temperatures. After a 20-min session in my freezer, the foam got 24% firmer!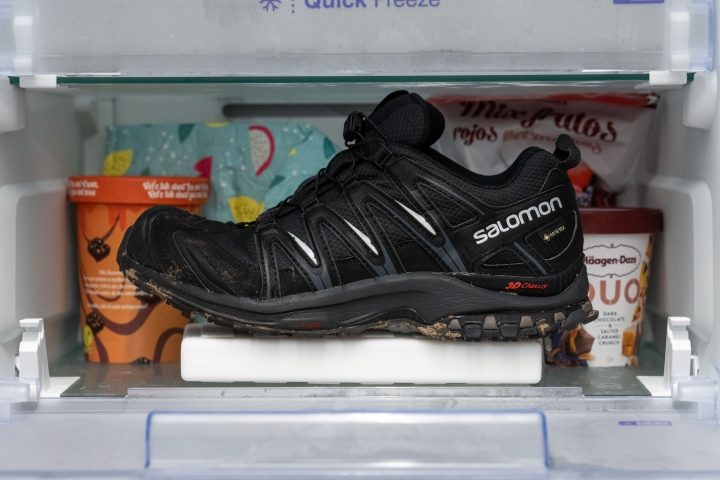 One nice addition though is the OrthoLite insole which adds a touch of padding over your typical generic running insole. Most people may swap out their insoles, but this one is decent enough to leave it be.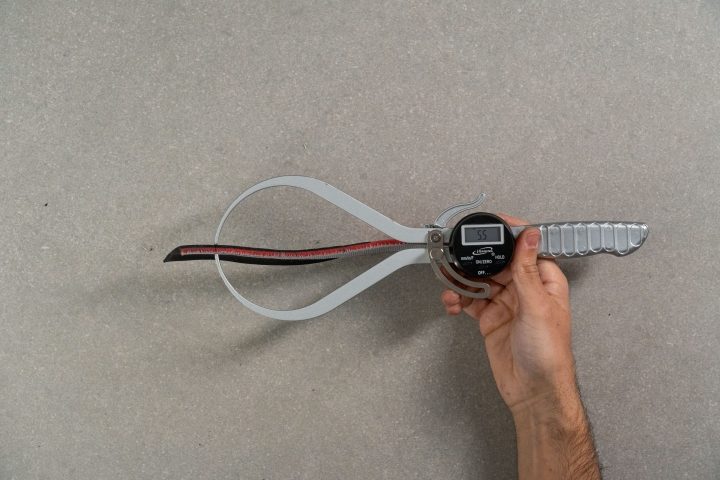 My caliper's measurement shows that the footbed is 5.5 mm thick in the heel. This is a nice surprise given that the average for running shoe insoles is 4.6 mm.
XA Pro 3D GTX runs stiff
The ride on the Salomon XA Pro 3D is stiff… It's really more like a hiking shoe than a trail runner. In our flex resistance test, it turned out that the shoe is 34% stiffer than the average!
But all that little flex that the shoe has is actually located in the forefoot section - the midfoot of the shoe really doesn't flex or twist at all, making the gait on this shoe more ideal for hiking than running.
Adaptation period needed
Everything about this shoe is stiff. It needs to be broken in overtime. Be sure to allow for ample use before any races or big trips in these shoes.
But it pays off with plenty of protection
This is one of the toughest trail shoes you can find on the market. Aside from the beefy toe bumper and guarding overlays, the XA Pro 3D GTX also features a good amount of underfoot protection.
We measured the heel stack at 31.9 mm...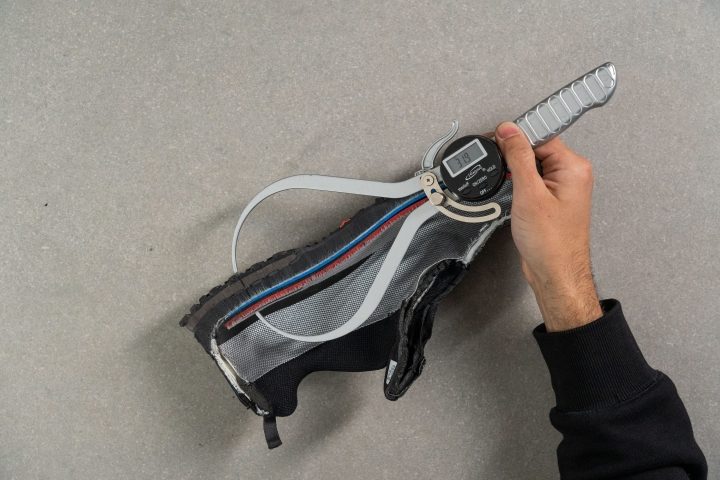 ...and the forefoot stack at 18.8 mm...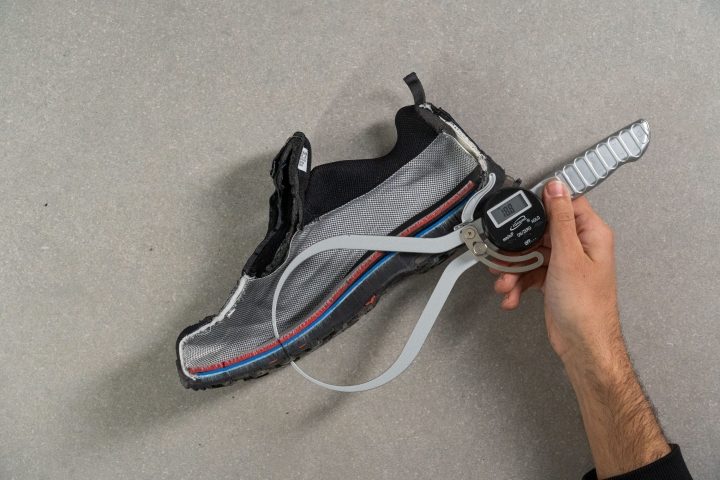 ...which gives us a 13.1 mm drop in the Salomon XA Pro 3D GTX. Such a high offset really belongs more in the hiking shoe/boot realm and is not all that ideal for trail running.
There's not a lot of ground feel either, which is a nice feature for trail running shoes that I personally look for.
I think these would be fine for speed hiking, day hiking, light backpacking, and the occasional summit run or short trail run, but they are just too stiff and heavy for a dedicated long trail run or any run where light and nimble was of any importance.
Salomon XA Pro 3D GTX is HEAVY
At 13.1 ounces (372g) this is really a heavy trail running shoe. Too heavy in my opinion. Especially considering that the average weight of trail running shoes is 10.2 oz (298 g) and the average for hiking shoes is 13.3 oz (378 g).
This is more of a quick hiker or hybrid shoe than a true trail runner.
Outstanding durability
Together with the anti-debris features on the mesh upper and the gusseted tongue, the shoe has zero problems preventing debris from entering the shoe while running.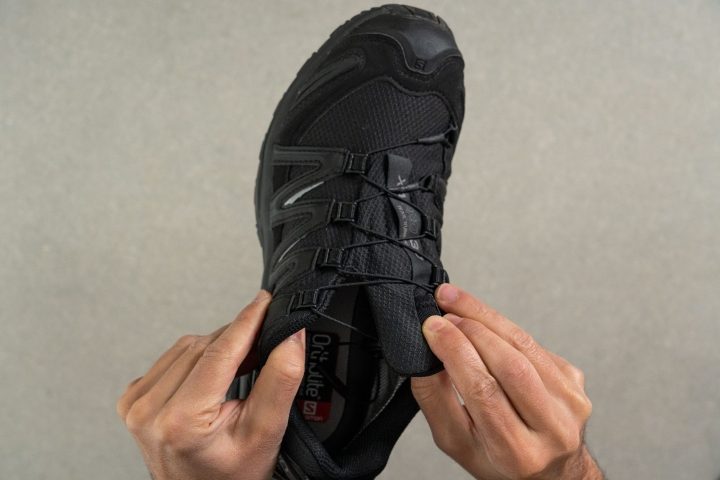 There's a thick rubber toe bumper as well to protect from sharp rocks. The shoe is heavy-duty and is going to last.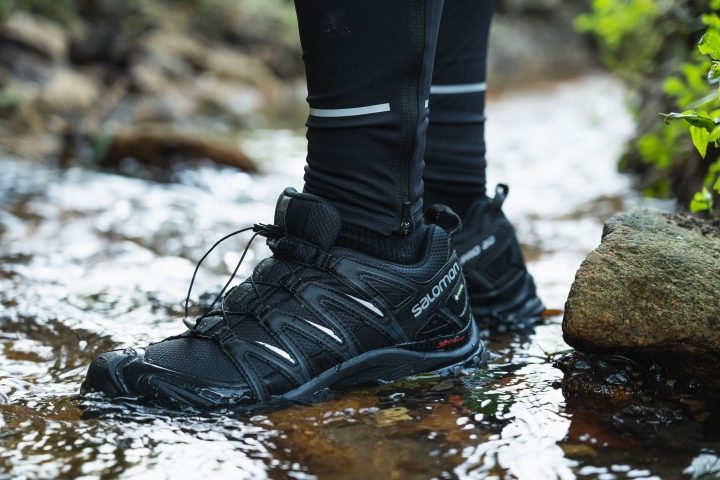 A 3-mm thick rubber outsole at the bottom also turns out to be rather hard-wearing. Measuring its firmness with a durometer, we found that this compound is 5% harder than the average. In our experience, firmer outsoles tend to wear out slower.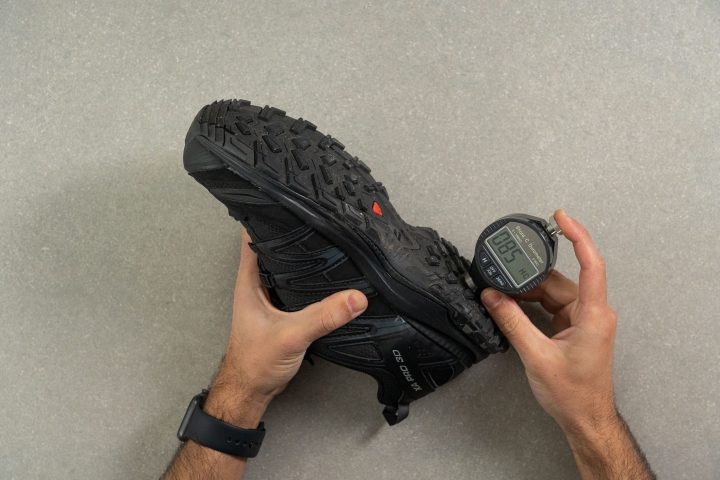 The grip on the XA Pro 3D
The Contagrip outsole shines on varied surfaces but does struggle a bit in really wet or muddy conditions.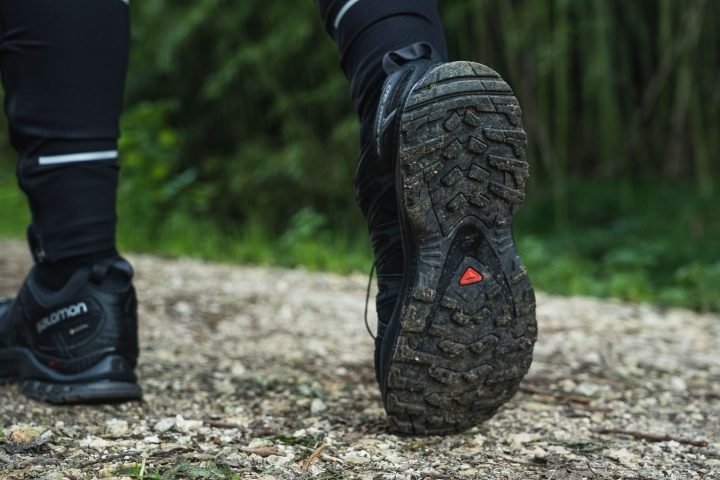 It features 2.9 mm lugs which really are just moderately aggressive compared to other Salomon trail shoes.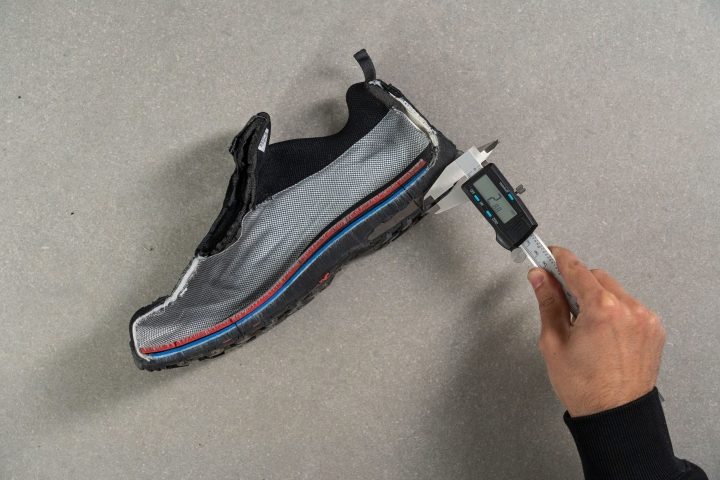 Again, a sign that this shoe is more for slower-paced hiking than fast-paced technical running.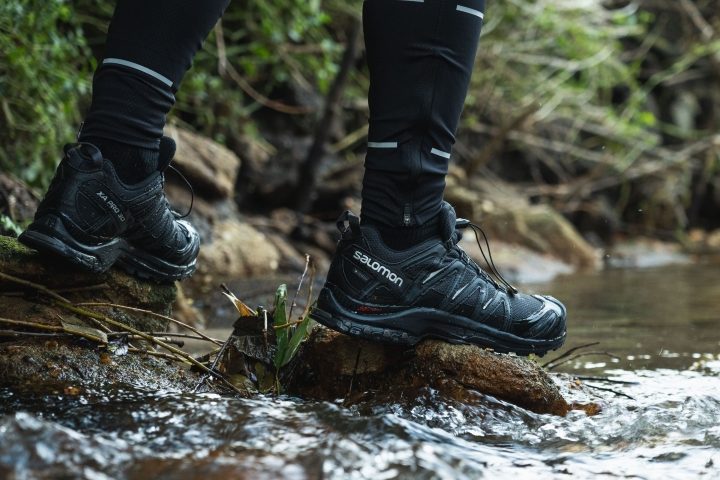 Reflective features
A nice touch is Salomon did design these with a few reflective elements on the sides of these shoes so you can be somewhat visible after dark.
Salomon speed lacing on the XA Pro 3D GTX
These have Salomon's asymmetrical quick-lacing system which I love! I think this is the best lacing system on the market.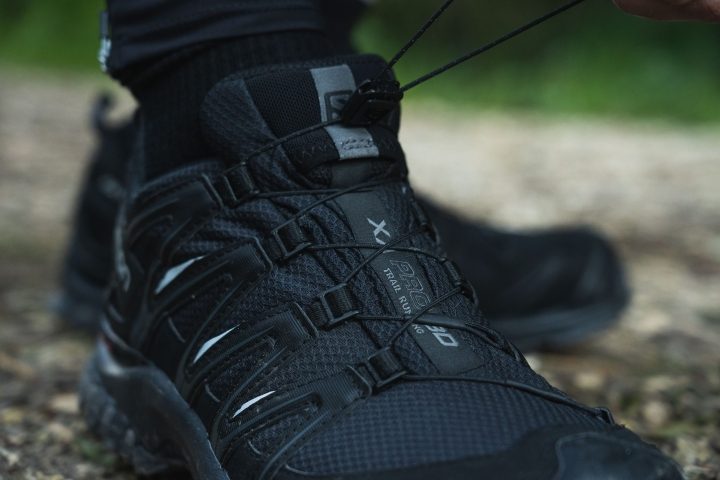 It's easy, quick, doesn't absorb water, and makes entry and exit simple.
I also like the mesh pocket for the lace toggle so the excess lace doesn't bounce around or get caught on anything mid-adventure.
Value or not?
At $150 the Salomon XA Pro 3D GTX are a bit pricy for a running shoe that's this heavy and stiff, but for a day hiker with a GORE-TEX membrane, I think these are actually a good value.
They offer great support, an easy lacing system, a grippy outsole, and features that are nice like reflective elements and added durability.
Recommending these really depends on what you're using them for, but as an all-around trail shoe that can do a little of everything, I think they are worth a look.